With my washer/dryer still on the fritz, once again I'm checking two bags filled with dirty clothes. Sigh. On the upside, it's supposed to be delivered and installed the day after I get back.
No upgrade on the way down, and I only had 80% of my seat due to a POS in the middle seat. POS is airline lingo for Person Of Size. And while Alaska (and Southwest) have very generous POS policies, this lady did not take advantage of the offer or possibly didn't know about it. Here is their policy. In reading it, I learned something new. You can use your companion fare to purchase the second seat, and if there is one seat open, they refund the taxes/fees, and return the companion fare to your account. I'm not sure if she thought that a "Premium Seat" would be wider – it isn't, just more knee room. Luckily, I know where the latch is to make the aisle seat armrest go up that that we were both (can't speak for the person in the window) reasonable comfortable on our hour and a half flight. The same for a flight Jill and I took to Boston years ago where she was squished into the window, and I, the aisle as we were in row six, which has fixed arms that hold the tray tables. And this was before they had Premium Class with free booze, which might have made it better.
But, enough about that.
Onyx met me at the airport and we headed off the lunch as is the case when I arrive around 11. He usually hasn't had food yet, and I'm usually hungry. Today's restaurant choice was Rudy's Can't Fail Café where I had the Rueben (I usually can't resist) with Cole Slaw, and Onyx had the Denver Omelet minus the bell peppers.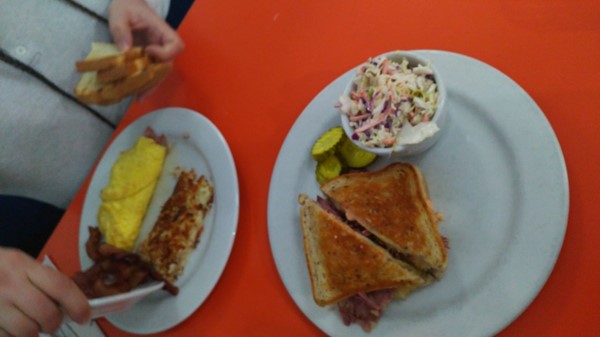 Did I mention Champagne Cocktails as well?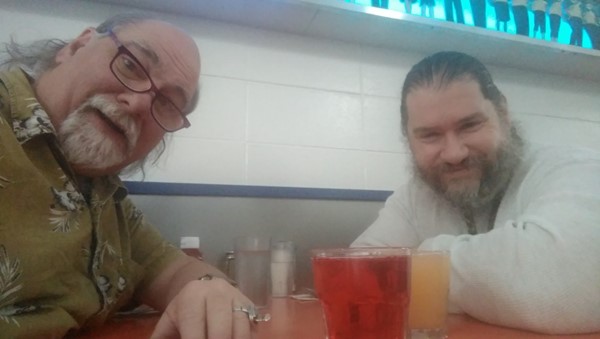 Rudy's is in the old part of Emeryville – not the high-tech world of Pixar Studios down the road.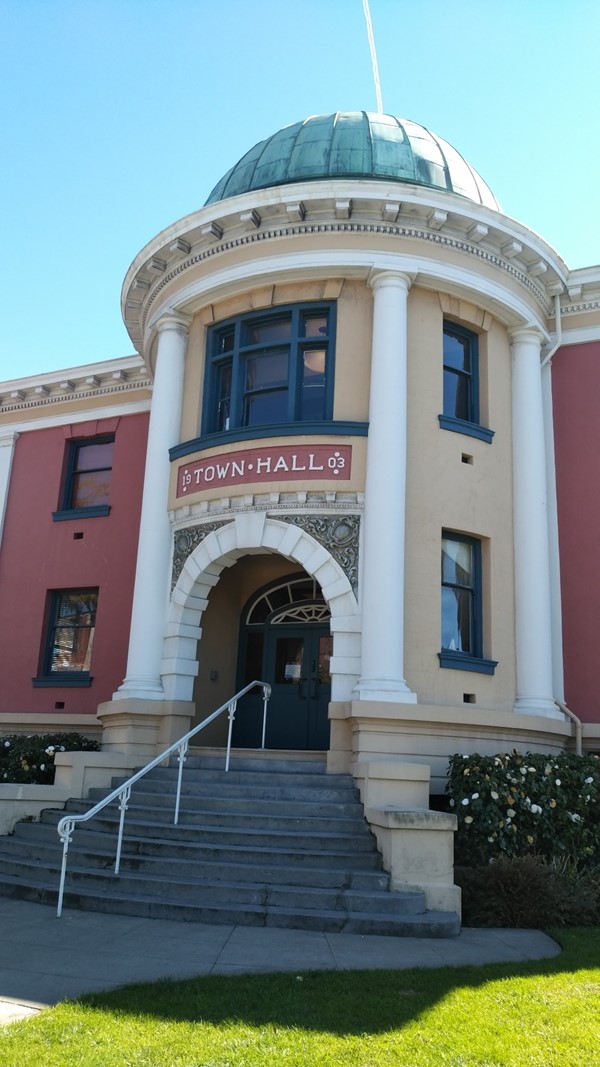 This visit is all about hiding out, hanging out, doing laundry, relaxing… and, of course, food. First night's dinner: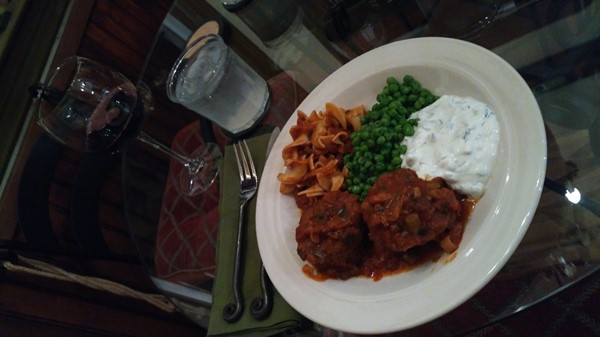 Second day's afternoon snack at the Berkeley Farmer's Market up the street from the boys: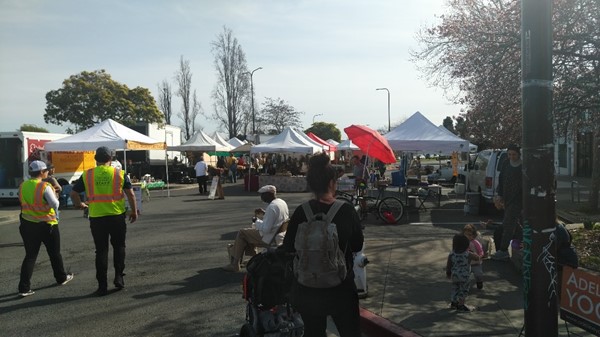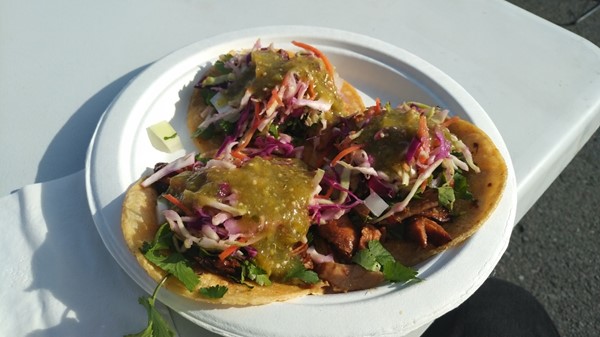 Second night's dinner: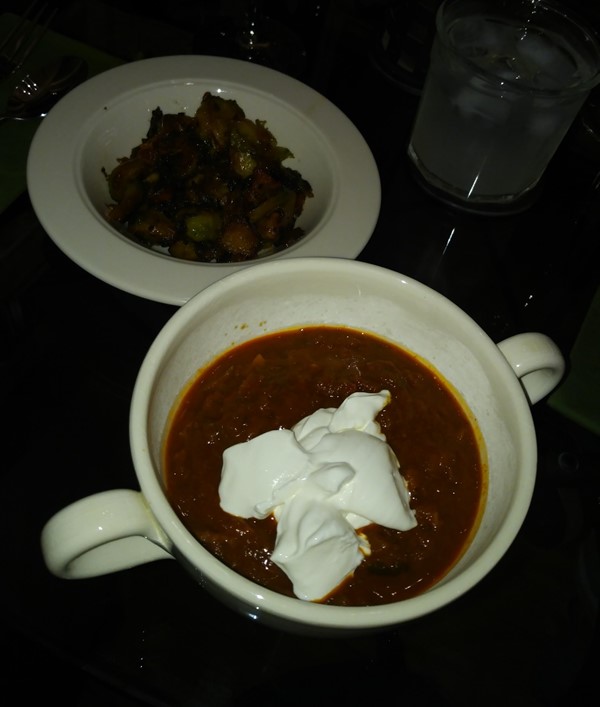 Usually I fly into Oakland and out of San Francisco (taking BART over), but when I booked this months ago, it was only $100.60 round-trip to Oakland and back. I'll take a deal when I see it!
The reason from plying back out of SFO is that I love the Cathay Pacific lounge and its custom-made noodle bar. No lounge that I have access to in Oakland, but I might actually spring for this one on the next trip ($45, or free to American Express Platinum Cardholders, WOW Business Class, Azores Business Class) since I spent more than the entrance fee on a meal and two drinks.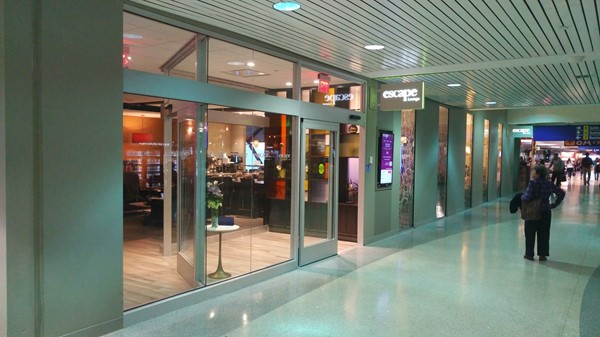 Inside, before security I had a $25.00 Manhattan (shamefully expensive, but great other than the standard red cherries), and past security it was a couple of starters and a shot of Commenerativo.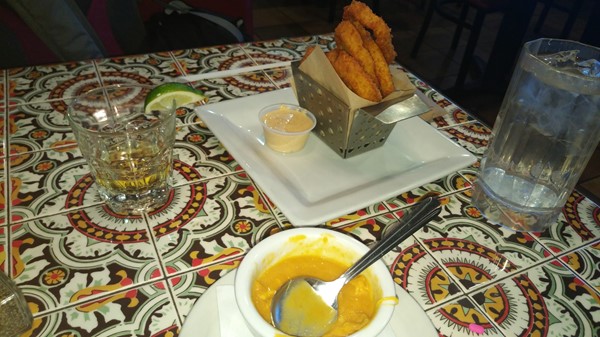 Better to eat in the airport, and to subsist on drinks and the snack box on the plane: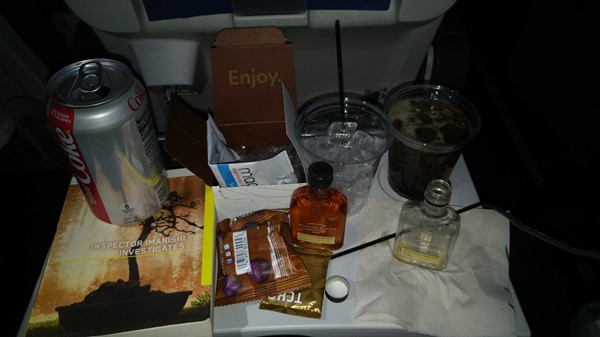 Had lovely company in the middle seat on the return flight – everyone in a festive mood with the free cocktails.
The last of the mileage runs, for a bit. Was home by 10pm, in bed by midnight.
[? ? ?]