We arrived in Kyoto a little after three, and easily found our "hostel" – and found it closed until 4PM. We continued down the narrow alley for another block or so.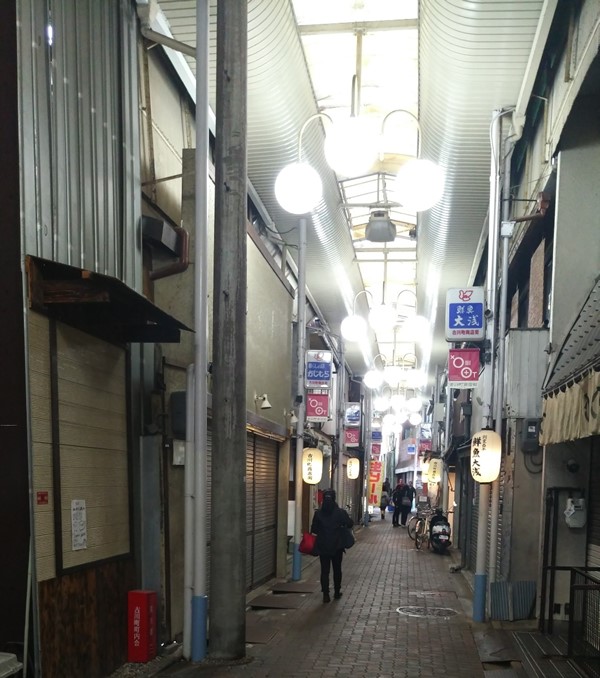 To discover this: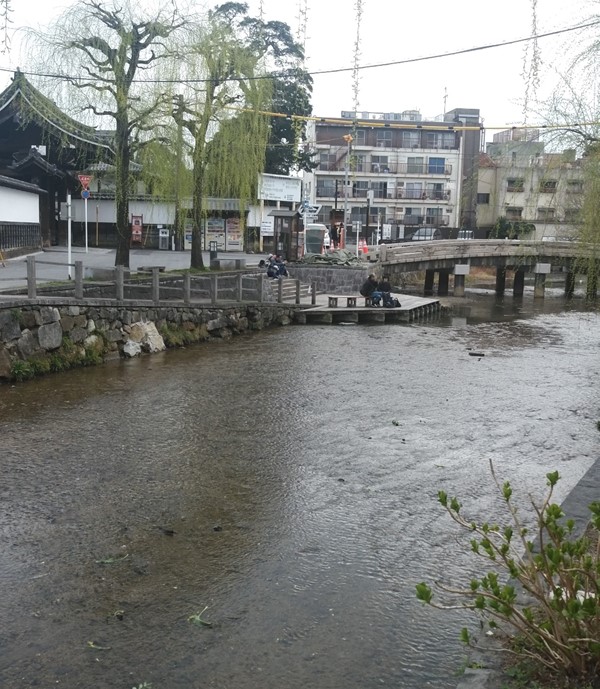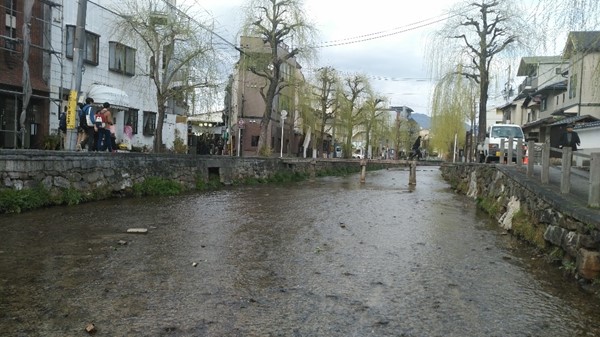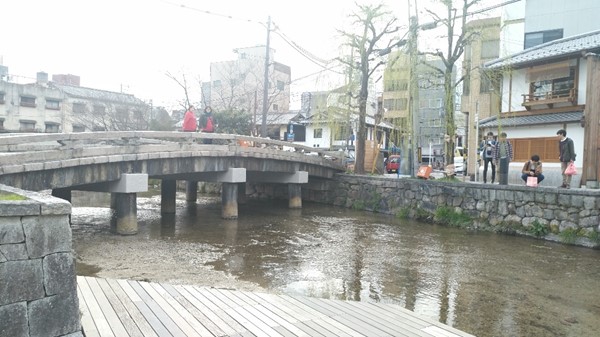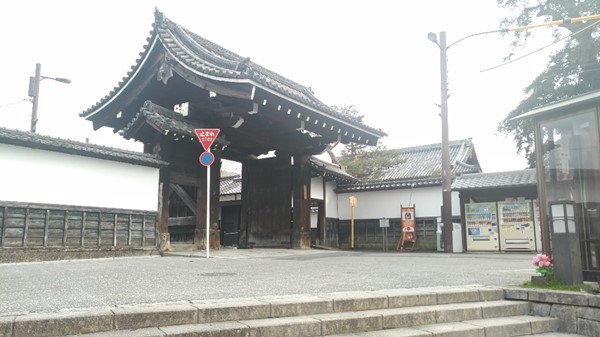 It was a very serene place to just SIT – one of the few public resting places I've come across on this trip. I sat, Julian did a roam of the neighborhood.
When he returned, we still had time to kill, so we went to this place in the alley that advertised Craft Beer (a Julian favorite), called Beer Komachi: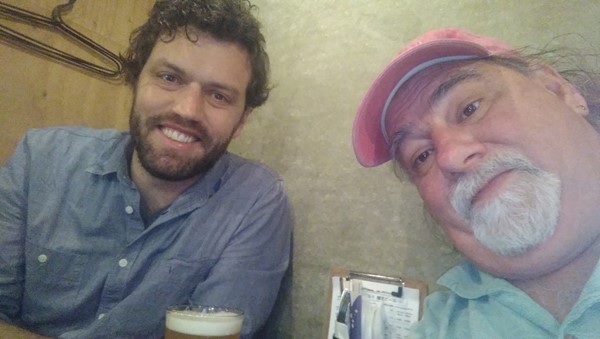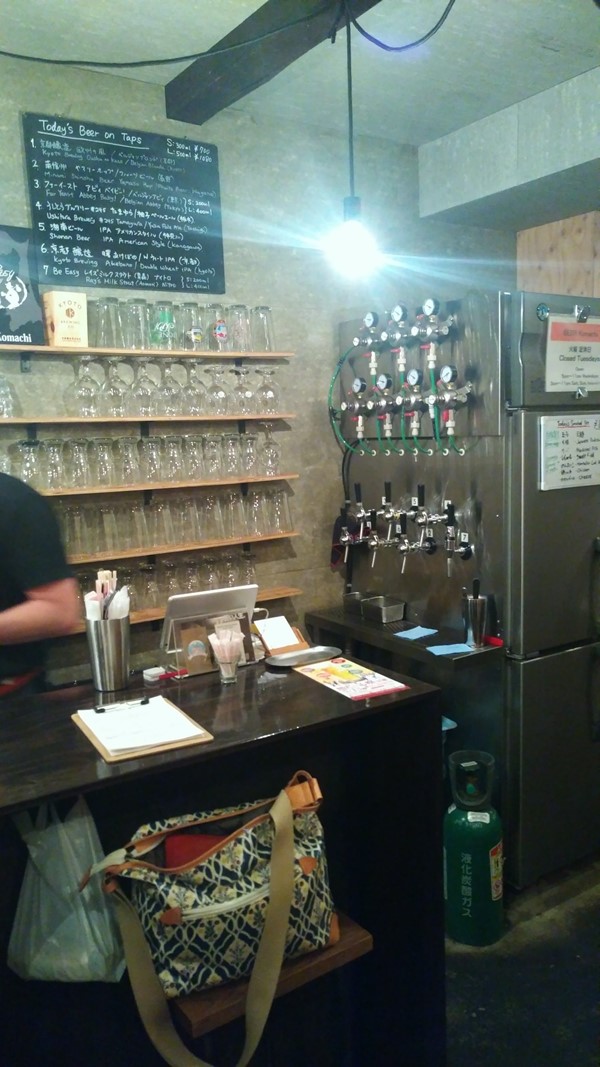 Julian tried a couple of different beers, I went for an interesting sounding sake. Food looked interesting but didn't try any (though Julian would try to try late in the evening, but the kitchen had closed). It was 4:40 by the time we got back to the "hostel" (Hostel Haruya Higashiyama), just a few doors down.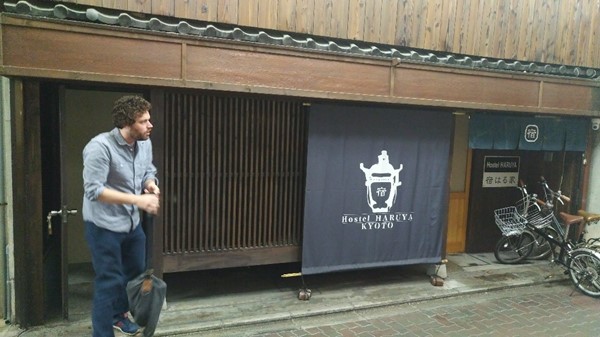 The main entrance is by the bicycles… as it turned out – our room had a private entrance just behind Julian. You can see the key hanging out of the door!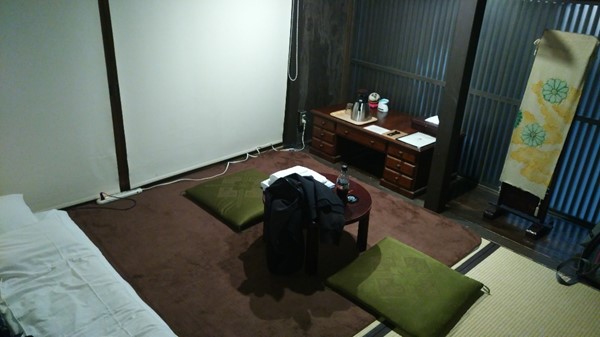 They had it set up for one person, but rectified the situation after we went out. One thing that didn't get rectified was Julian's response to the check-in person's question as to whether I was his father – sadly, he used the wrong version (though close) which said I was his grandfather. Damn I look good for having a 30+year-old grandson.
Thought it would be noisy, being right on the alley, but amazingly not. Basically, we threw our shit down and left to explore.
One of the things I learned quickly is that Kyoto is full of tourists – mostly Japanese, and it's dress up time!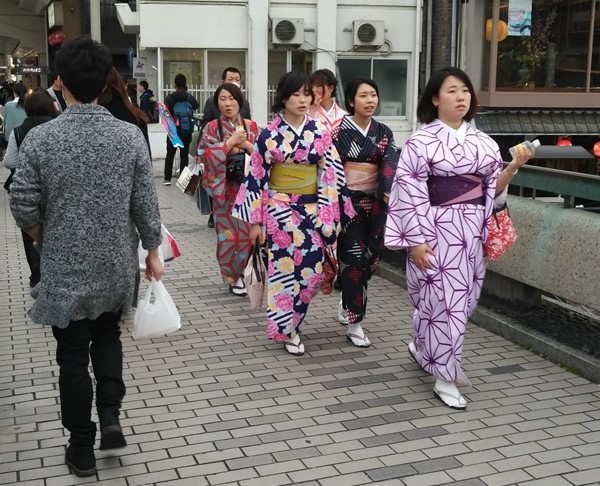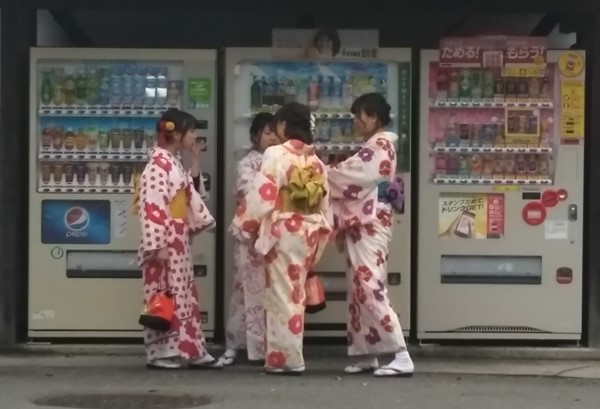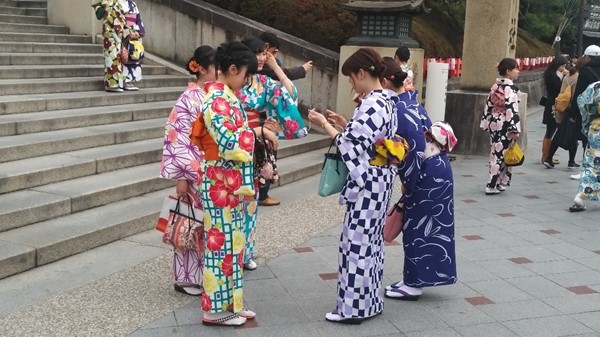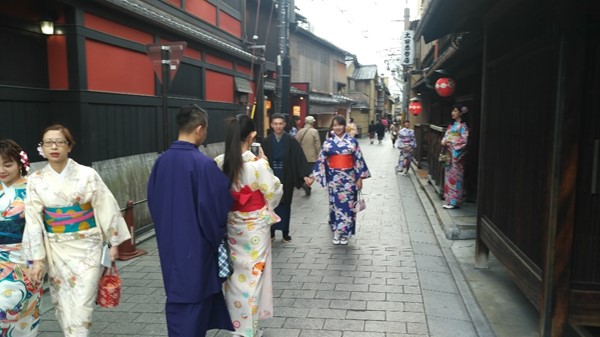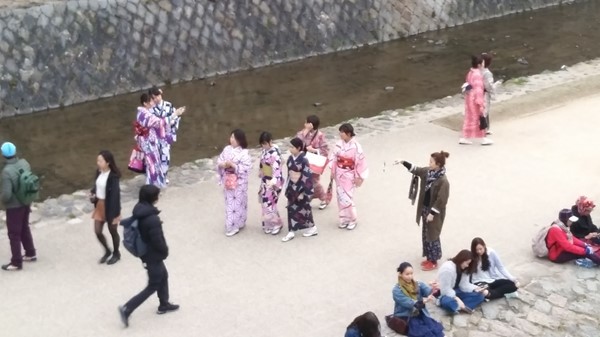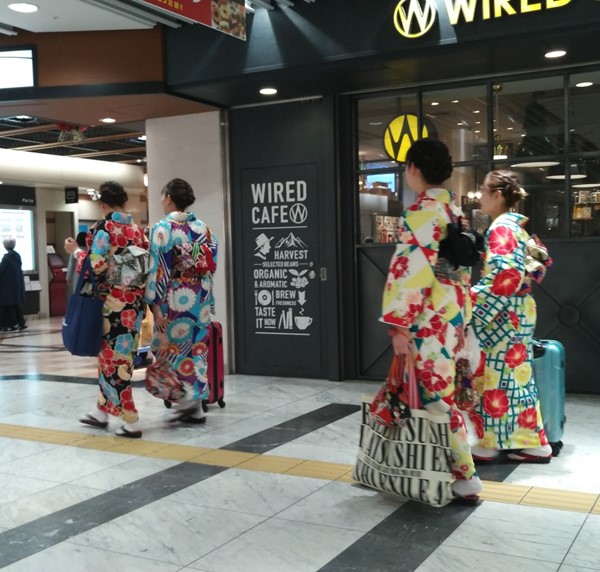 And they all seemed to be under 30. Apparently, this is a great "courting" city, as in, if you are trying to woo a girl, suggest a weekend in Kyoto.
While we are on "photo albums", here is a collection of Japanese posters that I liked: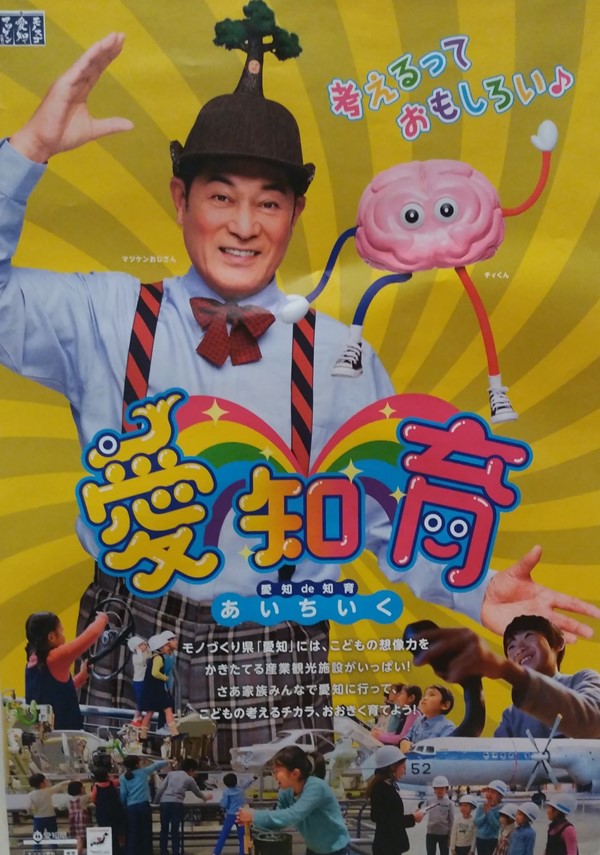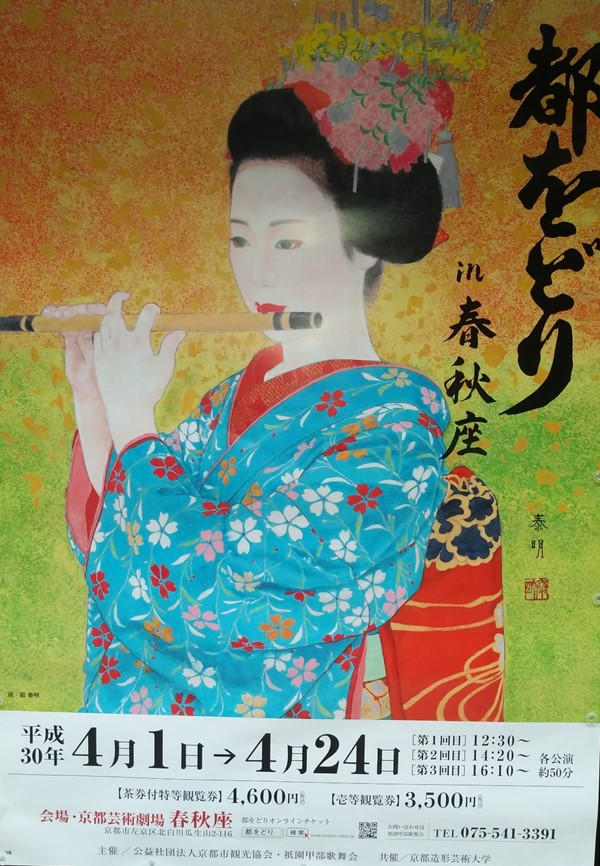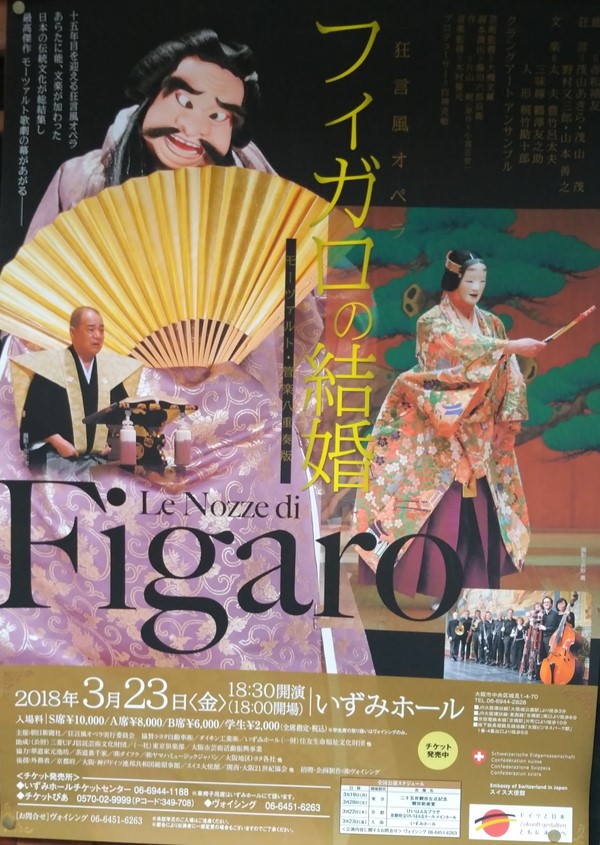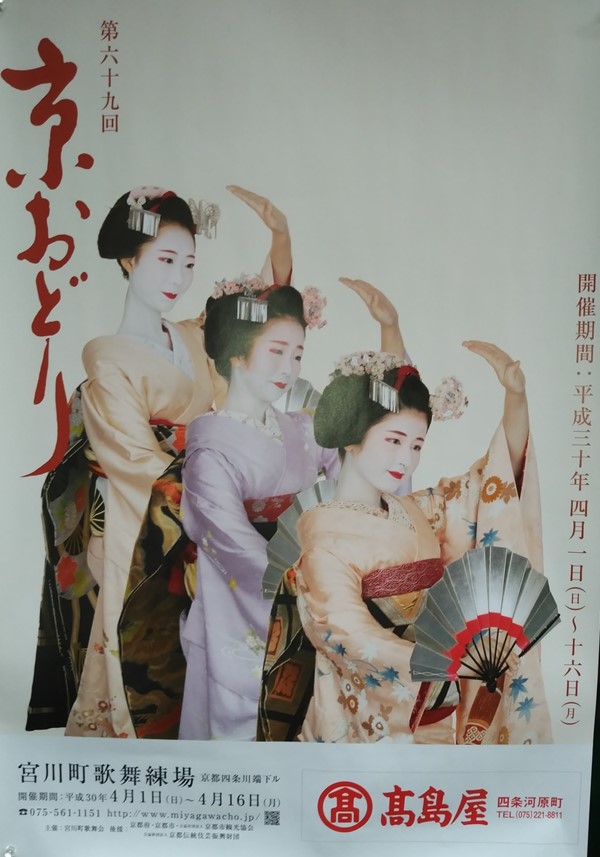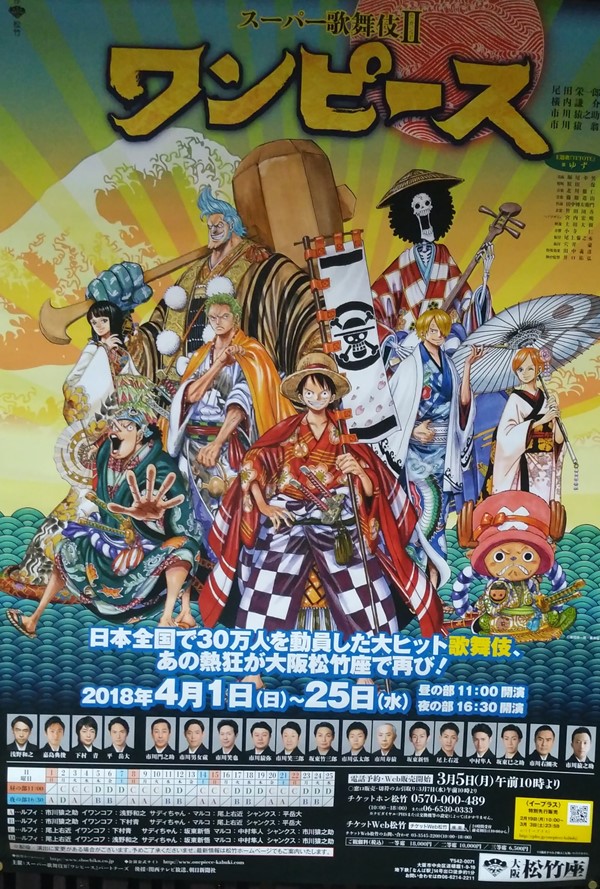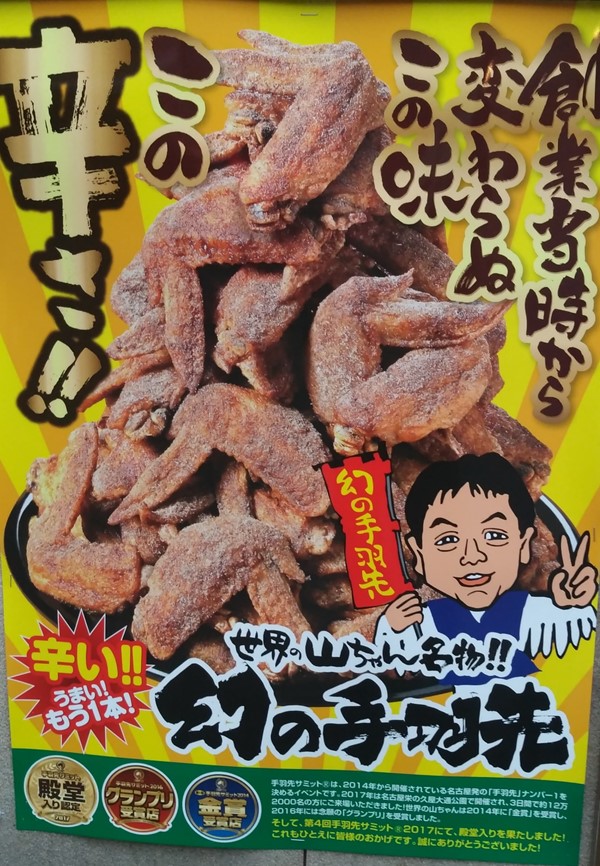 What the hell –a vending machine – also a favorite of mine, including the first one which actually in the winter dispenses HOT cans of coffee in addition to the cold beverages. Blue signs for cold, red for hot: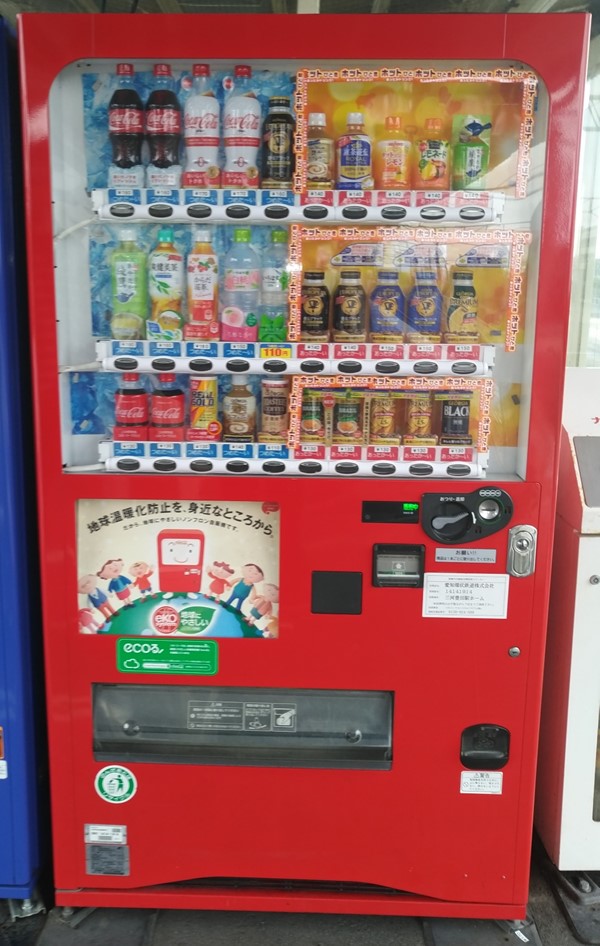 Enough random photos!
We wondered around the old town section of Kyoto, which was just over the river from where we were staying. Tried to get into a jazz bar we found.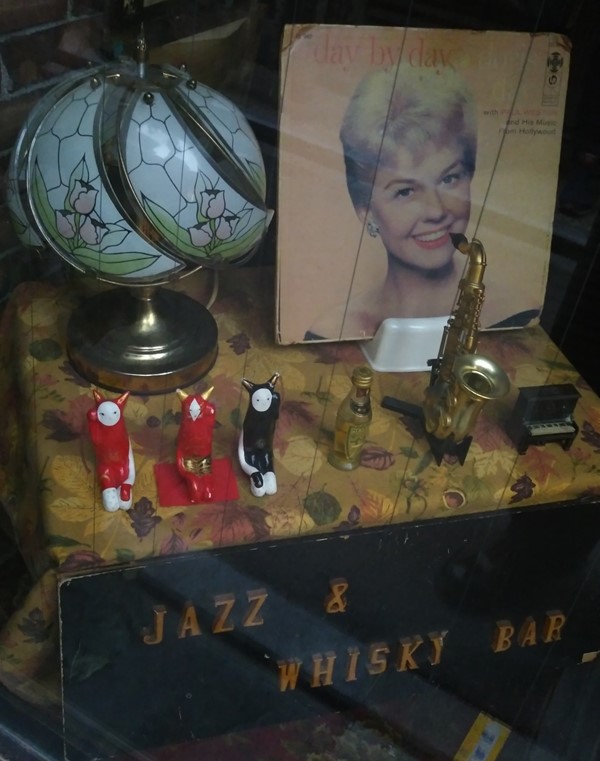 But it was closed, so we opted for a Yakitori snack and drinks.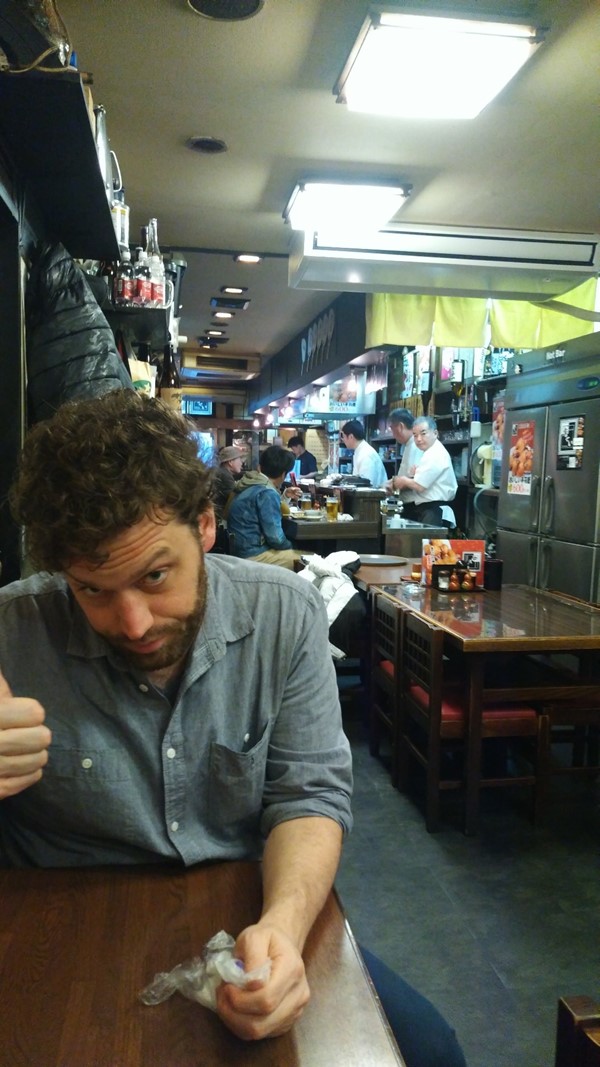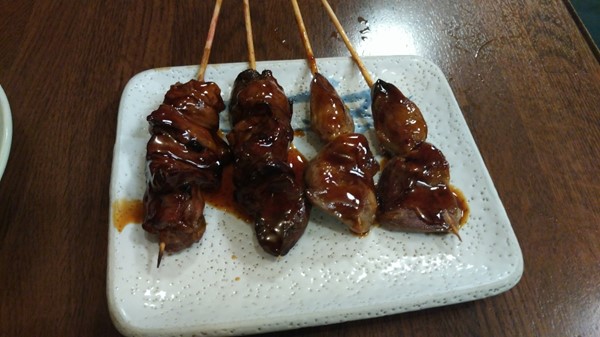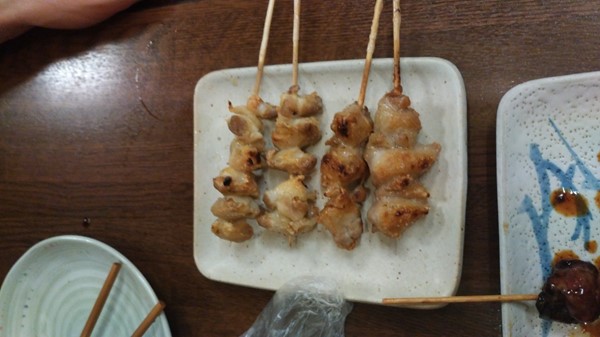 After our snack, tried to go back the jazz club from earlier – still closed, though they said they'd be open in fifteen minutes, so we wandered and found another jazz bar, Beer Bar Jive.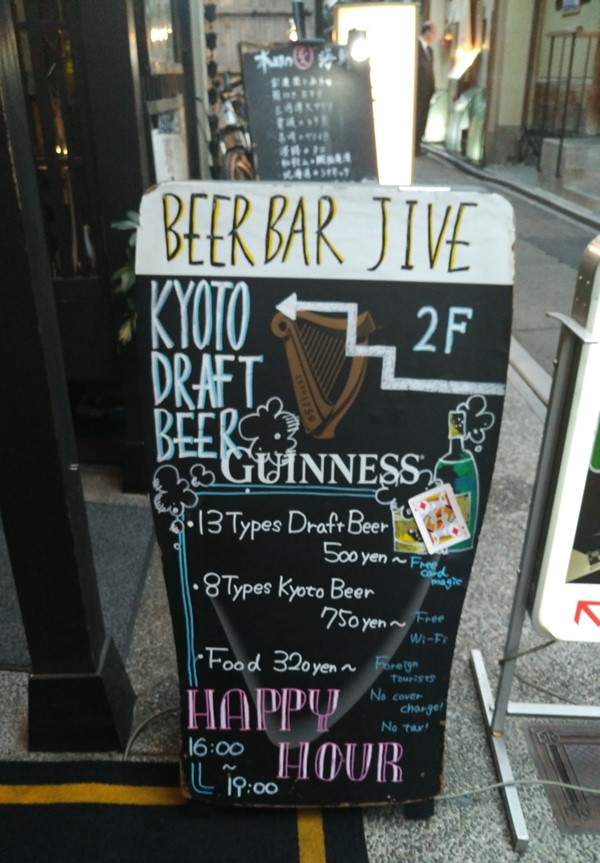 Where we had a drink. Turns out, later in the evening they have live jazz. Once again, we are too early.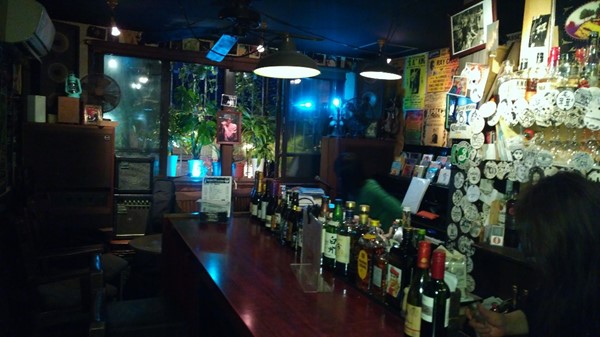 One drink, and we went back to see if Hello Dolly was finally open…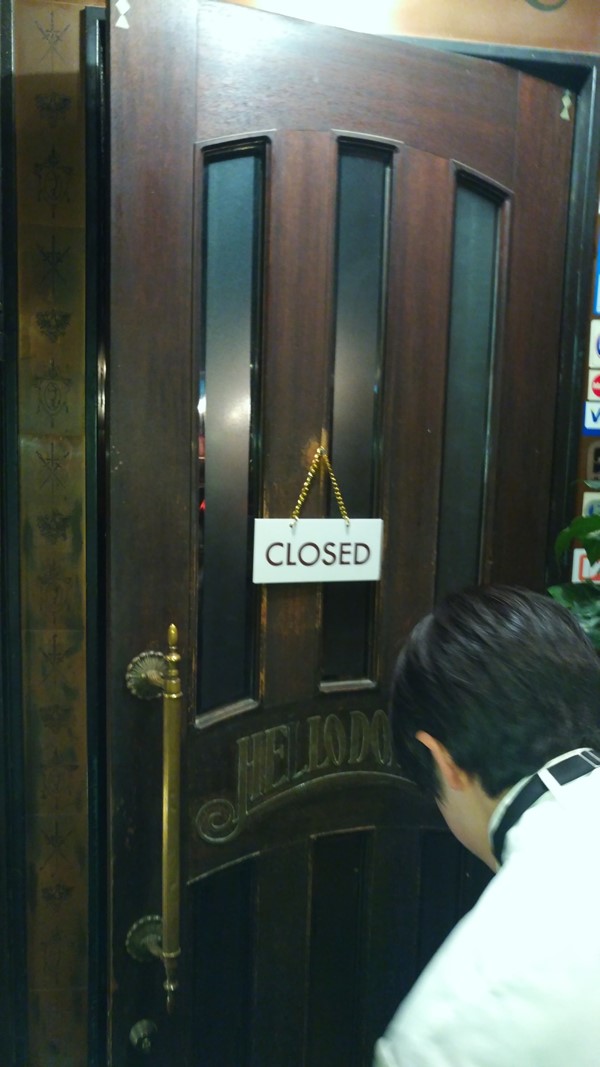 But one of the staff let us in, since he'd been the one to say that it was still closed because their bartender hadn't showed up. No mixed drinks, but he could handle whiskey on the rocks and a beer. The closed sign was still on the door so we had the entire place to ourselves!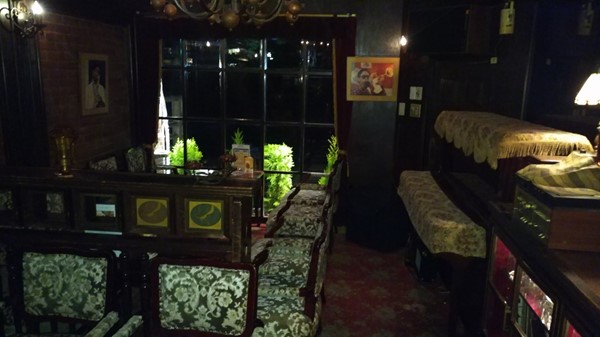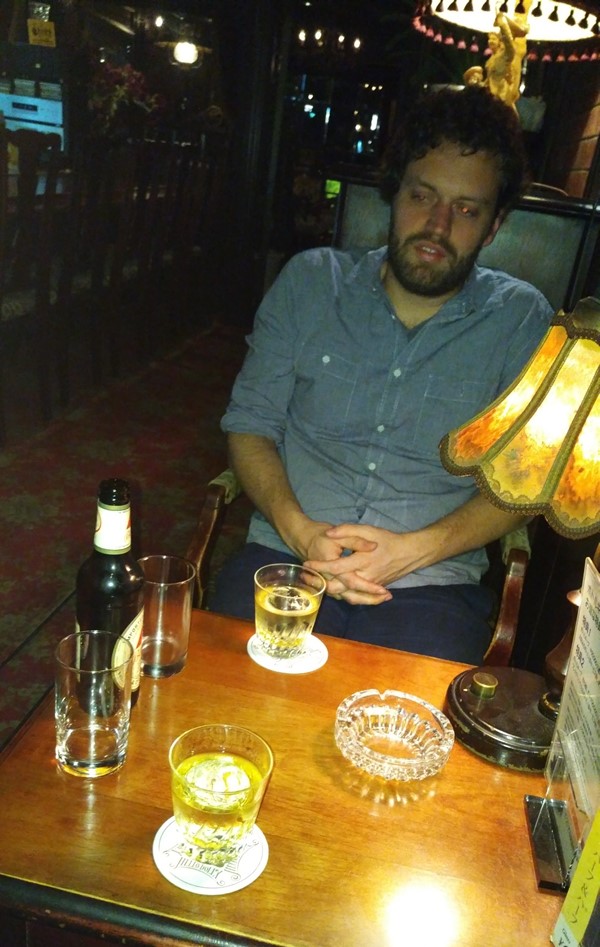 Nice old wood classy bar interior, but again, we stayed for just one drink before heading back to Beer Bar Jive a little before 8, hoping to get out of paying the cover charge from 8PM on (didn't work). The musical guests were a Harmonica (& Guitar – but he should have stuck to the Harmonica) player and a Pianist (really good). I'd wanted to hear some live jazz on this trip, so I wasn't all that picky about what I could find on a Sunday night.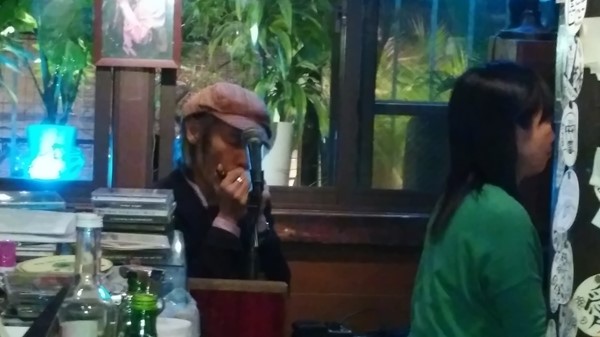 After a couple of rounds of drinks, we left at the end of the first set, not really getting value for our 1500yen each cover charge, but we needed to find food – and probably should have gone back to the yakitori place, but instead, walked around forever, finally plopping me down in a British Pub while Julian scoured the rest of the neighborhood – coming up empty, so we both decided to have a little food. Tip for ordering Western food in Japan. DO order the Fish & Chips (me), DO NOT order the nachos (Julian).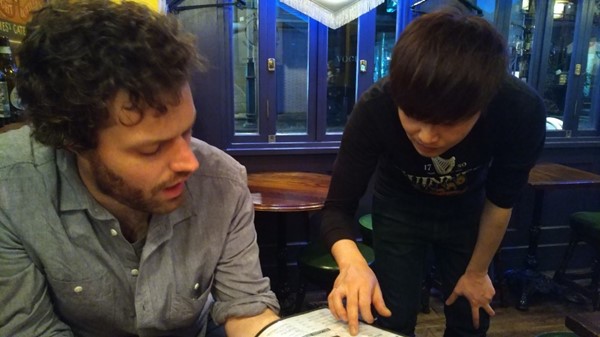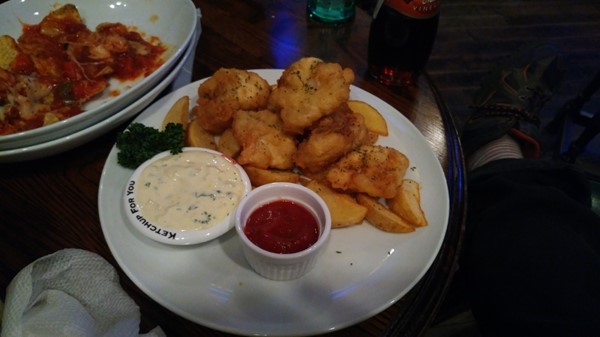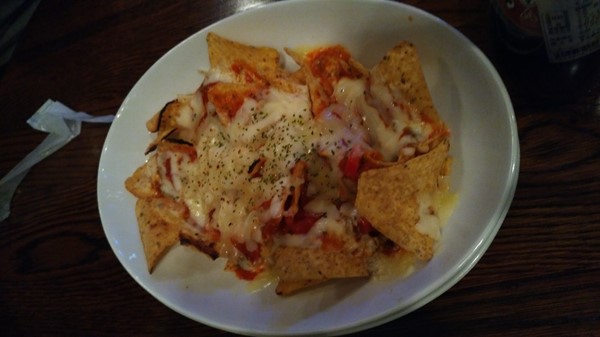 We struggled back to the hostel – and the room was set for two: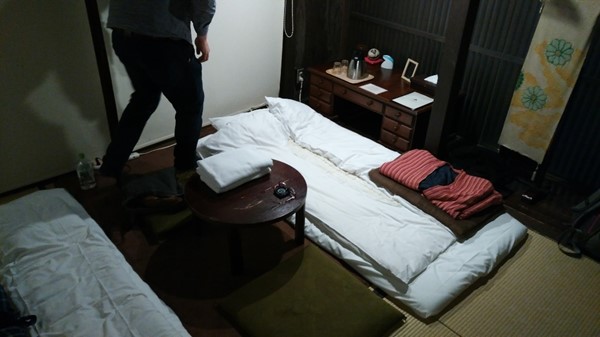 Julian went back to Beer Komachi to see if he could get a little more food. No, kitchen was closed, but isn't beer food?
I slept like a rock. I was up before Julian, meaning I had to find the shower (we had a bathroom in our suite). It was though the lounge, left through a sliding glass door!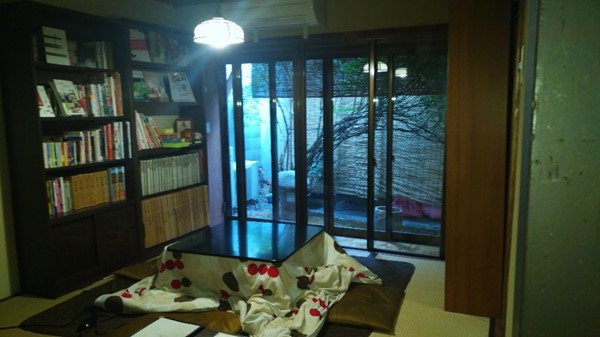 Had a bit of trouble getting Julian up and going, but once we were out, found a close café (La Bac a Sable) for a little breakfast: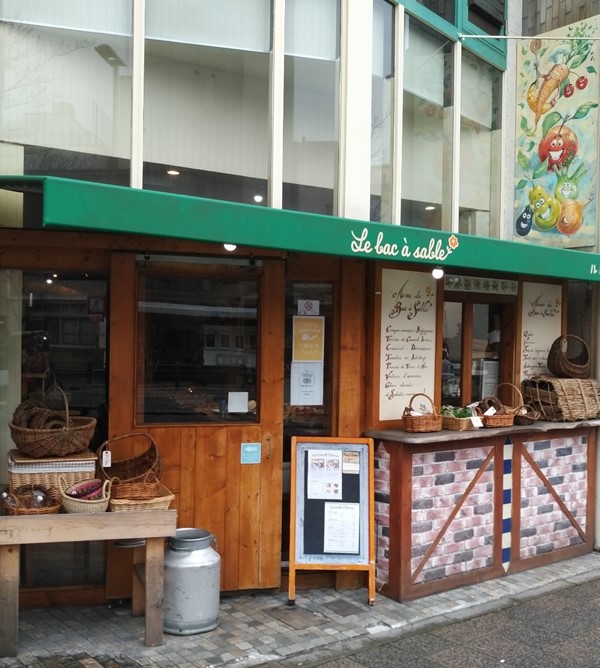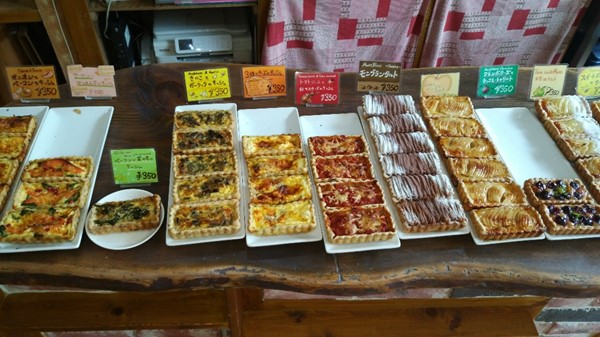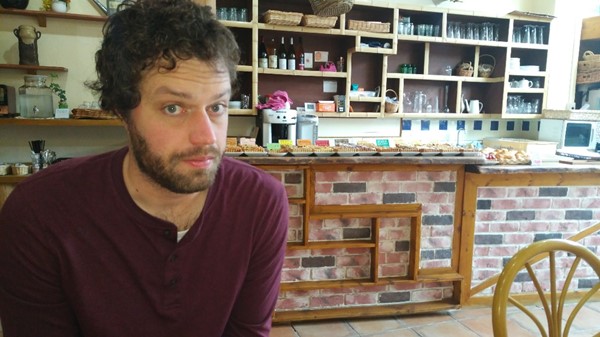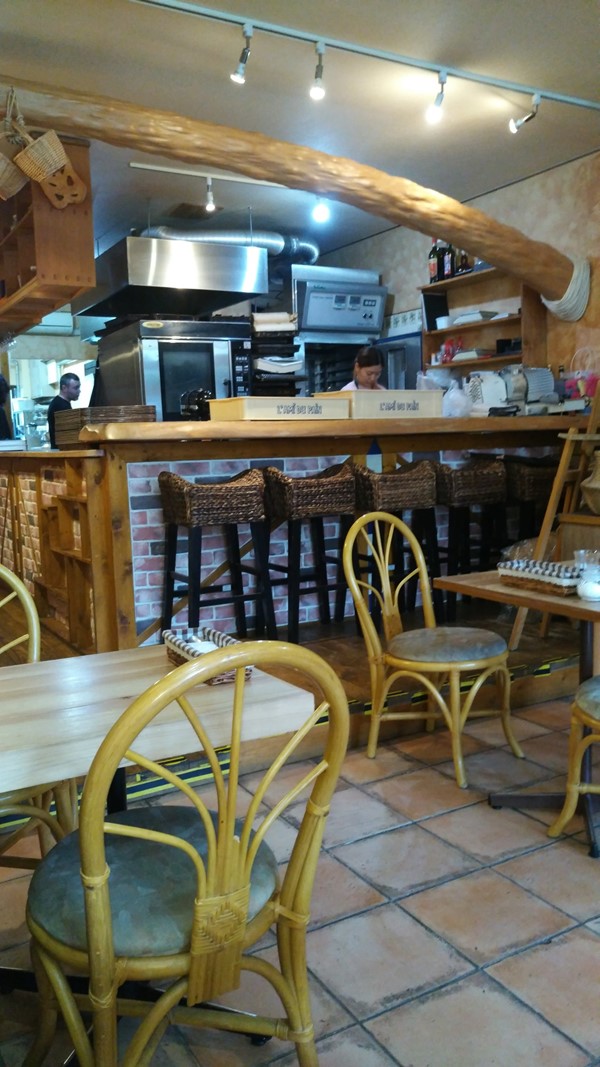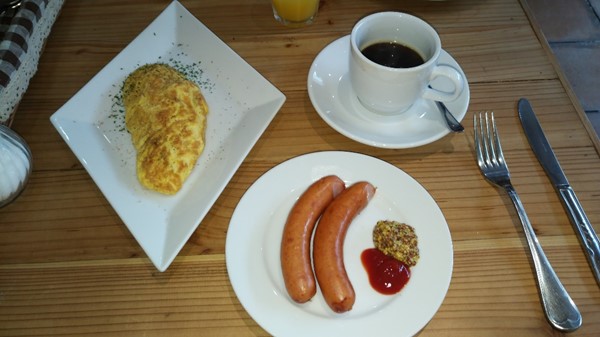 Nice to have a sort of American breakfast after a couple of weeks!
Off to the temple (Fushimi Inari Shrine) we go – two or three trains later, we pop out here: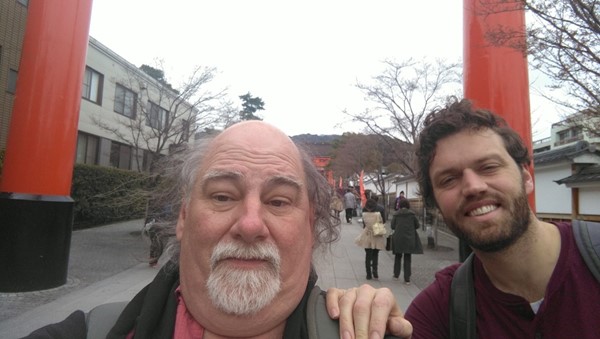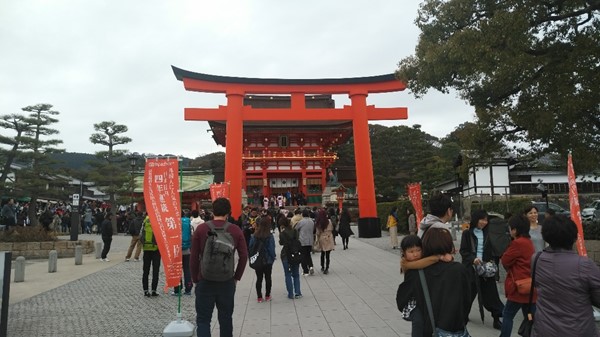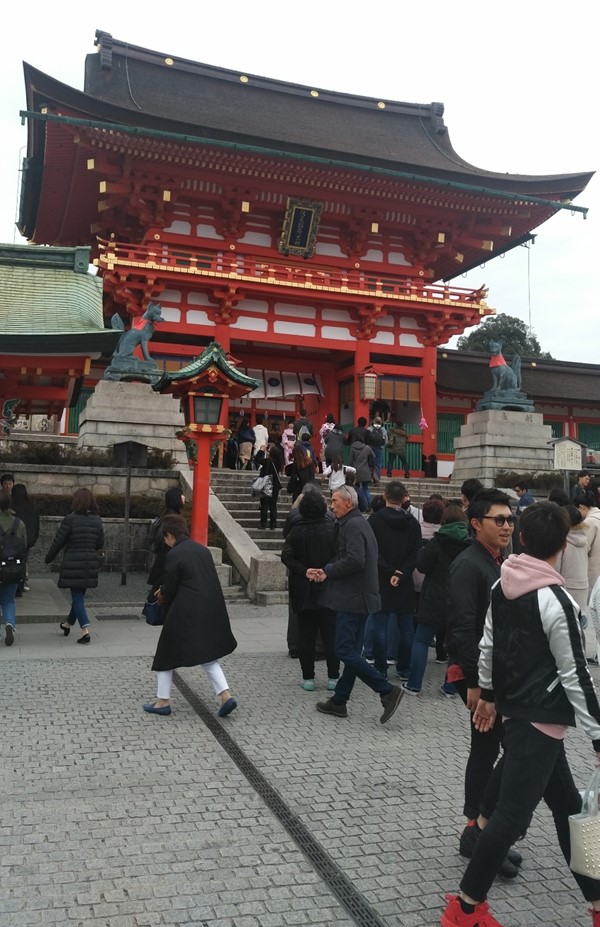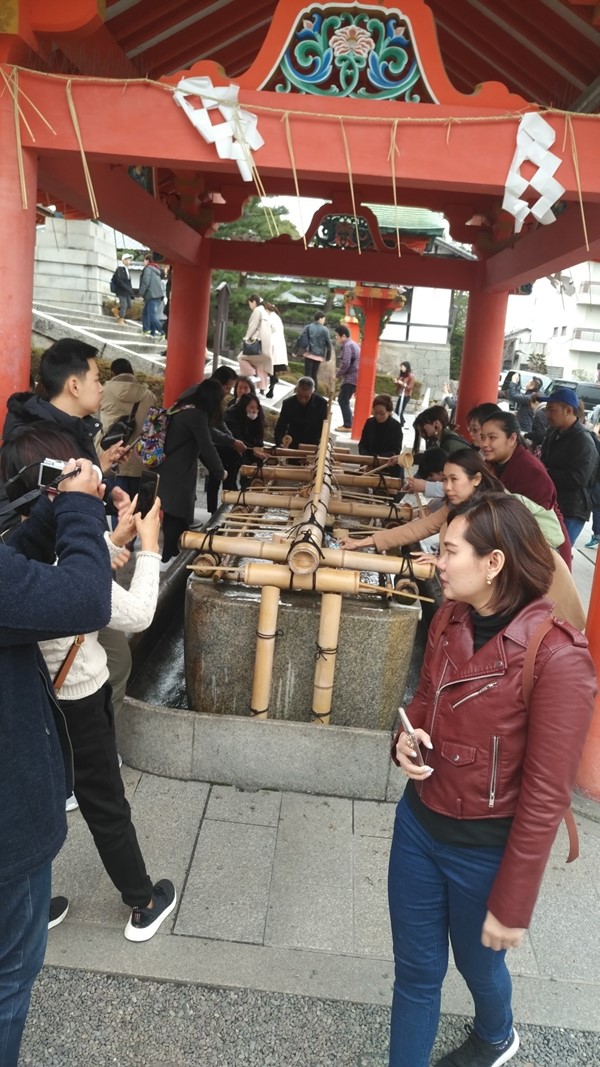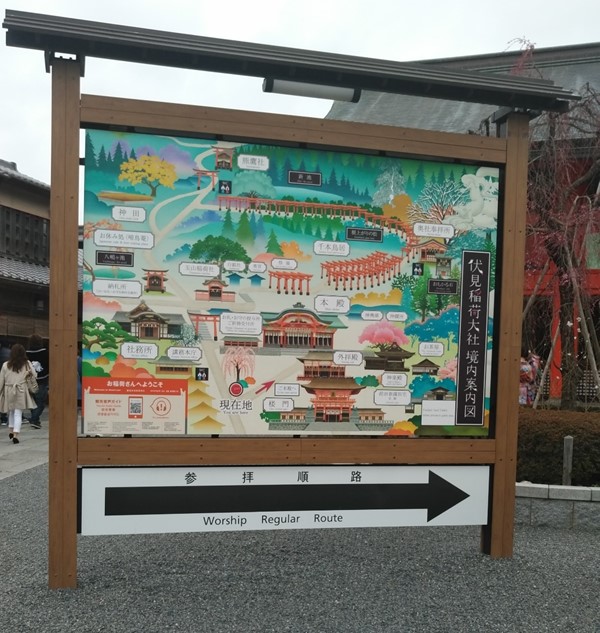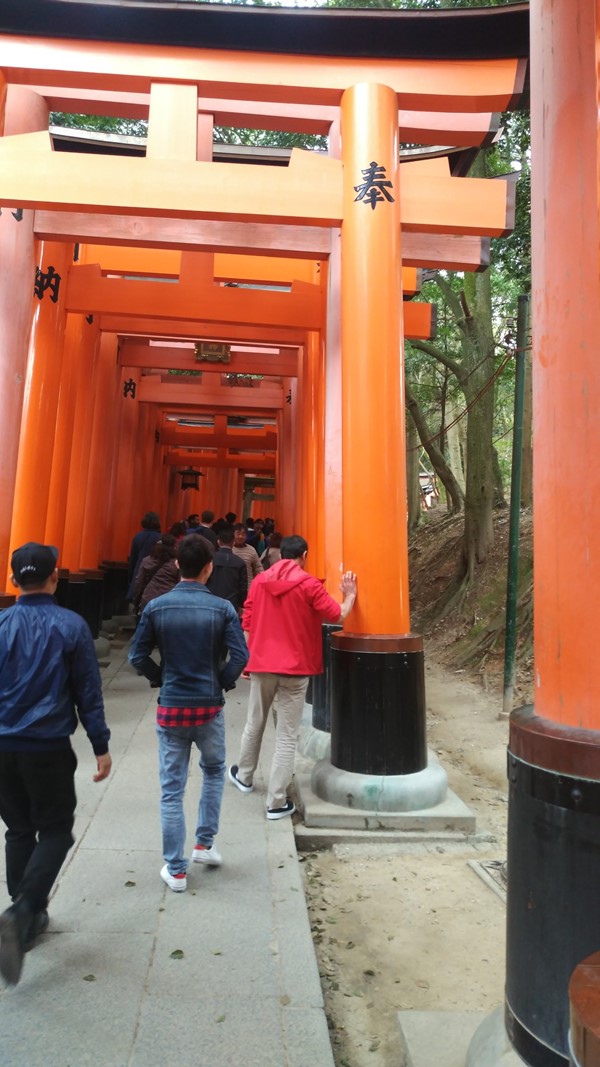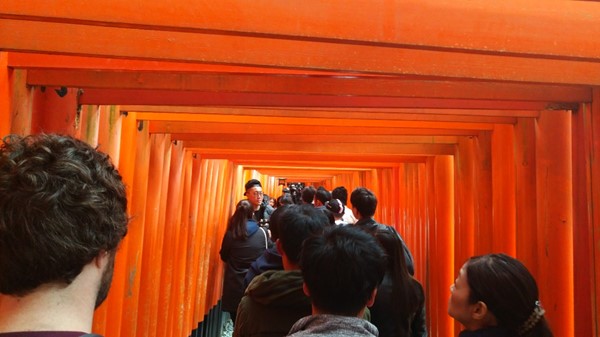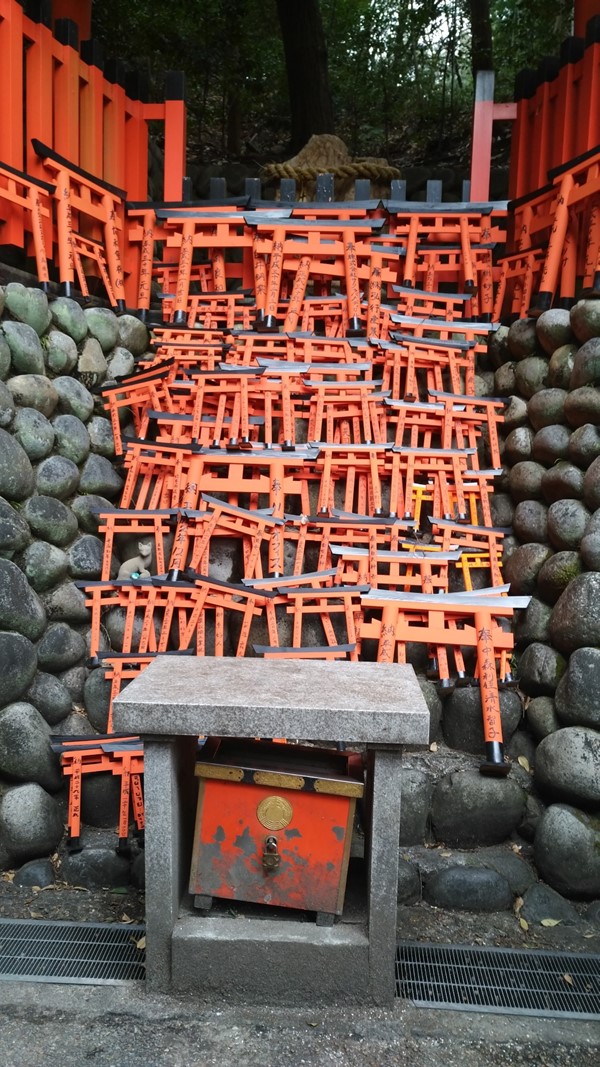 Next up was noodles at Men Ko Bo Ren – a place that Julian had been to before. It was popular, so we had to wait for a seat: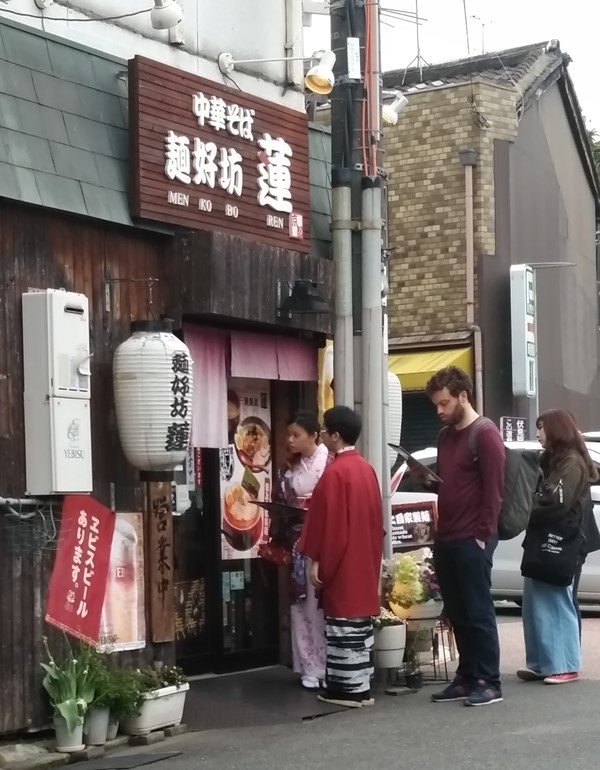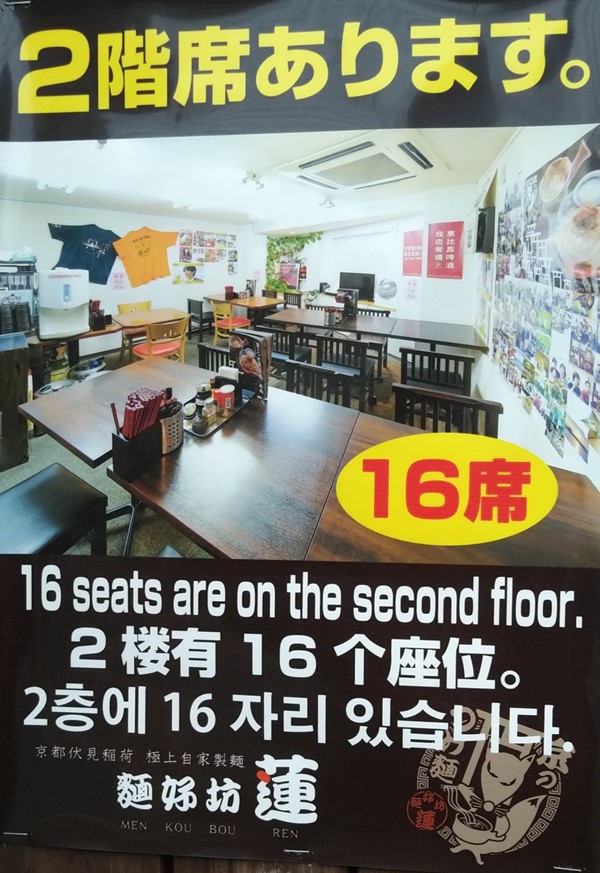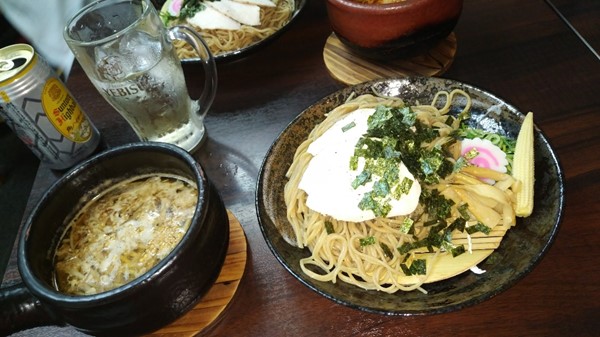 But it was a good thing we got in when we did, as they sold out of noodles!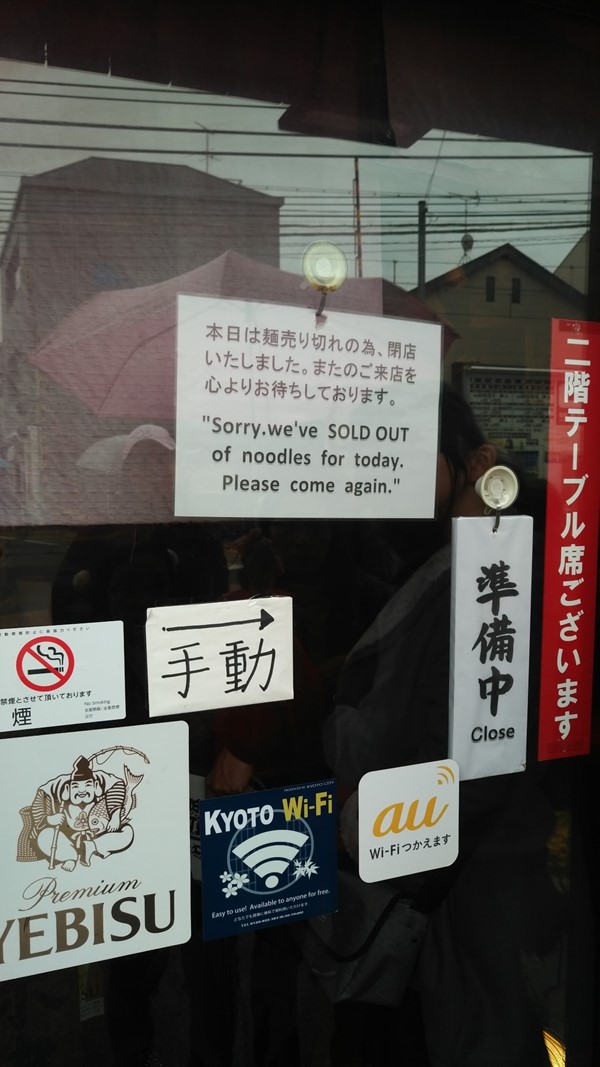 We took the slow (2.5 hours) train back to Nagoya, which saved us enough to pay for lunch.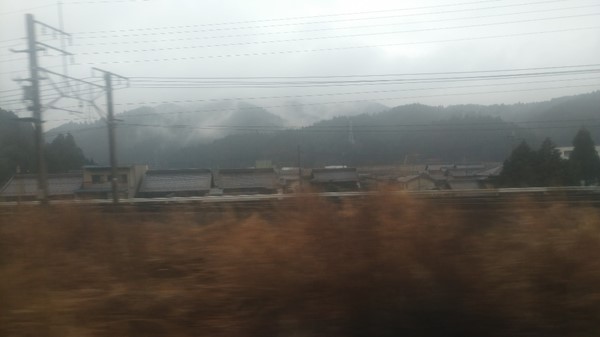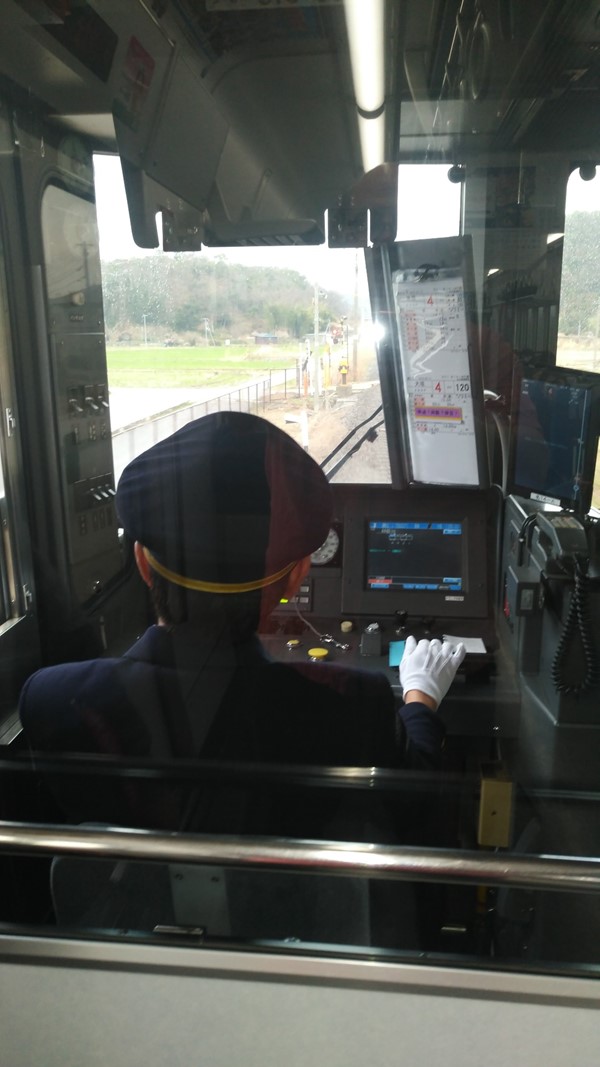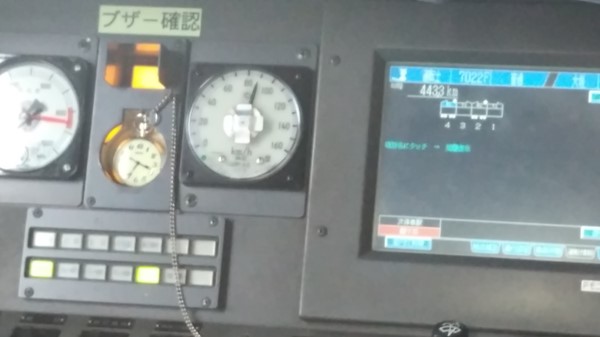 Notice the railroad watch holder set into the control panel.
I had arrangements for a business meeting with a client from Tokyo who happened to be in Nagoya for the day one business, so we got together for drinks and dinner.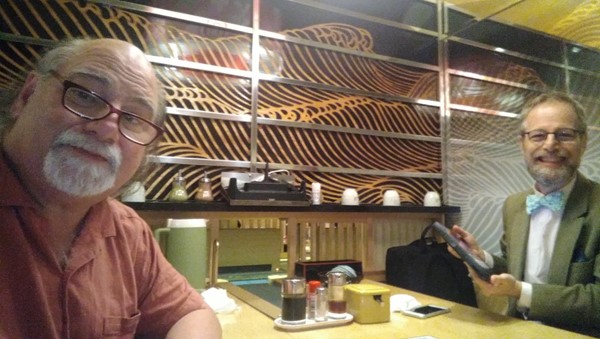 TokyoDave has the ordering tablet in his hand, but here is what it looks like: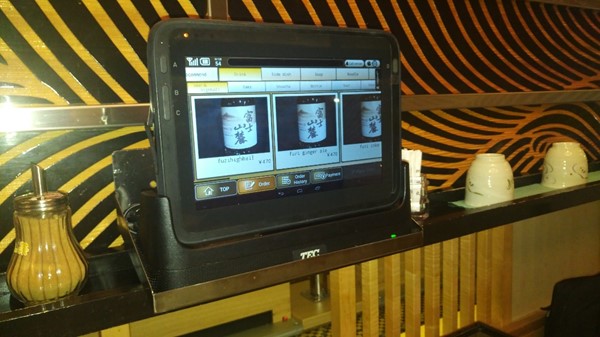 I let him order all the dishes, and I wasn't disappointed!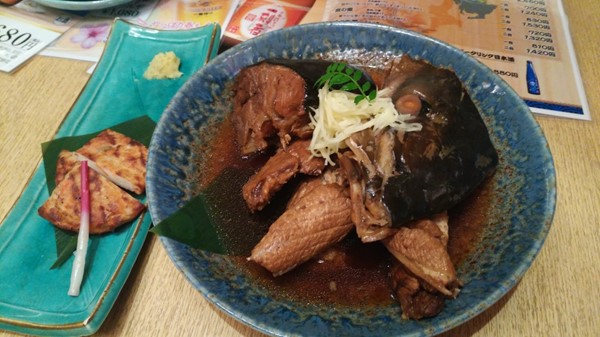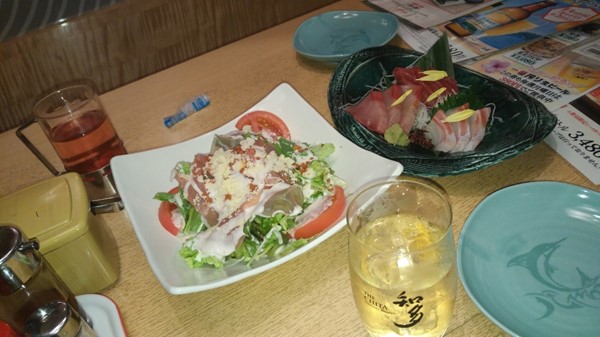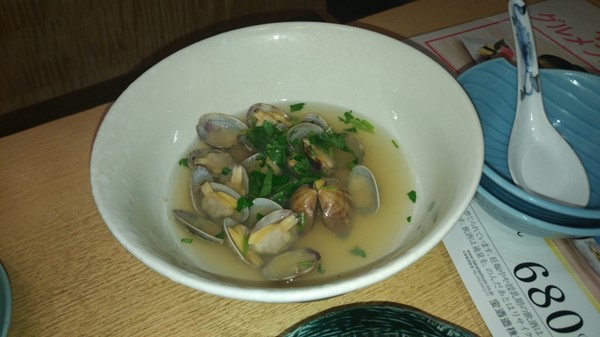 It was a wonderful dinner meeting, but TokyoDave needed to catch the 7:55pm train home, it was shorter than I'd like.
I, myself, headed back to Julians, for tomorrow is another day.
[? ? ?]
For more blog posts, CLICK HERE.