I can't seem to stay home for long – so after getting back from Japan and working the weekend, it off to AUSTIN!
It was a civilized departure time…12:30, making it a lunch flight with Alaska's new, improved, First Class food. Bring on the warm nuts!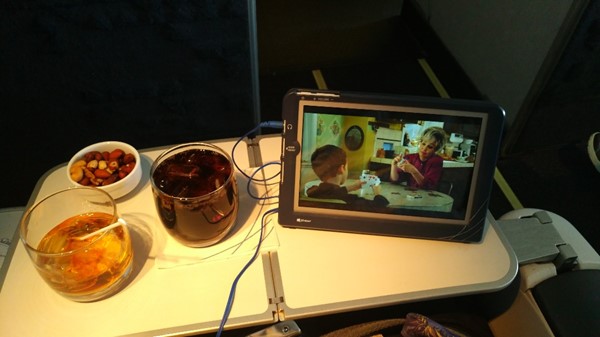 Followed by salad: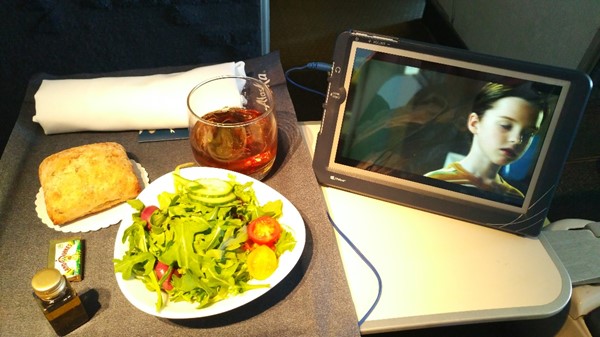 And then the main: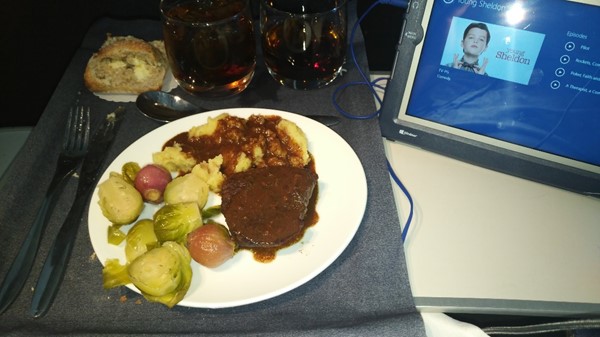 Grabbed an Uber (since Lyft stopped working on my phone) into the heart of the city: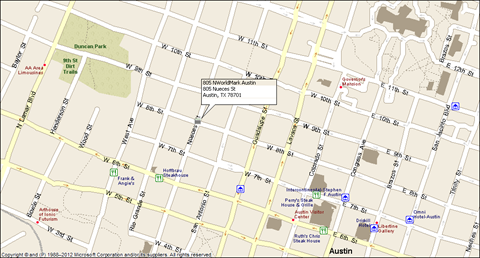 Staying at the WorldMark Austin, which has only been open since February, and is just off the 6th Street entertainment area.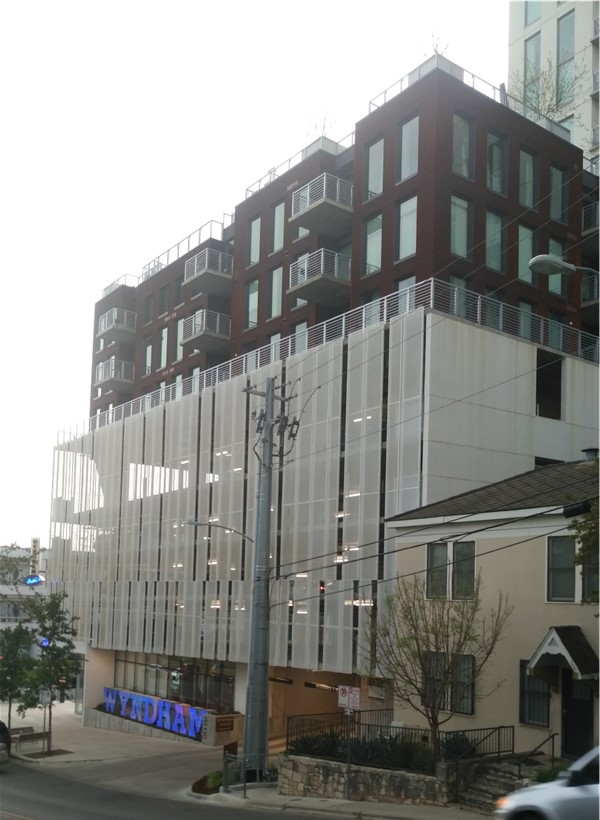 WorldMark has the smallish brick section of the building, Wyndham, the tower behind. The public spaces play up the "Keep Austin Weird" vibe: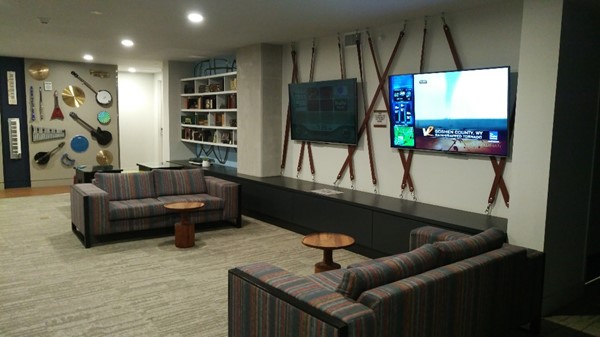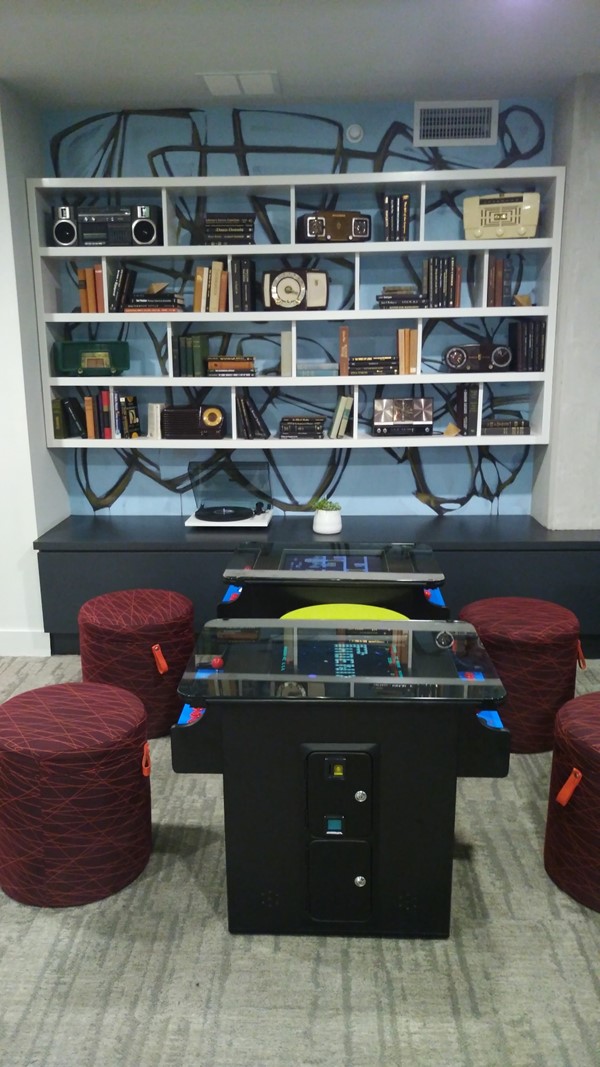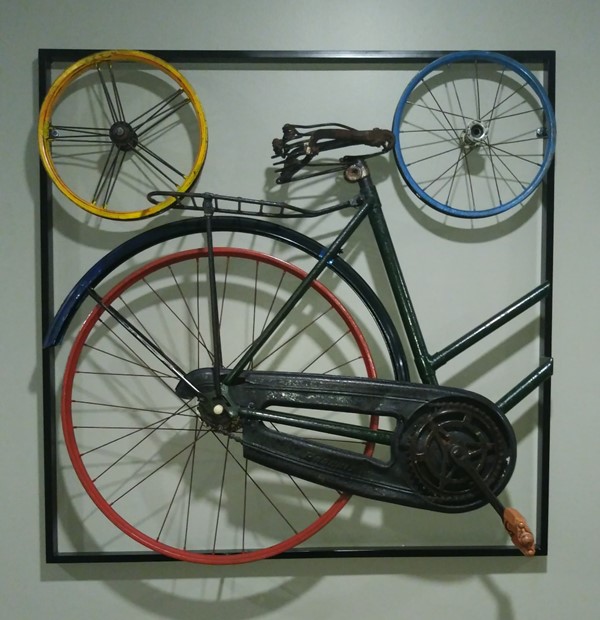 And then up on the 10th floor…owner's lounge, chill out area, infinity pool (no hot tub for some reason):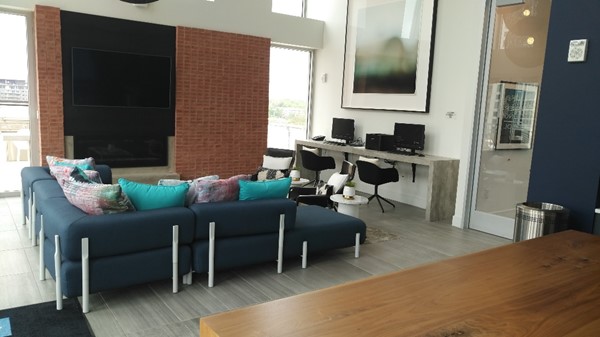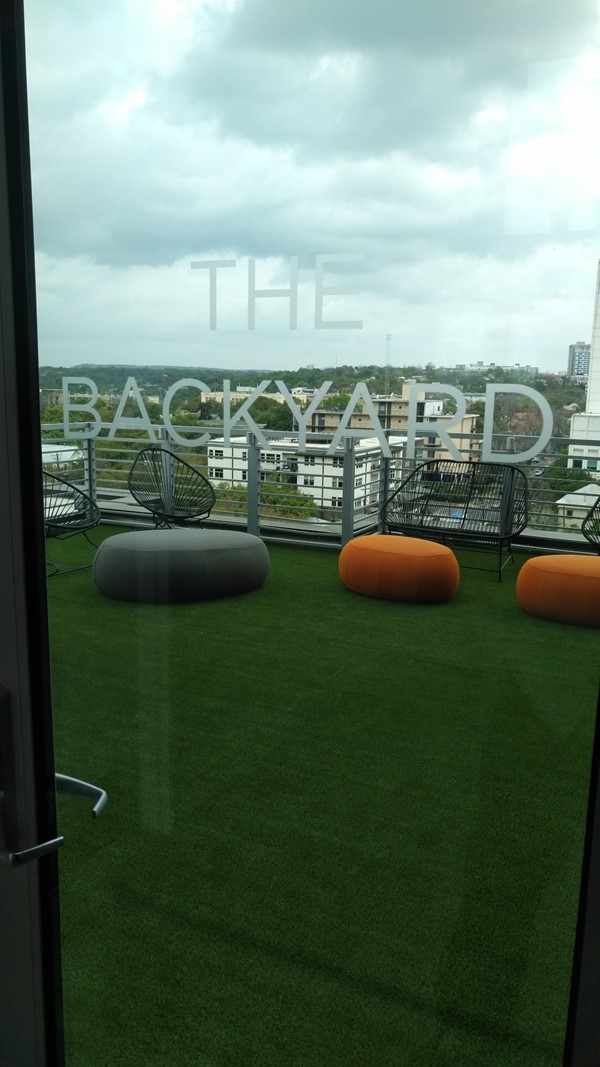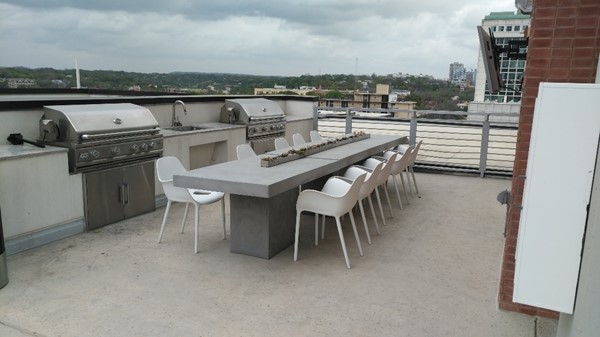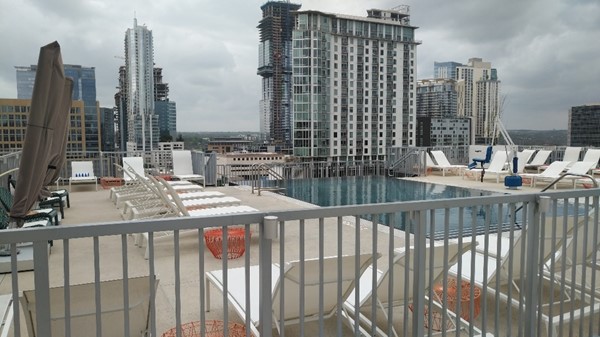 Welcome to Texas ADA signage!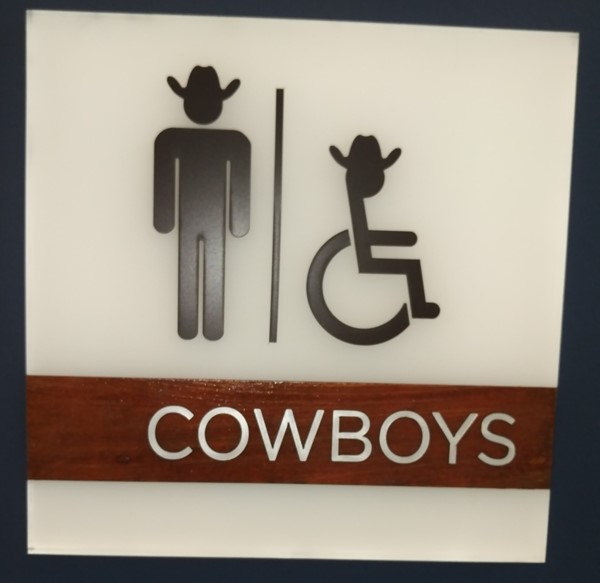 But then there is my room!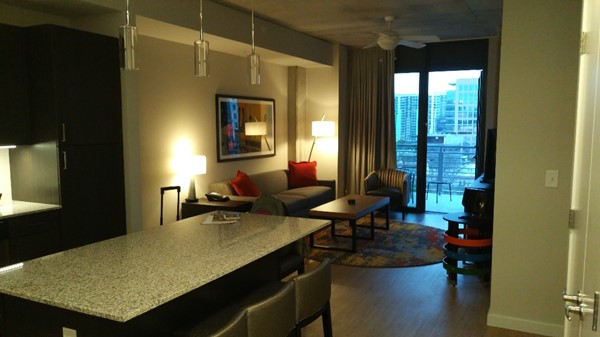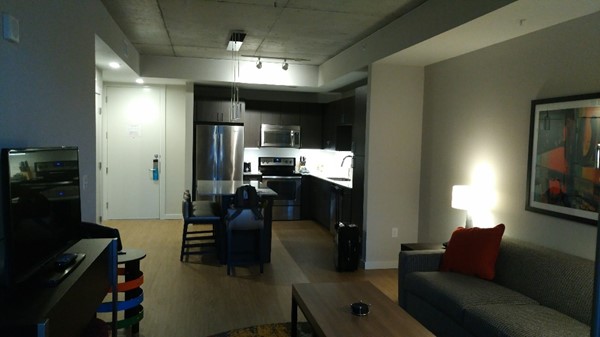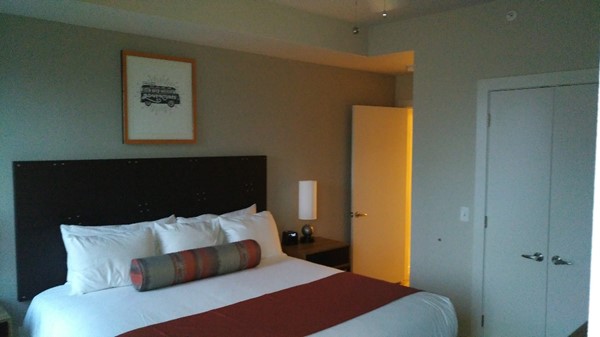 And the view from my deck!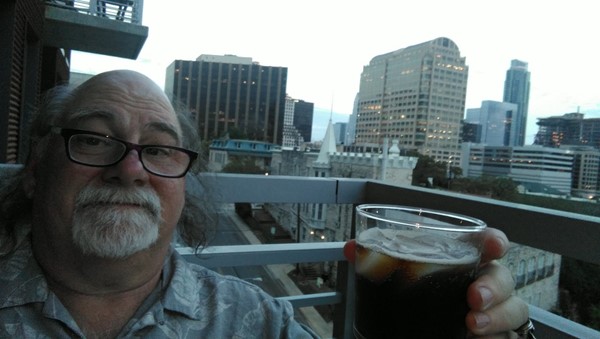 Since I'd had a full afternoon of feeding on the plane, I didn't get out for dinner until around 9PM – and it surprised me to have to sit inside since the place was packed outside.
The place is called Ranch 616: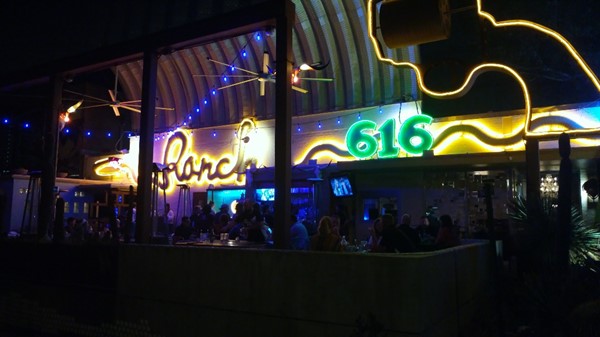 You miss a bit of the big neon gun in that shot, so this next day I got a better photo: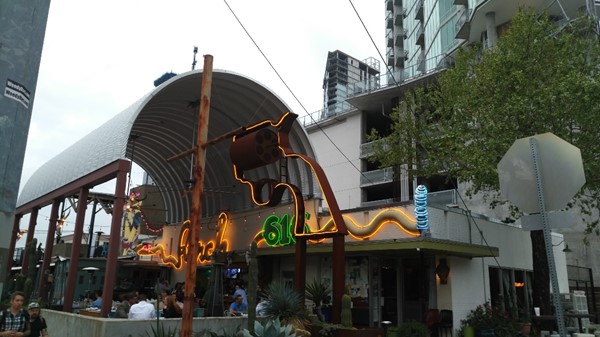 Tried one of their Specialty Cocktails, the ATX Jackass: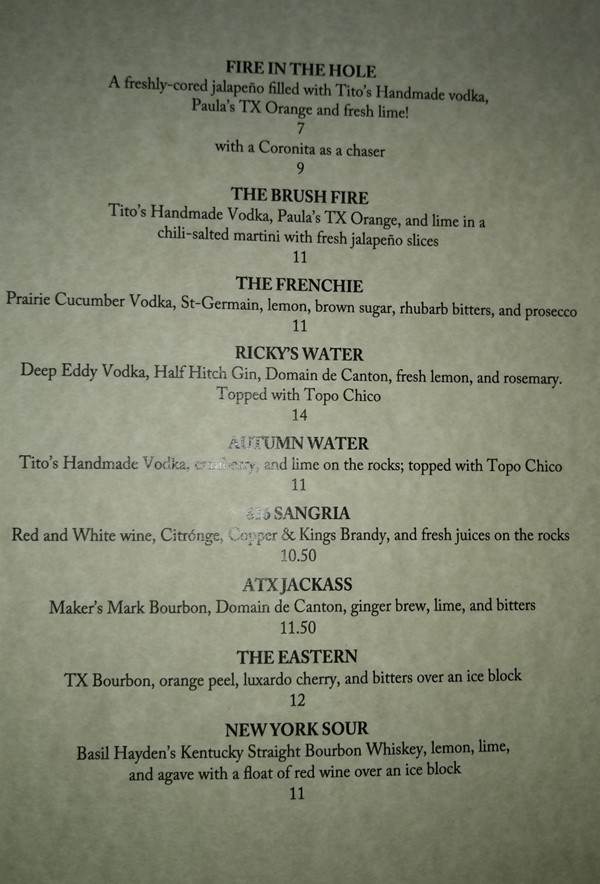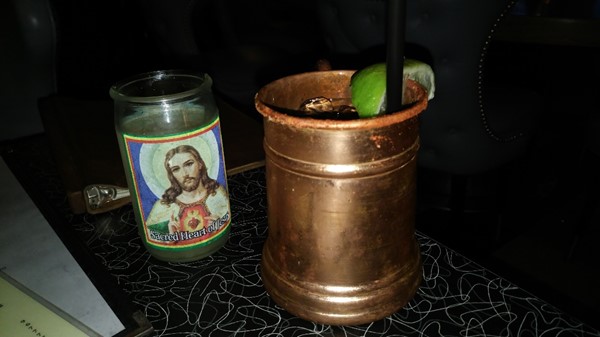 And I just had a starter – but the starter (Fried Oysters and Calamari) was enough for a good small dinner.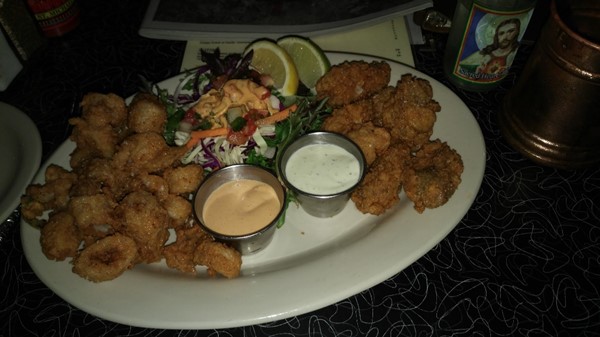 Quirky interior,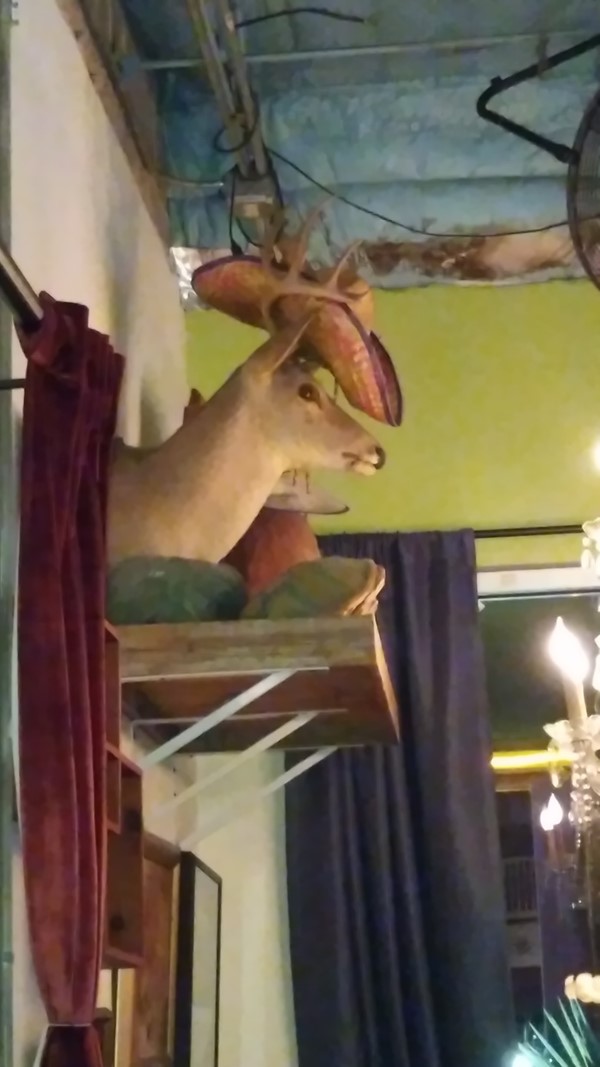 But great service from Nick. He's the one on the left (swiped from Facebook from 5 years ago):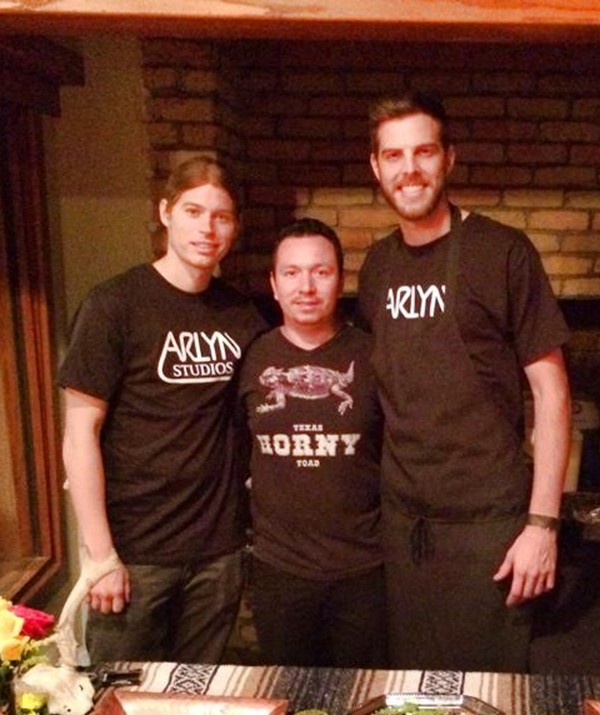 Slept late, when out for lunch at Tumble 22, where I got the "wimpy" version of their chicken – no stars.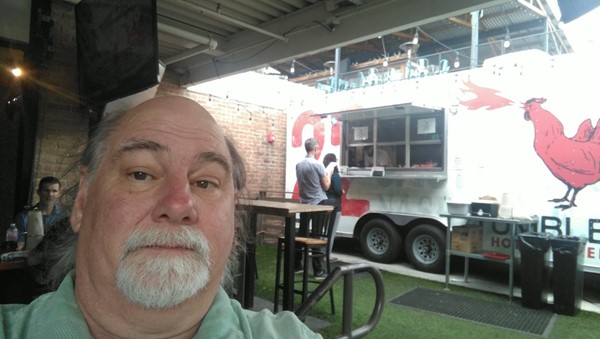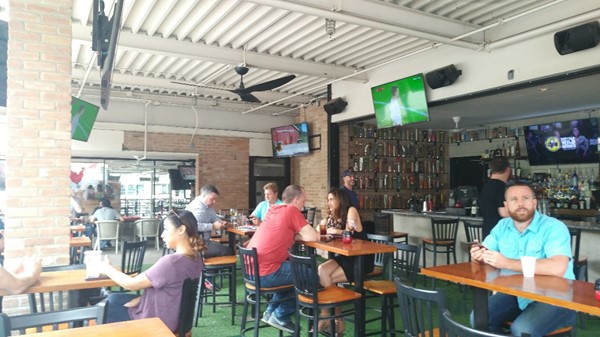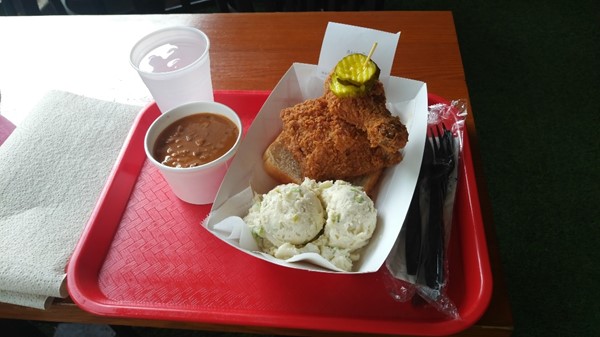 Wandered around the neighborhood and checked out this GREAT wine store, Austin Wine Merchants: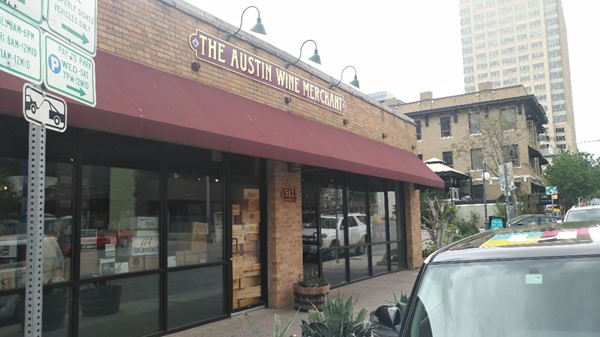 Not planning on taking anything back with me, but that store was packed to the brim – Jimmy would have been proud.
Found some amusing graffiti…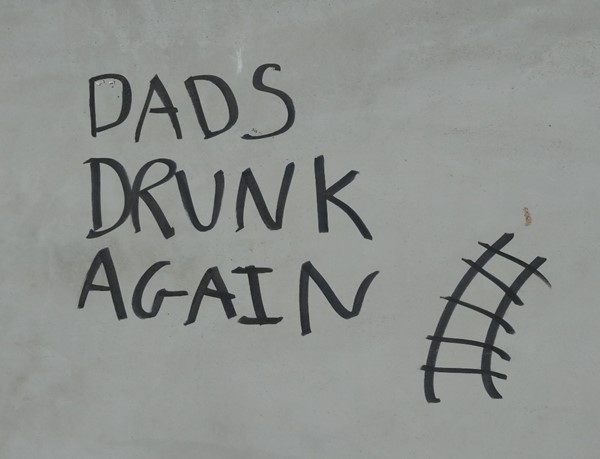 Then headed to the roof deck for a little afternoon sun: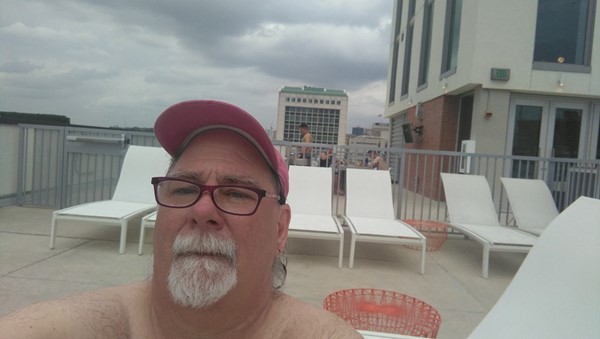 Good thing I did as you can tell from the clouds in the background, rain is coming.
Grabbed a couple of tacos to go from One Taco for dinner: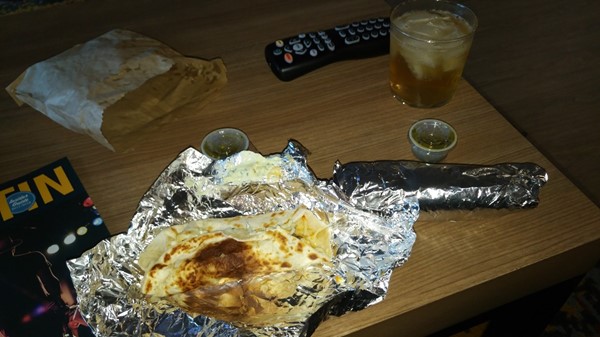 My original nighttime plan was to go see some live music at this place: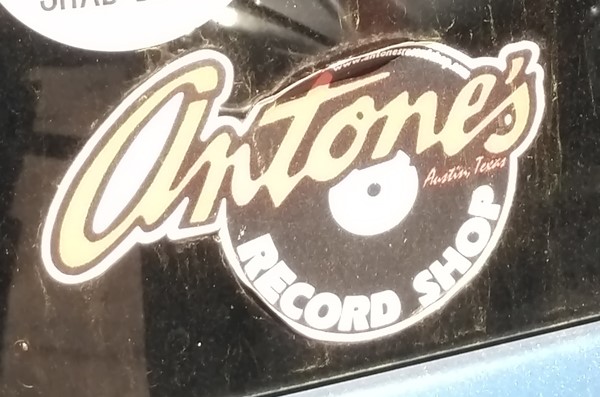 But it started to rain, and then get heavier, so I turned around and stretched out on the deck to enjoy the thunder and lightning show: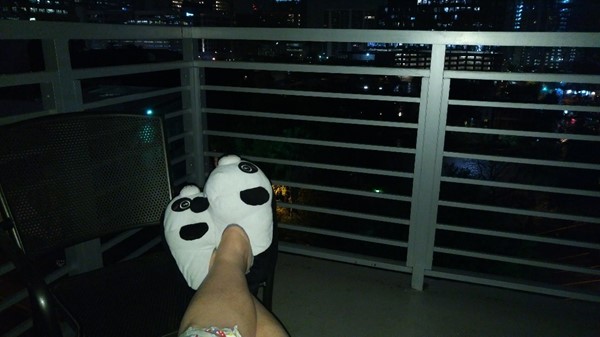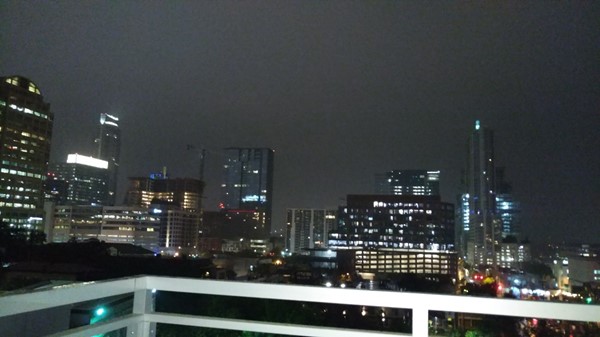 Sadly, impossible for me to capture the lightning, just how it lit up the night sky.
The late morning found me off to Holy Roller, a hipster café, for a meatloaf sandwich and a Manhattan – enough of Texas cocktails!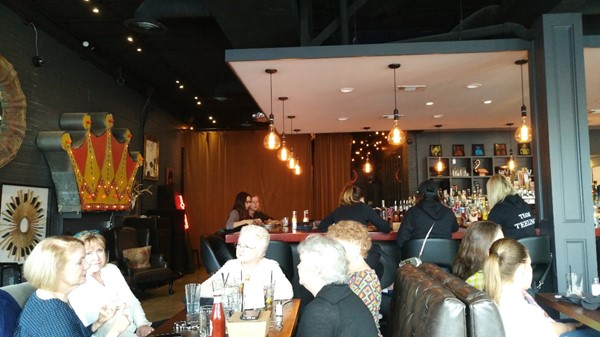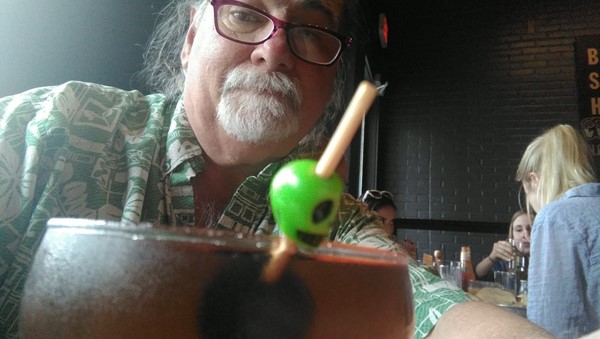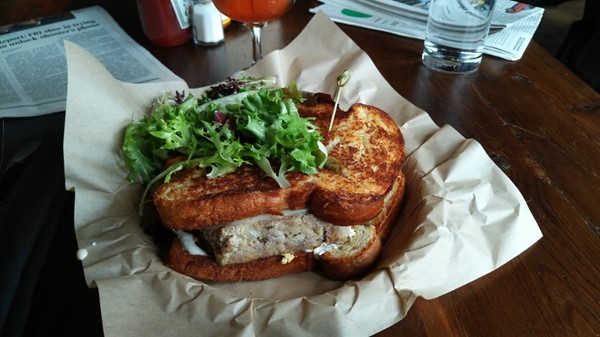 Sadly, the sandwich sounded better than it was, though the cocktail was excellent.
My walk home took me past this creek, which yesterday, before the storm was 12″ wide and 1″ deep – not today!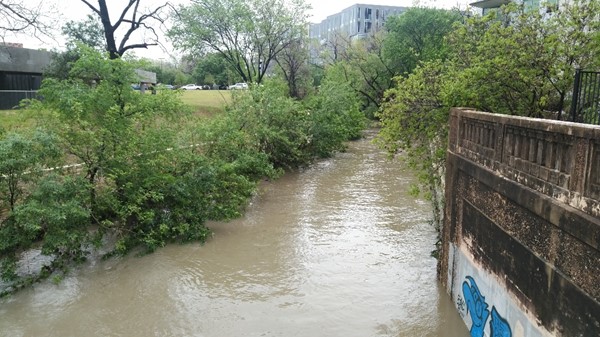 The flooding in this section of Texas was enough to keep the sales staff from coming in, so my 3PM $90 Owner Update was cancelled. DAMN!
Amusing car that reminded me of my departed father, though no Saint: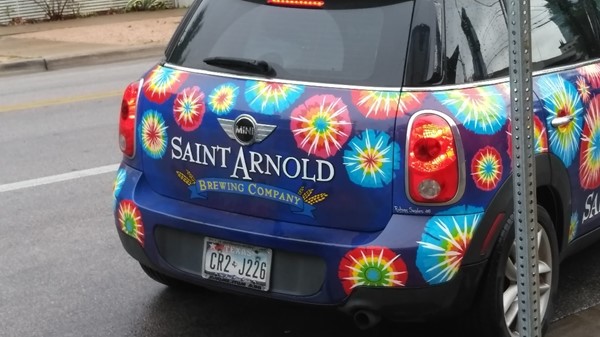 And a couple of quaint places that I didn't go in — gotta save something for the return trip I booked for November with Rache.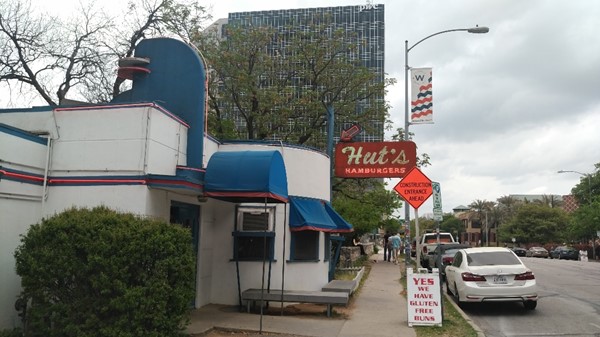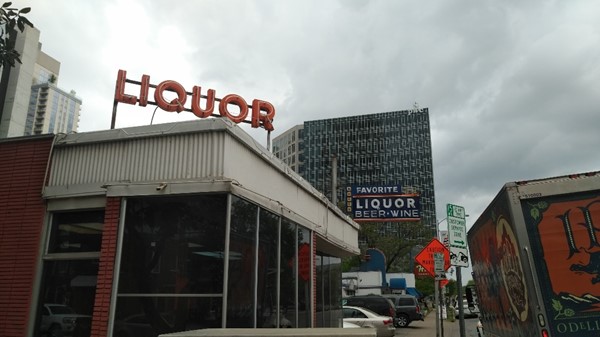 Gives you a feel of the old neighborhood with high rises plopped around.
For my Last Supper in Austin, I returned to Ranch 616 to have the other dish I'd looked at – the quesadilla. Again, an appetizer big enough for a meal. I passed on the Frog's Legs, instead, opting for another Manhattan. This time I was on the deck as it was packed again. Sadly, Nick wasn't working.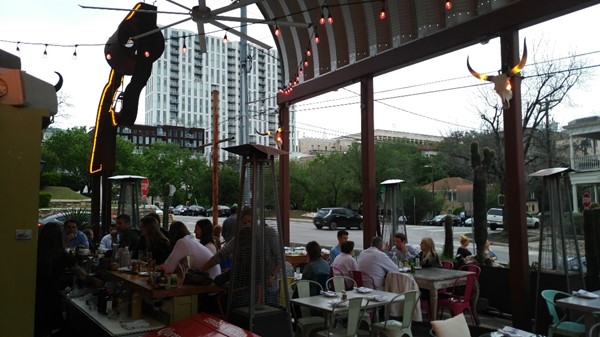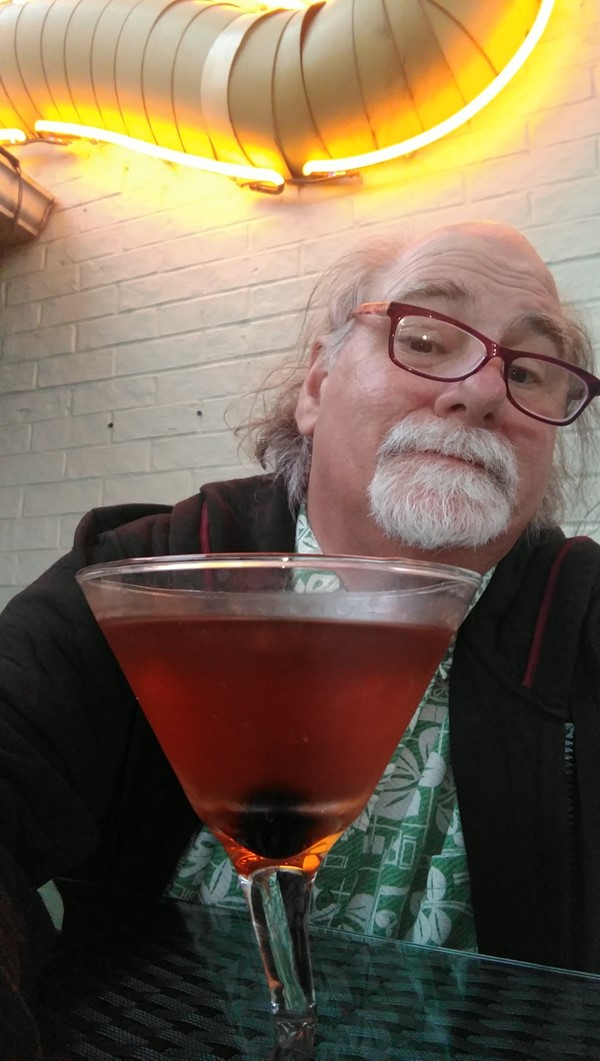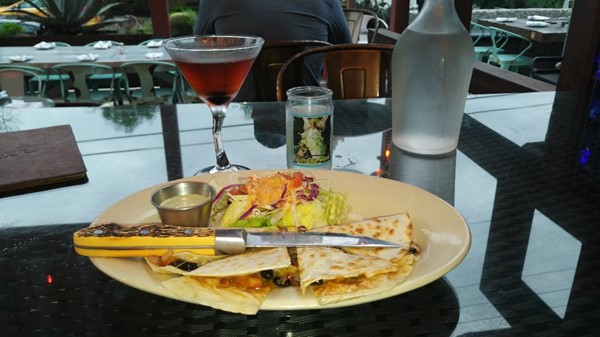 Quiet evening at the condo followed by lunch at Walton Fancy and Staple for their Rueben. I got there a few minutes before noon, and no line at the counter. Fifteen minutes later there was a line out the door: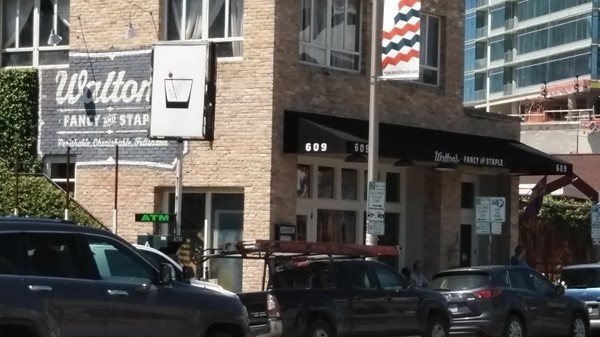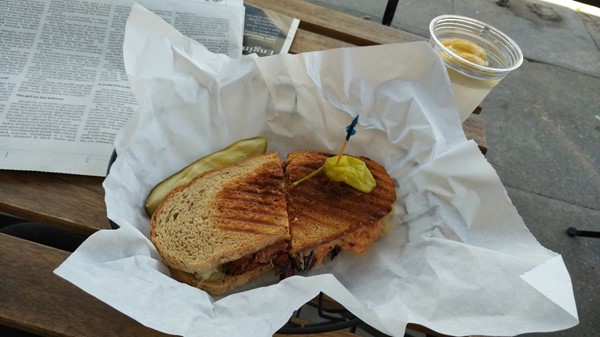 After lunch, hung out in the lobby for a bit, since my flight isn't until 7PM, but finally hailed an Uber to head back to the airport so long before my flight that I couldn't check luggage – but I hadn't filled the suitcase with Bourbon, and my bag was carry-on size, so, to the lounge it went with me. Amusingly, in the lounge they were serving mini-hotdogs, in honor of opening day of the baseball season.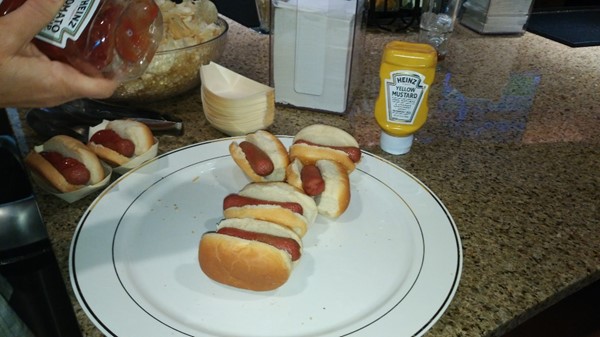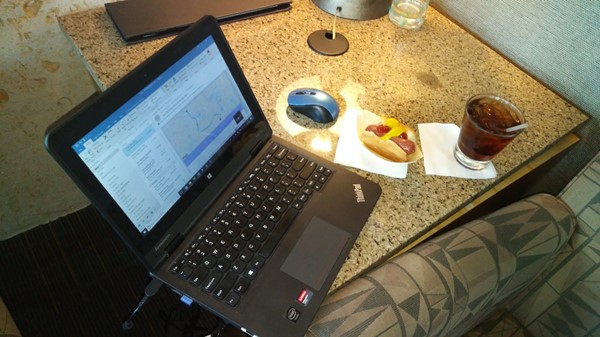 Whiskey and dogs – great combination, knowing that I have dinner awaiting me on the flight home. Speaking of which: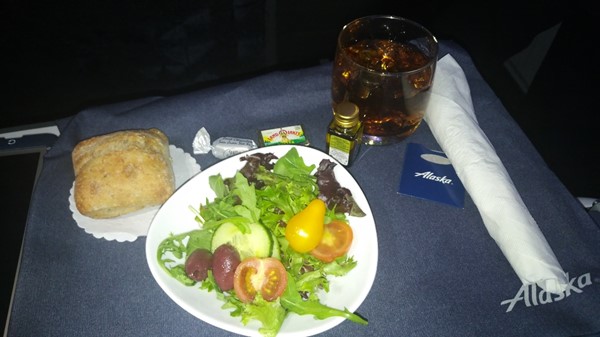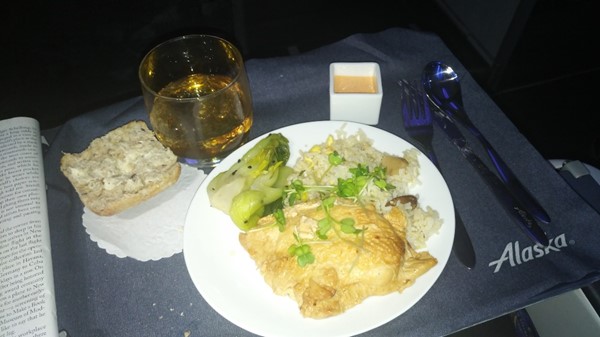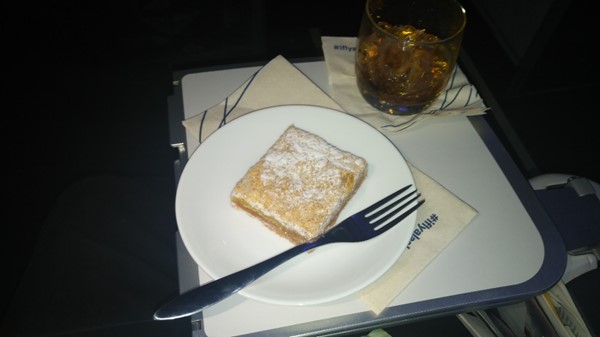 Not bad for airline food.
Home next week – a rarity!
[? ? ?]
For more blog posts, CLICK HERE.