If it's spring, it must be time to read scholarship applications!
For those of you that don't know – I have an endowed scholarship that I set up back in the 90's (when I was WAY more liquid) at The Evergreen State College, in Olympia, Washington. That would be The Mark Stephen Souder Scholarship For Information Dissemination, whose selection criteria is, as follows:
Offered to a new or currently enrolled student attending full time who demonstrates an interest in information dissemination, e.g., writer, Web designer, teacher, musician, activist—anyone helping to influence the way people think about their world, to change the concepts of "nons"—non-residents, non-Caucasians, non-heterosexuals—to create a more equal, intelligent and compassionate society. Preference will be given to non-resident gay or lesbian students, demonstrating quality and creativity of prior work in the area of information dissemination. Financial need will also be considered.
Requirements

Letter of application addressing your passion for and level of expertise in the dissemination of information. Tell us where you have been with this concept, what you are doing now, and where you want to go in exploring how information is shared.
A portfolio of work that expresses your beliefs about information dissemination and demonstrates how you have put those beliefs into action.
Two letters of recommendation from individuals, other than relatives, who have personally experienced the power of your work in information dissemination.
Some of the verbiage is in the criteria because of Washington State passage of I-200 floated by shyster Tim Eyman who routinely uses political contributions to support his lifestyle. The gist of the initiative was to prevent "prohibit racial and gender preferences by state and local government". Sadly, it passed with 58.2% of the voters who actually bothered to vote.
For the last five years or so, we've been holding the scholarship readings at The Camlin Hotel, now a WorldMark property in downtown Seattle: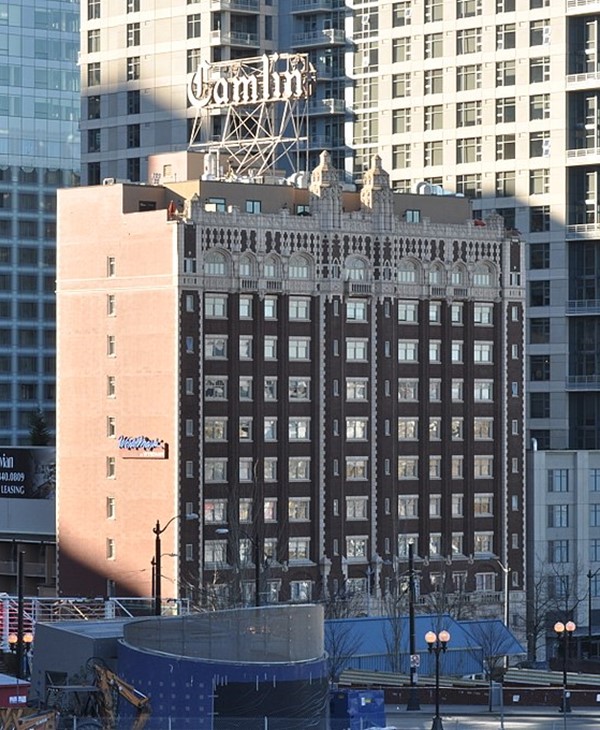 Generally, I try to get one of the three penthouse units because of the size of the living room area, and the attached rooftop deck, which, sad to say, does not have a hot tub (though there is a hot tub and pool on the first floor, along with a small museum in the basement).
This year we had 10 applicants, down from 15 for last year's reading, and 11 for 2016. It tends to bounce between 10 and 20 applicants per year.
We got a late start because I worked closing at the shop, which means I didn't get there until 7:30. Usually we start earlier. We had 7 readers this year, down a couple from last year owing to it being on a Saturday night. Here is a shot of the "crowd":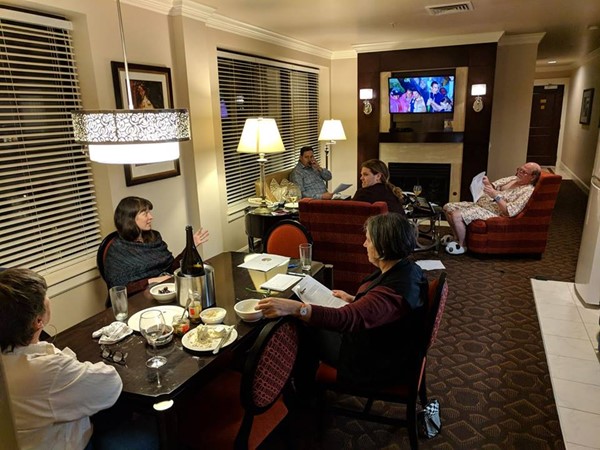 Yes, I'm in my bathrobe and slippers!
And the fabled rooftop deck view (thanks Randy for both these shots):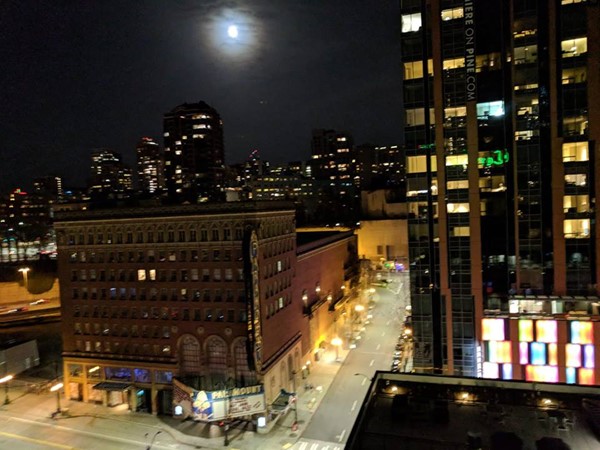 Jonathan stayed late to finish reading applications (he is thorough) and do the math on what the ranking is for each of the applicants. We give Evergreen the results ranked in order. Usually the top applicant gets the scholarship, but occasionally, our first choice is lots of other scholarship's first choice, and they spread the wealth. Here are the redacted numbers: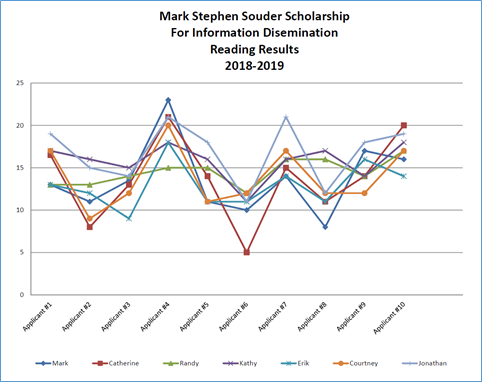 It always amuses me that even though people grade on different scales, the chart seems to line up. Interestingly enough, last year's recipient was also the one that we chose this year as the top ranked.
Next year's reading will be on Tuesday, April 9th, same venue.
So, that's how I spent my Saturday night.
[220.8]
For more blog entries, CLICK HERE.