Another week, another flight, another breakfast in the Alaska Lounge…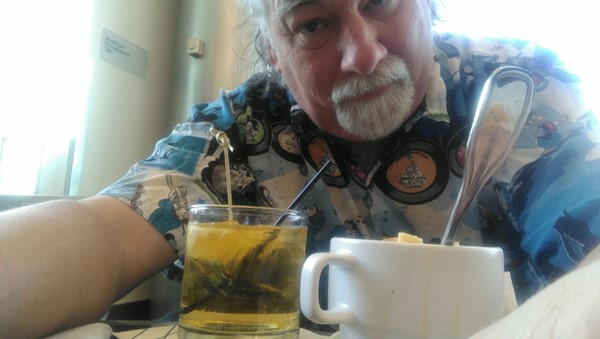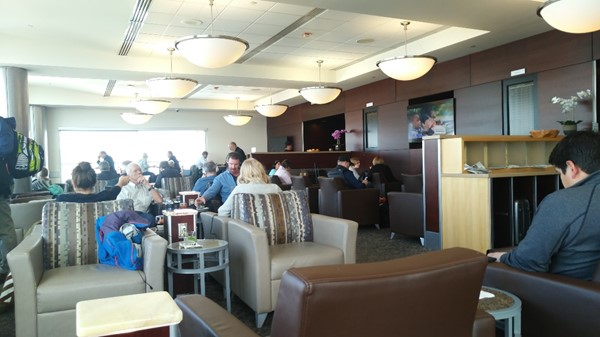 This picture is for my sister…while that plane is at my gate, it's the departure before mine: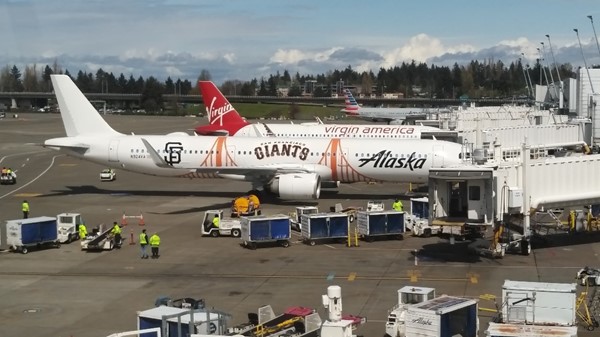 Got the upgrade to first days ago, so that means lots of pictures of the new Alaska First Class menu that they are rolling out, starting with the hot sweaty nuts: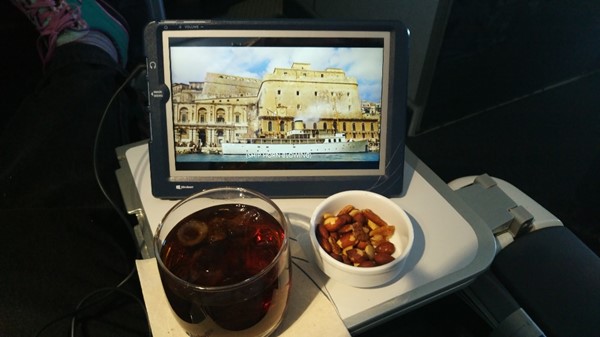 Continuing with the salad (that would be Murder on the Orient Express in the background):
Onto the Cod in Miso: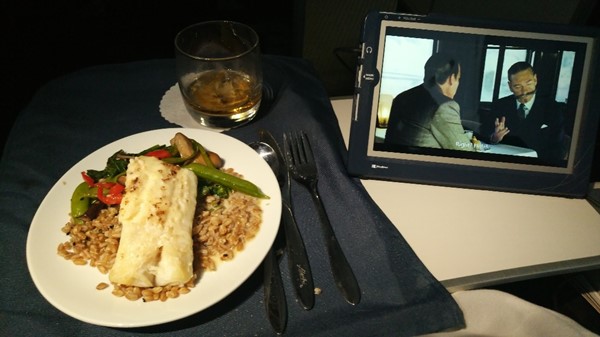 Followed by what may be the best gelato I've had in years!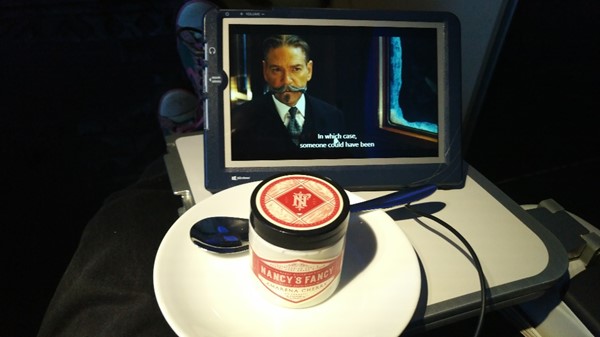 My flight arrived a little early, grabbed my luggage, struggled with surge pricing on Uber before abandoning Uber to grab the last train to Alewife – free as opposed to $50-60 door to door. I have time, I've been drinking and on holiday. Who cares if I don't get to Pucci's until 2am – he left the door open, and he sleeps soundly. Grabbed an Uber from Alewife that was $10. Much more reasonable!
When I visit Pucci, we have a system. He gets up in the morning and goes to the gym, I sleep in until eleven or so, then get up for my breakfast/his lunch: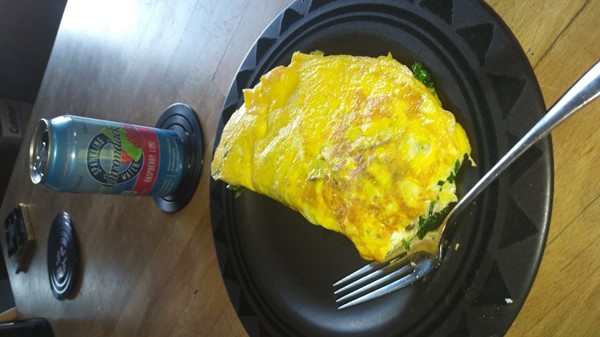 Crab and arugula omelets. Yum. Pucci has students today, though not as many as usual since half are on break, so after a liquor store run, Jill picks me up and we are off to check out Pucci's favorite local wine store, The Spirited Gourmet: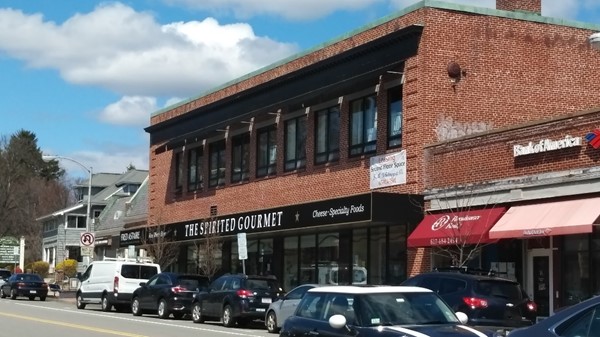 Well over twice the size of my shop, it includes a deli counter for sandwiches, sliced cheeses and meats, imported food goods. We probably have the same size wine collection.
Next up is the Red House, which is turning into a ritual. They have 2 for $1 oysters from 12-5pm. Yep, that's $6 a dozen, so Jill and I both got a dozen: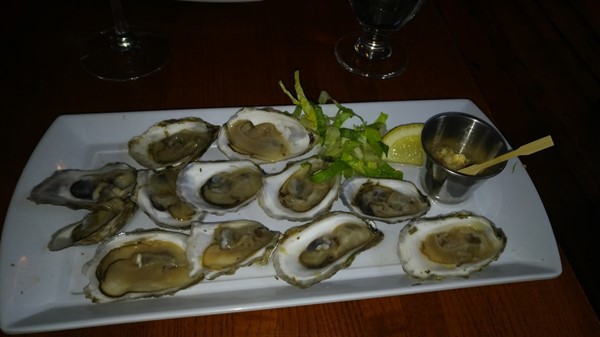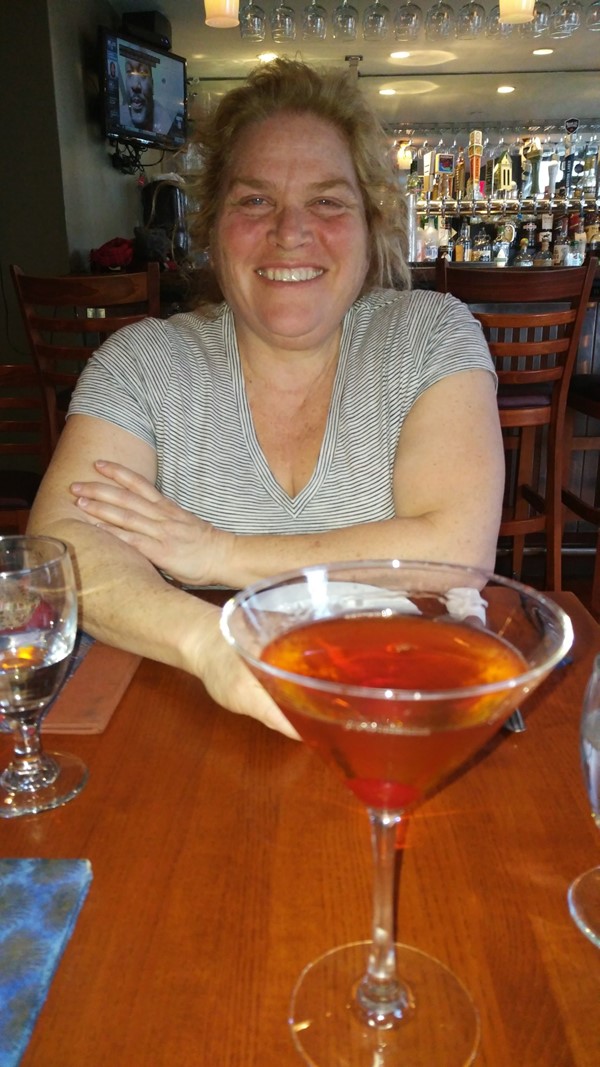 And then we added the mussels and frites ($9) before we headed out.
Pucci taught until 7PM (usually 9PM), so we had a nice rack of lamb off the grill for our dinner: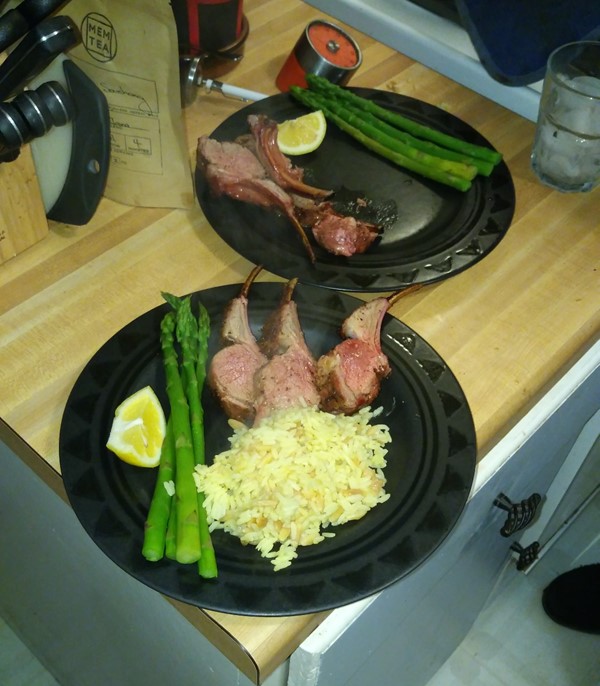 Served with a lovely Bodegas Carrau Uruguayan Tannat from The Spirited Gourmet: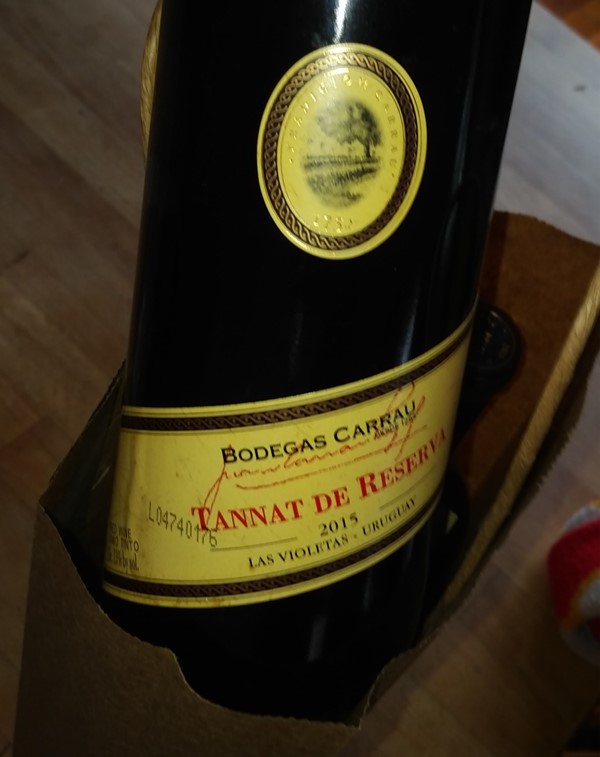 The following day, it was Pucci's Homemade Chili, with a lovely Garzon Pinot Noir Rosé (also from Uruguay):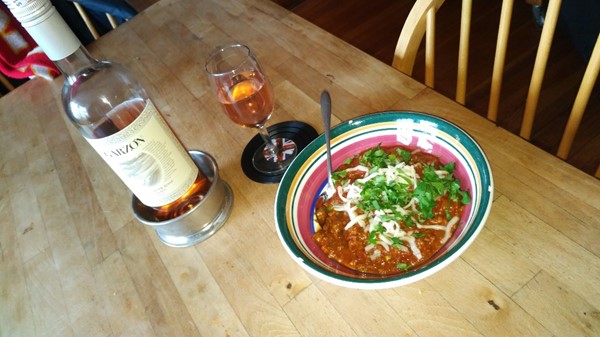 Before we headed to the Red House for cocktails (me) and oysters for dessert. Yes, oysters almost immediately after chili.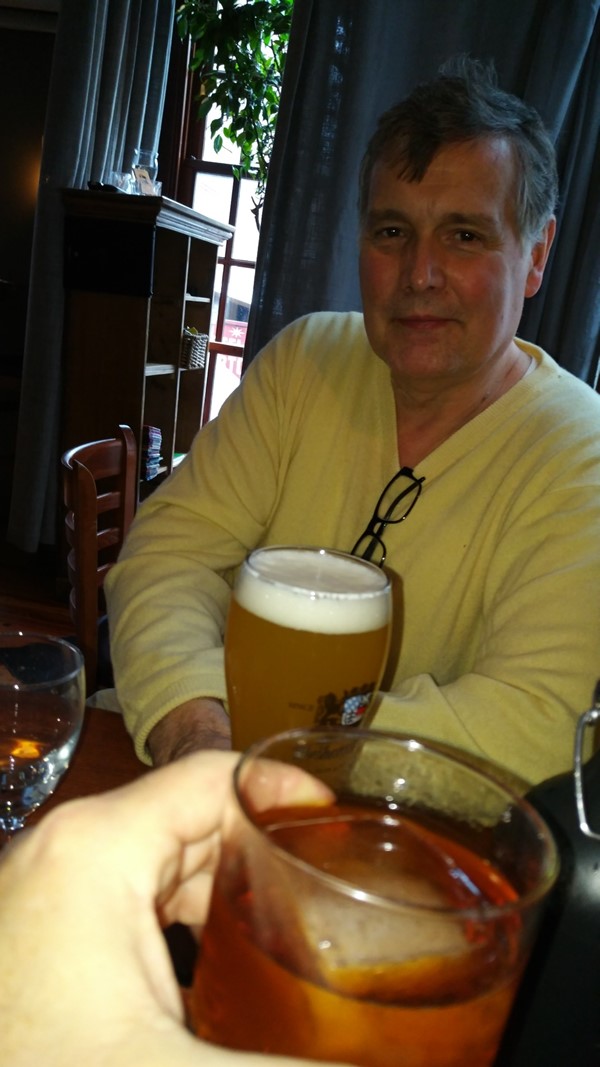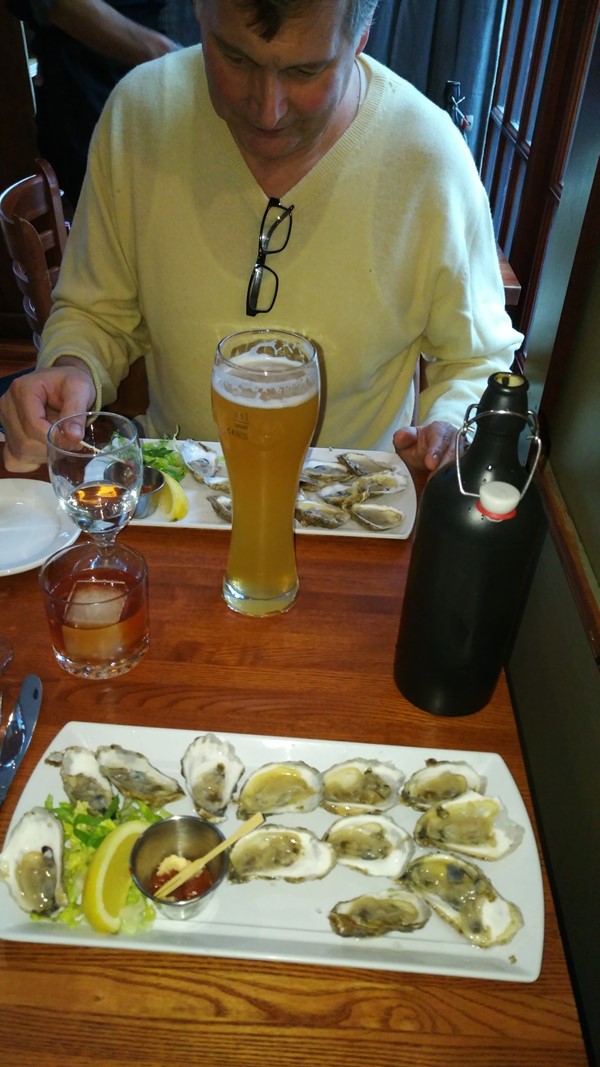 The last supper, sadly, I was having too much fun and forgot photos…here's the appetizer spread: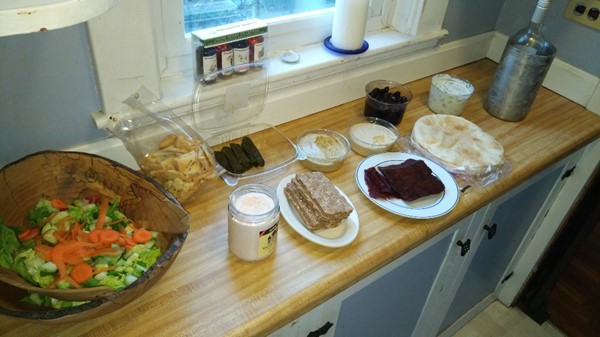 With this amazing Greek Caviar Spread: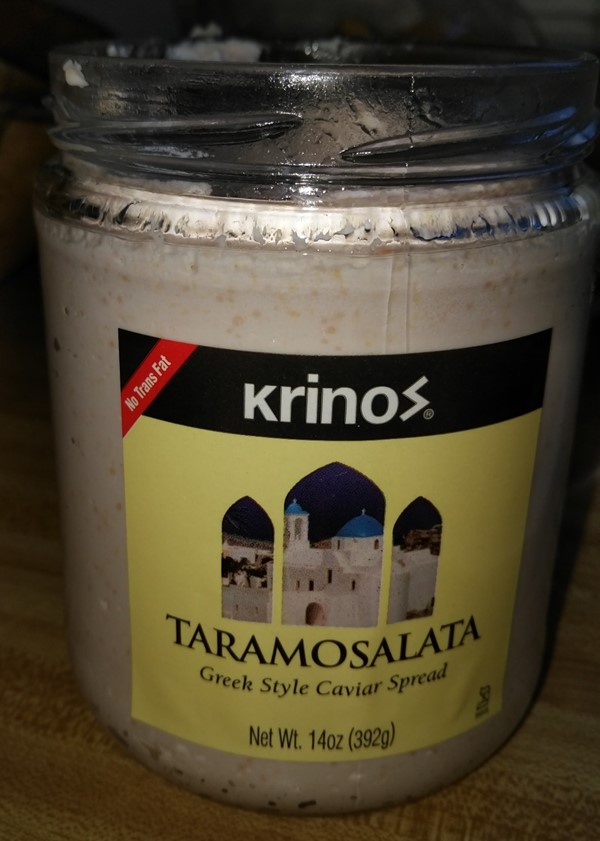 No pictures of the guests (Pucci, Jill, Netta, Joel, Susan), but I did get one of Murphy the Wonder Dog patiently waiting for something to hit the floor.
I was up at 6am the next morning so Pucci could run me to Alewife before his run to the gym.
An hour+ later I was at the airport, settled into the Admirals Club, one terminal over from mine: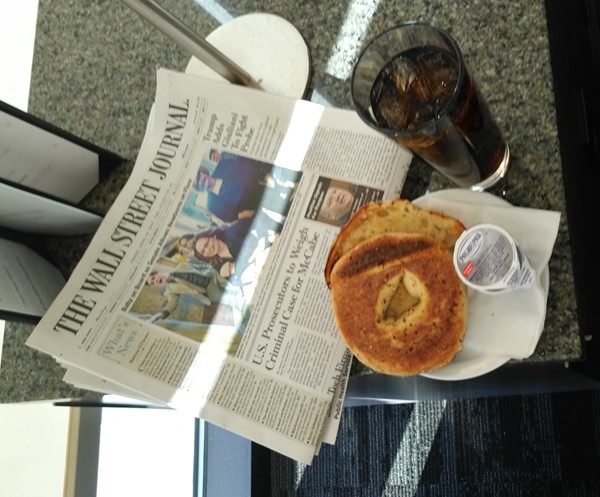 And soon I was on the plane home – I'd gotten a 1am notice that I'd been upgraded…NICE.
Today's menu was a beef in mole which was "interesting" – like they were trying too hard, unlike the flight attendant who on a 6-hour flight, served it all at once, rather than in courses (well, the nuts and gelato came out separately).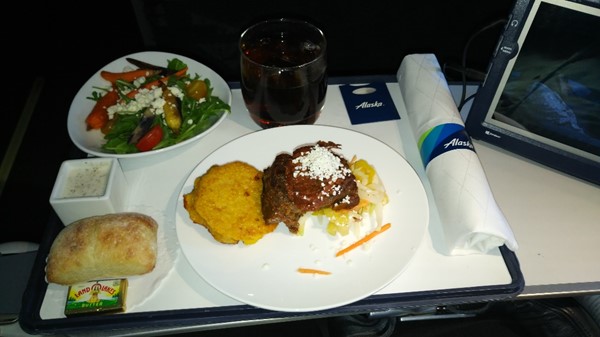 I returned to my house to find a riot of color in my front yard. What a nice welcome: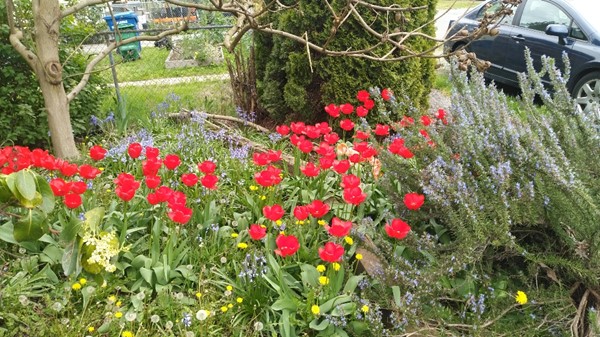 Another week, another trip – wonder where next week will be?
[224.4]
For more blog posts, CLICK HERE.