I'm not sure what possessed me to book a winery tour for my first day in Auckland, arriving at the hotel at 7AM, which gave me time to track down some breakfast.
What I found was The Federal Delicatessen, which turned out to have just the breakfast I needed. Nothing heavy, just something to tide me over until lunch, provided at part of the tour.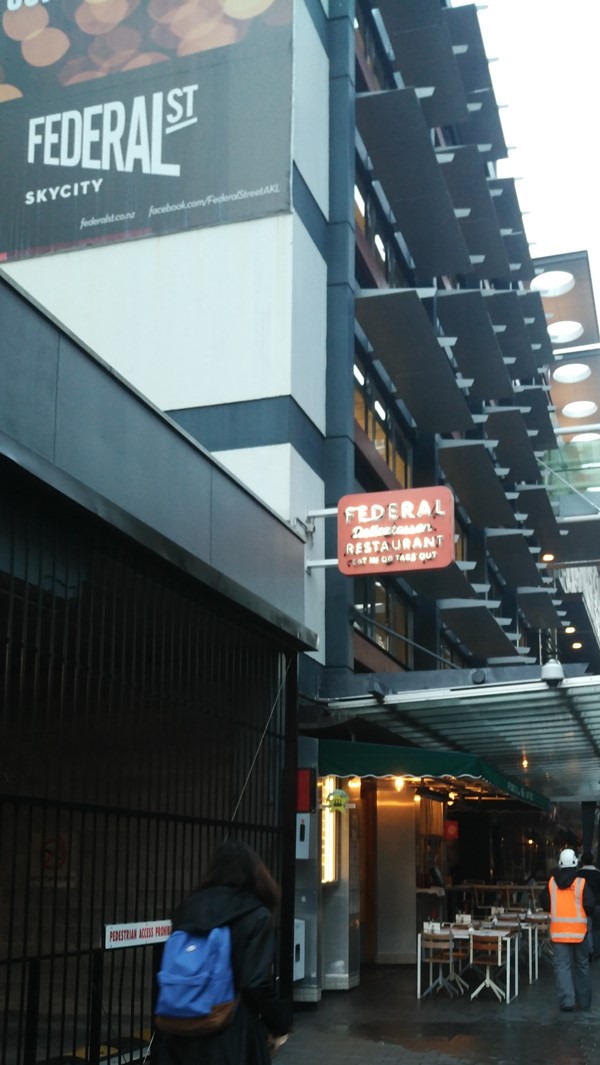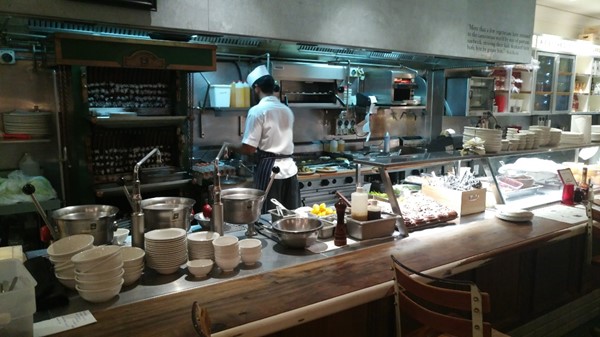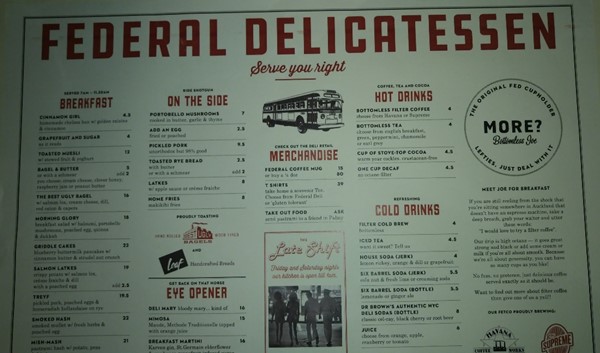 And I opted for the Ugly Bagel and a mimosa!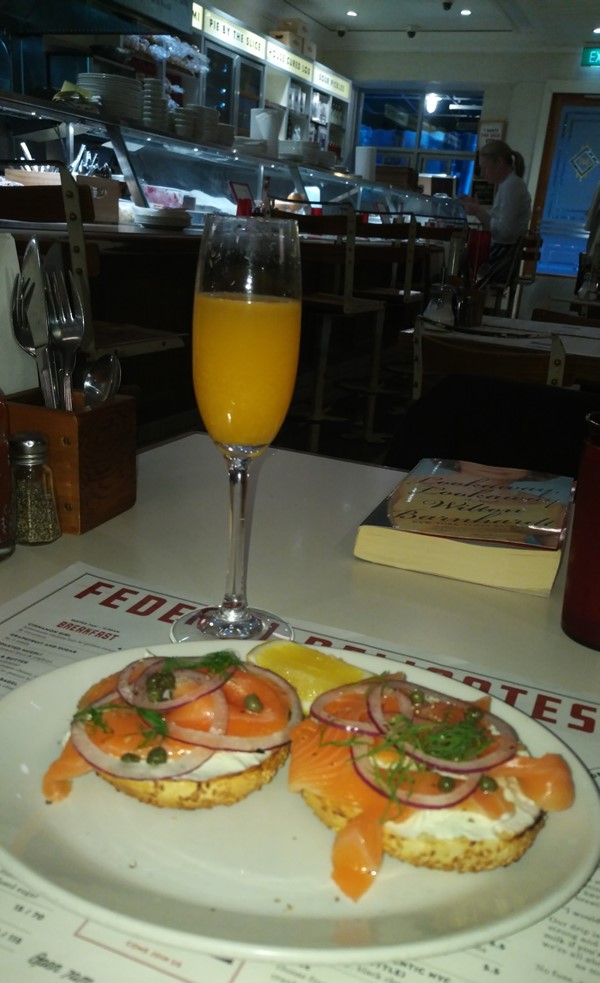 Tour (turned out to just be the two of us) picked me up at 10am, and off we went, the three of us. The driver/tour company owner (Auckland Wine Tours), Robyn (a recent transplant from South Africa), and myself.
Because the weather looked to be changing (as it often does in Auckland), we decided to hit the Black Sand Beach and Tasman Sea viewing – at the overlook, this was the weather (we didn't get out):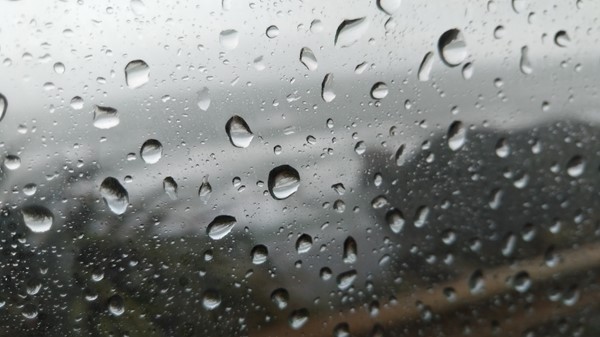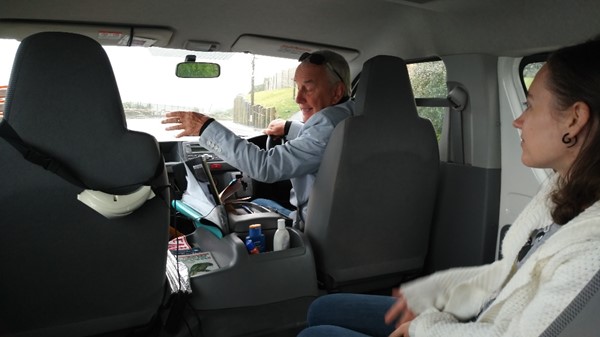 By the time we got to the bottom of the hill, it was much better: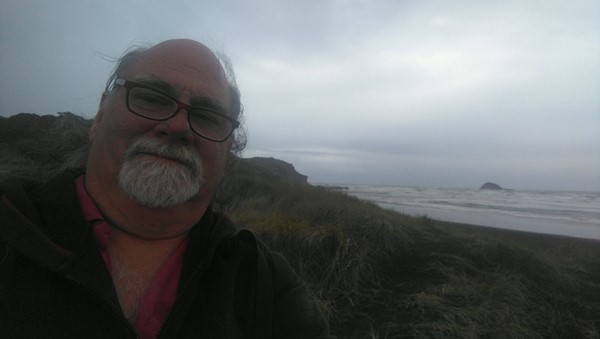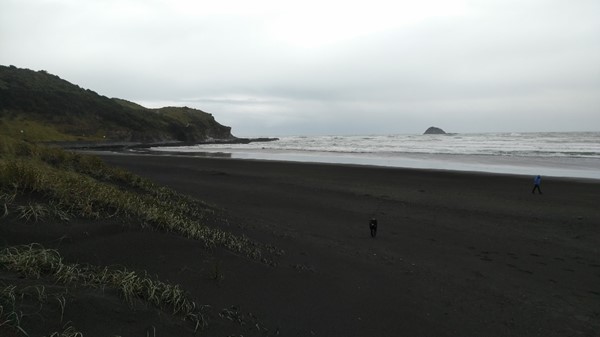 John brought along a round magnet to show us the iron content of the sand, after he dug down and found some dry sand!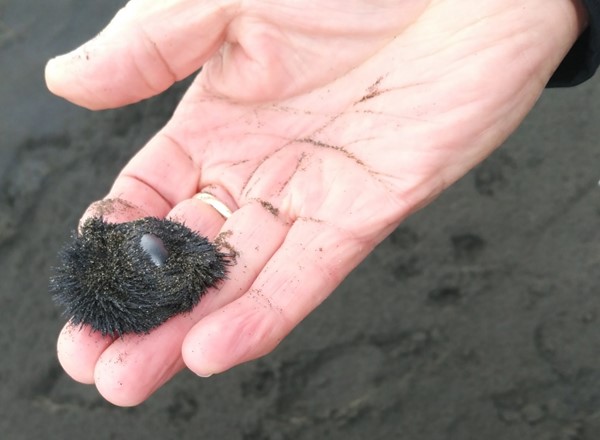 Back in the van, we were off to our first winery, Coopers Creek, which is really funny, because at the shop we carry their Sauvignon Blanc and their Chardonnay.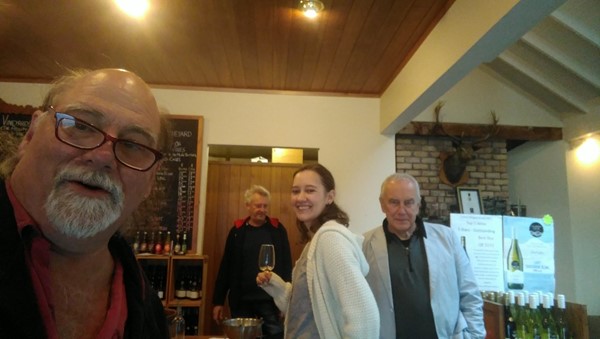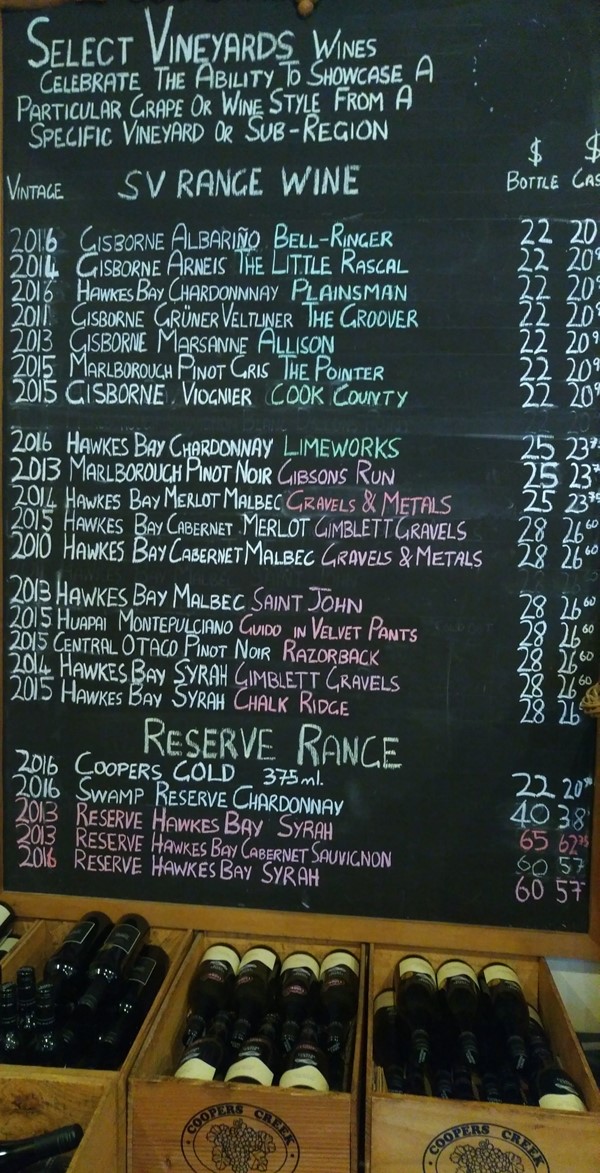 Because I recognized the label, and talked about how we carried at least one of their wines at Madrona Wine Merchants, the Cellar Door Manager (also John), opened a few more bottles to sample than the standard tour would get. We sampled their:
Marlbourgh Riesling
Gisborne Chardonnay
Huapi Rosé
Gisborne Albarino "Bell-Ringer"
Hawkes Bay Chardonnay "Limeworks"
Hawkes Bay Merlot/Malbec "Metals and Gravels"
Central Otago PinotNoir "Razorback"
Hawkes Bay Syrah "Gimblett Gravels
Coopers Gold (their dessert wine)
Quite a line-up, and again, I don't think other tours would get this range of the Coopers Creek wines. It also was a result of it being off-season with two of us compared with the maximum of eight people on John's tour.
Next up on the list was also our lunch stop. Soljans Estate Winery was founded by Croatian immigrants, as were many of the early wineries in this region.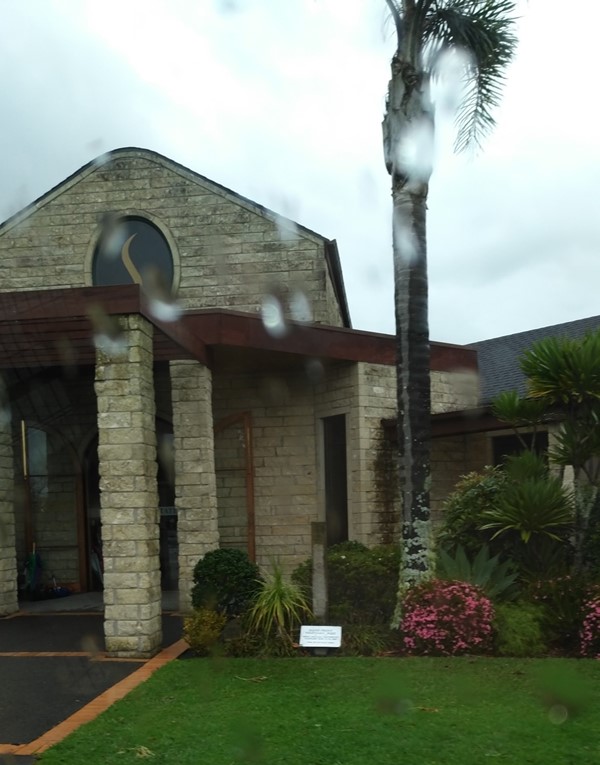 More wines were sampled, and we were offered a dozen different choices for our lunch. We all went with the Croatian Ćevapčići, hand-formed sausages, since the winery was founded by Croatian immigrants. It came with mash, roasted eggplant, basil pesto, and red bell pepper sauce.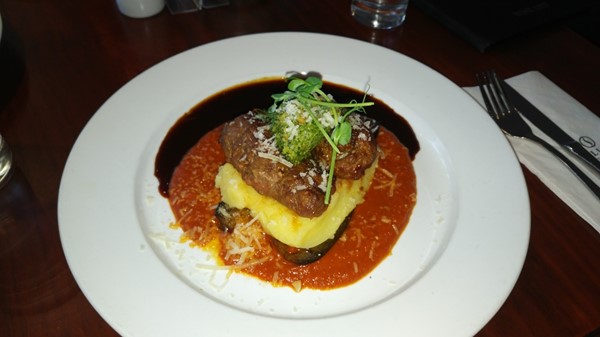 I had a glass of their dry sparkling wine (extra cost) with the meal, the rest opted for water.
Next on the list was Westbrook Winery – with it's very impressive grounds, great area for picnics in the summer. Their wines were good, but not available in the states – and while they did offer shipping, that would have been $195 a case for air freight. A little rich for my blood considering the wines were in the $20-$40 range.
This is a shot of part of their cellar: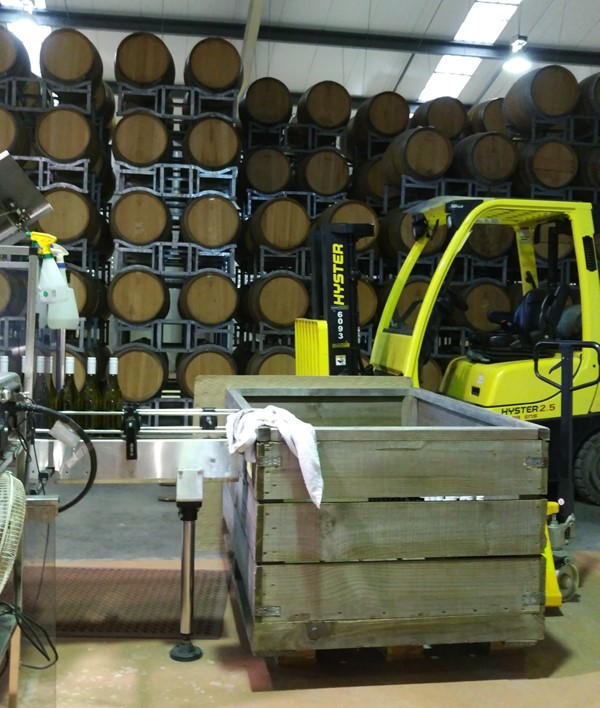 The final winery of the day was The Hunting Lodge: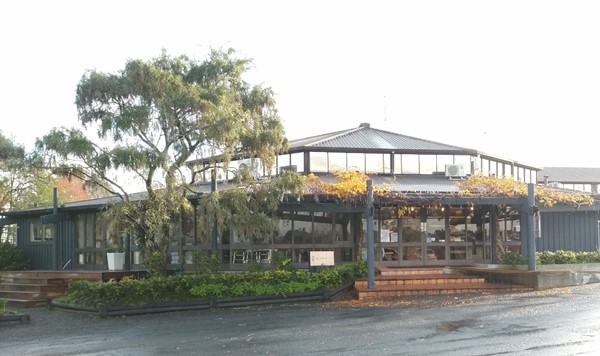 More wines were sampled – and much wonderful conversation had with the Cellar Door pour person – who is Maori and gave massive amount of information, not only on the wines, but of their history and modern political interactions. Really, quite fascinating.
Back to the city we went, with me dropped off first as Robyn lives in the direction of where John lives – A GREAT TOUR, HIGHLY RECOMMENDED.
Did a little on-line booking for more bits/bobs of the trip, another wine tour tomorrow via ferry to Waikike Island, and a new return plane ticket with a little more room. More on that later.
Was lazy when choosing my dinner spot – I went back to The Federal Delicatessen. I wanted to try the dinner menu, and settled on, what else, the Rueben. But first, the cocktail — NEW YORK SOUR (A refreshing blend of Thomson Whiskey, lemon & sugar. Topped w/ Borsao Garnacha)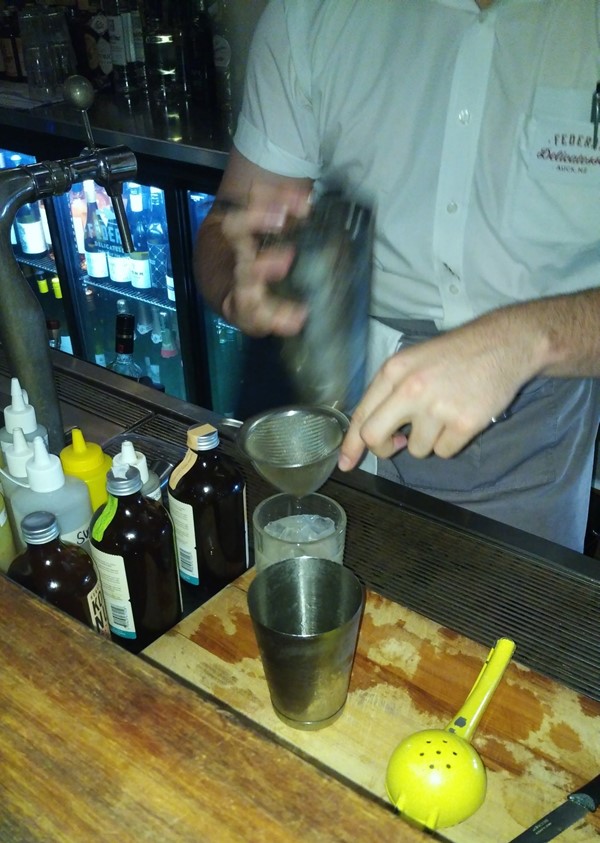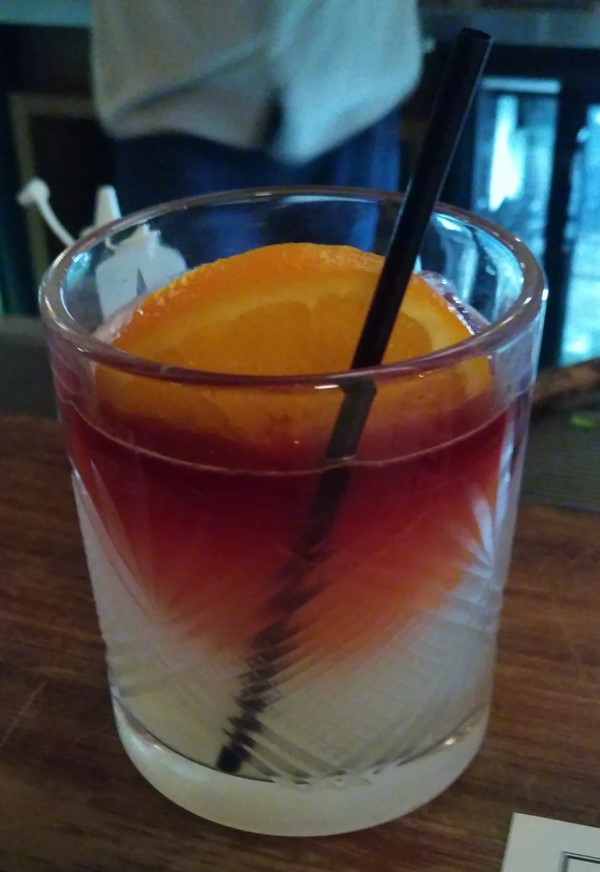 And now The Rueben: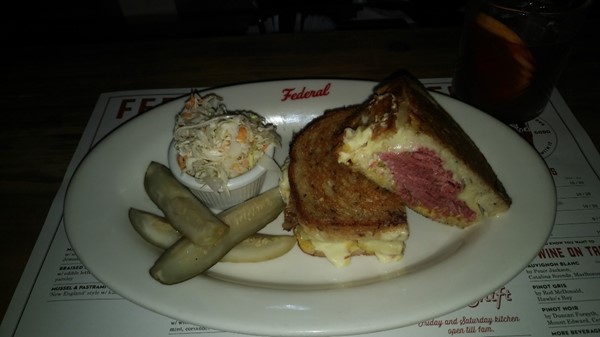 They even gave me extra pickles on request – normally a charge for a small platter of them.
And the company next to me – Adrian (I think), who I swear I've met before in an airport in the states. He's a model, drummer in two bands, and can keep up with me drink for drink.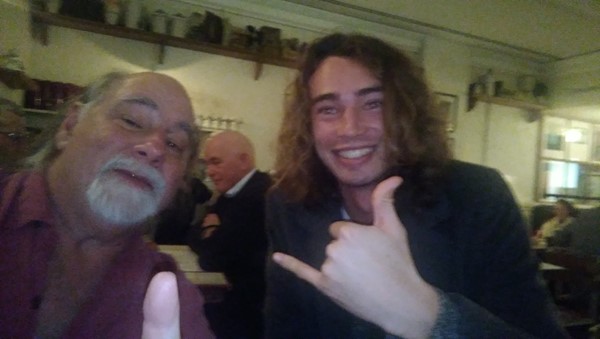 It was an early evening for me. Think I was in bed by 10pm, which considering I hadn't seen a bed since Sunday night (and it's now Wednesday), not surprising.
[? ? ?]
For more blog entries, CLICK HERE.