The journey begins with the tale of two lounges…I started off in the Alaska Lounge for round one of food/drink, then went to the other end of the airport to the United Club because it was closer to my departure gate and as a Million Mile United Premier Gold for life, lounge access comes free with any itinerary that includes an international segment.
As a side note, I have a friend who works at Florette in the airport as a barista – but he never seems to be working they days I end up flying through…and I thought that would be the case today, but I messaged him, and he was scheduled to work after I left, but then two things happened:
He got there a little early
My flight was delayed by an hour
I was hanging in the United Club and he came and joined me!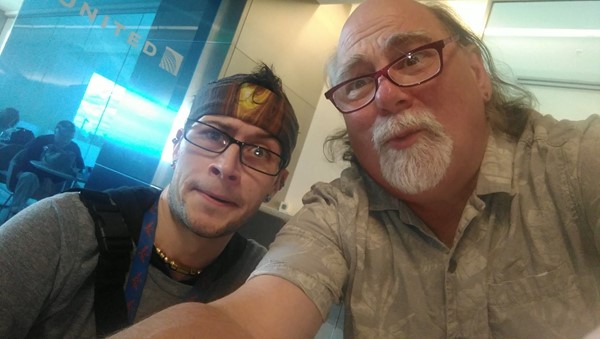 I know him through Roxy, but don't feed him dinner often enough – the funny thing was that we all just had dinner last Friday night.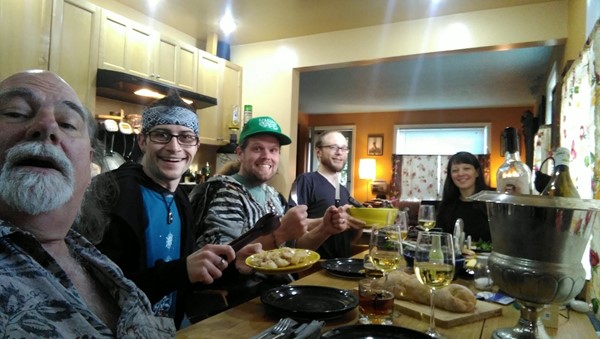 Twice in one week. Yahoo.
One thing I'd like to point out is that the United Club in Seattle has stepped up it's game, bitters wise. I really like the Dale DeGroff's
Pimento (All Spice) Aromatic Bitters. And all their bitters are on the bar, so you can self-doctor your cocktails. I found a wonderful combination of Evan Williams, Diet Coke, and a couple of dashes
When we finally boarded, I realized I'd booked the bulkhead row: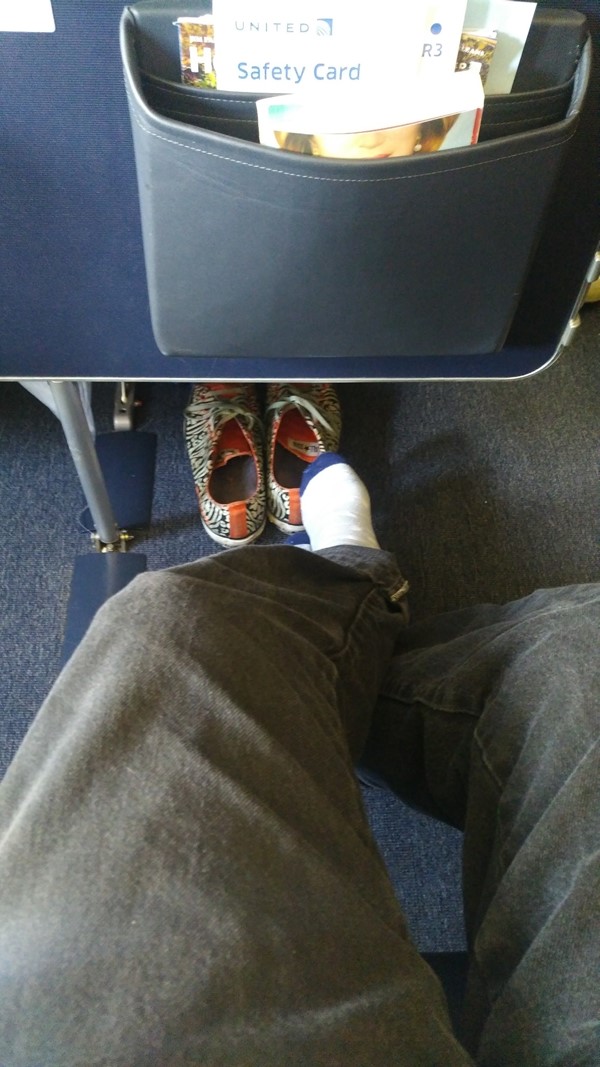 The only seat open in the plane was between myself and a Global Services (the highest, invitation-only frequent flyer level at United) – who had a short connection to make at SFO. It didn't help that we were delayed another 20 minutes on the tarmac – I, on the other, had five hours' worth of layover.
First stop was Duty Free where I picked up three bottles of Bourbon – New Zealand has very liberal alcohol importation rules, but you can only bring 50 cigarettes in – that's a pack and a half. Interestingly odd.
Next stop was the United Club in the International Terminal – only to discover that it's a subpar lounge. Beer and wine, yes. Mixed drinks, no. Had a glass of wine, a bowl of soup, and trekked back to the closest full-service lounge. United has three regular full-service lounges at SFO, and one Polaris Lounge which is business class only – which I'm not on this trip, though I swore after the Montevideo trip last November that I was never ever again flying international in the back.
This would be bowl number two of soup (first at the other lounge) and a real cocktail: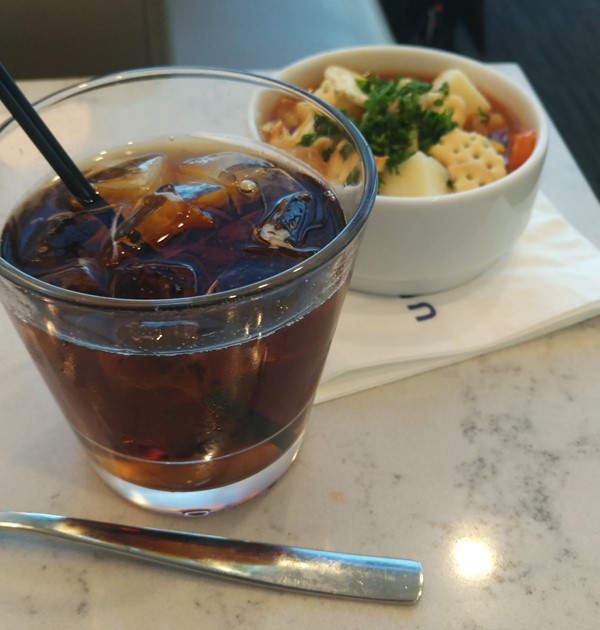 This lounge closes earlier than most – so it was off to their smallest lounge for one last cocktail before the unknowns of Air New Zealand's drinks policy.
That would make five lounges in one day.
One thing I will say that I like about the United Club lounges is their use of vintage photos in their lounges. This is a collection from the four United Club lounges I was in today: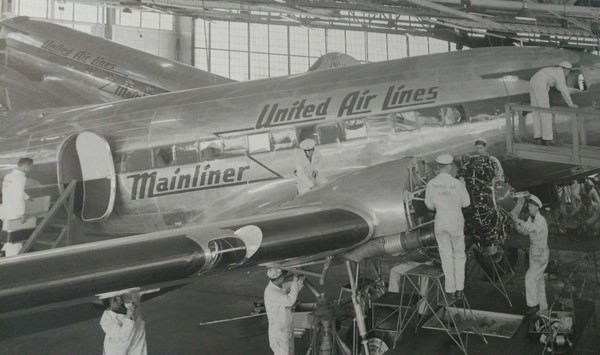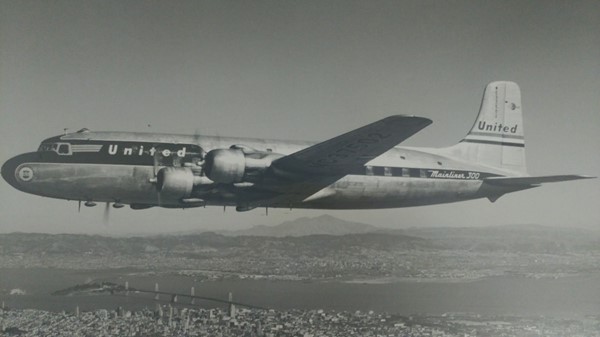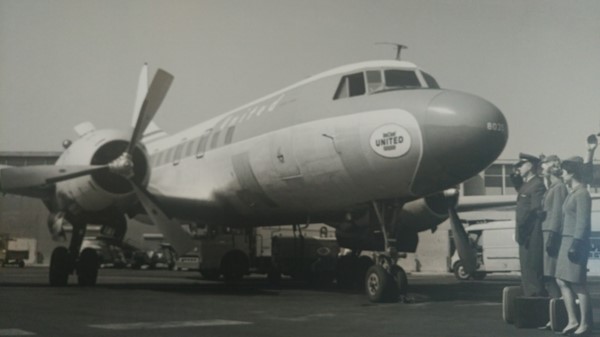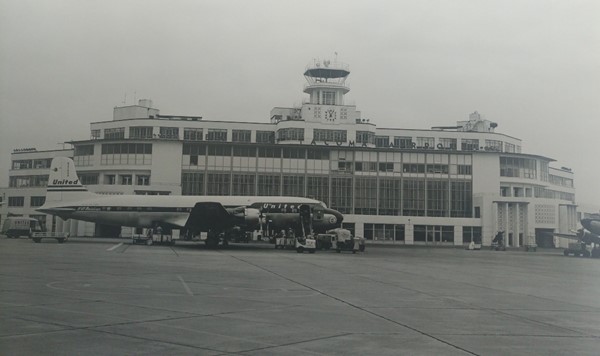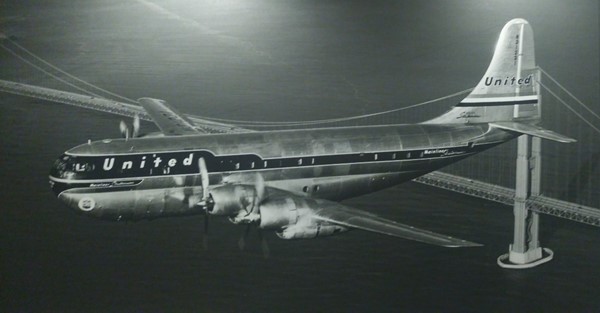 And speaking of retro things – saw this modern United jet in the 70's Continental livery:
My flight to Auckland on Air New Zealand didn't leave until 9:30pm, and it's about 13 hours in this:
Not as much room as the last flight, and this one is seven times as long – and, as it turns out, a plus size person next to me. For 13 hours I sat side saddle which is only possible because I know where the hidden button is to raise the aisle armrest. More annoying was that the person wasn't assigned that seat, but was travelling with a group of high-school students and swapped seats so a couple of them could sit together. Again, if the ticket wasn't so cheap ($409.10 r/t Seattle/Auckland), I wouldn't be in the back. That is about 1/3 of what a typical bargain ticket to KiwiLand is. A friend in Wellington got $800 NZD to Chicago at Christmas, another steal – and on a 787.
Here is the beef version (as opposed to pasta) option for the dinner: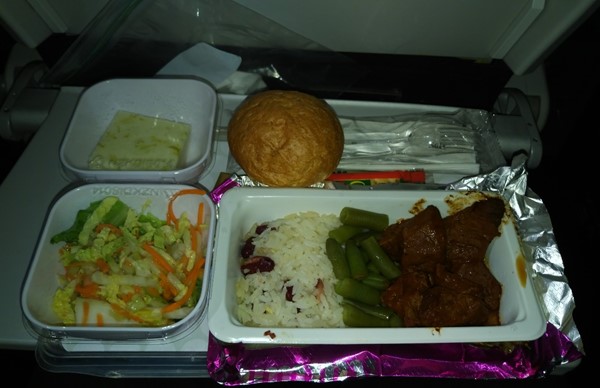 A downside of Air New Zealand long-haul flights is that in the back, instead of 3-3-3 for nine seats across, as it was designed (the 777) originally, they (and many Asian-based airlines) have opted for skinnier aisles, and 3-4-3 seating.
On the upside, they have some of the most wonderful bathrooms I seen (and I've see a lot of airplane lavatories). While no larger than normal, they are "decorated" with a bit of whimsy – like this one with a fake library wallpaper: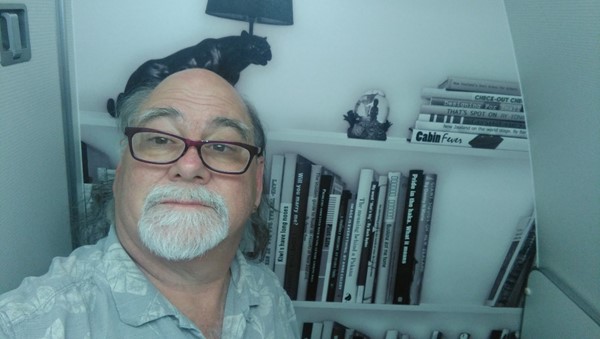 Another one had wallpaper of a chandelier!
Once meal service was done – they fired up the seatback ordering system. You may be crushed in the back, but they will bring you cocktails on demand: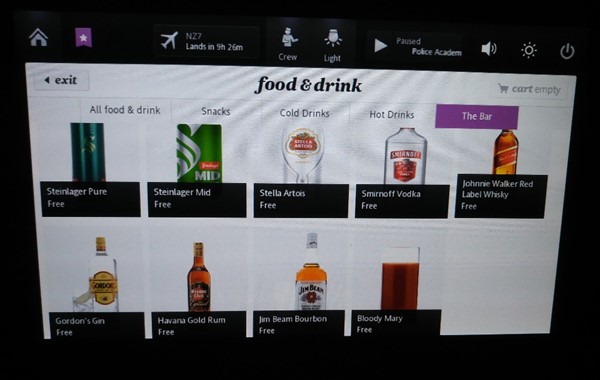 This is a feature that is available on the Airbus Alaska fleet that was inherited from Virgin America as well.
I used this as an opportunity to order a double and wash down an Ambien after dinner and watching The Blue Brothers from the Classics section of the inflight entertainment. I actually managed to get some sleep by extending the center armrest with the flight blanket (amazingly thick) still in it package to create my own armrest, since the other one was overflowing.
This is what greeted me in the airport – nice welcome: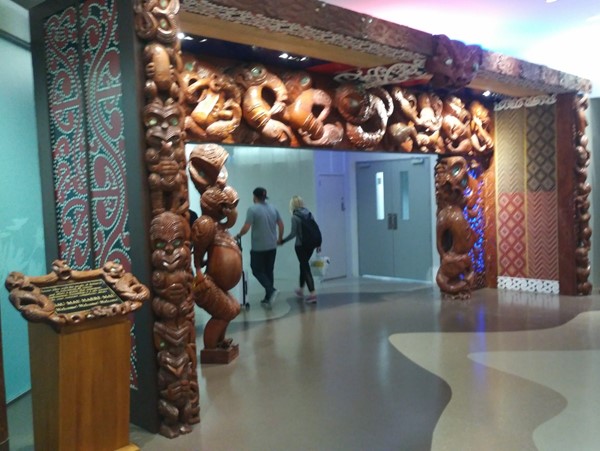 The flight was running 30 minutes late, so instead of a 5:30am arrival, it was 6am – but customs/immigration was so efficient that I was on the airport bus to downtown and to my hotel by a little after 7am – and it's a half hour ride.
Was tempted to stop for a snack curbside at the airport, but I saw the bus coming: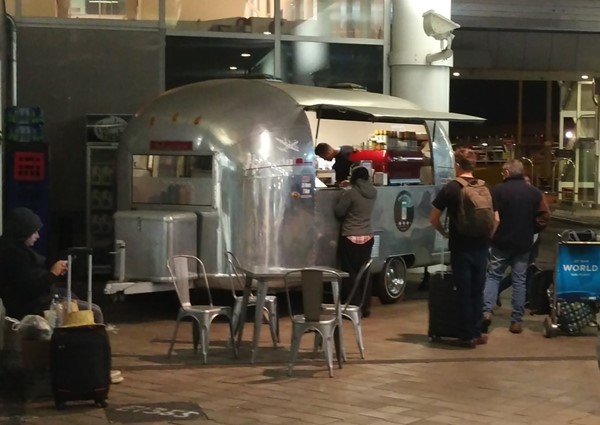 I'm staying in the Central Business District at the Ramada Suites: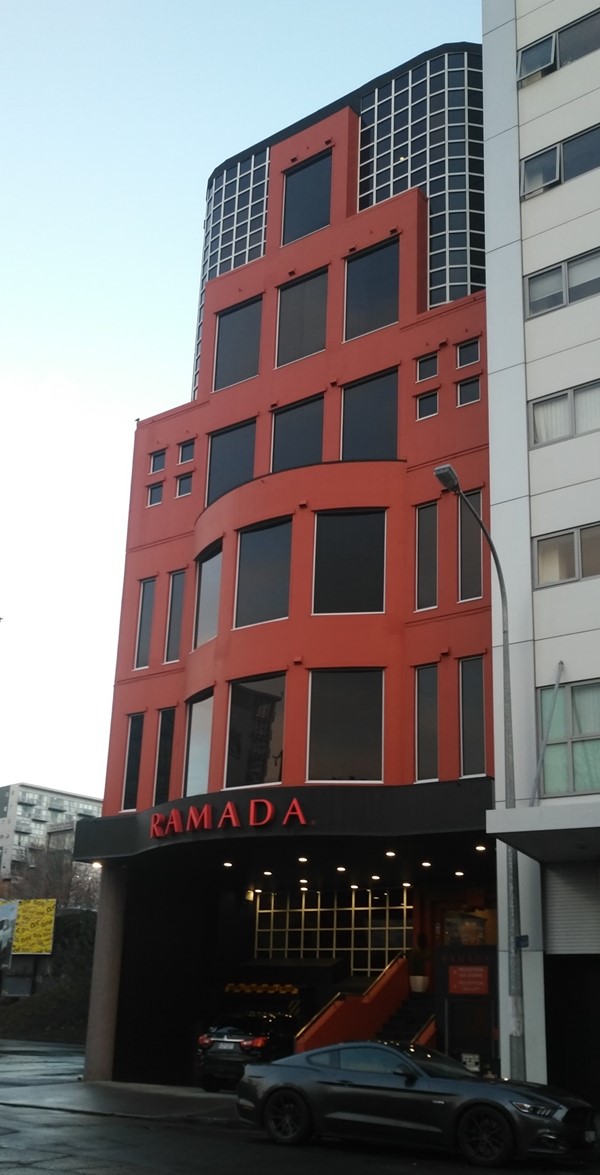 And some shots of the room (which wasn't ready at 7am, so these are from later in the day):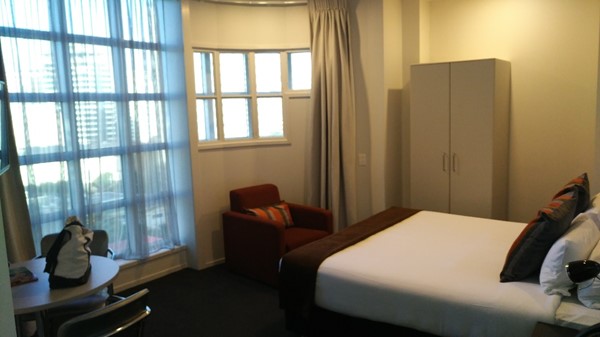 With mini-kitchen, kitted out as they say, with dishes, pans, etc., including a mini-dishwasher: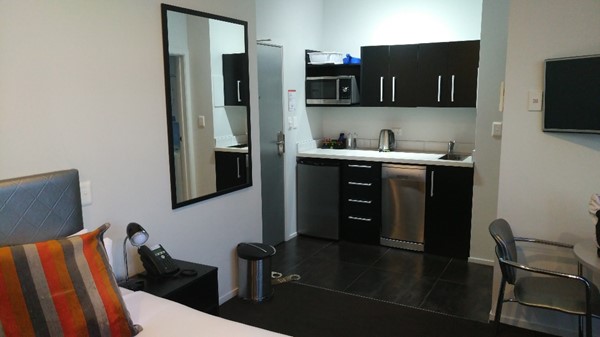 With kettle and French Press for coffee (provided, along with hot chocolate packets):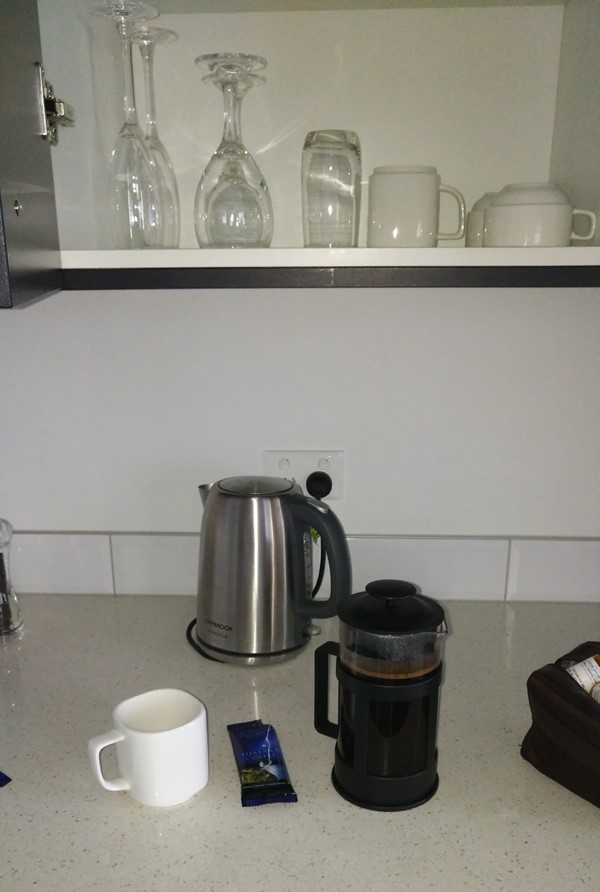 \
And en-suite washer/dryer: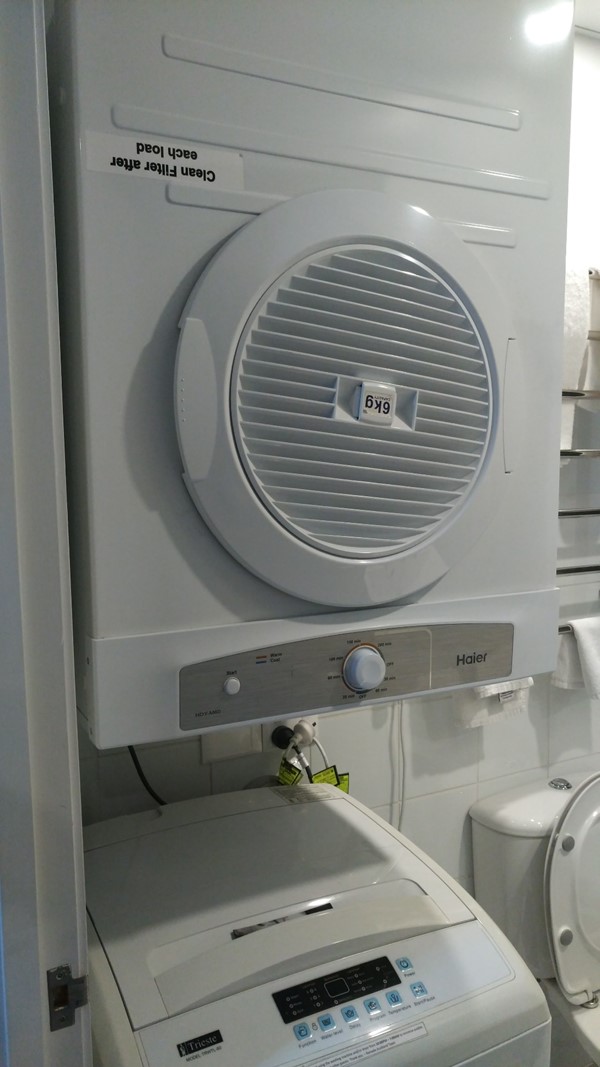 And decent views: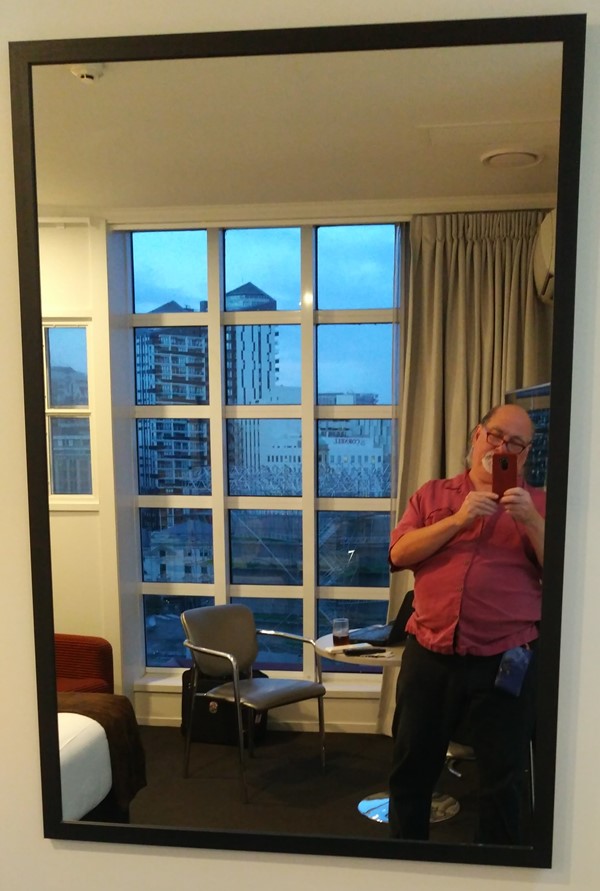 Including from the bathroom once I lifted the blinds!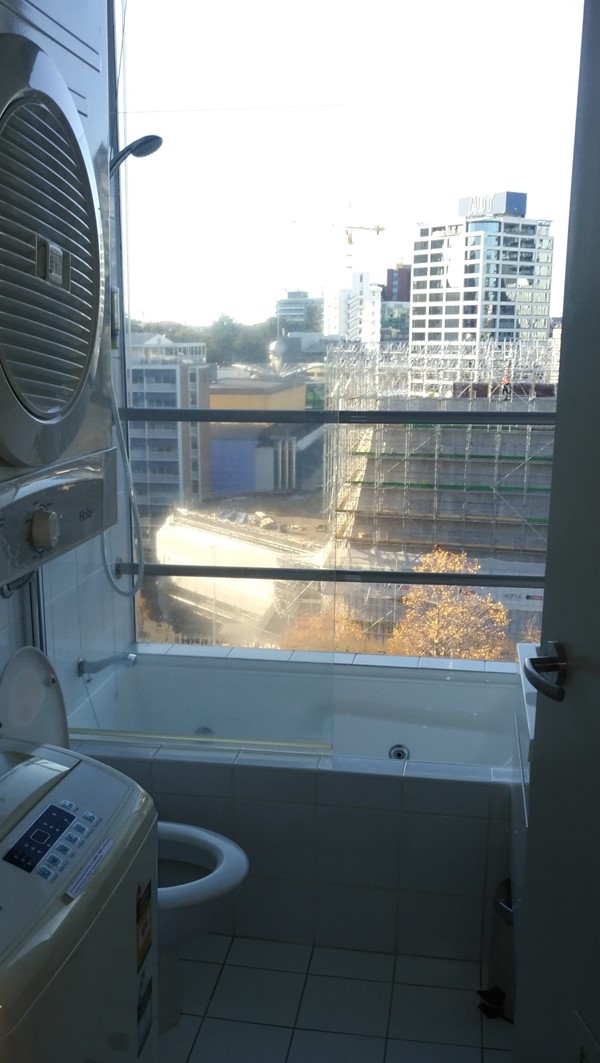 I'm close to the city government offices on one side, and the big Sky Tower on the other: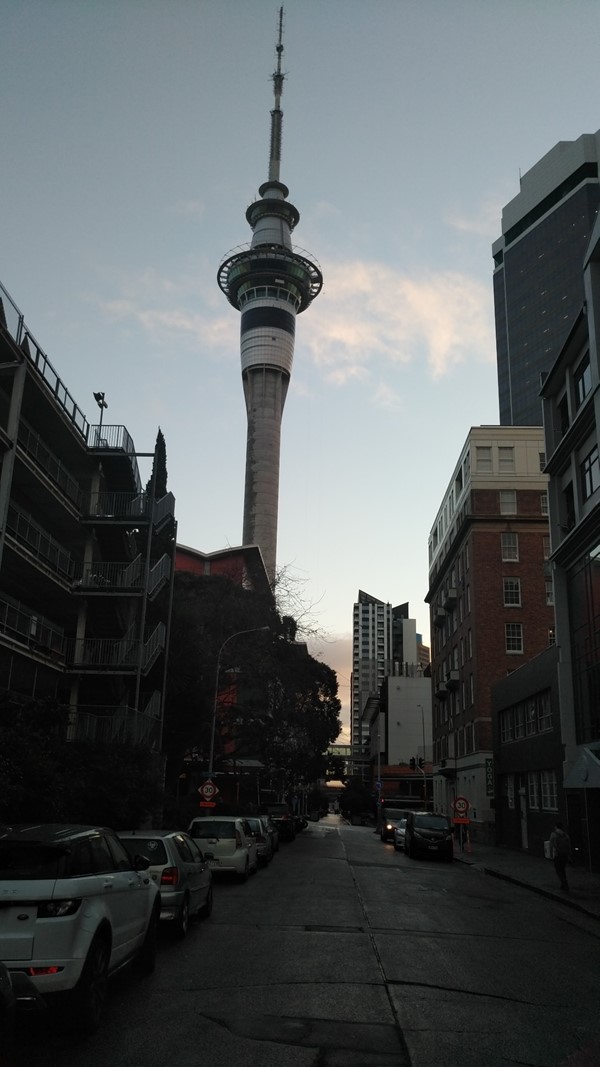 Yes, at 7am, it's not quite light yet – it being winter in New Zealand.
Let the adventure begin!
[? ? ?]
For more blog posts, CLICK HERE: