Lovely to be able to sleep in this morning! Today's wine tour to Waihele Island doesn't depart from Auckland until the 1PM ferry.
I wandered in the direction of the ferry in search of a late breakfast or early lunch – discovering that lots of Auckland lunch places don't open until 11:30am, and I was early.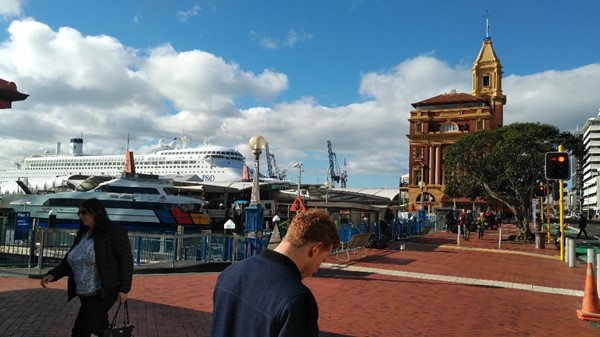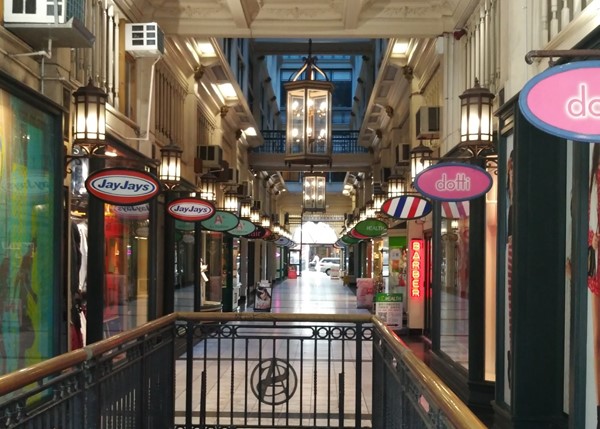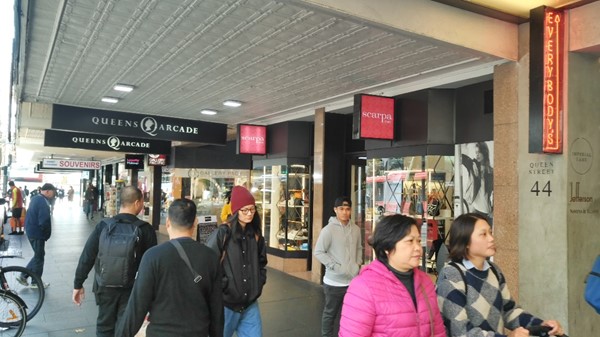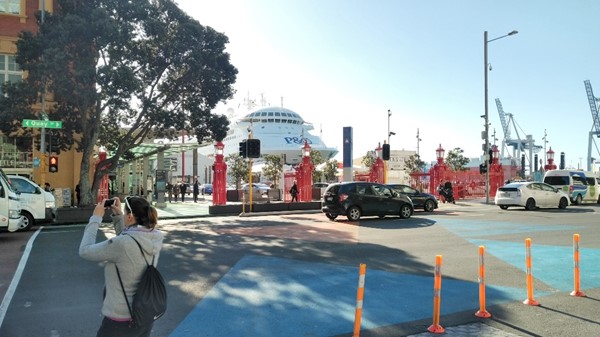 Yes, there is a Seattle Espresso on the waterfront. Only bought a soda, but still found it "oddly" named.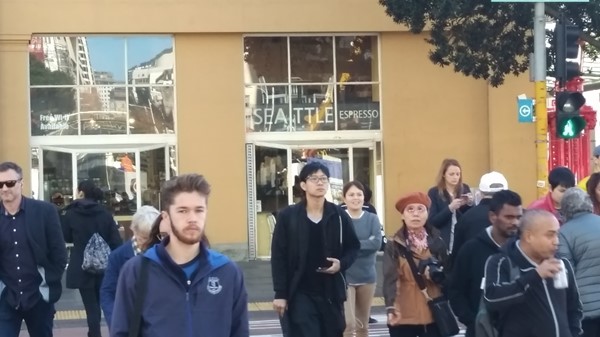 And a racing yacht.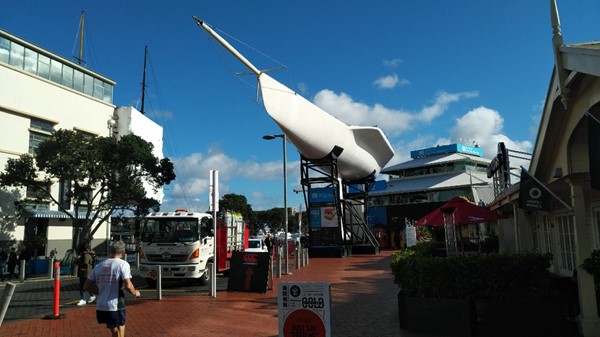 Wandering further afield managed to find a restaurant that was open and serving, which would be Dr. Rudi's, a brew pub (in honor of Rache). though most of the front was open to the elements so finding a wind protected seat but still having a view was challenging.
Not a bad view over the water bottle…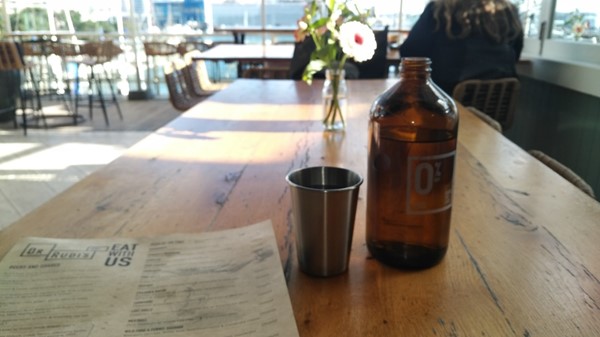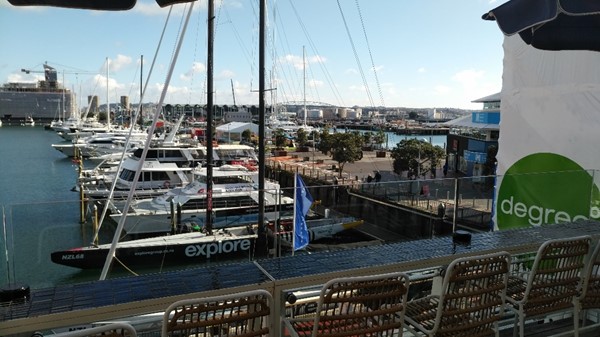 Got a Manhattan ordered….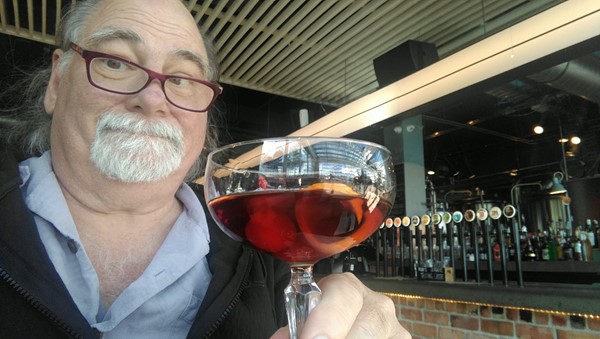 And some food – half a dozen oysters on the half shell, and some salt and pepper squid: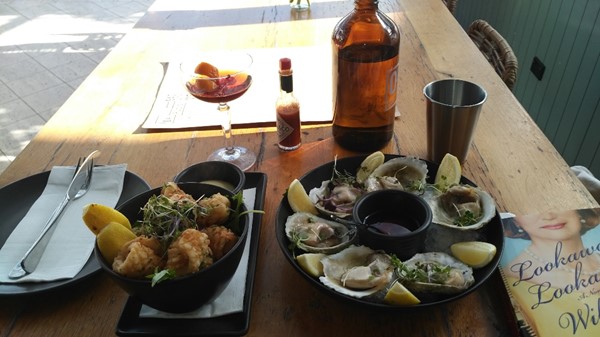 Great selection of in-house and local beers: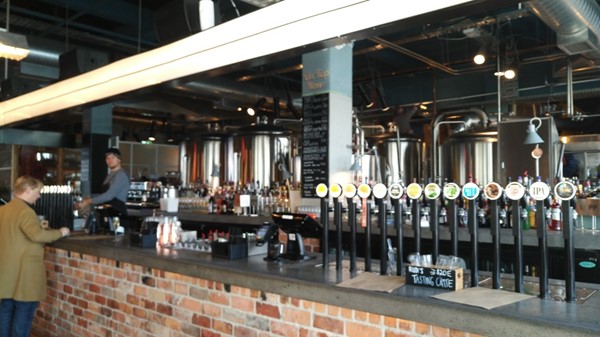 And if you need to bowl a frame, you can do that as well: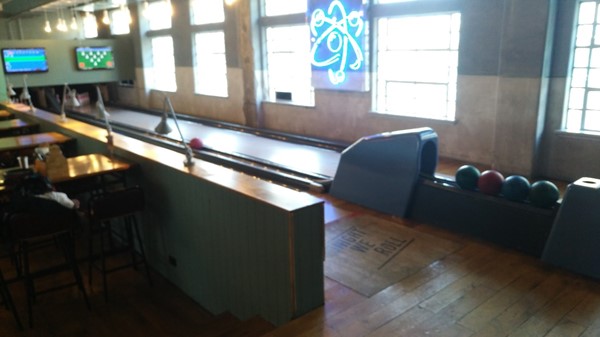 Plenty of time to get to my boat…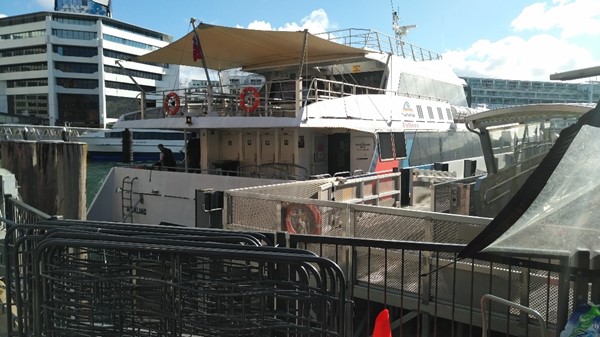 And we are off, right on time…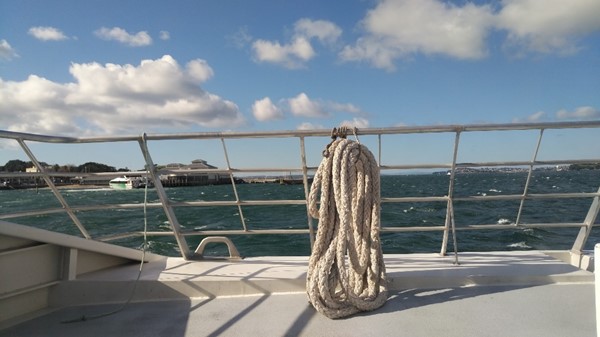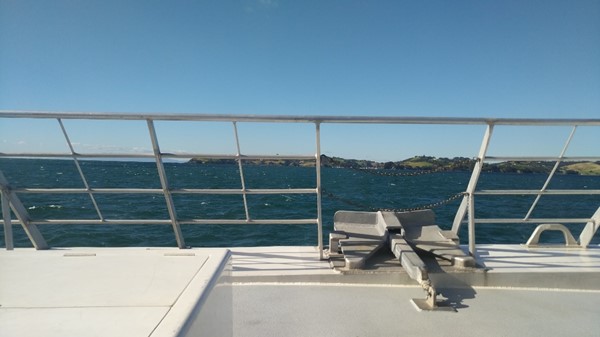 Then onto a bus…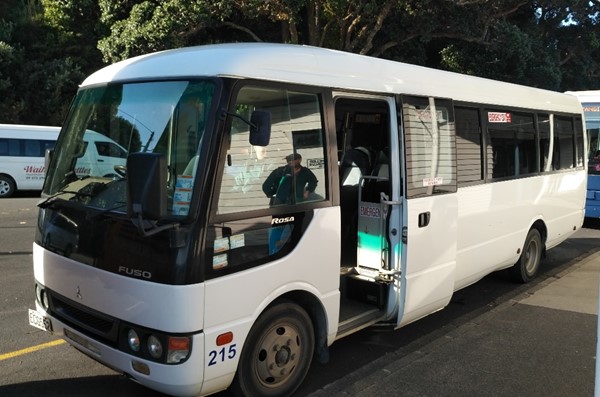 And off to our first vineyard of the afternoon, Mudbrick, which is set on an amazing hillside, with views back to Auckland.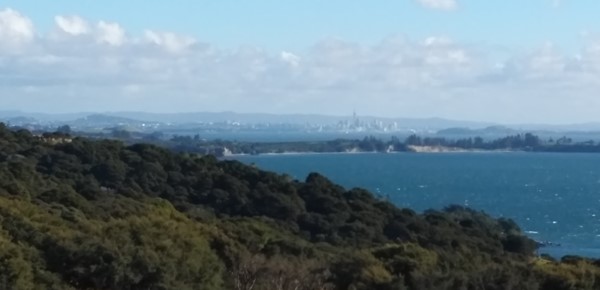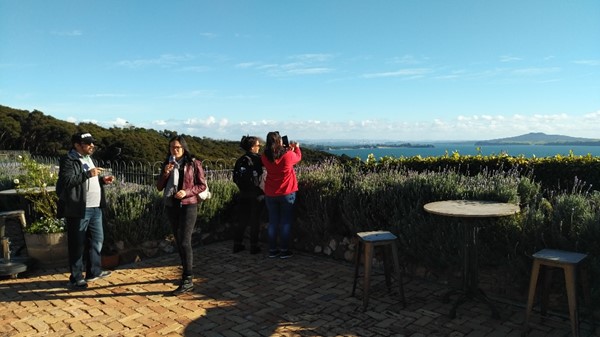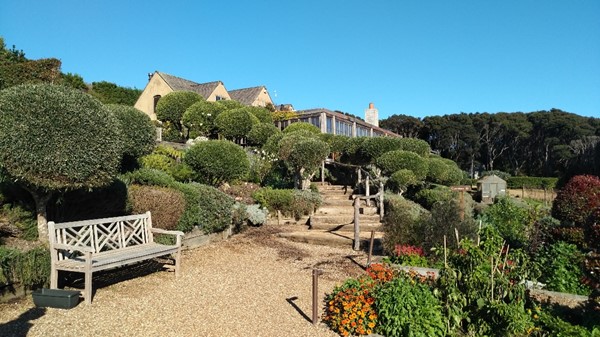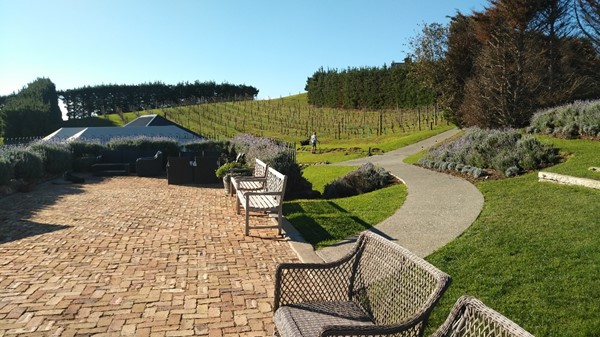 And soon we are sampling three of their wines. Very good presentation, with a walk to the vineyards, description of processes, the works: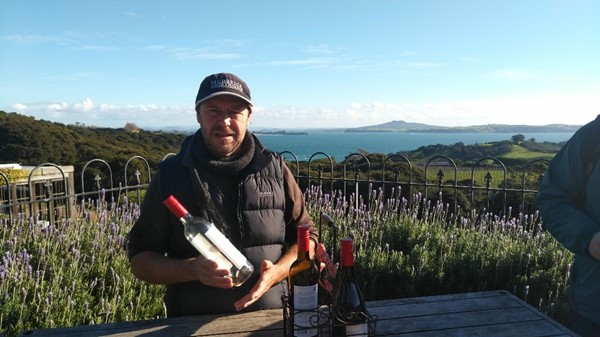 Next up was Cable Bay Vineyards: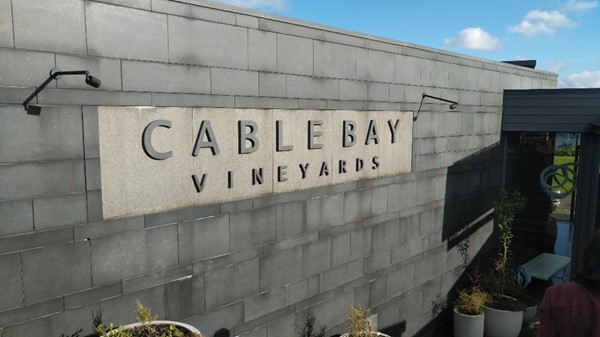 And their view wasn't too shabby either, being just down the hill from Mudbrick…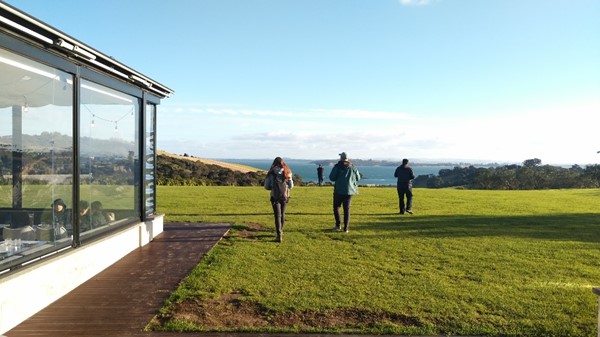 Plus, there were little platters of nibbles, which I needed: "this is a Chardonnay, this is a Syrah." Her heart wasn't in it.
Final stop of the day was at Te Motu, established in 1993, making it one of the older wineries on the island.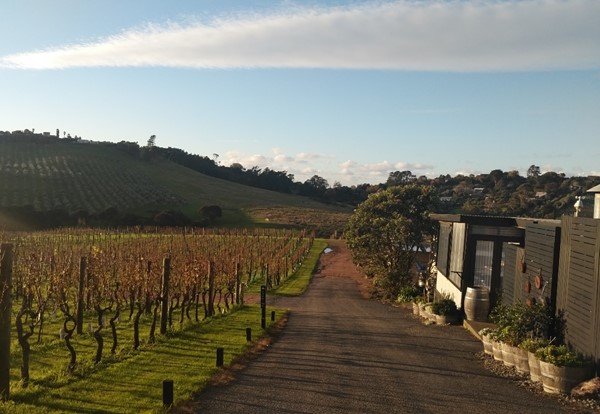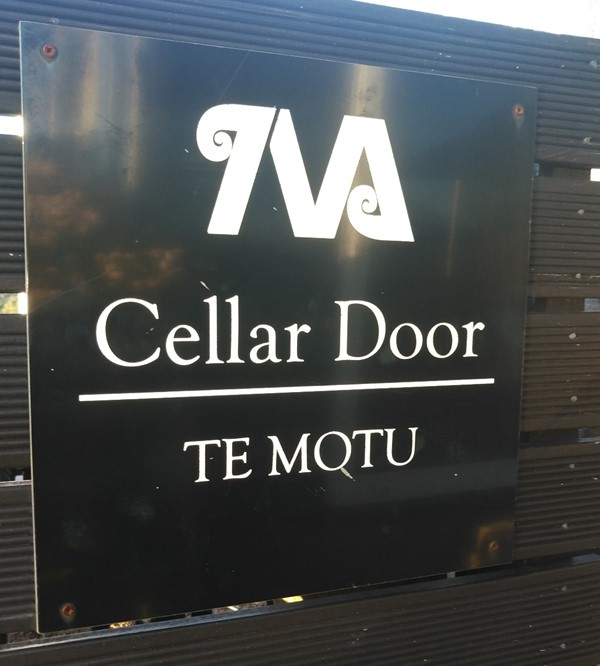 And our Californian Cellar Door Manager: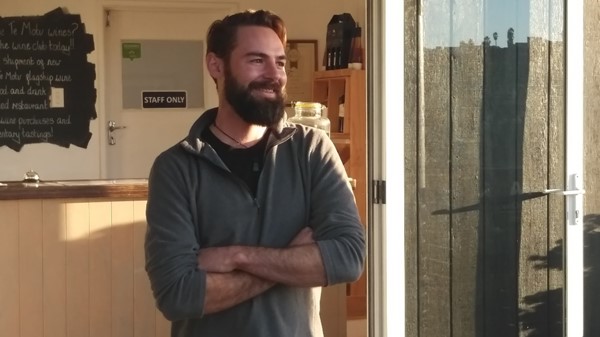 Good amount of information, and since we were a small group of eight, he even popped open a bottle of their 2009 Te Motu which retails for $125, unless it was the 2009 Syrah, then it's $175 – either way, most wineries don't pull out the good stuff for wine tours.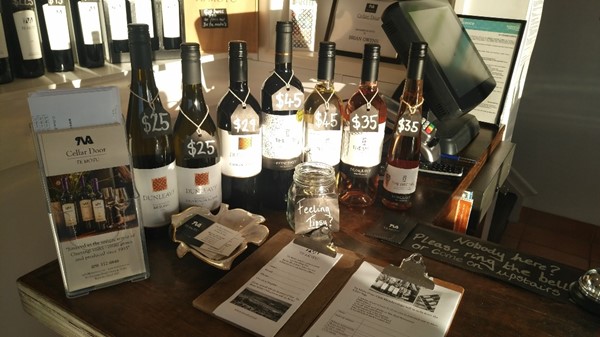 Just goes to show – always good to engage people who are pouring at tastings.
This was a tour that I was able to book the day before, during winter in New Zealand, through Fullers, the ferry company that serves Waiheke Island. Tour and ferry fare was $140NZD –tour itself $20NZD cheaper, but the roundtrip ferry fare to the island is $38NZD ($24NZD one-way). Tour also includes seeing other parts of the island as time permits.
It was getting dark by the time I got back on the ferry – the tour timed for you to make that boat, or let you off anywhere along the way to explore on your own, your tour ticket serving as your bus pass if you wanted to stay for dinner, or just take an earlier ferry over and explore before the tour.
This was a lovely shot on my way back to the hotel.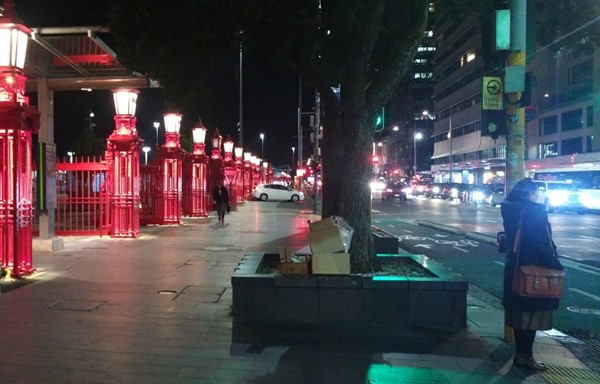 After wandering around, and not wanting to drop the change on the delicatessen again, found this place for an ostrich burger. Tasted of Middle Eastern shawarma seasoning, and was tasty.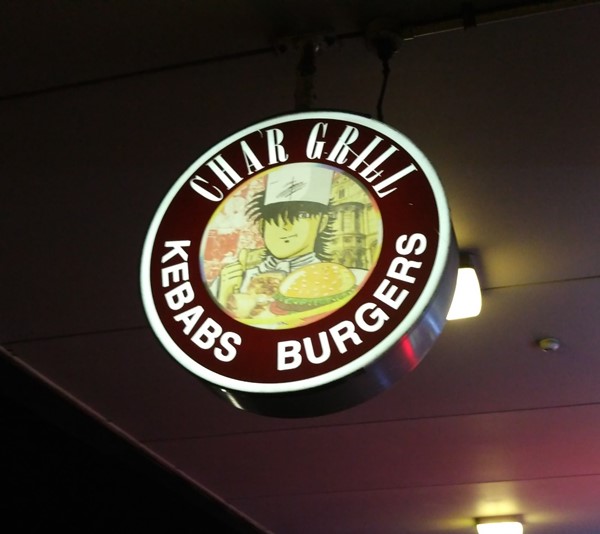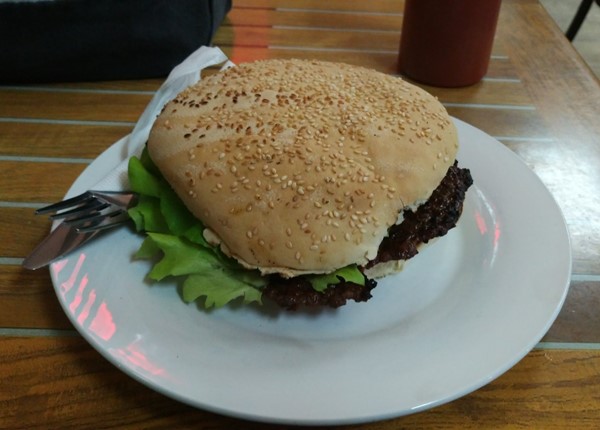 Another early night for me – for tomorrow, I'm flying to Wellington.
[? ? ?]
For more blog entries, CLICK HERE.