How lovely to not having to get up in the morning on a schedule – a rarity when travelling. Today is one of those days.
The day is about starting laundry (if you pay for en-suite laundry – you should use it!), did one load last night, two loads today including one with my jacket, hat and shoes that have gotten soggy in the last week. Makes it easier when you have breakfast in the fridge – means you can wash your jeans!
Clothed in clean clothes, and a little food in my stomach – off into the city I go. My objective is finding some souvenirs to take back to the states. My first stop was the Kiwi version of a Dollar Store (I love my friends THAT much):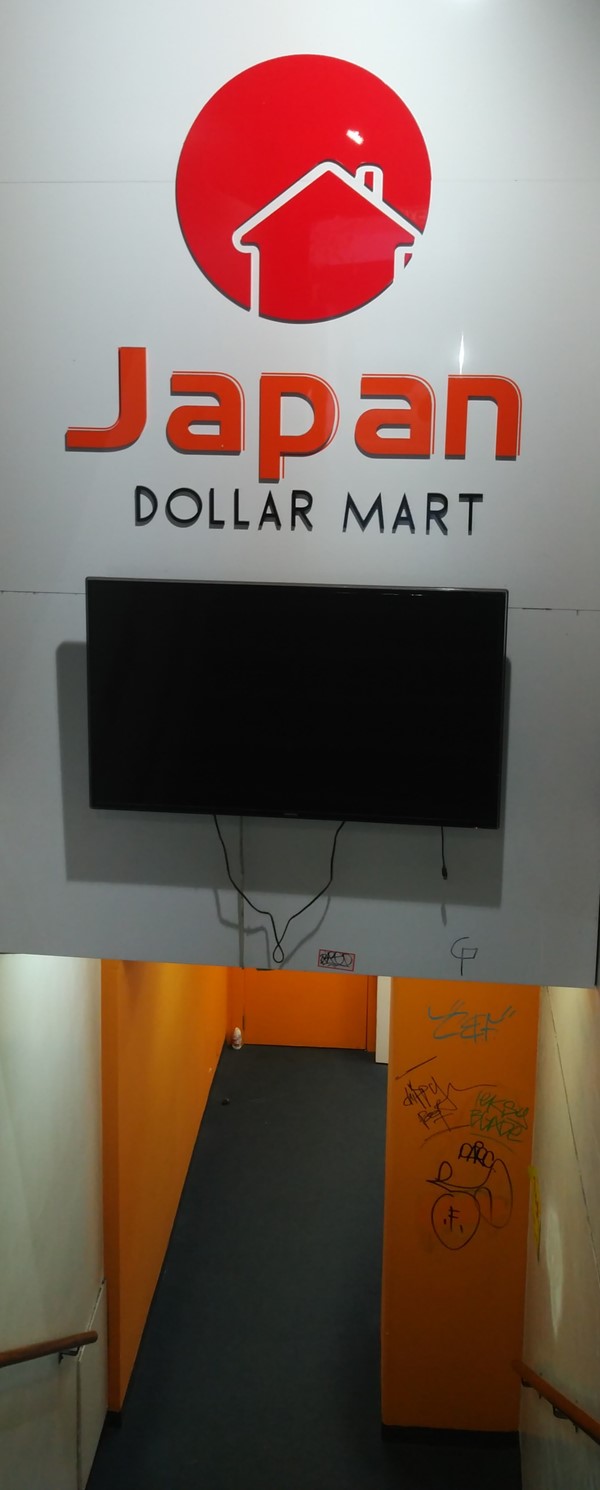 Yes, it's downstairs – and it seems that everything isn't a dollar, but NZ$3.50, with a discount for multiple purchases – which I didn't even do one. Sigh.
Hit a handful of souvenir stores…again, nothing. Lots of walking, poking about, still nothing. Well, there is food. And I ended up in my "usual" spot close to the hotel. Federal Delicatessen. Odd to have a "usual" spot in a town half way around the world – but when the floor manager/whatever, recognizes you with a smile and a "welcome back". This was only my third visit, a breakfast, a dinner, and now lunch, and this guy was working all three times.
Time for the Negroni drink special: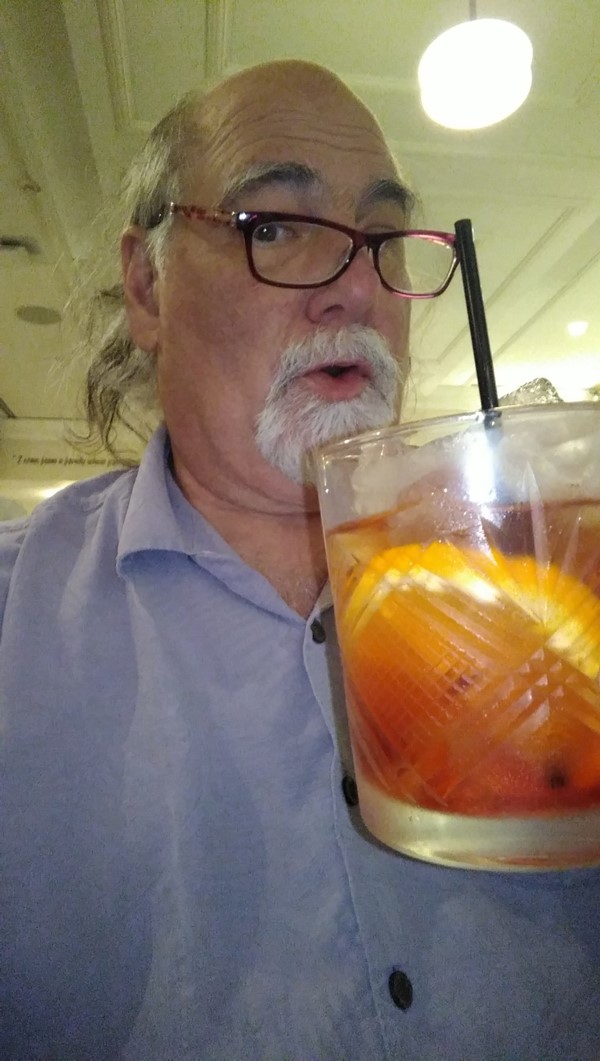 And the Chatham island Blue Cod Hoagie. The hoagie roll is much like a lobster roll bun. I ate half the cod, then shredded the other and ate it like a sandwich. Damn good.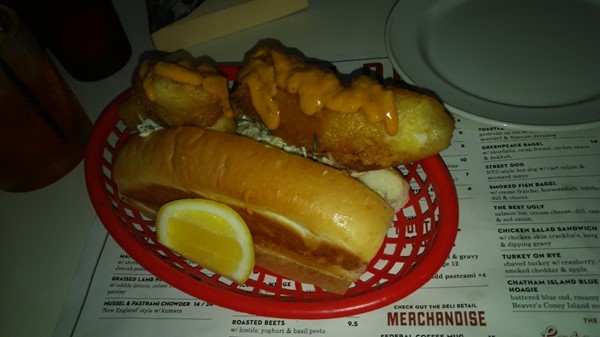 Headed back to the hotel, grabbing a couple of mixers and a sandwich for later — and took much more than a "power nap" – it was a serious hour of snoring. Apparently, I'm catching up on something.
Spent the evening doing blog posts, packing, drinking, chilling. For tomorrow is a LONG travel day. Especially with the change I've made to my return schedule.
I'm leaving New Zealand 12 hours earlier than my original schedule, arriving in the states at about the same time…though in Dallas, not Seattle. Overnight planned.

I booked it on the Wednesday I arrived – it's not like I'm getting a ton of frequent flyer miles on United for my trip down under. Here are the numbers for my 7,000+ seat-in-butt miles.

| | | |
| --- | --- | --- |
| Date | Description | Activity |
| 06/04/2018 | United 816-L class | 112 |
| 06/04/2018 | Air N Zealand 7-S class | 1,040 |
That's a lot of time in a tube for few miles.
The fact that I'd only paid $409.10 for the original fare, it's not like chucking two hundred bucks down the drain for a comfortable seat home is a deal breaker. This would mean that I've chucked TWO return tickets. I also chucked the return portion of the 16K mileage redemption to get to Wellington (and back, though chucked the return). The new return ticket was 70,000 Alaska miles, redeemed on Qantas (plus $55 in taxes/fees) for Business Class from Auckland to Sydney, on a 737 with standard intercontinental recline seats (2F), then catching an A380 from Sydney to Dallas in a Qantas First Class Suite (4A). That flight is a four-class aircraft: First, Business, Economy Plus, Economy – sadly, no stand-up lounge like Emirates, JAL, Korean have on their A380s.

That leaves me in Dallas and my return to Seattle isn't until the next day – so booked a hotel room between Dallas-Fort Worth and Dallas Love Field for a little more than a 24-hour layover. Great way to combat jet lag.
Flying back on Virgin-Alaska metal to SFO (Love Field has been on my bucket list, along with an A380 First Class Suite experience) in Premium Class (there are only 12 Premium seats on their Airbus planes, then First from SFO to SEA.
I'd read a bit about the Qantas First Class Suite and the ten-course tasting meal:
https://www.ausbt.com.au/the-best-seats-in-first-class-on-the-qantas-airbus-a380
https://www.ausbt.com.au/a-qantas-degustation-sampling-the-a380-first-class-tasting-menu
But then today while I was in the shower, I missed a call from the concierge in the First Class Lounge in Sydney – fortunately he also sent an email inquiring if I'd like a complimentary spa treatment before my long-haul flight.
Here's a quick overview of your flight details:  

Booking reference – XXXXXX

Flight number – QF007 SYD/DFW

Departure date – 14th June 2018

Your current seat allocation is – 4A

We're pleased to offer you the following services before you fly:   

Complimentary spa treatments at our First Lounge Aurora Spa before your flight. The spa is open from 7.30am to 3.00pm daily and appointments are subject to availability. Please call us anytime from 7am to 9pm on (02) 9691 2189 to confirm your booking.  

Anthony booked me for an 11am spa treatment – I get in at 10:15am and leave at 12 something. I could get used to this.
About a month ago I forwarded this article to my Alaska flight buddies: https://www.forbes.com/sites/johnnyjet/2018/05/29/5-alaska-mileage-plan-award-redemptions/
Qantas Business/First redemption is one of the five highlights they mention – and why I'm willing to spend a night in Dallas.
Night all.
[? ? ?]
For more blog posts, CLICK HERE.