Time to head for sunshine…but first, got to bottle the holiday Cinnamon Brandy…by Christmas the liquid will be a dark mahogany color: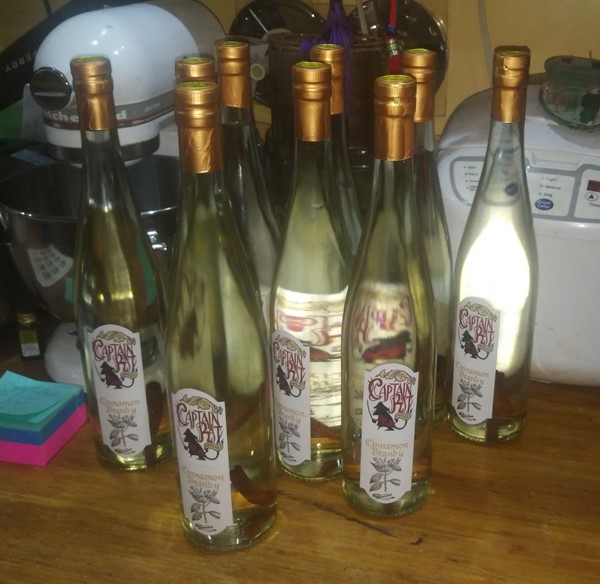 And get the wine shop's
wine club boxing started – and I get to do it in our new space (so I can actually start it on a Sunday while the shop is open):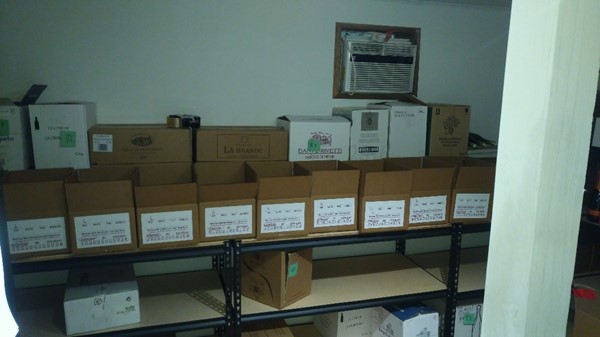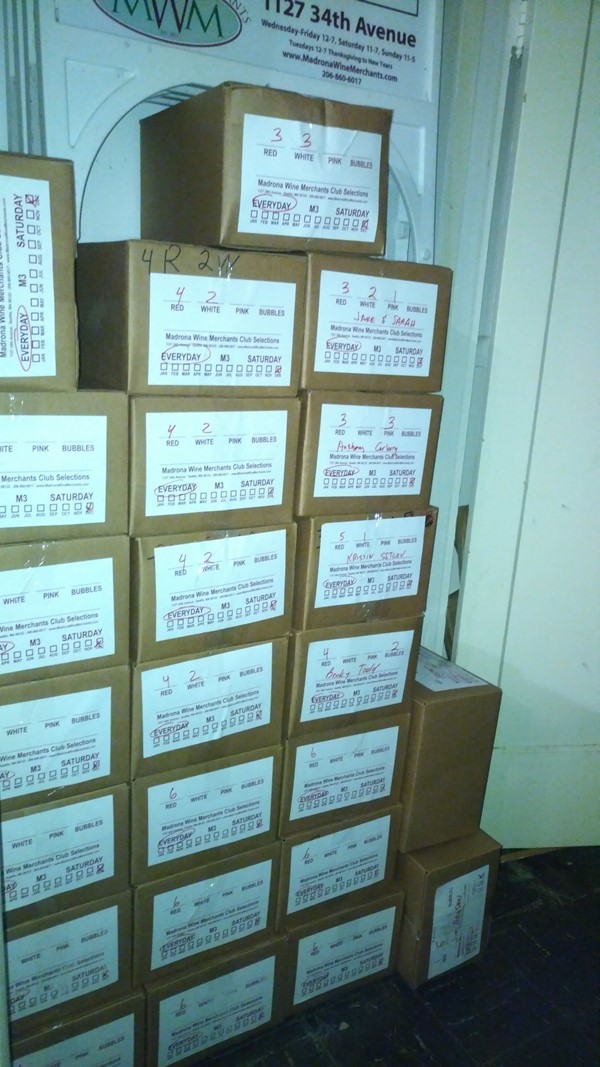 Some hiccups, but easier than last month.
Off to the airport in the morning…no upgrade (sigh). I hit the lounge, but bought the sandwich onboard since it's a five-hour flight: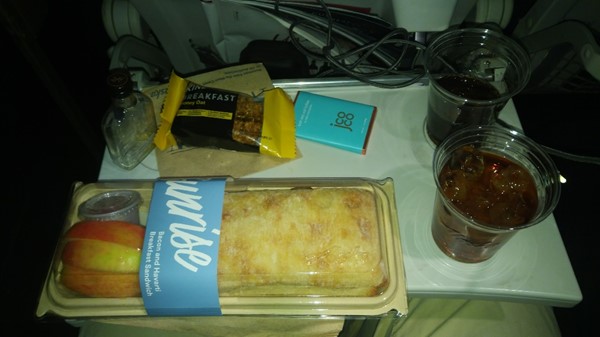 The Granola Bar is a freebie are a perk of Premium Class (along with doubles of Woodford Reserve) is a and the JcoCo Chocolate is a perk of being either an MVP Gold, or MVP Gold 75K.
Since I just had smaller carry on, I opted to take the "cheap" way to get to Waikiki – TheBus, the local city bus, a whopping $2.75 and an hour of my time. You can do the airport shuttle, or 808-EXPRESS for a direct transfer if there a couple of people. Don't know what the UBER would be, but there is service.
I got into Waikiki in the early afternoon – and they gave me a choice of rooms that were ready:
23rd floor, no lanai (that's deck in Hawaiian)
7th floor, lanai
Uncle Markie always loves a deck.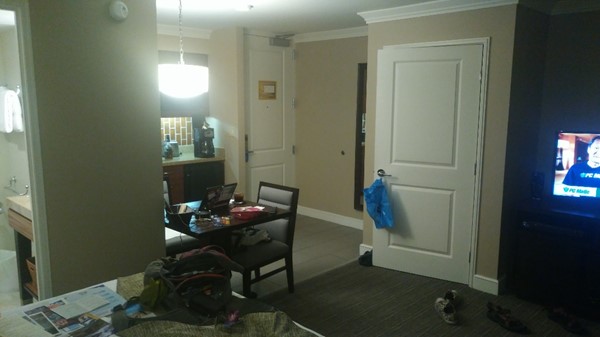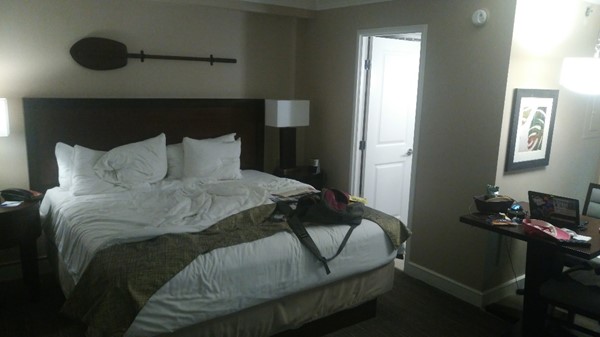 Not much of a kitchen (microwave, fridge, toaster, coffee maker, but plates, glasses, dishes, etc).
The closest grocery store is a dozen blocks away, and I'd rather have food now, rather than later. Headed down the street to Cheeseburger Waikiki, which used to be Cheeseburger in Paradise, but are still under the same corporate umbrella.
I started with some weird drink special of whiskey, gin, orange juice….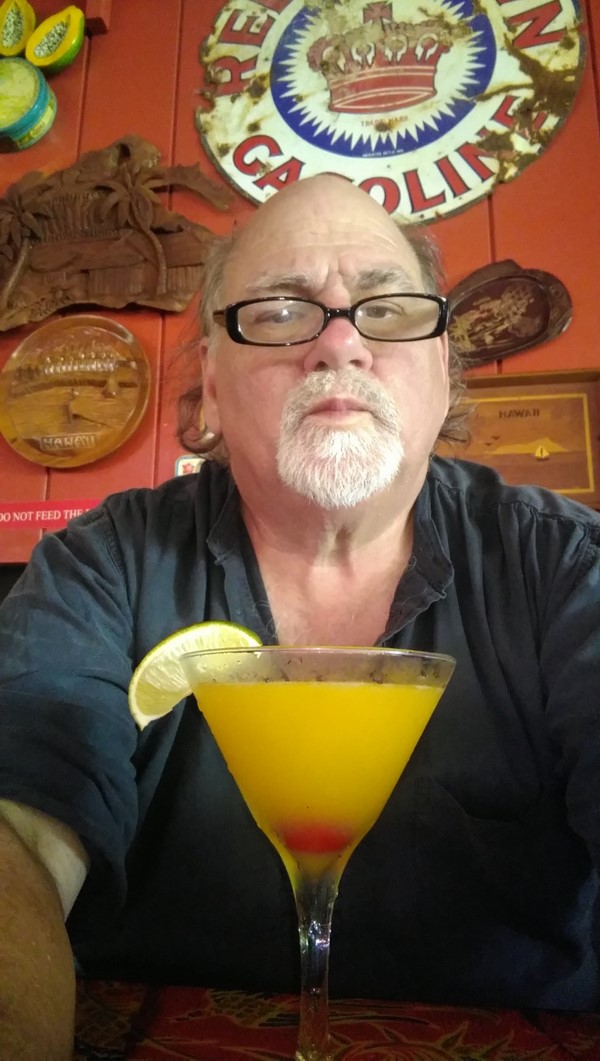 One was enough, and I ordered something for the starter menu, the Cheeseburger Sliders – still a lot of food. Should have taken one home for breakfast!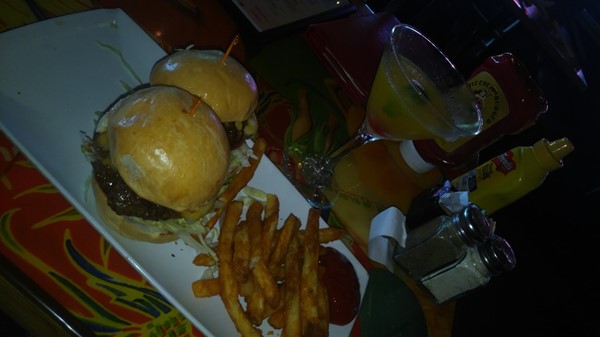 Headed back to the condo to just hangout and recover from the trip – nice view: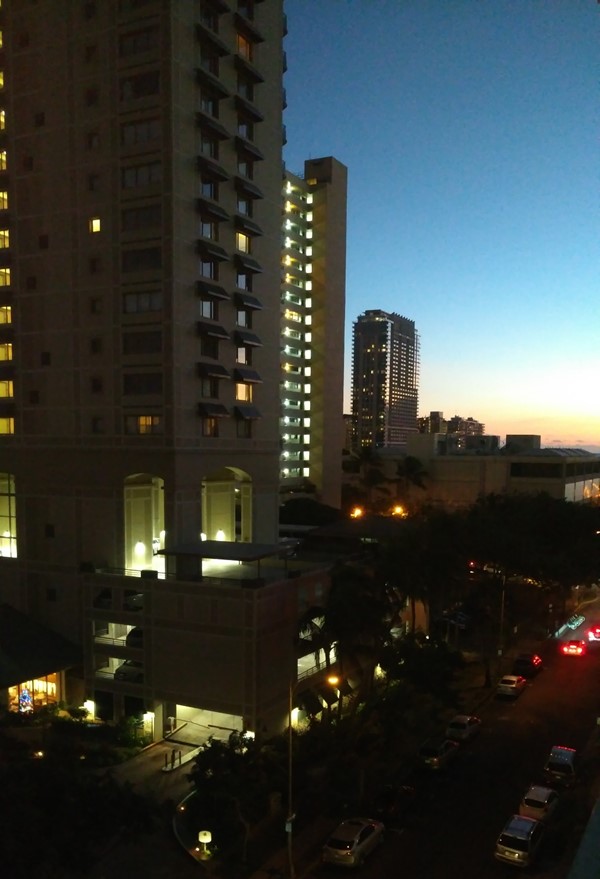 And plenty warm:
Yes, there are Speedos involved.
Wonderful pillows meant a wonderful night's sleep – so I could get up in the morning and revisit a place Bliss and I had breakfast on our trip here: IHOP for the 55+ Menu.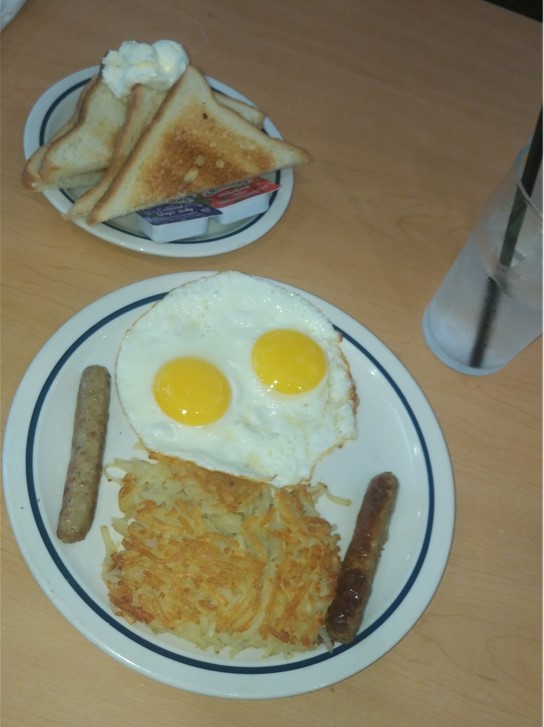 Next up was another local bus ($5.75 for the full-day bus pass) to the Salvation Army because it's Senior Day which is a 15% discount. I usually am able to find nice Aloha Shirts at a great price. I DID find some finds, at .50 each – and one of them a TRUE FIND.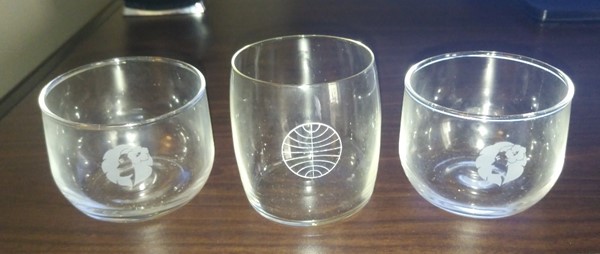 Yep, the middle one is a PanAm glass, the other two, Hawaiian Airlines.
Across the street at Ross Cross Dress For Less…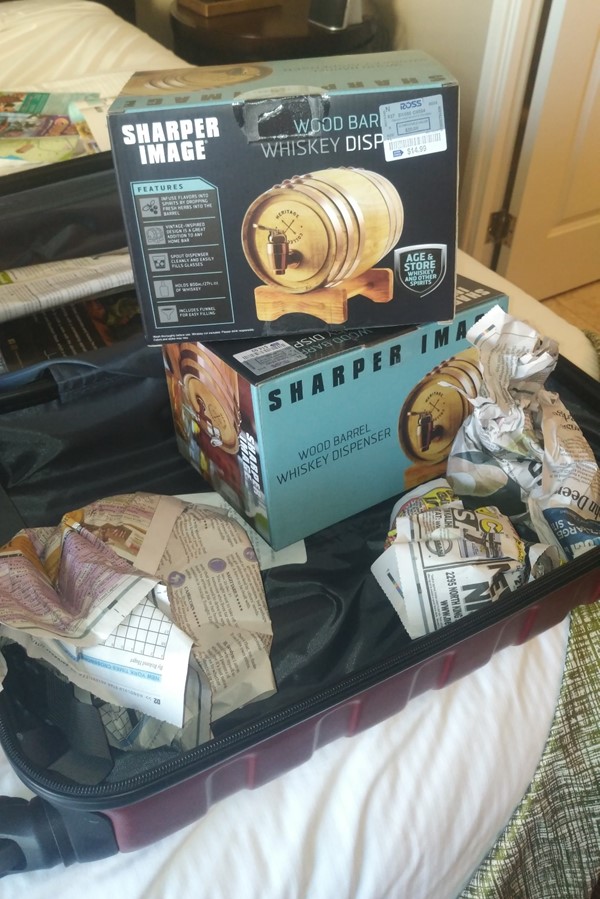 Oh, I bought a new small carry-on suitcase – I started the trip with a Hawaiian print small duffle with a shoulder strap – I wasn't even to the Alaska Lounge in Seattle before I realized my mistake. I needed something small enough for the city bus…but with wheels.
On the way home courtesy of my "all-day bus pass" was a stop at Food Pantry for a little pupu stuff for dinner – go Poke!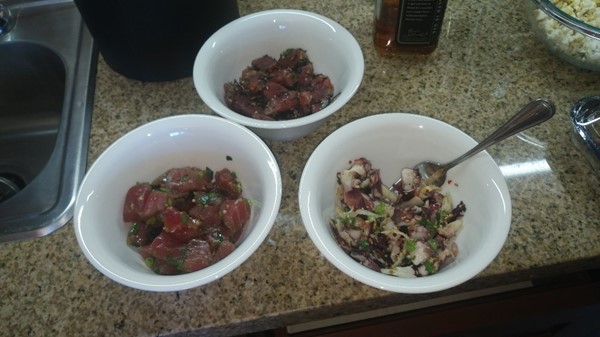 Here are some more pictures from my deck, but during the daytime…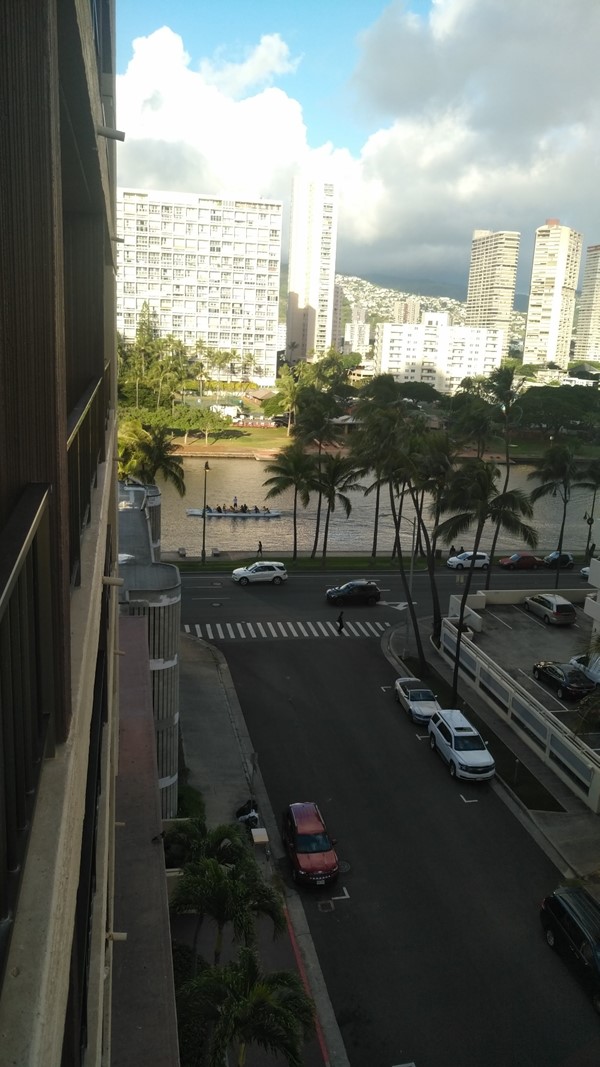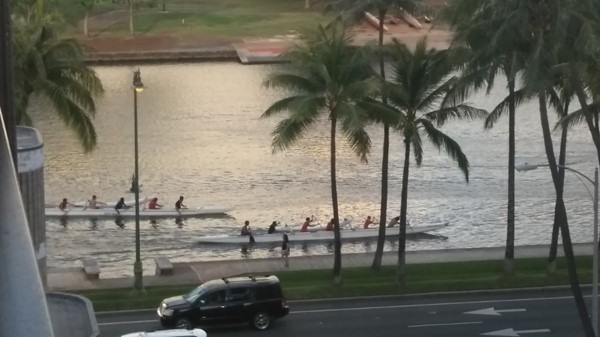 And some of the Royal Gardens amenities….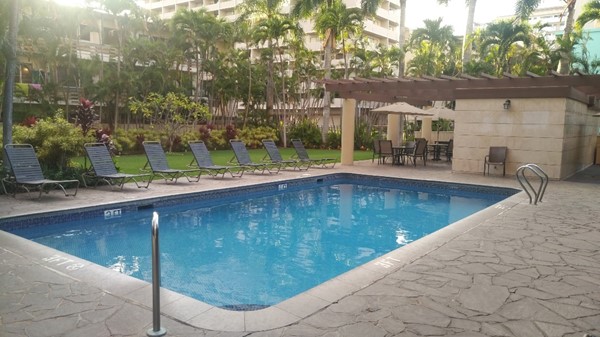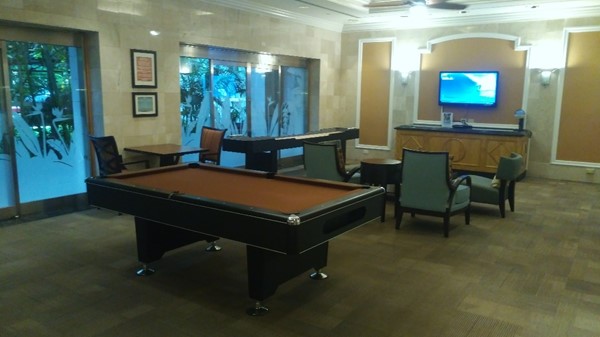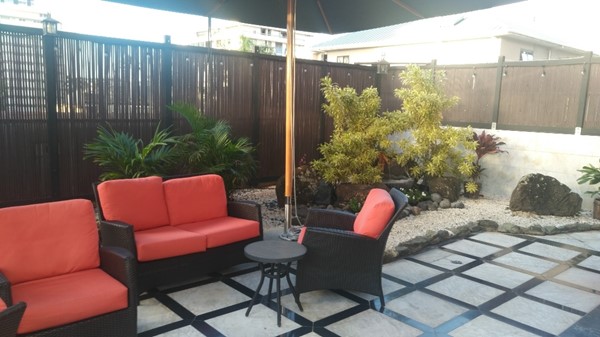 The next noon thirty I was off for a Wyndham Timeshare presentation…Wyndham is the parent company of WorldMark, where I usually stay, but they have no places in Waikiki so I traded points with The Colonels for this stay, and my next one – which, as part of the tour, was a two-bedroom deluxe upper floor at the Waikiki Beachwalk – sadly, next door to this: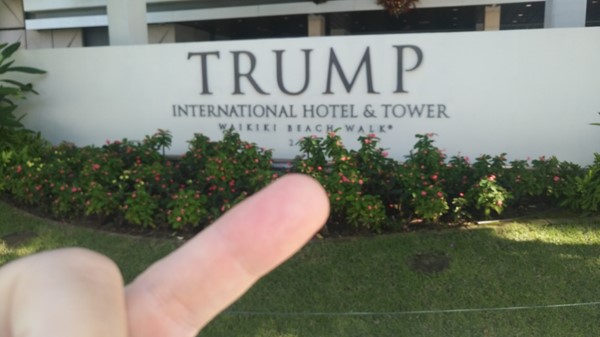 But here is the Wyndham Waikiki Beachwalk property…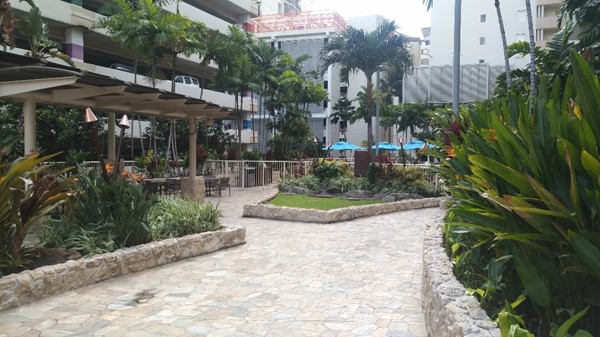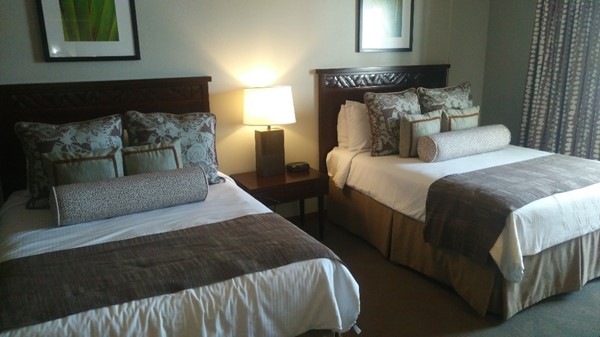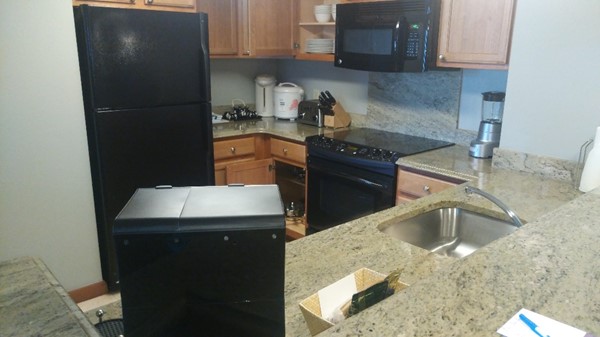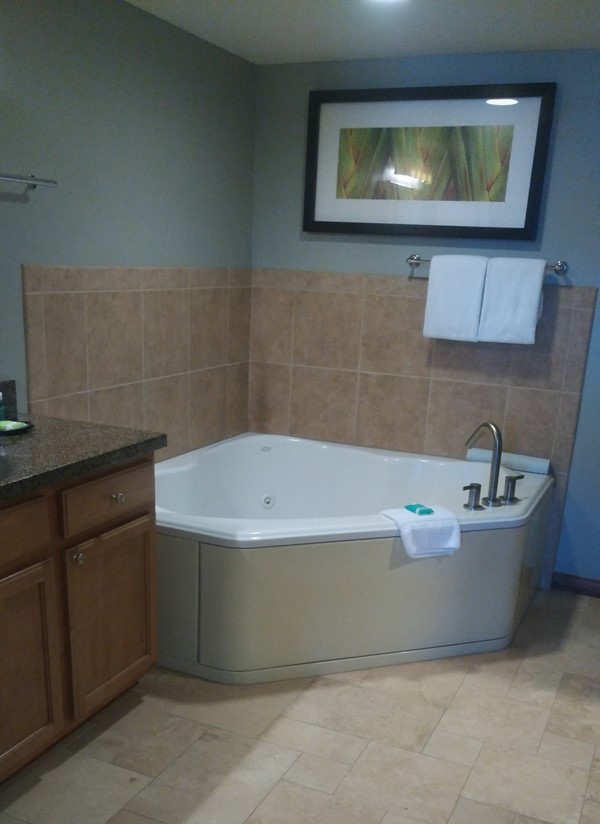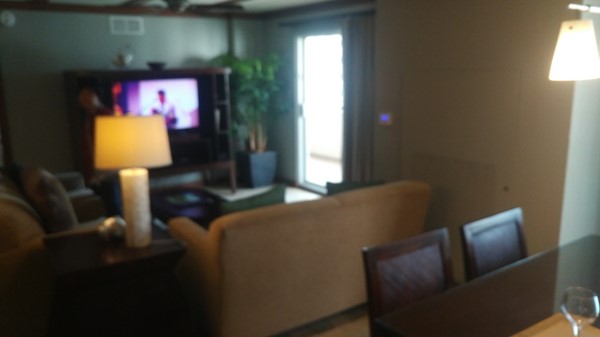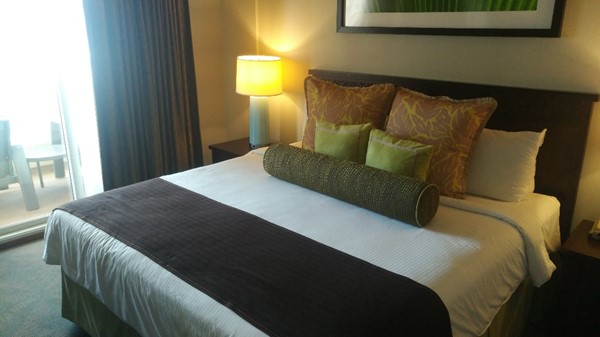 And some nice additions…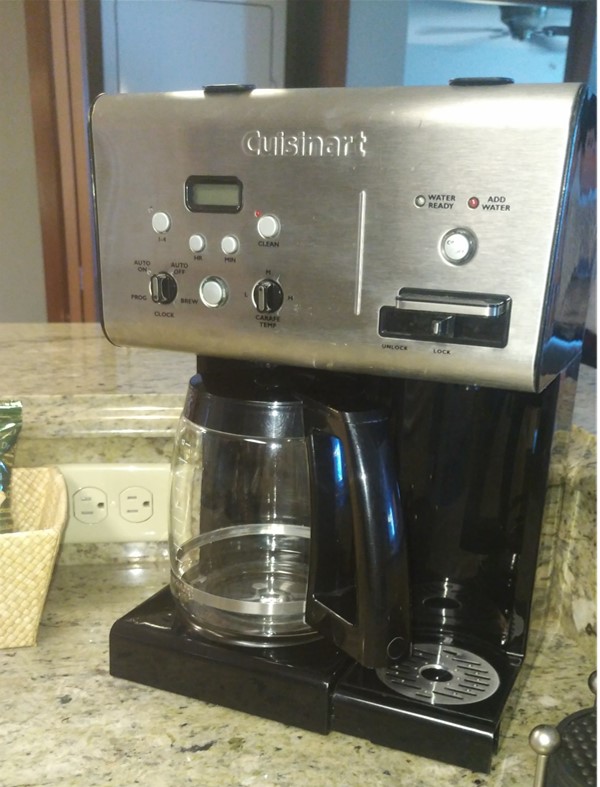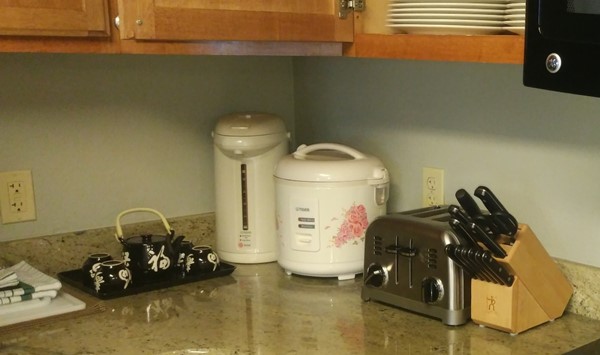 And the view….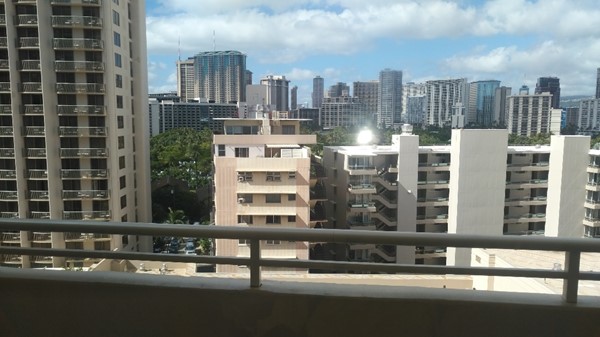 For the ninety-minute presentation I got a $125 AMEX card, and a tour of the type of unit I'll have the first week of January when I'm back in Waikiki with DancingBear.
Next stop was at CVS to see if I could transfer a prescription that I had two doses left – and my pharmacy in Seattle, while truly wonderful, is only open Monday-Friday, and I'm on the road M-F this week and next. Since I'd just changed insurance, I wasn't sure….but they said they'd text me when it was ready.
Across the street was a Tommy Bahama, with a bar on the second floor and a restaurant on the third… a little snack was in order. Turns out their happy hour was 2-5. Woohoo!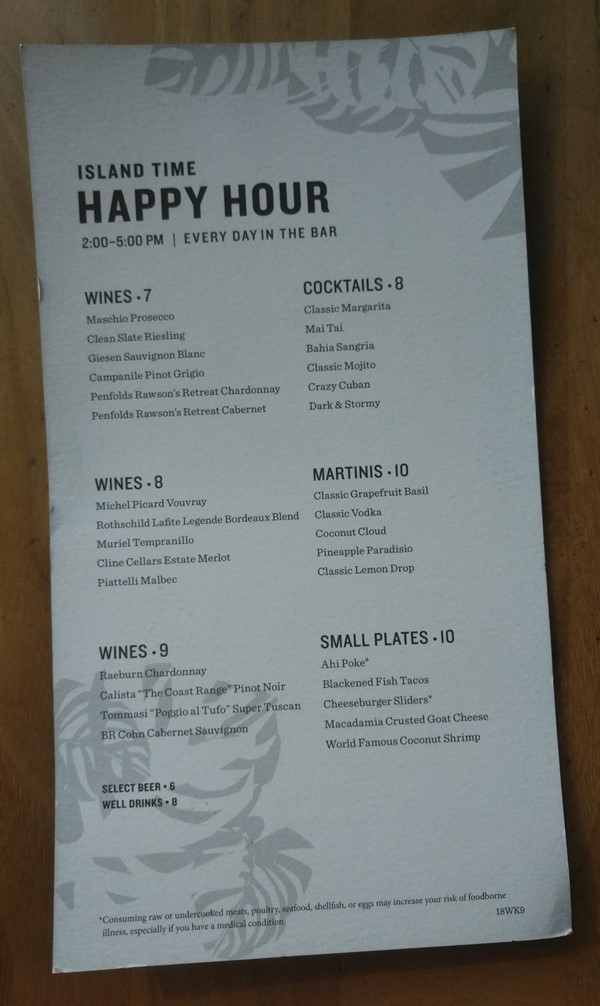 With a decent Manhattan ($12.50, not Happy Hour pricing):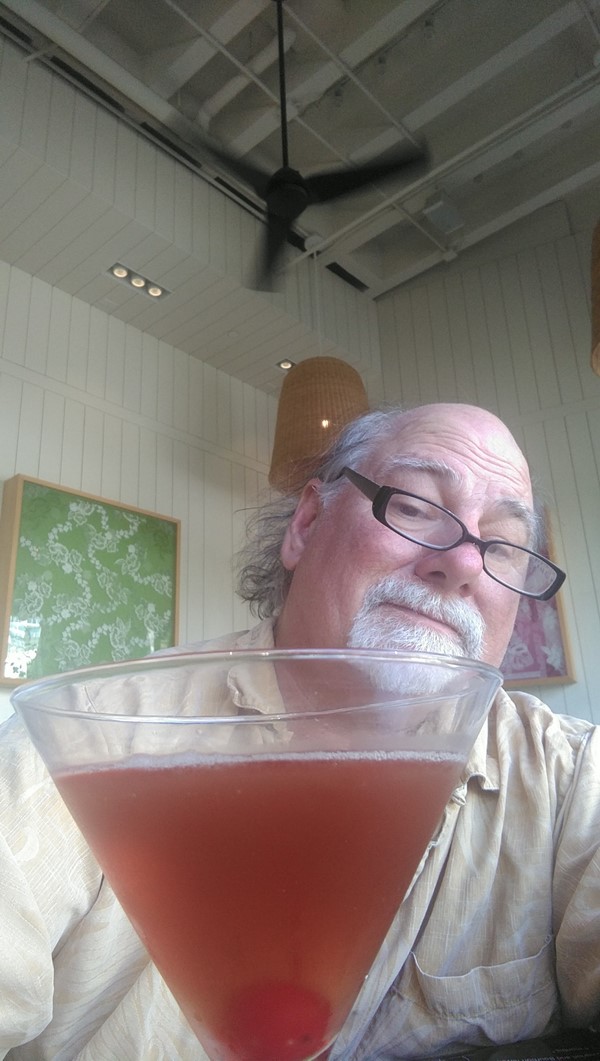 A great view: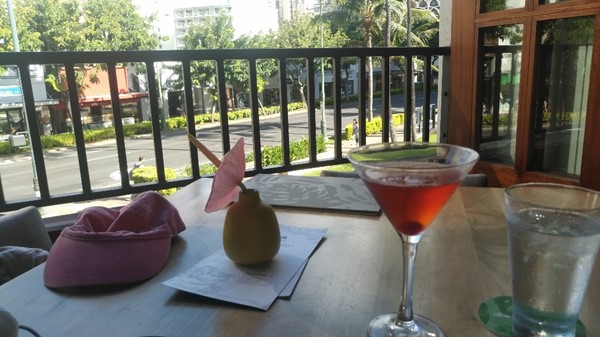 And KILLER Two For $10 Mahi Fish Tacos!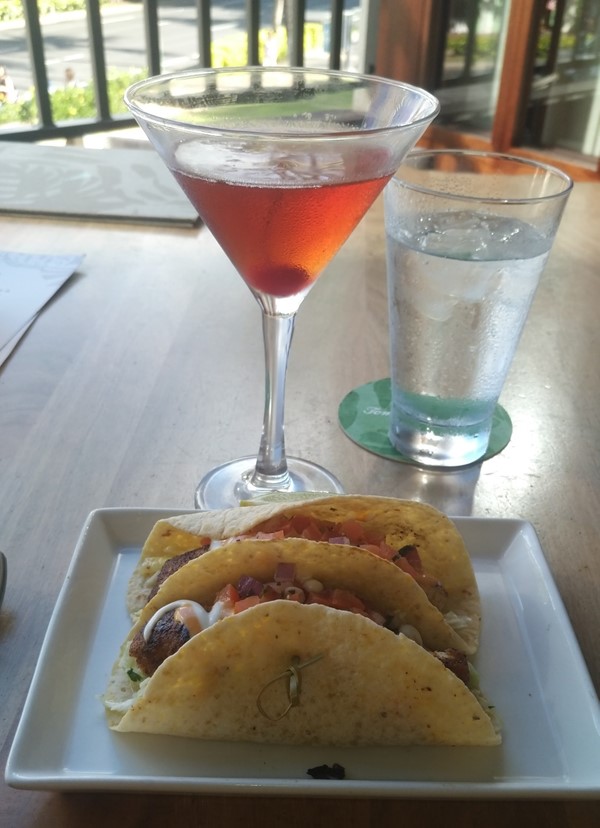 The "signature" coconut prawns were good, but next the tacos…..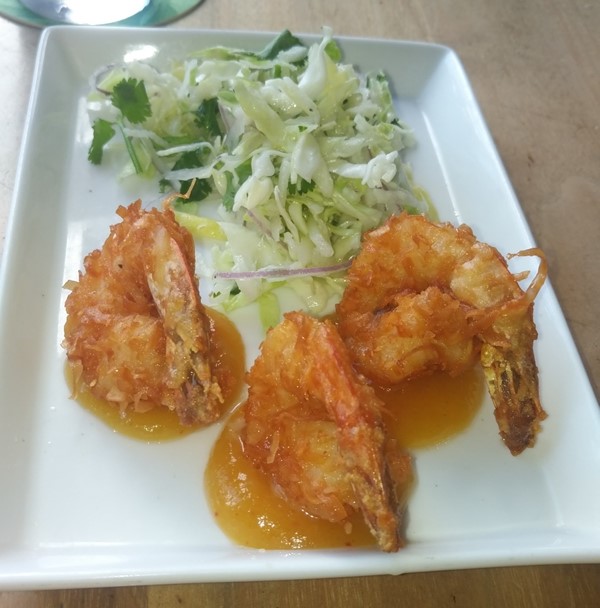 Turns out both the CVS and Tommy Bahama are just across the street (and down an alley) from The In Between (and the porno store upstairs):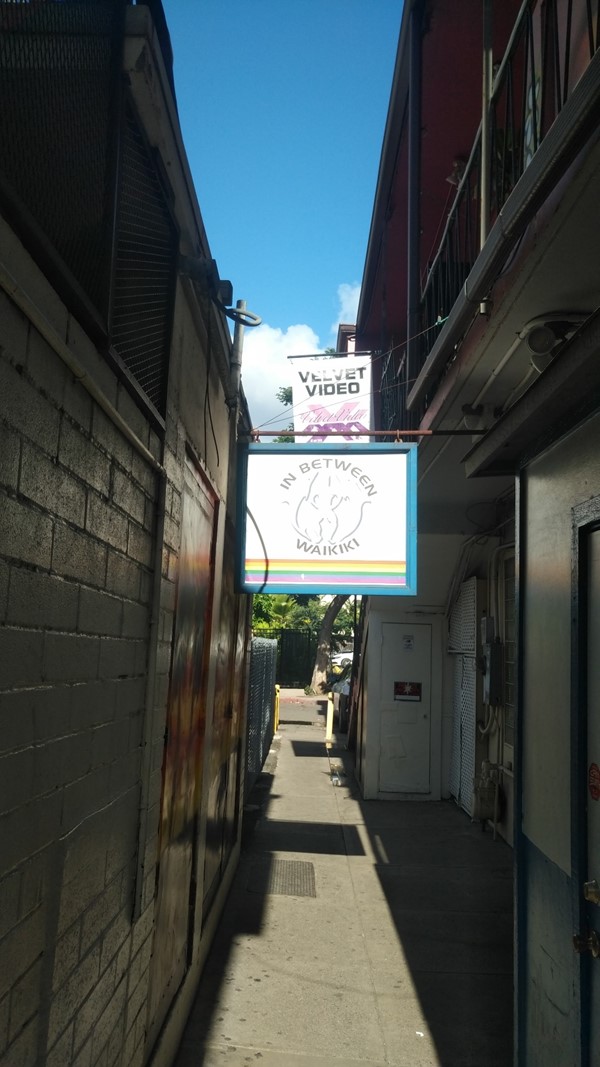 Dinner tonight was going to be the Wailea Coffee Shop….which Rache and I ate at on another visit…now closed, along with Hy's Steakhouse next to the Royal Garden. Lot's of "old school" restaurants seem to be closing. I ended up at the Korean place across the street sub-street-level. Korean Kang Nam Style BBQ Yakiniku.
I should have just ordered a "Highballu", because the concept of whiskey and Diet Coke (they served Pepsi) barely made it through translation: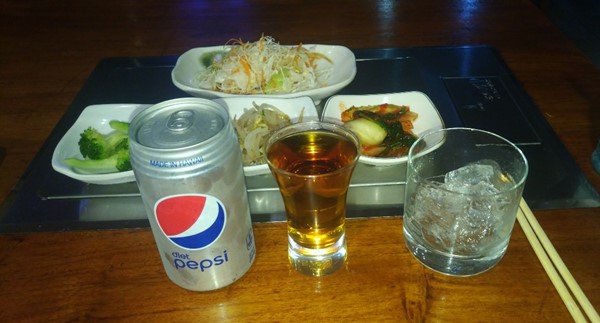 But it was served with Kim Chi! And some interior shots: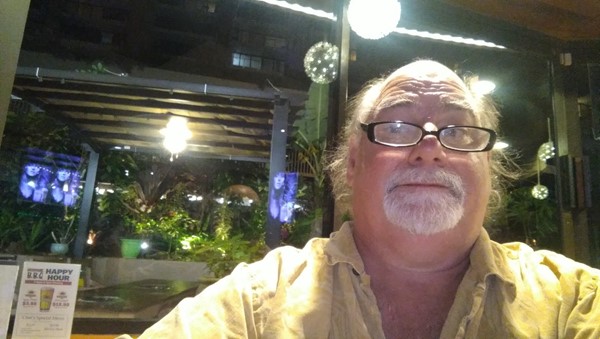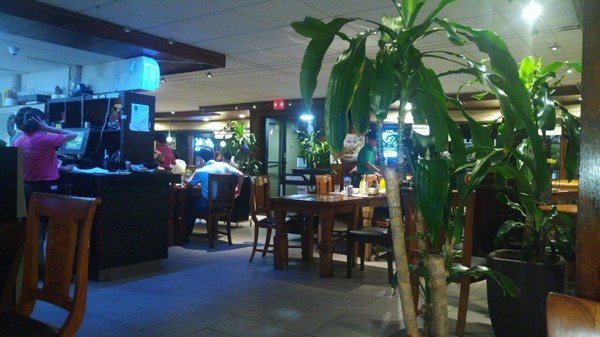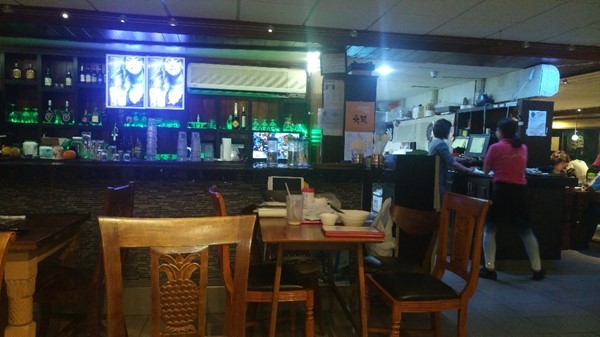 I ordered the BiBimBap in a stone pot: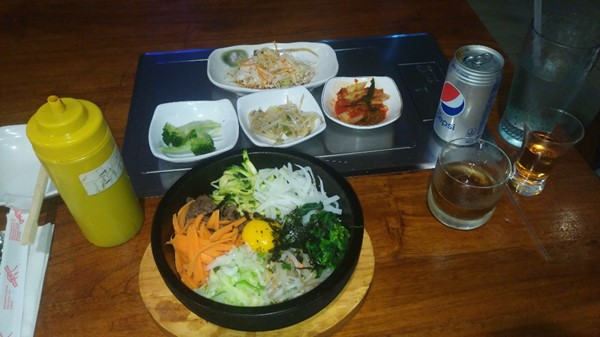 Nice to have some more vegetables in my system.
Waikiki, being a tourist Mecca, you have t-shirt shops with Obama's picture, saying, "Miss Me Yet?", and this: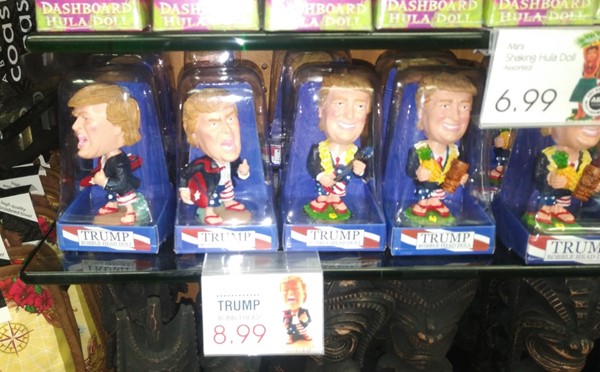 Oi.
The next day found me poolside: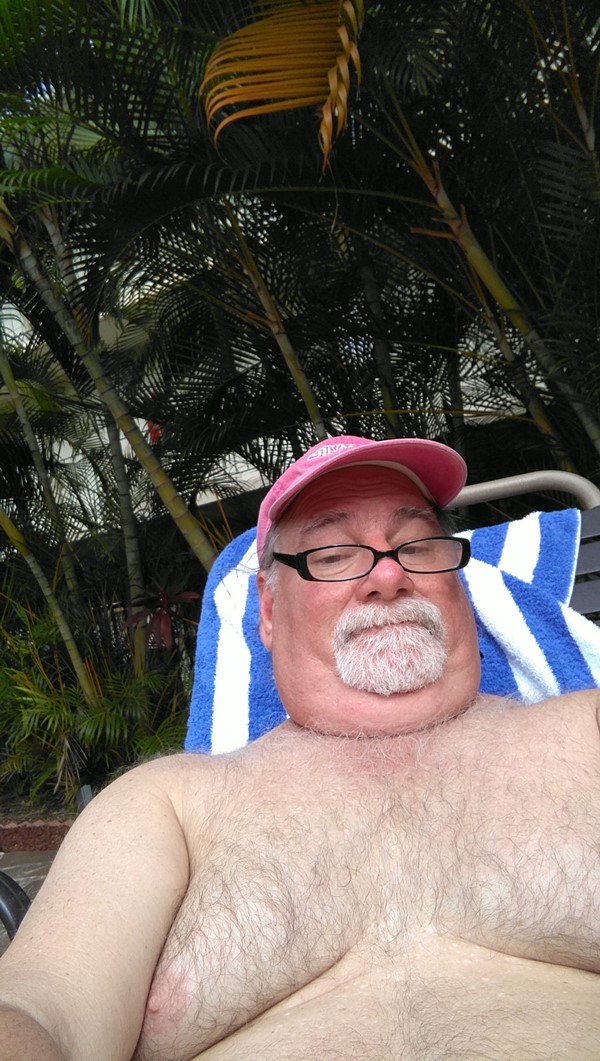 And then back in yesterday's neighborhood to check on my prescription (it was ready, but no text), and another stop for Fish Tacos at Tommy Bahama – this time I went for the Happy Hour Cocktail of a Vodka Martini (which my mother claimed, "There is NO such thing as a VODKA martini!"). It nicely came with small olives, but they were stuffed with Blue Cheese – rest in peace Swanda.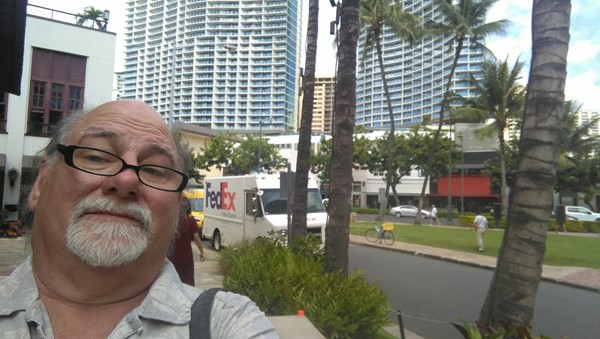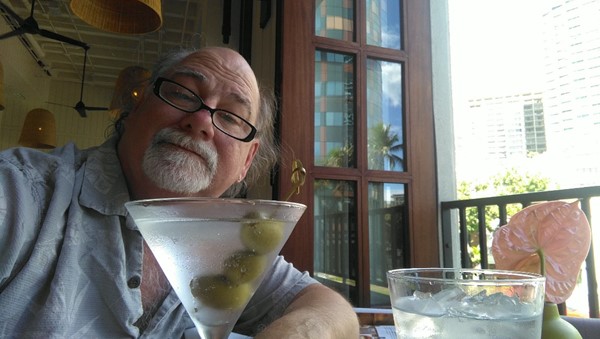 Sadly, check out at the Royal Garden is 10AM. Meaning I ate some cubed papaya, and got back on the city bus to the airport – and with no checked luggage, soon I was in the shared AA/JAL Lounge with a Hot Asian Buffet!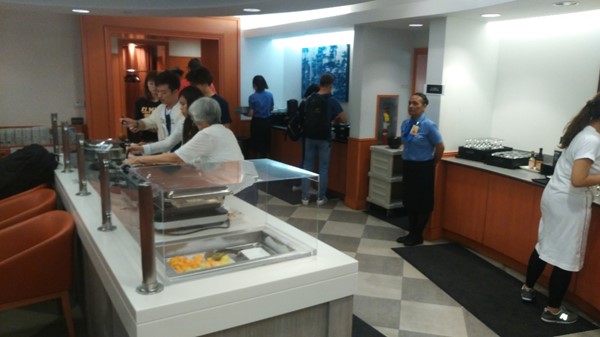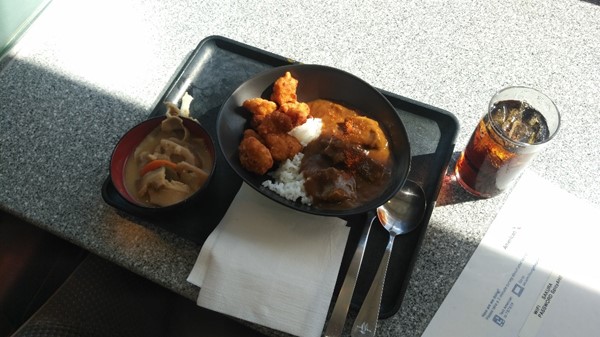 And a "pour-it-yourself" bar!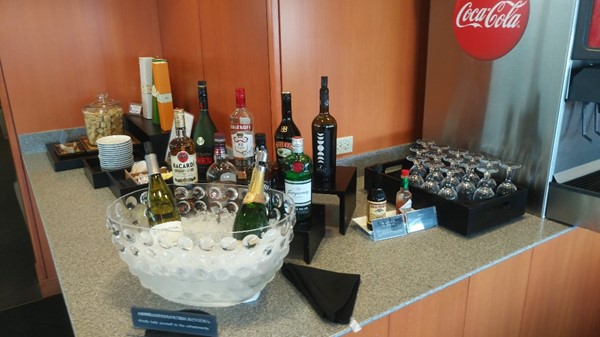 With a nice view of the Japanese Garden that is in the middle of the airport: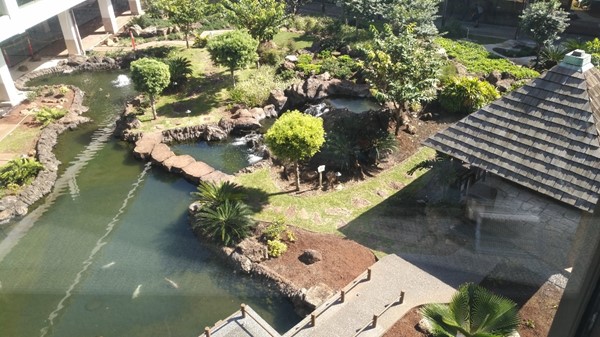 And even bidets in the loo!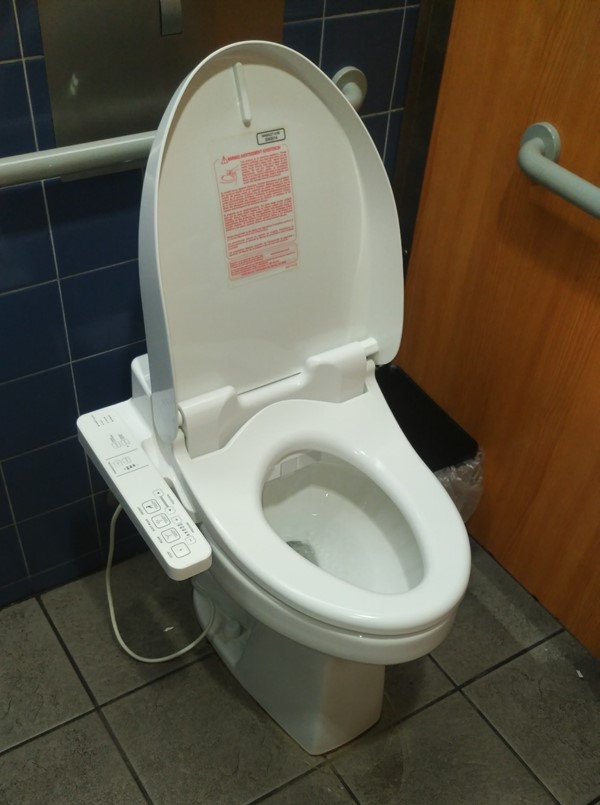 Before long I was back on the plane, yet again, not upgraded…but free cocktails, and thanks to Jonathan, a ride home from the airport.
Another week, another journey.
[? ? ?]
For more blog posts, CLICK HERE.