Mileage Run definition courtesy of Wikipedia: "A 'mileage run' is an airline trip designed and taken solely to gain maximum frequent-flyer miles, points, or elite status. If a traveler has already achieved some sort of elite status, then that traveler will earn bonus award miles or points on top of his or her actual flight miles or points."
Most of the people who play "The Game" do their mileage runs at the end of the year when they realize that they are going to come up short of the miles/points they need to get to the next level of their airline/hotel program. I choose to frontload my miles at the beginning of the year when cares are cheaper, and I have more flexibility.
This year's mileage run city (cheapest in terms of dollars spent versus flight miles earned) was Raleigh/Durham, also last year's city. 2017 was Boston. I miss my Boston runs where I could have lunch with friends. I booked my flights in late November when they were on sale post-Thanksgiving. Had to rebook of a couple of them when I found lower prices…still more than last year.
So, here is what my mileage runs look like on a map (times 5 in ONE WEEK):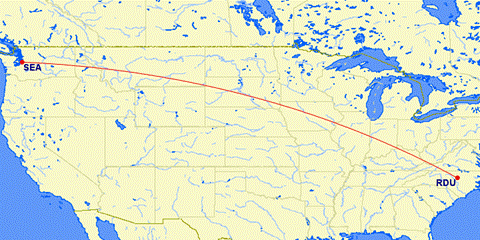 The round trip is 4,708 flight miles. Average cost of the round trips was $257.50. Total miles earned is 23,540, which is more than enough for Alaska MVP Silver:
Silver        20,000 flight miles on Alaska (25,000 if you are combining with partner miles)
Gold        40,000 flight miles on Alaska (50,000 if you are combining with partner miles)
Gold 75K    75,000 flight miles on Alaska (90,000 if you are combining with partner miles)
I hit Silver on February 6th. I'll hit Gold on February 15th when those miles post. The Points Guy (an online service) values the elite levels at:
Silver        $765        I spent $ 1,345.84 total
Gold        $2965        I spent $ 2,639.81 total (for both Silver and Gold, which includes one Paid First Class leg)
Gold 75K    $6775        Numbers aren't in yet….cause I ain't there yet
To me, I think the values that TPG (The Points Guy) assigns to the levels is a little on the conservative side by the time you hit Gold 75K where you can book yourself into Premium Class (the free booze extra legroom section) for free no matter what the price you paid. One the long-haul flights, Premium Class is an extra $69 to $99, and I'll use $89 as the median since most of mine are longer. I got Premium on 8 of the flights to Silver ($712), and by the time I hit Gold, it will be 15 ($1335). Neither of those counts the times I've gotten upgraded to First, which was 12 flights (out of 15 where there was actually First Class seating, 3 were in turbo-props).
The other thing about Gold 75K are the bonus miles.
Silver        50% bonus miles
Gold        100% bonus miles
Gold 75K    125% bonus miles (plus an extra 50,000 when you hit 75K during the year)
This is in addition to MORE miles if you actually PAY for First Class. I'll know in a week if the "class of service" bonus translates into lifetime flight miles as well as elite qualifying miles.
This post was originally planned for a brief overview, and random pictures of airports and meals. It turned into a math post. Here are the numbers for that weeks' worth of mileage runs to Raleigh: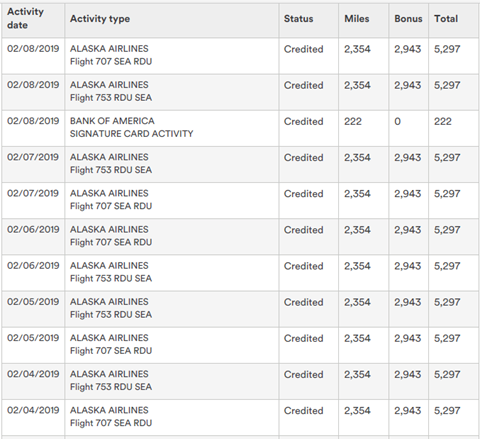 So, in a week of flights (10 legs), I earned 52,970 miles. Enough for a roundtrip in First to Florida, or, with a few more, a one-way in Business to Australia.
My mileage runs didn't end with that week, I started the next week after working part of the weekend (one snow day, thanks Jim for covering).
This is the cautionary tale of mileage runs…sometimes they blow up. My Monday flight of the first week of runs was on the ground for 3.5 hours getting deiced, etc. to get off the ground ($75 future flight certificate from Alaska because of the delay, which was generous since it was really weather related).
The following Monday, with my last mileage run before a couple of nights in Austin as my reward for enduring being in an airplane for 10 hours a day for five days – the second storm rolled into Seattle. Got to Raleigh, but most of the way back from Raleigh, we diverted…to Las Vegas. I was running Flight24 which is a real-time phone app for planes. This is what our flight plan turned into:
Yes, I got an unwanted Vegas vacation out of this…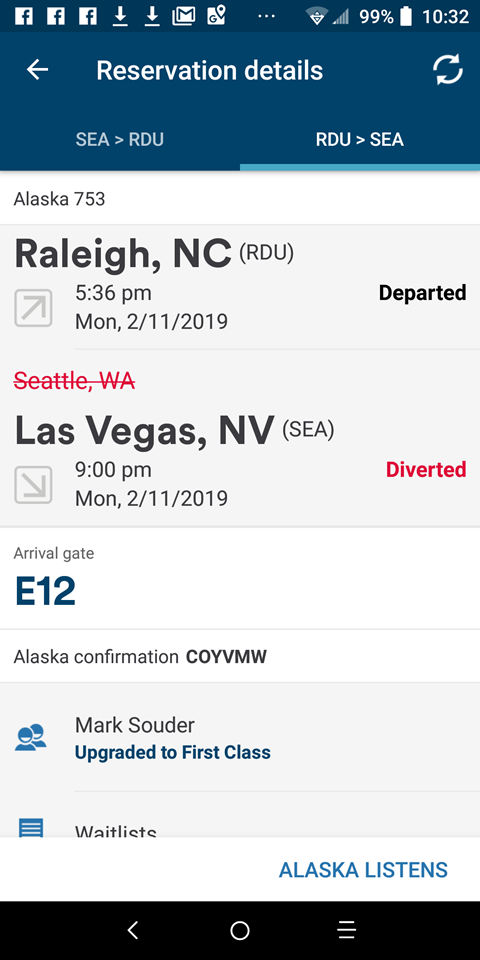 Yes, I'm going to fight for the flight miles from Vegas to Seattle, and yes, I have to apply for reimbursement for my Seattle hotel I had booked for the night so I could get to Austin in the morning, which they cancelled the direct flight and are now sending me through San Jose (which, sadly, I know the way to). This is what my Monday and Tuesday turned into: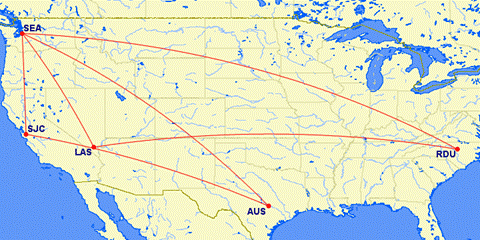 CRAZY!
If I was travelling as a family unit, I might have gone ballistic. But it's just me, who has access to lounges, got upgraded to First on all the legs (though one at the last minute). And I met other travelers, some who were doing the same thing, mileage runs – a couple from Snohomish, he is on oxygen, who were with me on three turns to Raleigh (Tuesday-Wednesday-Thursday):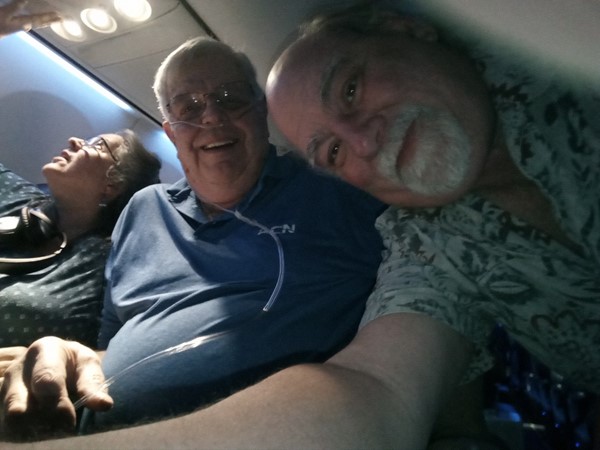 And a woman I sat next to on my original flight out the first Monday, we were in the back, but in Premium, who ended up next to me in First on the diverted flight the following Monday: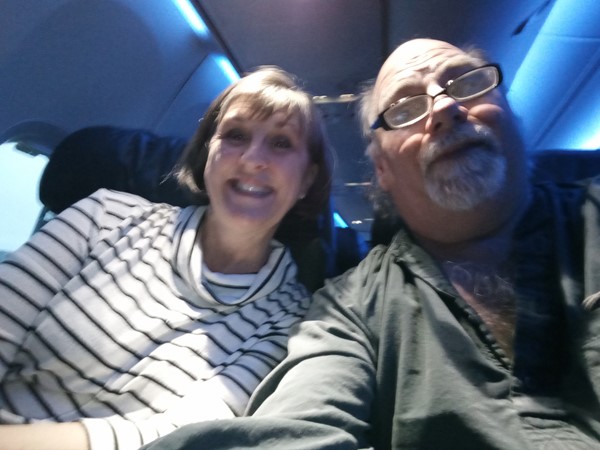 So, here's to Cheryl, Ken, and Debra.
Expect reports on Vegas and Austin soon.
[? ? ?]
For more blog posts, click here.