The plan was to visit Jameson (and fiancée) in San Luis Obispo this week on the Amtrak Coast Starlight. This is what the overnight journey should have looked like: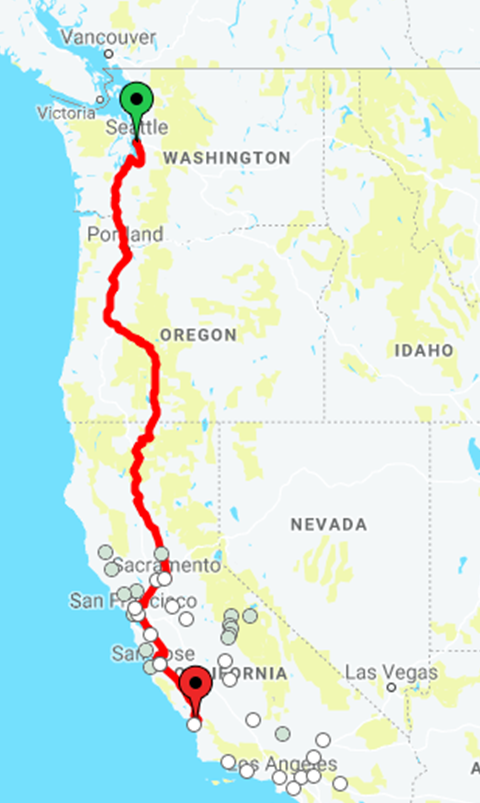 But I got this note at 6:50am Monday morning for my 9:45am departure:
We wanted to let you know that train #11, the Coast Starlight, from Seattle, Washington – Train Station on Monday, February 25th, has been CANCELLED due to a service disruption. Unfortunately, we don't have other transportation available.

Well, that's helpful. Sorry. Shit out of luck.
Made some coffee, swore a little that I was up when I didn't need to be, and called the Service Interruption line which is smaller time waiting on hold. Got booked on the Tuesday train. One less day in San Luis Obispo, but still worth it….
Until the 10:51am, which said the same as the above, but changing Monday's date to Tuesday.
It wasn't until the next day that the reason finally started to show up on the web:
https://www.kptv.com/news/amtrak-working-to-free-passengers-stuck-on-train-in-lane/article_eda7ed9a-395e-11e9-8387-07127e47606f.html
Yep, the train was stuck in the snow and running out of food (and I bet the holding tanks were filling up!)
With California out of the picture, and having already planned to be gone this week, it was "alternatives" time…Victoria? Vancouver? Orcas Island? Turns out Vancouver was the place that had three nights available that wouldn't cost me an arm and a leg (there was a little budget since I'd be getting the train points back, got refunded for the return plane ticket, didn't need a rental car). New trip looked like this:
It's basically a three-hour drive. On a rare sunny day in the winter. Still didn't take the convertible – WAY too cold.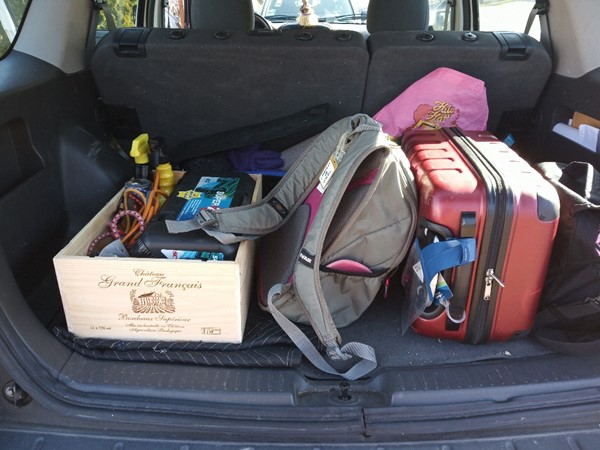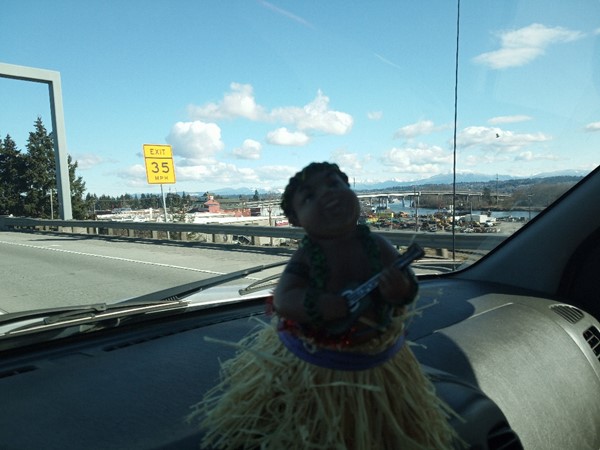 Over the border, I'd hoped to get a dog at the dog stand just past immigration – but, sadly, they weren't there. Must be a summer thing. Had to stop at a Kosher Deli instead: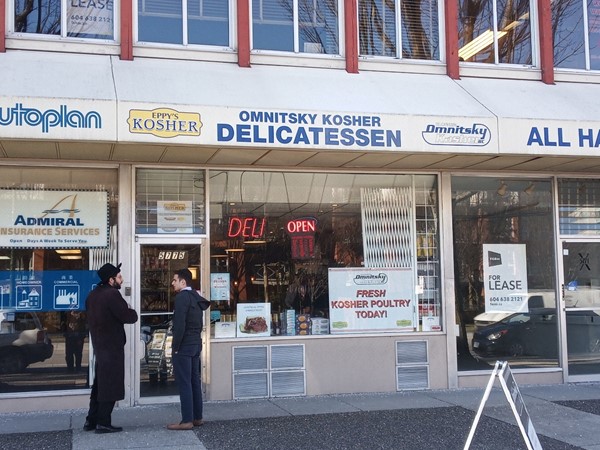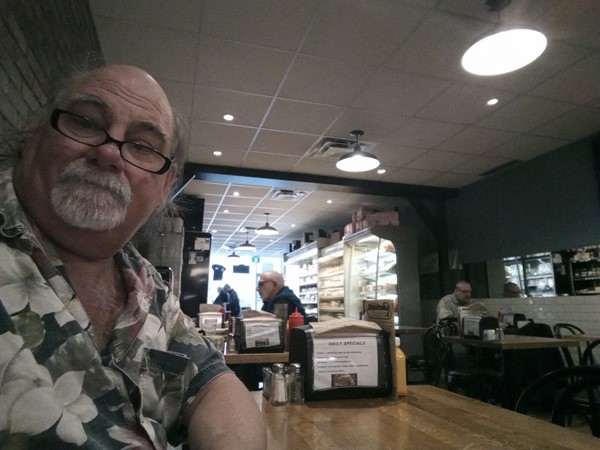 Where I got the Rueben – sadly, not as good as when I was here last…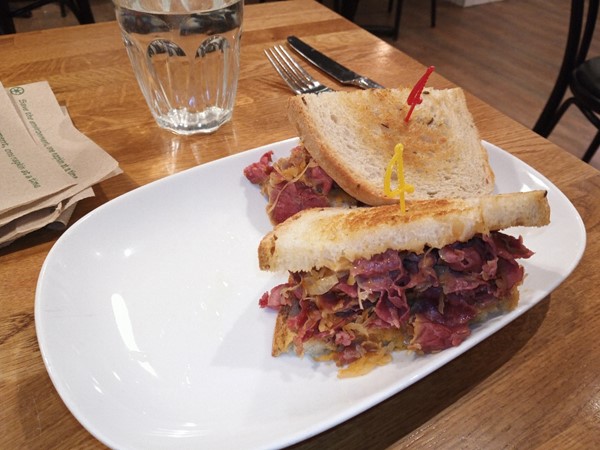 But I did pick up a couple of things in the Deli section: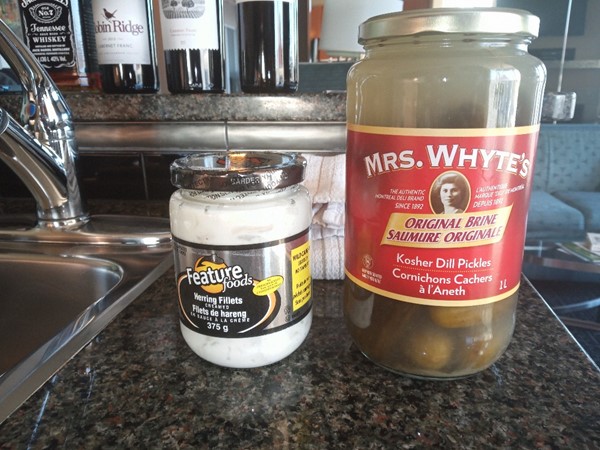 This is the WorldMark at The Canadian.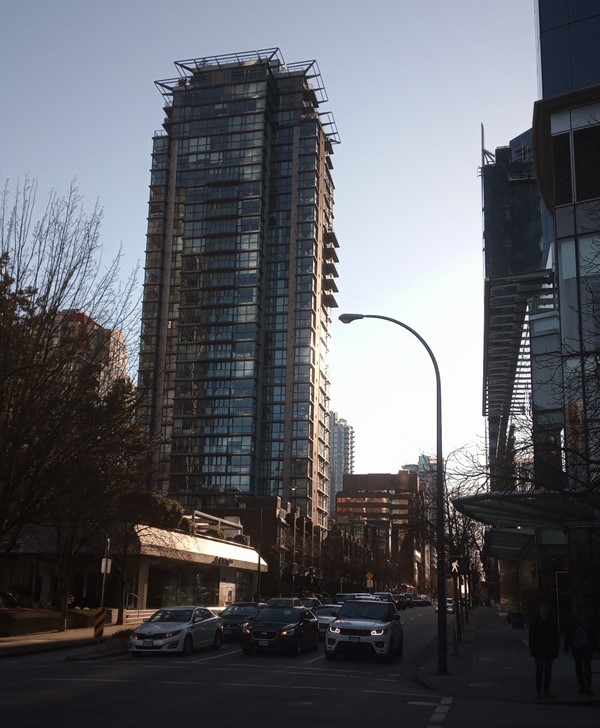 And the view isn't bad…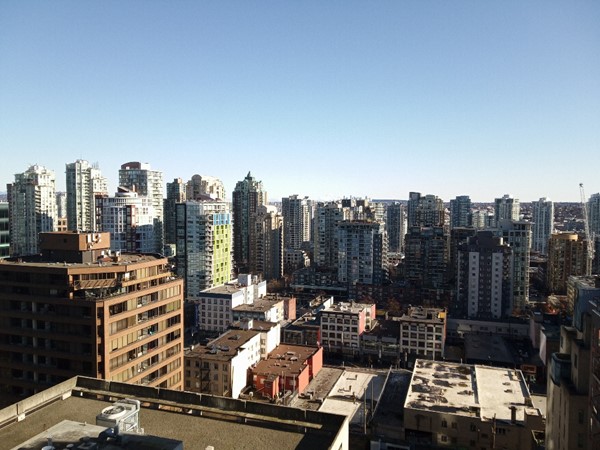 And it's a two-bedroom, two-bath….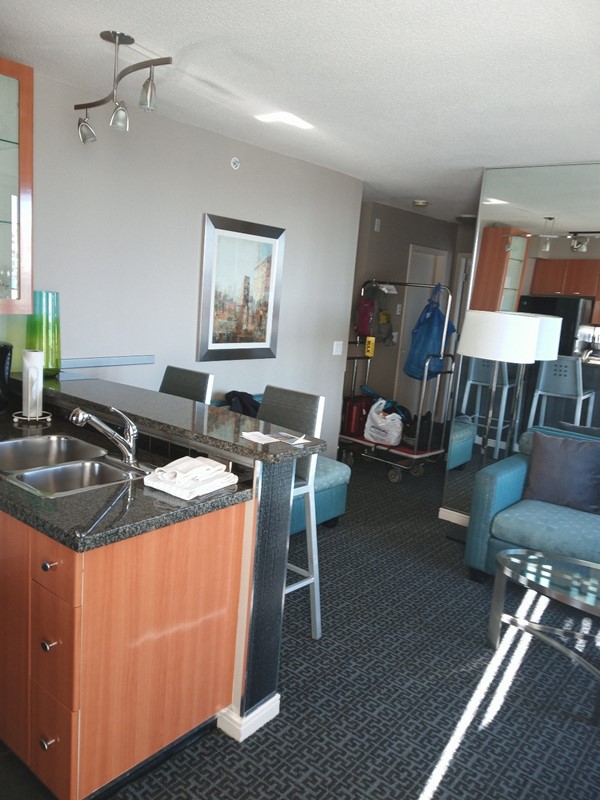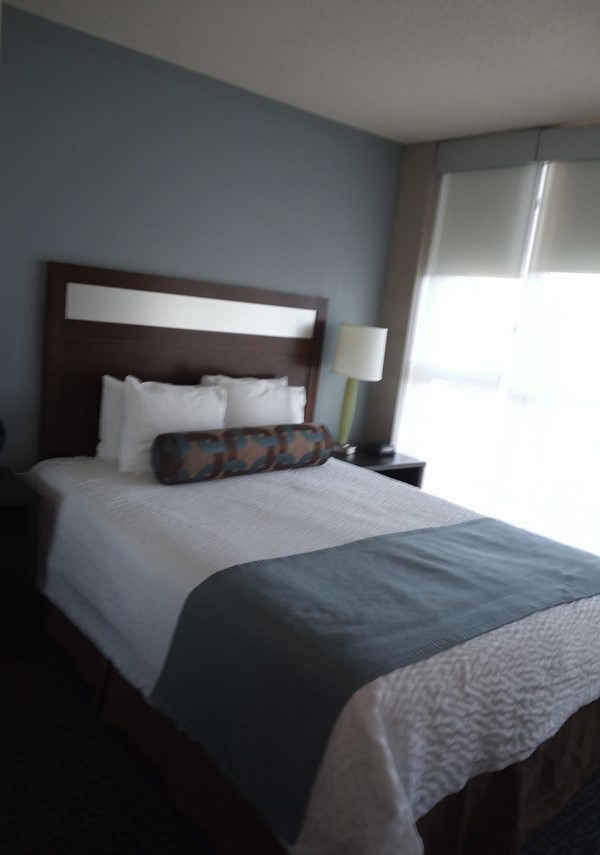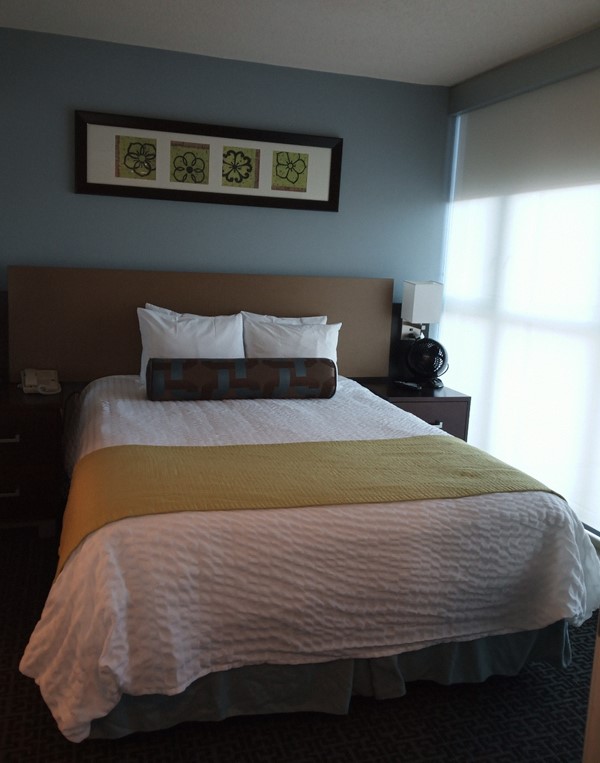 With a deck!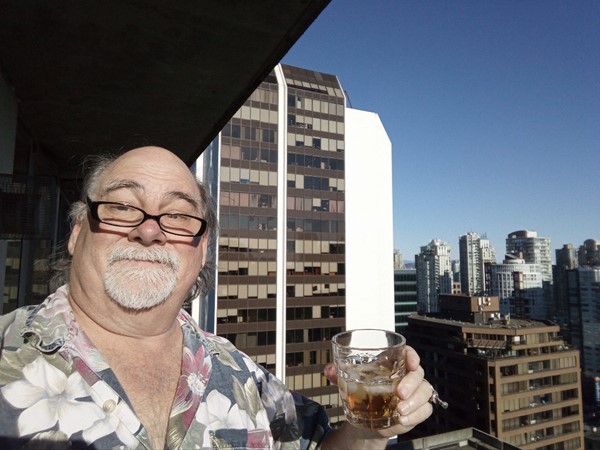 Picked up a few things for dinner on the way in…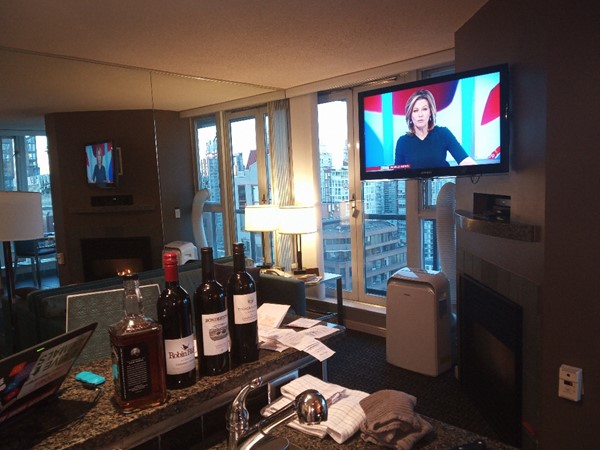 My buddy Epick is came to dinner tonight – and I gifted him some fabric (he made my kilt):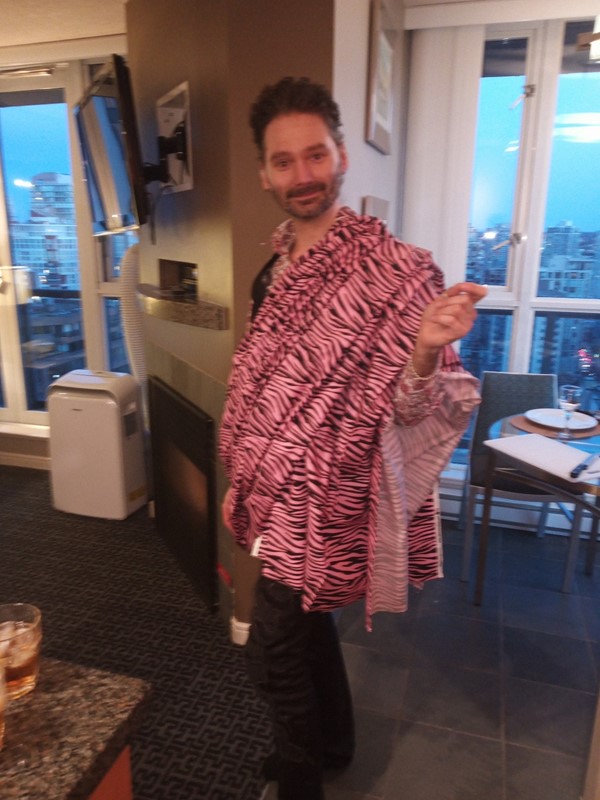 The dinner was steamed Salt Spring Island mussels in a curry lemongrass coconut broth, strip steaks, and salad. Yum.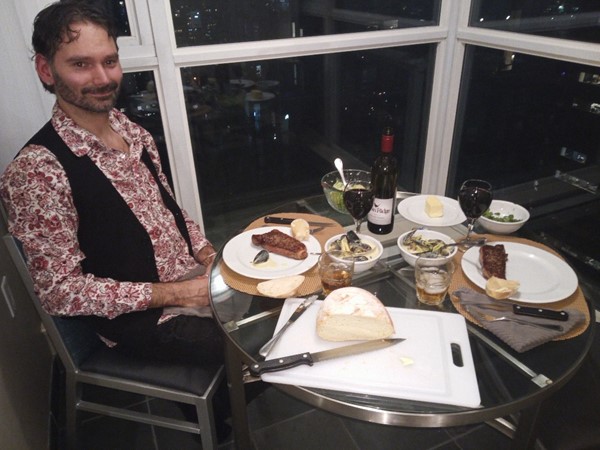 Next night's dinner was with Marzi featuring seared Ahi Tuna steaks, salad, bread.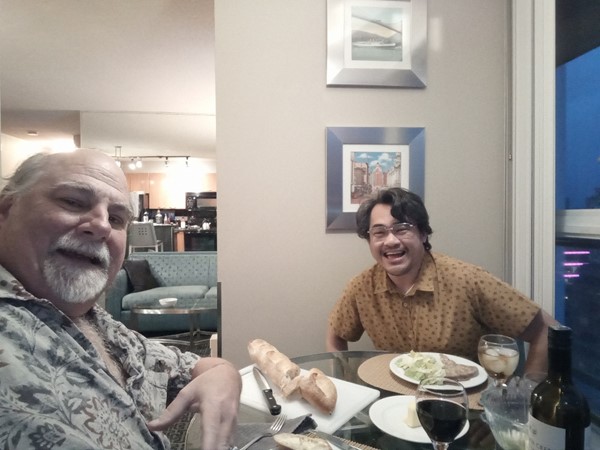 Not that there isn't good food in Vancouver…like the JapaDog stand a couple of blocks from the condo….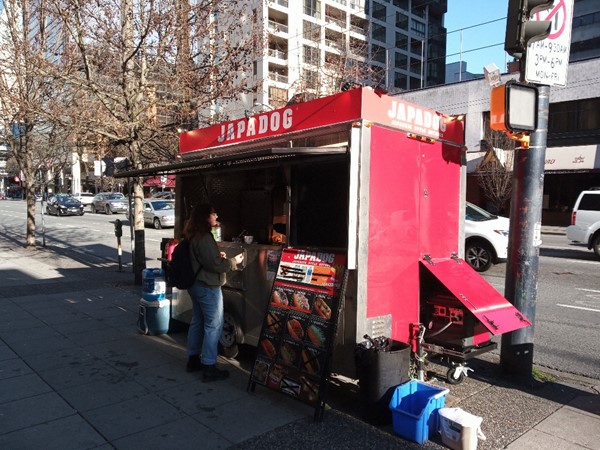 BUT, if you look closely, all sorts of items are "x'd" out – and the next day it was a handwritten sign with what WAS available, but no explanations. Seems "the trend" has passed and they are barely hanging on. https://www.quora.com/Is-Japadog-overrated-or-worth-trying-out-when-in-Vancouver
Didn't eat here either, but thought it was an interesting concept: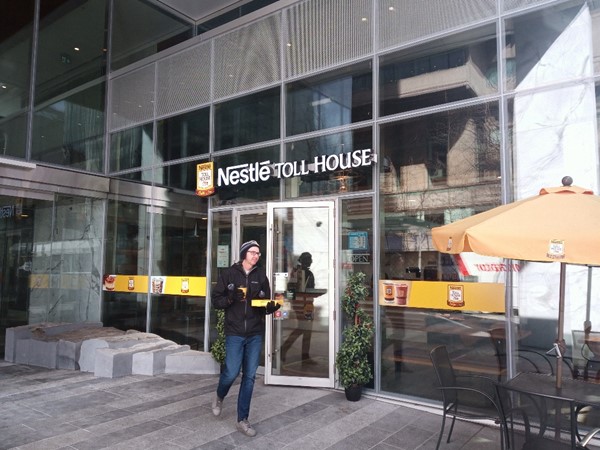 DID eat at Relish because they offer a discount to WorldMark owners (15% off food).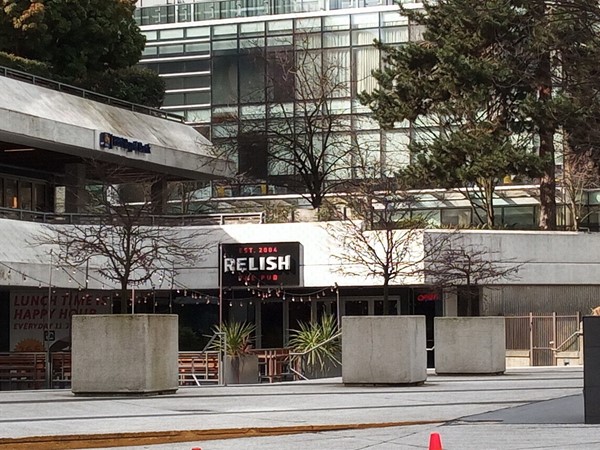 I had the Marinated Ahi Tacos – because, while the Rueben was on the menu, it was nowhere to be found, and according to the waitress, hasn't been around for a while.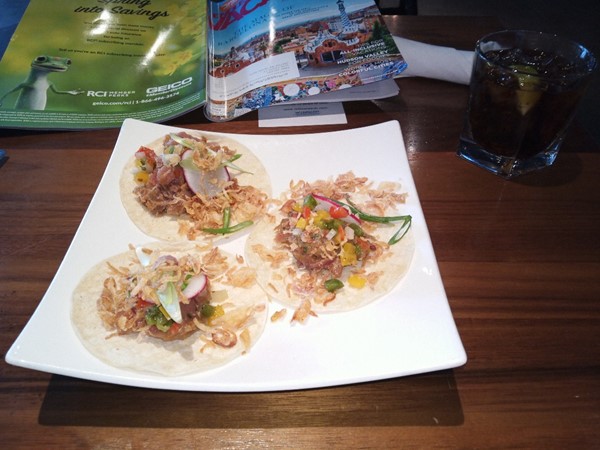 While they were good, and a $4 Highball is a rarity in Vancouver, the food wasn't as good as I'd remembered – I'm sensing a Vancouver trend.
The final day found Epick over again for dinner (remains of the coconut sauce with chicken thighs and sugar peas), and a load of laundry (there was an ensuite washer/dryer).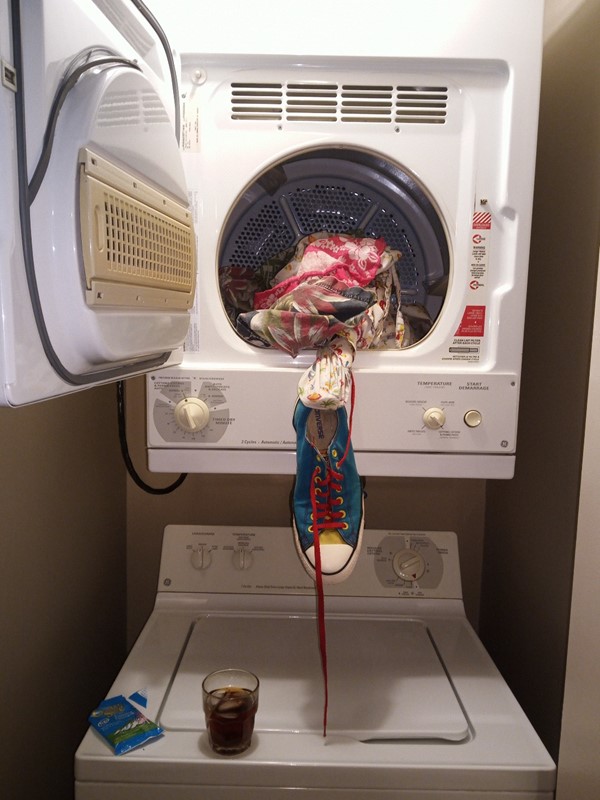 Still life with tennis shoe, followed by a complete drying: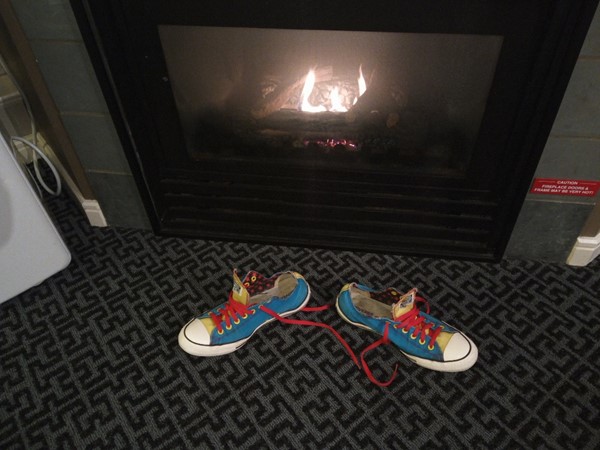 Got out of the condo around 11:30 – a little later than I'd planned, and then there was the burger stop in Mount Vernon: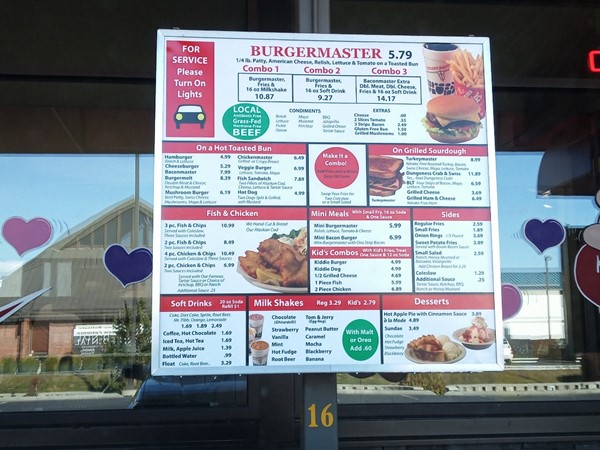 Meant I was a little later into town than I'd have liked, meaning I got stuck in traffic for 30 minutes. Sigh.
I had fun, but still wish I'd been able to go to California. Now when I go down in April, it going to be a crush of people for the wedding.
[228.0]
For more blog posts, click here.