It feels a little "odd" to have NOT been travelling for the last month plus. It made my business partner happy as I picked up a much of Friday shifts, allowing him to putter around his garden and do house projects.
That hasn't stopped me from planning future trips. Summers I generally travel less because there are no "deals" as all the families are travelling because school is out. What it DOES mean is that people aren't thinking about early November (typically a slow travel time), and February to April.
I looked at going to Frankfurt in early November. It would have enhanced my 2019 travel map by adding Europe. Here is the current planned 2019 travel:
And if I added Frankfurt, it would look like this:
I booked the flights using miles (110,000) for business class, booked the hotel using points (45,000). It would have meant I had three nights in Frankfort. Then I went to bed.
Amazing what sleeping on something will do for you. I woke up with the major thought, "But, I really don't like Frankfurt, and I'd use up all three days getting someplace else within Europe by rail."
A week or two went by before I started to explore another trip. This time I decided to do something on my bucket list rather than just something that I could book in Business Class. Hence, the World Tour 2020 was born. It started with trying to book this trip spending a handful of nights in Seoul and a handful of nights in Taipei – neither places I've explored (been through Seoul several times, but not beyond the airport):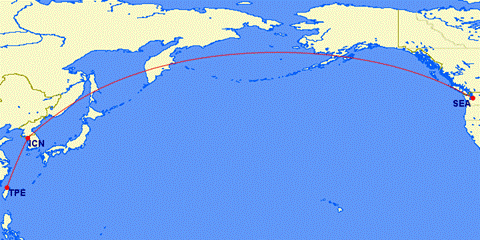 Alaska let me book the long layover flight, but I couldn't get it to actually ticket for 120,000 miles roundtrip plus fees. Picked up the phone (which I dislike doing) and called the Partner Desk at Alaska. She tried the itinerary and couldn't get it to ticket. It kept coming back as 120,000 miles EACH WAY. Alaska Airlines allows stopovers on Award Tickets as long as its in the Partner Airlines hub. I chalked it up as, "try again later."
While I was on the Alaska website, poked around and found this:
"Korean Air: We are aware of an issue with Korean Air award booking failures affecting both alaskaair.com and our call centers. We are working with Korean Air to investigate and resolve this issue. If your travel plans are flexible, please try again using different dates or partner airlines."
Turns out they are having problems with Icelandair and have pulled ALL flights from inventory:
"Icelandair: We have temporarily removed the ability to shop for Icelandair award travel due to a high rate of booking failure. We are working with Icelandair to resolve this issue."
Sad about Icelandair as I've flown them before, though their Business Class is more akin to domestic First Class (slightly reclining seats as opposed to lay-flat).
So, if I just tried to book "The World Tour" for March 2020. It comprises two one-way award bookings using two different airlines, both of which allow for stopovers. The first one-way is Seattle to Tokyo (where I'll be spending four nights), continuing on to New Delhi (three nights). I haven't been to India since my first international trip in 1976 (yes, I was a mere pup of 20). Japan Airlines Sky Suite (Business) in 787-8's for each leg.
The return starts in Delhi with a flight to London (three nights) before going onto Seattle. Club World (Business) for the DEL-LHR leg, then First Class for the LHR-SEA leg. I haven't been in BA's First for about a decade. Wasn't impressed the last time – seemed they were hoping everyone would go to sleep so they could sit around and read magazines. The reviews are better these days. Time will tell.
Here is what that map would look like:
Definitely a "bucket list" kinda trip, though the map display looks odd from the top.
Even if I added US flights to it, including HNL, it still looks weird:
But if I add South America, I get a better map:
Sean (who I'm visiting in Saigon in October) wants me to meet up with him in South America next summer when he is on summer break from the school where he teaches. It would make the map easier to comprehend.
All the domestic flying I do, I do to accrue large chunks of miles to use for long international flights in the pointy end of the plane. The cost for this "bucket list" adventure?
140,000 miles plus fees. The JAL fees are really cheap ($51.20). The fees for British are egregious (S806.83). A couple of hundred of the BA fees are because Heathrow charges HUGE fees for Business/First departures. Still, less than $900 in taxes/fees for an "Around the World" ticket isn't bad. It also means that I'm getting a GREAT value for my miles. Alaska miles are valued by The Points Guy at 1.8 cents each. Depending on how you assign costs to the ticket, I'm getting somewhere between 5.93 cents per mile to 17.78 cents per mile (if you figured them as four one-way flights). Here is the math:

The most amusing number in the spreadsheet is the cost of a First Class ticket on British Airways from Heathrow (London) to Seattle. $13, 586.92. That's A LOT of money. The number for the combined one-way is a guess as the BA site wouldn't let me do a multi-city itinerary split between Business and First. But as you can see by the numbers for JAL and BA that the segment price to/from the hub is way more expensive than continuing on through the hub.
Oh, and the bucket list item was "Around The World In At Least Business And Only Take One Weekend Off Work.
This is my last full-week home for a couple of weeks, I head out Monday for Centralia to stay at a McMenamen's hotel, then down to Portland to check out the new WorldMark Portland. Following week up in Whistler, followed by four nights in NYC at the Wyndham Grand New York.
[233.4]
For more blog posts, click here.