After three and a half months of being in my own bed every night, what a joy to take a road trip!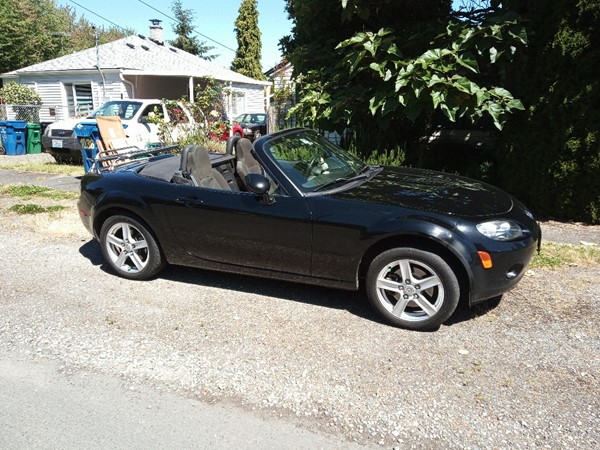 Hatched the idea on Sunday, with an email to my friends that run the Quillayute River Resort outside of Forks, Washington. Enquired about how their occupancy was since they reopened a month ago. Usually, they are completely full in the summer – but not this year. They have as many guests as they can handle with the enhanced cleaning (4 hours per unit). There was room at the inn for me!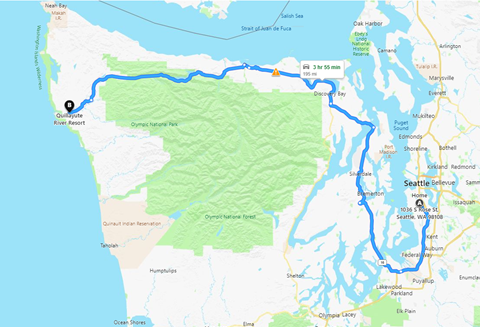 Had I taken the ferry, it would have been less driving, and if I timed it right, about the same amount of time plus $16.00 each way since my car is under 14′, $20.40 – BUT, they aren't sailing on their full schedule, so if you miss it, the boat is full, you wait around for another hour plus. The sun was out – and I was looking forward to driving … anywhere!
The resort has changed to a contactless check-in system so you can go directly to your room, punch in a code, and bingo. Here are some of the pics of the place: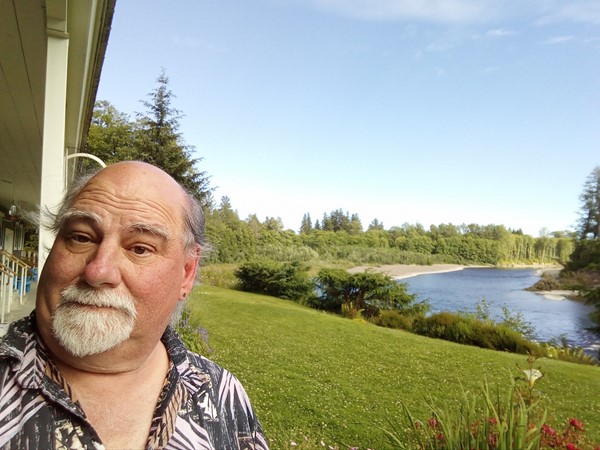 There are six suites (one two-bedroom, the rest, one-bedroom), arranged in a shotgun style, with garages between each unit to there are no common walls with your neighbors. The garages are for housekeeping, guest laundry, lawn maintenance equipment, etc.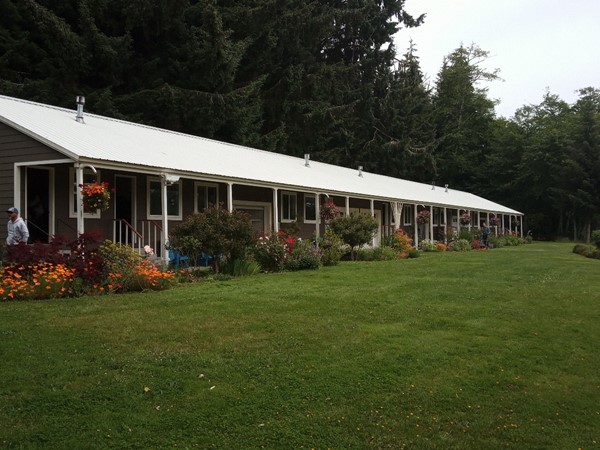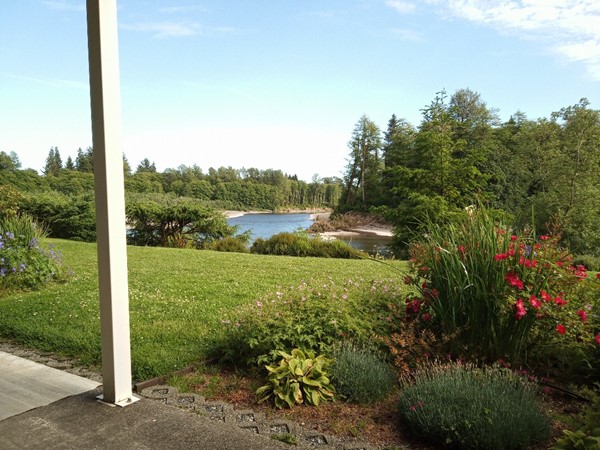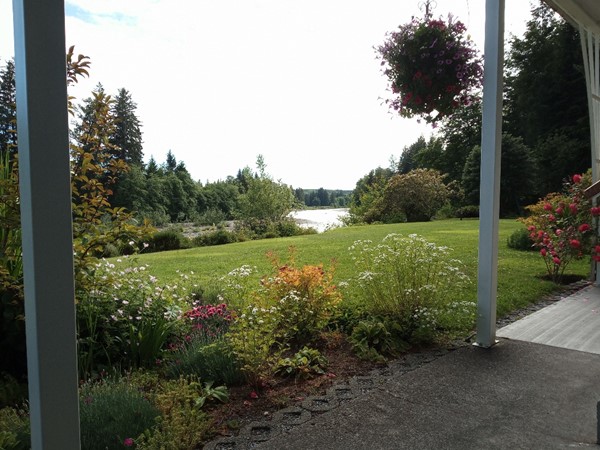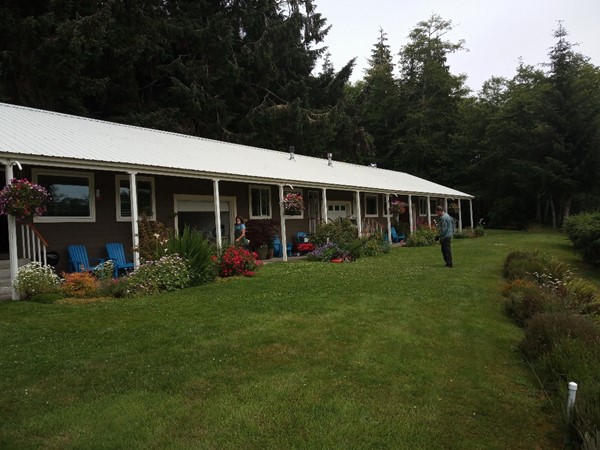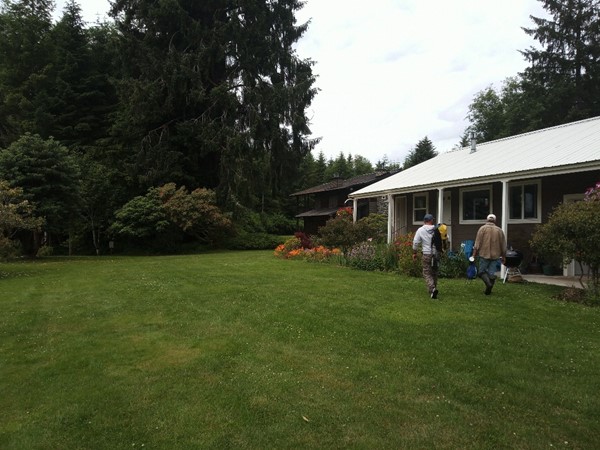 There is a main check-in building/front desk area that in other times would be open to the public (lending library, etc.). The owners live upstairs.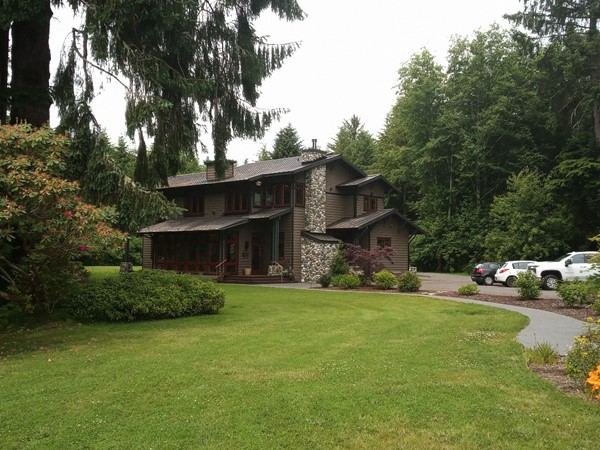 Suites in the summer are in the low $200 a night range, winter, half that. That said, you get a lot of bang for your buck in addition to the beautifully cared for grounds. Check out in suites themselves: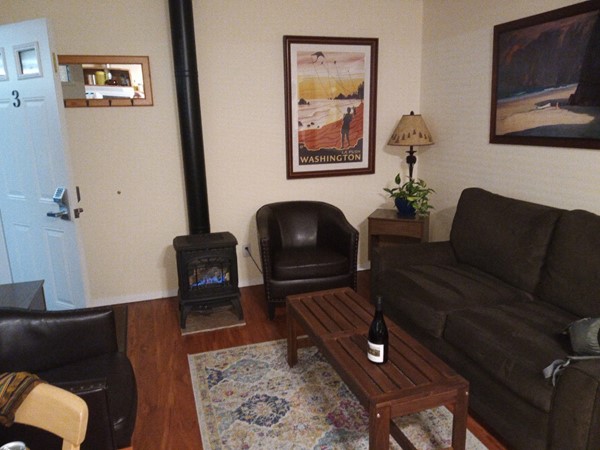 Gas fireplaces, comfy furniture.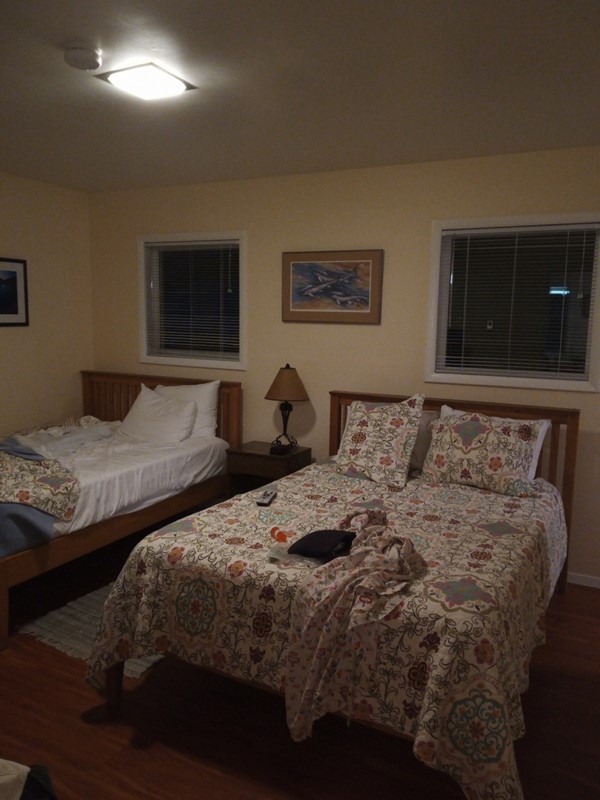 Memory foam mattresses (either king or two doubles), heated bathroom floors.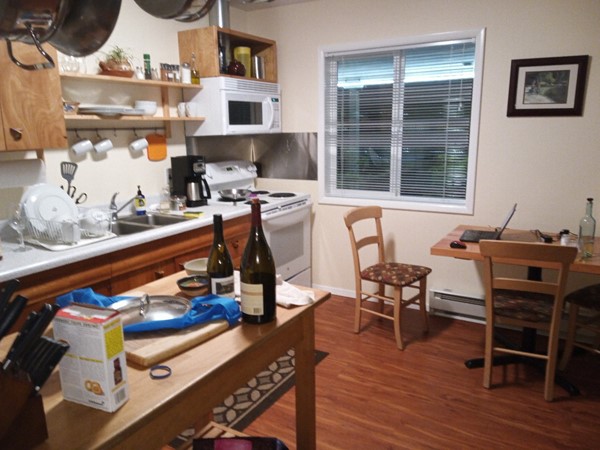 Kitchen will all the gear you need to cook, like pots & pans, glasses (including wine glasses), coffee maker (with coffee!) and an electric kettle for tea lovers, olive oil, spices, etc. I would have killed for this place as a college student!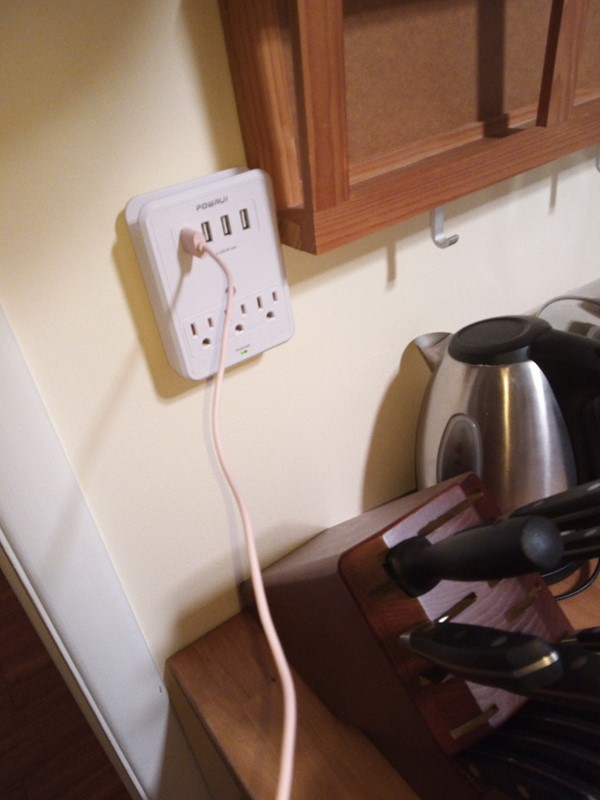 Nice touches include fast charging outlets in the kitchen at usable height, wireless (and wired) routers in all the units, flatscreen TVs in the bedroom with a massive DishTV lineup – and if you have a Tesla, there is a charging pod with two cords in the parking area.
If you look as the number of "high-touch" items in the kitchen, it explains why it takes 4 human hours to clean the units between guests. Gone are the books, puzzles, cards in the room. All the silverware is boiled (and allowed to cool so it can be put away), all the dishes/glassware/cookware gets a water/bleach dip, all the linens down to the mattress pads get laundered, packed, and spend three days in quarantine before they are used again. It also explains why they block off a unit for a day between guests.
The day I arrived, the owners (longtime friends) were off for a 12-mile first hike of the season. It was just nice to chill by the river, make a little dinner, have a little whiskey and wine (not in the same glass).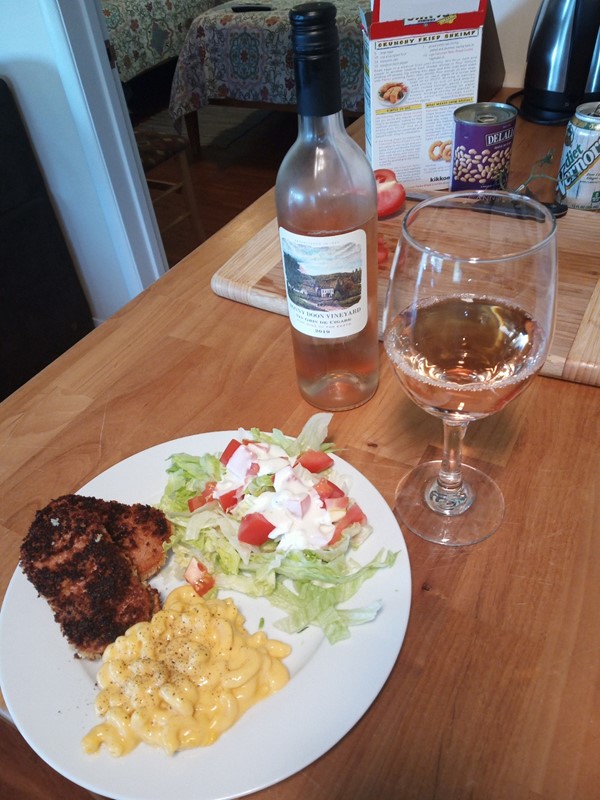 Panko-breaded Portuguese Sausage SPAM, mac and cheese, green salad, Bonny Doon Vin de Gris rosé.
Fortunately, the next night they invited me to a socially distanced dinner complete with appetizers in the main lodge. I brought the wine – more Bonny Doon, including a magnum of the 2008 Le Cigare Volant. In normal times, the lodge is used for weddings, meetings, etc., with it's full catering kitchen.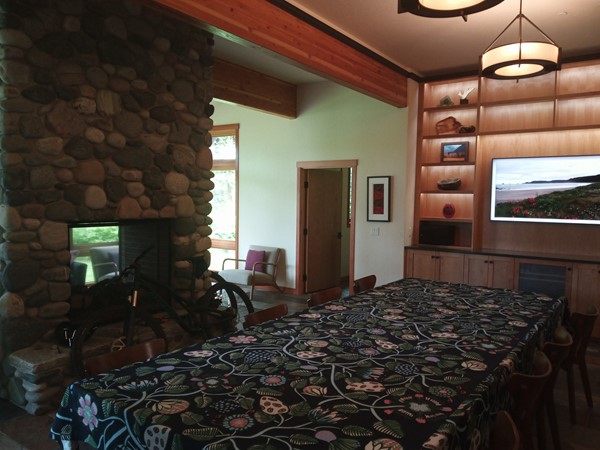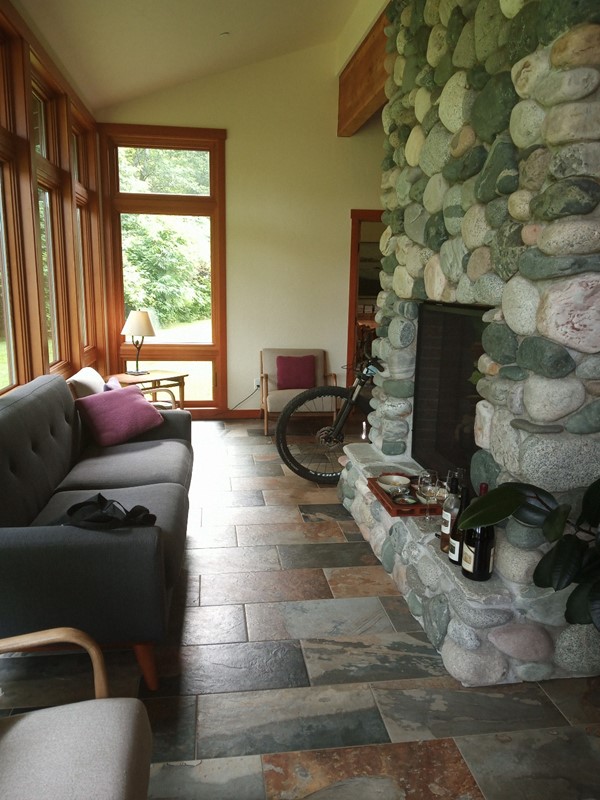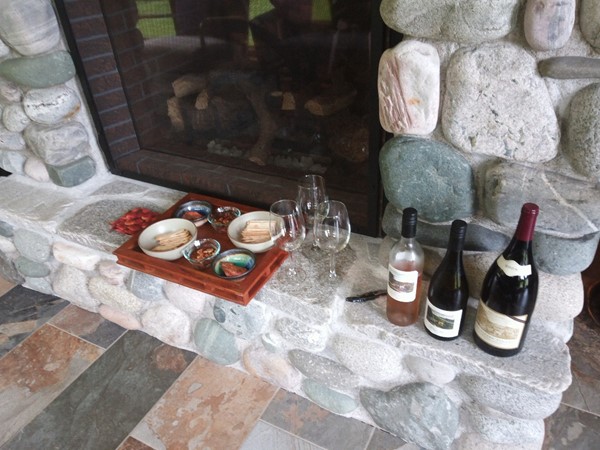 They fired up their wood-fired oven for me!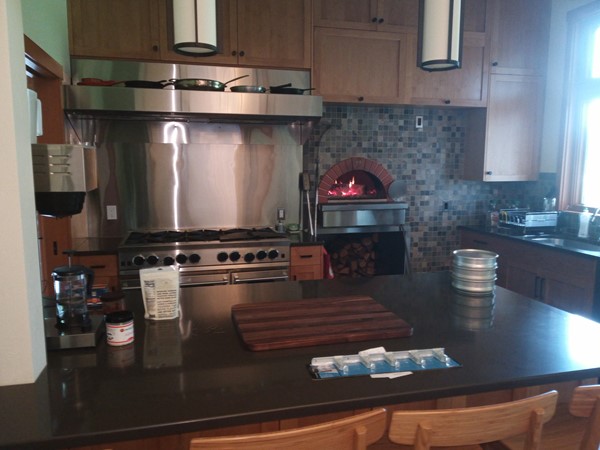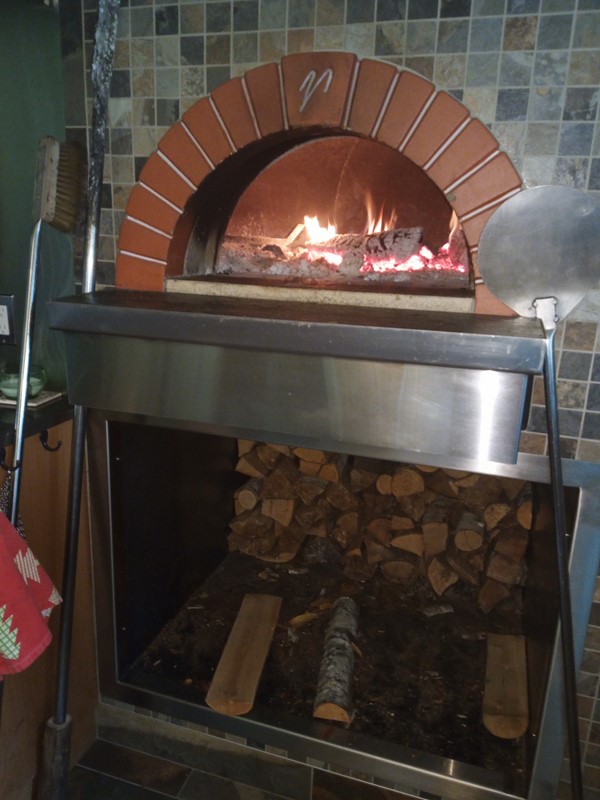 And voila! Pizza!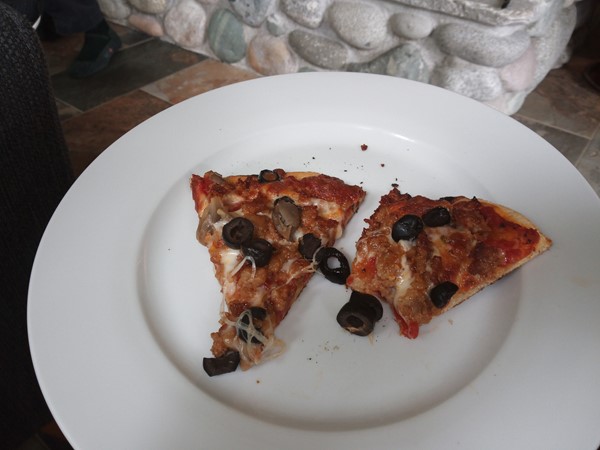 They have been using the wood-fired oven in the kitchen even before the interior was done on the main lodge – in the past they have made other pizzas, fresh pita bread. Amazing.
It had been too long since I'd been out to visit – probably a year and a half. Left them a couple of versions of my brandy as a thank you. The food and the conversation that distanced evening was so heart-warming, I should have left them a case!
My return to the city started out with mist (but I still had the top down), and a return to the resort ten miles out because I'd left one of my bags, but eventually made it home. Would have been quicker, but there was a massive accident in Tacoma. But home is home.
[226.6]
For more blog posts, click here.