I forget how long ago I booked this trip, but I thought it was far enough out that we would be back to normal. Part of how I booked it was that even in this time of free changes, parts of this one were not.
The upside is that it was booked in First Class, and Alaska is blocking the seat next to you until the end of October. Most of the lounges are open, capacity controlled…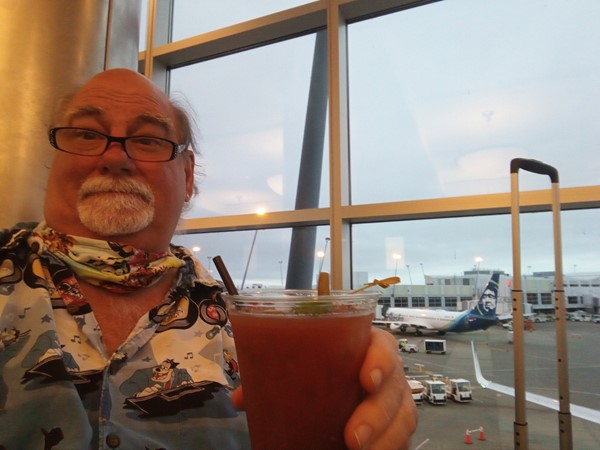 Back to serving liquor…with safety in mind with "Mind Your Wingspan" stickers…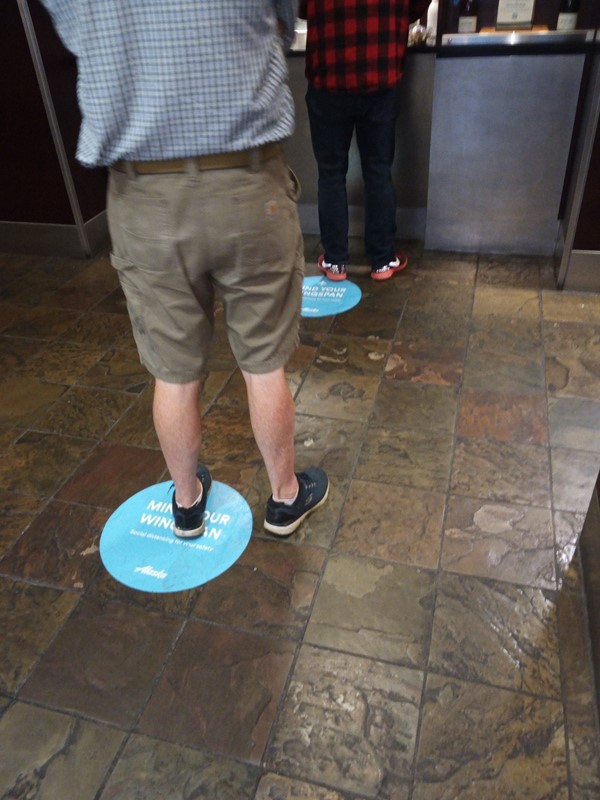 And an inexpensive, genius way to open bathroom doors without installing expensive motorized doors! L bracket with some grip strips in it.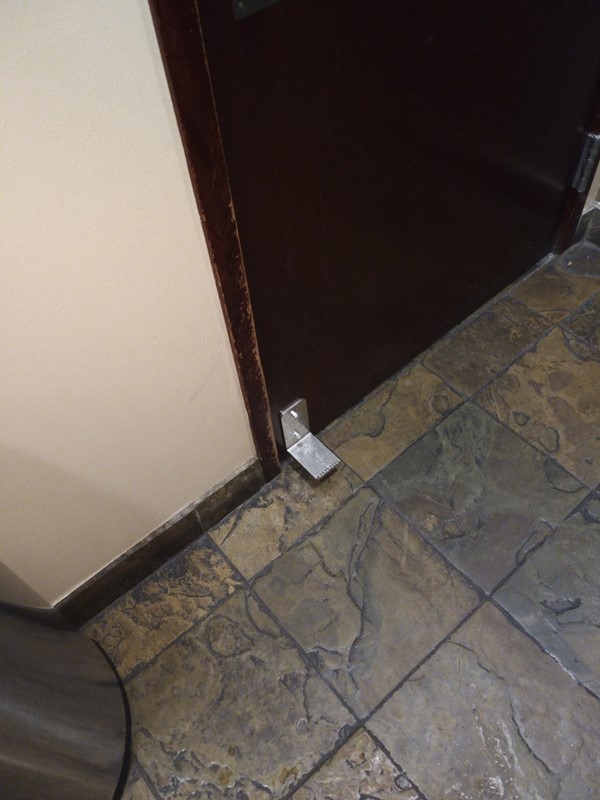 So far so good with my comfort level for travelling – everyone masked, everyone distancing.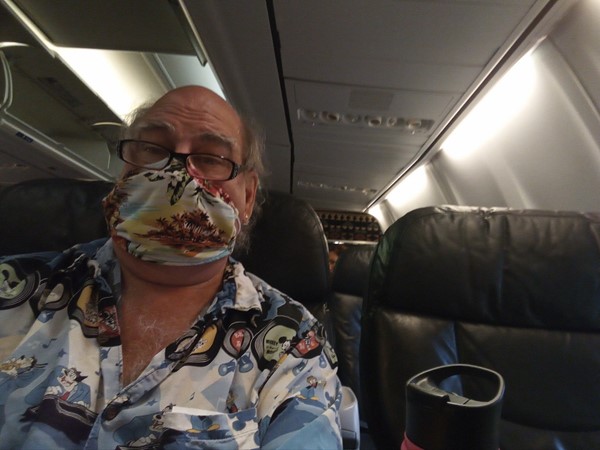 As promised – the seat next to me open, should have moved into the window for an easier photoshoot: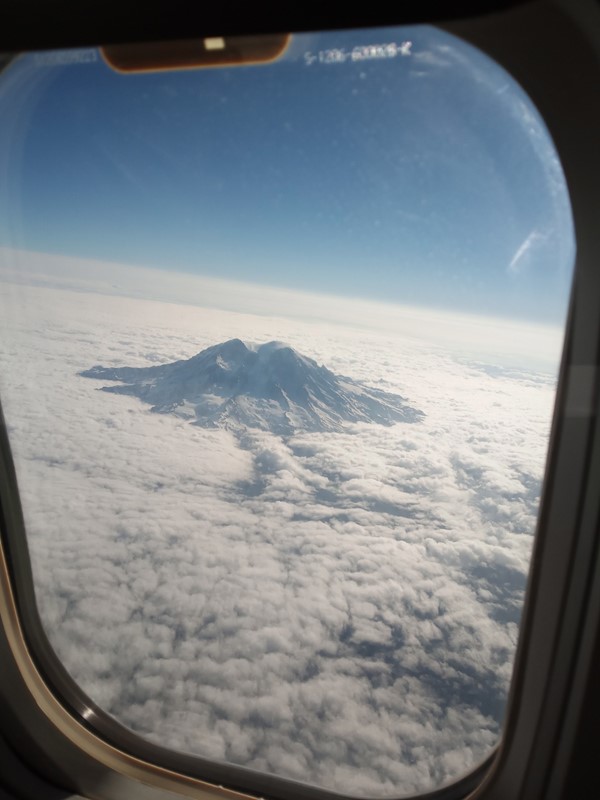 Since seats 1D and 1F are blocked so that one of the flight attendants can use it during take-off/landing (so they aren't sitting next to each other on the jump seat). Most of the flight I had the whole first row of First Class to myself.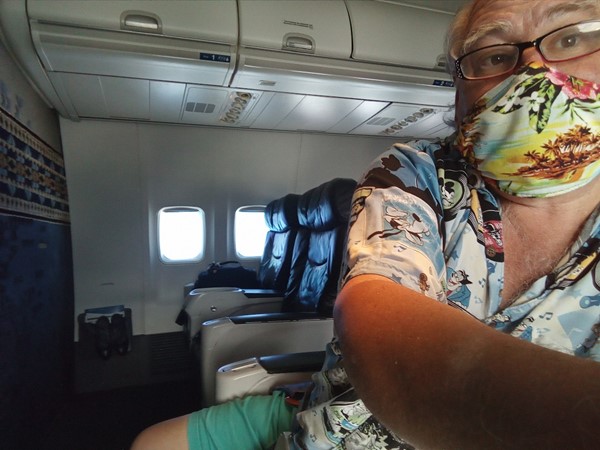 No hot meal service in First Class for the foreseeable future, but you get a snack pack – and later, a passed basket of other goodies…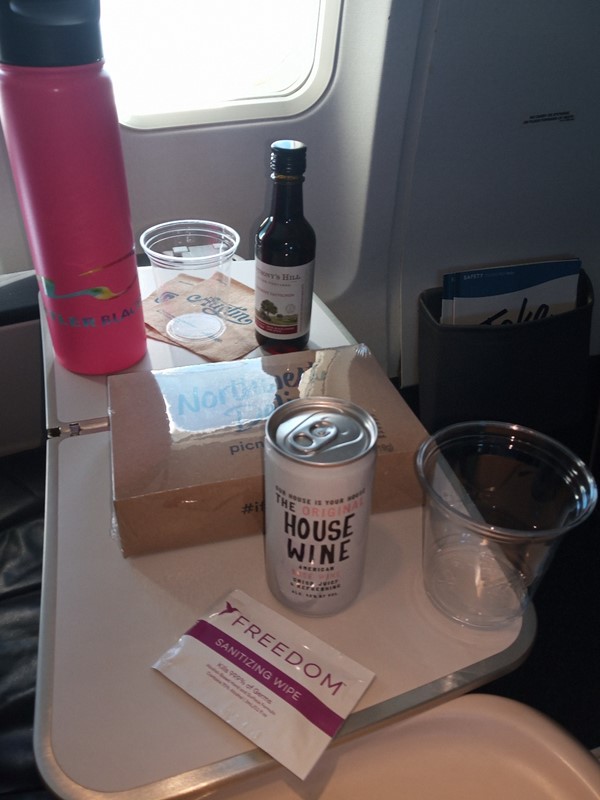 Beer, wine, soda in First. Cocktails are not back, yet. Thought it odd until I realized that means they don't have to cater ice – another contact point. Sadly, the wine it's exactly "top shelf"…
Got to Austin on time. No checked bags for me this time – one less touch point. Probably half the restaurants were closed in the airport – not surprising since travel is off 50% or more: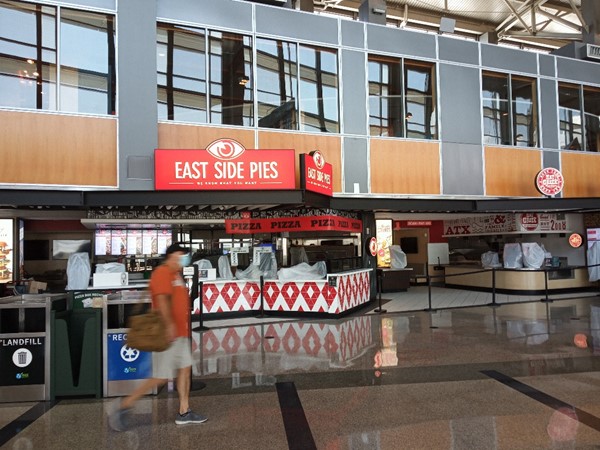 Grabbed a Lyft (5x points on my Chase Business Card) and headed to the WorldMark/Wyndham Austin.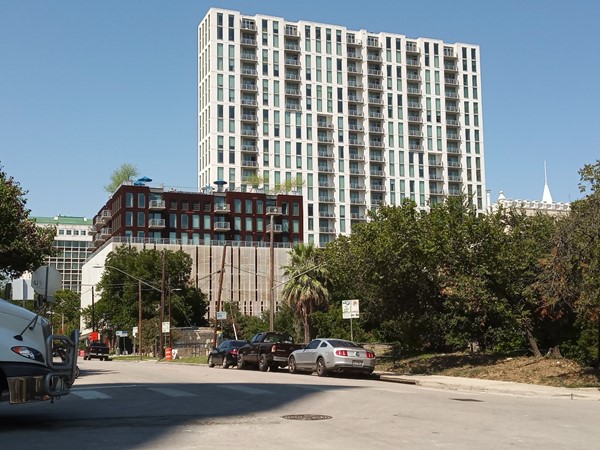 The three floors over the garage are the WorldMark units.
And they are practicing social distancing in Austin as well.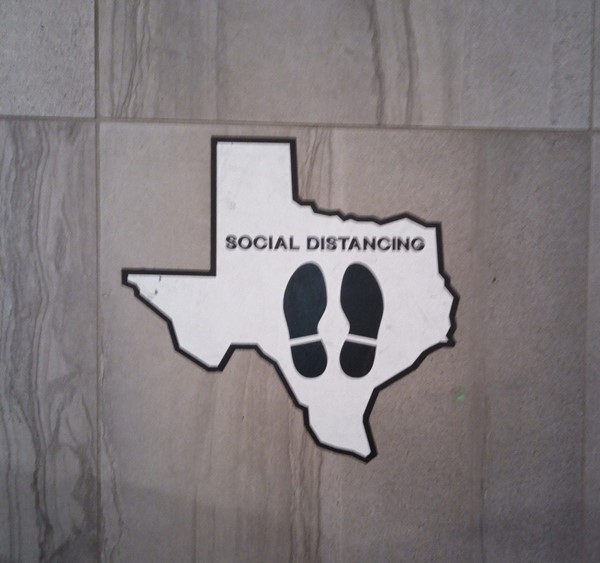 If you are curious about what part of Austin – the pen points to the WorldMark: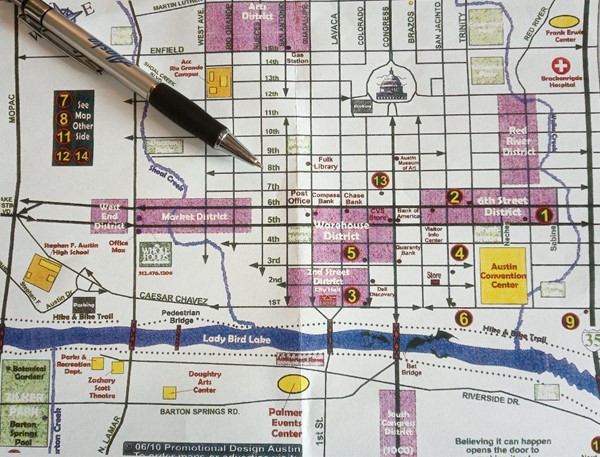 Here is an interior tour of the unit:
And a night video:
Here are some detail shots of the unit: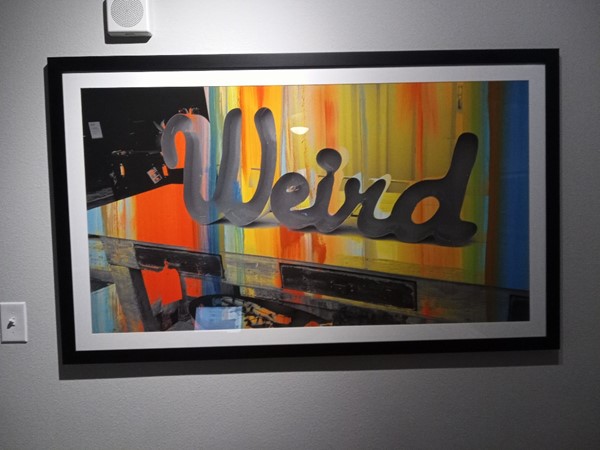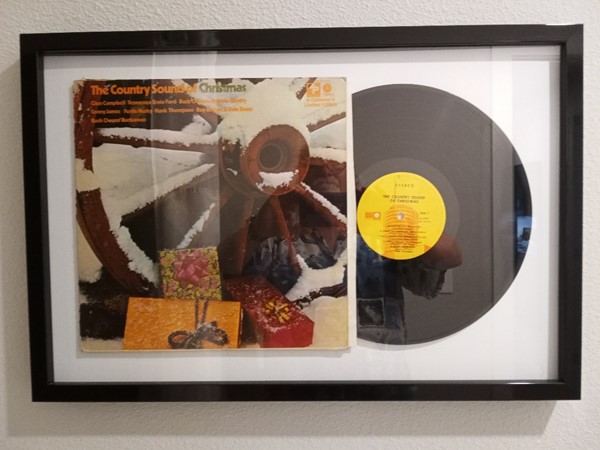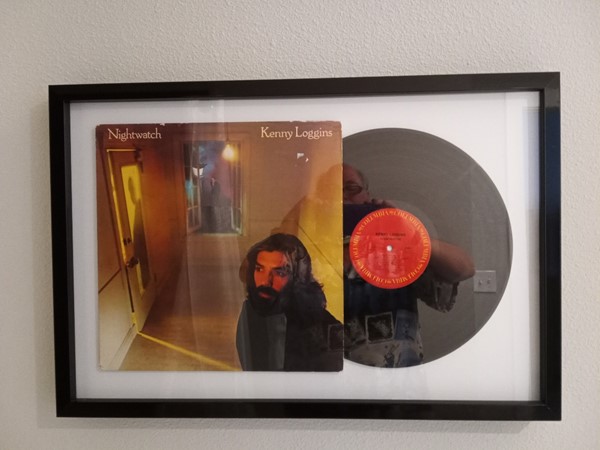 The unit was ready when I got there, so first thing was to get supplies…whiskey and mixer.
Set up a Drizzly account, and 40 minutes later, there was a knock at my door: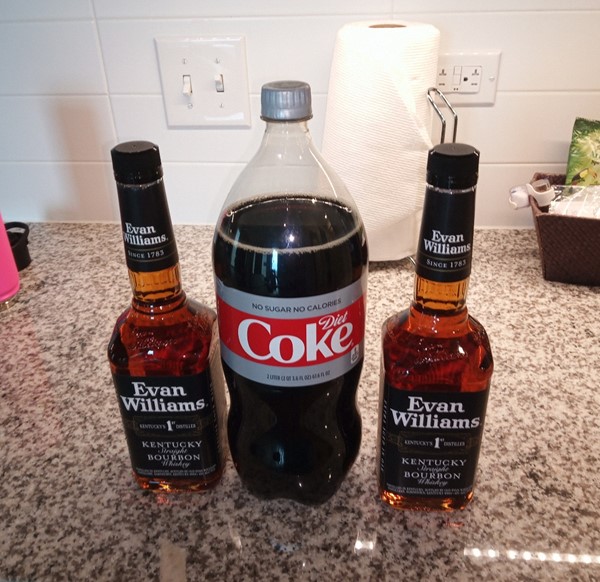 Drinks taken care of, time for some food. It is 103 degrees in Austin, and sort of feels like a ghost town…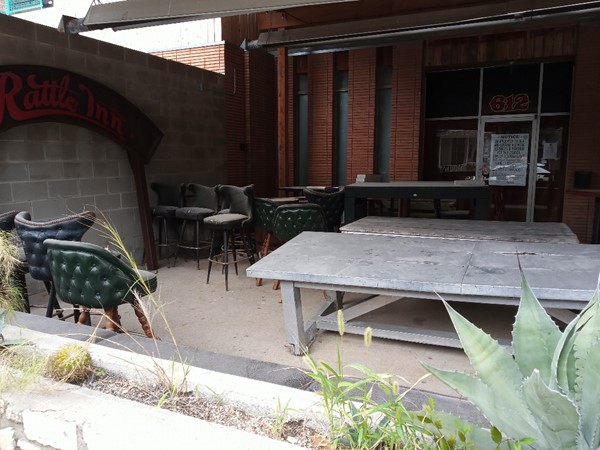 Fortunately, Ranch 616 was open – it is one of my favorites (they specialize in quail and frog's legs, and damn fine fried oysters). They open at five, and that's when I was there: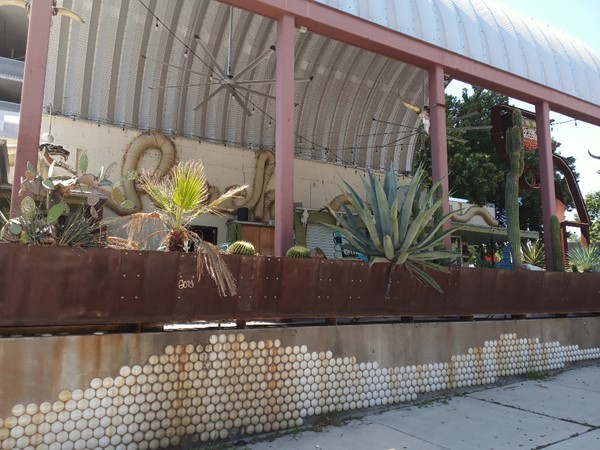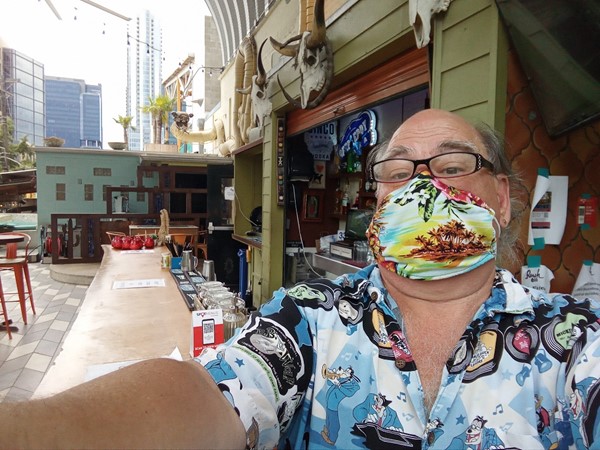 But social distancing is the norm here as well: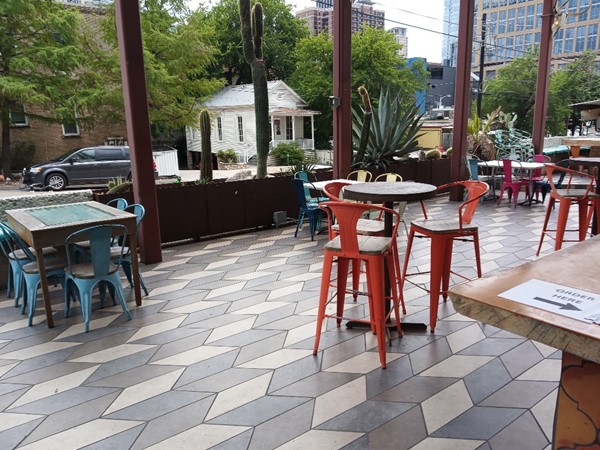 I was just getting takeout – but NORMALLY there would have been four times the number of tables.
Went for quesadilla special, and they were even serving drinks to go – so, what the hell.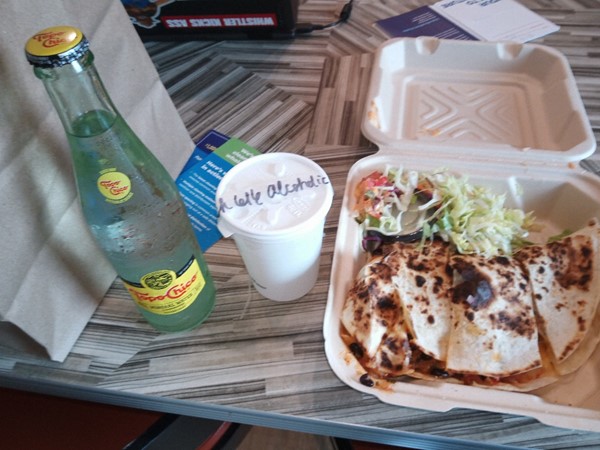 Grabbed a late take-out breakfast at Walton's Fancy and Staple: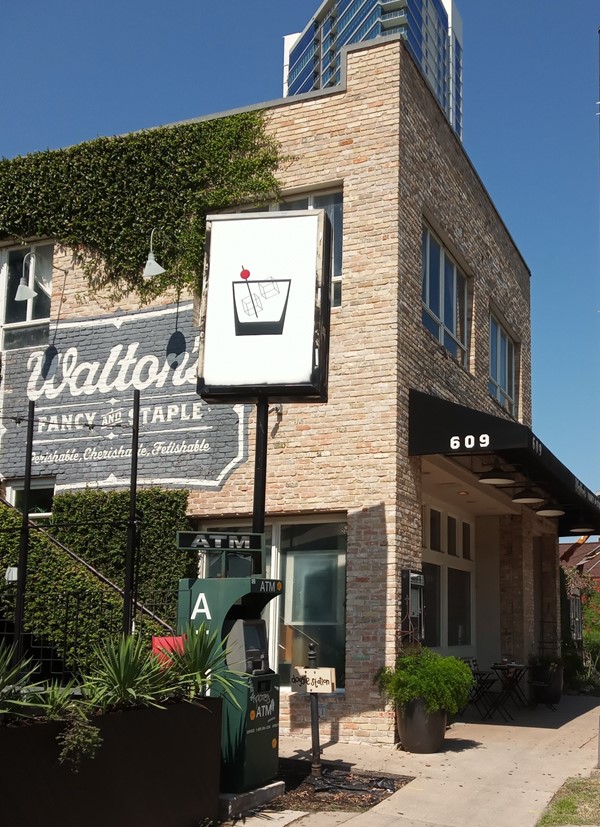 And again, everywhere was practicing masks and social distancing.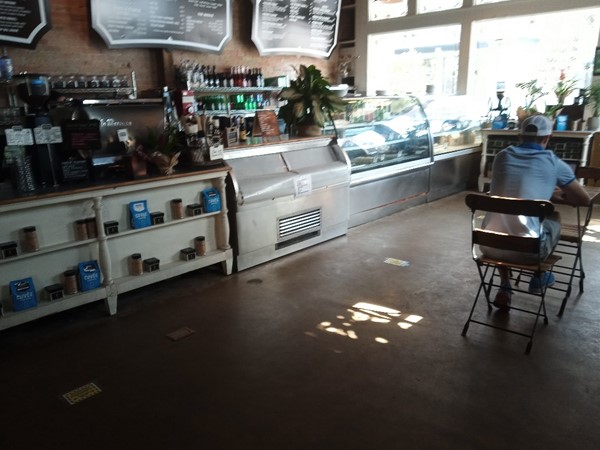 I'm in the
I'm in the south – so biscuits and gravey!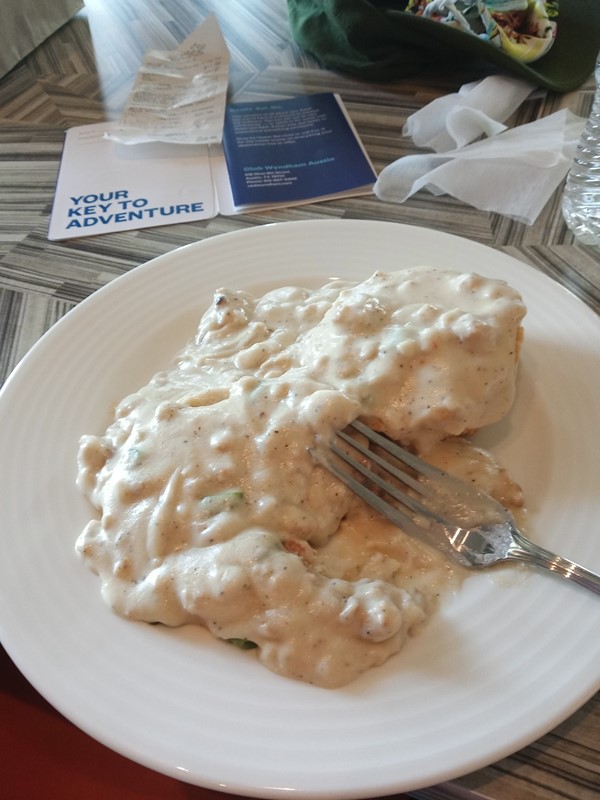 Late afternoon I grabbed a turkey/jalapeno cheese Rueben – I saw Rueben and said yes before getting it home and realizing. Royal Blue is a great mini-mart/deli a couple of blocks from the condos, which in this heat is all that I'm good for.
After dinner decided to see if I could get a Whole Foods delivery. It was about 5:30pm and they said, next delivery time was 11PM since everyone and their mother is ordering stuff. I'm a night owl, so no problem. Started getting updates, and by 8:30pm, the order was at the door.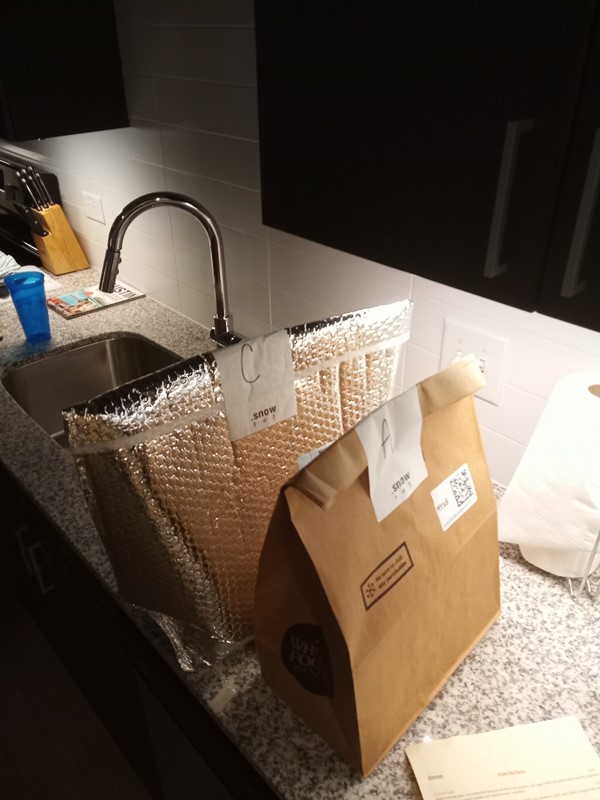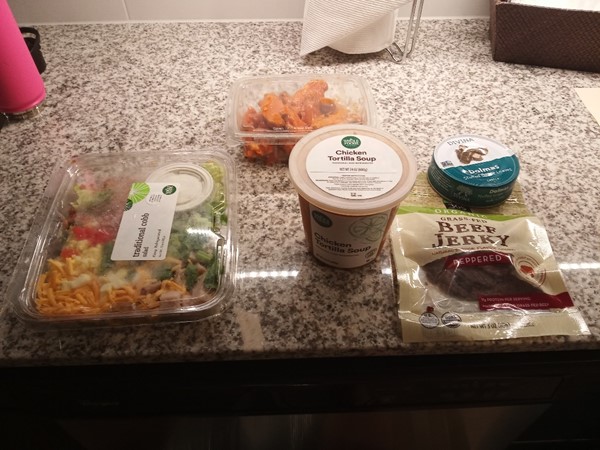 Had a MUCH better Rueben the next day back at Walton Fancy and Staple, mingled in with food from the delivery.
Thursday it was back to the airport for the return home…stopped in the lobby to say goodbye to Emmett who works on the Wyndham side pushing timeshare presentations, and grabbed a picture of him in one of my masks (I tend to travel with a handful to hand out).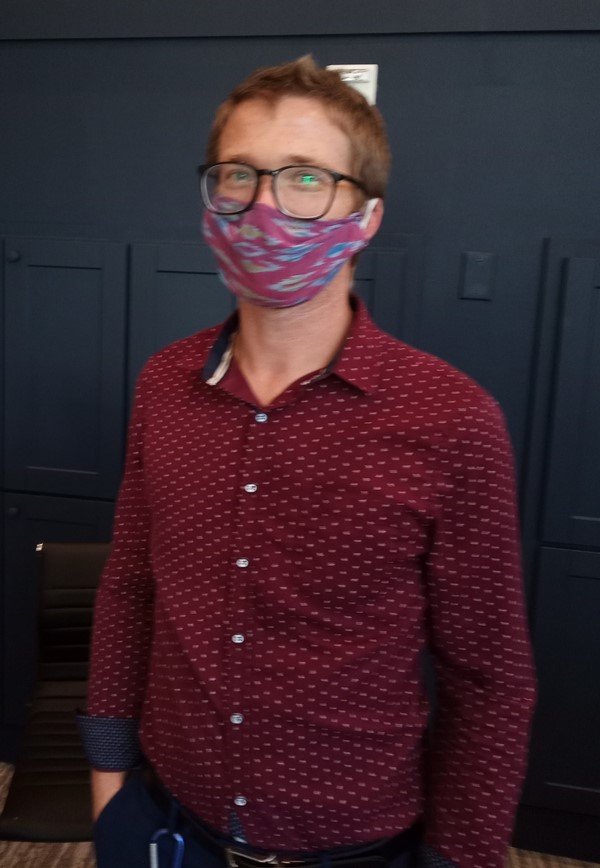 Back a Lyft and off we go.
Had a pulled pork quesadilla from Salt Lick – finished half, saved the other half for the plane.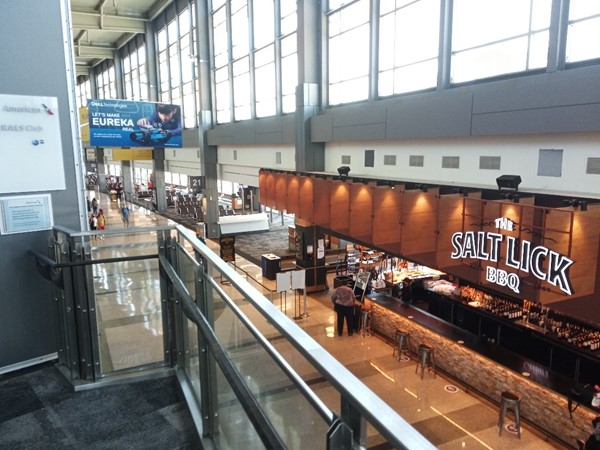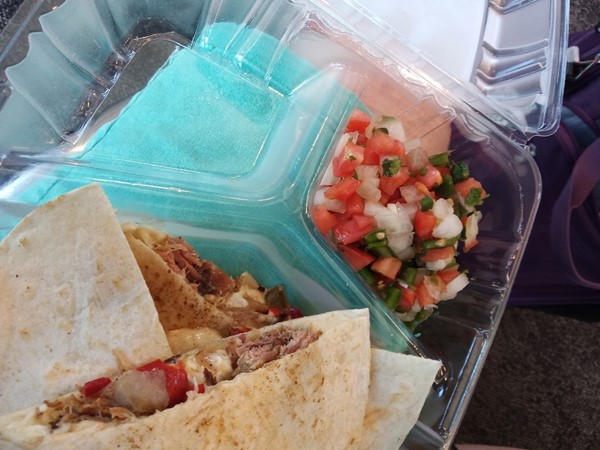 More social distancing at the bar – and a very empty airport for the middle of the day: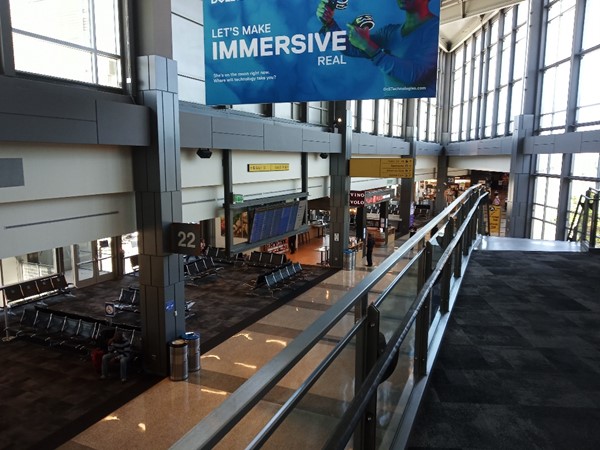 Both the United and American Lounges closed (American open as a service center for issue resolution).
Speaking of American – the have several planes painted in the colors of airlines they've merged with – this one was America West: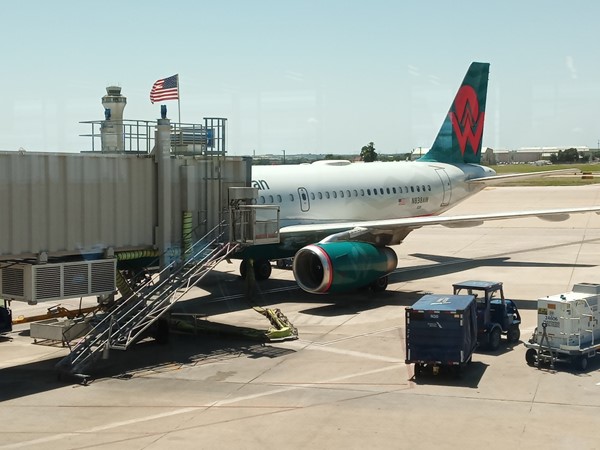 Back on board, back in the first row of First.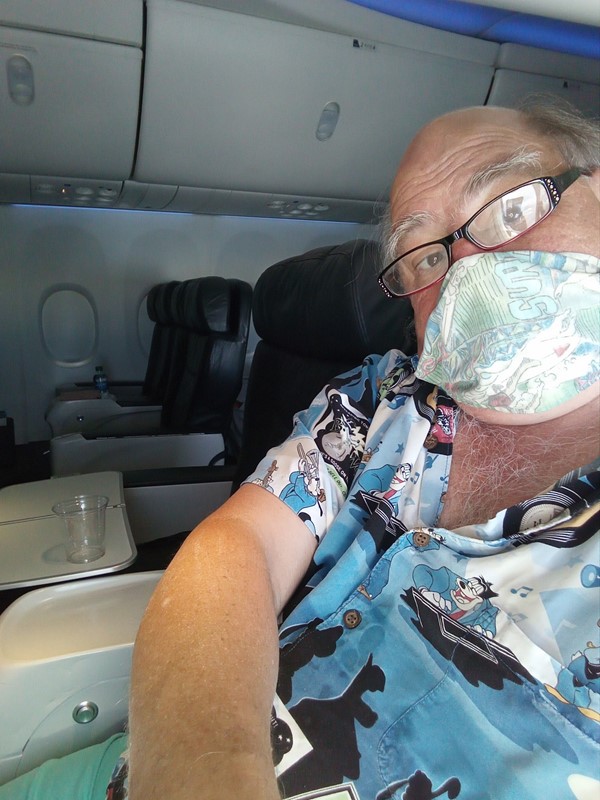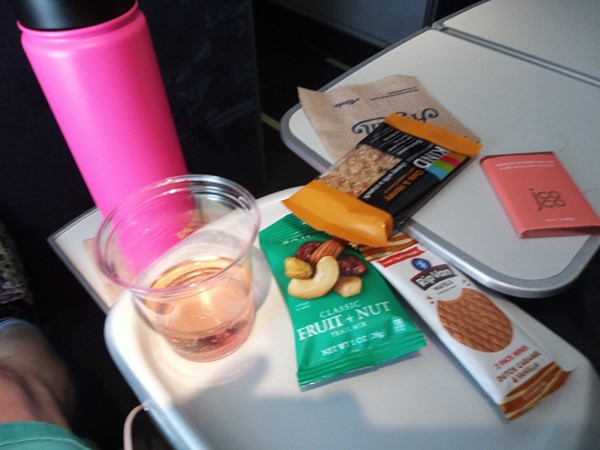 This time I sat in the window for pretty pictures!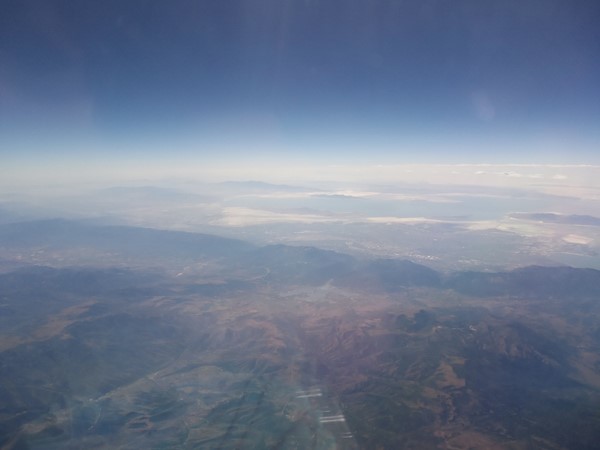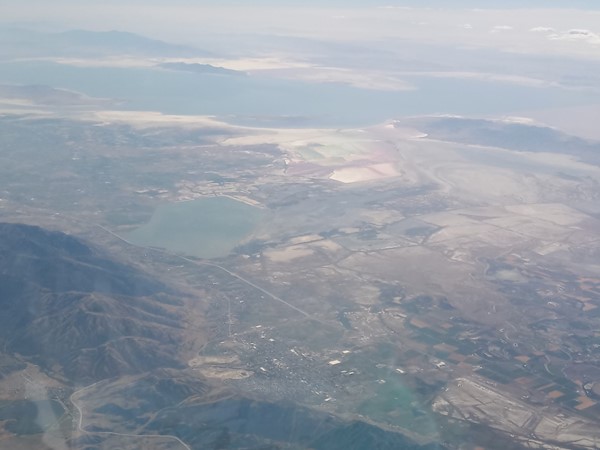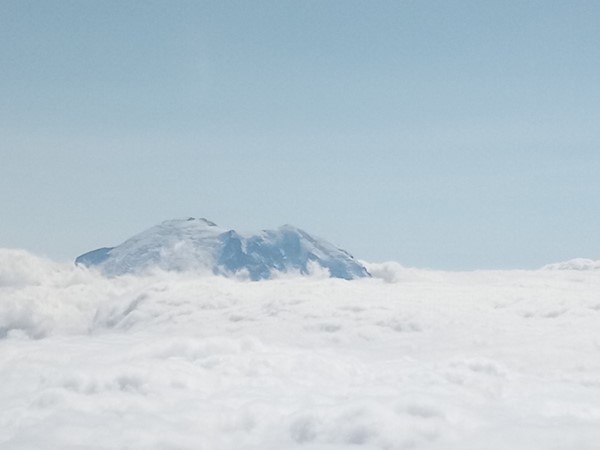 It is at this point to say that during the flights to and from Austin, I was close to tears of joy. Just to be travelling again. The physical feeling of travelling.
So much so, that I stopped in the Lounge in Seattle for a "last one" before grabbing an Uber home…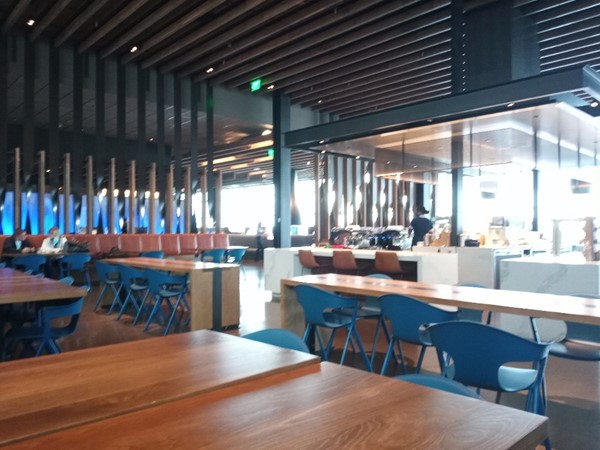 Not many people in here. Feeling safe.
[? ? ?]
For more blog posts, click here.