Uncle Markie? Sports Documentary? Yes, it does sound odd.
While I was on my Austin trip, I got this email out of the blue from a documentary producer in New York City that was working on a piece about a "fallen from grace" morning sports radio announcer. What they wanted was to use some footage that they found on YouTube of one of my trips to Whistler. For me, it was particularly poignant because all four of my trips to Whistler were cancelled this summer. I spent hours tracking down the original video files for one lift in particular, the Whistler Peak Express.
Finally found the last of four videos when I got back on Thursday – the 360-degree pan of Whistler Peak. Not sure how much of my footage will be in the final cut, but I made the credits list!
What does Whistler have to do with a morning sports announcer? Apparently, as the scandal was unfolding, he and his wife took a trip to Whistler, where, while on the Whistler Peak Express without his wife, he contemplated suicide, and was literally talked down with a phone call to a friend.
Apparently of the THOUSANDS of videos of that ski lift, I'm the only one that pointed the camera DOWN to show how dramatic that ride is. Not sure which one they are going to use, but here is one of the ones I gave them:
Technically, I didn't "give" it to them, I licensed it for $500. Not bad for being hunched over a computer for a couple of hours. I can't imagine that there will be all that much "screen time" since it's a minor point in the whole documentary.
Here is the overview for the show:
HBO Sports will premiere our documentary WILD CARD: The Downfall of a Radio Loudmouth on October 7, 2020 at 9pm. The film looks at the rise and fall of Craig Carton, the extraordinarily talented co-host of the renowned Boomer & Carton show on New York's WFAN. Craig Carton was one of the most dominant voices on morning radio in the country but resigned from the show in 2017 after being arrested by the FBI. He was subsequently convicted of securities fraud and conspiracy, shocking millions of fans by admitting to a secret gambling addiction. He was sentenced to 42 months. In a series of interviews before beginning his sentence, Carton talked candidly about his addiction and the millions of dollars he risked at the blackjack table. We also filmed revealing interviews with key people in his life including co-host Boomer Esiason and former New Jersey Governor Chris Christie. The film will air at 9pm.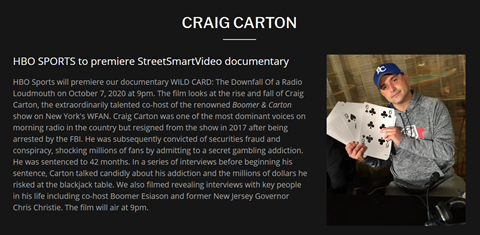 Too bad I'm not back in grade school so I could do a report on how I spent my summer vacation helping on an HBO documentary.
Well, that is it for this totally random adventure that came out of the middle of nowhere.
[? ? ?]
For more blog posts, click here.