Covid takes its toll on another getaway. Well, I still went, but the guest of honor had to cancel his flight (well, I cancelled and rebooked) because of a possible Covid-19 Exposure. He learned two days later that is was most likely TWO different exposures. Better safe than sorry.
I'd mention names here, but because of medical privacy concerns, I won't.
The getaway was supposed to be in the Two-bedroom Penthouse at The Camlin, in downtown Seattle, part of the WorldMark timeshare system. Here is a link to the WikiPdedia entry. Swiped this photo from their web site: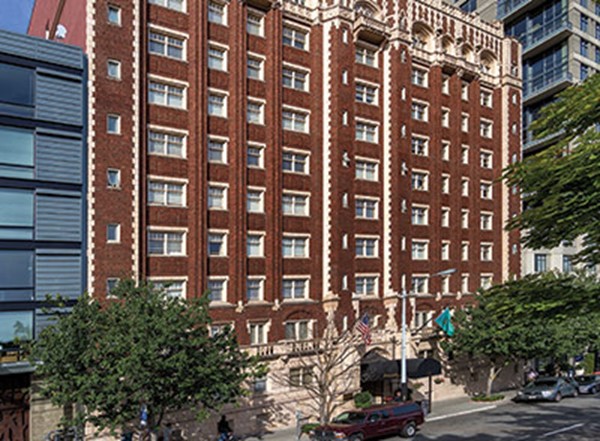 Memories was why I booked it – the guest of honor (aka disease vector) and I used to occasionally go drink in the bar called The Cloud Room. Sadly, I couldn't find any photos of the interior, but here is a great poster: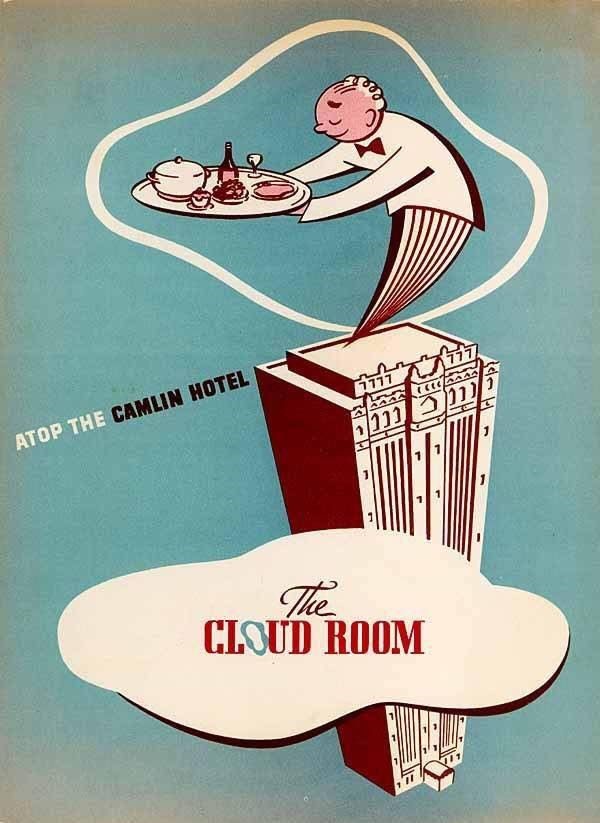 Normally, I'd check in right at 4PM, but I was waiting for a new computer and monitor – don't want to leave THOSE things lying around the front door. It was about 5:30 when I was checked in, and popped the door open to MY assigned room, to find a guy lounging on the couch. Needless to say, we were BOTH surprised. He called down, I went back down, seriously annoyed. They said they had miss assigned rooms, and they would put in in 1105 (rather than 1104). Fine. Went back up to find that 1104 is a Two-bedroom DELUXE, not a Two-bedroom PENTHOUSE. Penthouse has a DECK, the Deluxe does not.
Many calls down to resolve the situation since the other people were completely unpacked, and there were at least four of them.
After waiting for them to fix it – called down and said, "60,000 Wyndham Rewards Points in my account and I'll stay where I am." Fortunately, I know the value of points. 60,000 points is enough for two nights in the Wyndham Grand, say Puerto Rico (where I had a reservation at one point last May, cancelled but should have gone), or 4 nights in the Wyndham Shanghai (I had a reservation for May that I cancelled because of Covid), or a whopping 8 nights at your basic Days Inn.
So, no video of the Penthouse (though you can find a post about it here with a video tour), but instead, you will get a video of the Two-bedroom Deluxe:
Besides the points they also gave us exclusive access to the current Terrace Lounge, the private dining room for the Cloud Room Restaurant. Normally, it is open to all the guests, but with Covid it is closed (and clean).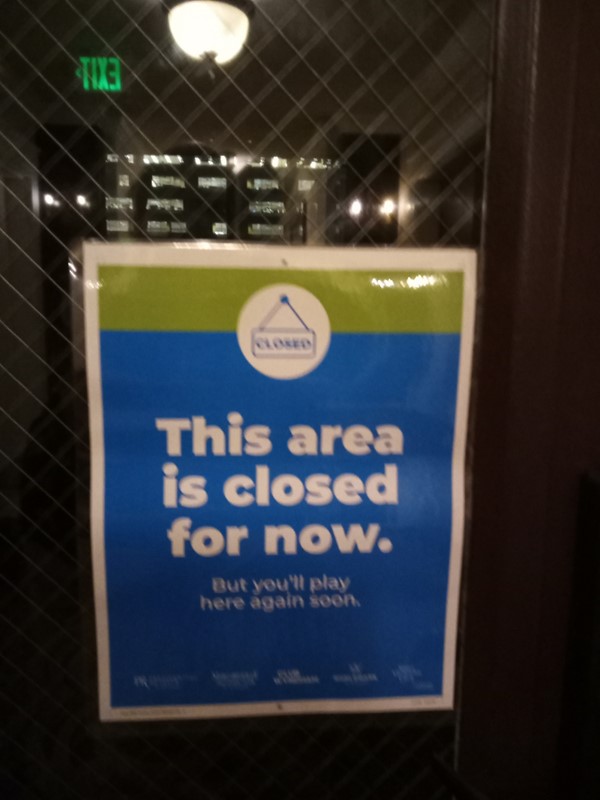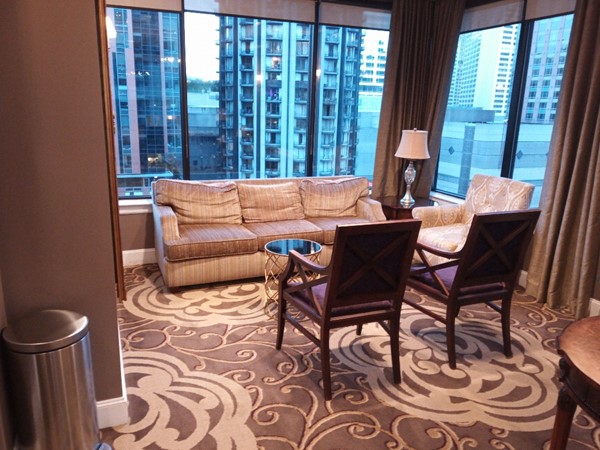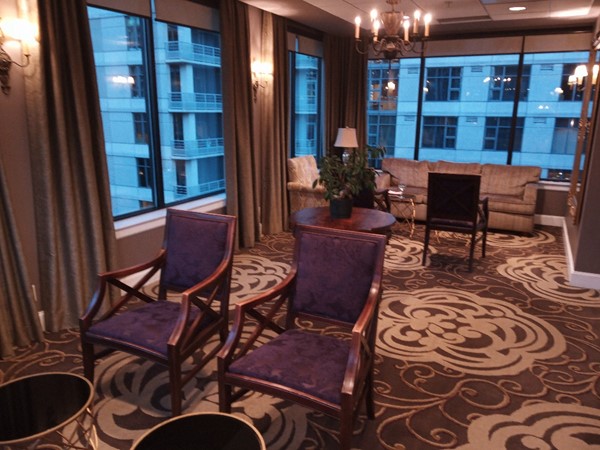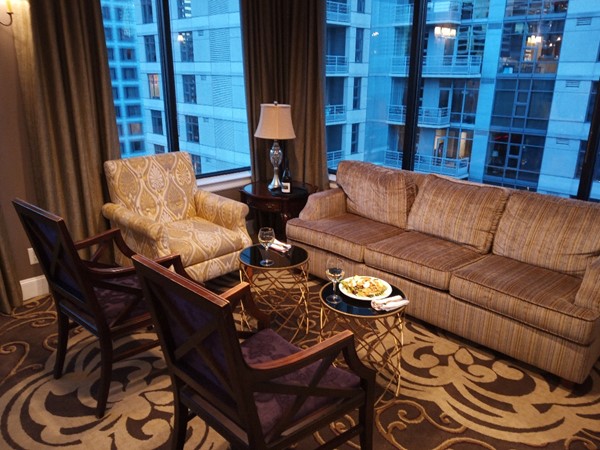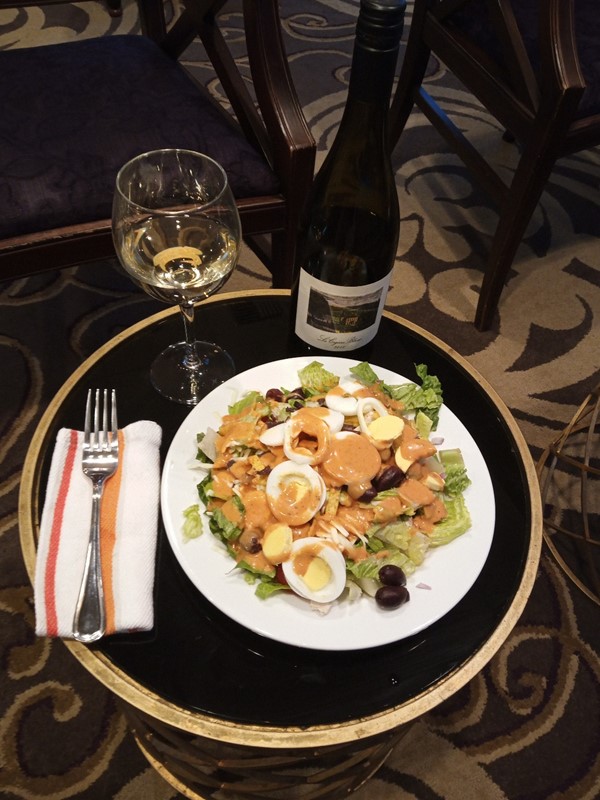 And a little Bonny Doon Le Cigar Volant – and the fine company of Jonathan. And then joined by Bliss for after dinner drinks which turned into him using the Murphy bed in the living room. Social distancing!
Lovely evening, sadly, without a deck. And the morning was annoying when housekeeping walked in on my naked ass (they saw the other side), which resulted in the front desk calling me with serious apologies. Seems the room move triggered something in their system. The call came from the General Manager of the property.
By the time I was ready to check out, Pedro (the General Manager) requested a meeting to further apologize. There would be some additional training about taking special attention to penthouse reservations and how to respond to a housekeeping request that is 19 hours overdue. Turns out he has been there for years, and even worked at The Camlin before it was a WorldMark.
When the points arrived in my InBox – they got deposited and I sent a note to Pedro. In a couple back/fourths, seems that he collects Camlin ephemera – you know, the stuff from a property that usually gets thrown out. I mentioned that on one of visits many years ago that I'd left a champagne flute for management to add to the museum that is in the basement. Never saw it displayed, but when I mentioned it, he sent me a picture of it – IT'S IN HIS OFFICE!
That is pretty much the logo that is on the poster that is in this post.
Lemons, lemonade.
[225.0]
For more blog posts: click here.