Day two of my sequestered adventure. I interact with fewer people than I would on a trip to the grocery store, and masks are required.
This would be sunrise over Northern California: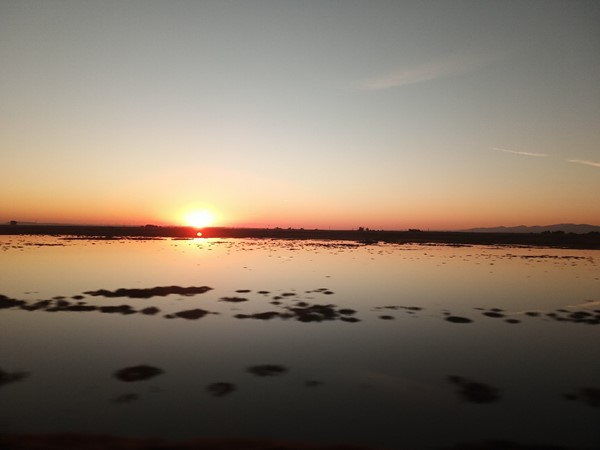 For breakfast I headed to the dining car…which was dead. Even if it was at capacity, with the pandemic, every other booth is blocked: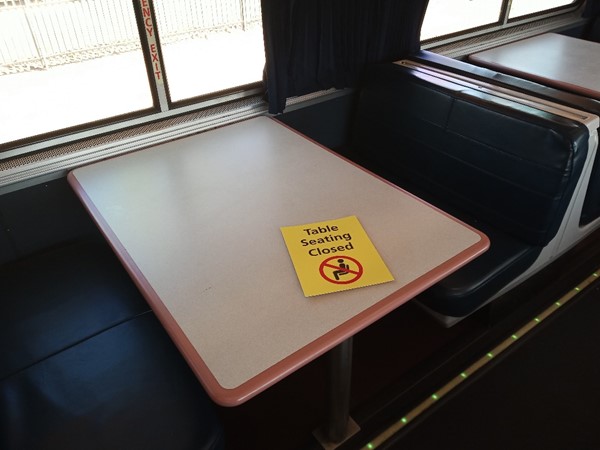 Had a quick breakfast sandwich and some coffee, and headed back to bed.
Sadly, Amtrak no longer prints paper schedules for the passengers to follow – haven't for years, but I planned ahead and printed one out. Really, it's the only way to know if we are running on time.
And, contrary to usual Amtrak running times, we are running EARLY. Which means unexpected longer "stretch the leg" stops, like San Jose – which for the first time I actually got to see the inside of the station.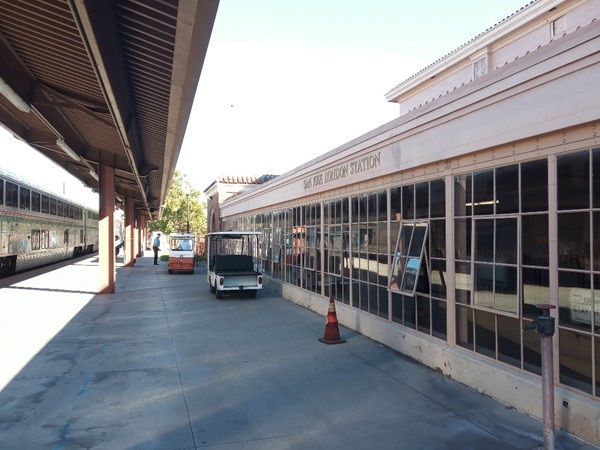 From the outside, you'd never guess this was inside:
Salinas was another stop that I hadn't explored – mostly because I usually am headed northbound from Santa Fe via Los Angeles.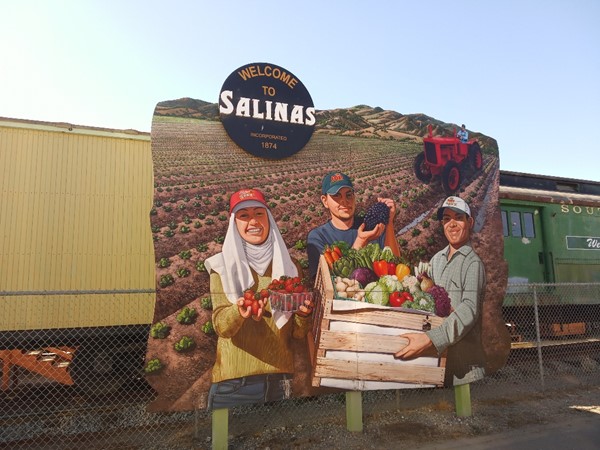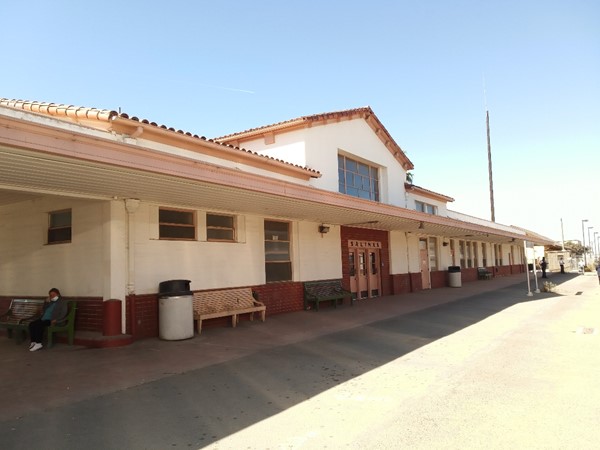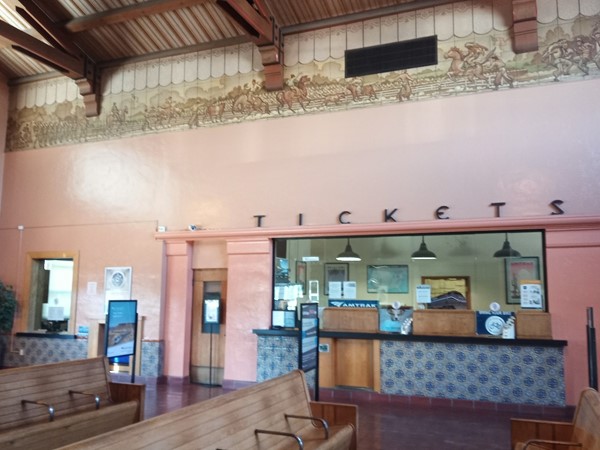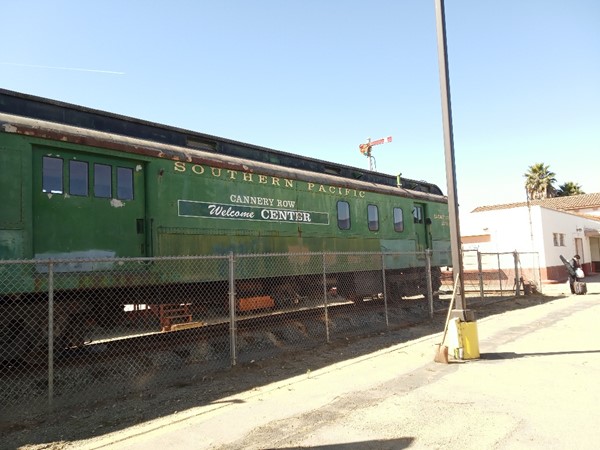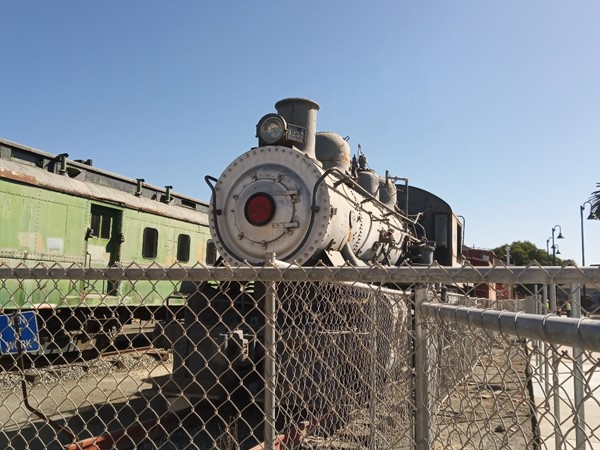 Around lunch time, it started to get interesting – with an unexpected stop in Soledad (home of the famous prison) where the train was met with four officers and three patrol cars to escort a guest off the train. I went to the observation car to see what was going on (since it has big windows on each side). Found this scene outside the window: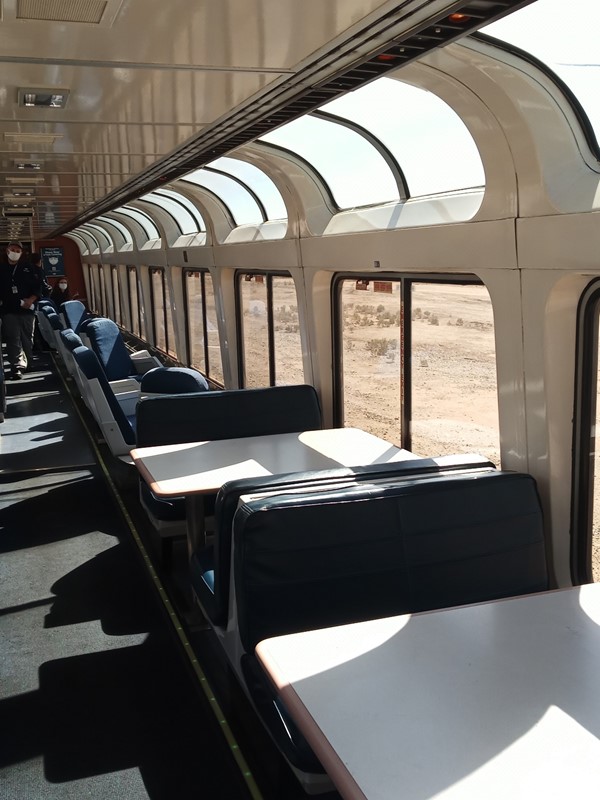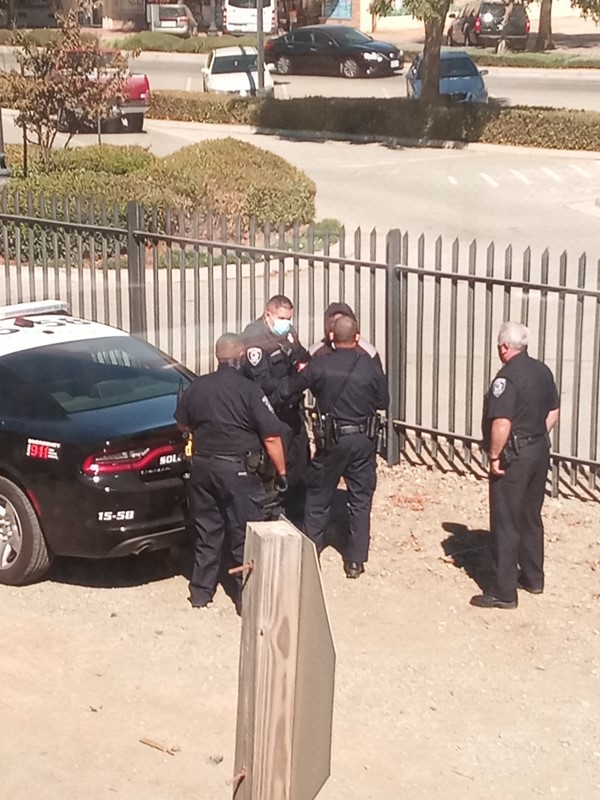 There was at least one woman filming the whole incident, and during the time I was watching, everything was civil and calm by the police, a little less so by the suspect, like he was loudly trying to talk himself out of getting hauled away.
Didn't stick around for the whole arrest scene as my lunch was being prepared and delivered to my room.
Lunch was the braised beef, which I paired with a Nigori Saké I'd brought along and chilled: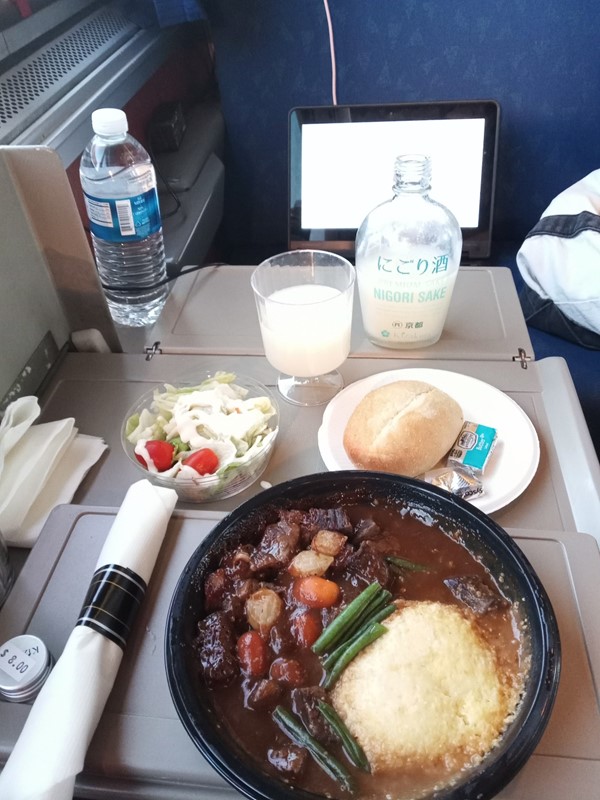 I asked my cabin attendant why the guy was pulled of the train – stowaway? Drunk and disorderly? Smoking?
Jeanette's answer was, "Probably all three."
Learned later in the trip that in addition to wandering around the sleeper cars where he as not ticketed, that he was caught whacking off next to a ten-year-old girl. Charming. Surprised the police were so civil.
The unexpected stop put us a little behind schedule for arrival in San Louis Obispo where I was going to hang out with Jameson for a few minutes and give him a belated birthday present. He actually excused himself from a business meeting to come see me for five minutes.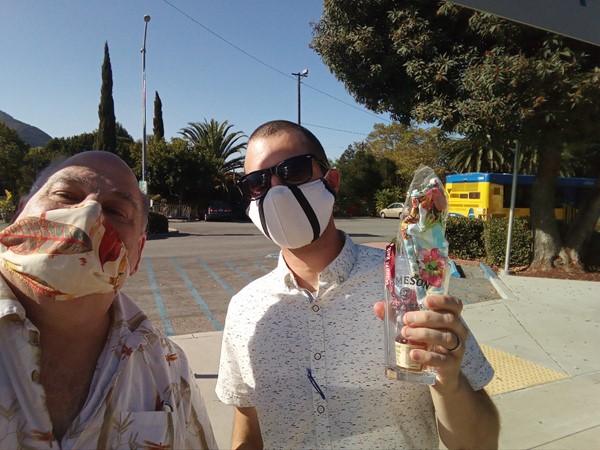 Seems that we have matching Covid Cuts!
Back in the cabin, time to fire up a(nother) cocktail, using some bitters that Jonathan brought back from a work trip to Texas: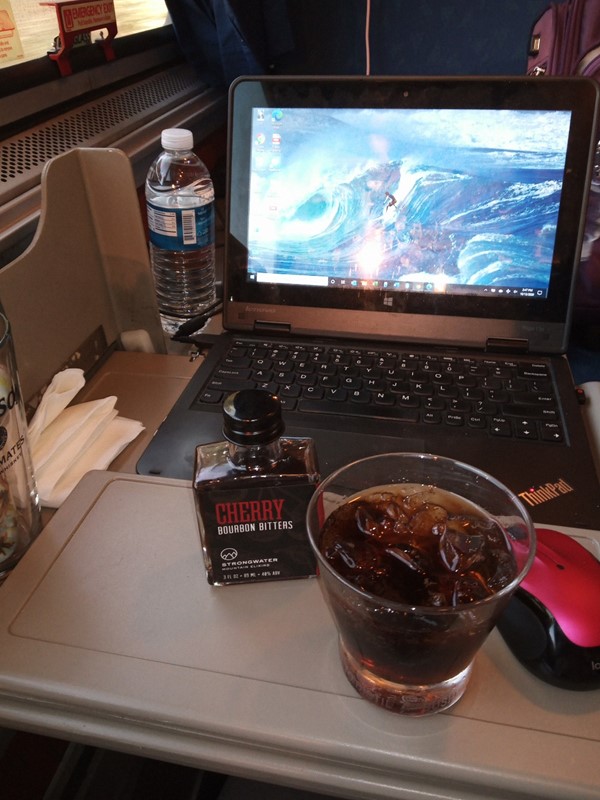 Oh, and remember the picture of me using the trash can as an ice bucket – figured out a replacement trash car using the folded down bags that they deliver my meals in!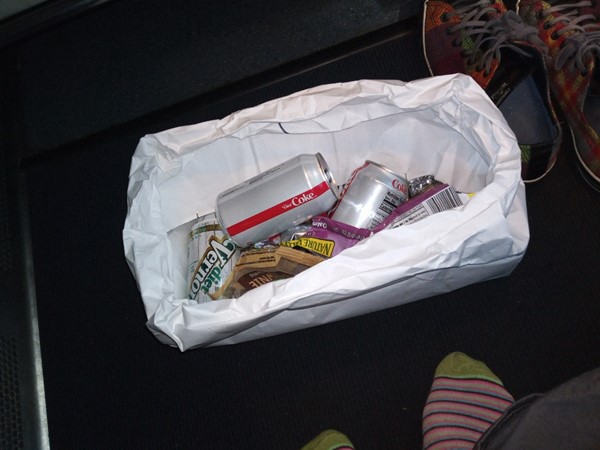 Heading further south, we get into a long stretch that borders Vanderburgh Air Force Base, also home to SPACE FORCE™, SpaceX, and ULA (united Launch Alliance), and not home to cell service on the train while passing by the 86,000 acre facility on the interior side, and the Pacific Ocean on the other side.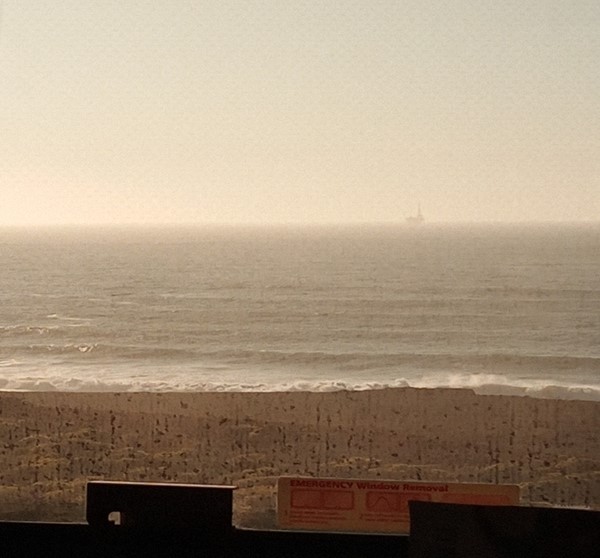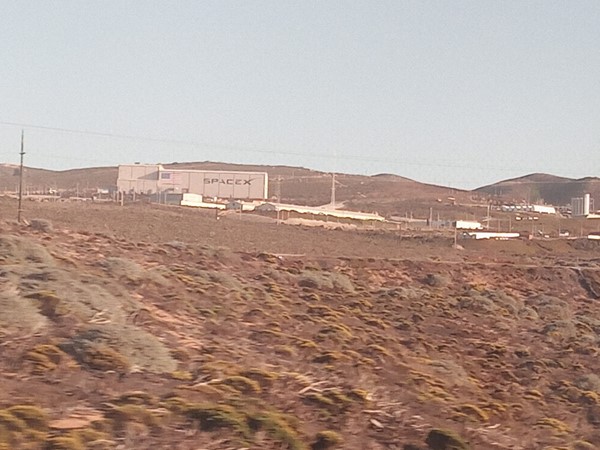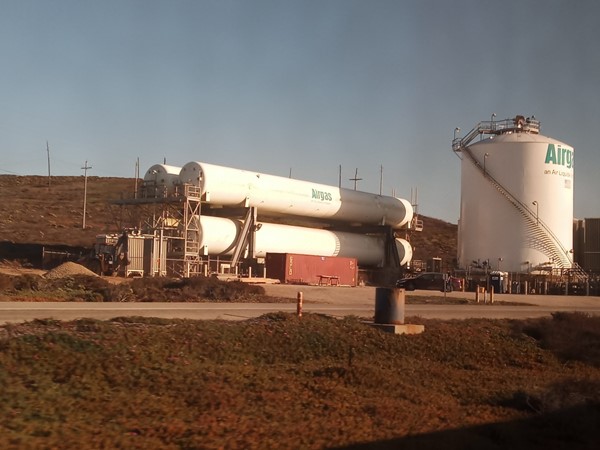 INSERT VIDEO HERE
Before long, it was dinner time, which I took in the dining car, with maybe half a dozen other people. Final meal with the Chicken Marsala.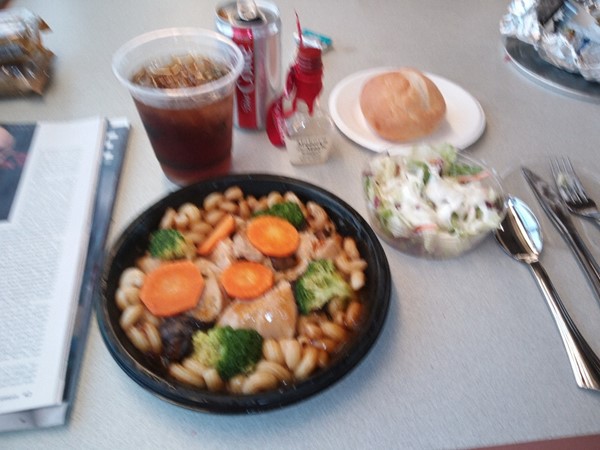 With a wonderful sunset.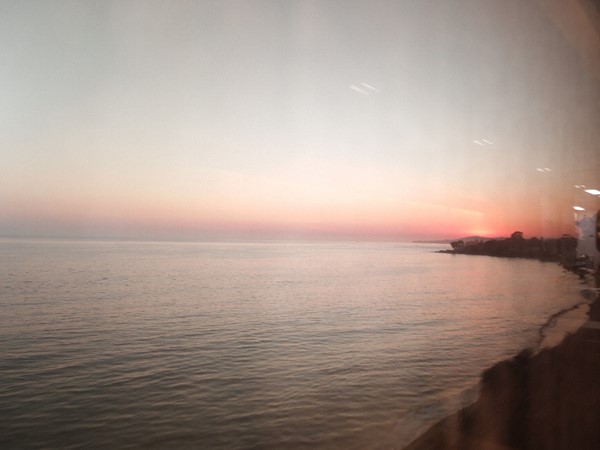 We were back to being on time…until near the end of dinner, we came to a rather abrupt stop. My drink almost slid off the table!
Seems that we have MORE adventure this trip, in the form of two dead bodies in the car that we T-boned. The quick stop was AFTER we hit the car. Train vs. Car, guess who wins? With the mass of the train, you couldn't even feel the impact. I'm familiar with the physics since my brother died in a similar situation, though in that case, the train wasn't blowing its whistle, and the crossing didn't have gate arms. Here is a link to the details of the crash:
https://www.latimes.com/local/lanow/la-me-ln-2-people-killed-amtrak-train-oxnard-20140603-story.html
Seems that intersection is a death magnet, with 18 incidents in recent times, while waiting for an overpass to be constructed.
A candid comment from my dining car attendant, Frank, was, well, Frank. His comment went something like, "At least we hit someone in Oxnard. Coroner can be here in 30-45 minutes. If this had happened in the mountains, we'd be here for at least four to six hours."
Within thirty minutes of the accident, attendants passed through the car with "snack boxes" to help get through the delay. I was truly STUNNED at how quick they responded to the delay. Don't know if Coach passengers got boxes.
We were due into Los Angeles at 9PM. By the time we arrived it was 10:30. I love the LA train station: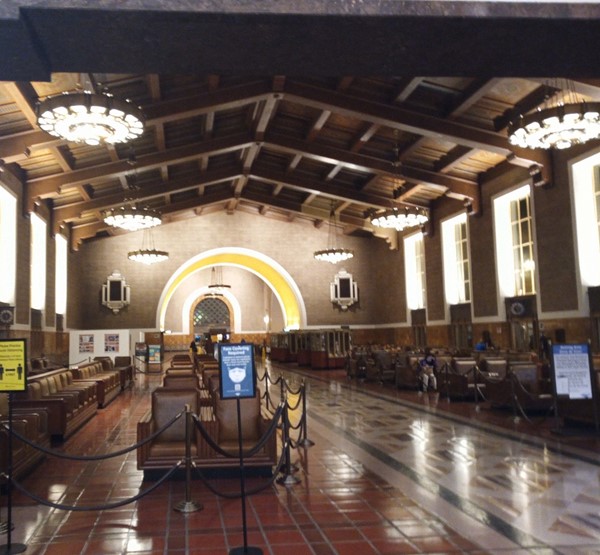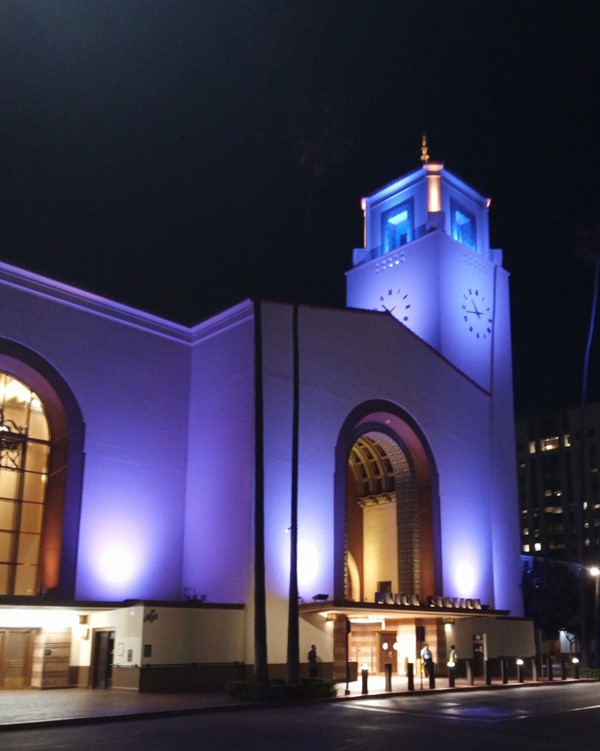 Yep, clock on the tower is actually correct, quarter to eleven. It was almost midnight by the time I got to the Wingate by Wyndham (used points) and checked in. Had a wonderful Lyft driver, Sheena, a single mother picking up extra hours in addition to her full-time job. This is where that snack box came in handy! My midnight snack.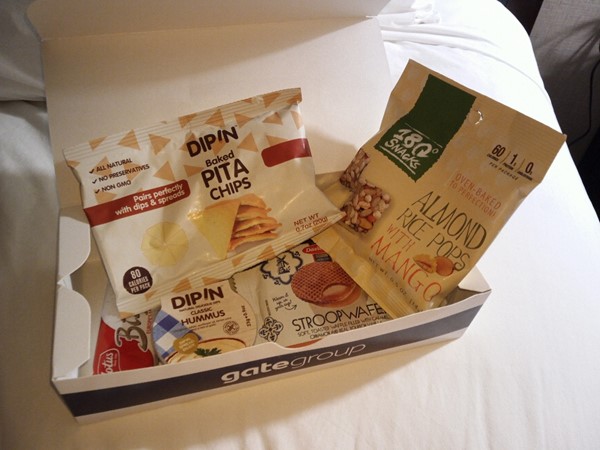 Some things to know about the trip on The Coast Starlight:
Lots of wildlife this trip; egrets, pelicans, all sorts of raptors, deer, sea lions, and an explosion of homeless camps.
Ocean side of the car seems to be the even numbers, but no guarantee.
With the new "Flexible Dining" meal scheme (all meals are free in the sleepers, which I believe they have expanded to things from the café car) you can have your food delivered to your room, BUT, it doesn't arrive as hot.
Pony up for a sleeper. If you are travelling single, the Roomette is fine. Bathroom and shower shared. While it can house two people, it's TIGHT for two. For two, spend even more money on the Bedroom which the bottom bed can actually hold two skinny adults. You also get your own bathroom complete with shower. Also available, though scarce, is the Family Room which has the same beds as the Bedroom unit, but also has bunks for two children. Bathroom shared.
Another reason to book a sleeper is that the second person just pays their train fare. Sleeper fee is for the cabin, not by person.
And yet another reason to book a sleeper – you can bring, and consume your own alcohol, in your room, sadly, not in the dining room, and they used to have overpriced but drinkable wine in the dining car by the half bottle, now they have Barefoot brand, which is terrible.
Headed home tomorrow. We'll see how that goes.
[225.0]
For more blog posts, click here.