There are several things Seattle lacks in the fall. Heat and sun. Hello Palm Springs.
I booked the 3-bedroom place for Gay Pride weekend, but with Covid, no celebrations, and only two of us in a place that sleeps eight.
As is my way these days, my trip starts at the Alaska Lounge for a Caesar and a light dinner: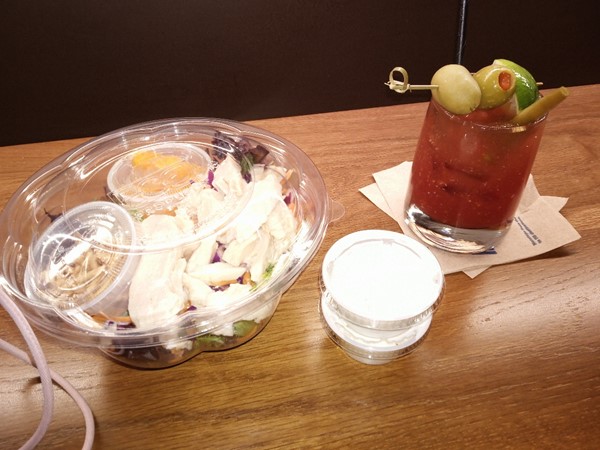 My flight arrives about eight hours after Bliss gets in, so I put the reservation in his name. Bliss chose his flights based on the cheapest "Basic" fare on Alaska since he isn't concerned with being able to get upgraded and gets a free bag with the credit card. I chose my flights based on what was the cheapest First-Class ticket ($325 roundtrip, Bliss' was maybe $150).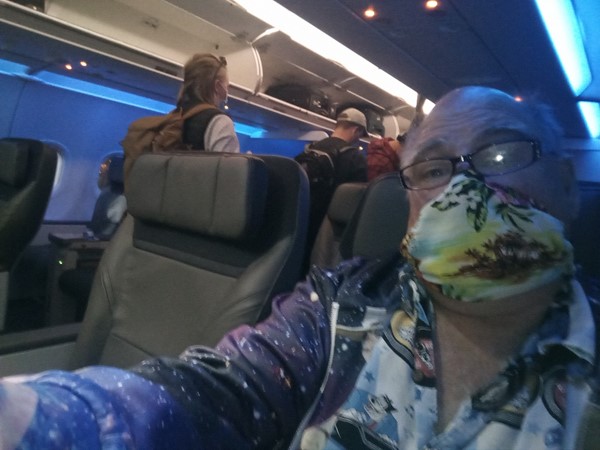 This Airbus had the new First-Class seats installed. Sadly, still no cocktail service, just beer and wine.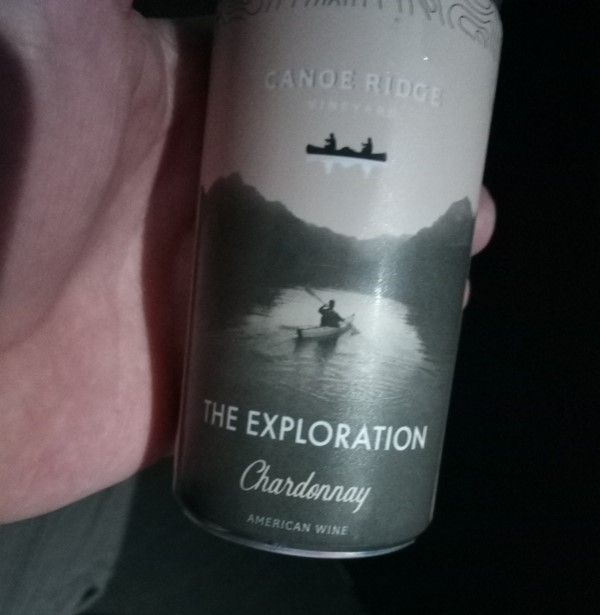 Had the curry chicken wrap as my snack (other was the famous Cheese & Fruit Platter).
Being one of the last flights in, Lyft/Uber drivers were scarce – ended up booking an XL, some massive black Yukon thing – but I made it to the condo.
Some shots of the condo: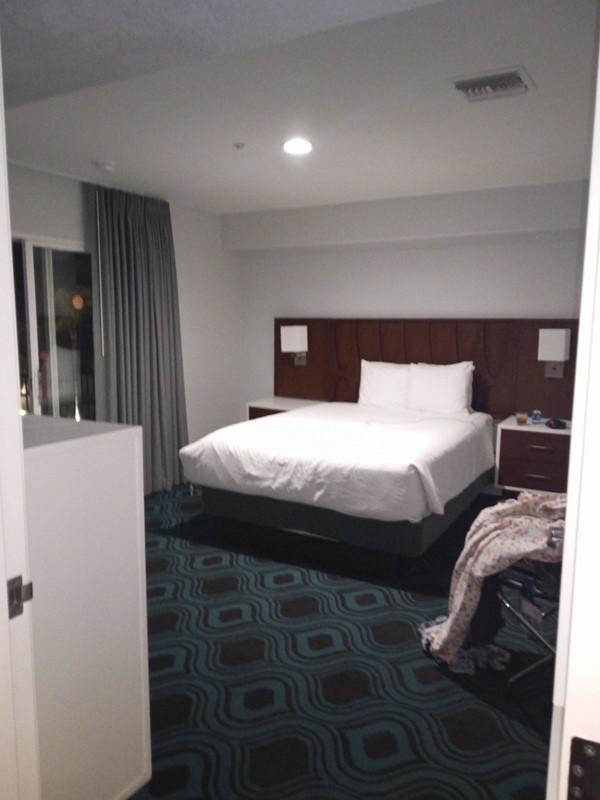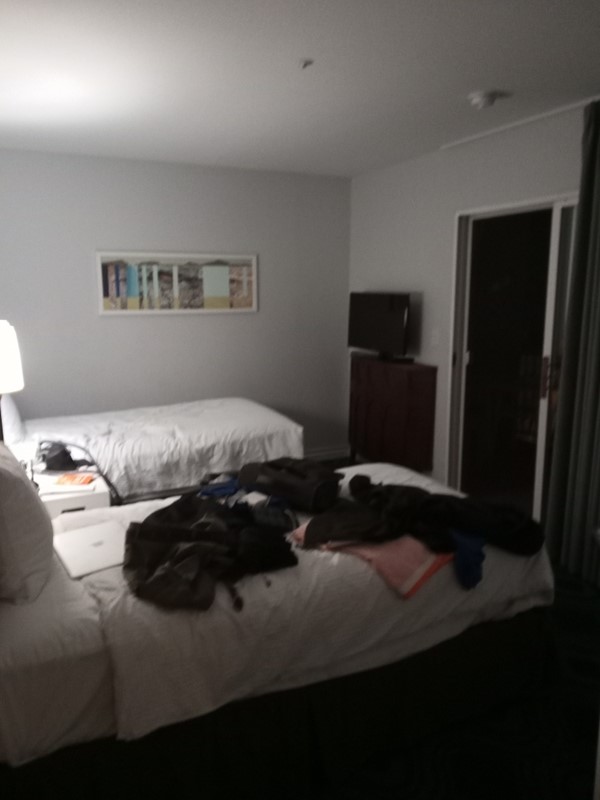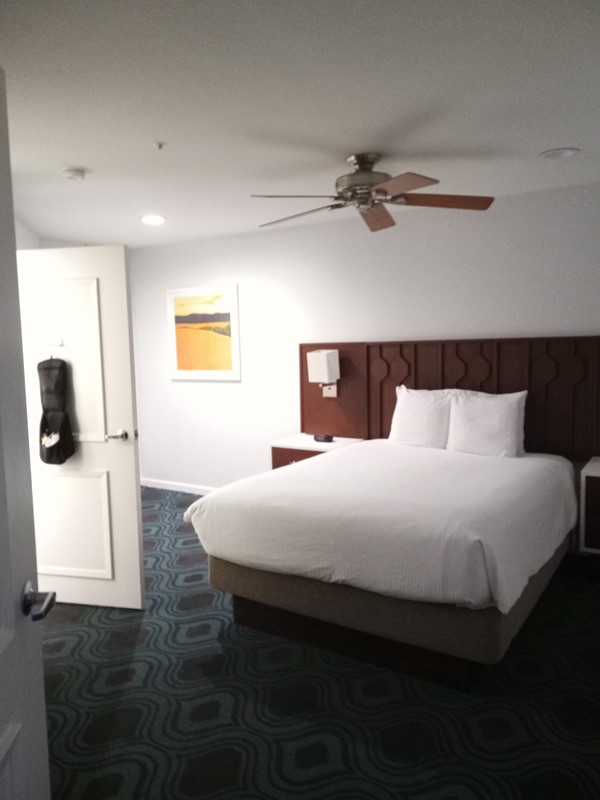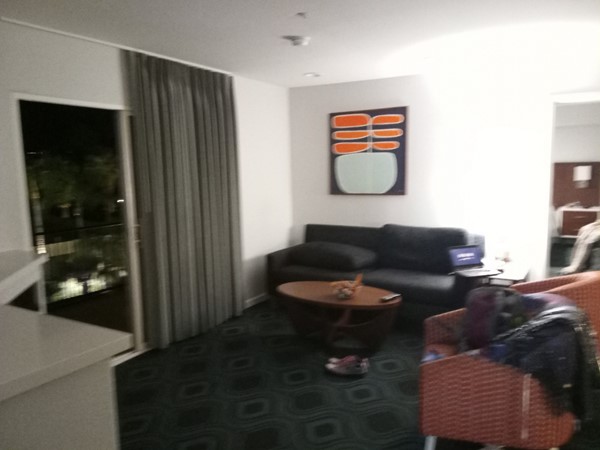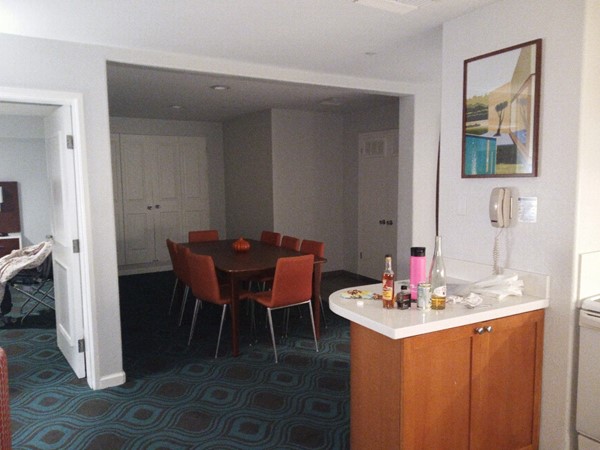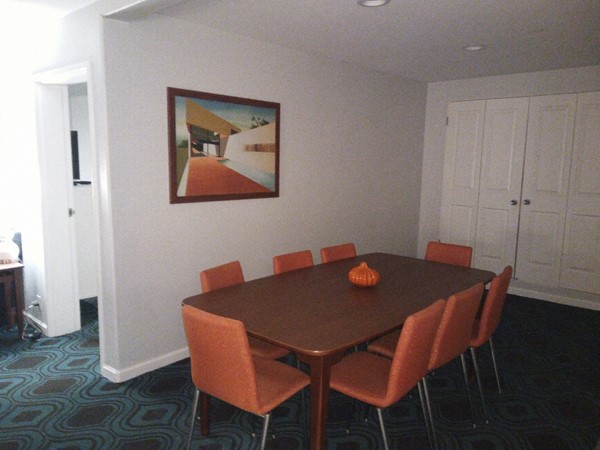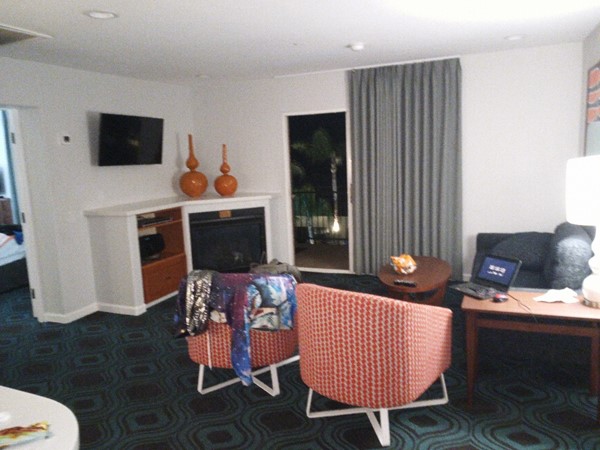 And the view with my morning coffee: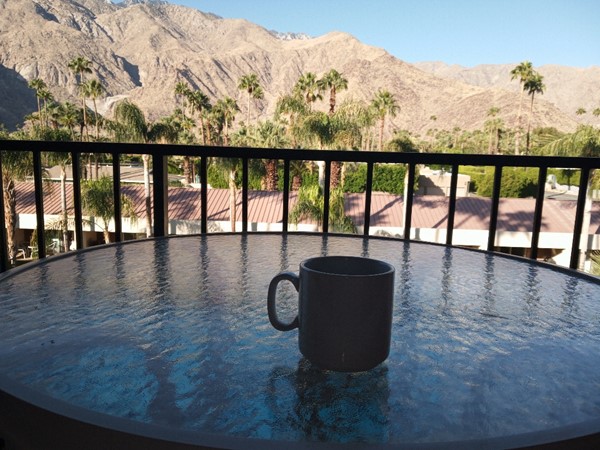 I did get some pool time – which you need to book in 2-hour blocks to limit the number of people. Bliss used it more than me: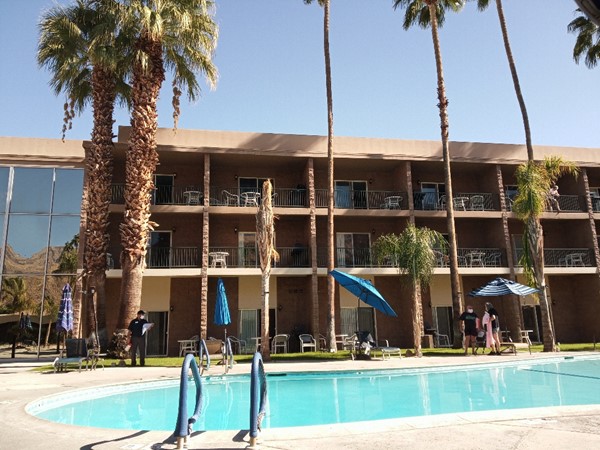 In the pivot to online festivities, bars were trying interesting things to provide support for Pride, having lost the ability to serve people alcohol to people who don't' order food. Trio (restaurant/bar) was offering Cocktail Kits as a benefit for the Pride Foundation – bags of booze, mixer, swag. Wasn't a bad deal. Web site said they were 750ml bottles, but the ones I got had liter bottles. By the end we got 4 bags (three for me, one for Bliss). This is the haul from just TWO of the bags: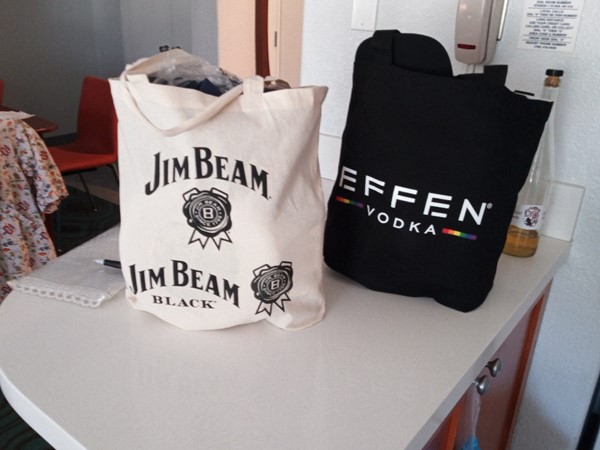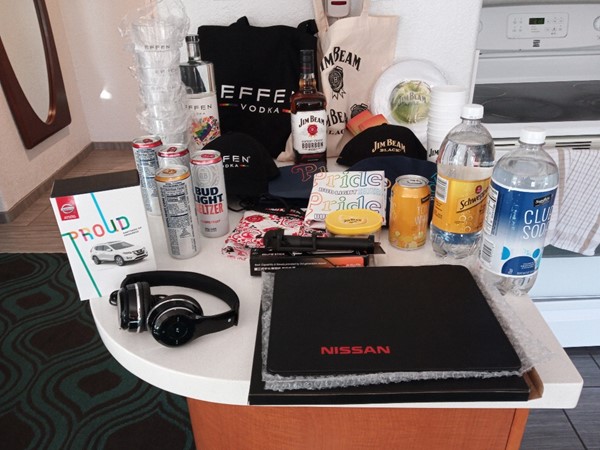 Yes, Bluetooth headphones, a wireless mousepad/charger, cups, frisbees, t-shirts, hats, bandanas – the Effen Pack ($30) came with the nicer swag than the Jim Beam Bag ($20). Between us we ended up with three of the Effen Packs, which had really nice polycarbonate party glasses.
Bliss went to the store before I got there, so we had supplies for all our meals – which included these amazing nachos he whipped up:
Yes, I brought wine in my checked bag (along with my brandy and Verners).
Took a walk down the street to pick up the second set of bags while trying a couple of the Bud Light Hard Seltzers – as you can imagine, they were hideous and I ditched mine in a recycle bin: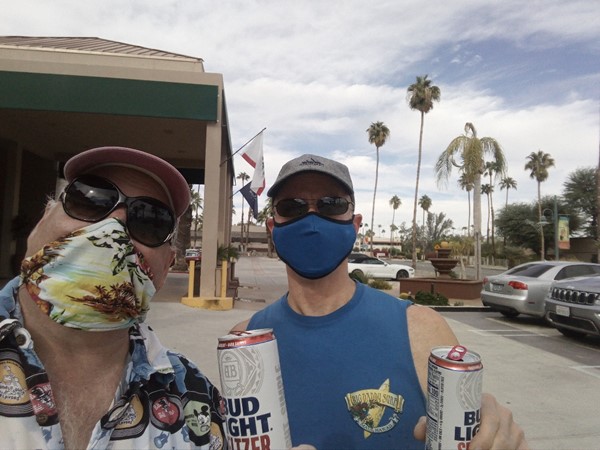 And passed a Tiki Bar (Bootlegger Tiki) that I'd love to try, assuming it survives the Pandemic. Check out their website for all the new rules in place.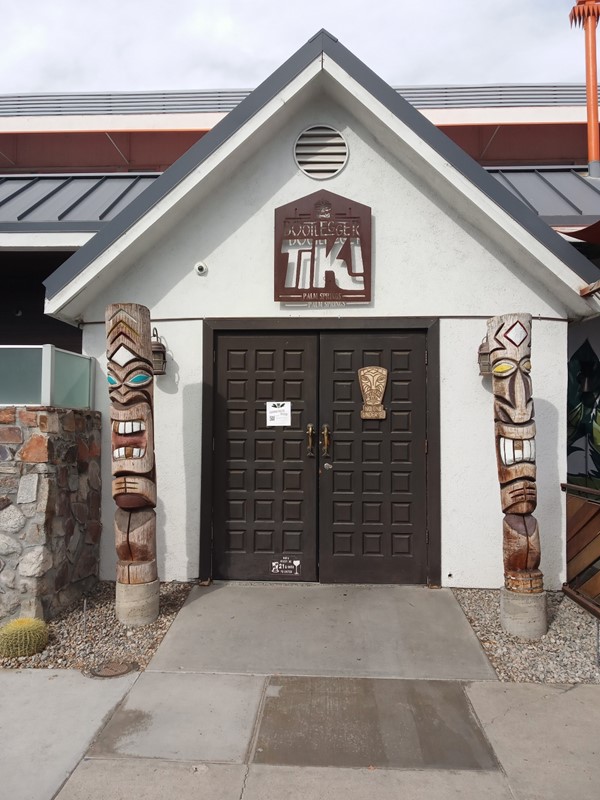 Afternoon cocktails on the deck with the view of the mountains which I never get tired of: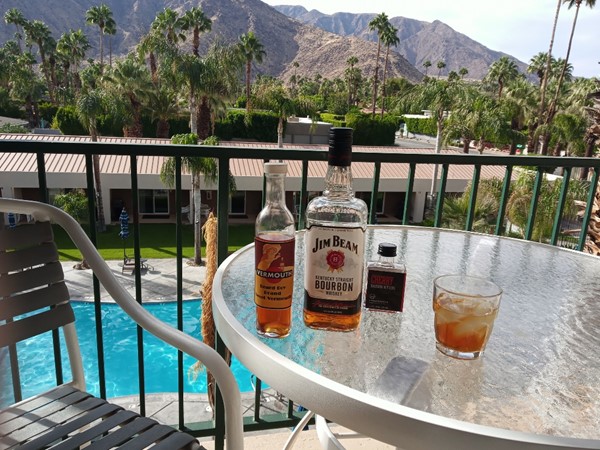 Thursday afternoon we had a late lunch/early dinner at one of my favorite places in Palm Spring – Sherman's Delicatessen. They only have limited outdoor seating which is what I felt the most comfortable. This was the first time I'd been to a meal in a restaurant since I was in Waikiki in mid-March.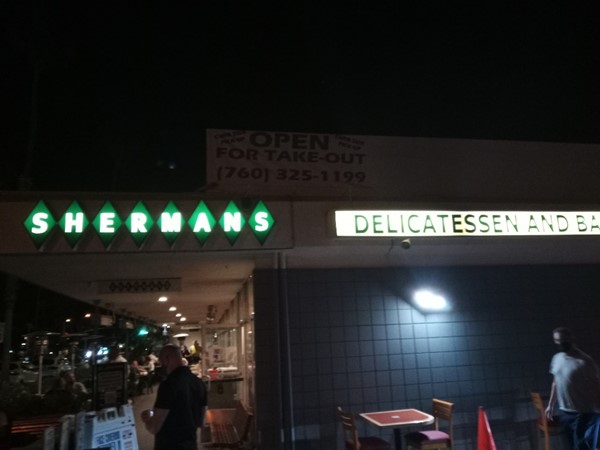 That was taken as we were leaving, and the sun had gone down…but the meal!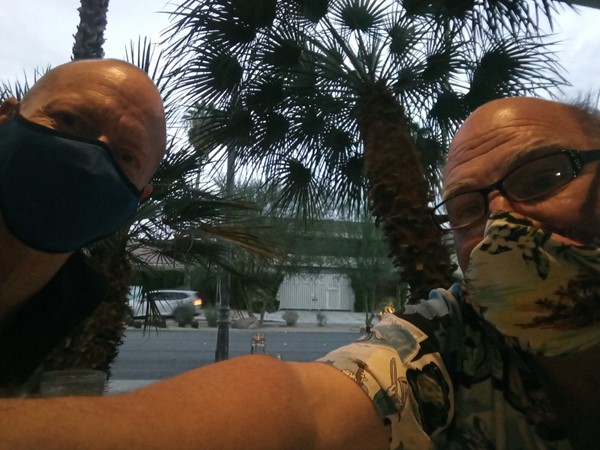 They don't have a full bar, but they do offer a fresh squeezed pink grapefruit Greyhound (Cava instead of Vodka). Love them, but only one. Too much citric acid for more than one, or heartburn. Same reason I drink a Caesar rather than a Bloody Mary.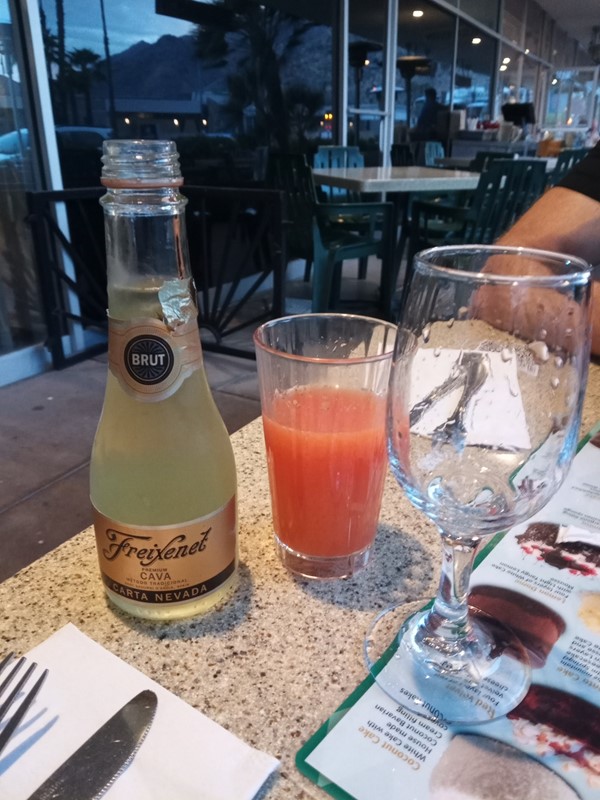 I love that they serve a platter of pickles with the meal – should have gotten more!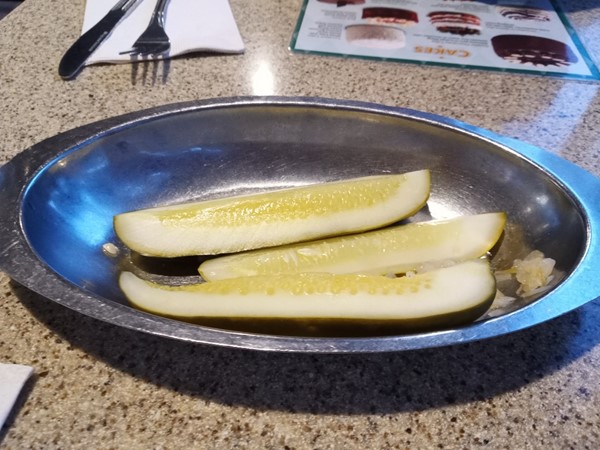 Bliss got the Early Bird Dinner of chicken and ribs which came with a full salad as well: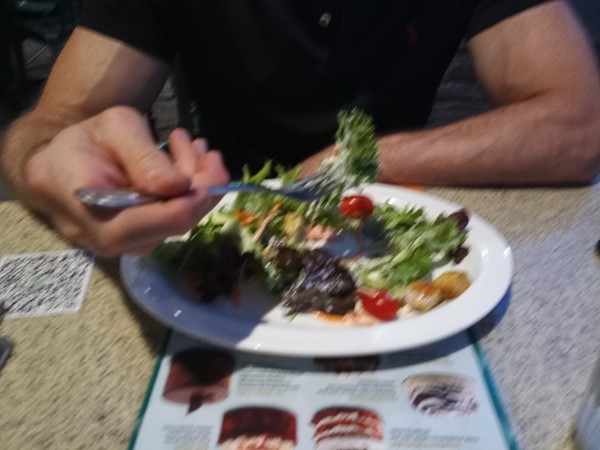 His was actually cheaper than my corned beef Rueben by $2: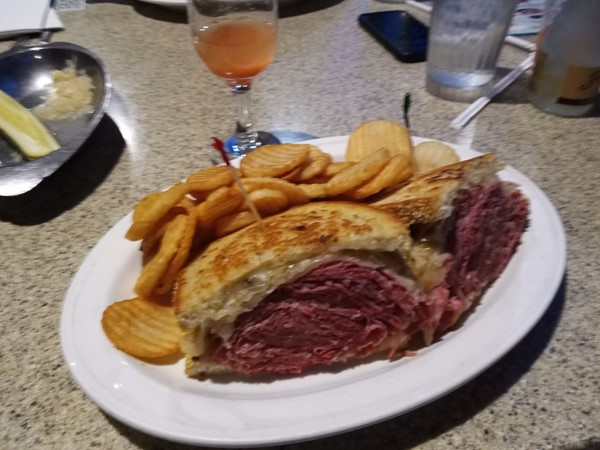 But that IS a lot of meat – and I took half home. So, I got two meals for the price of one.
Bliss actually got dessert from the giant case: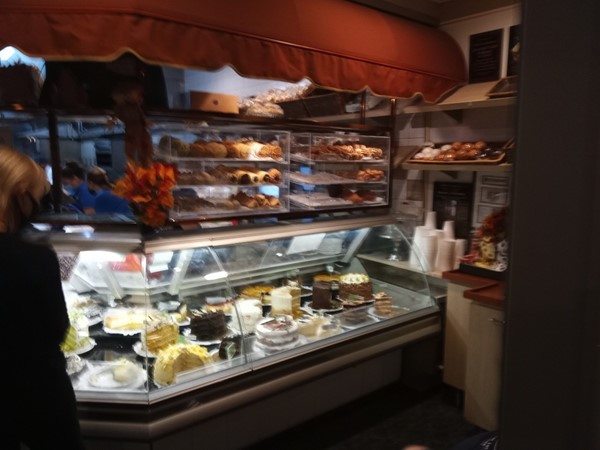 Speaking of restaurants, the Denny's has moved to outdoor seating in the parking lot – doesn't look comfortable:
My final breakfast on Friday I took on the porch: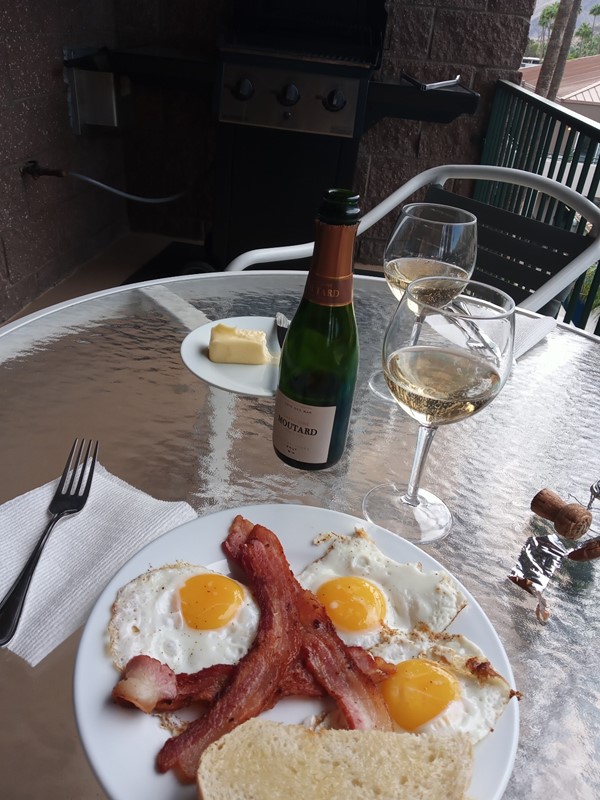 A Facebook comment on this photo was – "Looks like the Eifel Tower". We were drinking Champagne (which I also brought down with me) in an early celebration of the news that would come the next day.
Final lunch was the other half of the sandwich: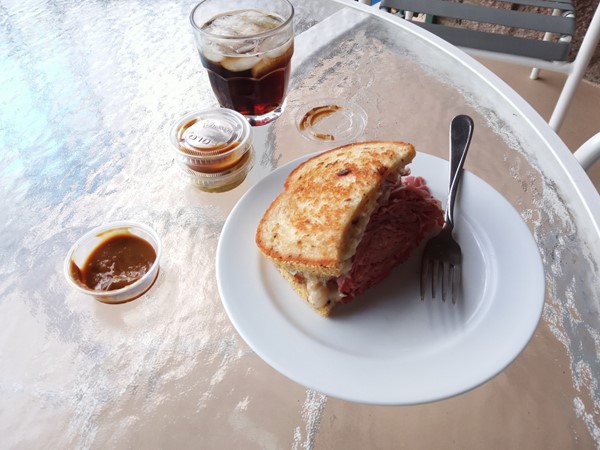 Back to the airport – no lounge, sadly. But I was back in my new usual seat (used to be 1C, the aisle, now it is 1A the window because they are blocking the seat next to you for until the end of the year):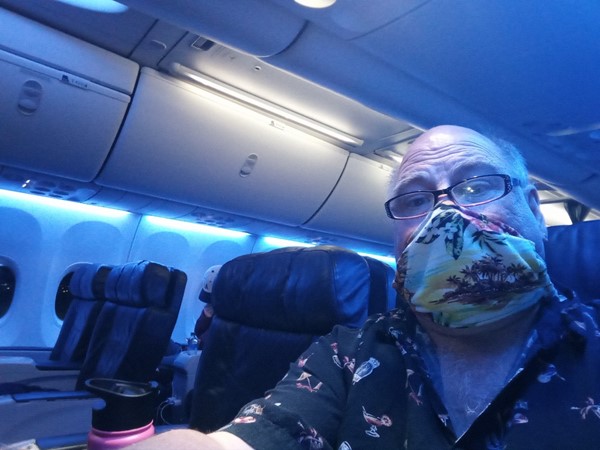 Got home and installed the Effen Vodka in the drink dispenser – good timing as the old bottle was dead.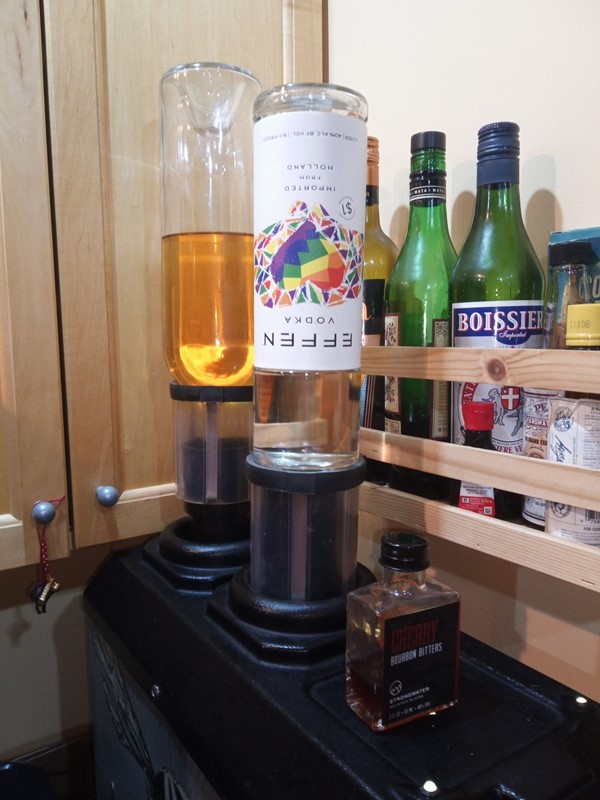 It cools the liquor before it spits it out. Totally unneeded, but amusing.
That's it for this post.
[? ? ?]
For more posts, click here.