When you live in Seattle, sun and heat are in short supply for most of the year.
Started the day with the usual travel cocktail (and travel cocktail shirt – not shown), which because it was such an early flight, I had to grab garnishes from the Alaska Lounge since they don't serve alcohol before 6am, but they were willing to send me off with limes, olives, and their spicy beans. The First Class flight attendant was seriously impressed!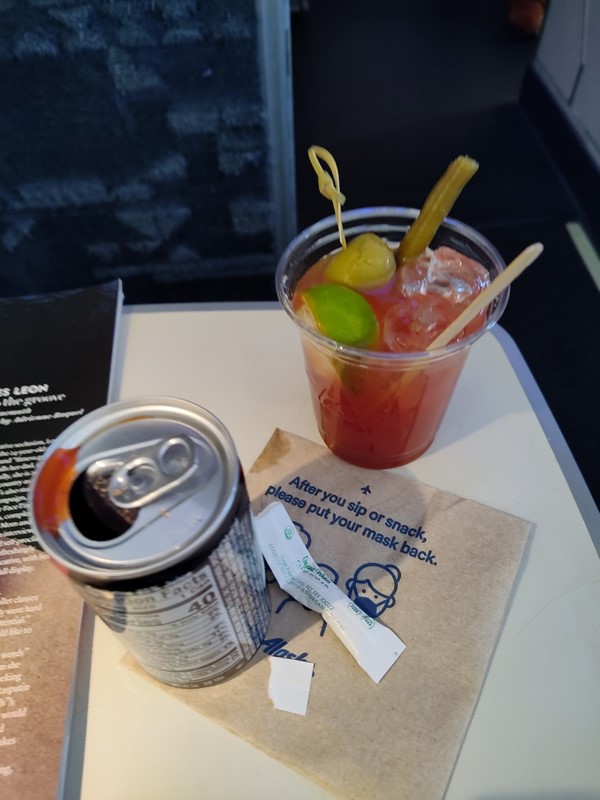 This is an odd ball trip. Rache has friends in town, I have friends in town, so it will be lots of separate and combined visits rather than entertaining in the suite.
I needed a nap, and Rache went off with four or five other people for lunch. It's Palm Springs so I have my usual haunts, and one of them is Inca, a Peruvian restaurant. Started with a Pisco Sour, and theirs is EXCELLENT: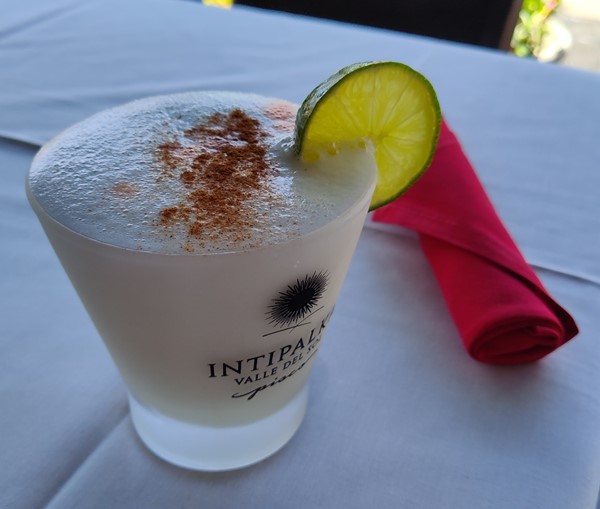 Followed by the Ceviché Mixto – always good.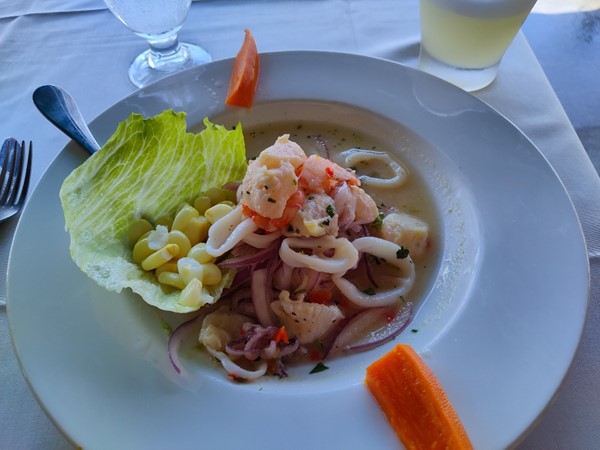 ODD car parked on the street a block or so away, sure, it is a Lamborghini, but it has Alberta (and in Canada) plates on it: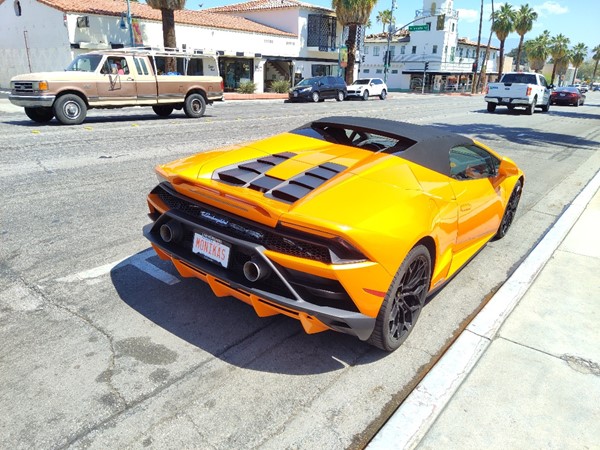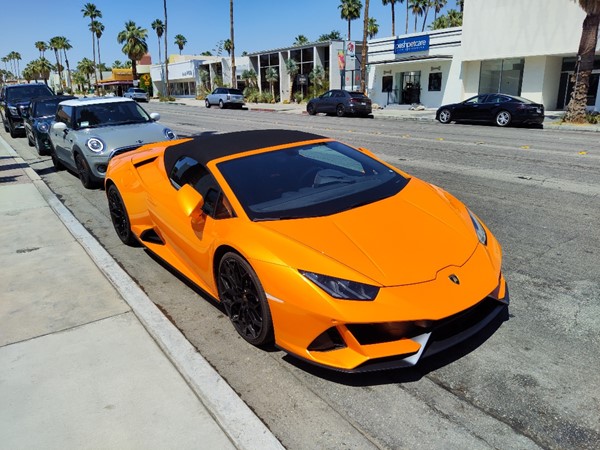 After lunch it was time to hit the two Angel's Thrift Stores that are right next to each other. The regular one, and the fancy one. Found three shirts this trip!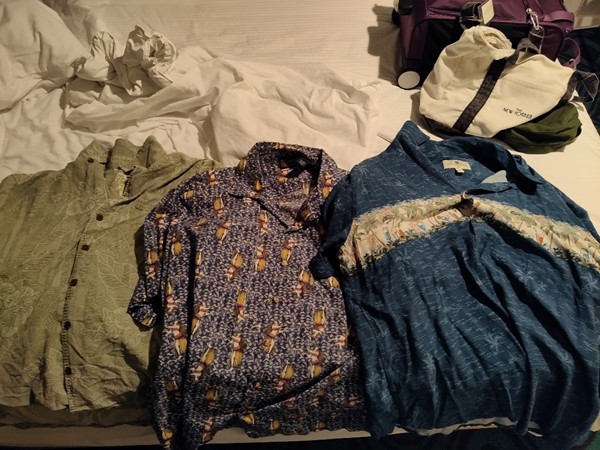 Rache came back for dinner – exhausted from being around lots of people all day (my take on it), and we order a TON of food from the Thai Restaurant within walking distance (Chada Thai)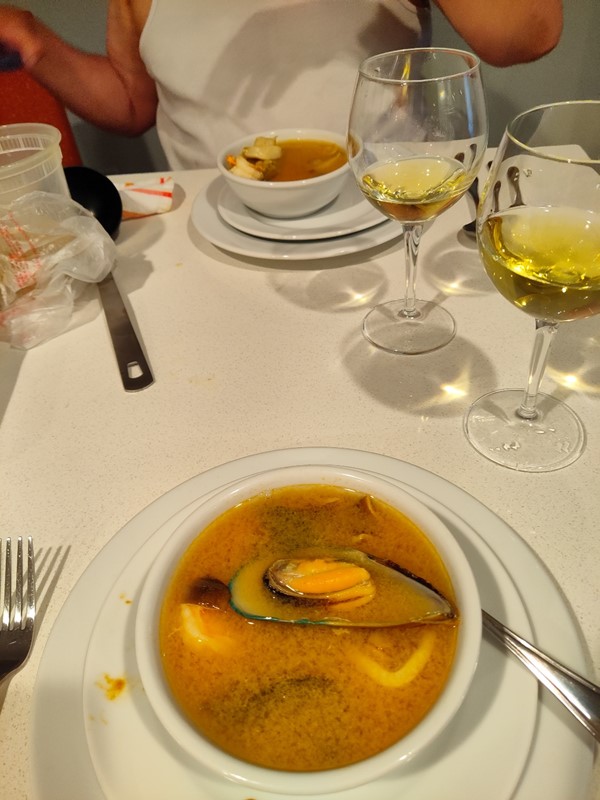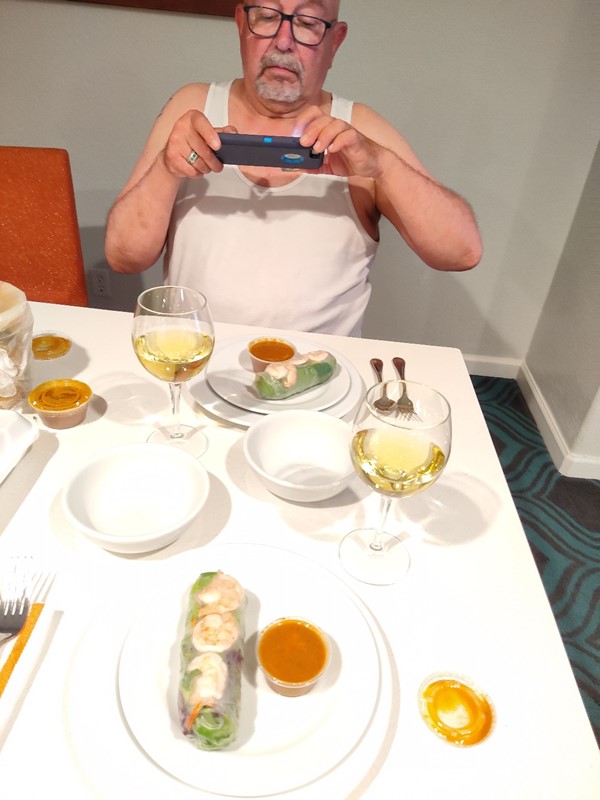 And then there were MORE dishes – we have leftovers! Word to the wise – be sure to specify hotness on each dish, otherwise they will all be mild.
Rache was out on the morning but the kind man that he is, he had ordered breakfast and picked it up, and left me a lovely Breakfast Burrito to reheat in the fridge.
I spent the day being a slug, ordering fresh fruit (Rainier and Bing Cherries) to be delivered to friends in Japan, and I had my guilty pleasure from next door's 55+ menu (that would be Dennys) for dinner.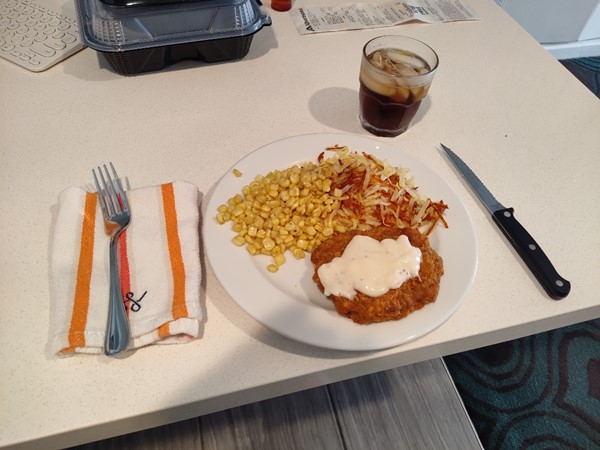 Our last night in town, I had my friends over for cocktails at 4. It turned into a version of watching Angels in America, both parts in one day. You watch part one as a Matinee, then go to dinner, then come back and watch part two. In our case it was a couple of hours of cocktails, which started fine but then devolved into one of the four of us (not me) secreting drinks and stripping down to his undies and crashing on my bed. After a bit we noticed him missing. Put him back together and sent him home. Fortunately, they hadn't gotten to the front door before I found their car keys, condo keys and belt still on the nightstand and got them back to them. End, Act One.
Rache and I then walked downtown, back to Inca, for dinner. Lovely cloud formation on the way down: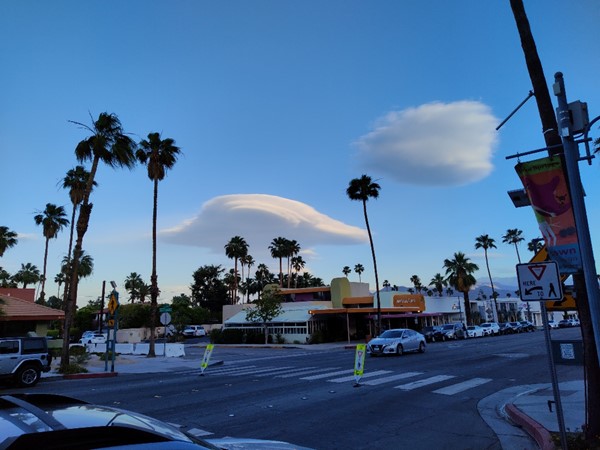 More Pisco Sours, Rache had the Ceviché, and I tried a beef dish (which was good, but not great):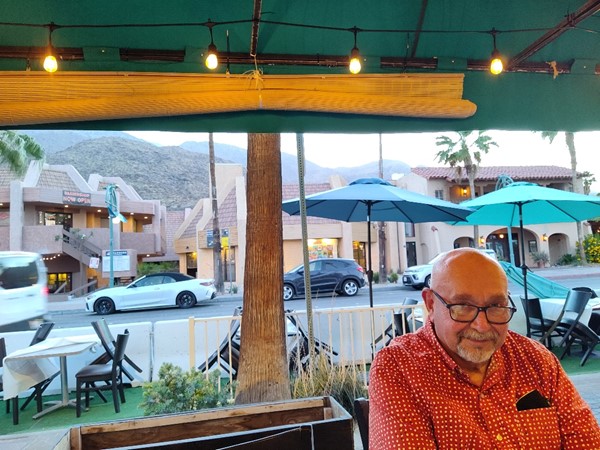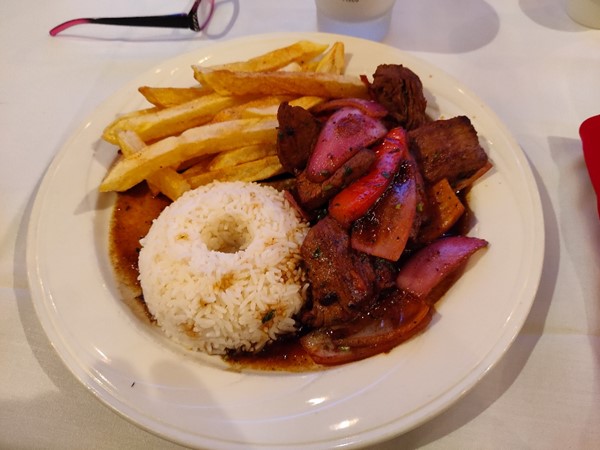 Got back to the condo, mixed a couple of drinks, and there was a knock at the sliding door – Act Two!
First it was Partner A looking for Partner B who hung out for a bit and then went looking for him. Then, Partner B shows up looking for A, but his cell phone is dead so he has to charge it to call A, who shows up to get B, who has wandered off at this point….another hour of drama. Eventually reunited and back in their condo – at least I have both their phone numbers now.
It was supposed to be an early night since we have an early flight, and not direct. Via San Francisco.
A thwarted lounge visit (apparently, we could have gotten into the American Lounge), and we just settled for breakfast at a sit-down place. I needed sometime calming, i.e., clam chowder. Rache had a more traditional late breakfast: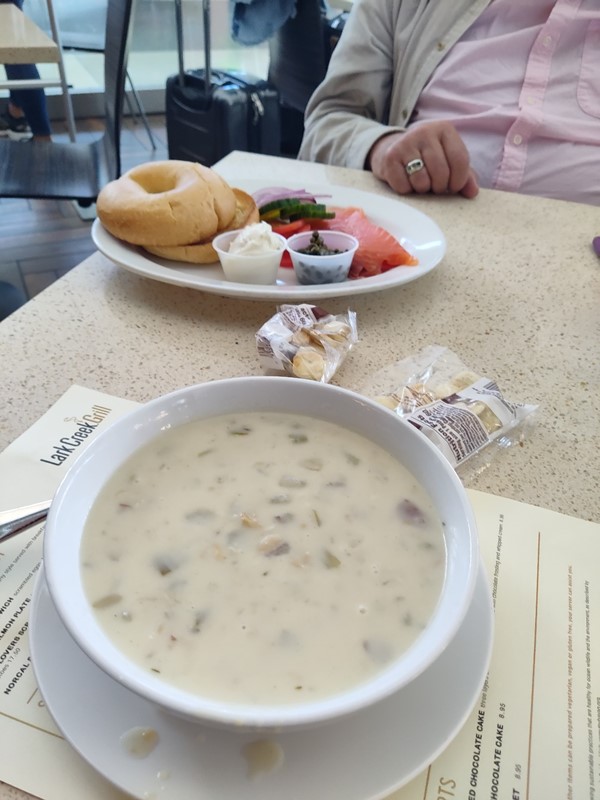 Lovely views out the window on the way out of San Francisco – I never tire of that view (or of Puget Sound):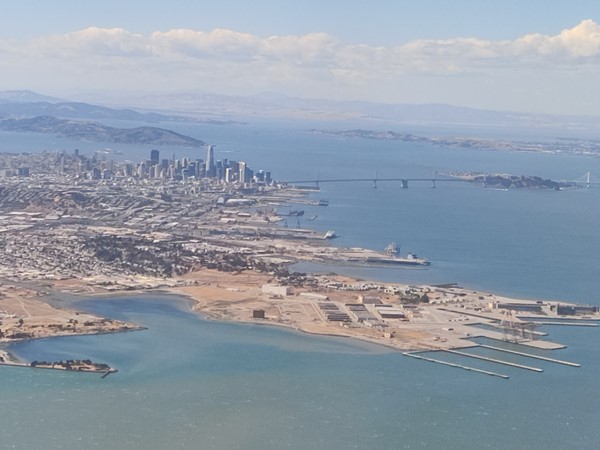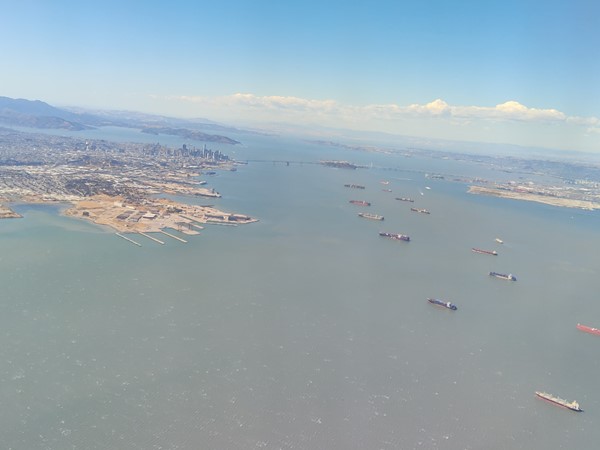 We were home early enough that we needed someone else to make dinner – hello, Loretta's for their MASSIVE Pork Tenderloin, which we split!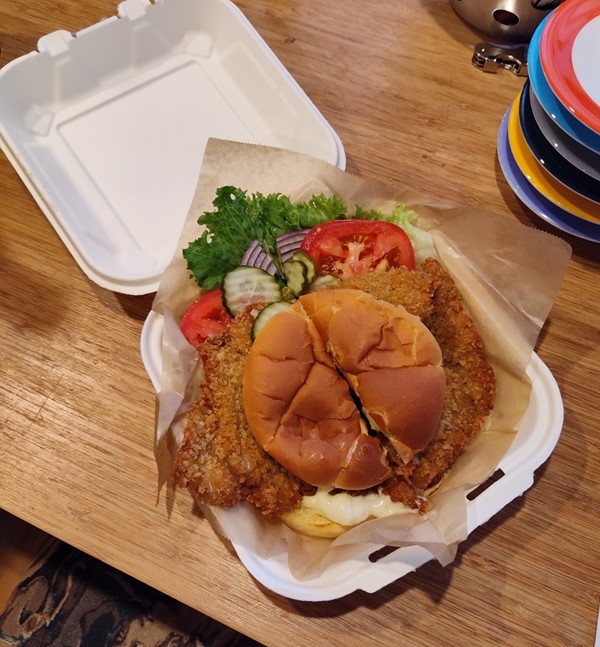 Another trip in the books!
[230.0]
For more blog posts, click here.