When I was in San Francisco in June, I saw a news segment on the reopening of the cable car system starting August 1st – and that they would be free for the entire month of August. Shortly after, I crafted a plan – go down for the day midweek and spend the day riding around the city. Normally, it's $8.00 per ride, though there is a daily pass. When you start planning at 10PM at night, you can guarantee that there is alcohol involved – and probably with the people you are trying to draft to go along with you. Originally there were going to be three of us, a fourth came aboard a couple of weeks ago.
The table set with boarding passes instead of name cards: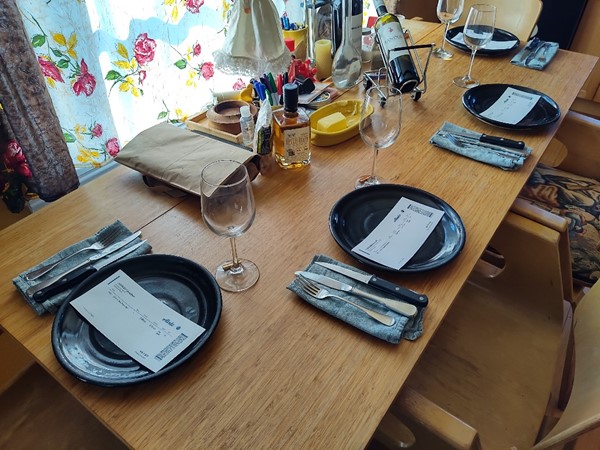 And the four musketeers: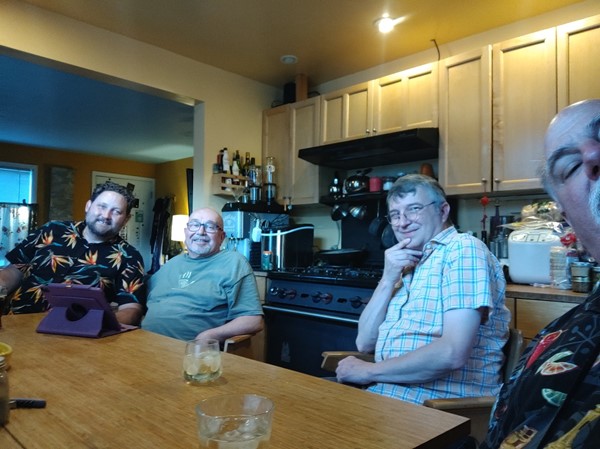 The downside of this plan was that the first flight out to San Francisco is at 6:05am – BUT there were First Class seats available using my First-Class upgrades. Sadly, it left no time for the lounge, so food was on the plane: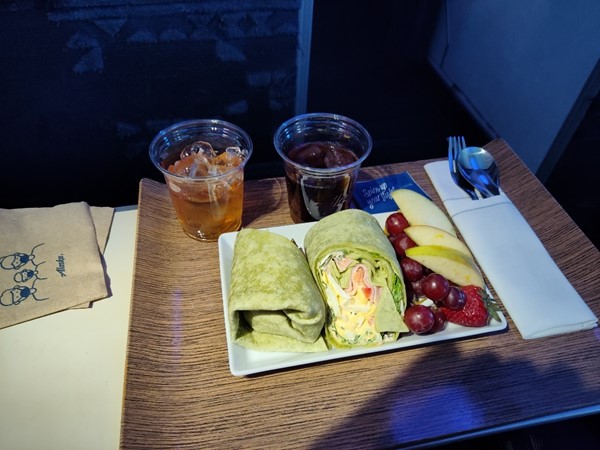 Tray service is back! Sadly, not real glassware.
BART into town to the Powell Street stop, which is also the end of the line for one of the cable car lines: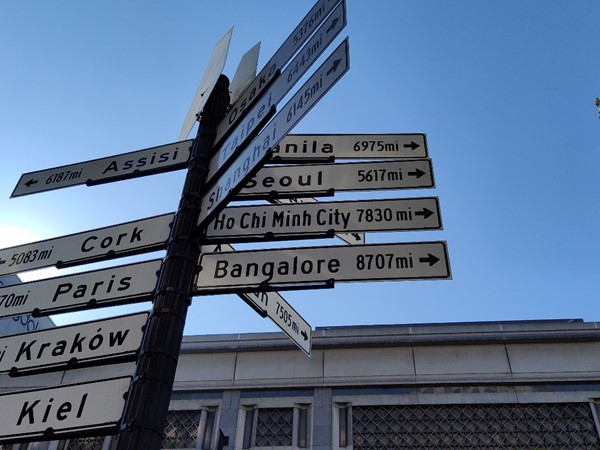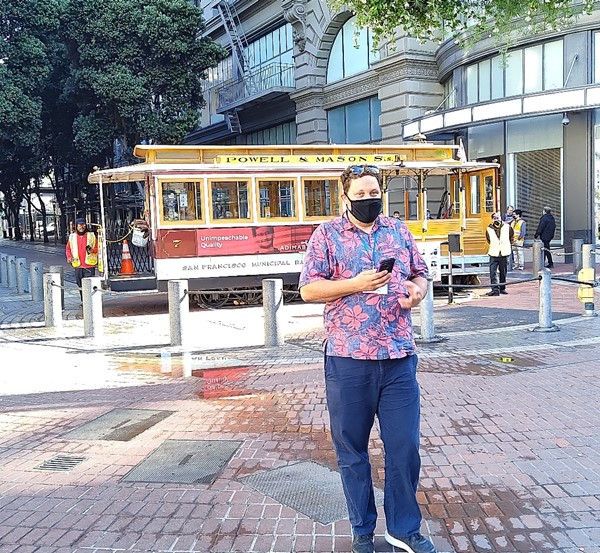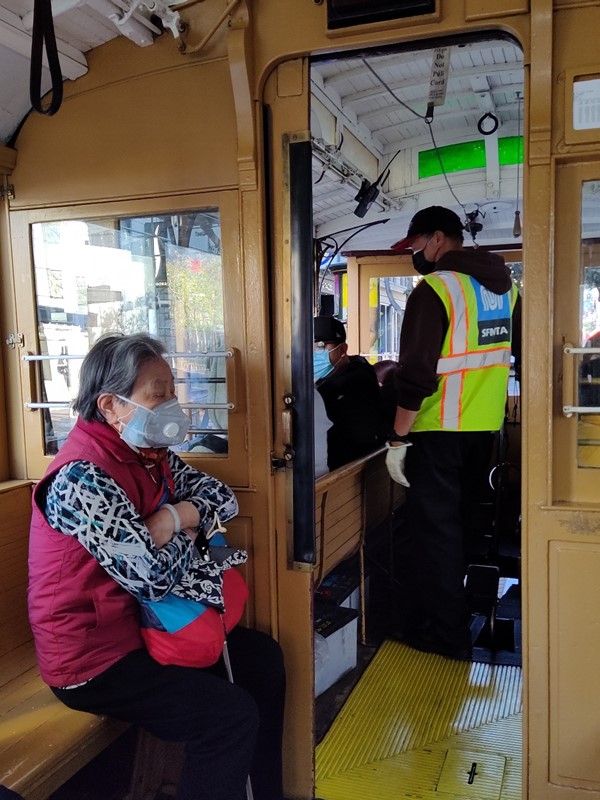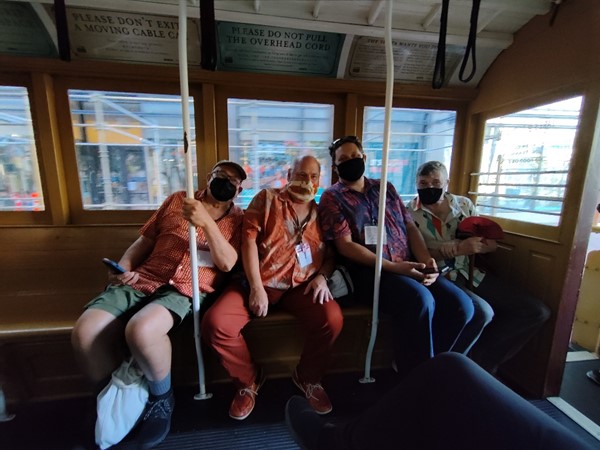 Most people want to ride on the outside, we were fine with "wherever".
Here is the route map: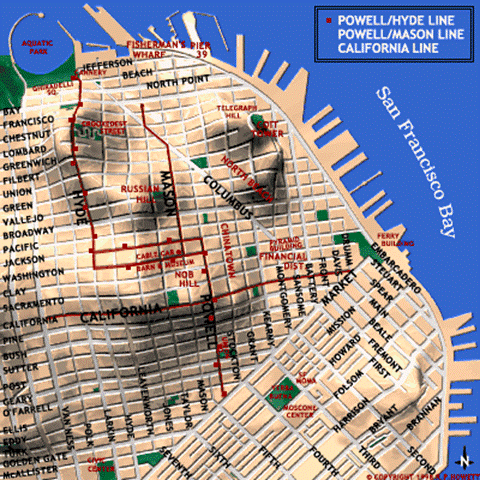 The end of the line of the random car we took was Fisherman's Wharf.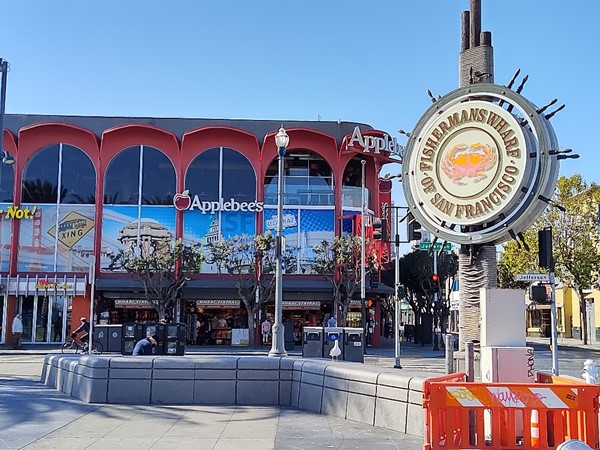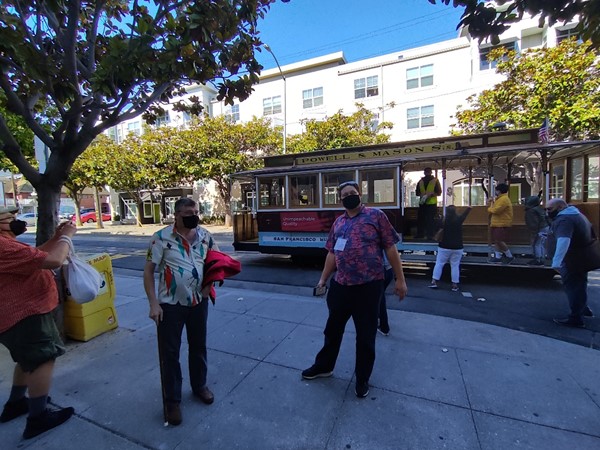 Since it was an early start to the day, even though it was 10:30am, we were all a little puckish. Food was in order, and one of my cohorts wanted crab bisque, and while there were lots of seafood places, best he could do was crab chowder at the Chowder Hut, which I didn't realize was part of the Boudin bakery empire: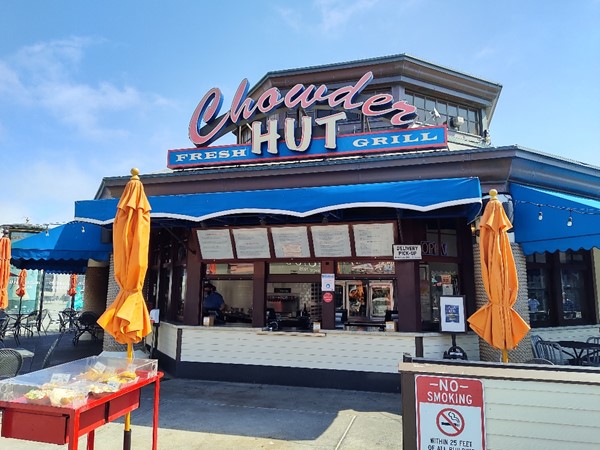 Chowder for two (one with sour dough bowl, one without).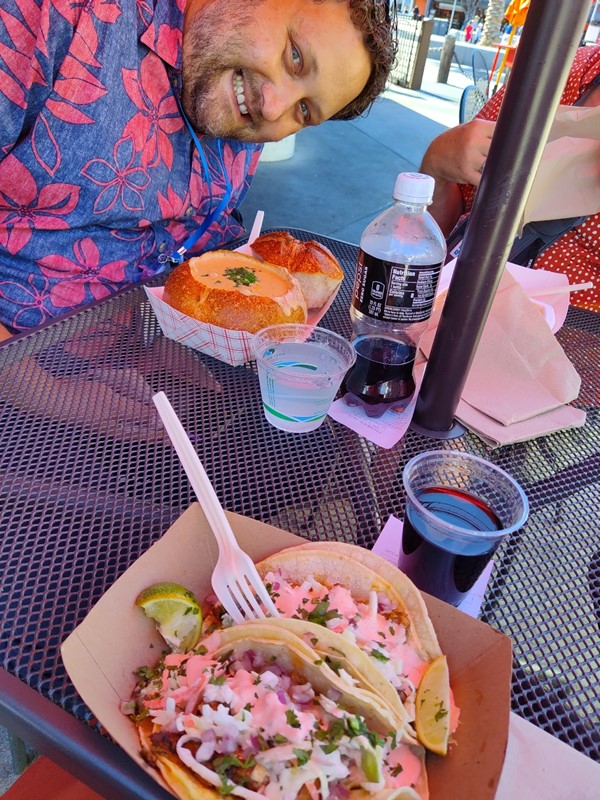 Fish tacos for me: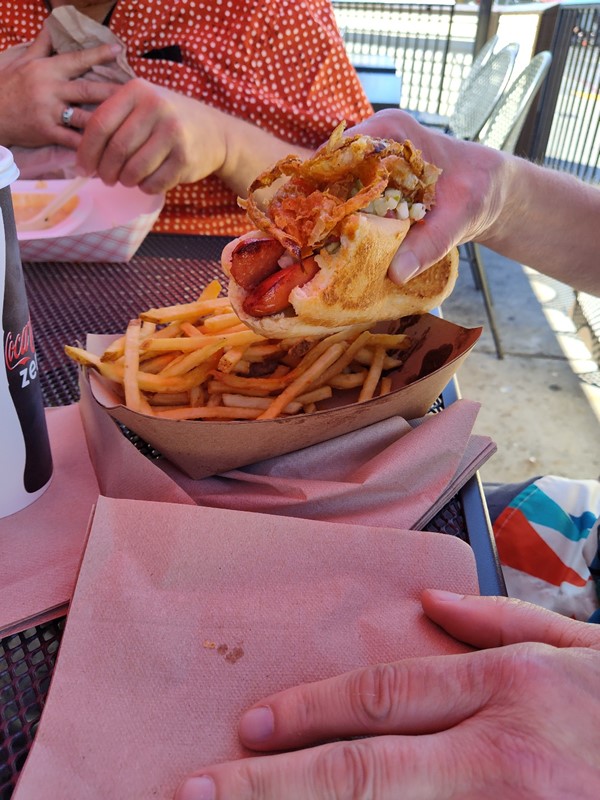 And one wanted something lighter, so it was the hot dog, not realizing it came topped with onion rings and a massive amount of fries.
Exploring after our early lunch: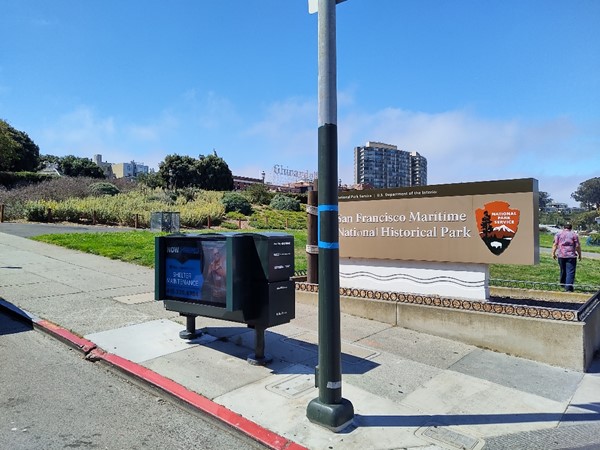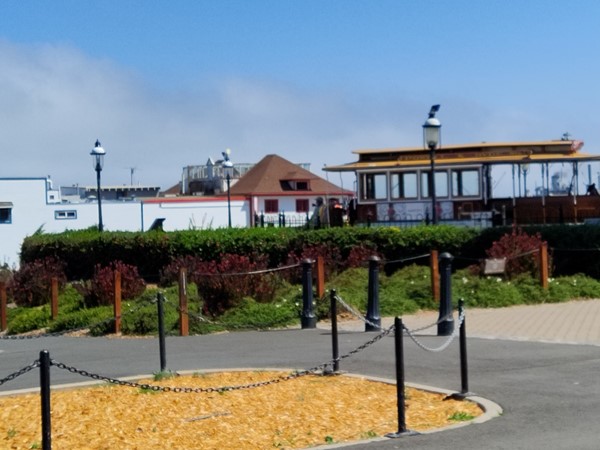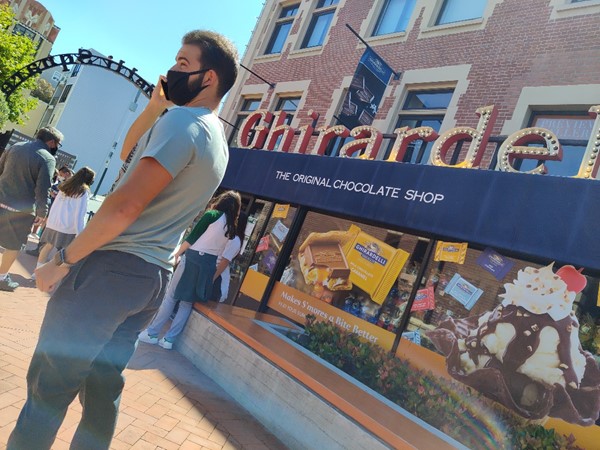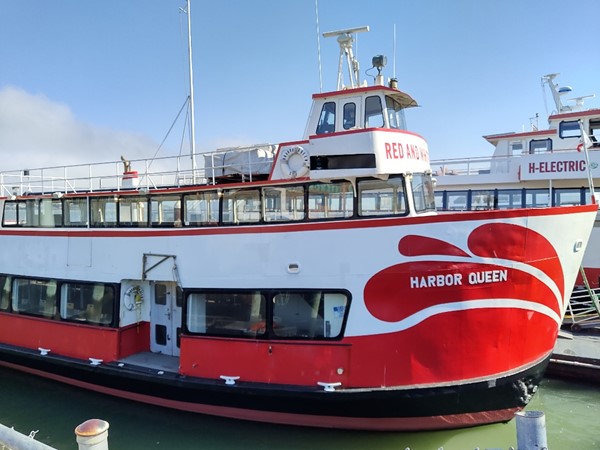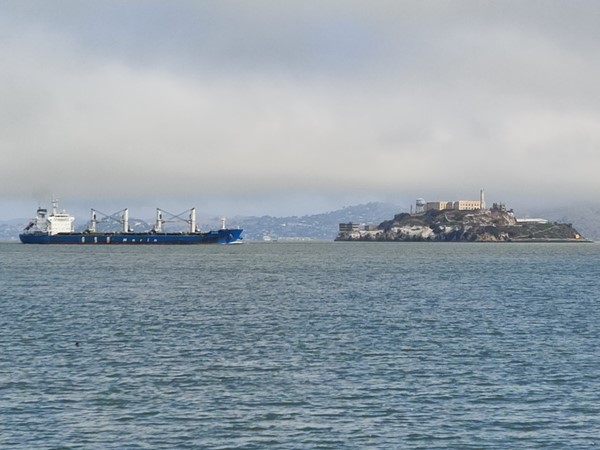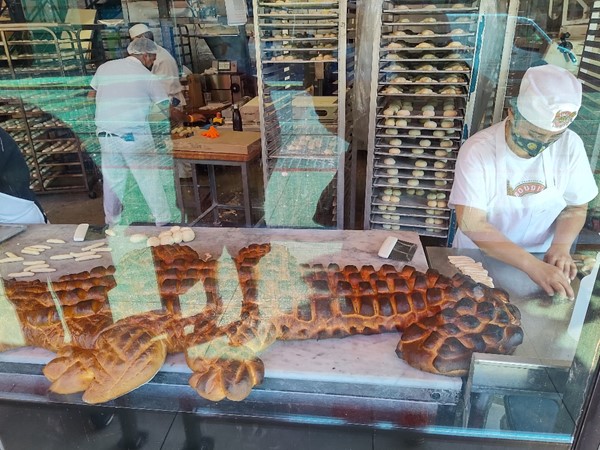 In the window of the Boudin Sourdough Bakery, that is a giant bread alligator.
Back on the cable cars, next destination was The Candy Store, another bucket list item for one of the companions: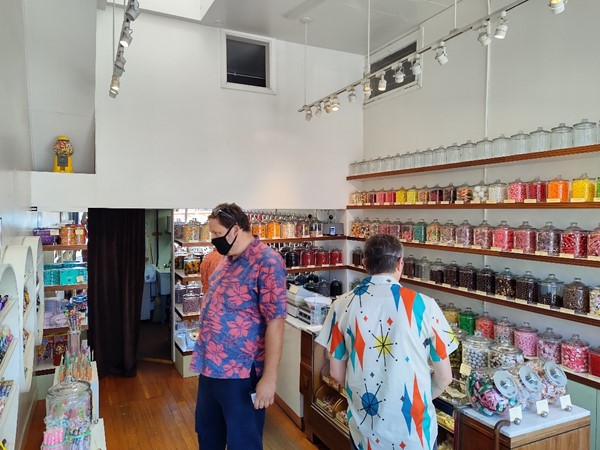 Something about malted milk duds, which were good, but I'm not a candy guy. And it was multiple hilly blocks off the cable car line.
Took the line back to Market Street, then decided I needed a cocktail (mostly to get off my feet) and we'd noticed this place – Sam's Cable Car Lounge: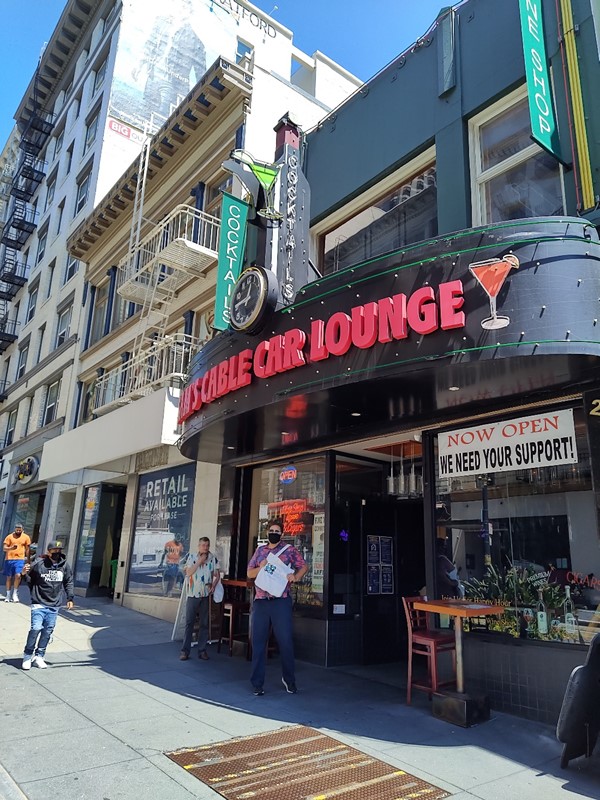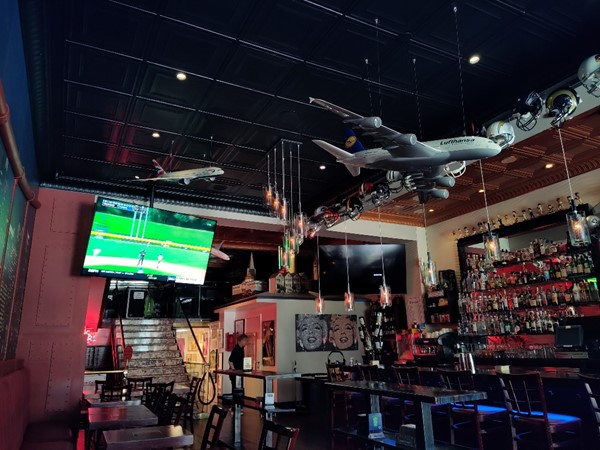 Fancy cocktails were $14. Bar whiskey and Diet were $7.75. And there were peanuts and popcorn for free (no Cracker Jacks).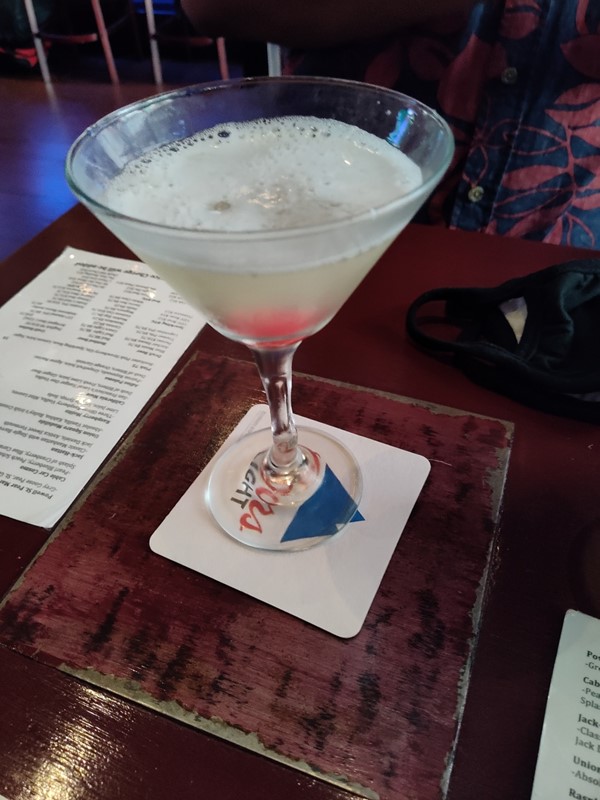 Next up was one my bucket list since I'd never done it – The Cable Car Museum. What none of us realized is that it is a "working" museum. It powers ALL the cable car lines in the city with its DC motors: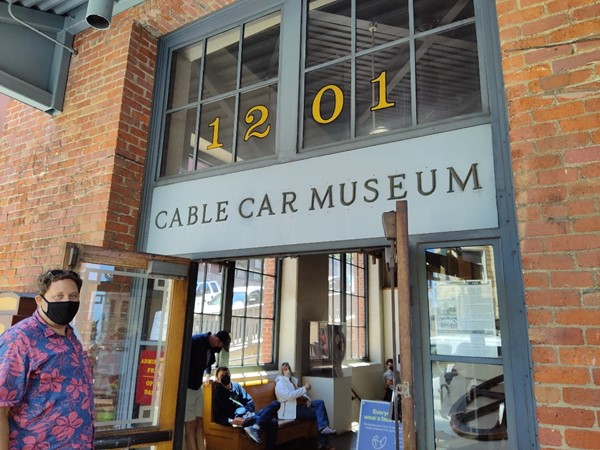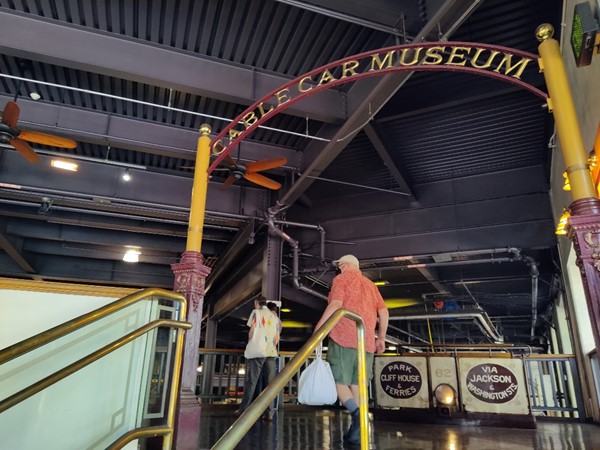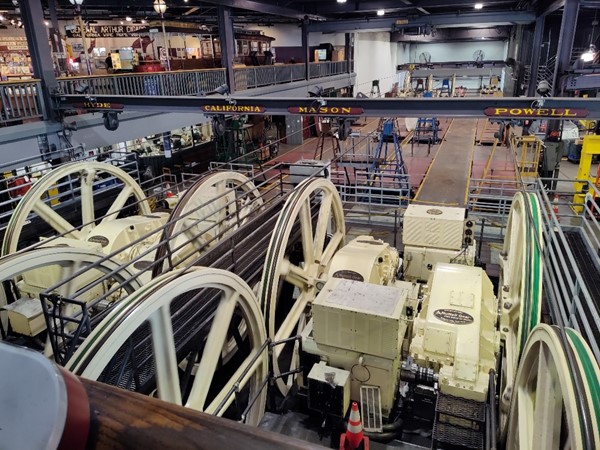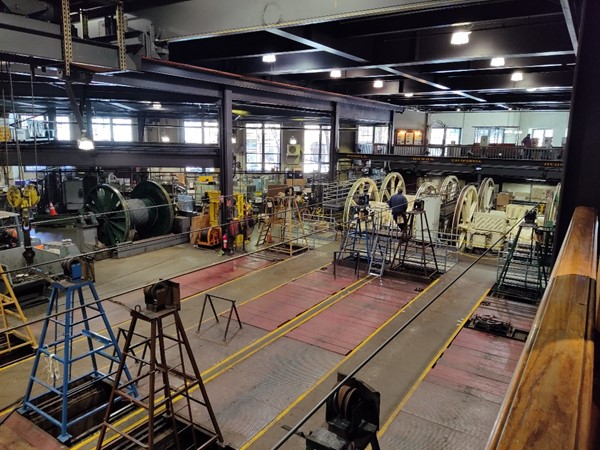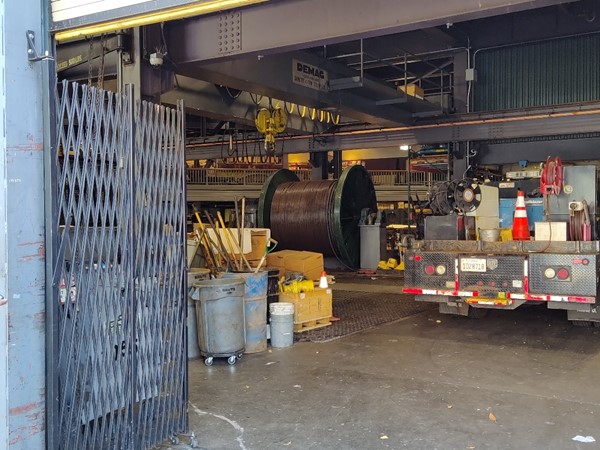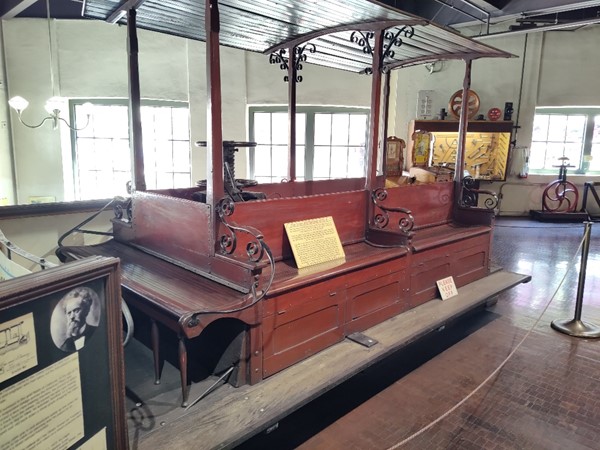 The coolness of the museum caught us all off guard – will return with other people. Geek heaven.
On the way back, transferred to the California line and went back to Market, and headed towards The Pied Piper, which is a bar in the Palace Hotel (used to be a Sheraton, now a Marriott):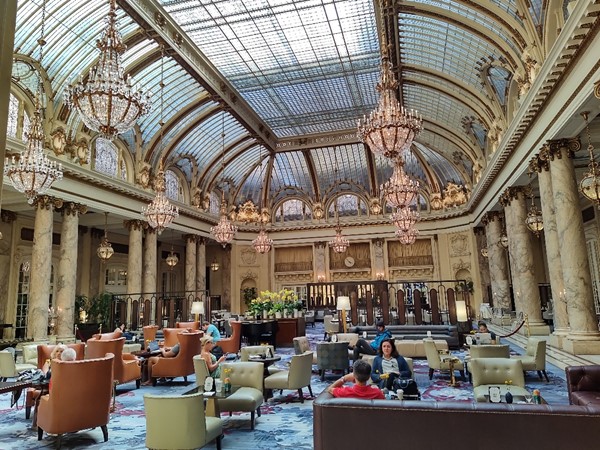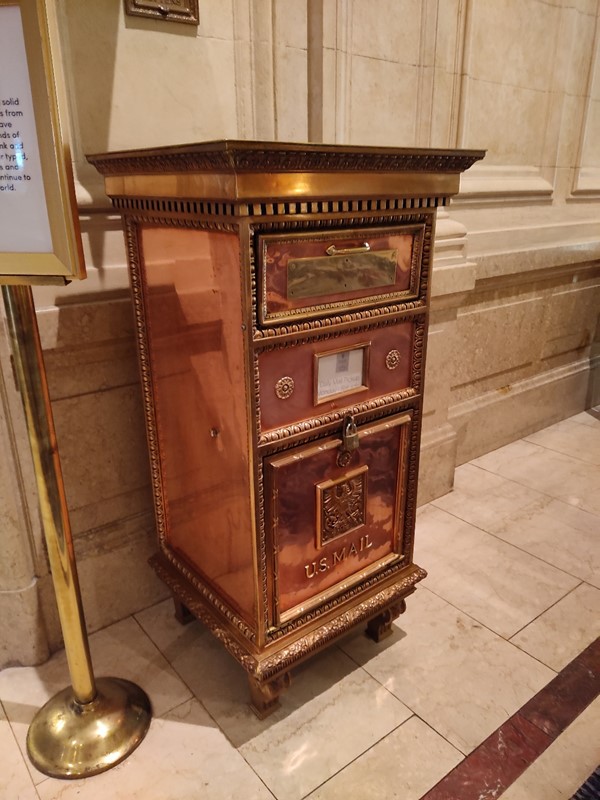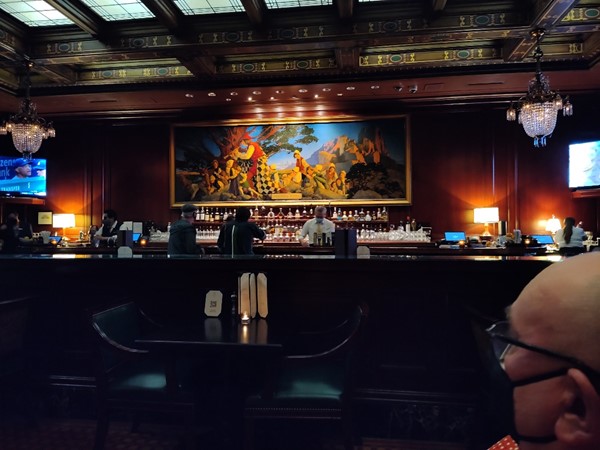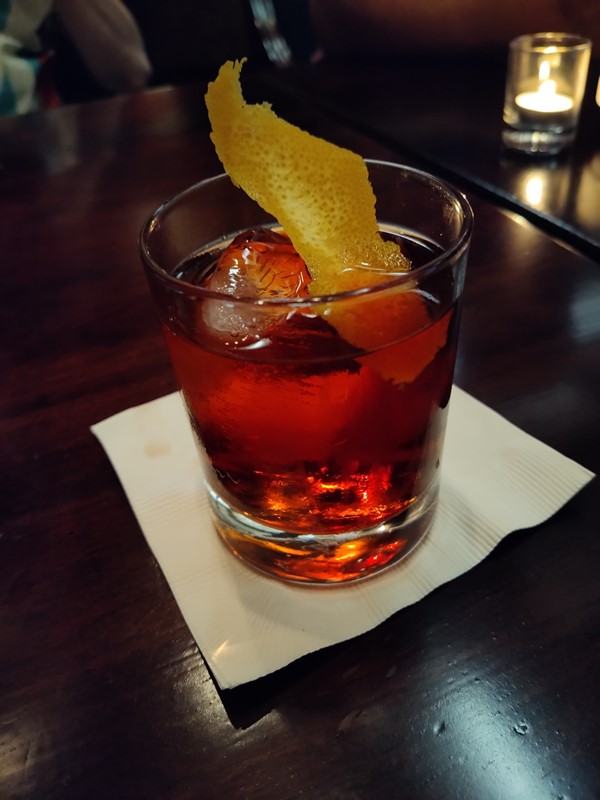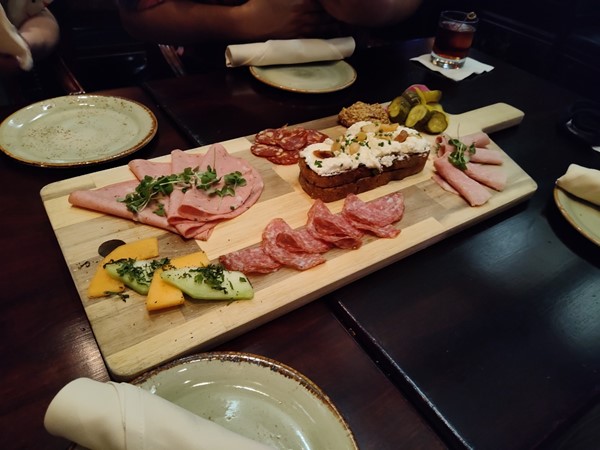 It was an AMAZING charcutier platter. And the Maxfield Parrish mural is STUNNING.
Next up was sushi for dinner – at Maru Sushi (long-time favorite hole-in-the-wall place):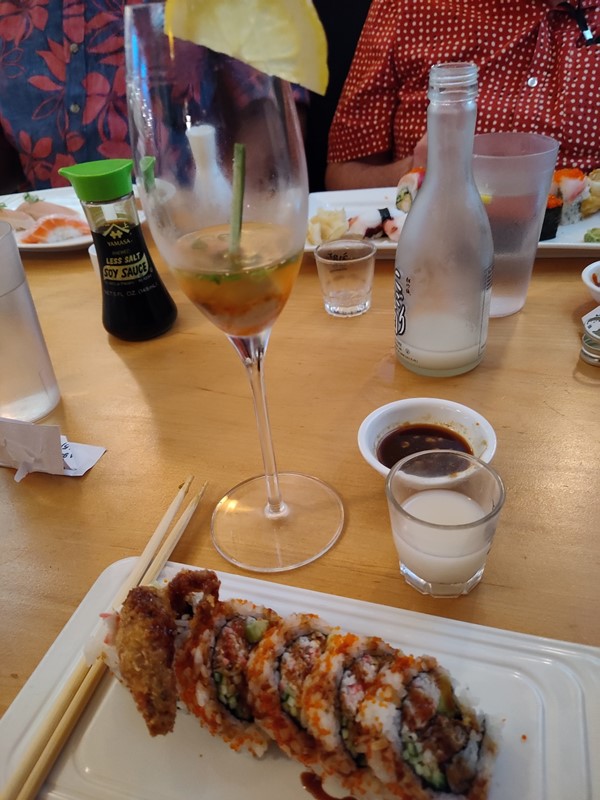 Oyster shooter, nigori sake, spider roll. Everyone else ordered way more than I did: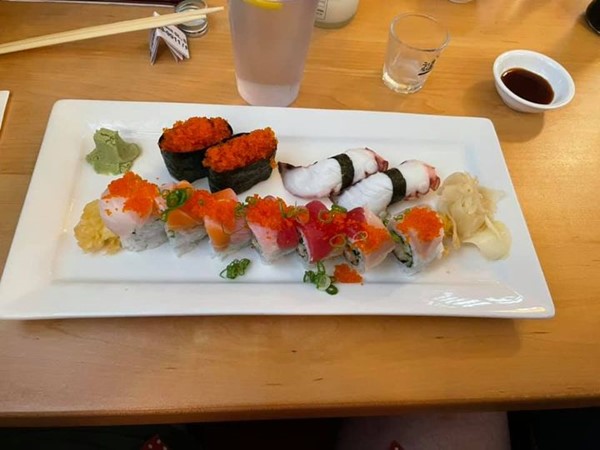 After dinner it was back on the Powell Street cable car, then BART back to the airport, arriving past security about 10 minutes before boarding – a little close for my comfort.
Home by midnight, with a WHOLE LOT of steps in today: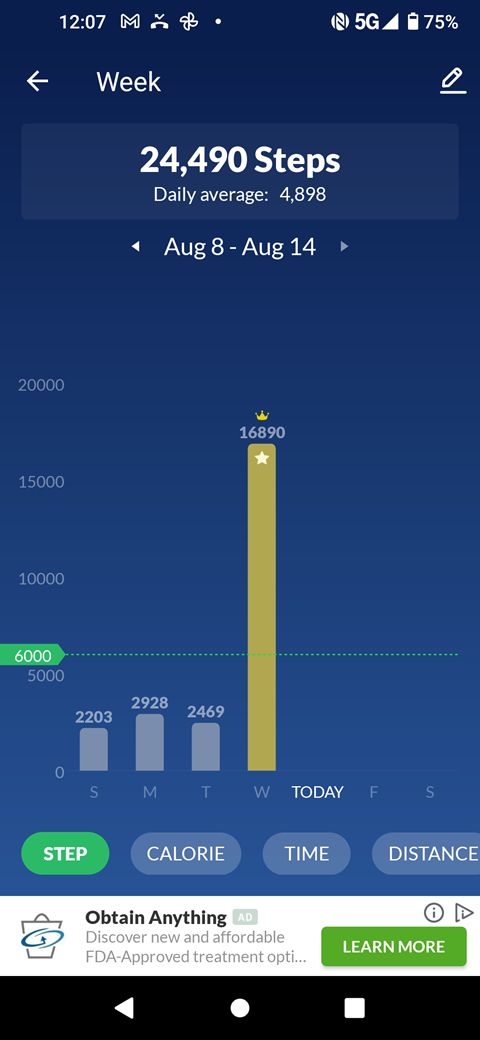 After staying up chatting until 3am – that makes it an almost 24-hour day. LONG.
[? ? ?]
For more blog posts, click here.