The Canadian border opened to U.S. residents on August 9th – albeit with conditions:
Must be fully vaccinated
Must have Negative COVID-19 test within 72 hours of entering Canada
That said, Canadians are prevented from driving into the US until at least September 21st.
I've been fully vaccinated since the end of March, bring on the booster shot – I want to get this thing whipped so I can go back to barely-restricted travel!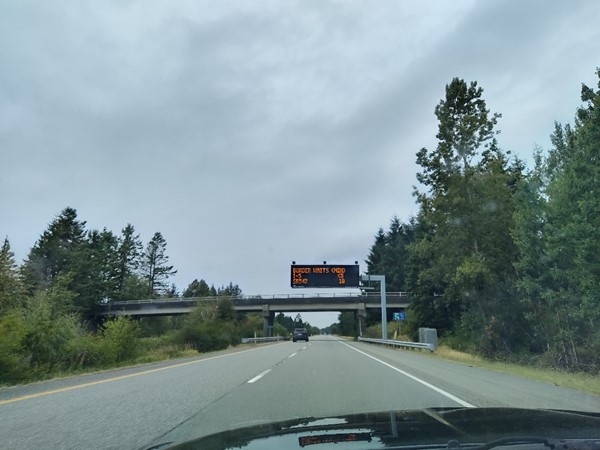 Looks promising….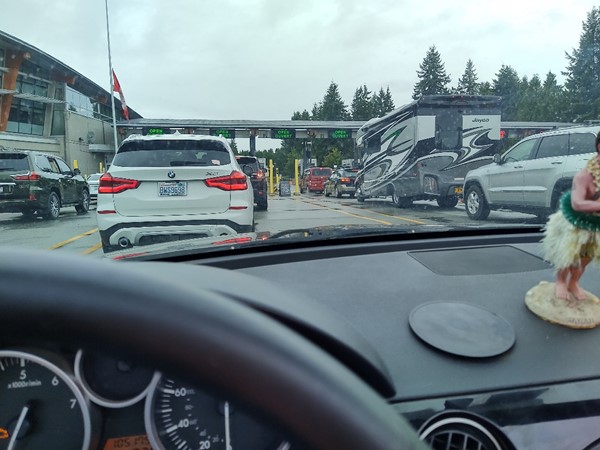 NEXUS lanes aren't open but there aren't many cars….but other drivers seem to be less prepared with the right documents than I am.
Half an hour later, I'm through the border, but feeling "weepy" – it's been two years since I've been to CanadaLand.
So nice to be back at the WorldMark at The Canadian: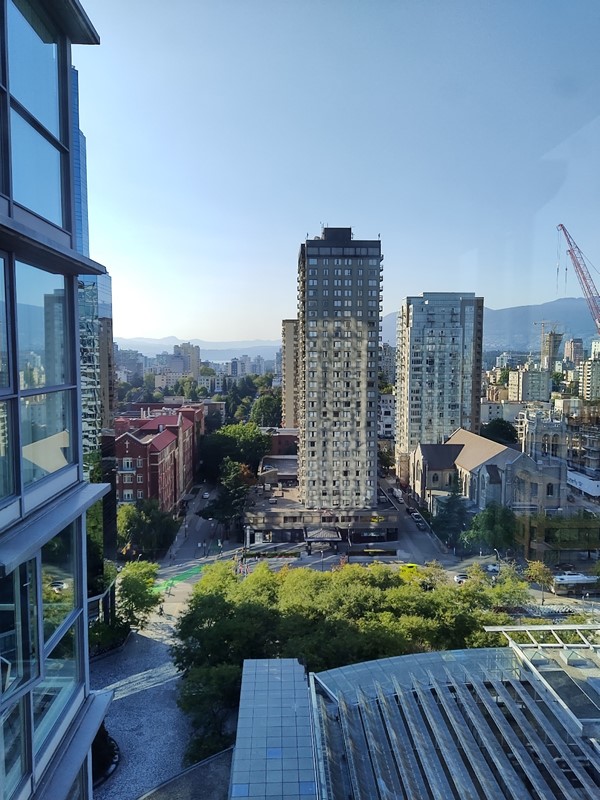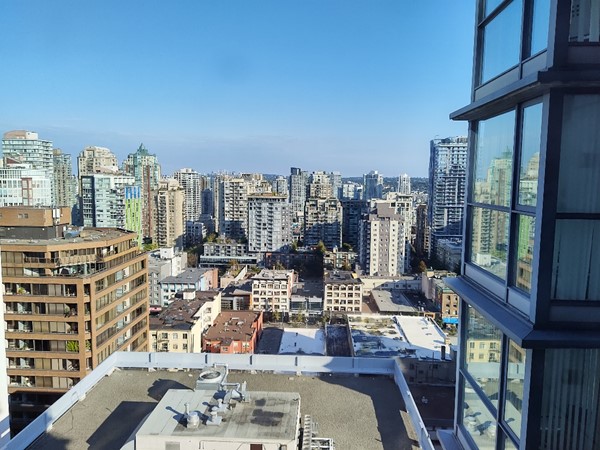 Oddly, this is the view from the 2nd Bedroom (bathroom in the hall) rather than the Master Bedroom, which is en-suite: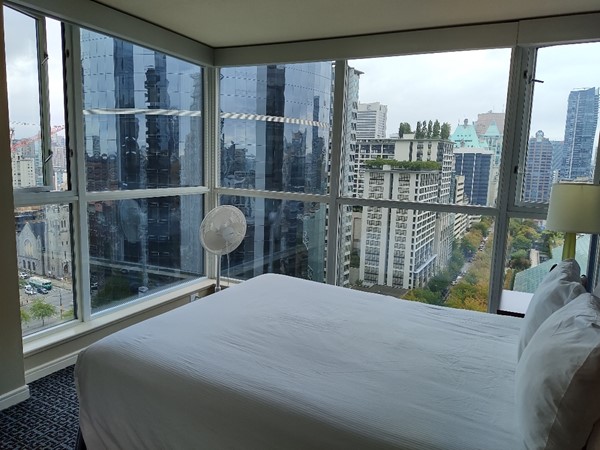 Unit #2302 – WorldMark has a half dozen of the middle floors of the building.
In all my excitement about being back in CanadaLand, didn't get a pic of first night's food – which was a couple of pork loins over a bed of potatoes, salad, red wine, bubbles, and much, much, whiskey. But I did get a shot of Solus+ and Tantalus: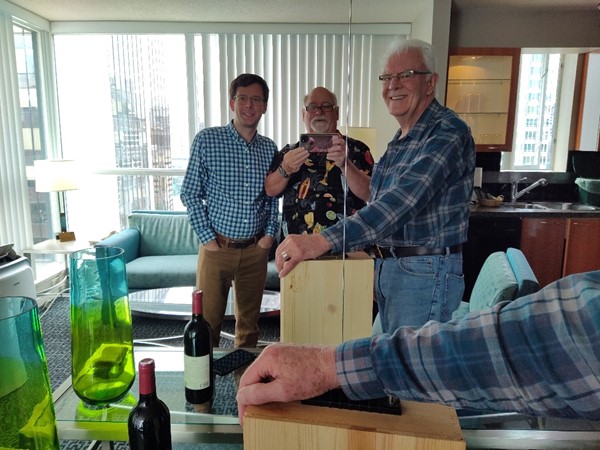 Tuesday night was a "me" night, which started with Happy Hour nibbles next door at Relish. Started with prime ribs sliders, and a double highball: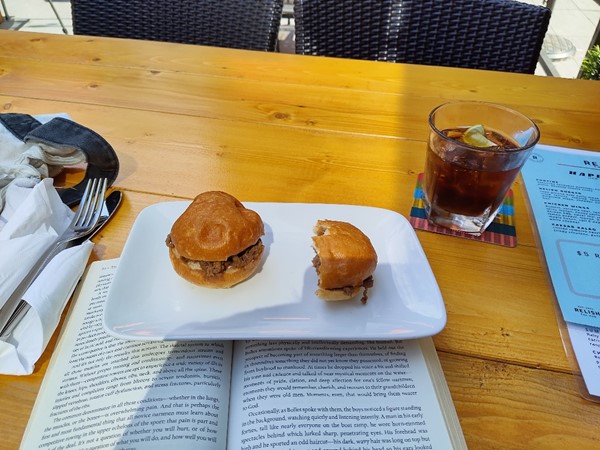 BUT, that didn't turn out to be enough food, so I ordered the Poutine: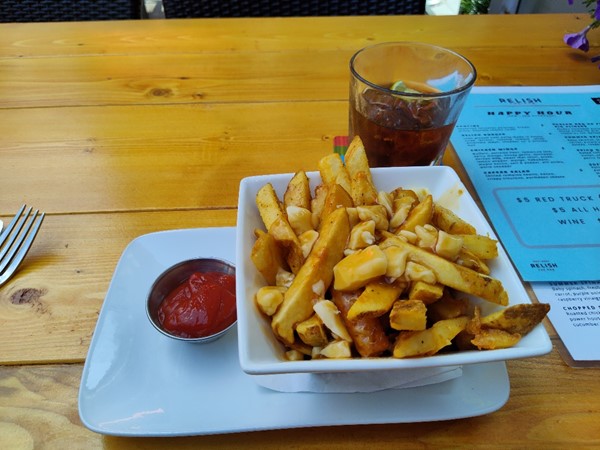 Which turned out to be TOO MUCH food.
Wednesday afternoon snack was a trip to JapaDog, which used to be more convenient when it was across the street from the closest grocery store – now, they are in a store front: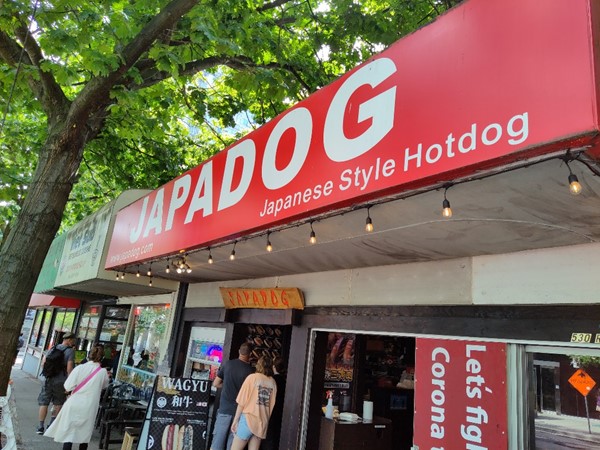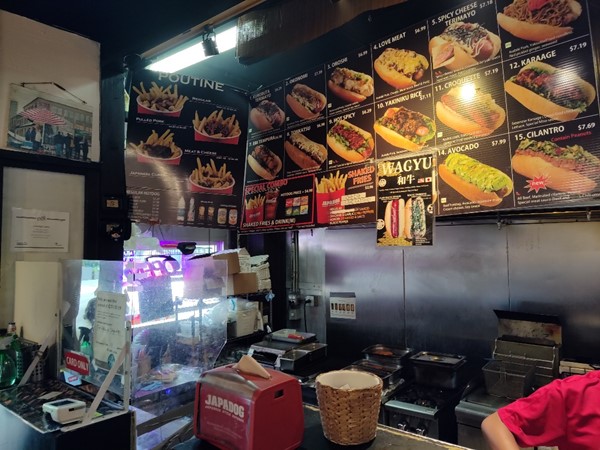 I had the #3 –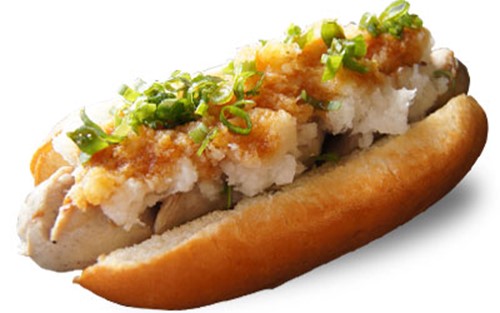 OROSHI

Freshly grated radish with a special soya sauce. East meets West.

Dinner guests, Epick and Jase, showed up at five for a salmon dinner – which I remembered to take pictures of!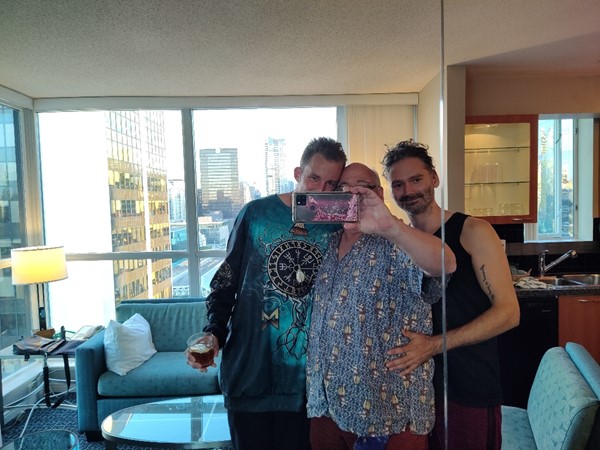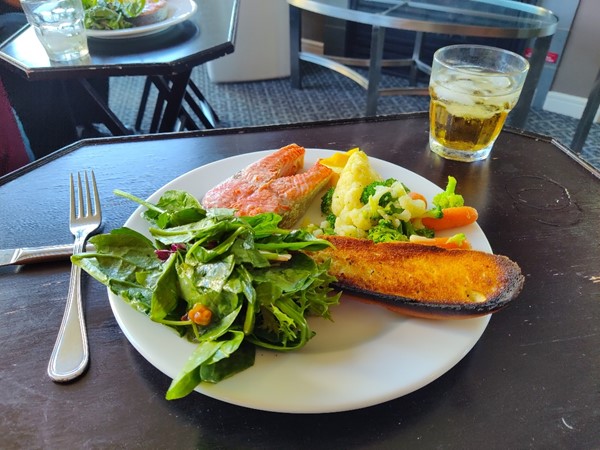 As you can see, there is no dining room in this unit – but at least they provide TV Trays.
Thursday dinner was a repeat of Solus+ and Tantalus….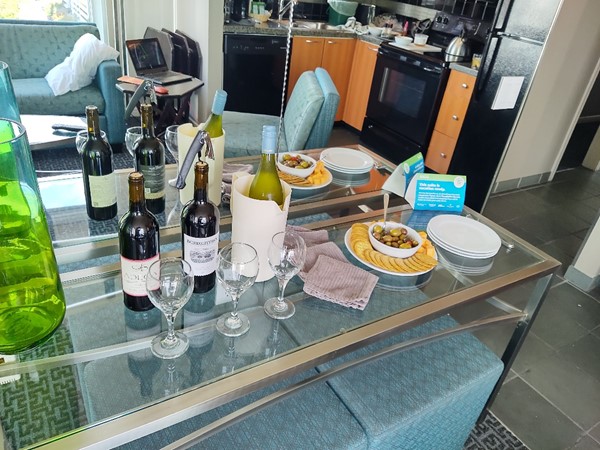 Butternut Squash Ravioli, salad, lamb chops – as you can see, didn't get a photo when the plate was pretty: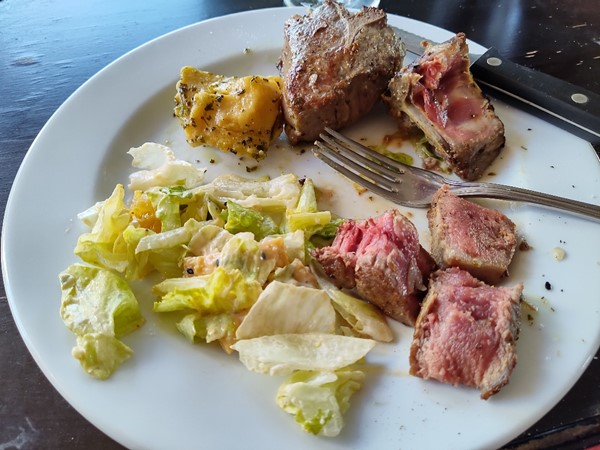 Friday morning, I was out of the condo before 10 (sadly, pretending it's COVID related, WorldMark has moved checkout from noon to 10am.
Fortunately, Duty Free was open on the way south, but as you can see, there aren't any people to shop: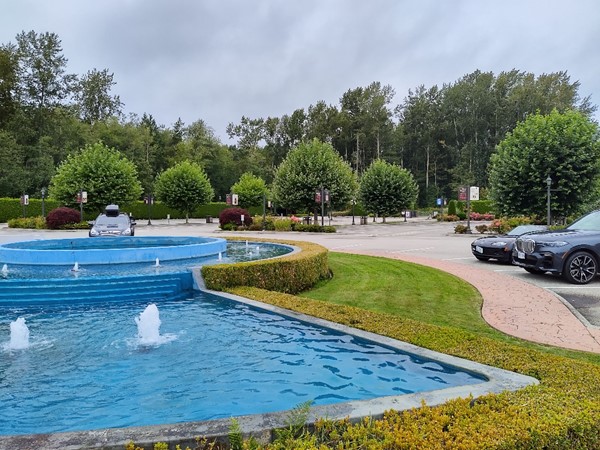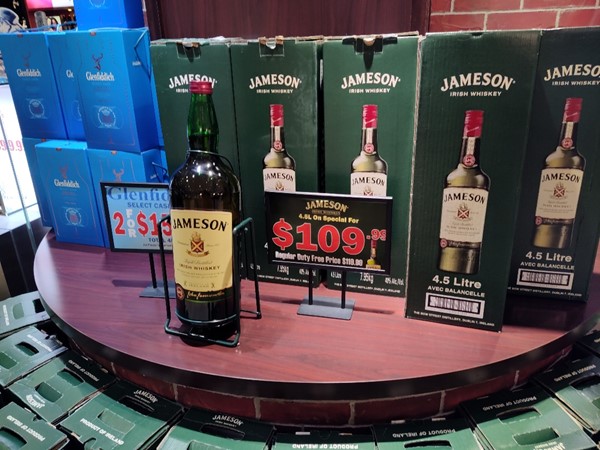 YES, that is a 4.5 liter bottle for $110 Canadian – sadly, it would have put me WAY over my booze limit coming back into the US.
The NEXUS lane was even open, with no one in front of me, or in the other lanes. They flagged my car over for x-ray inspection – which I chalk up to being bored and wanting to keep the training standards intact. It was a 5-minute delay with a look under the bonnet and in the truck, and a welcome home.
Stopped in Mount Vernon to hit a favorite low-end thrift shop that supports the Humane Society and found a glass for my airline memorabilia collector friend.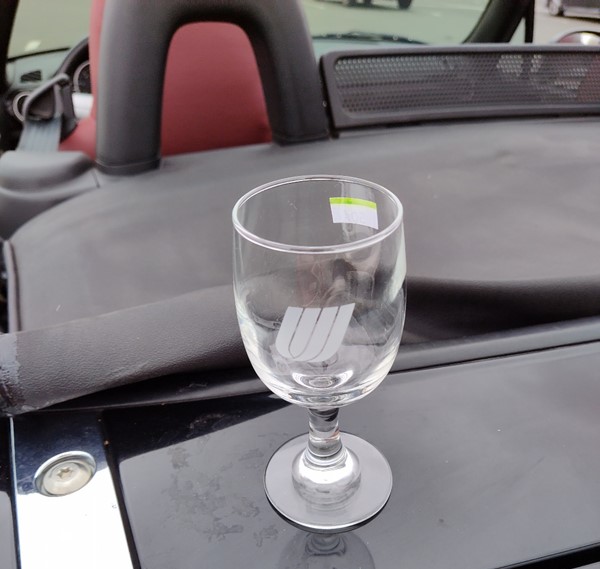 And just because I'm travel paranoid (and I wanted to check out how the process worked), I swung by a drive-thru COVID-19 testing center: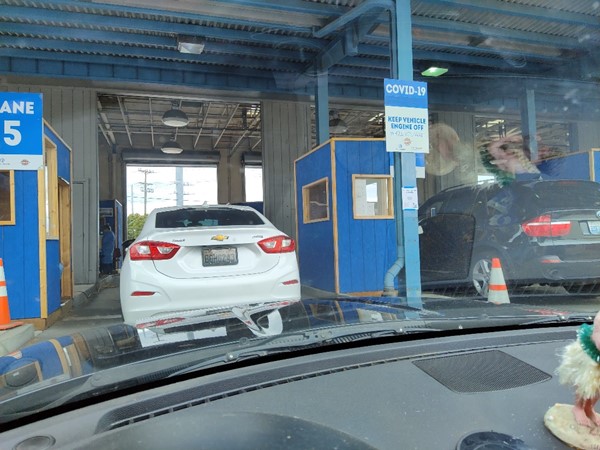 Oddly, these were previously Emissions Testing Centers run by the state – great reuse considering they were already striped, open-air facilities.
Had the results in 12 hours – NEGATIVE as expected, but I'm getting ready for my first overseas trip in early September.
Oh, how I missed CanadaLand.
Upon my return I booked 3-nights in December and realized that I had October reservations for 3-nights, and two 3-4 nighters in Victoria for January 2022.
[? ? ?]
For more blog posts, click here.