My first overseas trip in 18-months. The lead up was a mix of excitement and anxiety. Equal amounts.
I booked the trip in early March, probably after I'd cancelled, moved out, rebooked Australia and Cape Town trips. It was a lot of miles (180,000 Alaska miles) for a one-way ticket, but in was in First Class from Seattle to Dubai to Warsaw on Emirates. I'd had the opportunity to upgrade to First on a Dubai to Dallas flight years ago, and I was too cheap – Business Class was (and still is), fine.
That plan got derailed months ago with the pandemic continuing, Emirates downgauged the 777-300ER 3-class aircraft (economy, business, first) to a 777-200ER 2-class aircraft (economy, business) with no refund of miles since for the 6-hour segment (getting to Dubai is 14-hours) was still in First. Confirming seats a week ago, noticed that they had gone back to the 777-300ER with First Class seats, but they weren't selling them. Turns out they were used for crew rest. Lucky crew. There are eight seats in First and 42 in Business. Considering that on my flight only eight of the 42 business class seats were booked – that would have been a lot of expensive catering for the one or two First Class seats filled. There were only 60 in the back on a plane that carries 304 in the back. VERY light load.
Getting to the airport 4-hours early, as required these days to check passport, vaccination cards, negative COVID-19 test, and in my case, the Polish Passenger Locator Form, meant plenty of time in their "contracted lounge", Club SEA.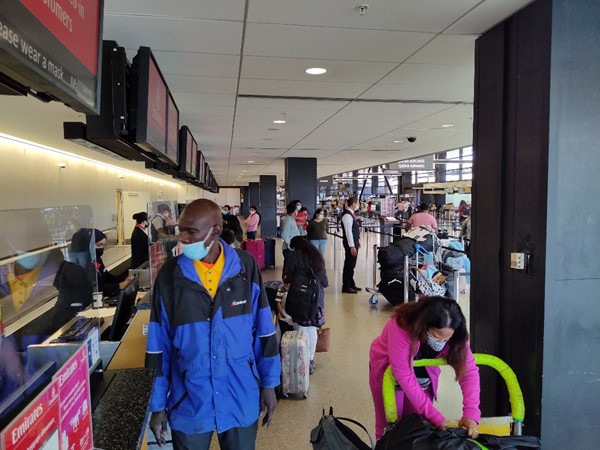 Sadly, while the booze is of a higher quality at Club SEA, the food is not as good.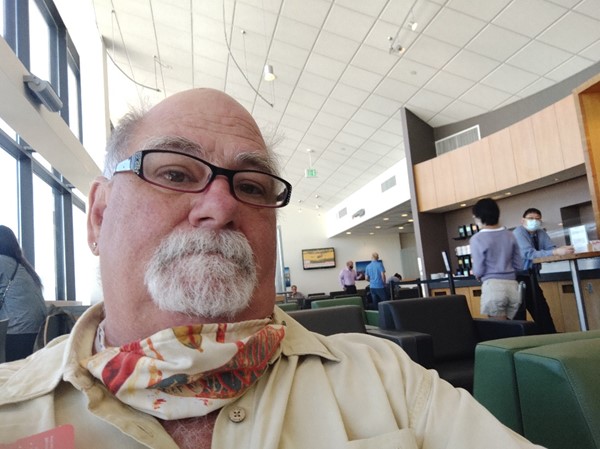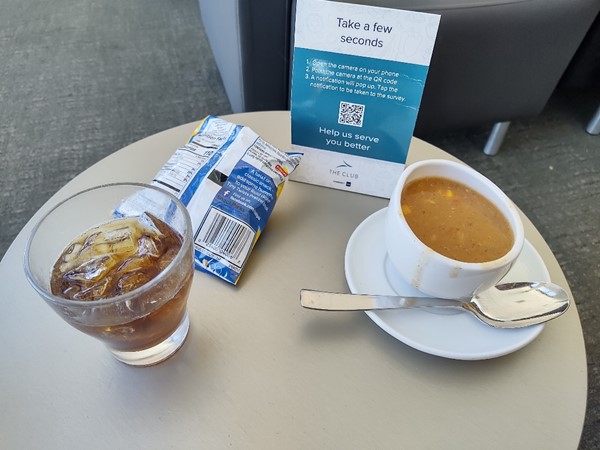 Should have just gone to another terminal and gone to the Alaska Lounge.
Plane at the gate: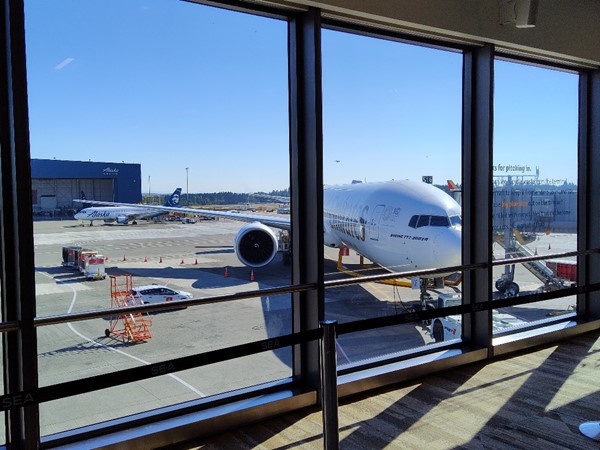 My seat awaits: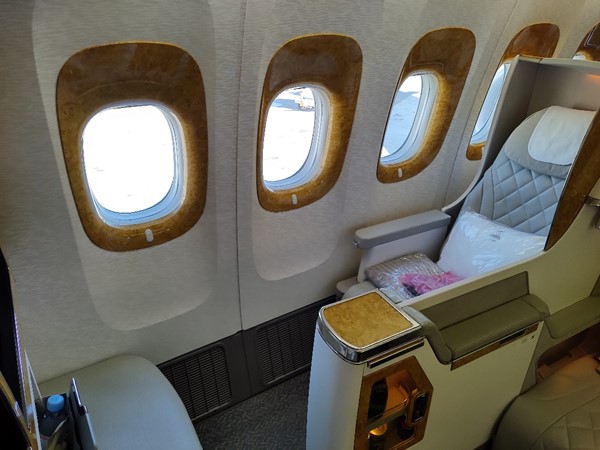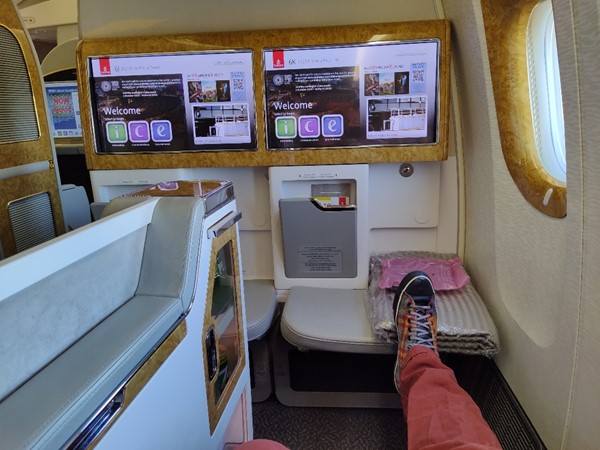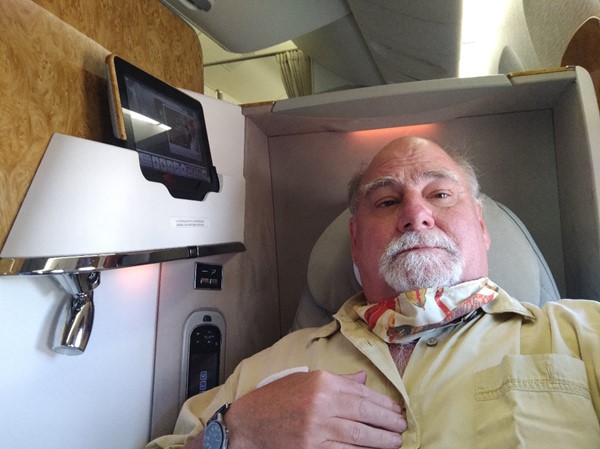 With lots of charging ports, HDMI ports (so you could play your own movies?):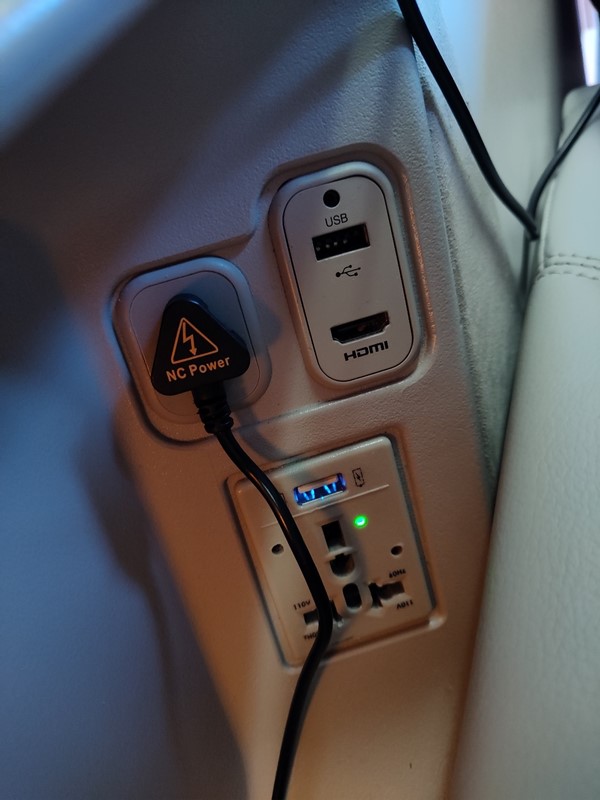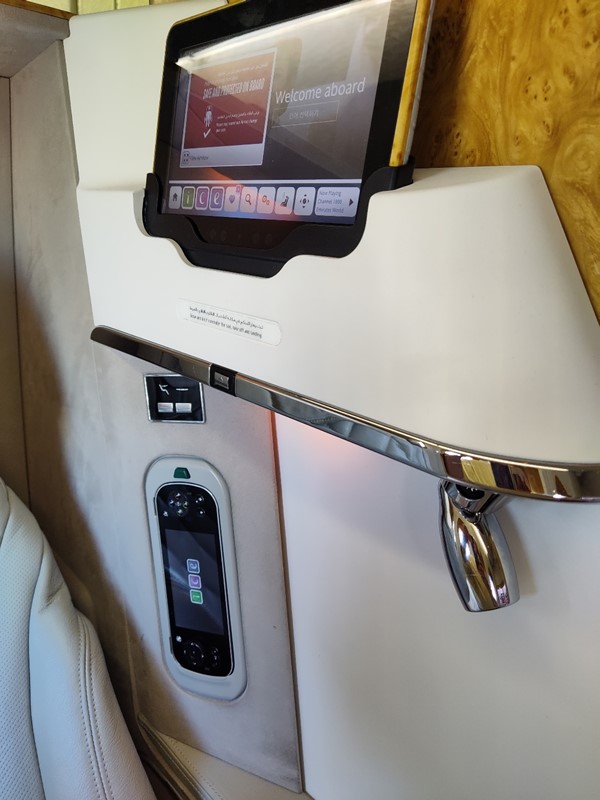 And a cubby to hold a glass and refreshments: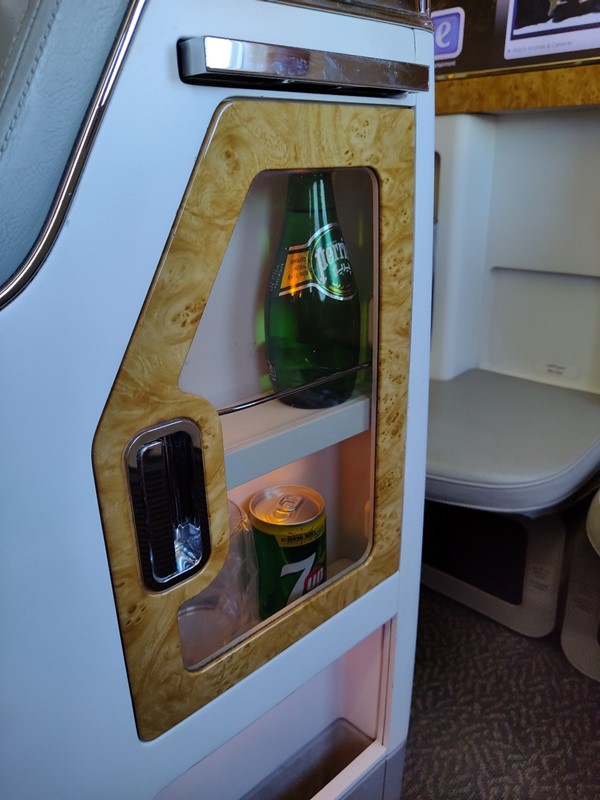 And two separate devices to control the flat screen (which is also touch screen).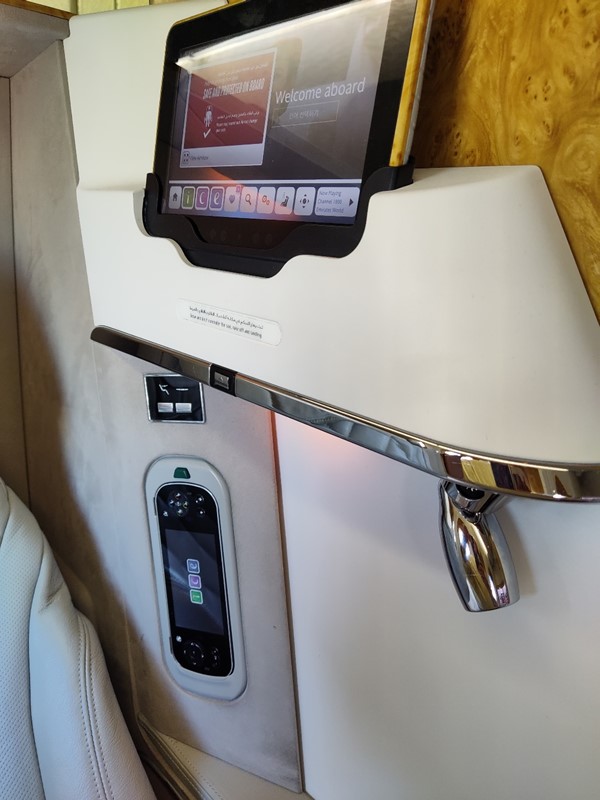 For reference, the First Class enclosed suites look like this: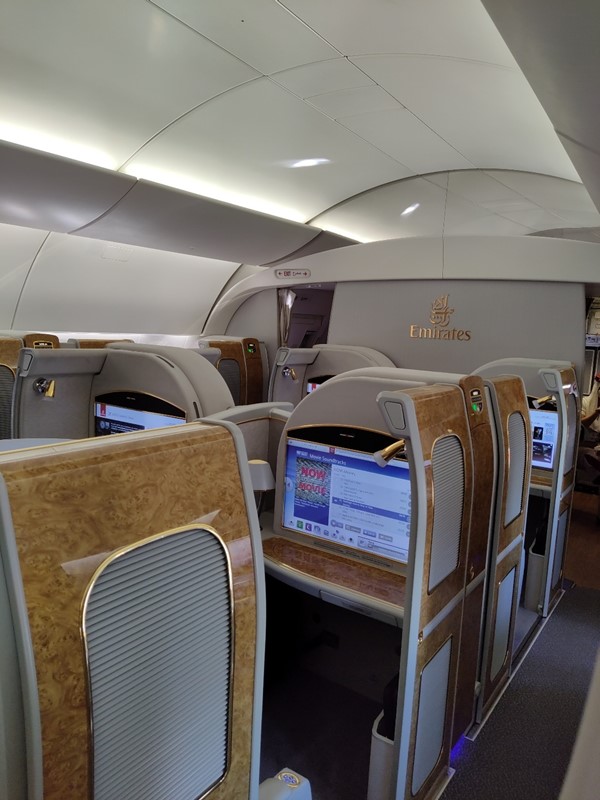 Then comes the Champagne (Piper-Heidsieck) and menus: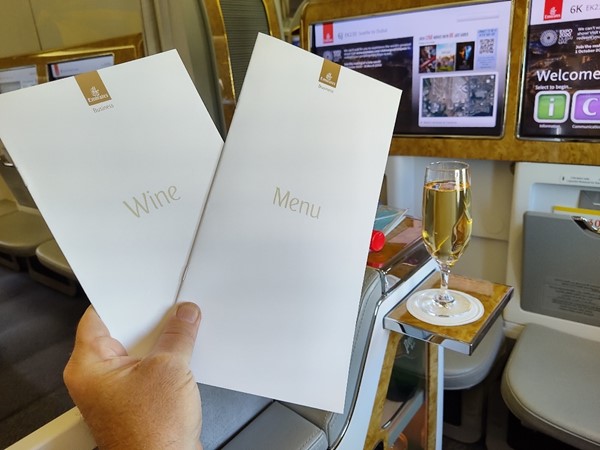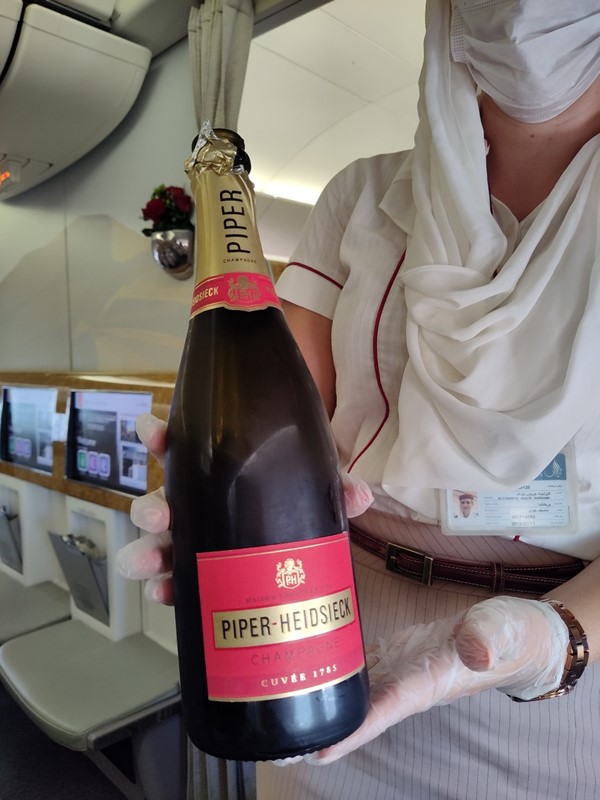 Then, the amenities kit: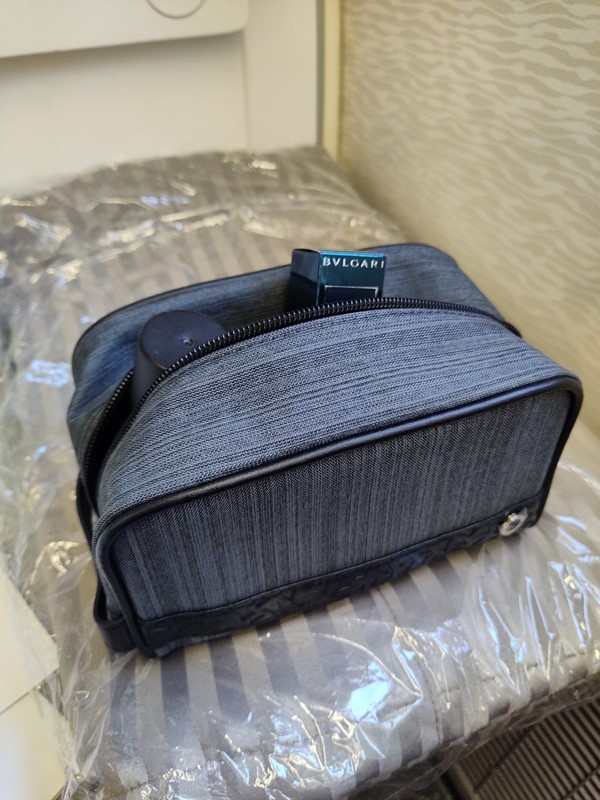 And there are decent bathrooms: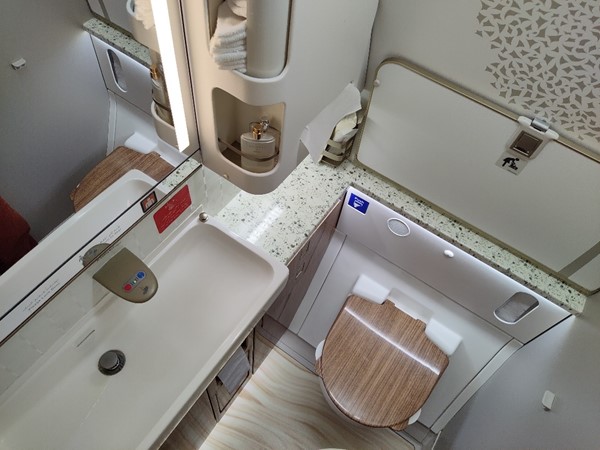 Once we are up in the air, food and booze starts coming!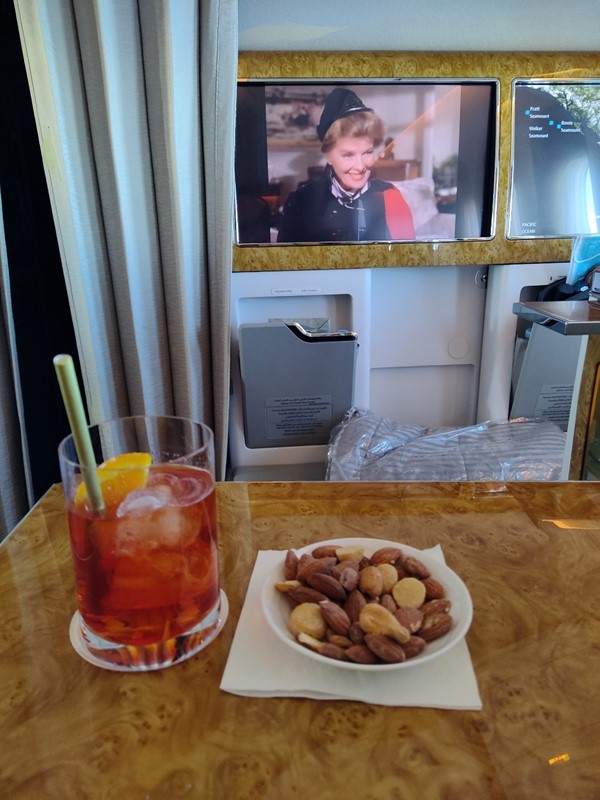 Cocktails and nuts with Katherine Hepburn (Guess Who's Coming To Dinner with Sidney Poitier, 19697). Forty-five years later we are still dealing with the same racial issues.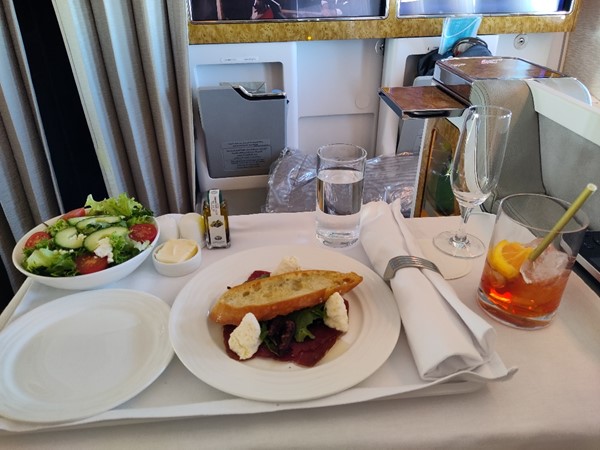 And more Champagne, this time Veuve: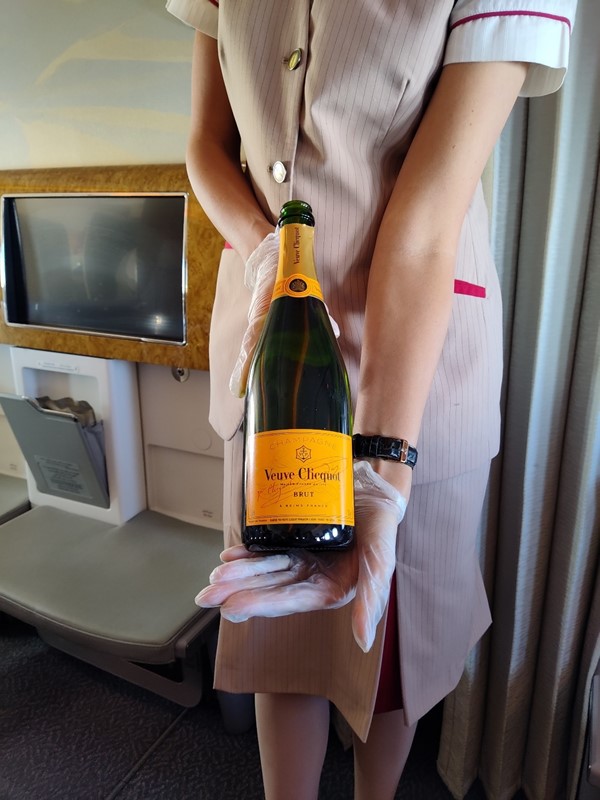 To go with the starter of air-dried beef and the salad – then the main of lamb chops (almost went for the cod):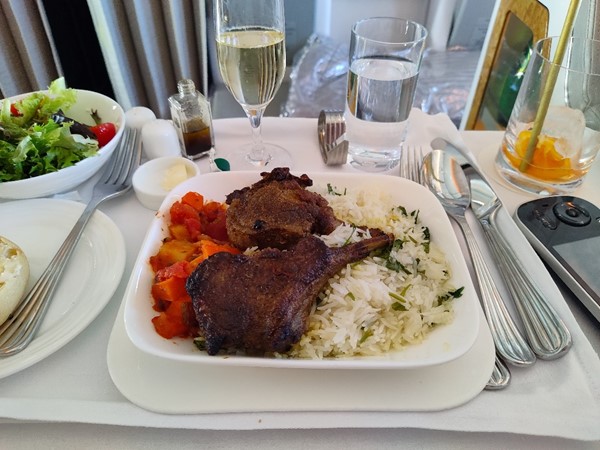 Which I had a nice red: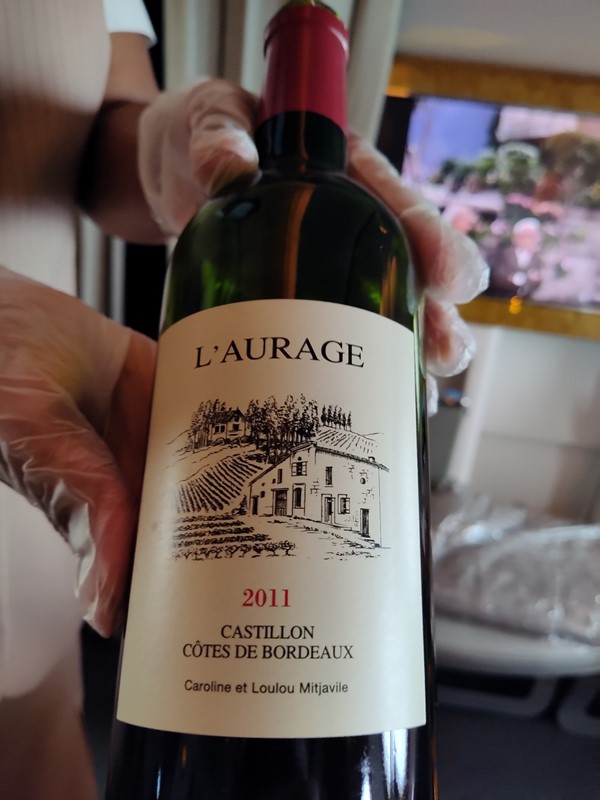 Before launching into the cheese course with a little port: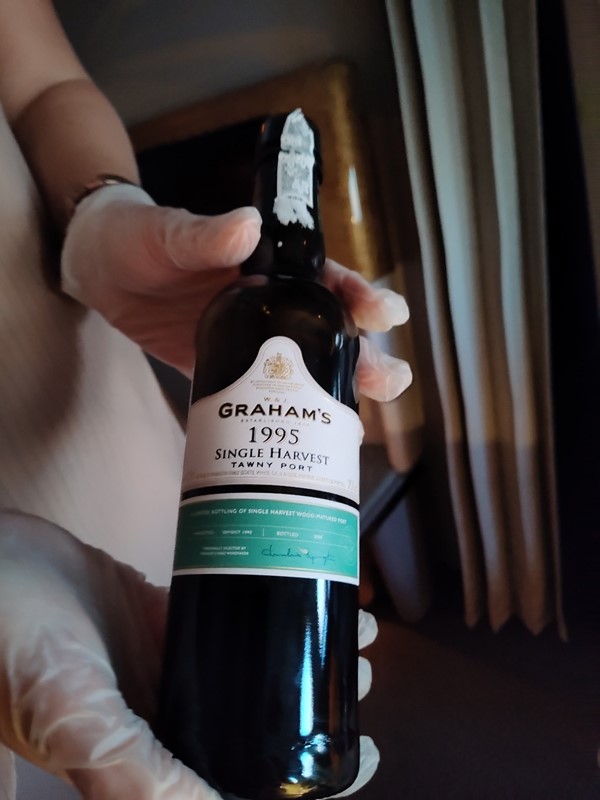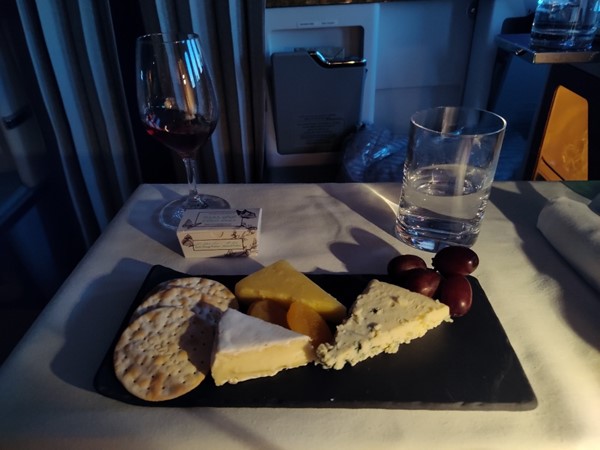 To give you an idea where we were – here: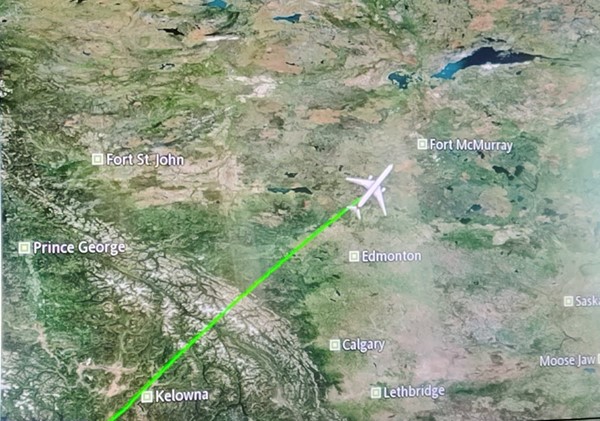 This is what the bed looks like all made up with the mattress: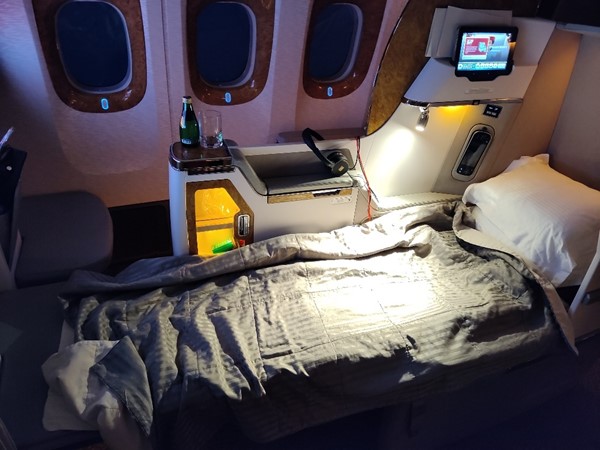 An Old Fashioned with Breakfast At Tiffany's (1961):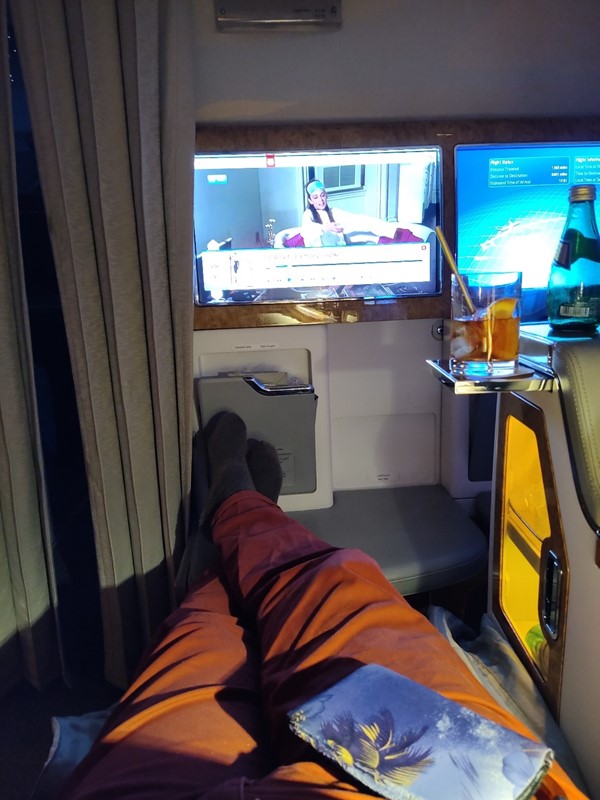 A long nap, then an espresso Martini: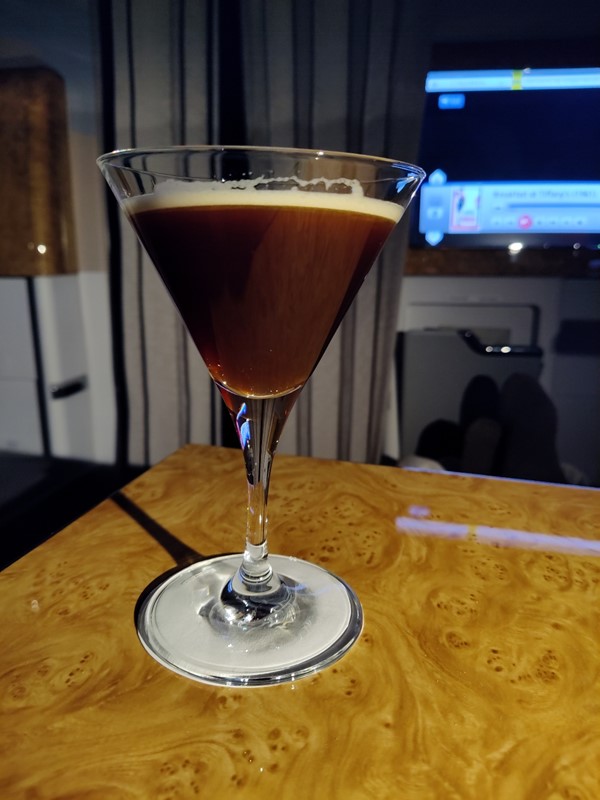 Then another nap before starting Nomadland (2020) with some Fish Balls and an Aperol Spritz: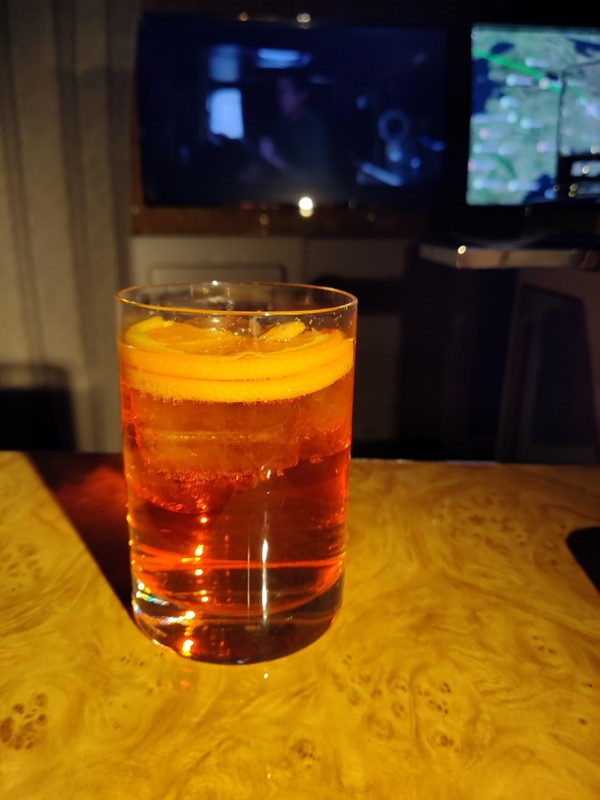 At this point, we were somewhere over Greenland (on my bucket list, but it's wickedly expensive):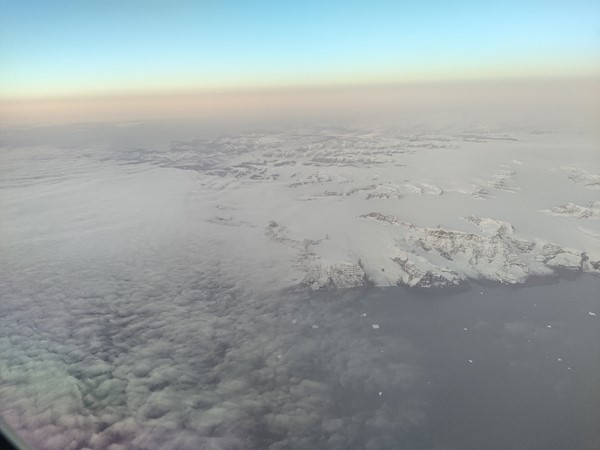 And a final glass of bubbles with breakfast: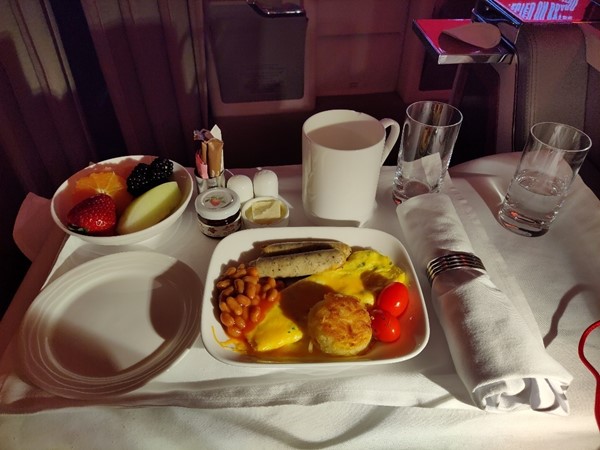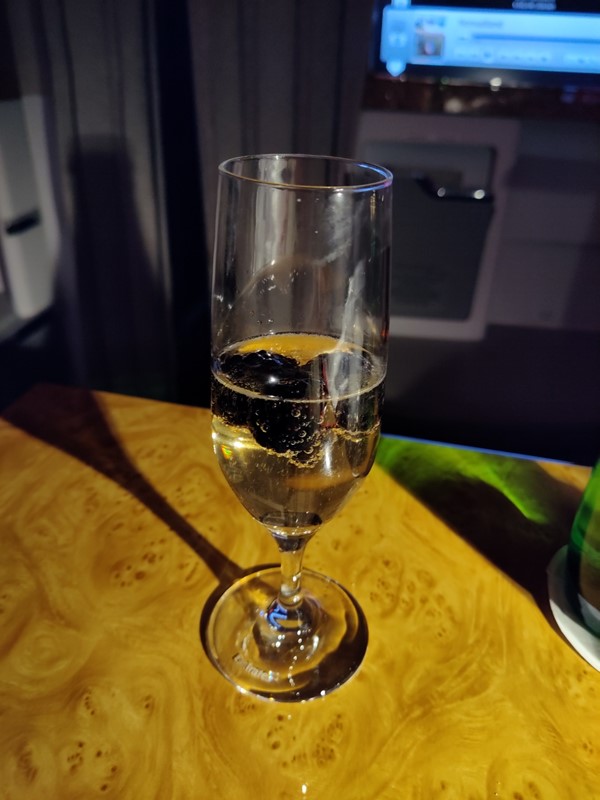 Four hours on the ground, fourteen in the air.
In case you are curious, here is what the whole trip will look like: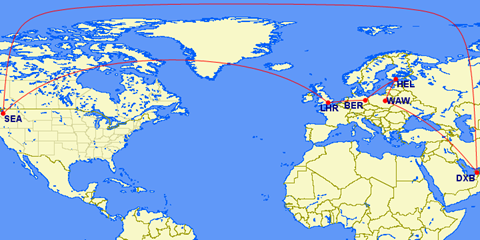 Next up, the First-Class Lounge in Dubai, which has been a bucket list item for me!
[? ? ?]
For more blog posts, click here.