Twas a long walk from the First-Class Lounge to the gate for the Warsaw flight – and my worst fears were realized. The dreaded haul all your crap down the stairs, get on a bus, drive 20 minutes to some remote stand, and climb back up the stairs.
In my case, it was a little more surreal since I'm flying in First-Class. First, they called all the Coach Passengers, specifically asking Business and First wait in the lounge. Then they called all the Business Class passengers, leaving just ME in the boarding area, fortunately with two agents. And waiting and waiting (while I could have been drinking champagne on board). I was hoping they'd send a Porsche or Mercedes for me – but sadly, it was just a seriously pimped out transport bus: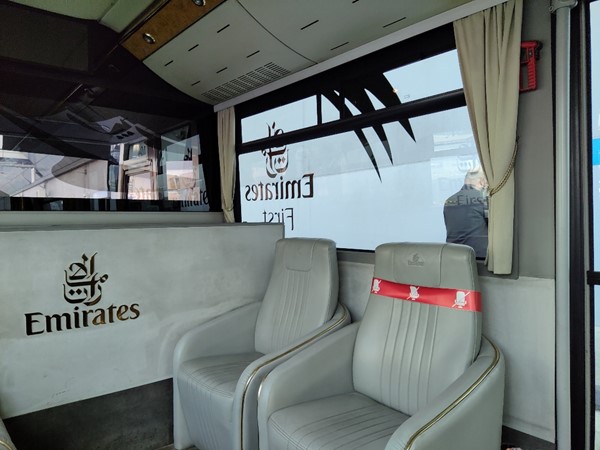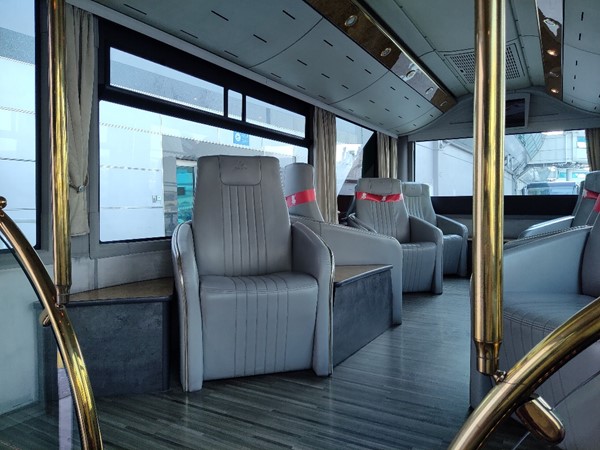 Yep – just for me. And then the stairs: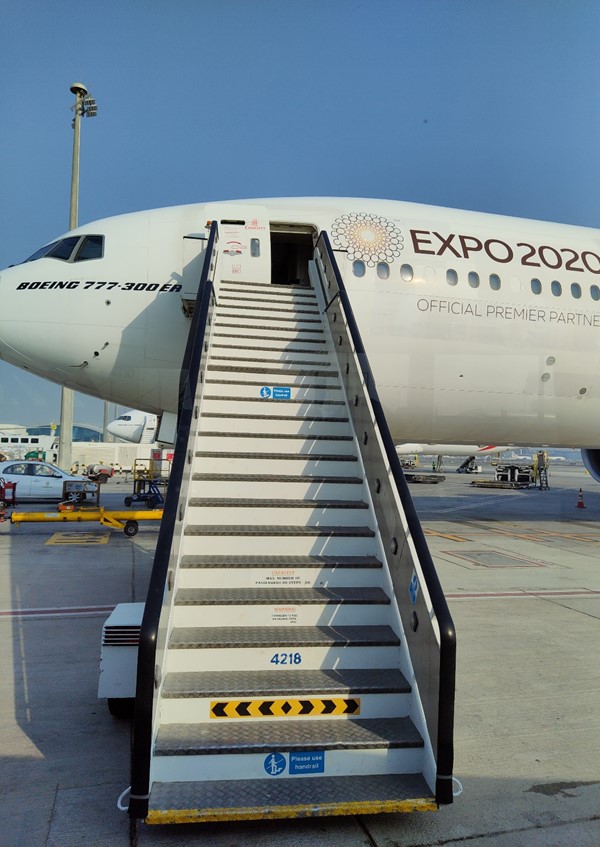 But soon, there was a little 2008 Dom Perignon: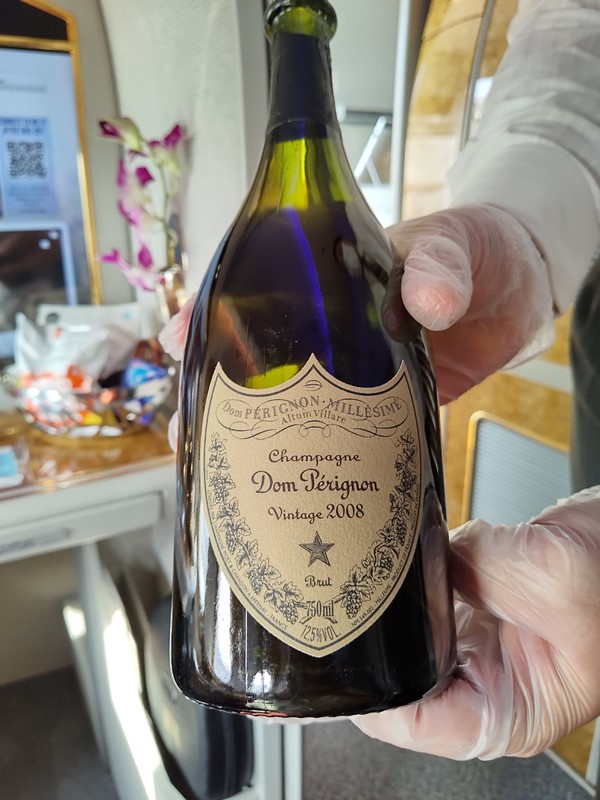 And then there is the seat, or shall I say, throne: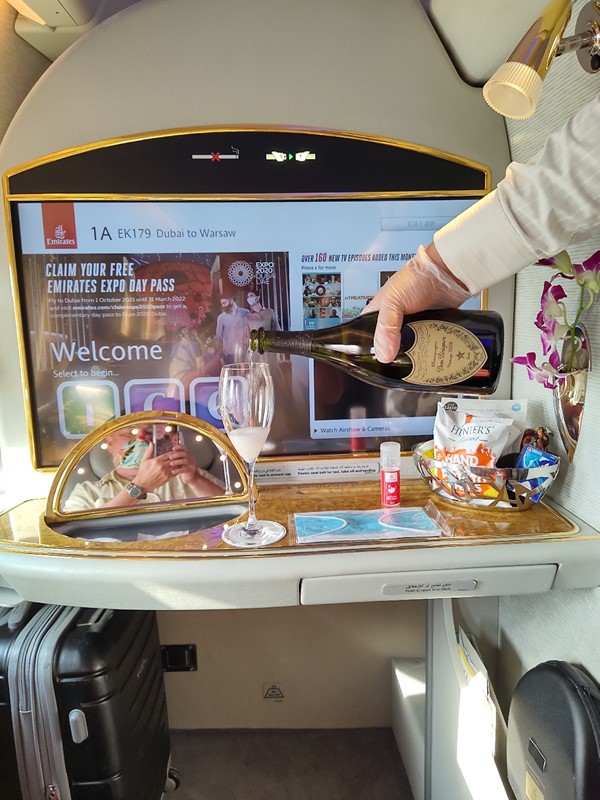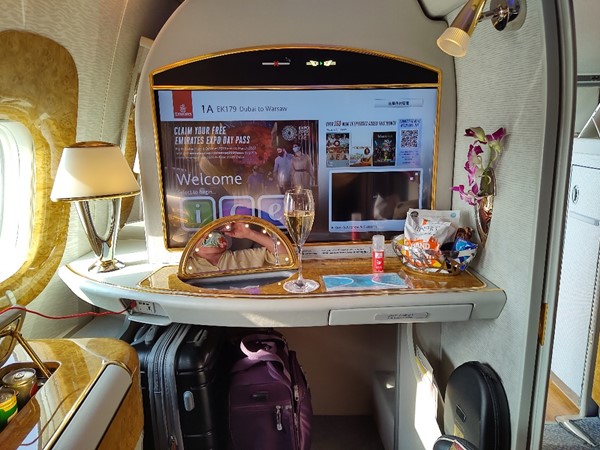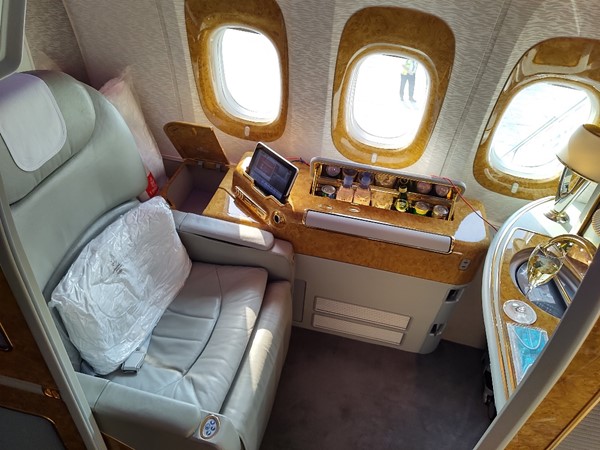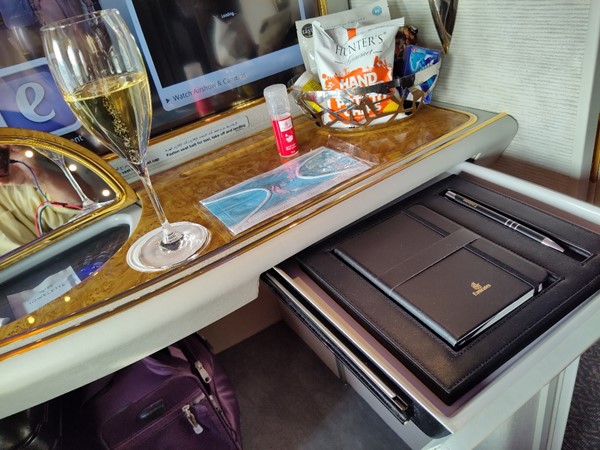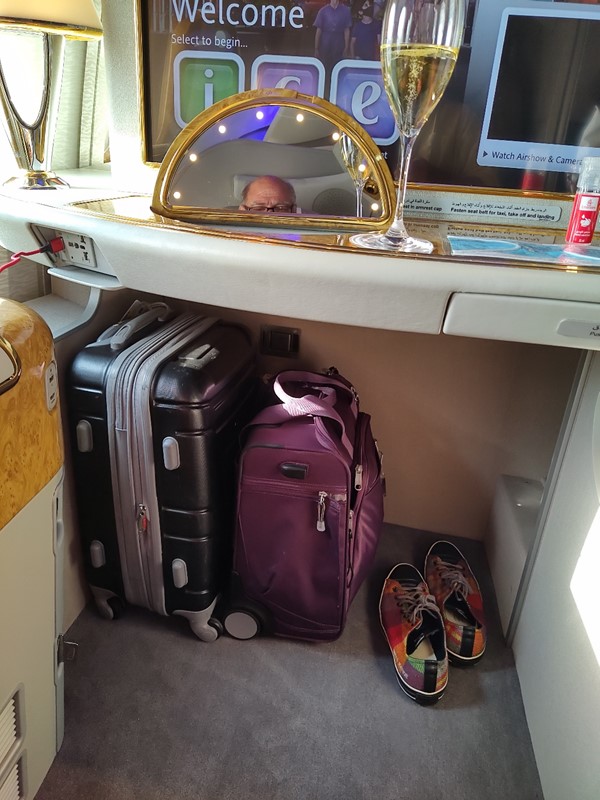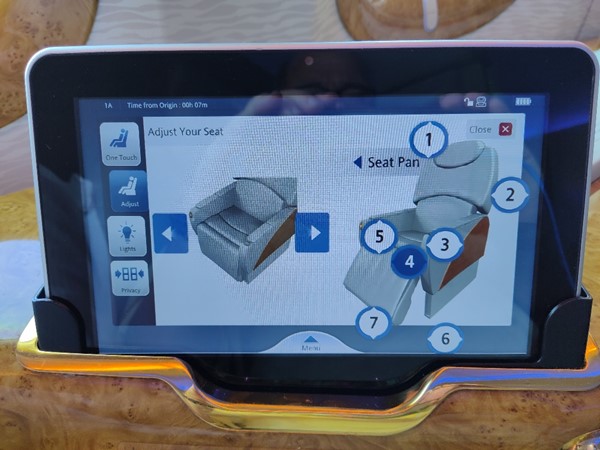 They brought around traditional tea and dates: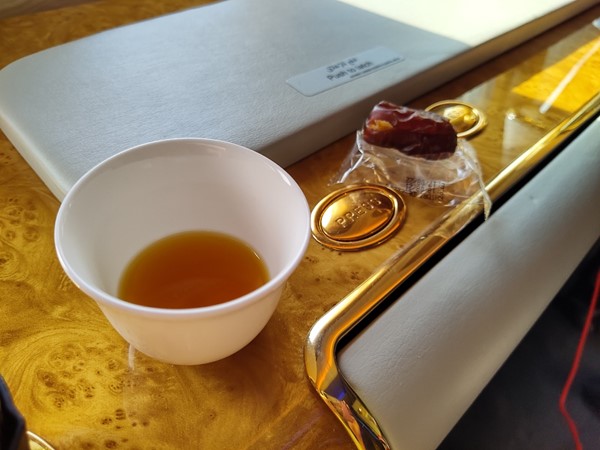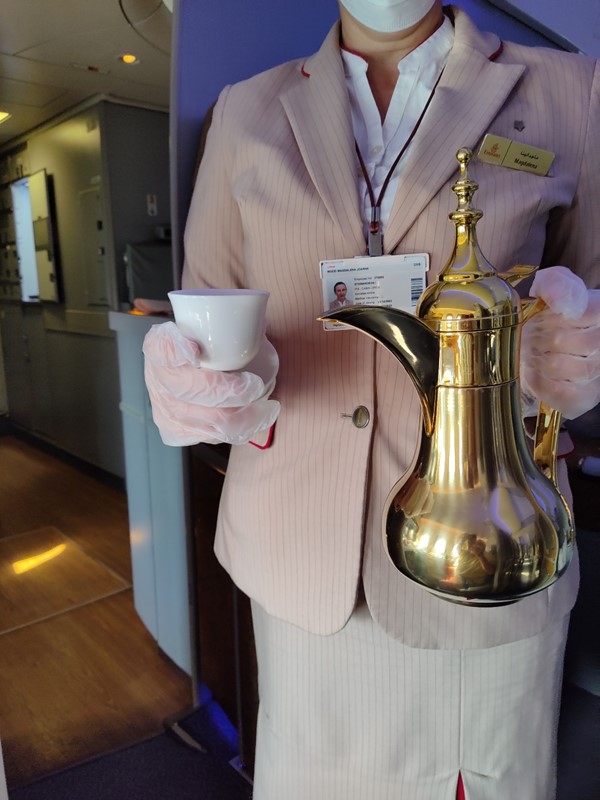 And before we start the real meal service, there are a couple of "powered" accessories in my suite. The mini-bar:
And the closing doors to the suite:
Started with an espresso martini, since it was morning: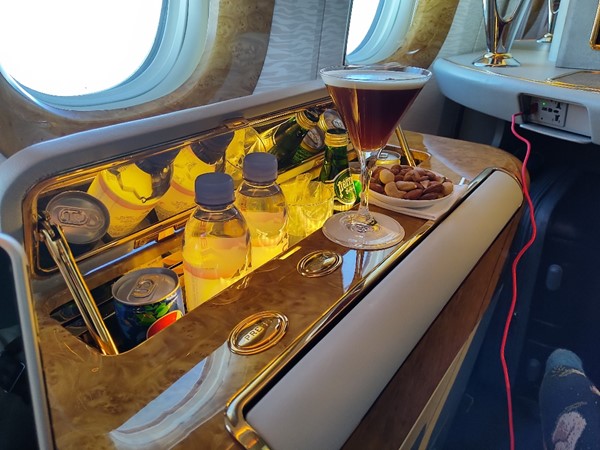 Before moving onto the caviar starter with a little more of the Dom Perignon: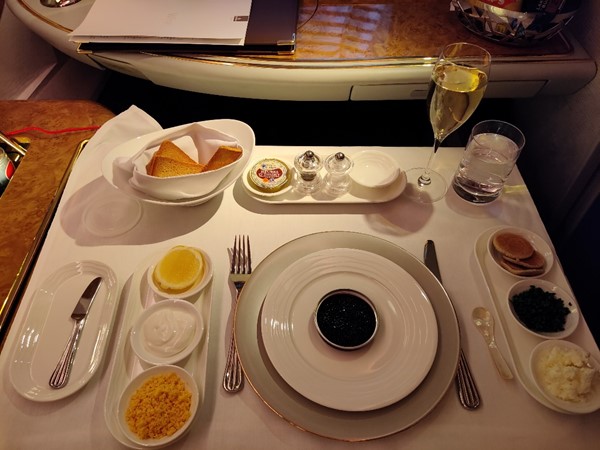 There was a HUGH menu of "on-demand" food items for the six-hour flight – but to be honest, I was still stuffed from all the lounge food. After taking a nap, ordered the Duck Foie Gras: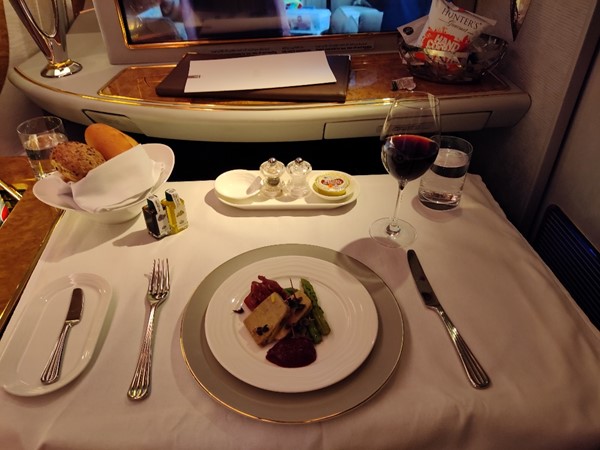 With a lovely French Burgundy: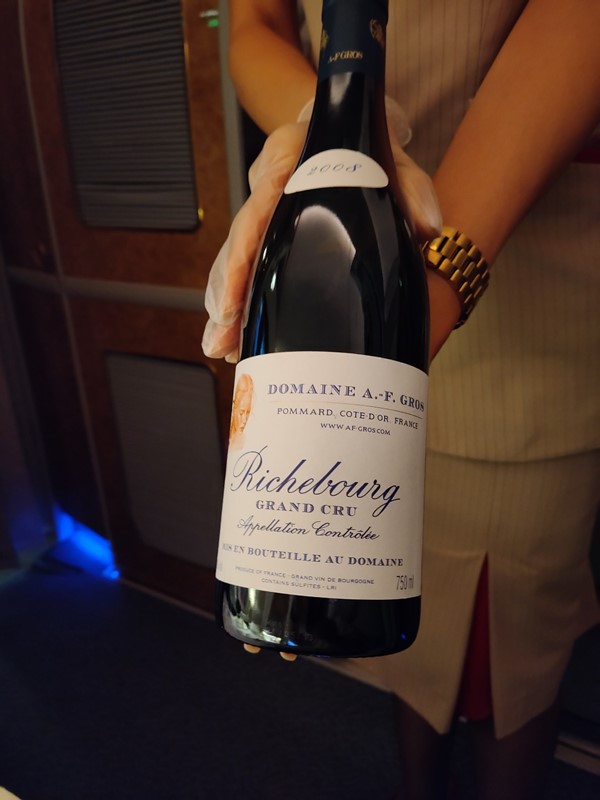 If I got peckish during the flight – there was the basket of snacks they left in my suite, plus more in the galley.
The menu had three full pages of canapes, mains, starters, an entire page for the Cheese Board. I really should have thrown up in Dubai so I could start fresh. Next time!
Immigration and customs in Poland was very smooth (though, as usual, a long walk). Show my passport and vaccine card, they didn't even want my passenger locator form since it was tied into my passport number.
Finally found where the Uber pickup area it was, and I was off to the hotel.
Whew!
[? ? ?]
For more blog posts, click here.