The adventure continues…
After a dumping our stuff in the condo, we were off to a 3PM late lunch/early dinner/happy hour at my favorite (happy hour) place in Waikiki, Tommy Bahama's Grill above their clothing store. Normally the restaurant is pricey, but the happy hour actually has decent food and drink specials.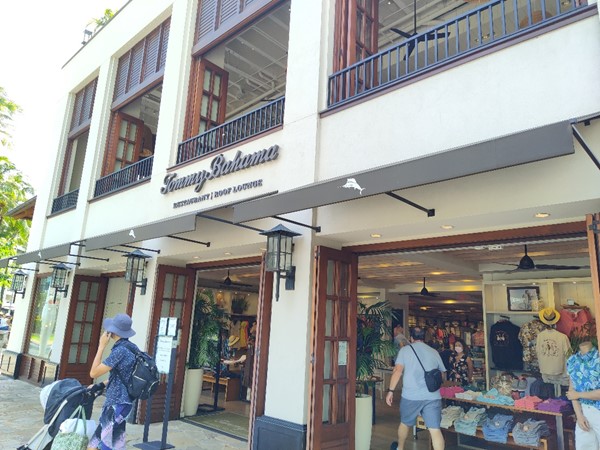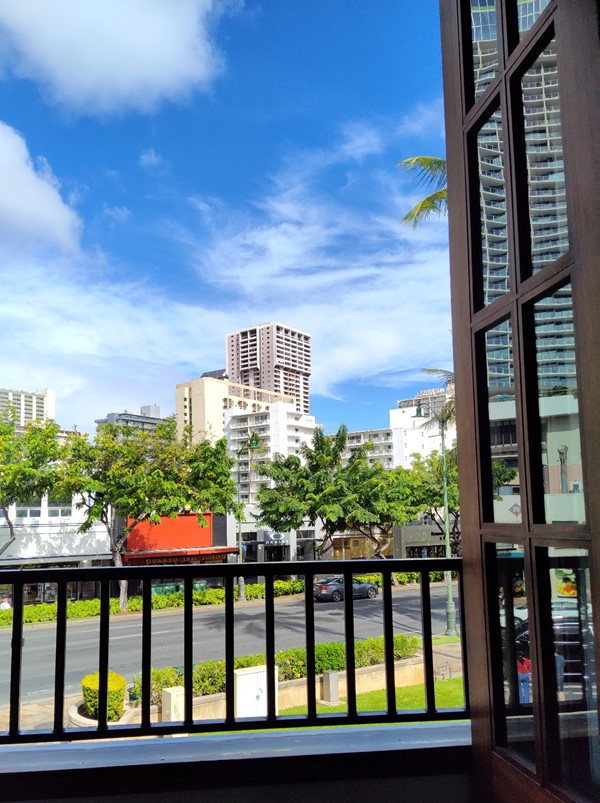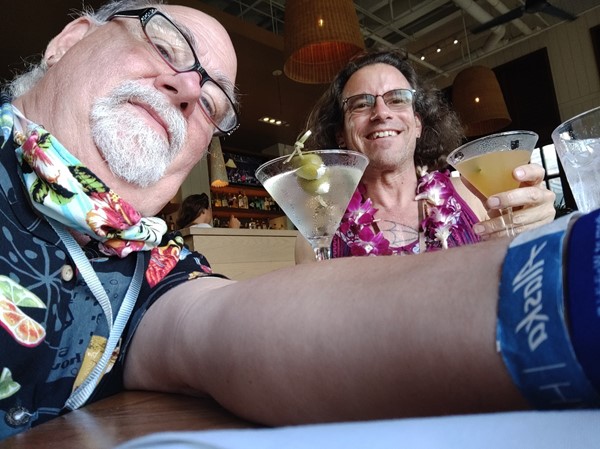 Dirty vodka martini with blue cheese stuffed olives for me, basil grapefruit martini for Dan.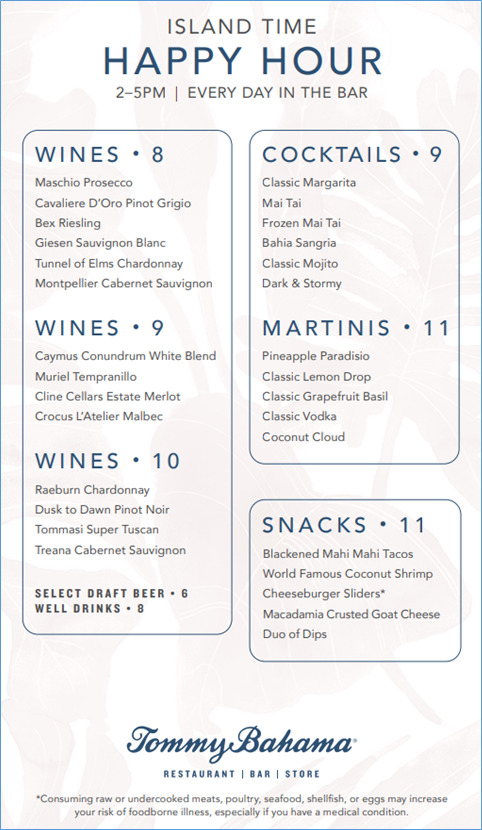 Compared to the regular menu, the Grapefruit Basil is $16.50 and the Vodka Martini is $17. Appetizers run $15-$17, making the Hour Menu affordable.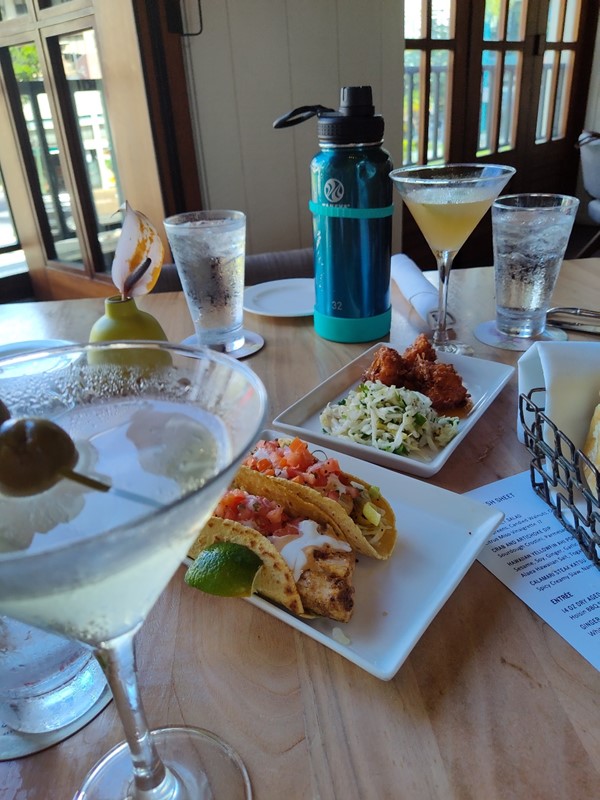 Blackened Mahi Tacos on the left, coconut shrimp above, shadow of the fresh breadbasket to the right.
After a bit, we were joined by Boo, a buddy of mine from Tacoma who is on holiday with his boyfriend who was too beat from the day to join us.
Boo had the sliders (and a Lemon Drop).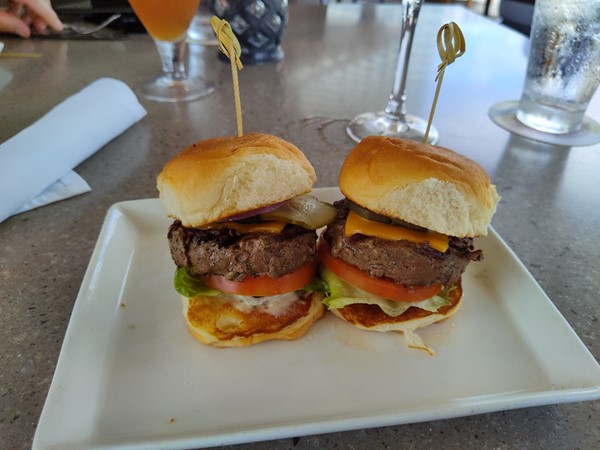 Happy 65th to me! They even brought me a slice of their macadamia nut cake, which, apparently, I even ate the photo.
Much fun, good conversation, good friends, reasonable bill.
We all headed back to the condo, had another cocktail and Boo left to check in with his boyfriend. As the sun went down, the city came out: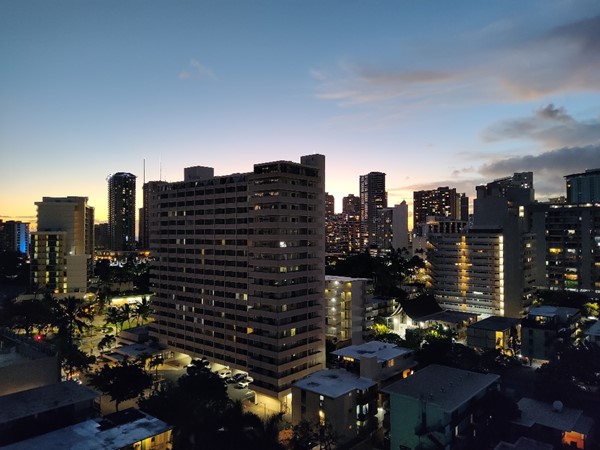 Not a bad view from the balcony.
We had breakfast in the room – from materials I'd collected on the flights and lounges on the way here: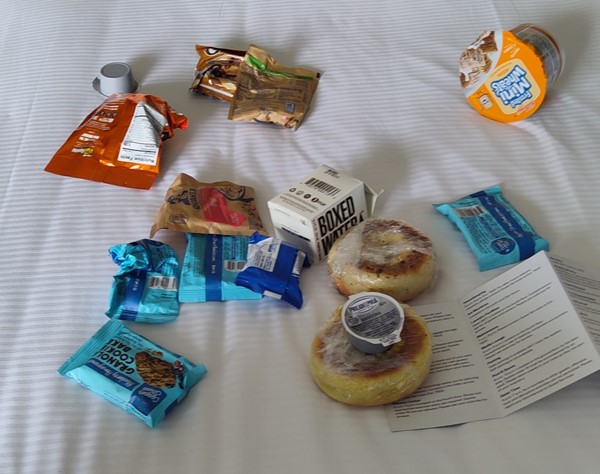 Couple of packs of oatmeal, bagels, cream cheese, granola cookie bakes, mini-frosted wheats (which I figured we could eat without milk). Yep, I'm a low rent kinda guy.
After breakfast, we crossed the canal so I could do a little fabric shopping at Fabric Mart: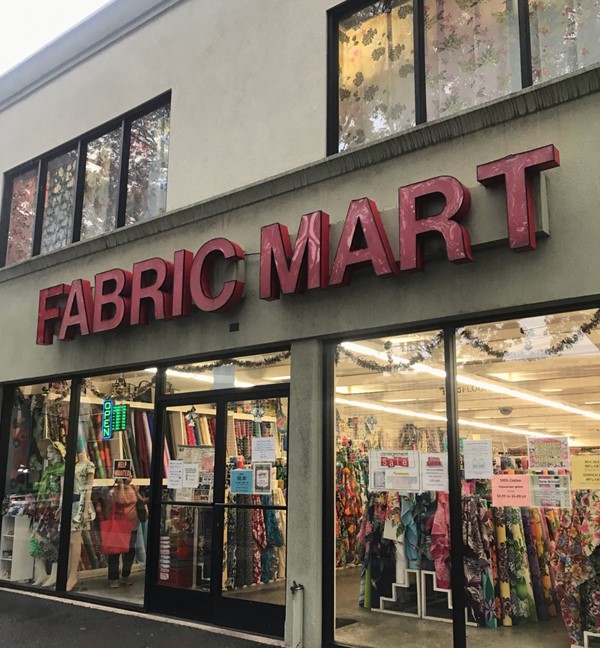 Where I picked up a couple of yards of two different patterns, and was surprised Dan did as well: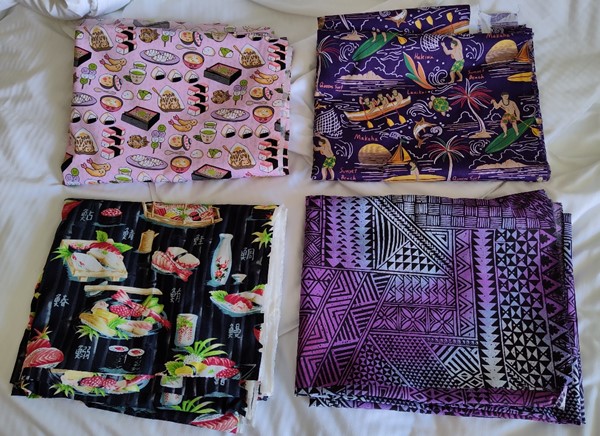 Mine are on the top, Dan's the bottom.
Next, we were off to Dan Quijote for supplies and lunch. The Colonels turned me onto this place a decade ago.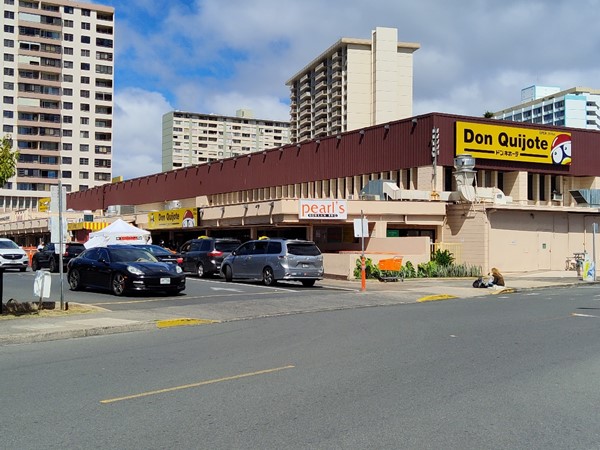 We were starving so we woofed some sort of beef and rice bowl standing in front of the store, and headed home for a couple of kinds of poké for the main dish, along with some nigori saké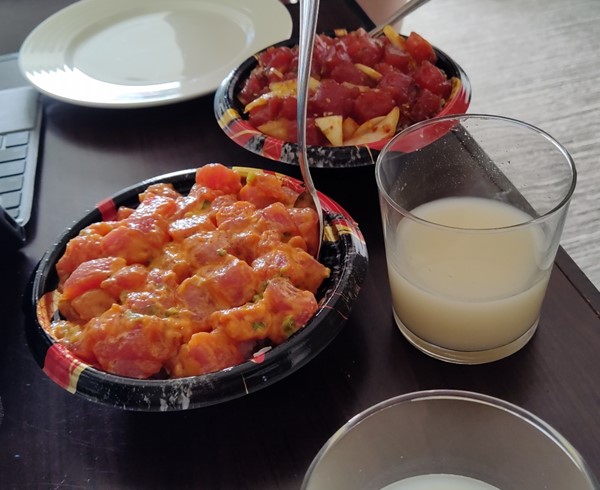 And found a lovely, overheated car from another century….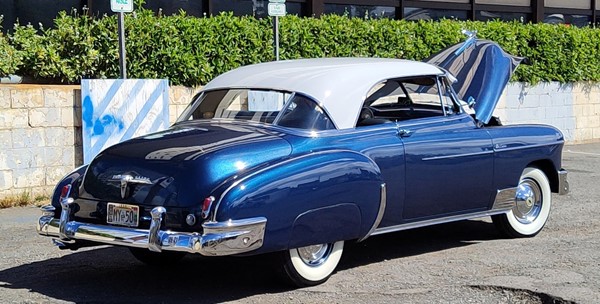 Dinner found us in search of a Korean restaurant I'd been to before – Waikiki Gangnam Style Korean BBQ, that wasn't where I thought it was anymore: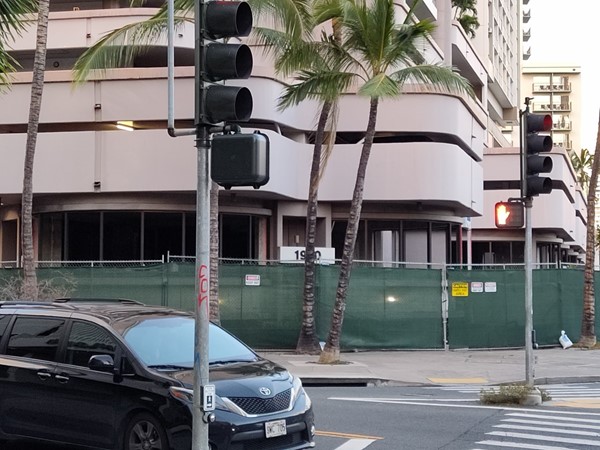 A kind stranger asked the two confused tourists (us) if we needed help – and actually knew that it had moved a couple of blocks and had open air dining: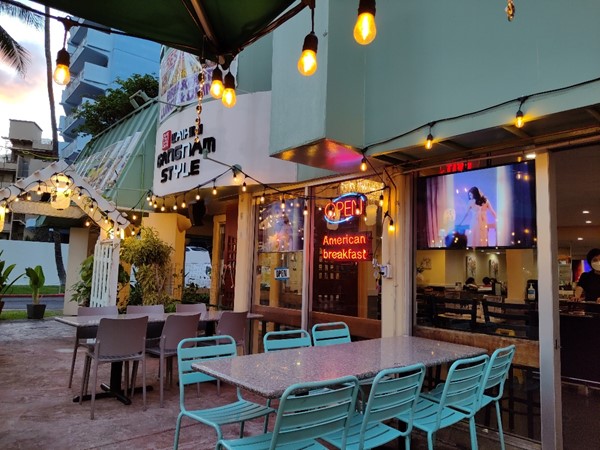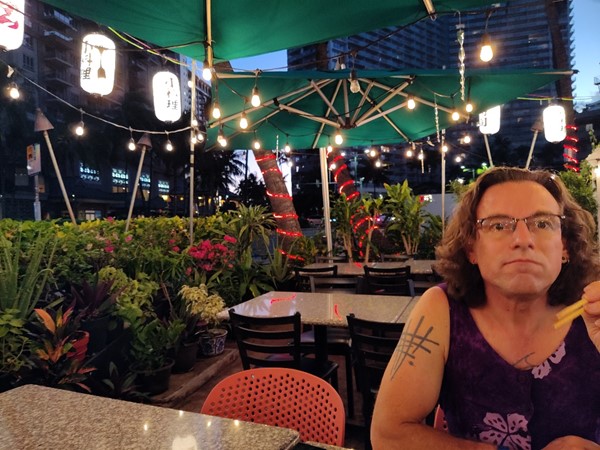 And the food was as yummy as I remember: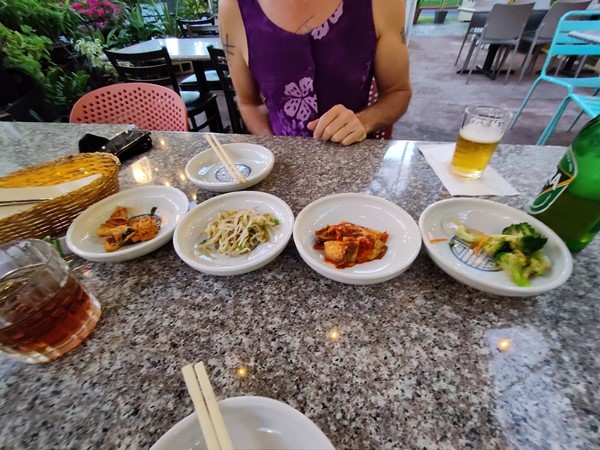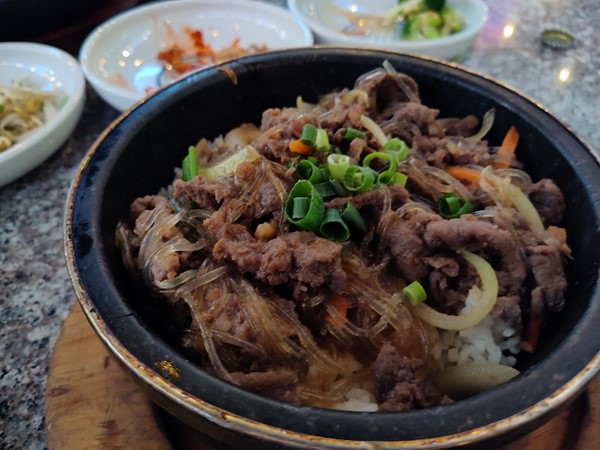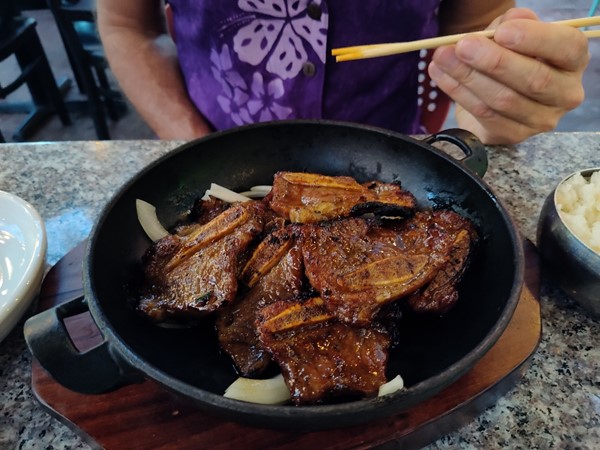 Both were good, but I think Dan's Kalbi Beef was a little better.
With an early morning checkout, we moved to the pool so Dan could take a family conference call – and I left after a bit to attend a Wyndham Owner Update for 30,000 Wyndham Points – which was the exact amount I'd used to get our room for two nights.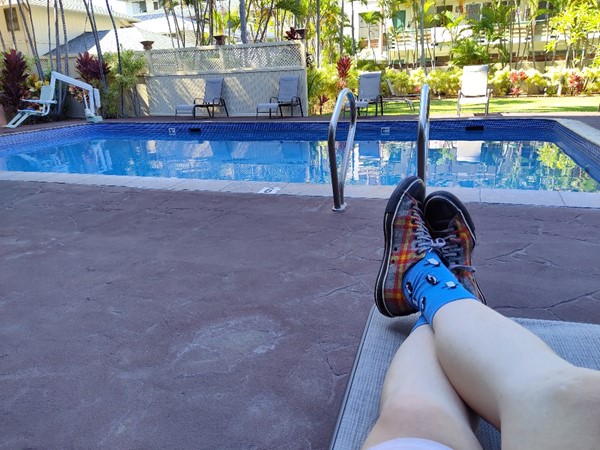 Dan is staying for five more days, and a little after noon we met up to get the keys to his AirBNB place, and have a final drink together with whatever was left: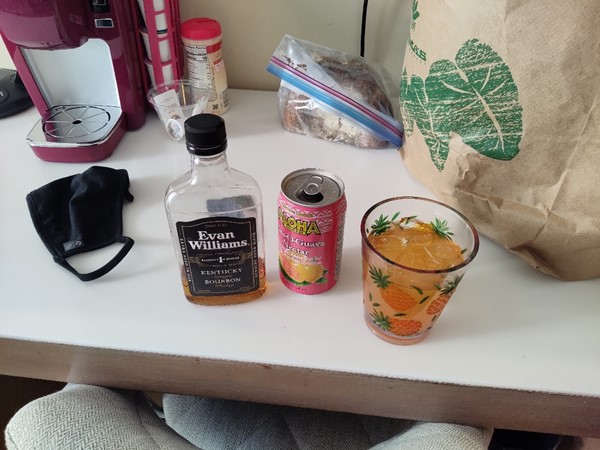 Soon after, I was off to the airport for the return home.
More later.
[? ? ?]
For more blog posts, click here.