Most every year, early in December I slip off to Santa Fe to see my sis-in-law. Last year, because of the COVID idiots, this didn't happen.
This year I'm flying Delta SEA-LAX-ABQ where sis and bro-in-law will pick me up. Delta? I have a bunch of upgrades that I need to start using, and they have MUCH better food in the lounge: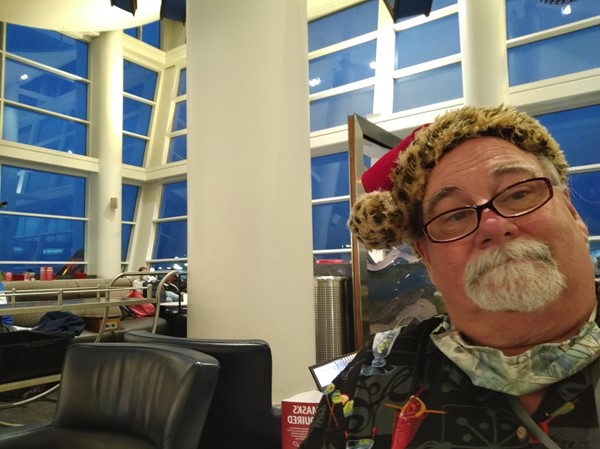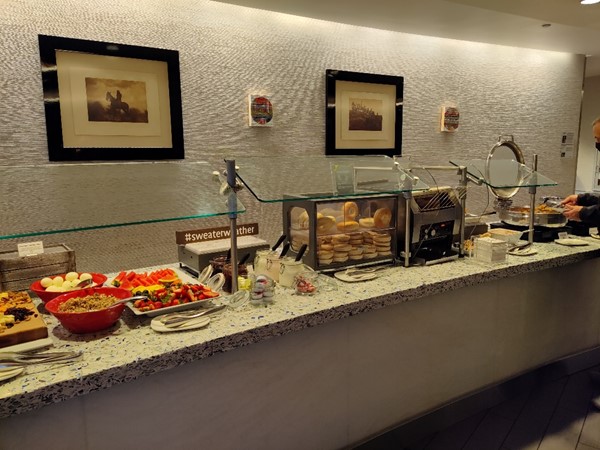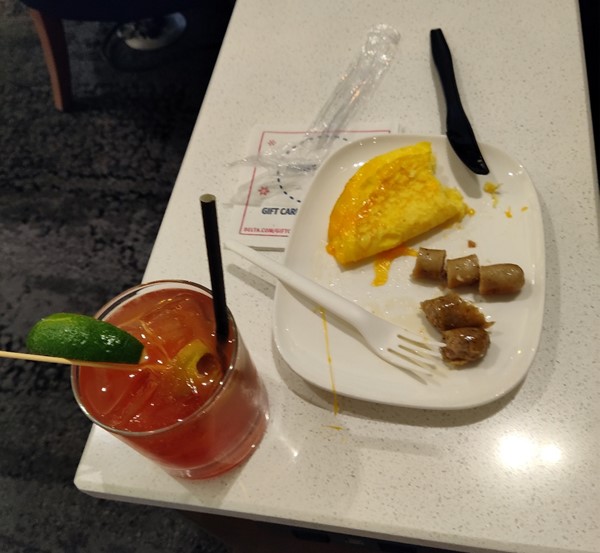 And that is a Caesar – not as good as the Alaska Lounge ones, but drinkable. And decent views…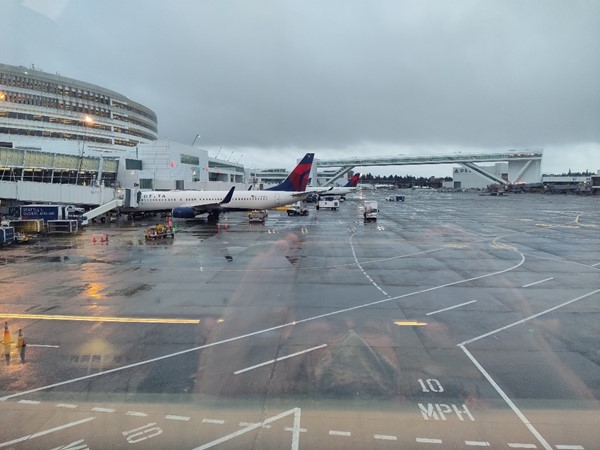 Before long I was in my proper spot…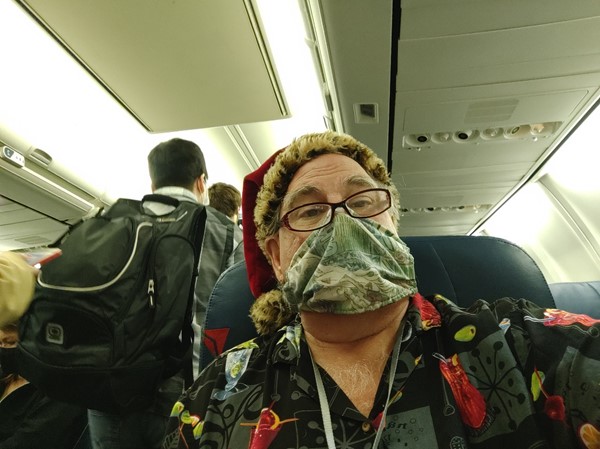 And they brought out the charcutier plate (box).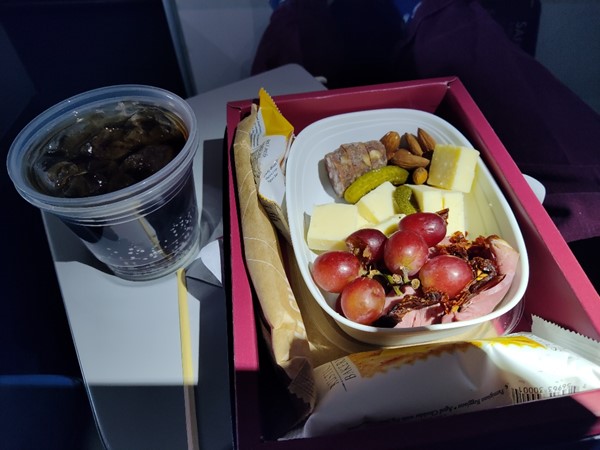 Uneventful flight, and then to the Delta Lounge in Los Angeles. As part of a status match program last you, one of the benefits was Lounge Access (sadly, no guests unless I pay for them).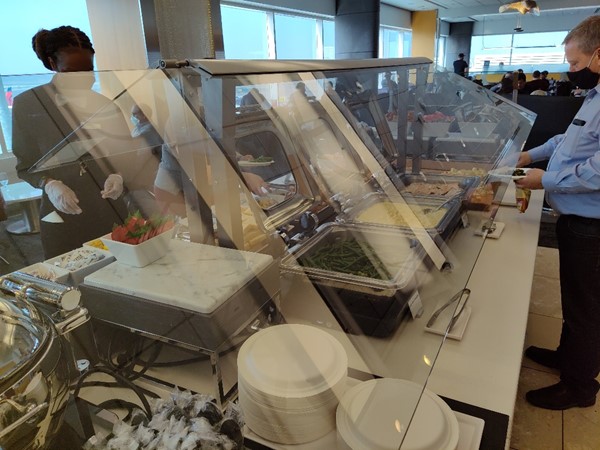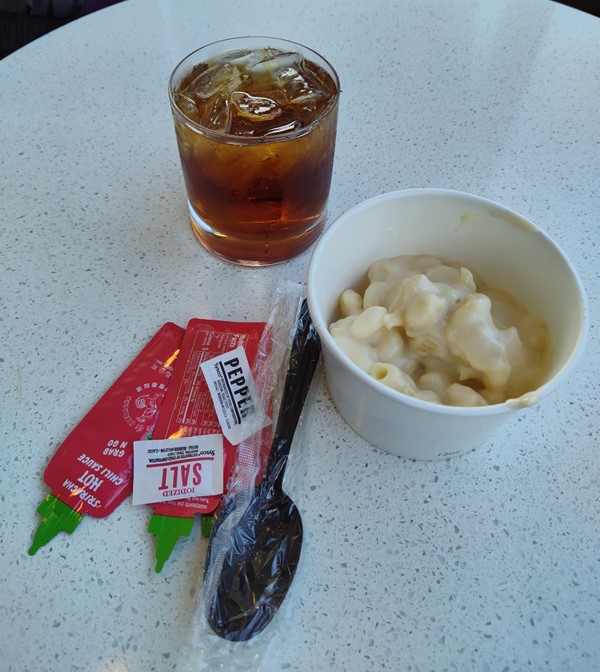 I don't recommend the cauliflower mac and cheese. And the views weren't as good.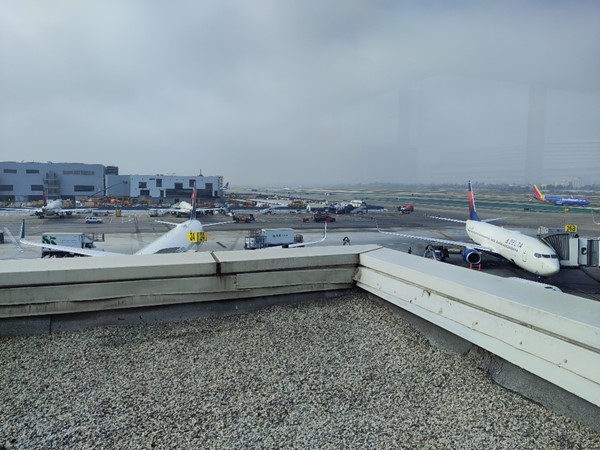 But there was some great artwork in the lounge: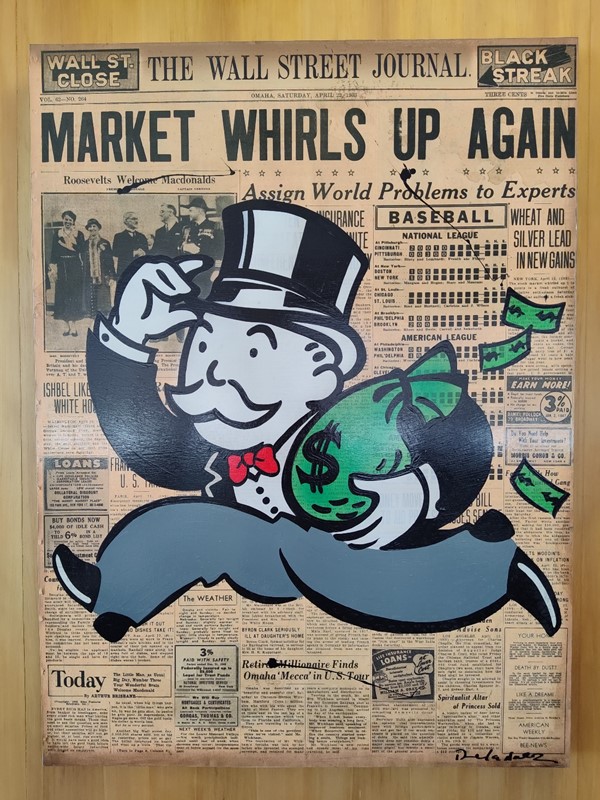 Cuban-American artist – Nelson de la Nuez.
Boarding the plane to ABQ I was given a bad surprise – A DOWNGRADE. Seems my seat (and the one behind it) were out of service.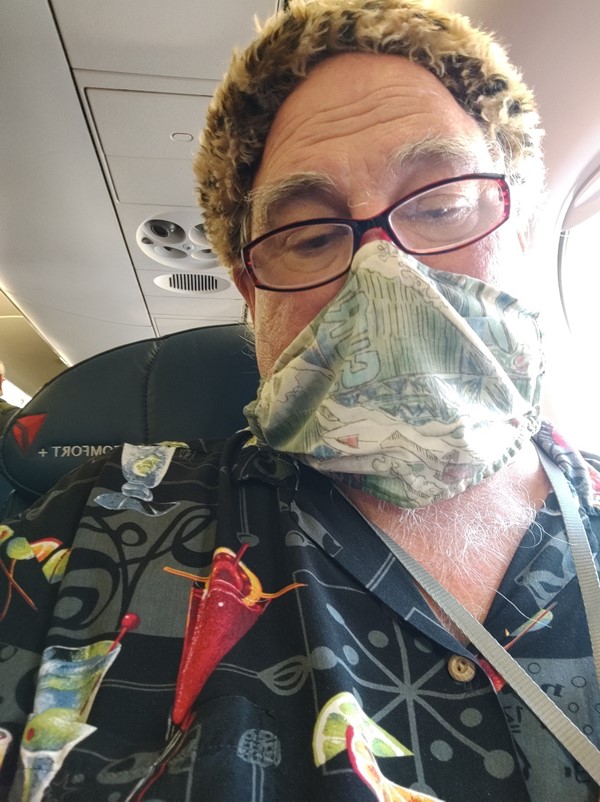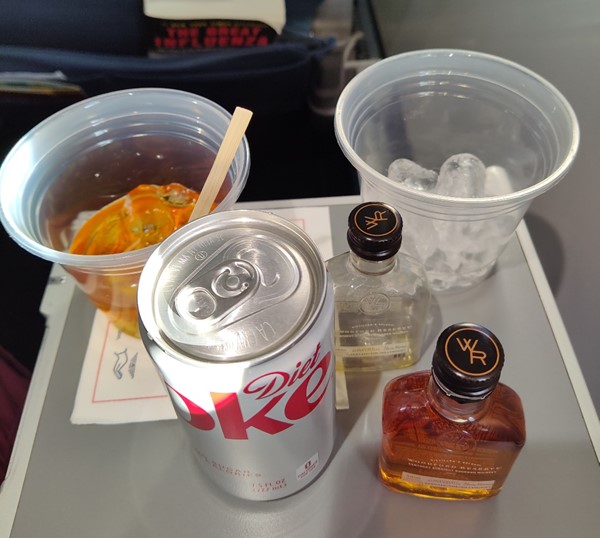 The Japanese businessman with very little English skills (who was travelling with two handsome younger Japanese men) was sitting next to me – he also got booted from his seat, 2A. Not sure how you have TWO First Class seats out of order one behind the other.
After I ordered, he looked at me, pointed at the Woodford and asked in heavily accented English, "Bourbon?" Then he pointed at a small water bottle, and the Flight Attendant figured out the answer to ice. This actually made it worth it to be downgraded, and it was an hour and a half flight. That, and I called up to get my upgrade certificate replaced, they said I'd gotten the longer leg upgraded, but they would put 20,000 Delta miles in my account (or $200 off a flight). I went for the miles. Since I fly so little with Delta, more upgrade certificates are less important that having a stash of miles. Generally, Delta SkyPesos are value at 1.1 cents each, making the $200 off a flight the better deal. The Points Guy is working on changing all their formulas, and the new value is 1.48, still not near the 1.8 for Alaska, who they haven't started on using the new formula on.
Nice sunset views from the plane: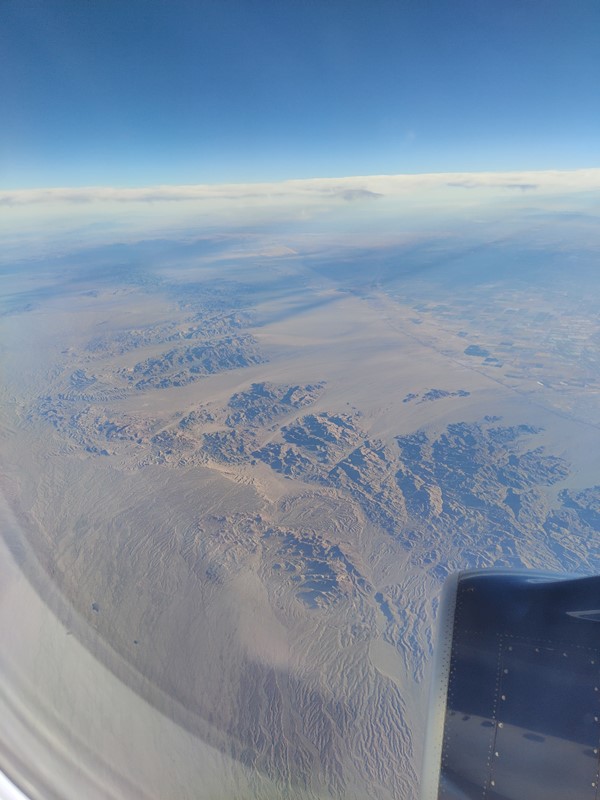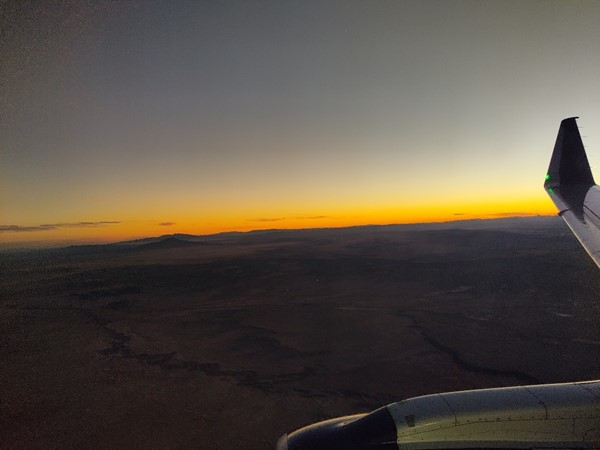 And as always, thought provoking art and displays in the Albuquerque Sunport: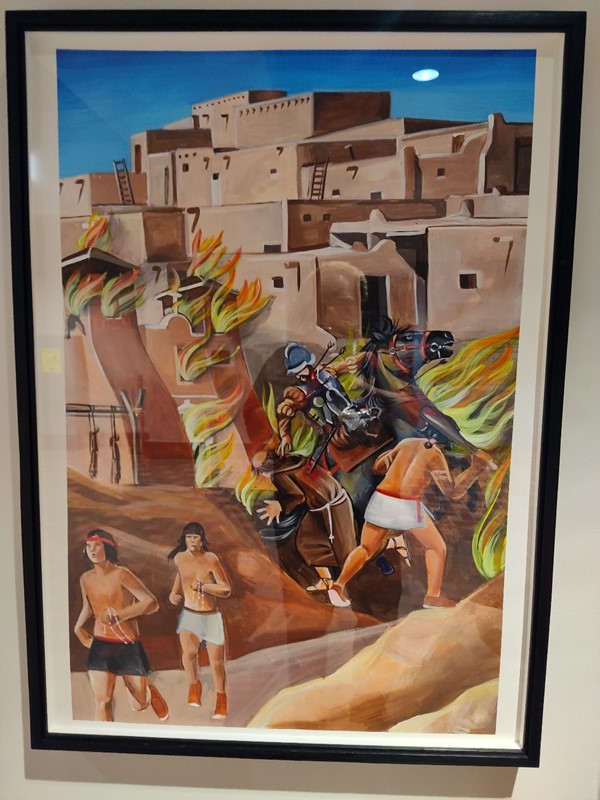 Stopped on the way to house for a booze run to Albertsons. Most of it is going home with me.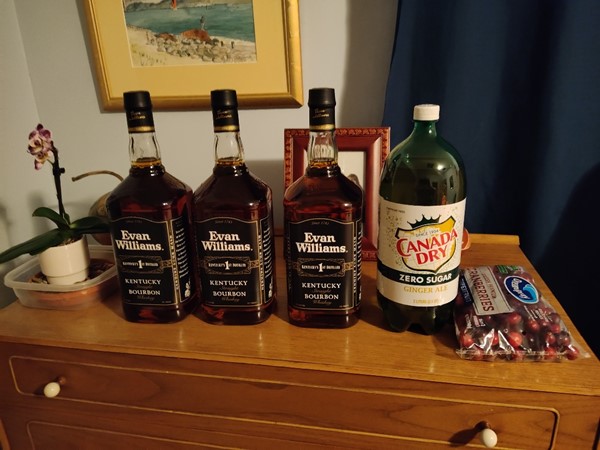 And did I mention the bag full of goodies I grabbed at the lounges?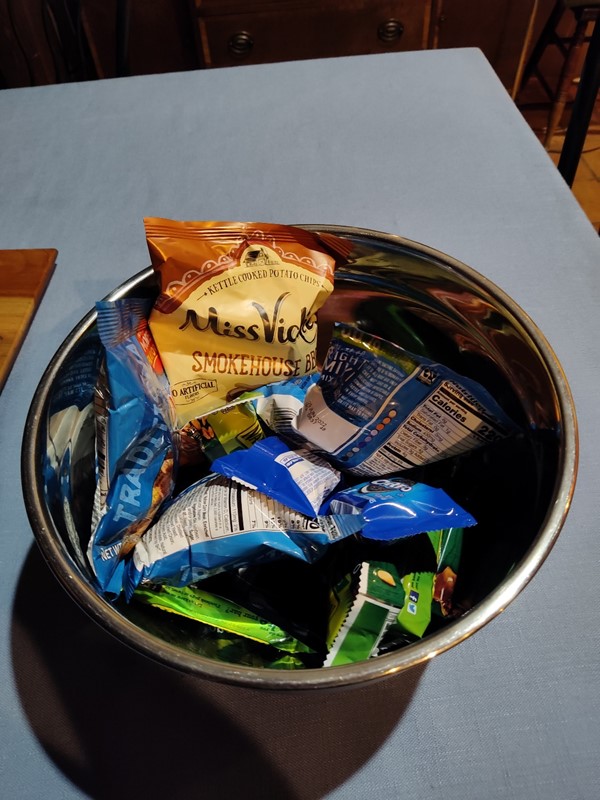 And when you are staying with relatives, you make do with a workspace: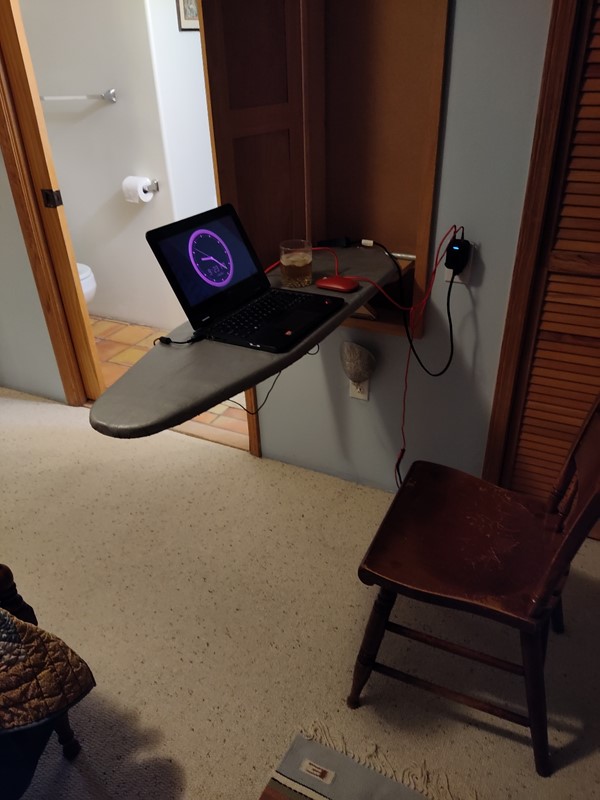 The morning found me finishing my Green Chile Cheeseburger from the night before.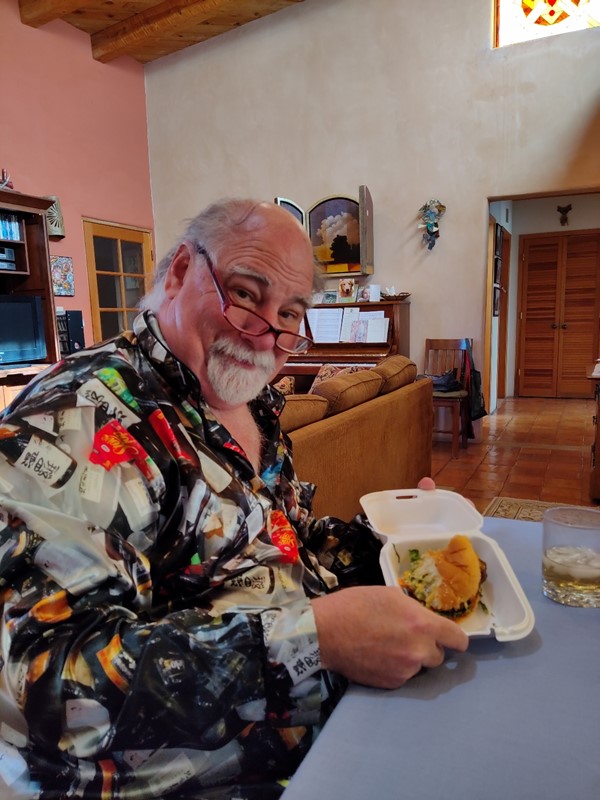 And some shots of my sis's place: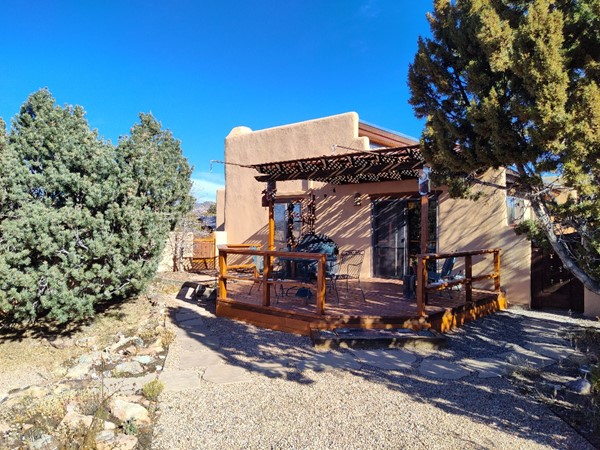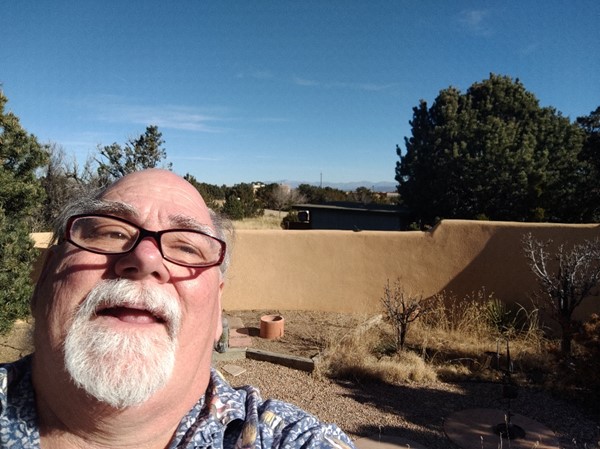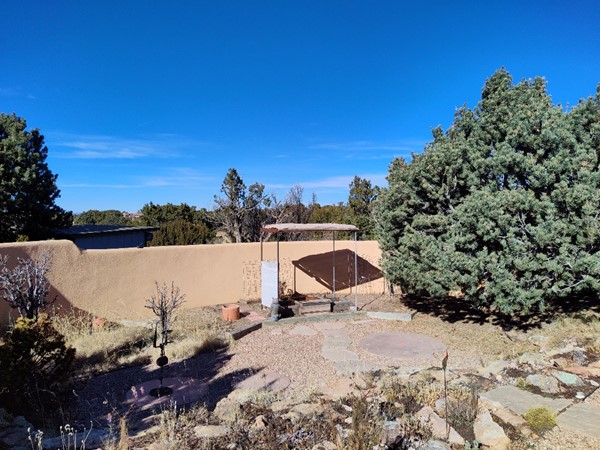 And some interesting concoctions using Empress Gin (which is purple), fresh lemon juice, and a cranberry-ginger syrup. Too complicated for me to replicate.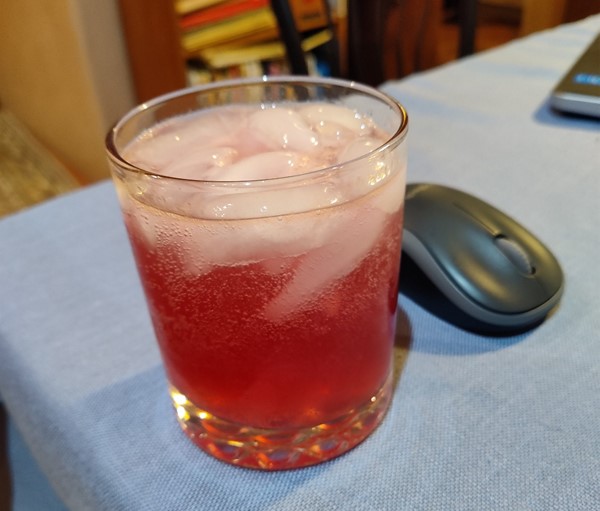 Two nights with sis/bro-in-law, and then onto the Southwest Chief from Lamy to Los Angeles. Overnight in a sleeper. Train is running 2 hours late, so time to explore the train yard: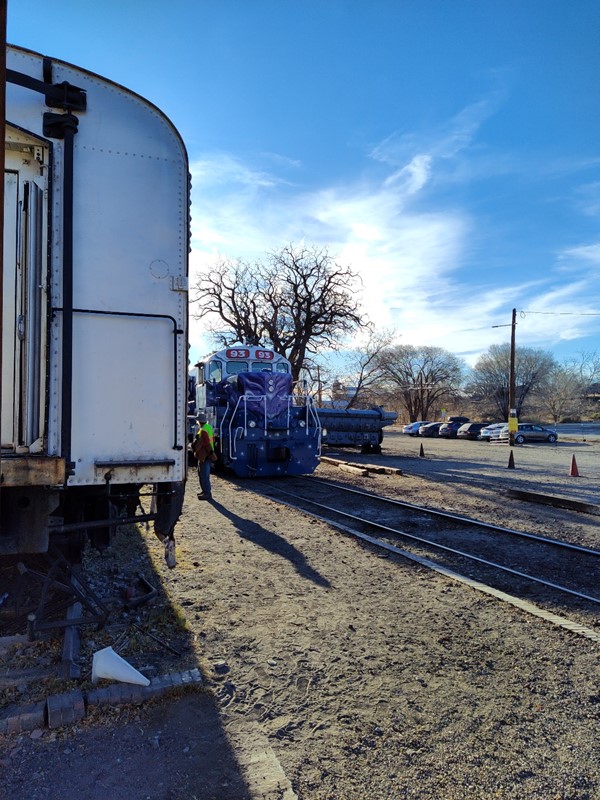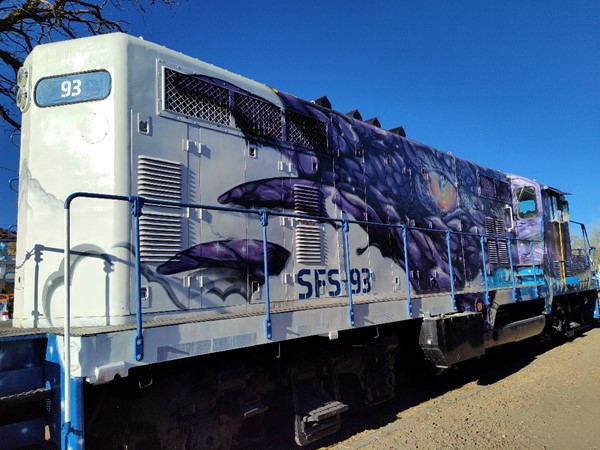 The dragon themed train belongs to Santa Fe Southern railroad – a spur line from Lamy into Santa Fe. It recently got new owners:
'Dragon' train makes debut in New Mexico – Trains
And for the Wikipedia page, here:
Santa Fe Southern Railway – Wikipedia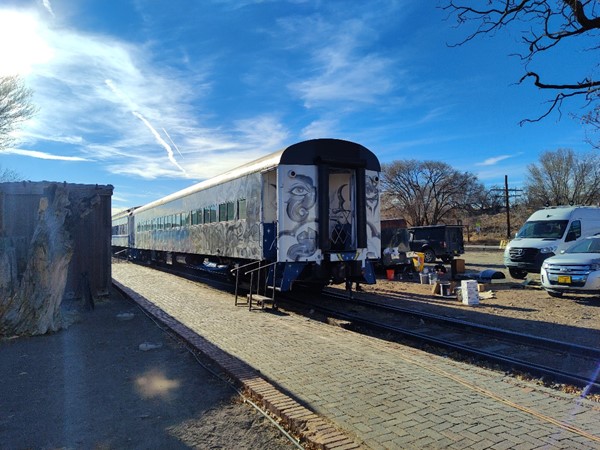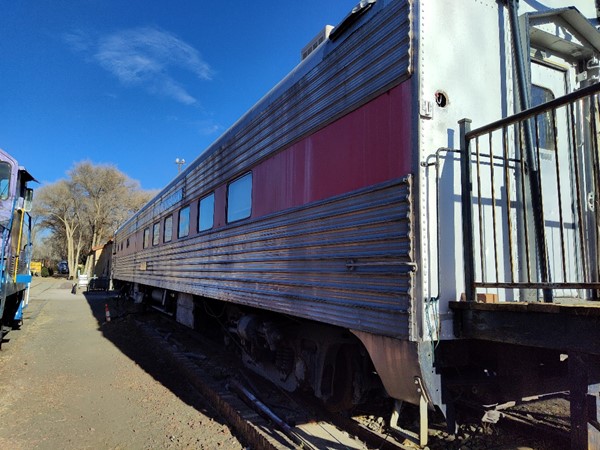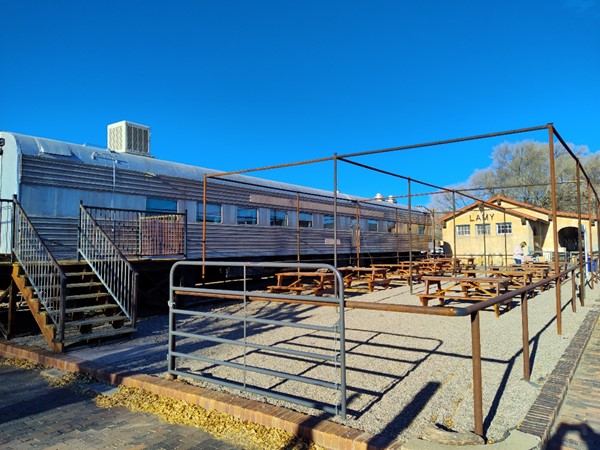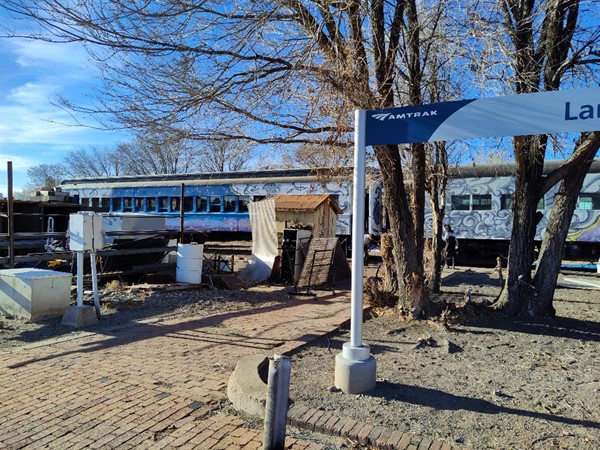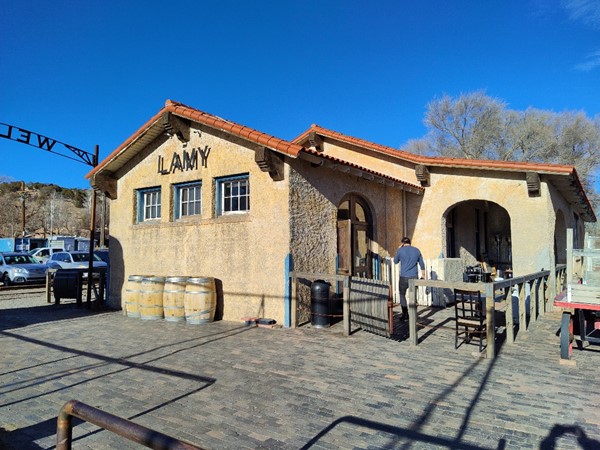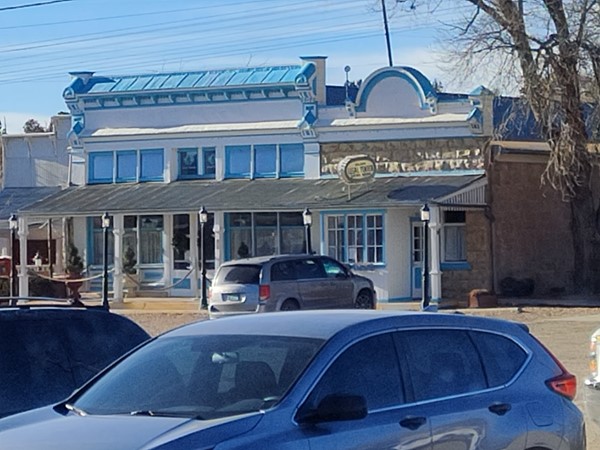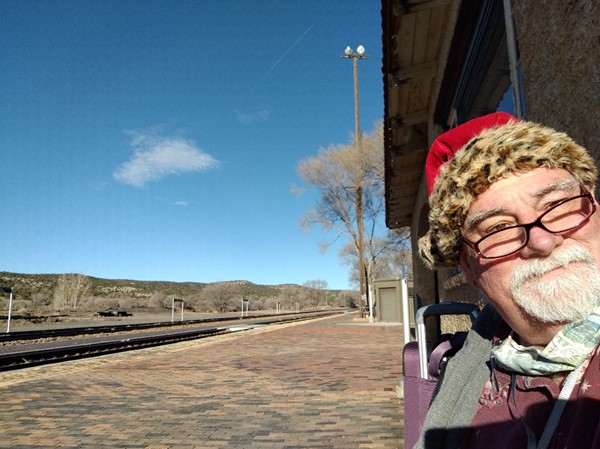 All set for the train!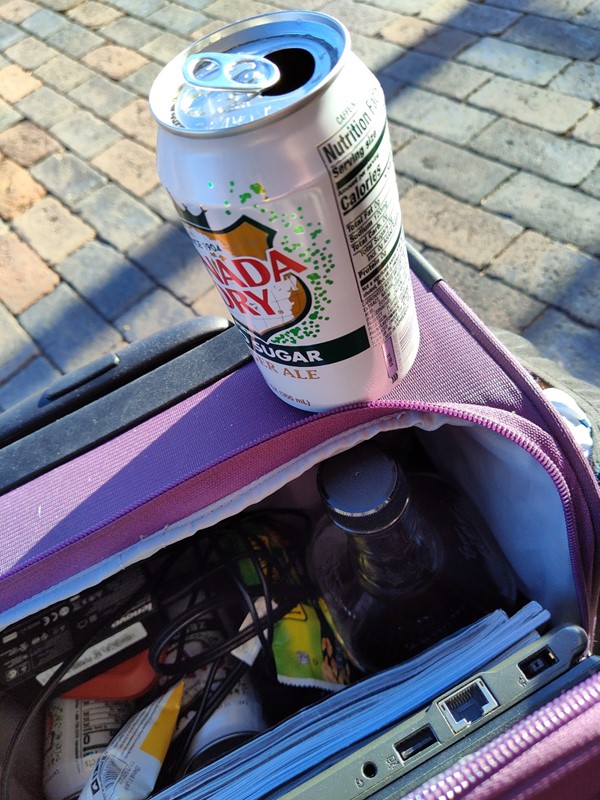 Settled into my sleeper: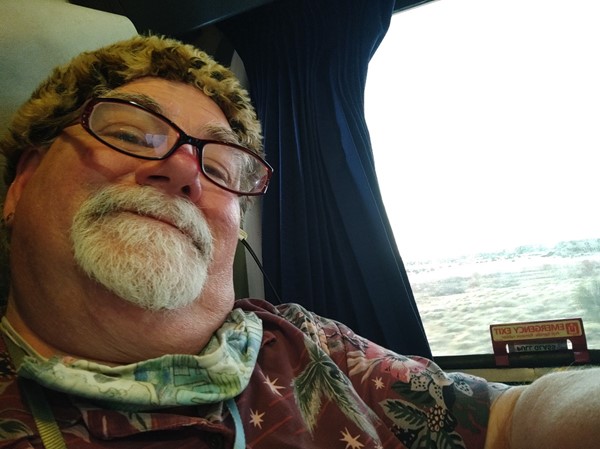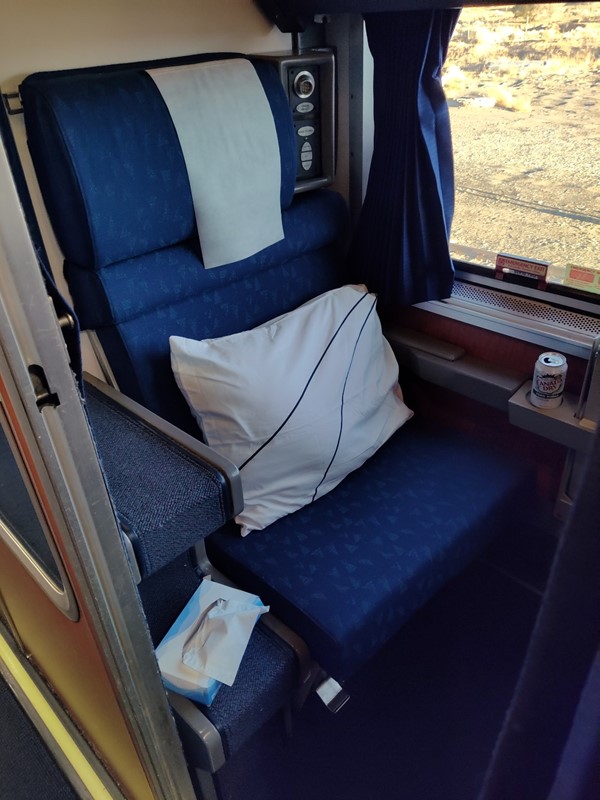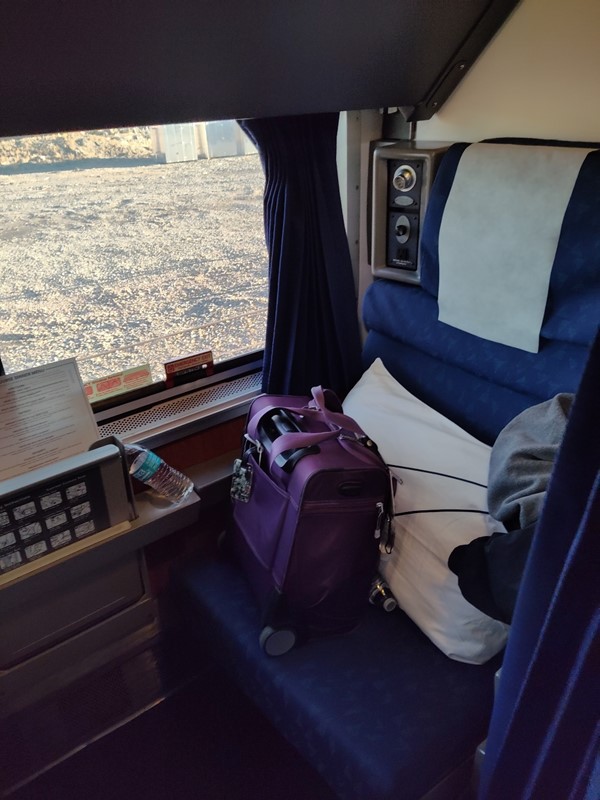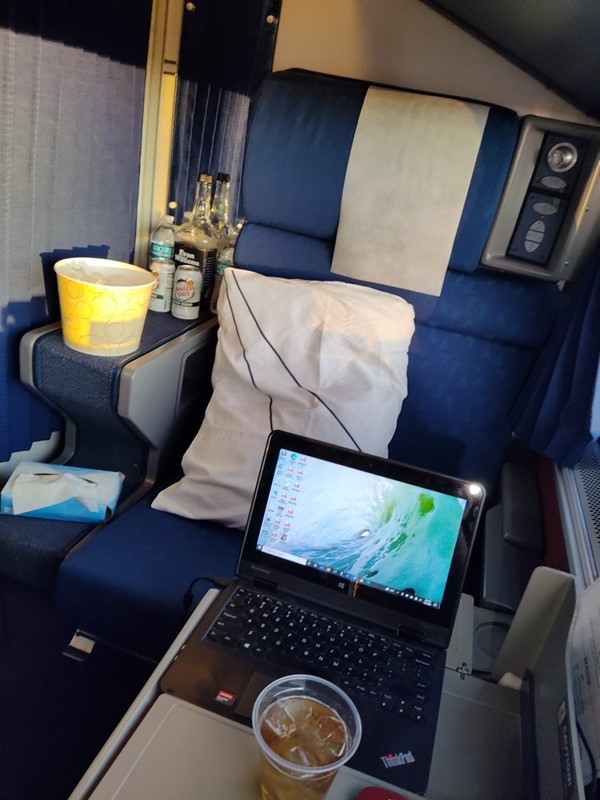 Exploring the new menu: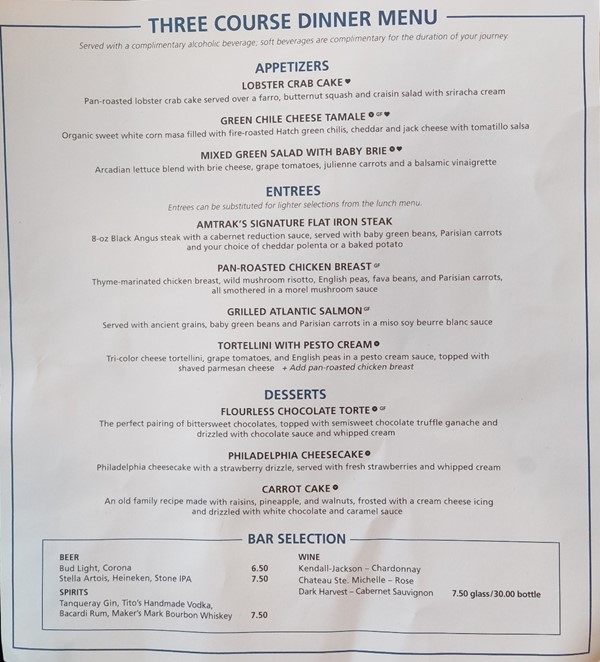 And in PERSON: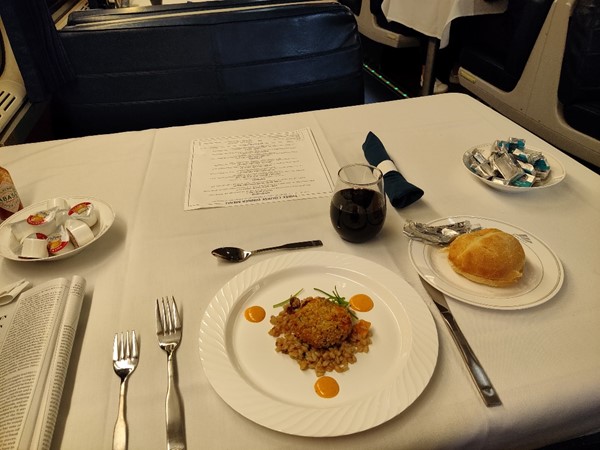 Lobster/crab cake for the starter, medium-rare Flat Iron Steak.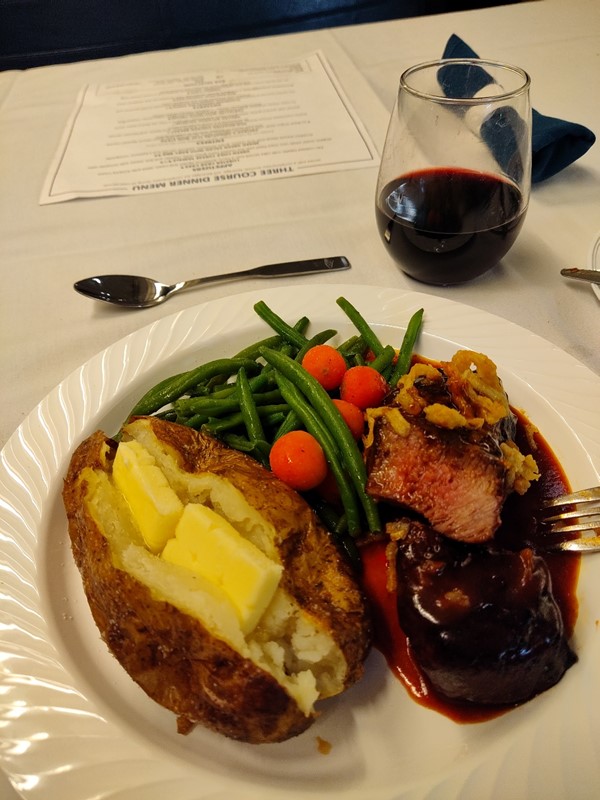 Table clothes are back, as is silverware and real glassware. AND – because of COVID, I had a table to myself. A little surprised that they also didn't add plexiglass screens between the booths. Oh, and your first alcoholical beverage of the evening is now on the house.
Back to the room, cocktail in hand, with the carrot cake I ordered to go: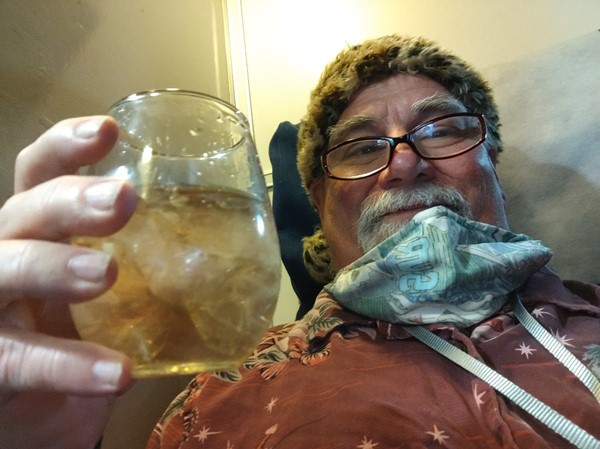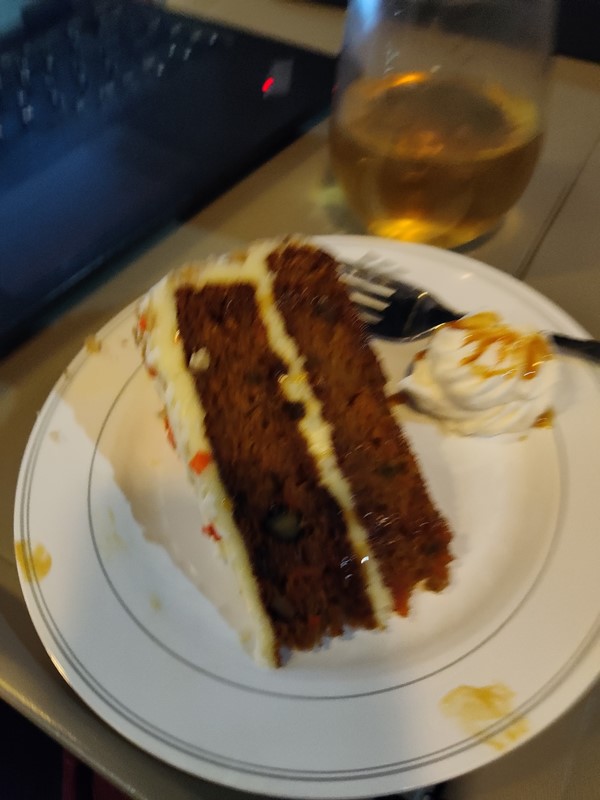 Additional note: real plates haven't returned yet. They say as soon as they run out of the plastic ones.
On the upside, the bedding has improved, the towels have improved – and most importantly, the blankets will now keep you WARM.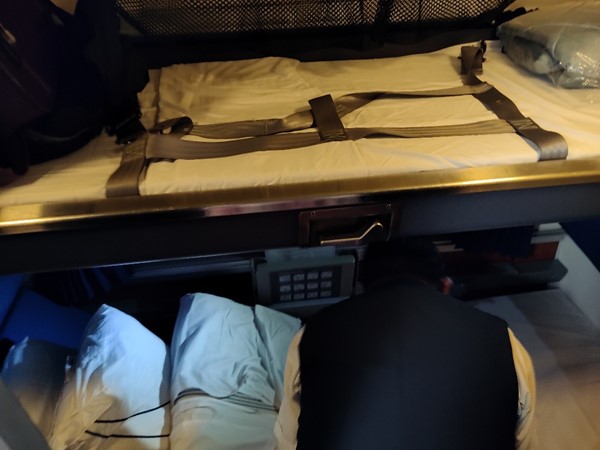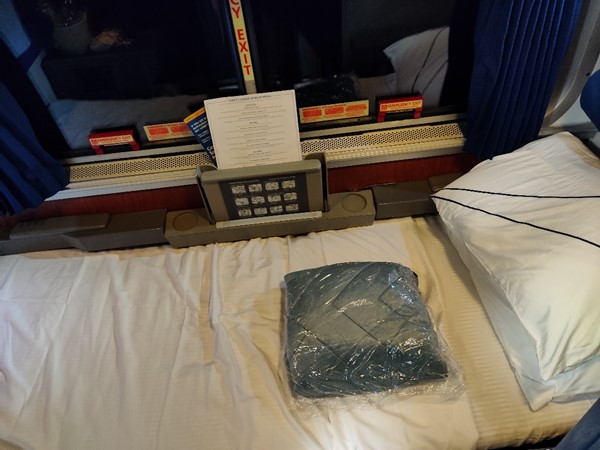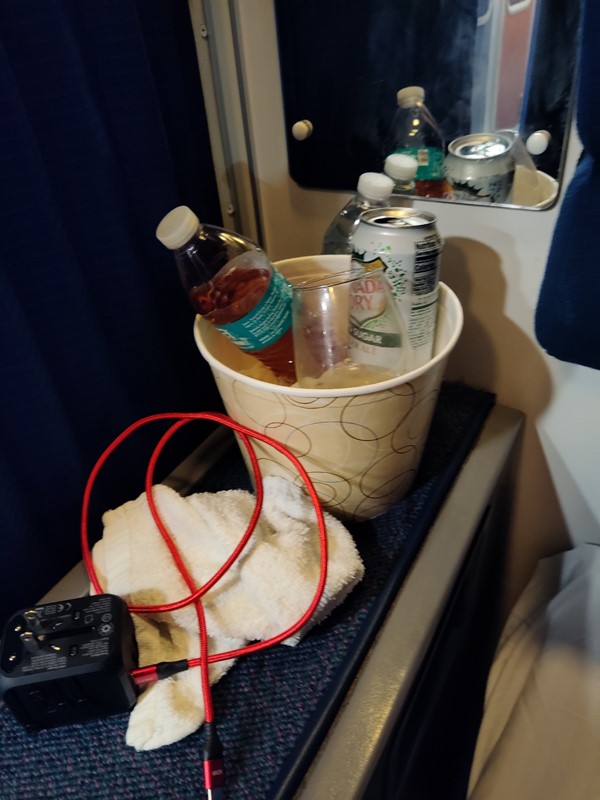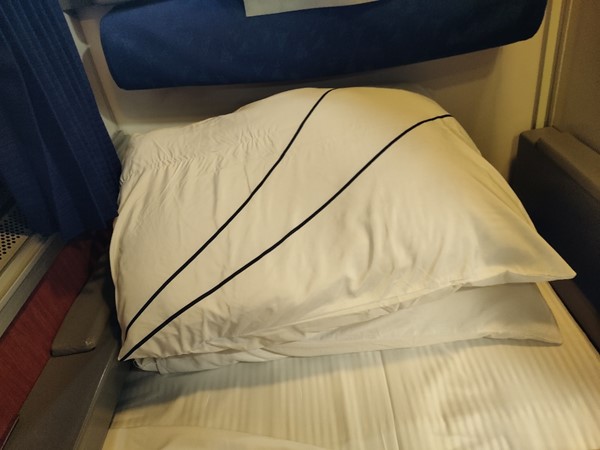 Then there is the shower which I did at around 10PM since we are rolling into the station at 8 (which turned out to be 10, so I got more sleep).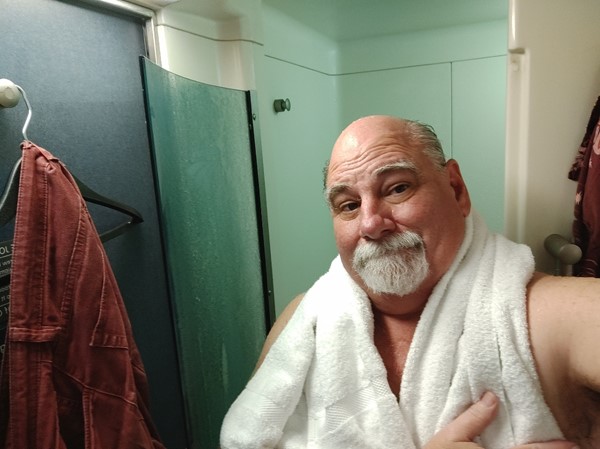 And, a crappy sunrise photo.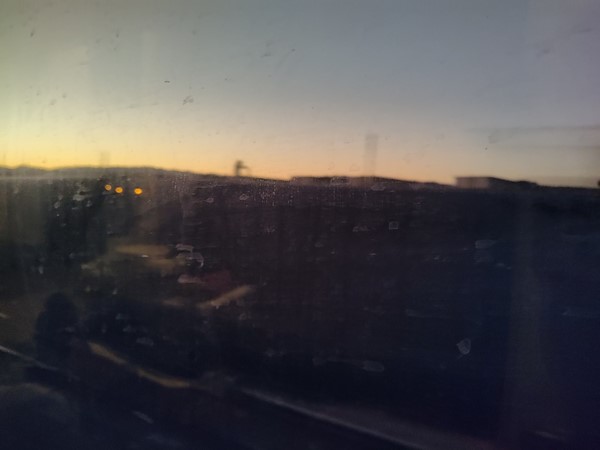 Then the SkyBus transfer to LAX: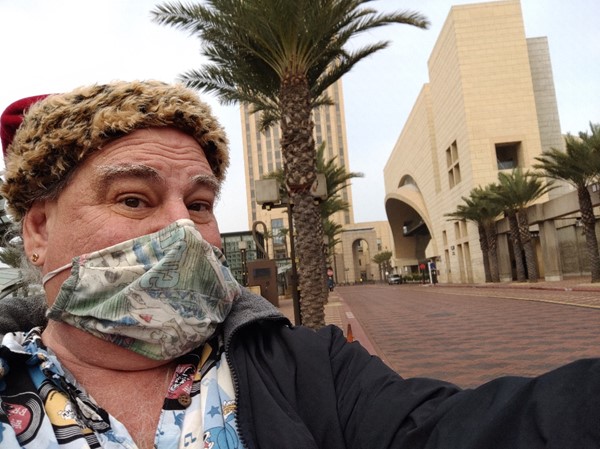 And back to the Delta Sky Club for 5 hours: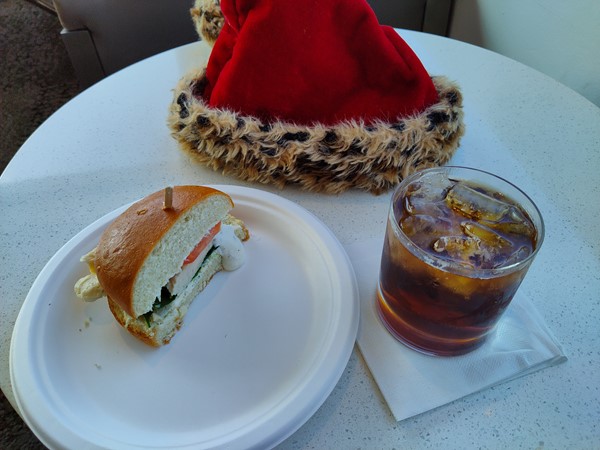 And some great Lego art:

And onto the plane with more food and scenery: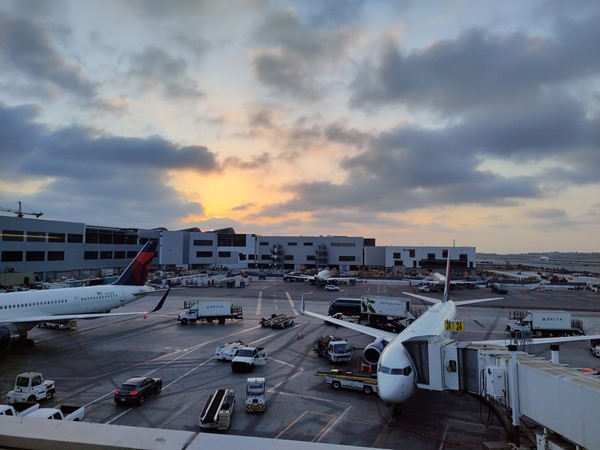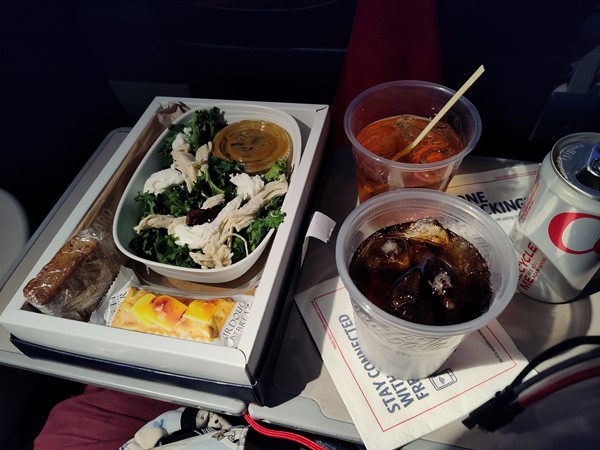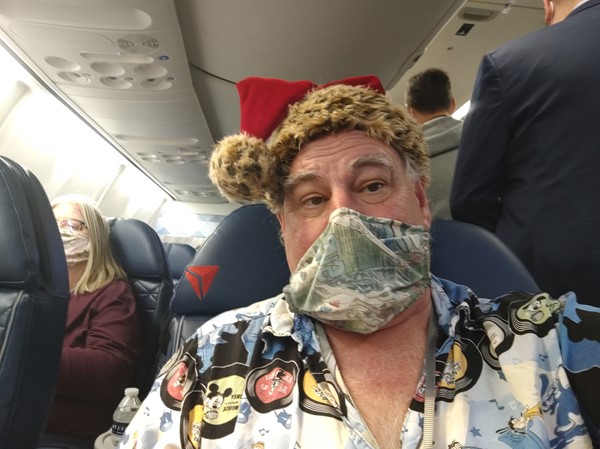 And strange bamboo food service ware….
That was a lot of quick fun!
[? ? ?]
For more blog posts, click here.