With my not packing much yesterday I was figuring that my planned noon departure for Portland would be much later than that. Now THAT'S a stuffed car: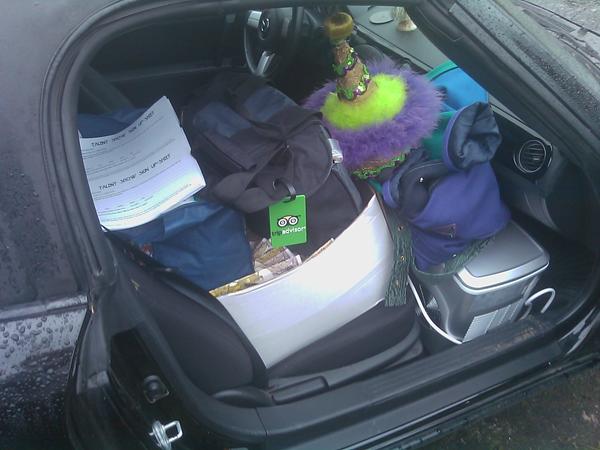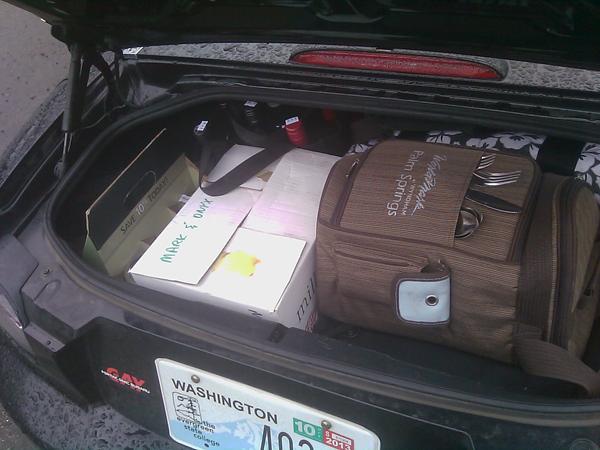 The load coming back will be much lighter since the case and a half of wine and all the directories and printed good won't be there.
Actually I made it out of the house by 12:30 and headed north (yes, I know Portland is south) to mail a bunch of articles I'd clipped on the SF trip last week and a book on the history of Whiskey called Chasing The White Dog to the Colonel. For more on the book click here: https://blog.unclemarkie.com/2013/02/01/just-dinner-with-the-boysand-im-not-cooking/.
Then it was off to Kinko's (oops, that would be FedEx Office) to get the sign-up sheets cut in half – they didn't even charge me saying they felt bad having made me wait five minutes to get service. That and it would have taken them more than five minutes to actually ring up the sale. But thanks Kinkos!
Then it was onto the freeway headed south.
Stopped for aspirin, gas and a burger in North Vancouver (USA, not BC) and was amused to see this sign on the counter at Burgerville (my weakness – at least I don't get the fries):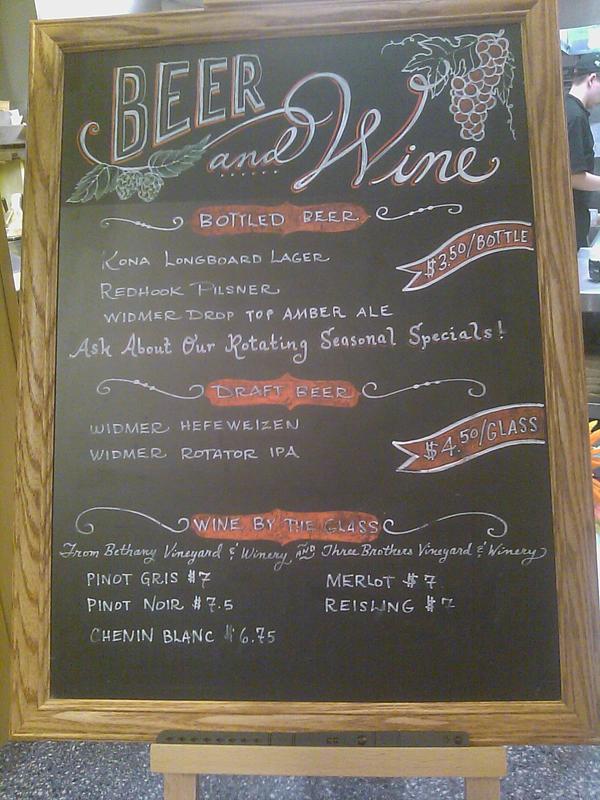 Apparently they think white wine goes with burgers since the only red (which I had) was the Merlot.
Did some power discount shopping at Freddies (Fred Meyer) – seems they are having a 60% off already marked down prices. Picked up:
Black Dockers Cords ($15)for me
Women's Playboy Underwear ($6) for a gift
Homer Simpson Boxers ($4) for the Seaside boy
Matching Elf underwear and hat ($3) for me
Flannel PJ Bottoms, Flame Pattern ($8) for me
Total was $36.78 for a bag of clothes – cheaper than the original price on the pants.
Dinner tonight (since the nephew is in class until 9:30) was at the Fish Wife on Lombard: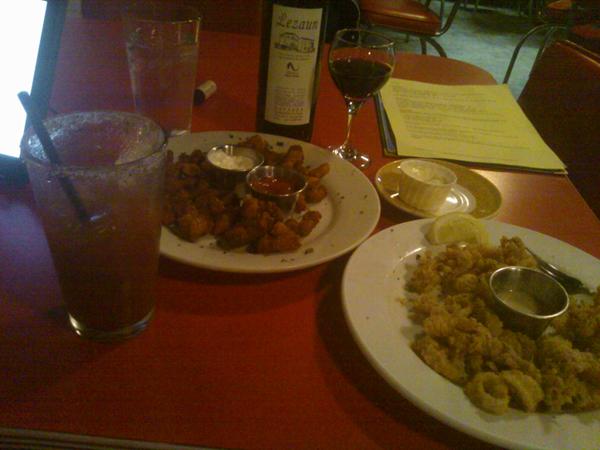 A couple of appetizers, a Bloody Mary that came with an oyster shooter, and a bottle of wine since it was half-off Tuesday on full bottles. Took the rest on for Julian (the nephew) to have with his late night dinner.
I was actually in bed at a decent hour, which is good since I'm still fighting this head cold.
[211.0]