Thank you Russ for marking one of my maps with the highlights to see in Istanbul: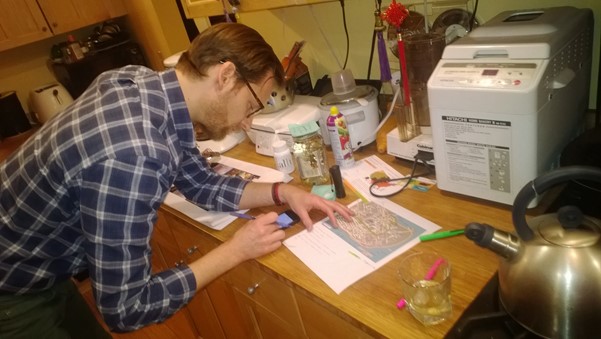 Now all I have to do it get to them all. Thanks also to Solus+ and Ton who also provided lists of things to see and food to eat.
Russ' unexpected visit (in town to clean up the personal effects mess left behind from a friend's suicide) means that I get a ride to the airport for my morning flight. Downside it that he will be in Seattle until Wednesday morning so I'll miss two nights of dinner with him, though since he used to live in Seattle I doubt he will go hungry.
The upside is a ride to the airport, the downside is that it's VERY early in the morning. Here is what I look like in the morning: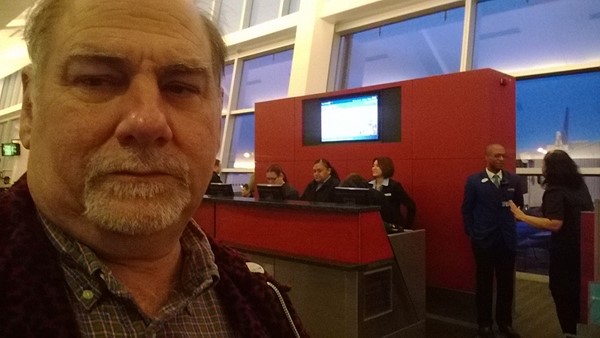 Grumpy Markie. Looking a little better after sleeping most of the flight from Seattle to Washington, DC. In the United Club at Dulles: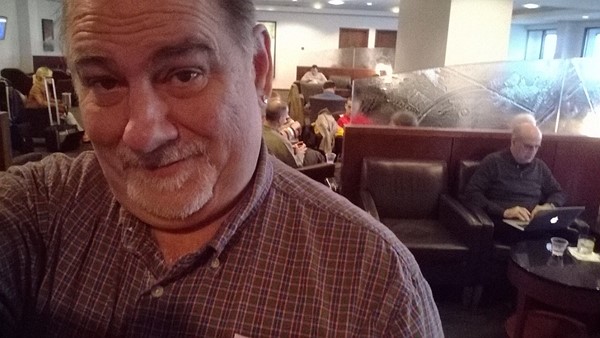 One of the nice things about airline status is that Premier Gold (I'm Platinum) and above is that on international itineraries you get free access to the United Club locations for your entire itinerary. Too bad the food in the US clubs is basically just cheese, crackers, vegetables and dip, cookies – not like the soup and salad fare in the Board Rooms of Alaska Airlines.
A couple of shots from the DC-Munich flight. I was amazed to find both a USB port AND a 110 outlet on the 767-400 aircraft – assuming this is a retrofitted aircraft rather than new since not many 767's are being delivered these days: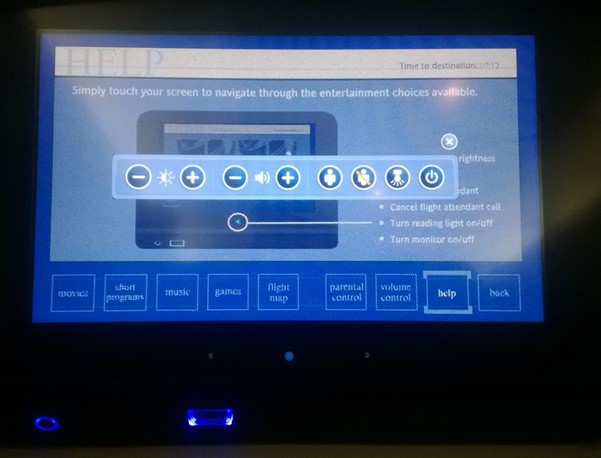 The blue circle is the headphone jack, the other blue lite thingee at the bottom is the USB port. Sorry, no picture of the 110 outlet. I did get a picture of this "odd" message on the in-flight entertainment system as I was cruising through for movies to watch: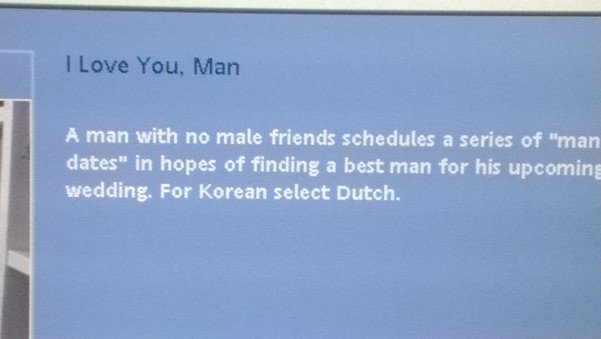 Yes, that's what it says, "For Korean select Dutch." This on a flight to Europe. The Dutch never get enough respect. And, no, I didn't watch I Love You, Man. Saw it on another flight. What I did watch:
With all the inclement weather on the East Coast – what the displays show as an almost full flight has LOTS of empty seats. I'm guessing lots of people missed their connections: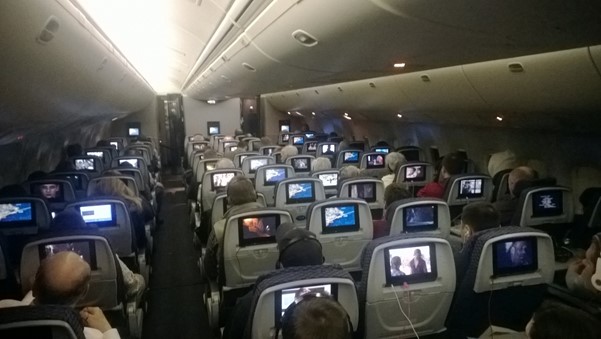 Most every seat where you see the blue map on the screen is empty. That's not a full flight.
So, basically NO sleep on the DC-Munich leg. Local time approximately 7am – time for the Lufthansa Senator Lounge which actually does have a breakfast buffet: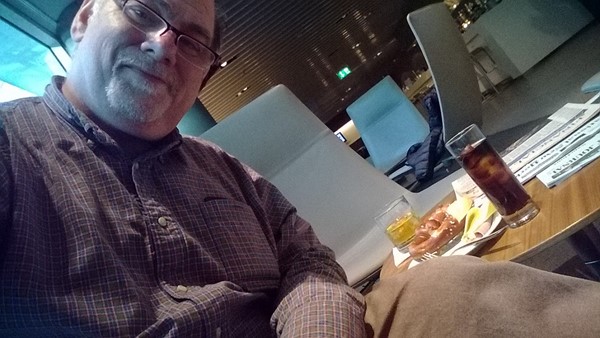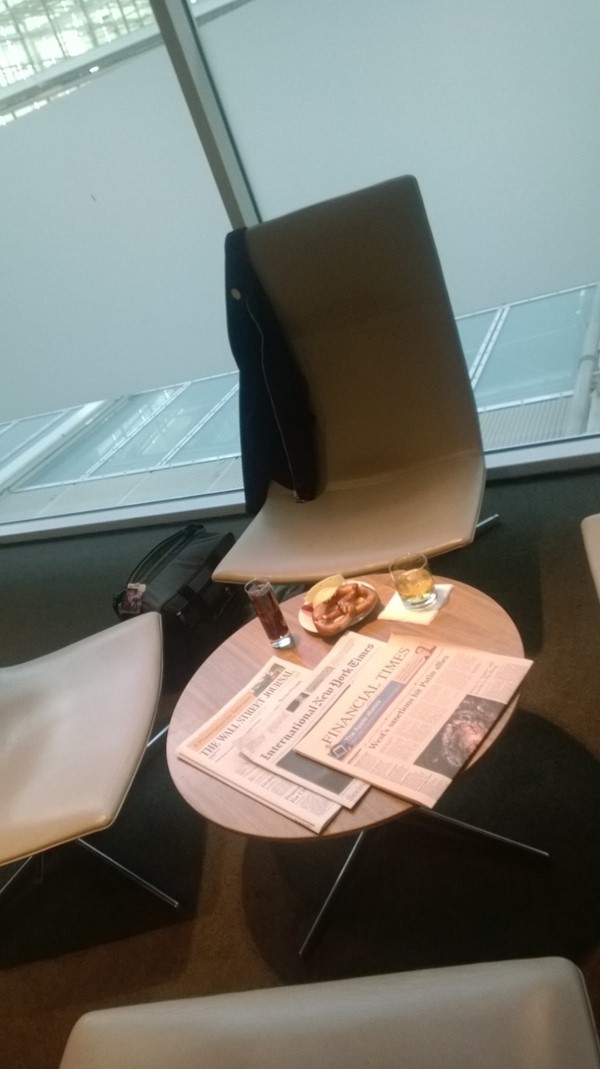 Scrambled eggs, a pretzel, some cheese, some meat – yes, there were cereals as well – a Scotch and a Diet Coke.
Had I wanted beer, there were a couple of taps to choose from: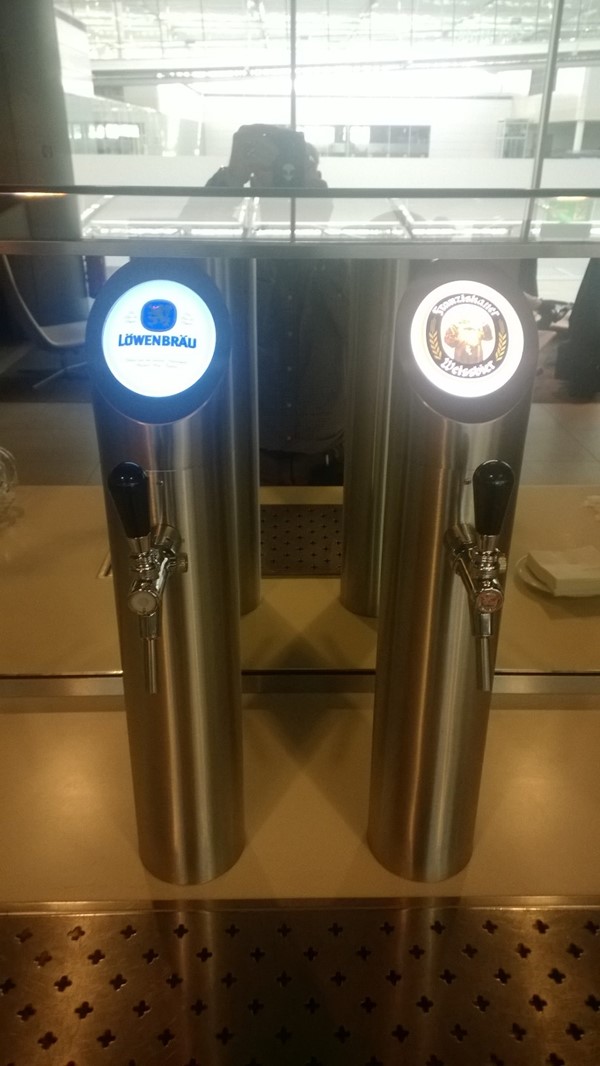 Scotch – it's not just for breakfast anymore.
Onward towards Istanbul: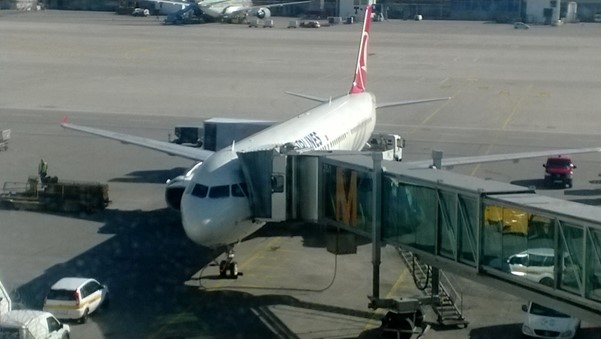 My plane awaiting me. Had to go back to the check-in desk to retrieve my jacket, but eventually got settled into what was supposed to be an Exit Row seat, but Turkish changed the airplane type, AGAIN. Moved to a vacant Exit Row seat, but no extra legroom. It's only a two-hour flight, so no big deal. I was amazed that it came with free food and free booze.
Arrived in Istanbul, found the right line, had my Electronic Visa, and got through Immigration in 15 minutes, and my bag was actually one of the first dozen off the plane – and my driver was waiting. Off to the Ramada Grand Bazaar – a hotel I booked thinking it was "next door" to the Grand Bazaar but is actually a short walk or two tram stops. As it turns out, the hotel seems to be in the textile district where everything seems to move around on giant handcarts because the streets are chocked with cars. The other reason for booking this place (besides frequent flyer points) is that unlike booking.com or other sites, I didn't have to pre-pay and got 20% off of cheapest rack rate via my WorldMark by Wyndam membership.
Got checked into my room at a lovely low desk that you had to sit down at (after an offer of water/coffee/tea) – to find out that I'm getting the breakfast buffet as well (a 25 lira value – that would be $12 USD):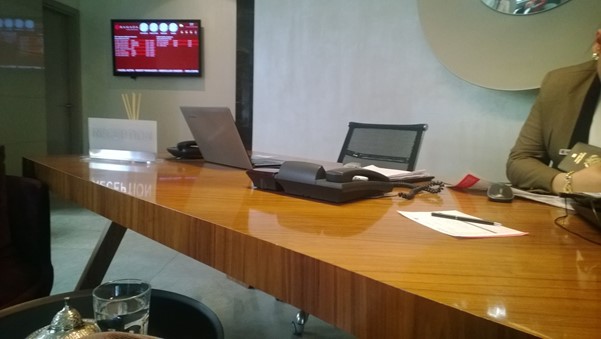 Got to the room and got the wi-fi set up – only to discover a low signal.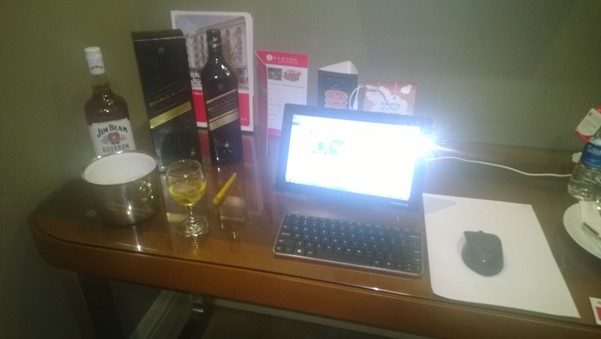 Sigh – this is the view from the room – nice street view: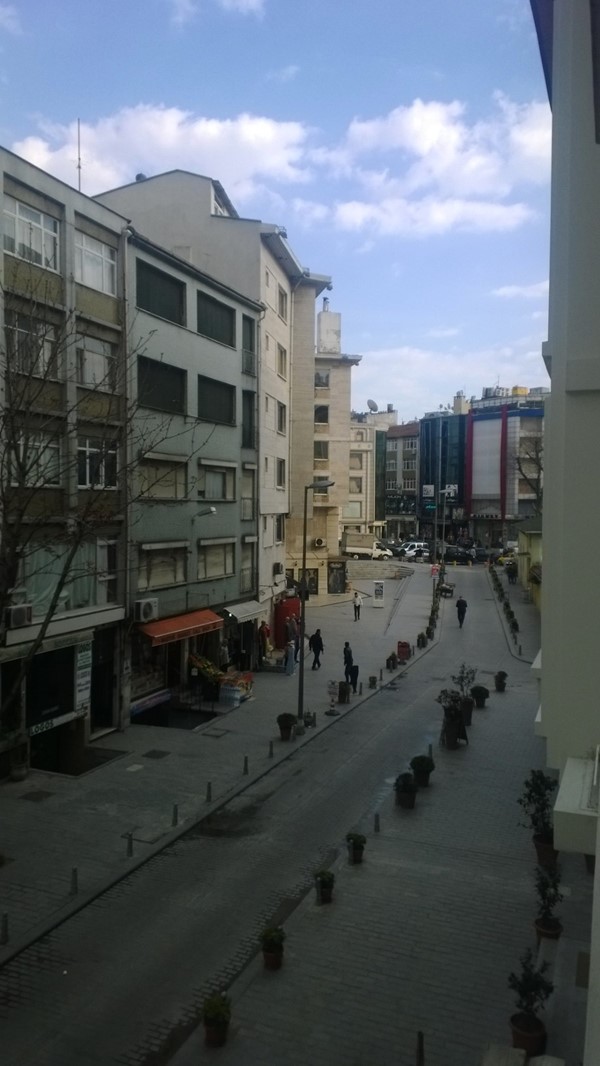 A little stop at the desk and I'm moved from the 2nd floor to the 6th floor. So, no double bed, but two twins – and a balcony – and a see through shower. Think I'm liking this: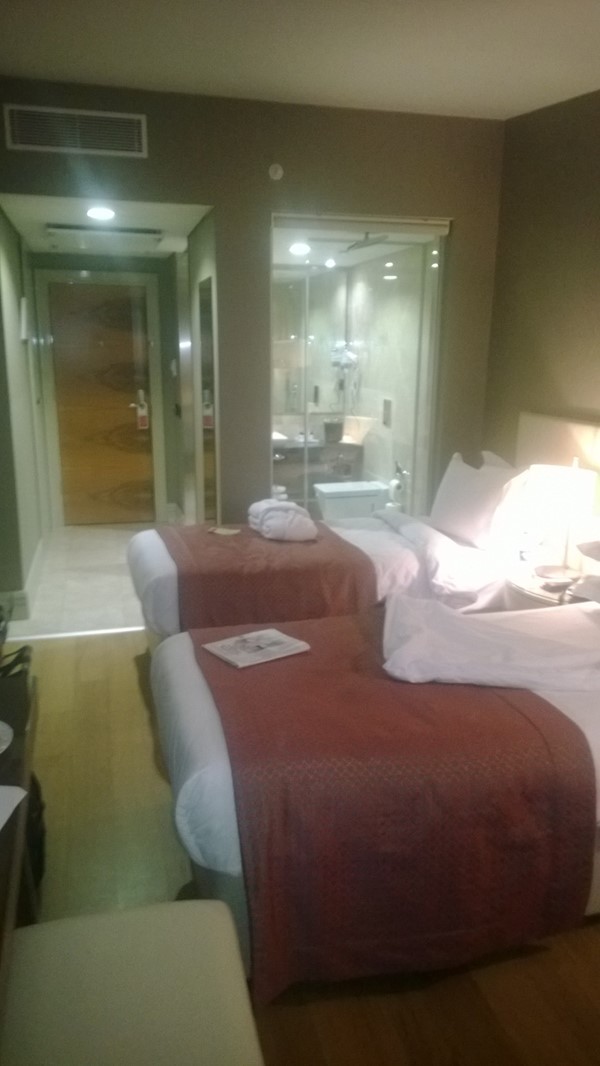 And the new view from the balcony: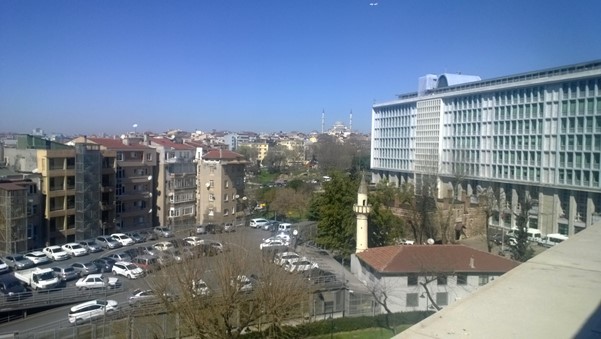 And how close I am to a wi-fi repeater on the balcony (the in-hotel one is just down the hall):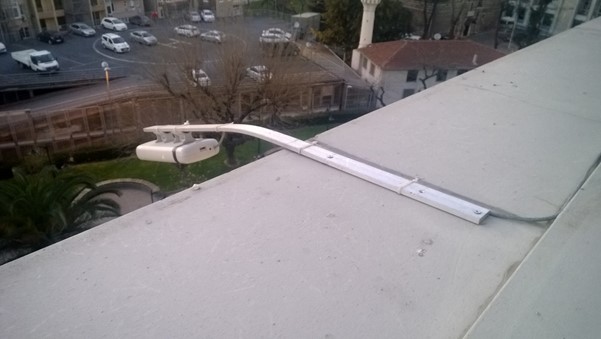 And as the "topper" for the evening, it's the square toilet for my square butt. Complete with little butt sprayer. I haven't tested it to see if it's aimed for men or woman: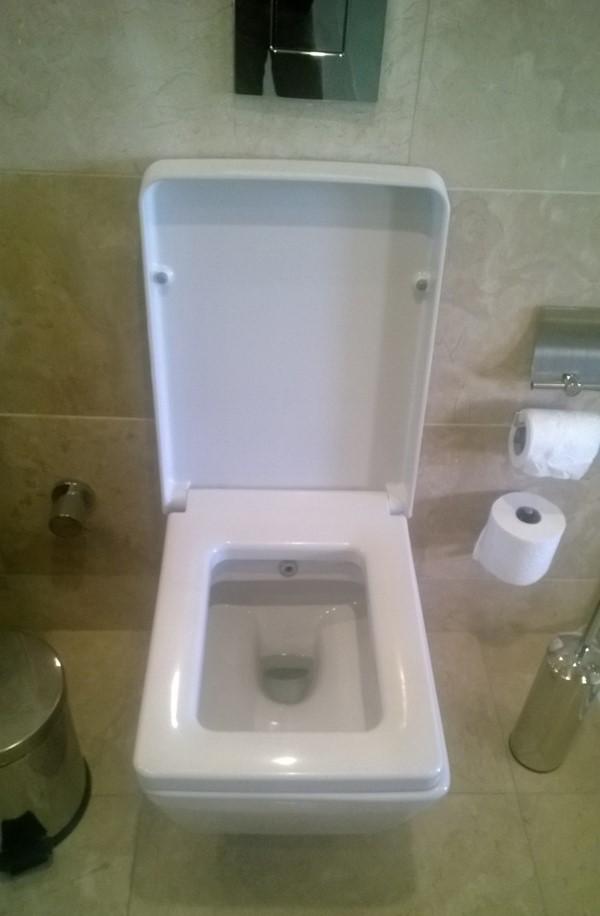 Went out to explore the neighborhood and get some grounding. Got my fix of Coke Light (what all other countries call Diet Coke) for the room, to go with the ice I had delivered.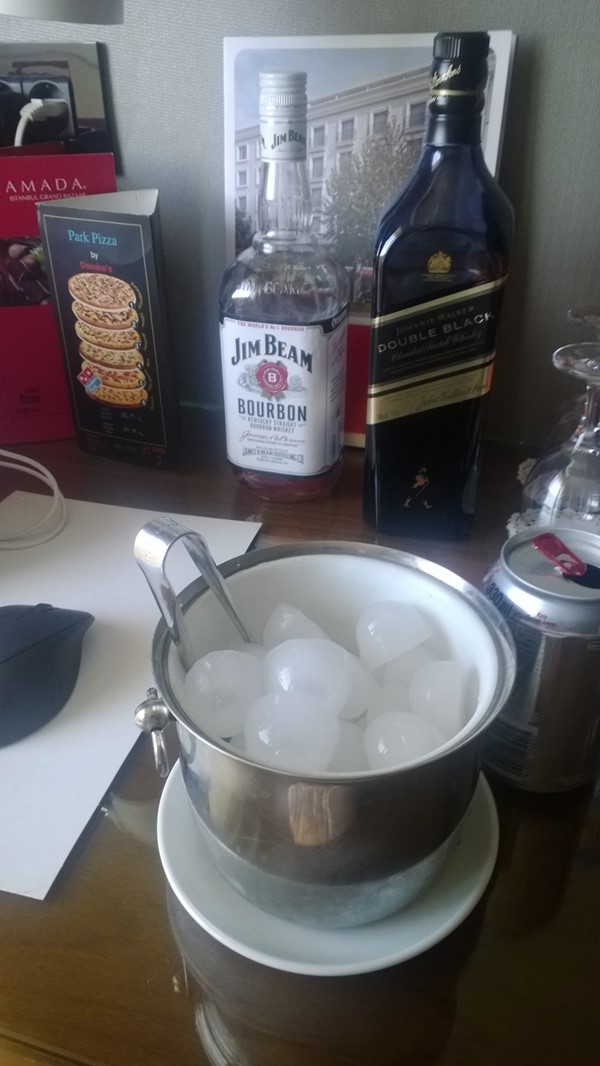 Please compare the picture of this ice to the COOLER of ice that I got delivered in Hong Kong.
Dinner was downstairs in the hotel restaurant… not memorable, but close by. A Caesar salad with chicken which cost less than the glass of wine I had with dinner. It was what I needed after a day in the air.
Dinner – done.
Cocktails – done.
The only casualty is my maroon and black leopard print jacket (that I love) has gone missing, most likely in the shuttle from the airport, but so far the front desk hasn't been able to find it. Guess I'll need to check out the grand bazaar for a new jacket.
[210.4 when I left town I think]