Another Amtrak Lounge, another comfortable chair to nap in.
Compared to the New Orleans location, this place is HUGE:
The reception desk to the right, carry-on luggage check room to the right – I just kept my small computer bag handy: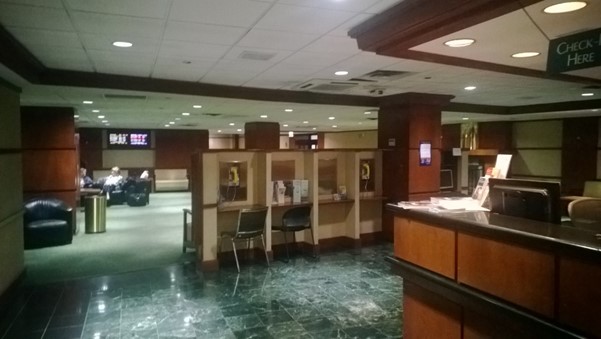 And several rooms worth of seating….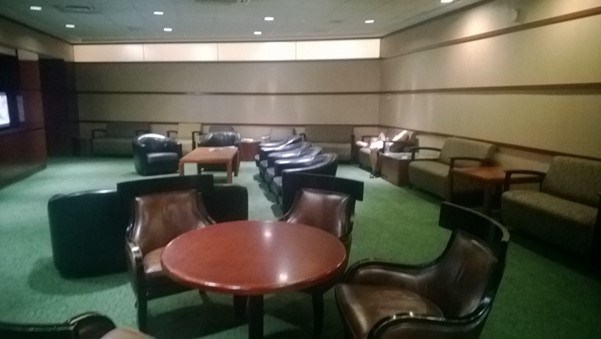 And unlimited soda…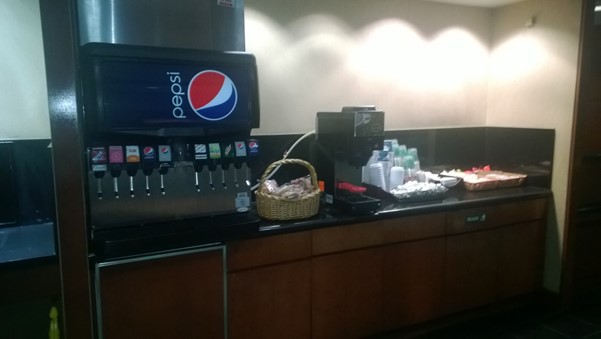 And our own exit directly (though not close) to the tracks: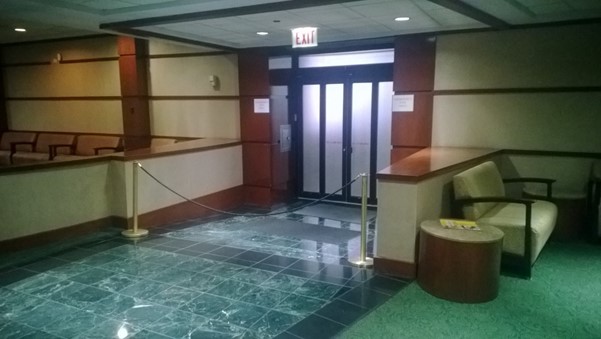 Around 10 I headed out to explore – found a CVS Pharmacy that sells Evan Williams, took some neighborhood shots: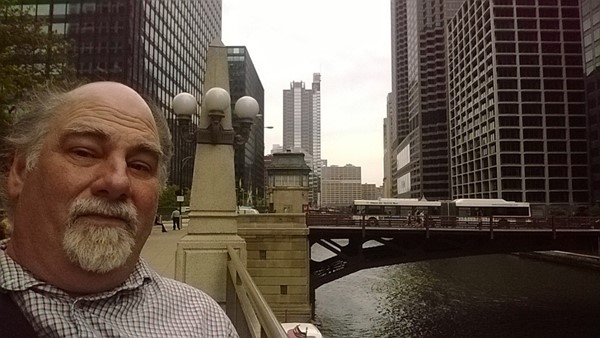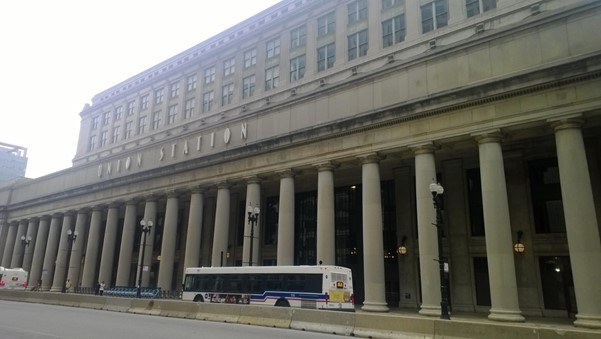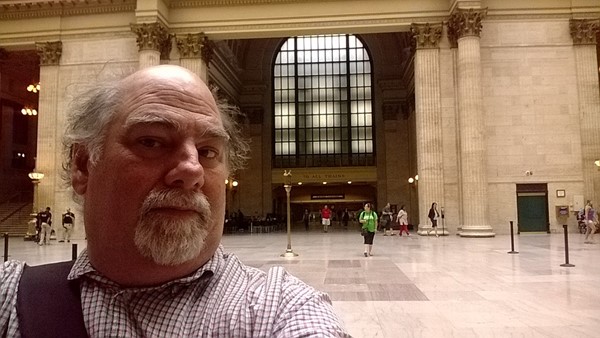 The last shot is of old waiting hall – the new ones are located under sky scrapper next door complete with "food court" that actually had good food (well, they had a McDonalds as well, but this was my 10am snack: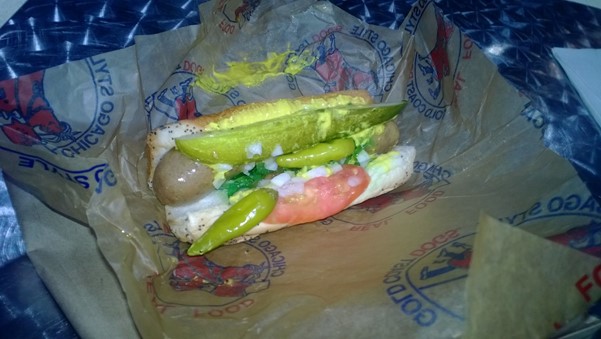 Yep, a Chicago Style Brat from this place: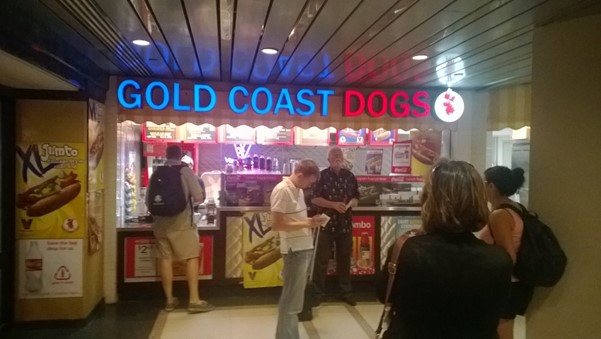 And when I went back out to score additional Evan Williams in case I need to share, also picked up one of the best pulled pork sandwiches (extra slaw instead of the fries) that I've ever had. Loved the egg-bun: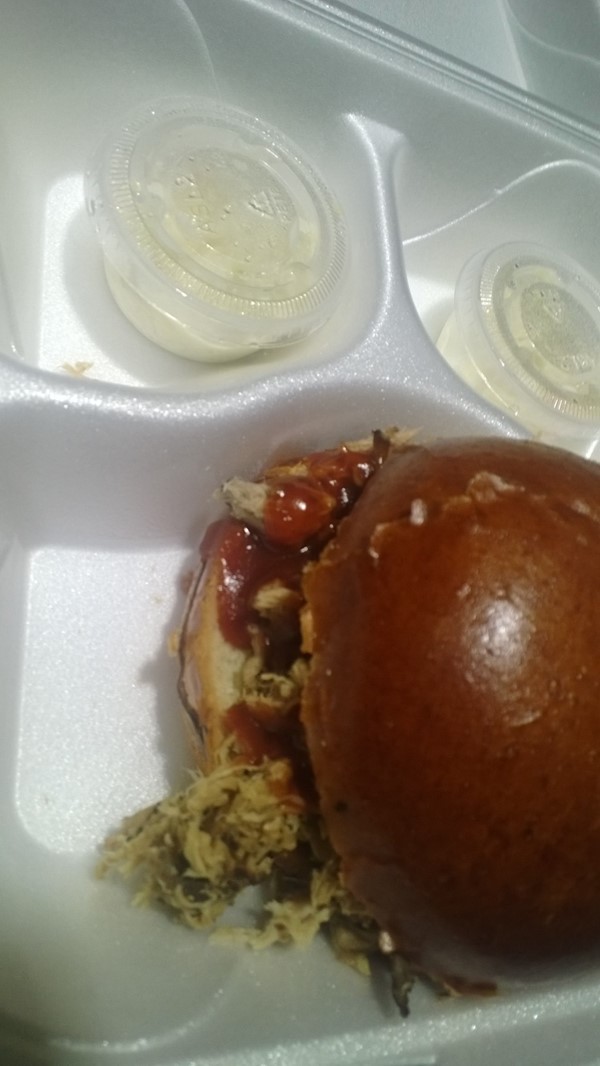 From these folks: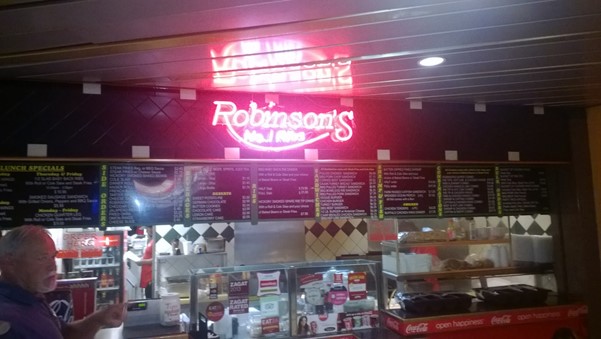 The wonderfully empty Metropolitan Lounge wasn't so empty when I returned. When you have this many trains going out around the same time in the afternoon…

You end up with a scene like this: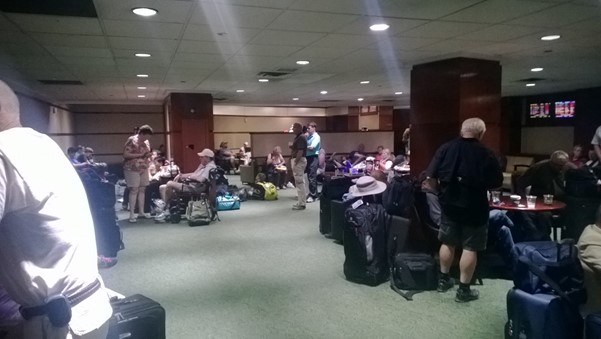 And the other two rooms looked like this as well – not an open seat in the house.
Luckily it was a 2:15pm load time for our 3pm train, The Southwest Chief – but that was pushed back because there were three delayed trains that needed to get out of the room ahead of us. Controlled chaos was what is was… on the upside, I got to see a gaggle of Boy Scouts headed to the Philmont Scout Camp in Cimmaron (NM) boarding the train: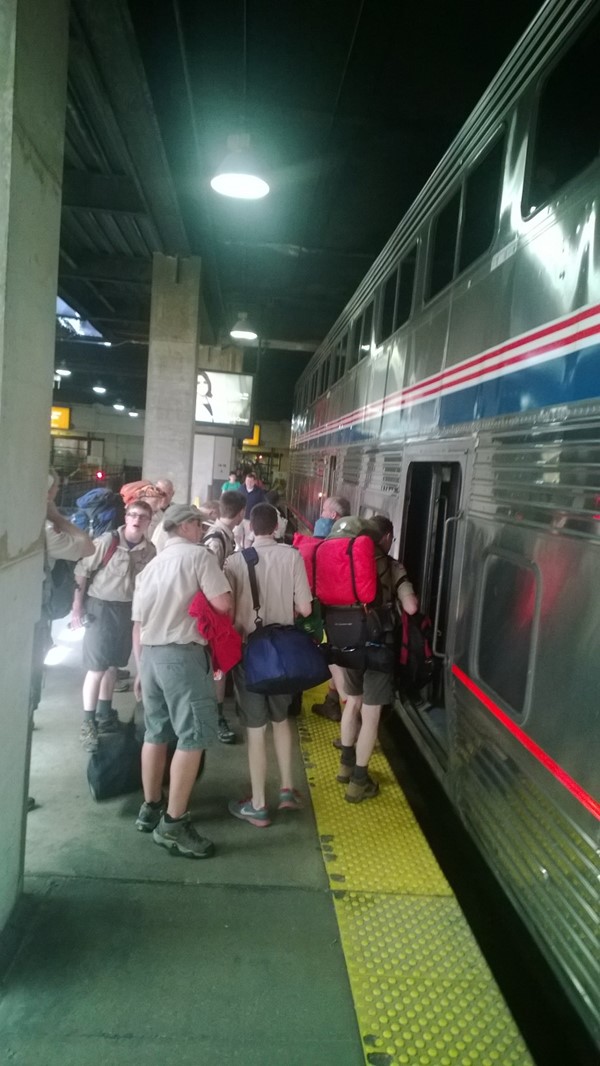 Philmont Scout Ranch, the Boy Scouts of America's premier High Adventureâ"¢ base, challenges Scouts and Venturers with more than 214 square miles of rugged northern New Mexico wilderness. Backpacking treks, horseback cavalcades, and training and service programs offer young people many ways to experience this legendary country. Or so their website says – I understand that 2 weeks there is $1500 when you figure in transportation to get there. LINK TO FEES
To make matter more humorous, in Galesburg, IL another gaggle of Scouts got on in matching fluorescent t-shirts. And if you really want a chuckle – imagine the lounge car filled with testosterone laden teens mixed with a handful of Old Order Amish woman headed to San Diego. The basic jist of the Old Order Amish is according to Wikipedia: "The Old Order Amish is the concept many outsiders have when they think of 'Amish'" right down to "rumsprina" a "rite of passage" for adolescents where often leave the community for a taste of the outside world before being baptized.
I would have gotten a picture but I didn't want to be an ass.
The first meal on the train was dinner – hence the Pulled Pork sandwich at 1:30pm or so.
What's for dinner you might ask – I had the steak again, to see the difference between routes. Tonight's steak was much juicier that last nights, but I like the corn better than the green beans as the vegetable – presentation was hand-down better on the Southwest Chief.
The only goal remaining for tonight is to grab a couple of "Platform Memories" shots in both Kansas City (MO, not KS) and Lawrence (KS). First stop is Kansas City where Paul will be meeting me: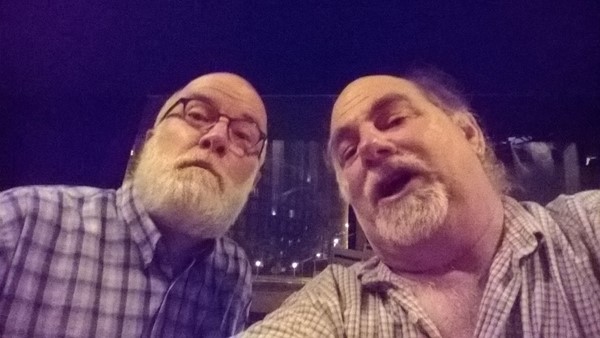 Though I would have like to get more of the train in there.
But onto Lawrence (KS) where I had to work with the conductor since only one car in coach was opening – and it was a QUICK two minute stop, enough for this shot of Byron, Phil and myself (right to left):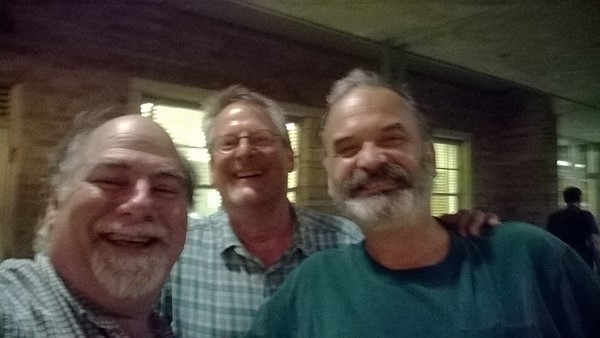 Turns out Conan was headed back from the movies and just saw the tail-lights of the Southwest Chief as they hit a crossing. Another 10 nights early and I could have waved.
Unfortunately I don't think Flagstaff (AZ) is going to work out because Kyle work evenings. Hopefully I'll get one or two from The Coast Starlight.
Just for the record, I'm in Car 0331 (second sleeper forward of the Dining Car) in Room(ette) 4 facing West and North. I've lucked out as this is one of the few Superliner II cars that still has a functioning ice drawer under the coffee urn: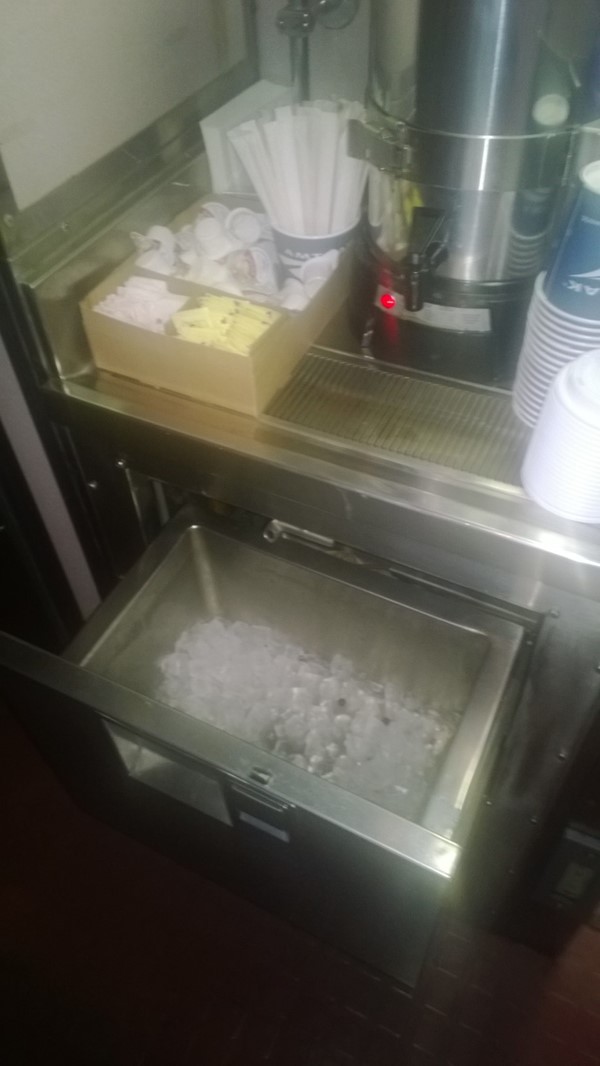 Most of these have been abandoned after the health department raised hell for the scoop being in the drawer – use of the drawer now comes with rules from the car attendant – scoop must remain in paper bucket next to the coffee urn when not in use. The rest of the sleepers (including those on the City of New Orleans) that I've been on have had Styrofoam coolers to fetch your ice from.
And here is a little oddity that I noticed on the Southwest Chief schedules note: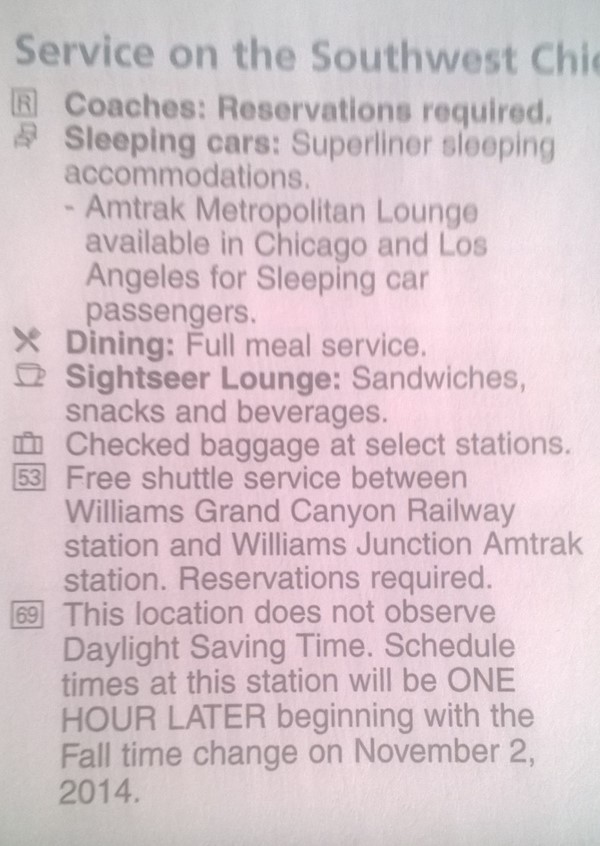 So is "69" a reference to Arizonans? I thought Arizona was so conservative that sex wasn't allowed.
Decided on the top bunk with both mattresses – tight but comfy though the morning came too soon and I didn't hear the breakfast hours last night, so a bit of a panic, and then because of all the Boy Scouts, a half an hour wait to get a table. Damn do-gooders.
Got talked into the Omelet – not bad. Asparagus, onions, tomatoes, cheese was the filling. Yes, on the Southwest Chief they have menus items listed.
Headed back to the room(ette) after breakfast and basically napped until noon when I went downstairs for a shower – which did wonders for my mood.
Lunch was the Angus Cheeseburger with Bacon, always a winner – though I skipped the Kettle Chips.
The afternoon found me not reading but draining my tablet battery playing this mind-sucking Tri Peaks Solitaire which I got hooked on with my phone – and man can the game suck the juice out of the phone (and the tablet). By Albuquerque I finally put it down, but I did take breaks in Lamy (and Albuquerque) to step off and get pictures – it's so weird to be at these two stations and not have any friends or family.
In Lamy it would have been my sister-in-law Jen, but she is interviewing job candidates today and the bro-in-law and niece are out of town – and mom is a El Castillo in downtown Santa Fe, so that's out. There is a great "Platform Memory" – and probably what started this project – of my parents and I at the Lamy Station a couple of years before my father died.
Here is a link to the post that photo was in: LINK
And here is the station today: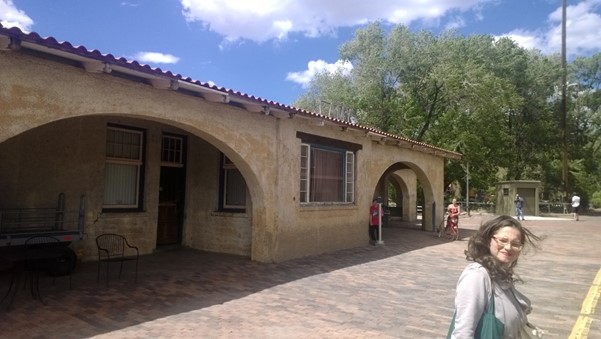 The stop after Lamy (which is the stop for Santa Fe (NM)) is Albuquerque (NM) where in the past I've hooked up the Jen's (sis-in-law) friend Michele to shoot the shit on the 45-minute layover – but alas, she has a doctor's appointment at the same time, so, yet again, another link to a previous post of my last meet-up: LINK
And here is the station today: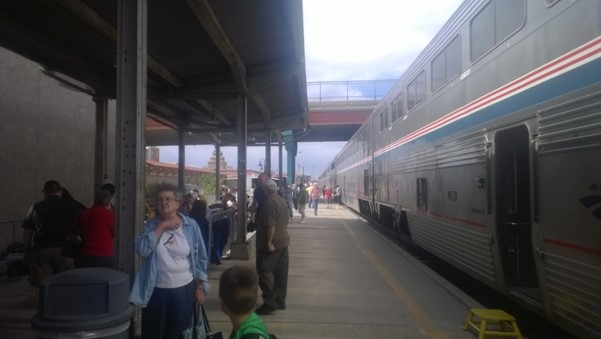 Guess this means that I'll have to include a photo of the Flagstaff station where I was hoping to meet Kyle: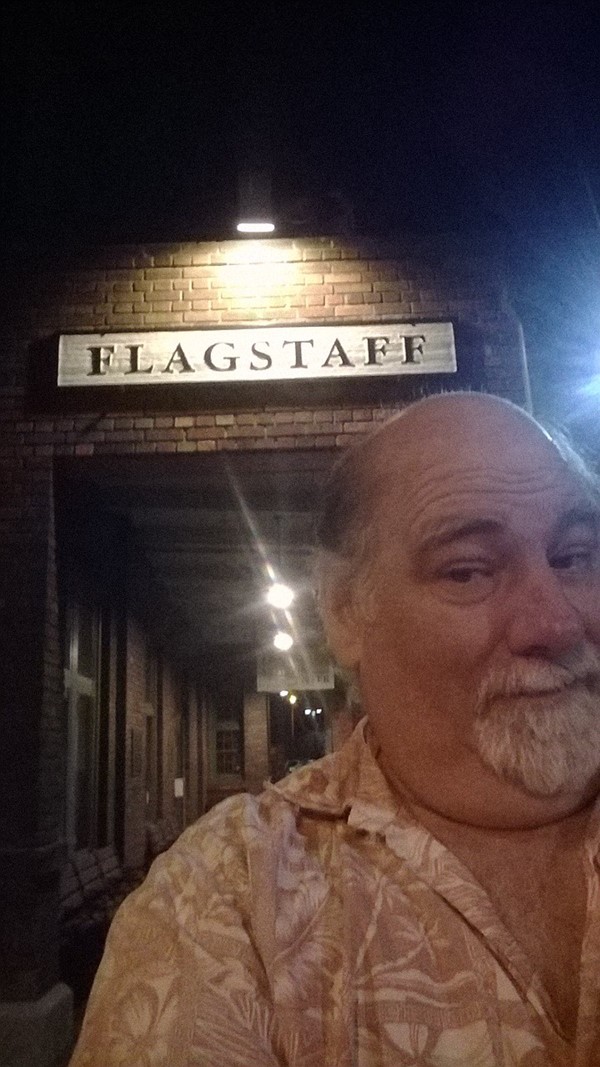 Speaking of Flagstaff, we were delayed an hour because of a medical emergency. What's that phrase? "It's all good until the ambulance shows up." One three ladies travelling together to Las Vegas had a couple of strokes – but to get her off the train as she was on the "hefty" side, they had to get her conscious since they couldn't get a backboard up the narrow coach car stairs. They say it shouldn't make us too late as there is padding in the schedule between Riverside and Los Angeles.
A later dinner seating tonight, 7:45pm, it was that or like 5:45pm which would have left me hungry at nine – no more 7pm seats but the time they got to my sleeper. They actually have reservations going til 9pm which is definitely too late for me.
Dinner tonight? Yes, another steak – luckily they were out of desert by the time they got to our table. Luckily I had some chocolate left over from the Snack Basket on the flight to New Orleans.
And a humor shot — the Jim Croce song: "If I Could Save Time In A Bottle," mine would be more like "If I Could Measure Time In A Bottle.":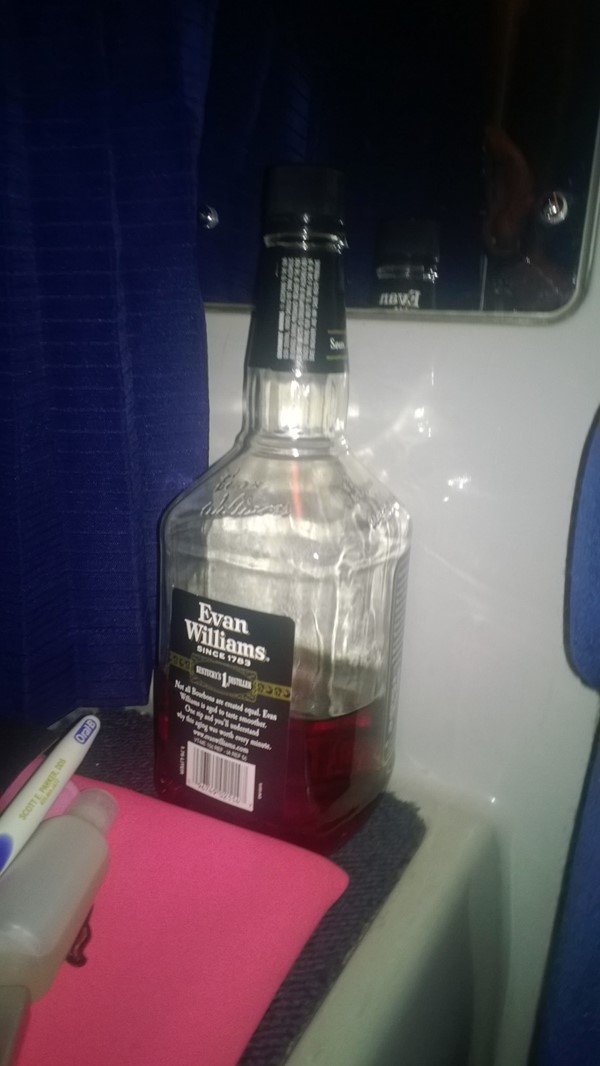 Early to bed since if I want breakfast I need to be in the Dining Car at 5am as they stop serving at 5:45am, or San Bernardino whichever is later…as it turns out we are still an hour behind so I wouldn't have had to rush that much.
As we pulled into Fullerton I saw the Amish ladies transferring to the Pacific Surfliner: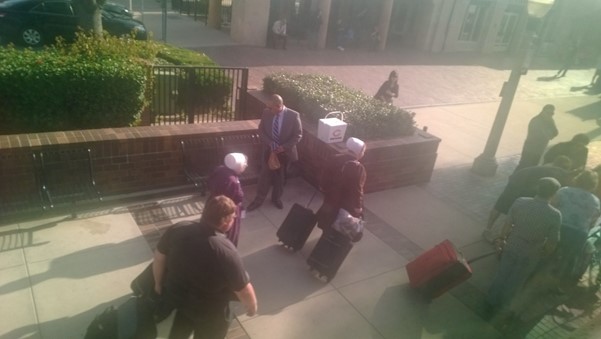 Ended up getting in 25 minutes late – time to hook up with Craig, but first, the Metropolitan Lounge.
And I close with my post with my favorite picture of the day – Arizona in the afternoon: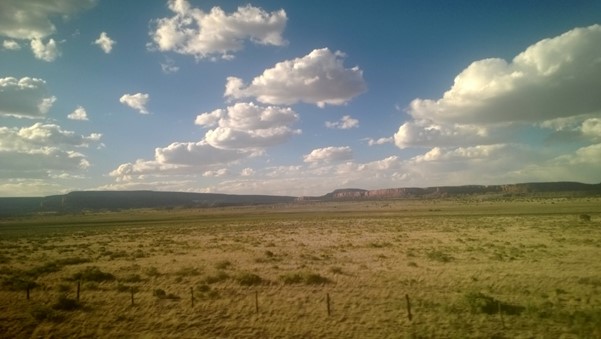 To be continued…
[? ? ?]