Another week, another trip. This week I used my last two Gold Guest Upgrades for 2014 to secure first class round-trip Seattle to Tucson for $300.
But first, an amusing shot from Sea-Tac, a SubPop record store in the airport concourse…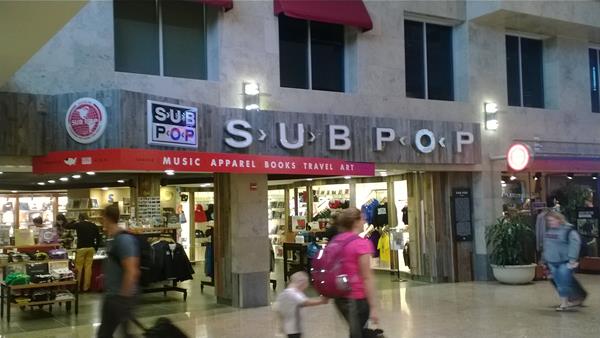 And my plane, which you can't quite see from here, is in the Portland Timbers livery: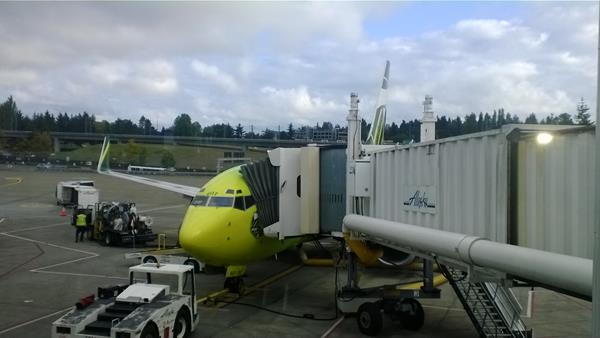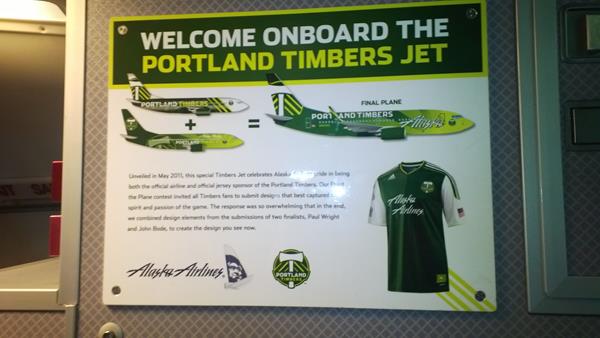 Not a bad fare, too bad I didn't realize it came with a dog. A "service dog" that needs some seriously remedial training.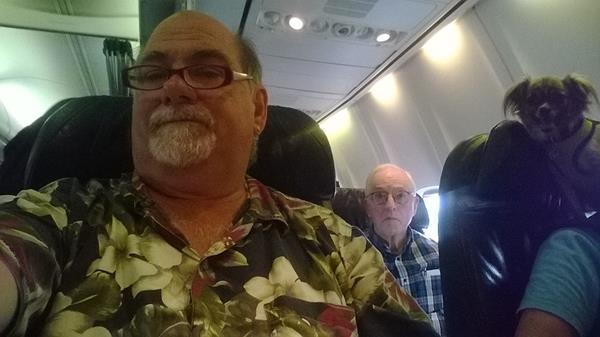 The guy behind me doesn't look too pleased with the dog either… or maybe with me taking the picture. That damn dog panted all three hours to Tucson riding on the woman's shoulder – and the woman herself smelled like a dirty ashtray. Guess it could have been worse, the dog could have had its buss a foot from my face for three hours.
Here is my exchange with Alaska's Customer Response Team:

1:06pm Mark Stephen Souder
Can you tell me what the rules are concerning "service dogs" — the one in the picture attached I doubt is a "service dog" even with the service dog vest on. This is a picture from bulkhead first class (1A — old lady and dog, 1C myself). I discreetly inquired with the flight attendant who said there is nothing they can do…that dog rode her shoulders for the entire flight, panting in my direction the whole way, which is better than getting it's butt 12″ away from my face for two hours. And FYI, being slightly allergic to dogs luckily I had pills on me, but hope your planes are equipped with EpiPens.

2:07pm Alaska Airlines
Hi Mark Stephen Souder, sorry about the experience you had. Regarding service animals, if the passenger provides us identification cards, other written documentations, presence of harnesses, tags or credible verbal assurances of the service animal, then we have to accept it as a service animal. -John

2:21pm Mark Stephen Souder

Are their behavior rules in the cabin? All other service animals I've seem are at the feet of their companion rather than crawling over seat backs and going for my food.

2:40pm Alaska Airlines
Service animals doesn't have to sit at the feet of the companion. I have seen smaller dogs that sit on the lap and they help the companion detect low blood sugar levels. -John

2:53pm Mark Stephen Souder
Thank you for the information — is this a situation where I could ask to be reseated due to allergies?

2:58pm Alaska Airlines
yes, you can always ask a flight attendant to be moved to another seat in first class. -John
So, dogs trump allergies – and any old paperwork and harness qualifies. At least it wasn't a German Sheppard in a bulkhead row.
And, of course, the dog went after my lunch…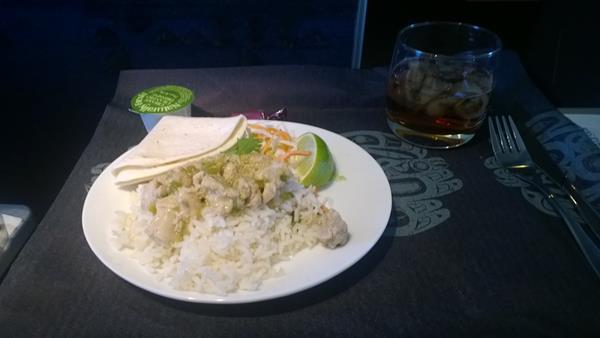 But before long memories of the nasty little dog faded as I settled into Life At Ficos…a little Ensalada Caprese because the early lunch wasn't terribly filling…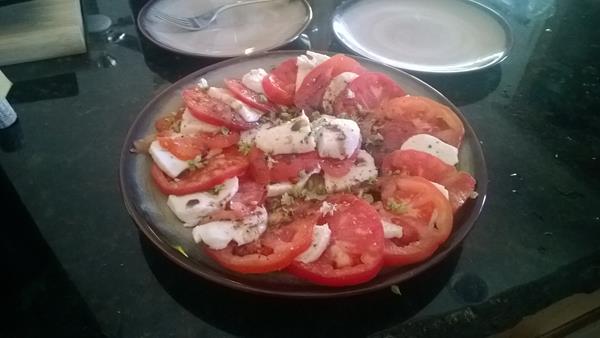 And then to the pool…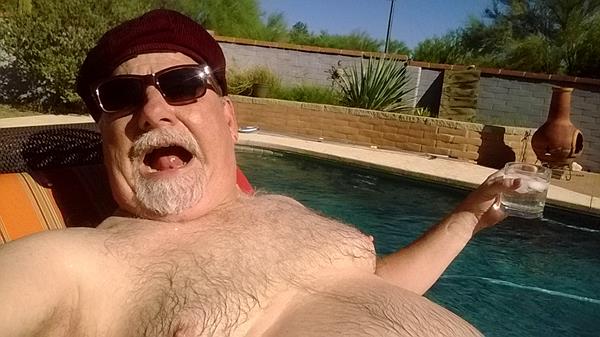 Dinner tonight was out with a friend of Fico's at Parish – I had a couple of appetizers, the Chile Rellenos and the Frog Legs Wrapped In Bacon. But we started with the Bacon Popcorn.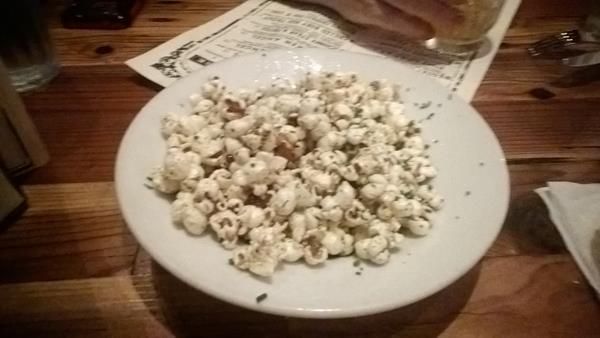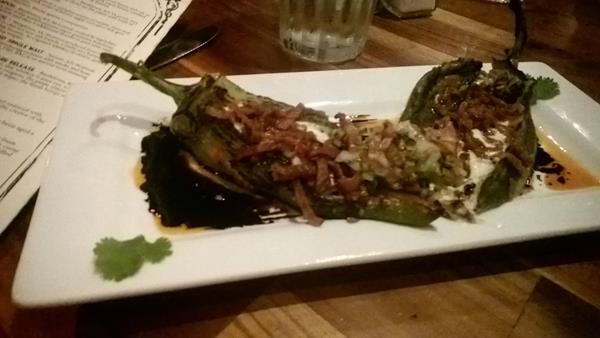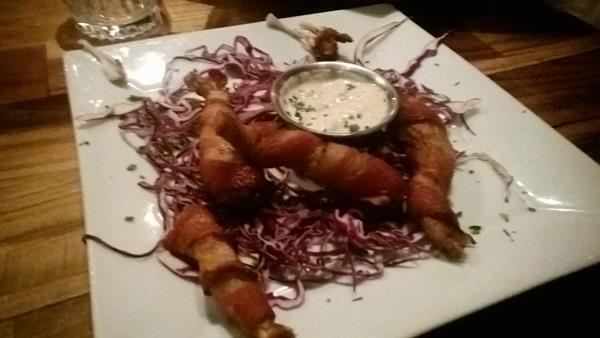 Here is the "office" set up…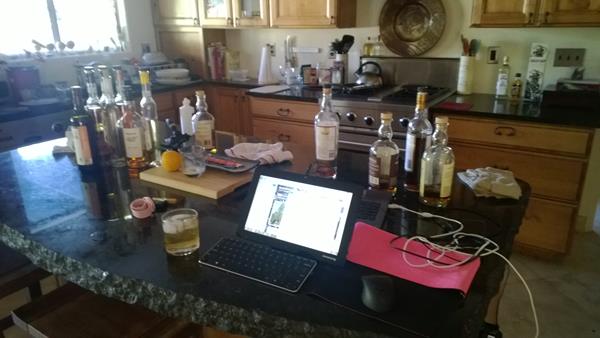 Wednesday we celebrated Fico's Birthday will dinner for eight at the house…a lovely salad: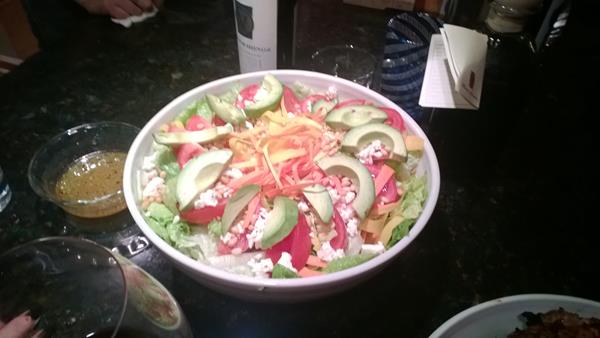 Roasted root vegetables: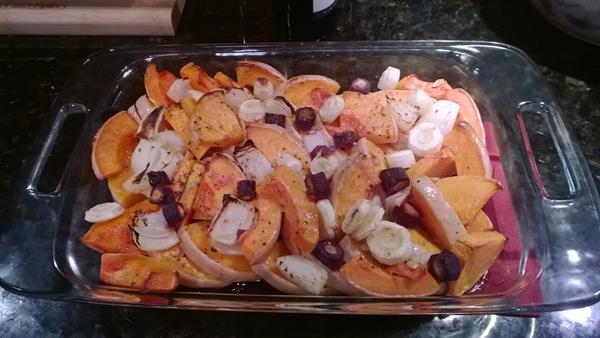 And BBQ'd chicken thighs: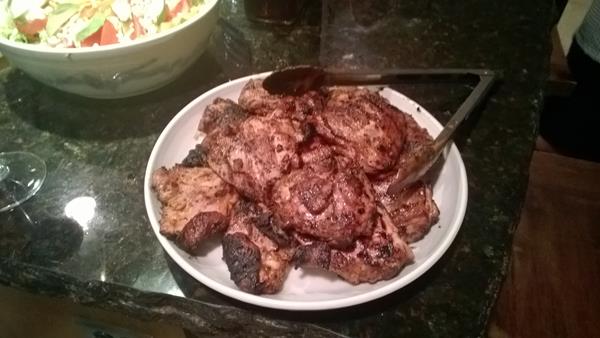 Definitely a group effort for dinner, but then there was the wine: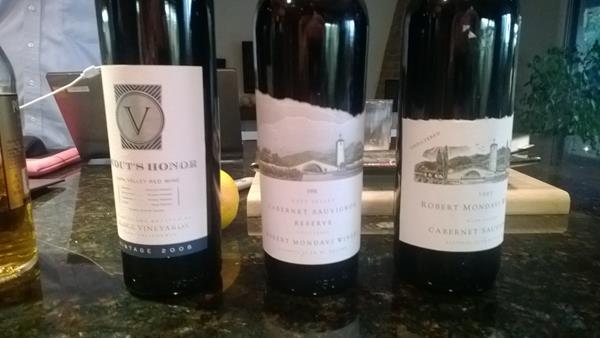 The two Mondavi's were from the 90's and still tasting quite good, even with the desert of Tres Leches cake: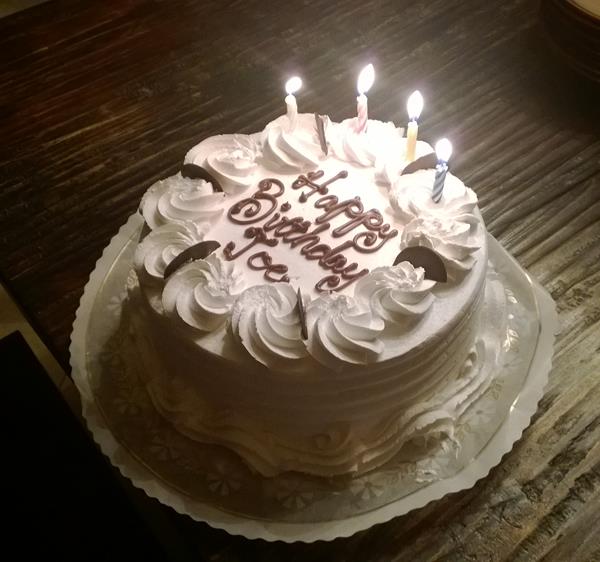 And the birthday boy (technically on Friday)…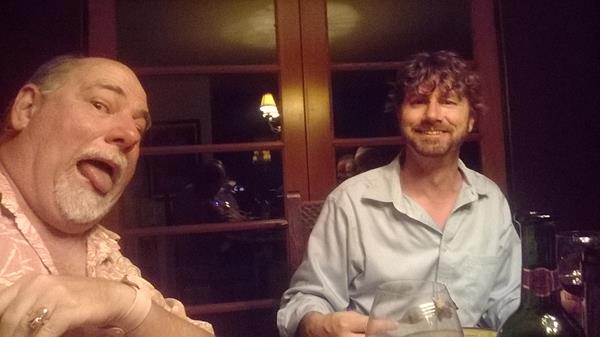 Work for me all day Thursday, between the usual Thursday Madrona Wine Merchants site updates, there was a proposal due for another consulting gig that is looking good. That would make three jobs to be juggled – a good thing since I need the money since I keep spending it all on travel.
Dinner Thursday night was a couple of pan-friend rib eye steaks I'd picked up at the same time as the chicken, the remaining roasted veggies and another salad, though not quite as nice as the one Sam(antha) made last night. Dessert (and drinks) was at the Coronet Café at the Coronado Hotel – featuring a Gypsy Jazz Trio with Sam on violin…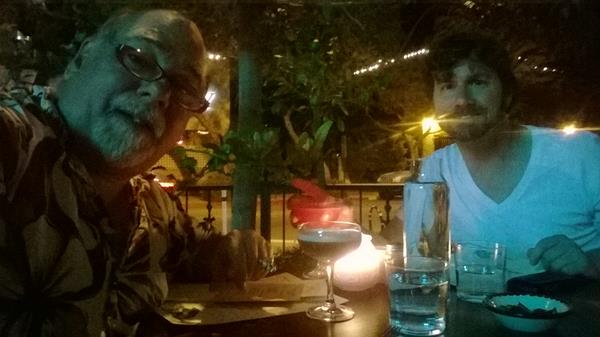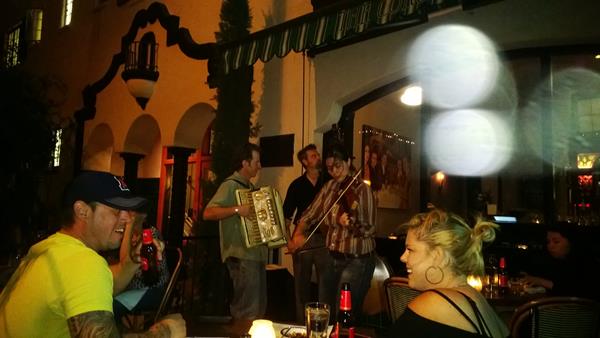 They are pretty good as you can hear in this clip — and who doesn't love an accordian:
Before you know it, it's Friday, time for breakfast and out the door at noon: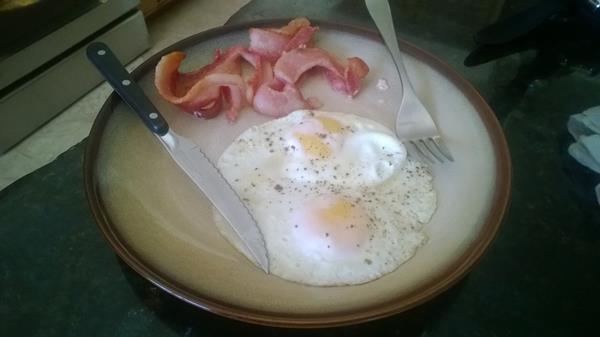 The standard Uncle Markie breakfast – a couple of eggs and some meat product.
No lounge at the airport – but there is a GREAT sushi bar in the concourse…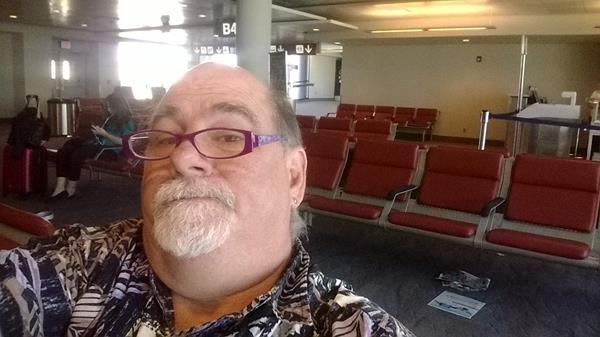 Plane is on time…and no "service dogs" on this leg…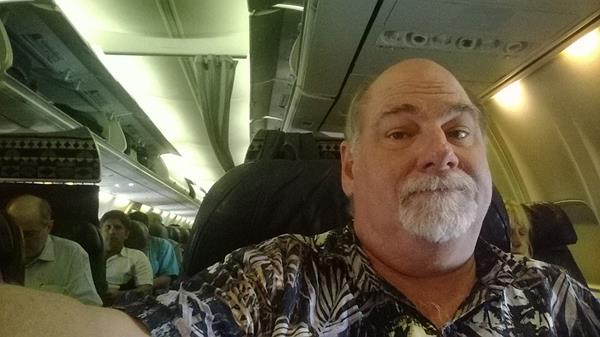 Cocktails, then a little lunch, which I just ate the chicken out of…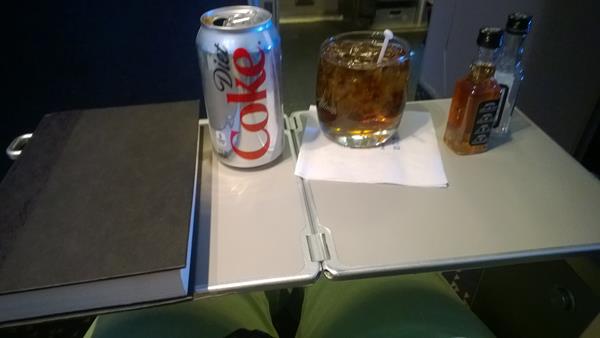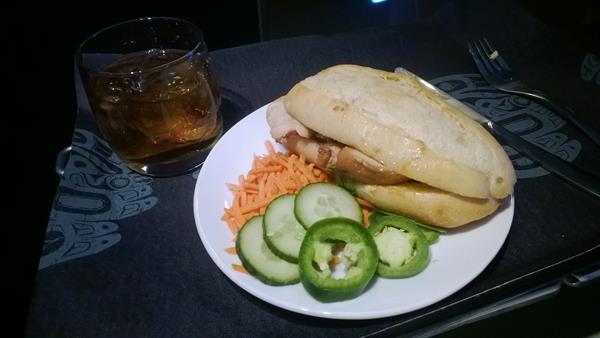 And before you know it, I'm shopping at Safeway on the way home since I have company for dinner…great view of Tahoma (Mount Rainier) from the parking lot: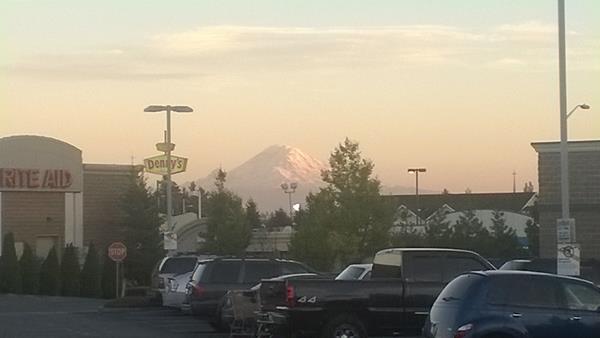 A bit of haze from the temperature inversion, but still pretty.
Dinner tonight is a rare one, with Dwight up from Olympia for BrickCon at Seattle Center – yes, he's a LegoHead, and an Amtrak fan as well, so I passed on my collection of Amtrak wares…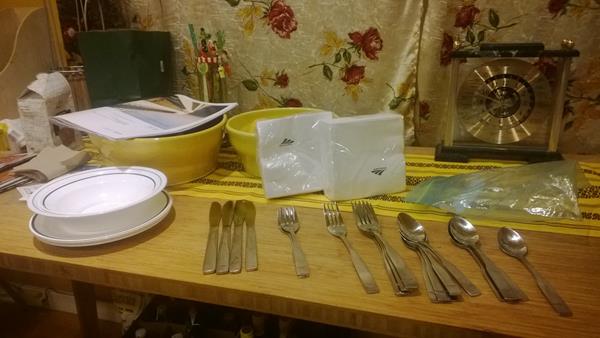 Needless to say, it was a long evening.
Back to work tomorrow.
[226.4]