My little "Board Room Ritual"—a Red Baron (also known as a Poinsettia) to start the travel day. That would be sparkling wine and cranberry juice. Kill the liver, cure the kidneys.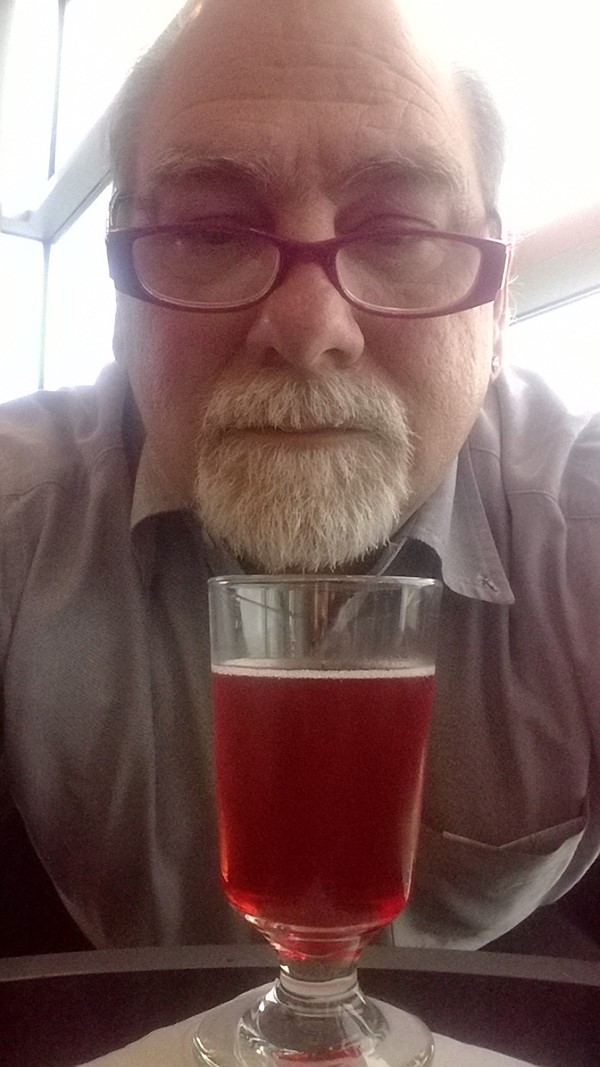 My good travel luck is holding – got assigned Seat 1C without even having to log in a move it. Maybe the computer finally knows what seat I like. Uneventful flight. So uneventful that I forgot to take a picture of my lunch which was a warm chicken thigh sandwich that was actually pretty good.
Albuquerque has one of those consolidated rental car centers that I despise and it didn't help that the customers in front of me were playing twenty questions with the lone rental car agent. Even if I had status with Alamo it wouldn't have been any quicker with just one agent.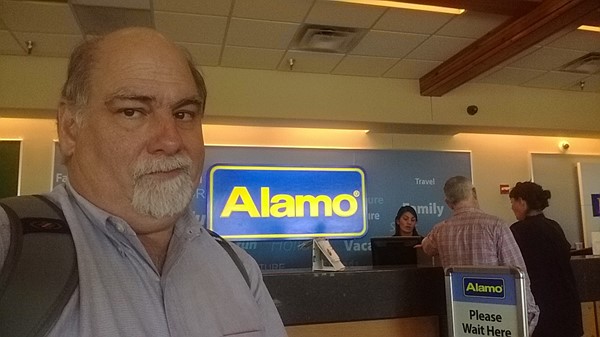 Luckily right next to Alamo was their sister company, National, and that agent did my paperwork and I was out the door in a 4-door Nissan Sentra lickity split.
Here is my little "Leaving Albuquerque" video:
Got to Santa Fe, swung by the office at El Castillo to pick up a parking pass – something I'll have to do daily as parking is at a premium with the construction of their new Alzheimer unit.
Here are a couple of shots of the building that my mother is in: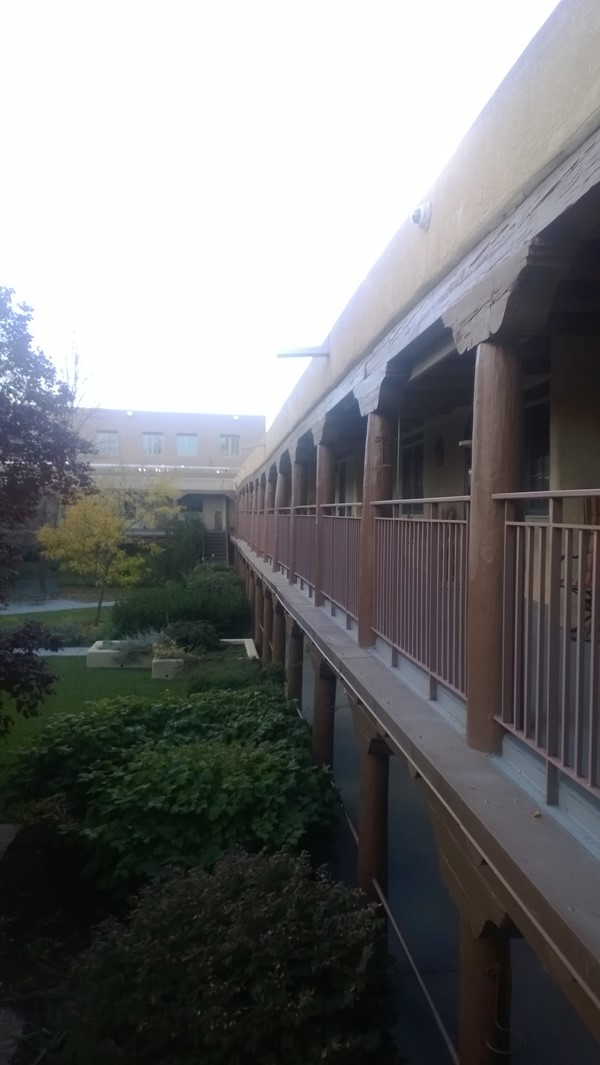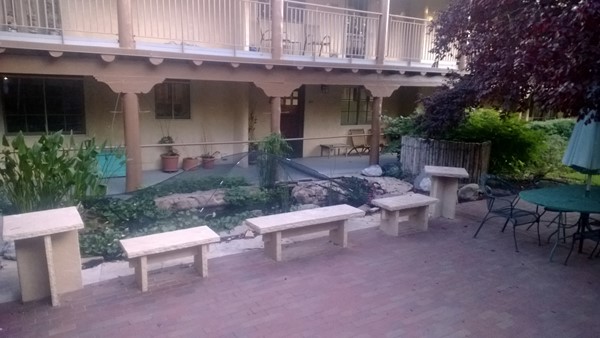 Before long, the in-laws start showing up, all in separate cars. Brother-in-law Kennan, sis-in-law Jen, niece Karen. Off to dinner we go, to Rio Chama and boy was the food good.
Starters of oysters – lots of them. Half a dozen for me, a dozen for Mom, and another half dozen split by the Pruett/Girdners (the in-laws).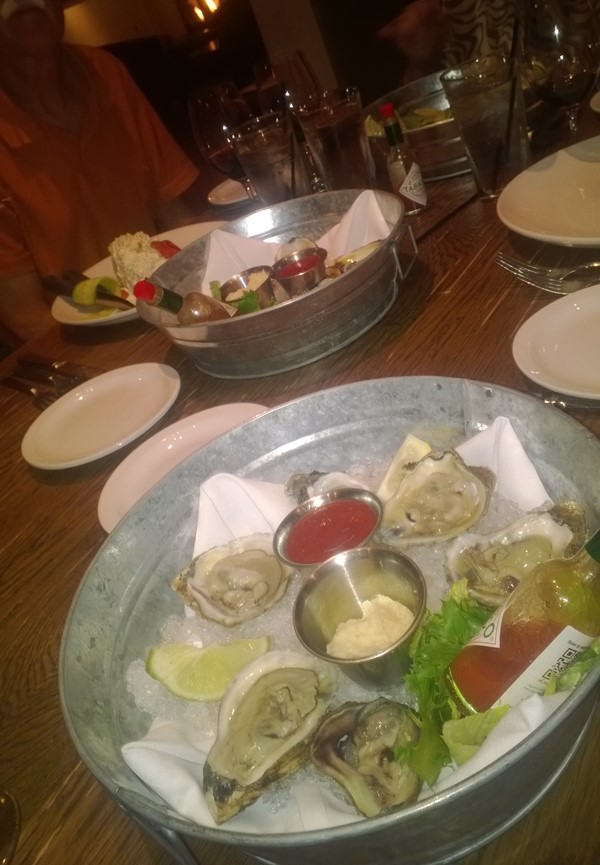 Then for my main, there wasn't much of a decision since rarely to you see Elk Tenderloin on the menu – with a little broccolini, on a bed of pancetta roasted new potatoes and quash.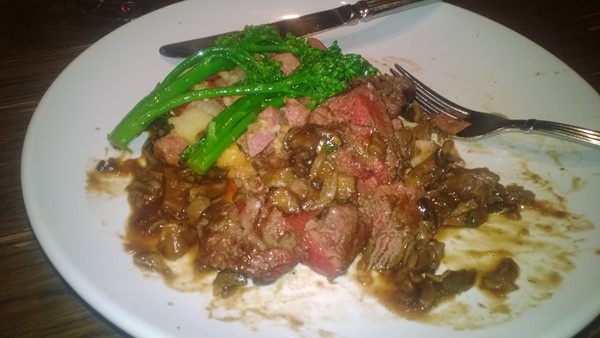 Yum, yum, yum.
Mom was in bed by 8, me by 2…which meant not rolling out of bed in the morning until 10am.
Fed myself some leftovers and headed out on the errand run – working through the "honeydo" list.
Staples for pens, paper, and ink for Mom
Albertsons for soda and bourbon for both of us
As I was loading the trunk this guy came up to me and asked if he could talk to me about shopping bags. Turns out Santa Fe banned plastic bags in an effort to get people to bring their own. But since they didn't put a fee on paper bags, needless to say it isn't reducing waste and it's costing the grocery stores more. He even took pictures.
Some of the results of my shopping – like mother, like son: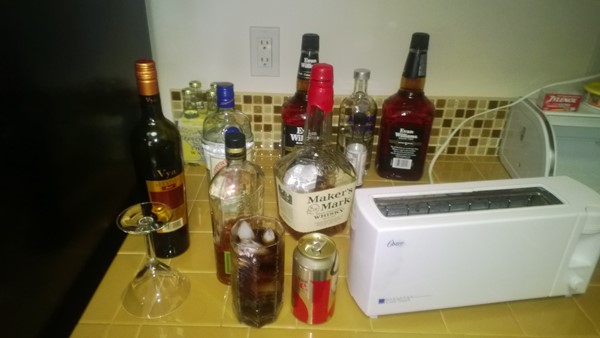 Cocktails at 4 with two other residents of El Castillo whose daughter also went to Evergreen. Martinis for Mom and I, white wine for The McCarthys. Mom loves good gin – and her favorite was the Tanqueray Malacca Gin which hadn't been produced in a decade before last year when they came out with a limited release in liter bottles. That's all gone, but she snagged a bottle of Tanqueray's latest limited release of their Old Tom Gin. Damn tasty, hence the plug here: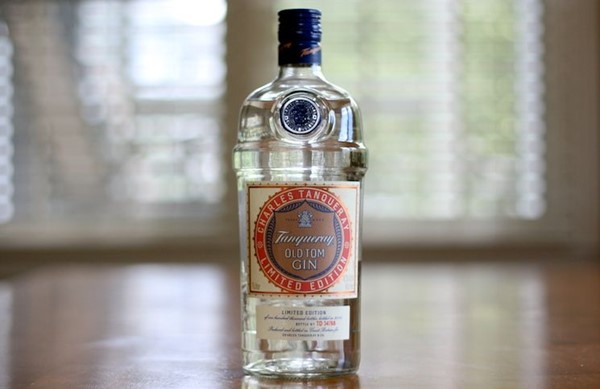 Of course it isn't cheap, but might have to pick up one on my next trip.

Dinner was take-out from Whole Hog BBQ. The food is good, but I'm always surprised that there aren't many people in their – guessing they do a huge lunch business through: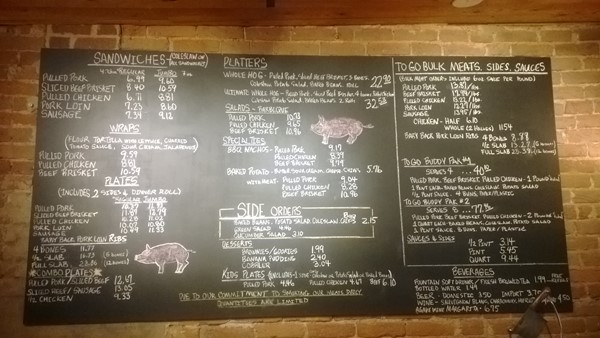 Thursday was the big day for us, especially when one more item got added to the list. I got an email in the morning from Kristina Hagman asking if I was in Santa Fe, as was she. Turns out she found out about me being in town because I made the front page of the Santa Fe New Mexican – above the fold!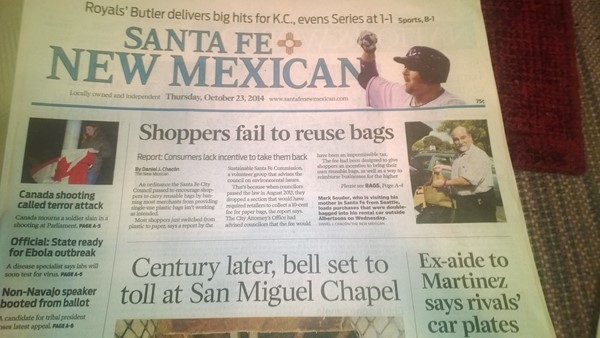 That would be me on the right. Guess there goes my 15 minutes of fame…
Here are the links to the newspaper article and the link to my picture: ARTICLE
PICTURE
So Kristina popped over for a bit, and posed for a "groupie".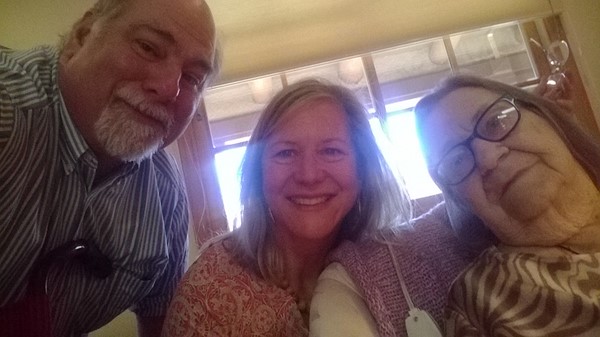 Then Mom and I went out to lunch at SantacaFé. I had the Rueben (with enough left over for dinner) and Mom had the onion rings to start and the Lobster Roll for her main, but didn't eat much of it after filling up on the onion rings which really were good:
We ate outside which was a little chilly when the breeze kicked up but still nicer than being cooped up inside on a sunny fall day.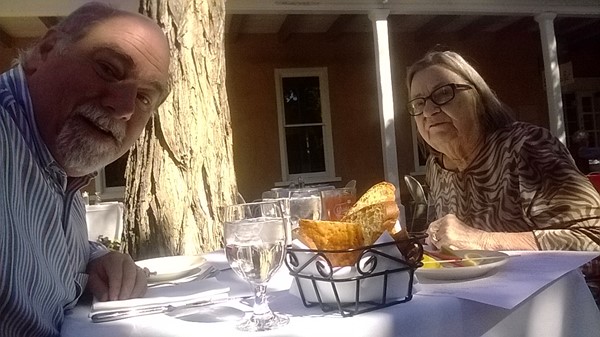 Next up was the bank to add me to the checking accounts. It was the final item financially that needed taking care of so that there won't be anything going through probate. I'm on one, by brother is on another, and my sister-in-law is on the third with all of us being on the brokerage account. No houses, no cars, just some possessions and we aren't the haggling kind of family.
When 4PM rolled around it was time to head next door to a building-wide cocktail party. Man those old people know how to drink! Lots of wine, and more importantly for me, Jameson's Irish Whiskey. They next door neighbors last name is Jameson so it was quite appropriate. Helped myself twice before we headed back to Mom's apartment.
And I wasn't kidding about enough food leftover to make a nice dinner: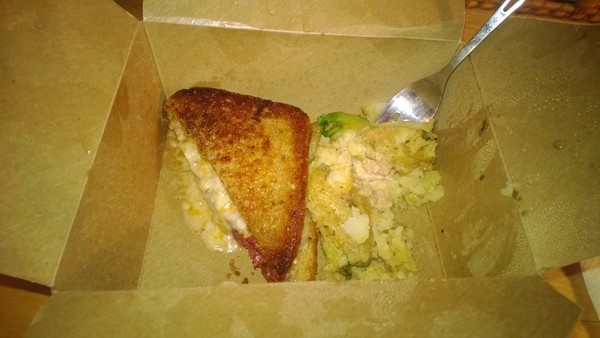 That is the Dill laced hot potato salad that came with the sandwich.
My last day in Santa Fe (Friday) had me up and out so I could have brunch with my buddy Aaron from Las Cruces that had driven 4+ hours to Santa Fe to see me. Luckily his sister lives in Santa Fe and he's going to stay a couple of nights.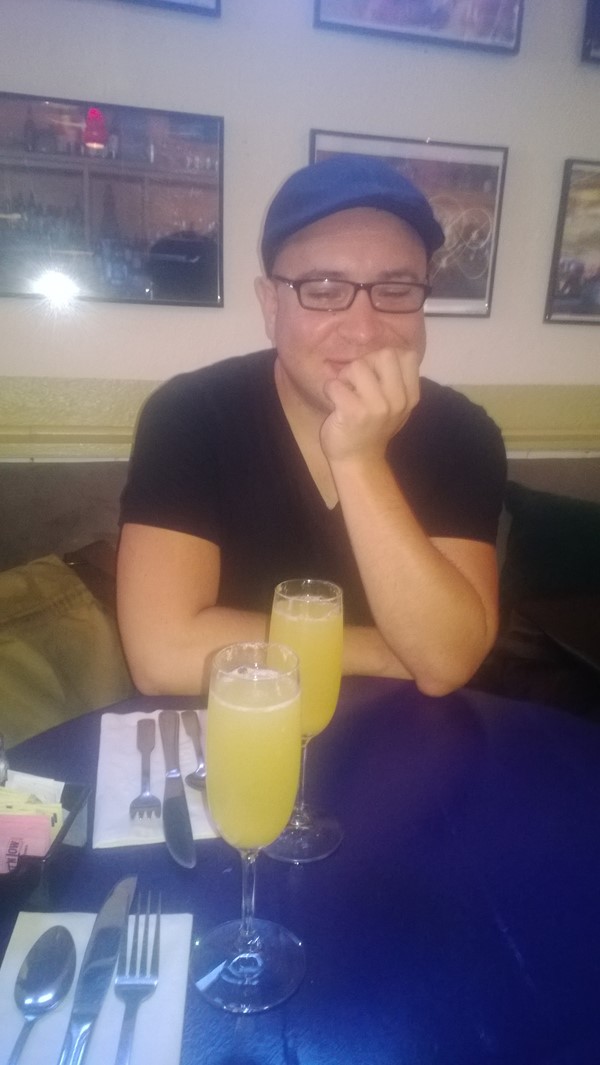 Bunch was at the Swiss Bakery. Yes, those would be mimosas. With Eggs Benedict on the way: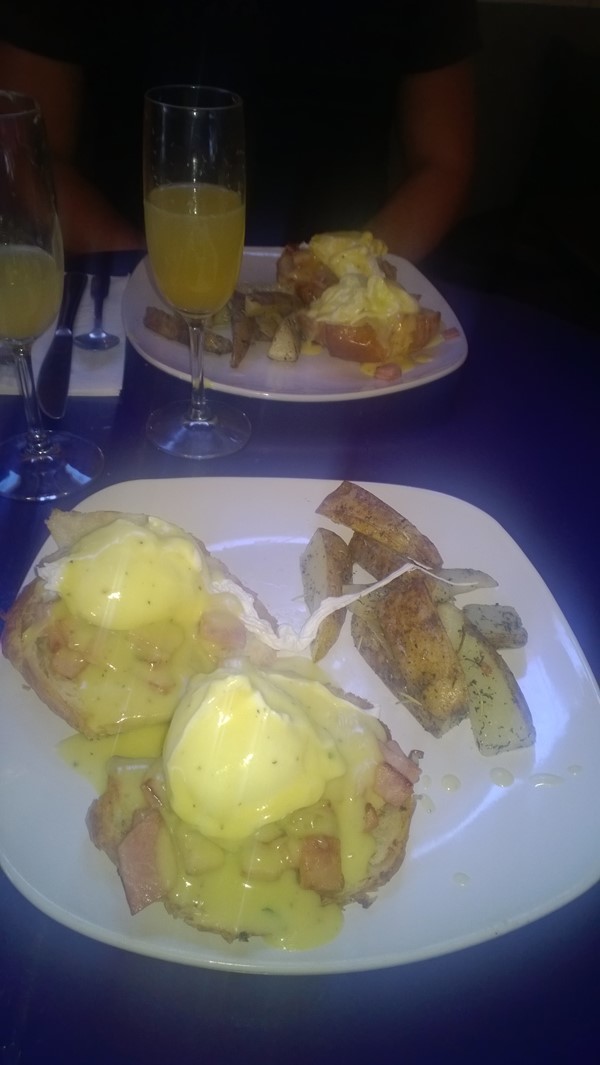 I passed on the potatoes.
Walking back to the car I spotted these two train cars…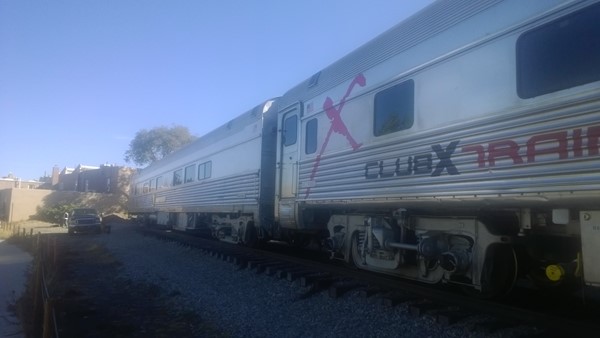 A little digging around and I came up with pictures from the interiors…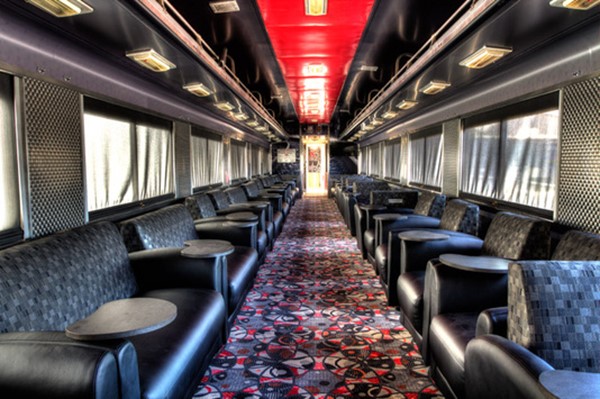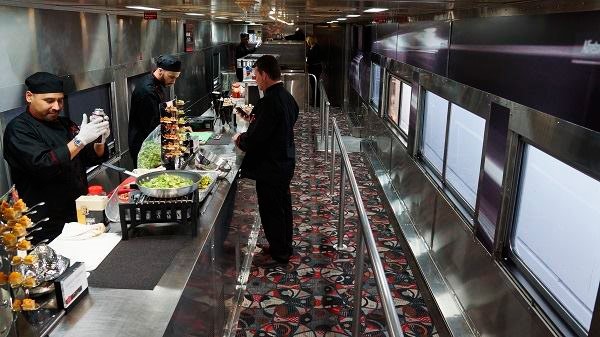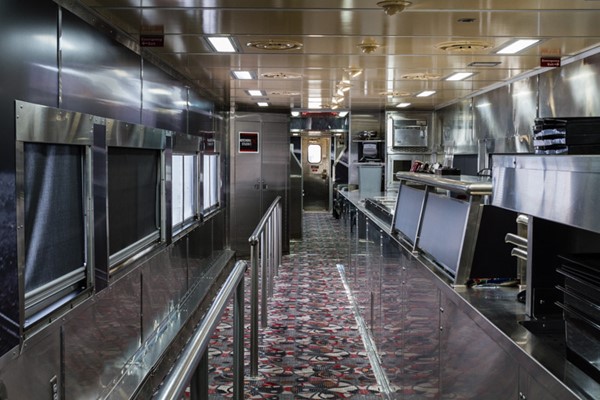 Seems these are now part of the Santa Fe Southern Railway which runs tourist trains between Santa Fe and Lamy. The last time I was on them they only had an enclosed car and an open car. Funny that the train ran right by my parent's old house.
And digging further, I seemed to remember something about an outfit that wanted to run a high-speed privately financed train between LA and Las Vegas. Turns out that X-Train are those folks. What two of their cars are doing in Santa Fe is a mystery to me…one worth digging into.
So… X Train Rail Holdings Corporation (Ticker Symbol: XTRN) is an odd little beast of a company offering upscale rail holidays, rail car financing and leaseback, and apparently a roll out plan to have 20+ cars by the end of 2015 judging from this slide I found on their site: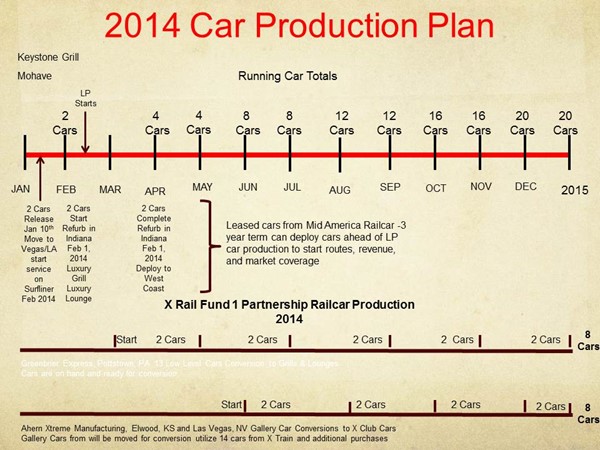 The whole PowerPoint Presentation is here: http://www.vegasxtrain.com/uploads/2/5/7/8/25787513/x_rail_asset_fund.ppt
The slide mentions Mid America Railcar which lists both of the cars that I saw in Santa Fe as being in their fleet…stranger and stranger (the Keystone Grill and the Mohave).
Enough digging and you find that they now own Santa Fe Southern Railroad, but oddly they have suspended service. It will be interesting to see if they do the Holiday Trains as they usually do.
And here is their description of what they do:
About X Train Holdings
The company Las Vegas Railway Express, Inc. DBA X Train Holdings Corp., has developed a robust infrastructure of call center, travel agency, logistics planning management, food & beverage and unique passenger rail cars of the purpose of acquiring or affiliating privately owned passenger rail companies under the X Train Holdings umbrella. Independently owned and operated passenger rail companies can enlist the services of X Train to grow market share, improve operating margins by consolidating costs, and providing access to capital for asset purchase, repair and improvement. X Train is a publicly traded company under the OTCQB: XTRN symbol. It is a fully reporting company and its auditors are BDO and its securities lawyers are Sichenzia Ross of New York. By consolidating either acquired companies and/or affiliated companies, X Train Holdings can create economies of scale for its array of member companies. This is much more difficult for small privately held companies where the principals frequently must guarantee personally capital purchases or loans. X Train Holdings relieves that burden and provides a path to liquidity should owners wish to sell.
And the link to Yahoo Finance with all their press releases, news, etc.: http://finance.yahoo.com/q?uhb=uh3_finance_vert&fr=&type=2button&s=XTRN
But I digress – I really did go down the internet rabbit hole…now where was I…
Time to get back to Albuquerque and catch my plane to Seattle-Taco – or at least that's what they sign says: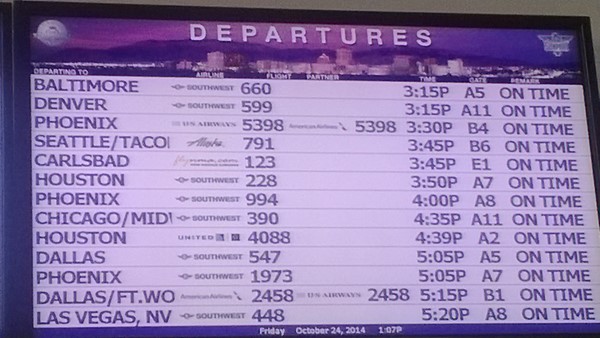 Would a Seattle Taco feature Seahawk meat?
No lounge at Sunport (the name of the airport), but a nice observation area to watch all the New Mexican Air National Guard jets, helicopters and transport planes take off and land.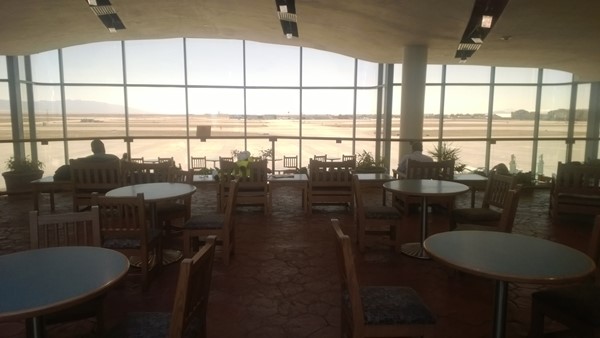 It's upstairs and underutilized – guess most people don't know it is there – and soon enough I'm settled back into Seat 1C.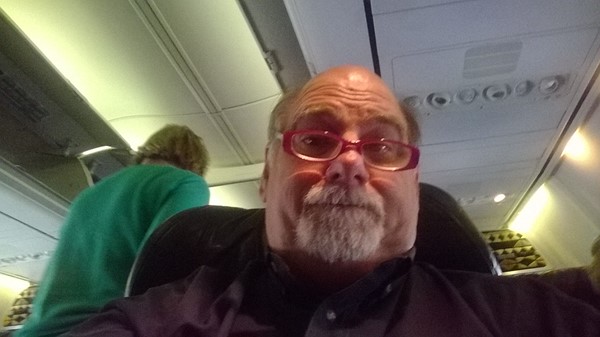 I'm so happy that my Friday night plans fell through (dinner with Josh and moving a painting). Nice to just chill at home.
[222.4]