Left mom's house a little after 10am after getting the snow off the rental car. They thankfully included a brush/scrapper in the car, though all it needed was to be brushed off.
Goodbye Santa Fe for a couple of months (back March and then again in July).
Picked up Dwight around 11 at the hotel I'd gotten him a discount in – wanted to see the room, but he'd already checked out. No real loss – it was an airport hotel after all.
First stop: Gruet Winery, a fine Méthode Champenoise producer in Albuquerque, New Mexico whose vineyards are outside Truth or Consequences, New Mexico, a town named after the game show (formerly known as Hot Springs). We sell their Blanc de Noir at the shop and it's been a staple of the Souder household's Christmastime tradition. But I had to try them all – Dwight declined as it was a little early for him…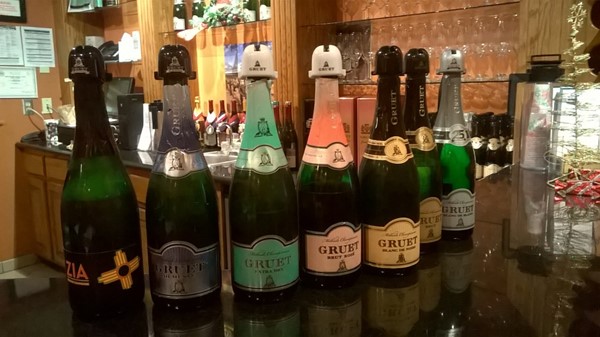 That was a nice side trip.
We probably should have gotten lunch somewhere but I ended up dropping Dwight and all our luggage at the train station in Albuquerque while I returned the car to the airport and caught a cab back to the station. I'd thought there was a shuttle, which technically there is…three times A DAY.
Took another little side trip before turning in the car to the "aircraft viewing area" at Albuquerque's Sun Port International Airport and found these: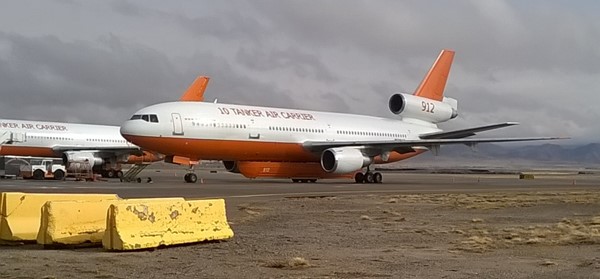 These are two DC-10 based firefighting planes which you can read about at http://www.10tanker.com.
Basically three hours in the train station which is also the Greyhound Station in Albuquerque. Made for interesting people watching. Our route home is the Southwest Chief from Albuquerque to Los Angeles, then the Coast Starlight from Los Angeles to Seattle (Olympia for Dwight).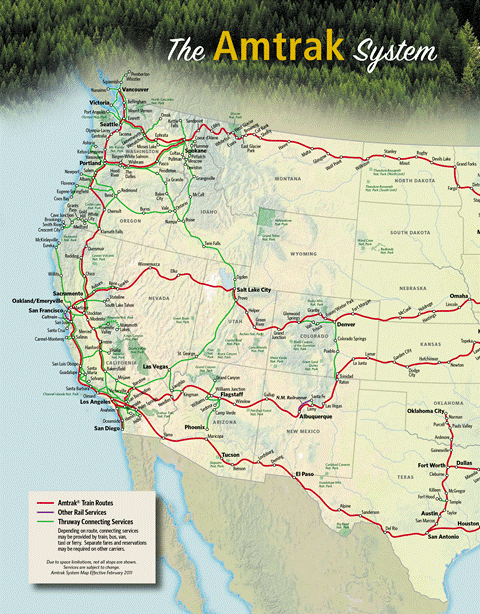 The train was running a little late…and it started raining…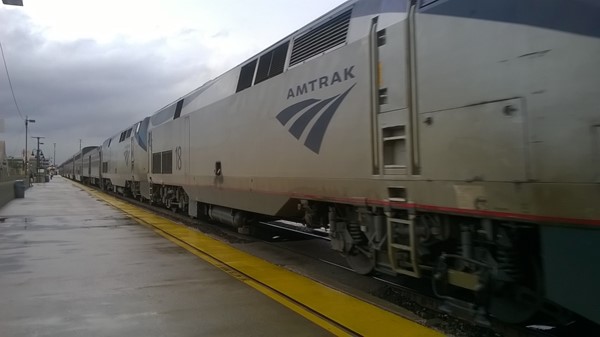 I used 25,000 Chase Ink Rewards points to get a Bedroom Sleeper unit on both trains. What's a bedroom on the train look like: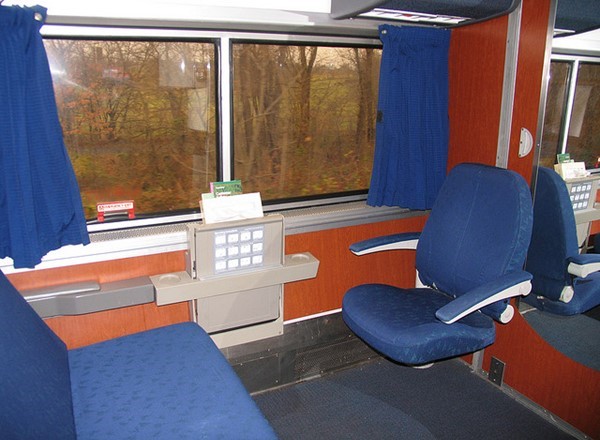 And the shower/toilet stall…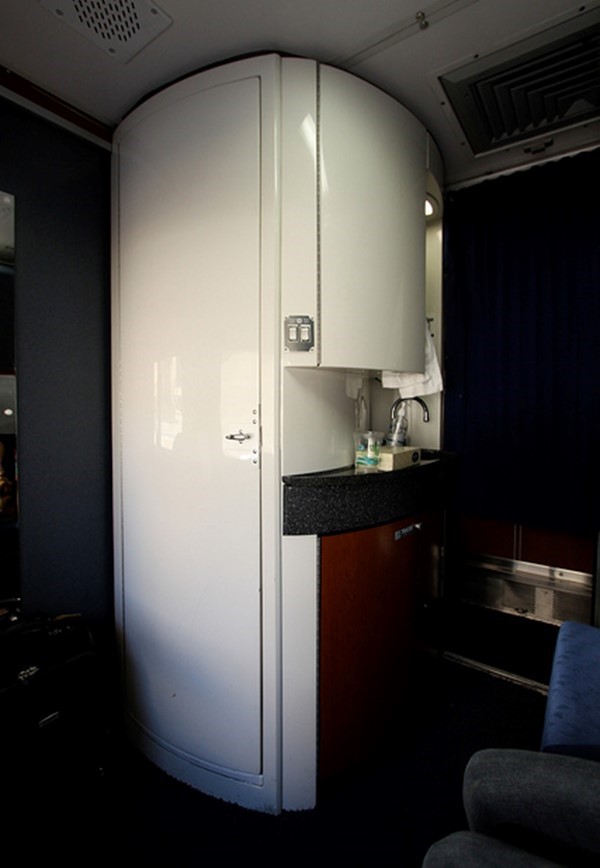 Two beds – the lower being the wider of the two, which I claimed because:
I'm wider than Dwight
It was my points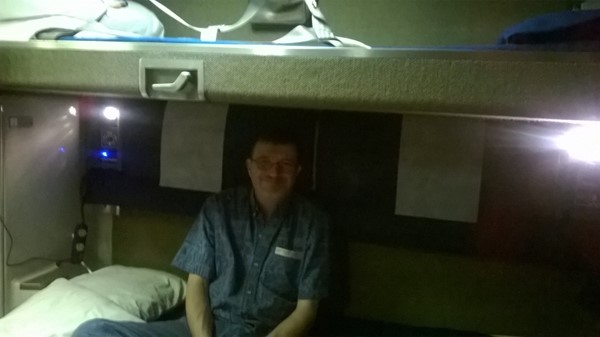 This gives you an idea of the amount of space.
No Parlour Car on the Southwest Chief so it was dinner in the Dining Car with random strangers…I had the steak. Noticed that the "cheapening" of Amtrak's 'First Class' service continues. Amenity Kits long gone, and now it's the Newman's Own Thousand Island which is stunning. Ranch and Vinaigrette are the remaining choices unless you order the Caesar and they grudgingly provide ONE package. Add to this that at dinner they were completely out of desserts and we were on an early seating. Not that either of us need it, but it's nice to know it's there.
Slept well as did Dwight: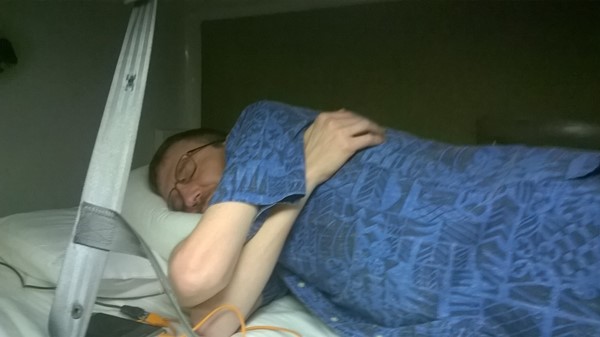 Normally the Southwest Chief is on-time or early getting into Los Angeles. Not this run. I got up at 5am for breakfast (supposedly served from 5-6am because of the arrival time) to find a limited menu (usual) and the train running two hours late. Needless to say, I ate and went back to bed.
The train was so late that we had 5 minutes to make our connection (which is better than being bused to catch the train up the line). At least when this happens they pull the train in just across the platform from the Coast Starlight. Downside is no time to raid the Metropolitan Lounge in LA's Union Station.
Burger for lunch for me, on the early side since we'd eaten at 5AM. Dinner in the Parlour Car was the short rib. In the Parlour Car if you are at least two people they give you your own table.
By nightfall we were in Emeryville: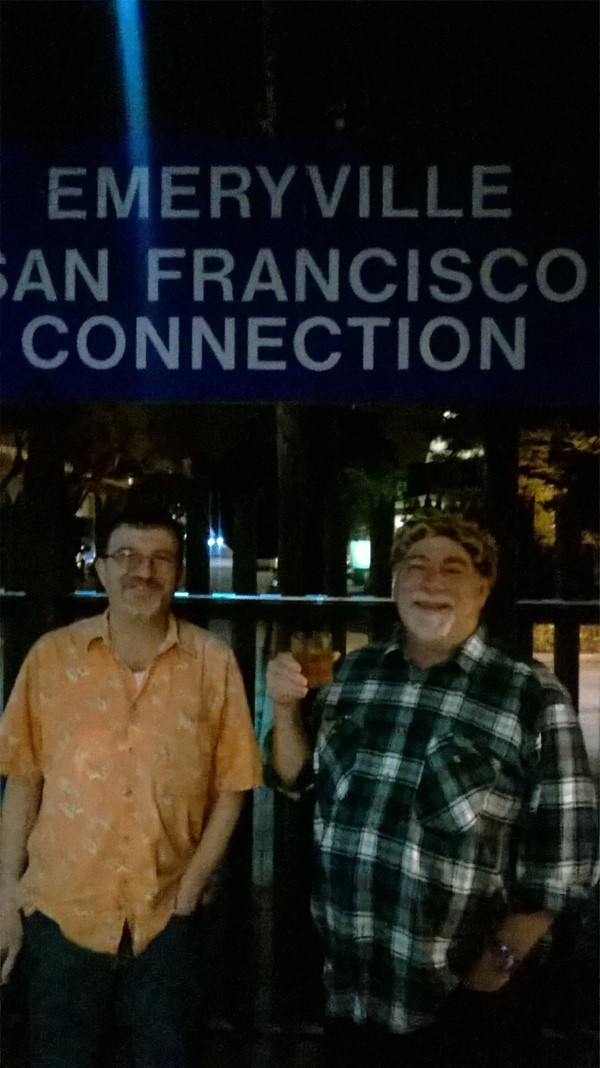 Yep – wearing my leopard print Santa Hat, cocktail in hand. While it isn't permitted to bring your own in Coach, in the First Class Sleepers it IS permitted and they are happy to supply you with a bucket of ice. In our case, three times a day. Dwight introduced me to the concept of tipping at the BEGINNING of the trip for better service and if they are really good, adding more at the end. Ours on the Coast Starlight got more at the end as well with his excellent ice service. Dwight is a $10 a day tipper.
Another good night's sleep for me, not so much for Dwight. I asked if I was snoring and he said no – THAT'S something new.
Omelet for breakfast, Caesar Salad for lunch…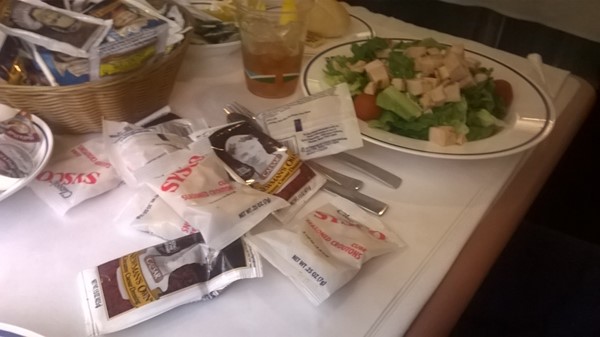 Not much for presentation… didn't even bother to open the croutons. But it was nice to have some greens (though the burgers ARE good). An early dinner was back in the Parlour Car, again having the Short Rib dinner – early because Dwight gets off an hour or so before me. At least this train had desserts all the way to the end of the line: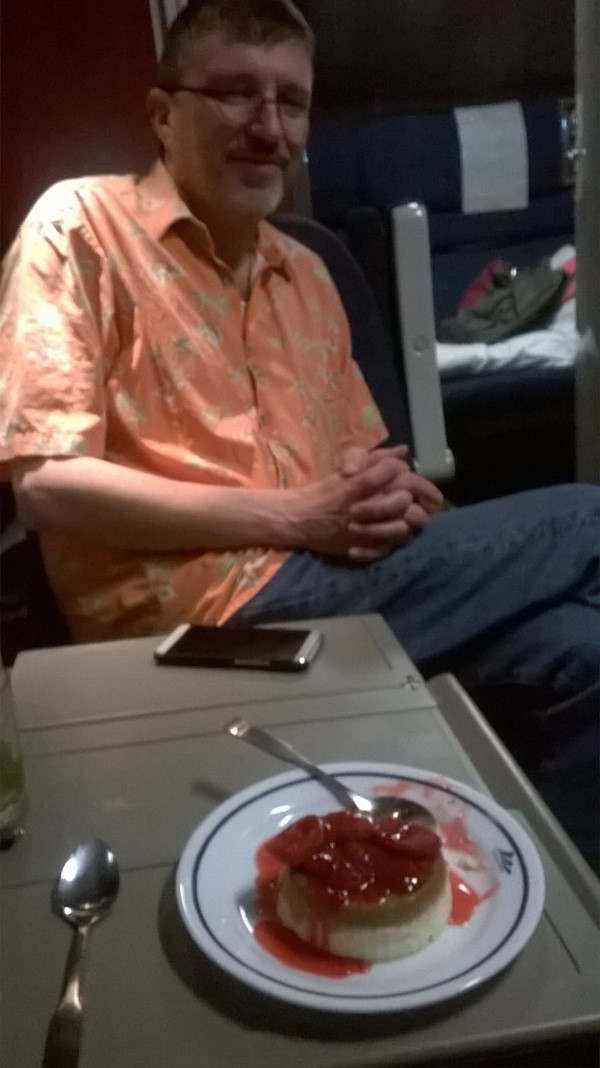 I always get mine to-go, having them a couple of hours later, especially at lunch.
Running early into Seattle after being on-time at Olympia to let Dwight off. It was fun to just hang out with him for a couple of days of doing nothing, including the dishes.
Roxy met me at the train station with my car, but not before I spotted this little number at King Street Station: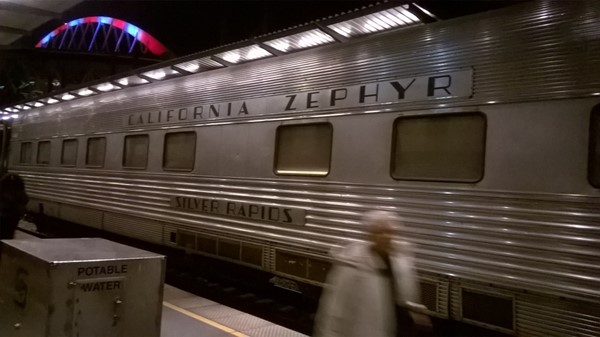 It is one of four privately owned railcars from the original California Zephyr that ran between Chicago to LA from 1948 to 1981.
More information here: http://www.calzephyrrailcar.com/California_Zephyr_Railcar_Charters/Welcome.html
And they do repositioning runs: http://www.calzephyrrailcar.com/California_Zephyr_Railcar_Charters/Positioning_Moves/Positioning_Moves.html. A couple of years ago I was on a four-car consist from San Diego to Los Angeles in the Silver Splendor which is part of the LARail group.
It was good to get home in one piece – for work it is for me in the morning.
[22.18]