While not entirely the reason for the quick trip to Kansas City, it certainly is ONE of the reasons. The other was that it was on an Alaska Flash Sale a month ago and I picked it up for $156.20 – something on the order of half price. Alaska tends to do their Flash Sales every Wednesday from 11-1PM West Coast Time. This might be the one I bought while in Mexico while on a land excursion touring wineries. Thank goodness for T-Mobile and free data roaming in over 120 countries.
Oh, what a difference a week makes in flying. You can't even see the North Concourse (or the end of the C Concourse) the fog is so soupy.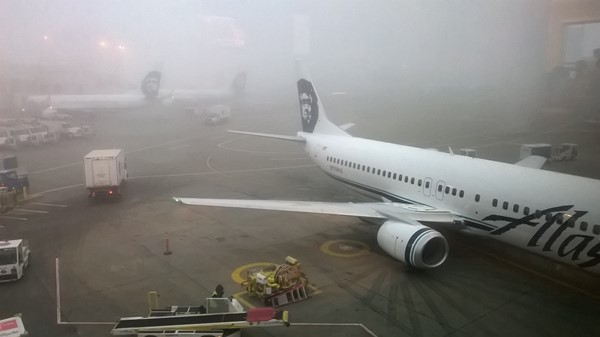 Luckily all Alaska Airlines planes are equipped with Required Navigation Performance (which I talked about in my last post) which means all the flights out of Sea-Tac on Alaska are on-time: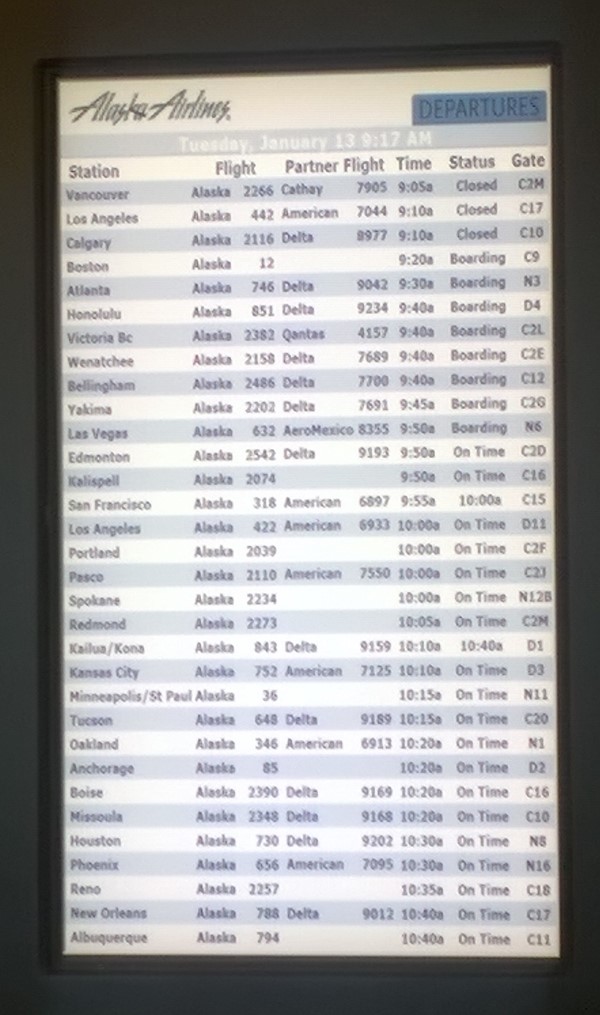 Got an upgrade on the way out to Seat 1D, across the aisle from my favorite seat on the plane, 1C. Reason? You are the second person to get your cocktail and there is no one in front of you to put their seat down, and since it's an aisle, it's easy to make a bathroom run.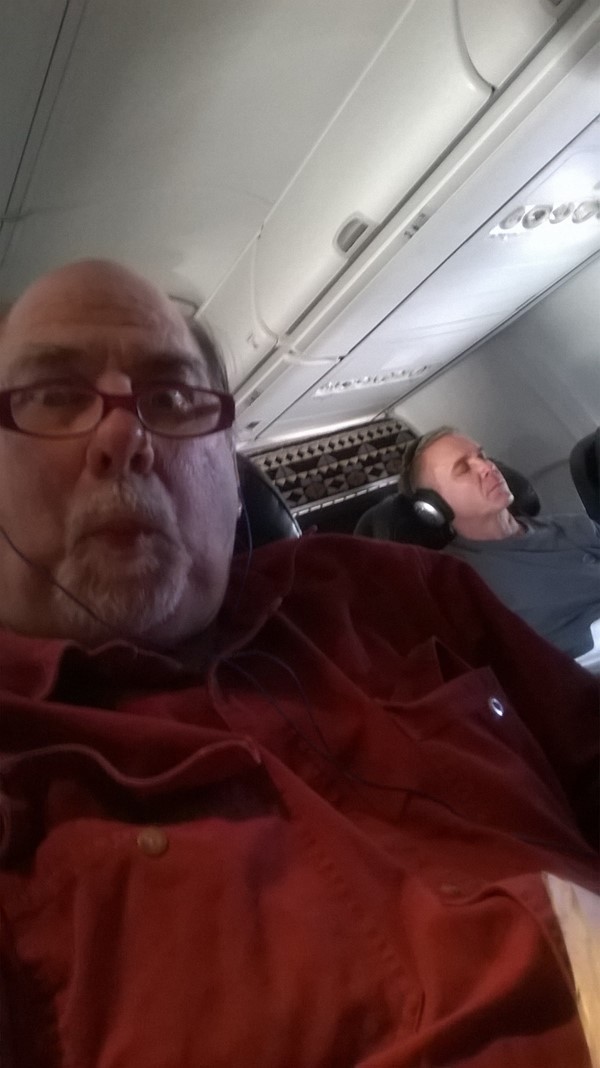 A nice little sandwich on the way to Kansas City – along with a Digi-Player, which I wasn't expecting: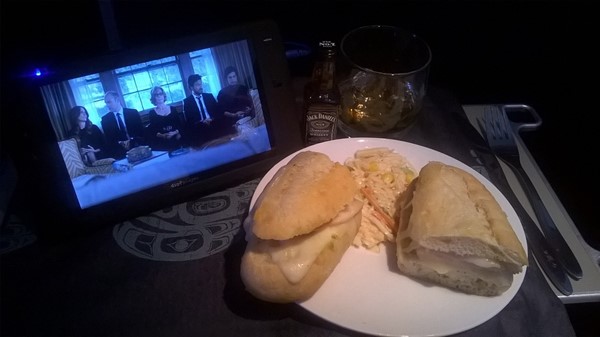 Got into KC, and Gail was there to pick me and all my bags up.
Porter case filled with clothes, bourbon and wine.
Wine shipper filled with Adams All-Natural Peanut Butter which they can't get in Kansas City.
My backpack with electronics
A lot of junk for a two-night trip.
Paul has a conference tonight so Gail and I head over to the Kansas side of the border to check out RJ's BBQ as seen on Diners, Drive-Ins, and Dives (not sure which category it falls into). We just hit the end of Happy Hour so drinks were $3 and appetizers $3.95 – Where can you get a Kettle One martini for $3 or was it $5, either way, when he couldn't find any olives (or a martini glass, or vermouth), he just brought me a double Ketel on the rocks: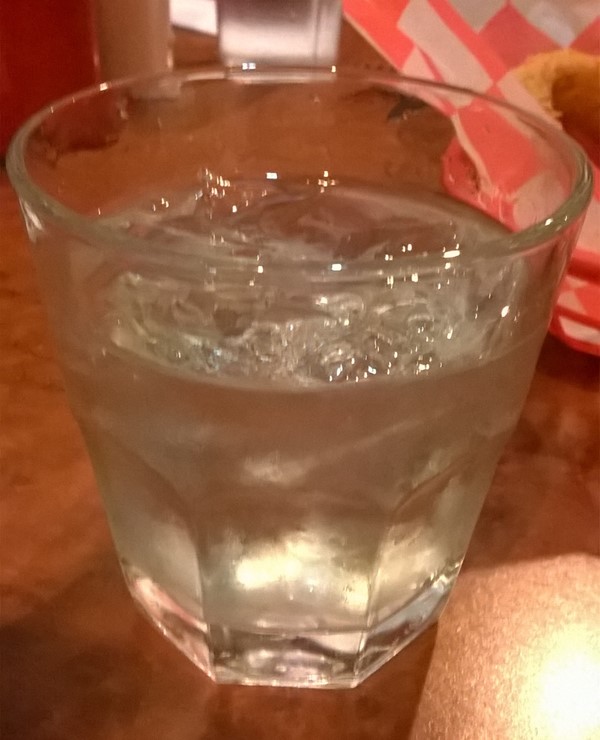 And he did find some olives – the previous shift hadn't restocked. Onion rings in the background (so-so).
Started with onion rings (so-so, not house-dipped), corn fritters (really good – chunks of corn inside, definitely house-made), and the Bison empanadas (tasty, which a zingy dipping sauce), and then I moved onto a real meal: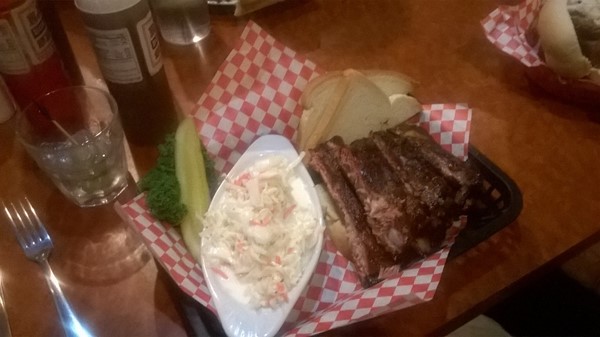 Ribs with a side of slaw. They serve their ribs dry, but have several different sauces (3?). That was enough food for the evening (and for lunch the next day). You can find the whole menu HERE. There are other things on the menu I'd like to try, like the Jalapeno Sausage (ground pork butt mixed with diced jalapenos, rolled up in corn husks & smoked. Served with flour tortillas, Dijon mustard & barbecue sauce – 5.95) and the Gumbo of the Day (A Cajun-spiced soup made with rice, okra and our smoked sausage. Ask your server for the variation of the day Cup – 4.45 Bowl – 6.45).
After that meal I took a several hour nap when I got back to the condo – also feeling under the weather with a sort of cold, and then with their cat, waking up at midnight for night-caps with Paul after his conference. Reminded me of when I got off work on Sunday night I came home and went straight to bed, postponing dinner until later.
Slept until noon which is when Gail showed up with the car for me to borrow so I could go off and run some errands and get some culture after polishing off the ribs and slaw:
Stop number one – Gates and Sons sauce factory, across the street from one of their restaurants.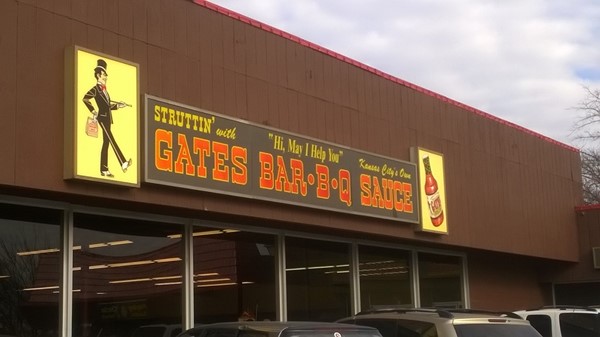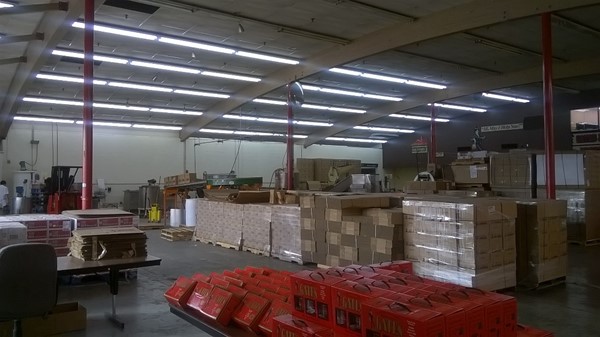 I finally got to meet Tina Starr who I've chatted with and emailed over the years. Sweet woman: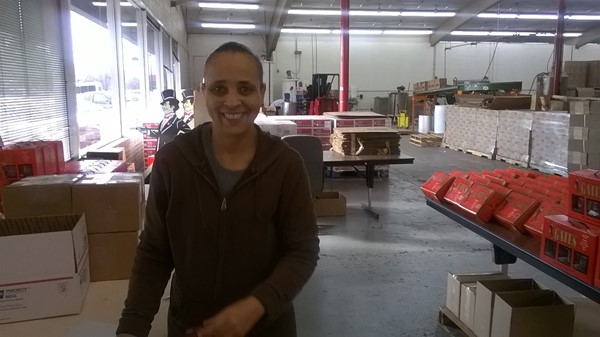 Not only did she ship my last case which Nita didn't have time to pick up – FOR FREE, she gave me all sorts of sample bottles: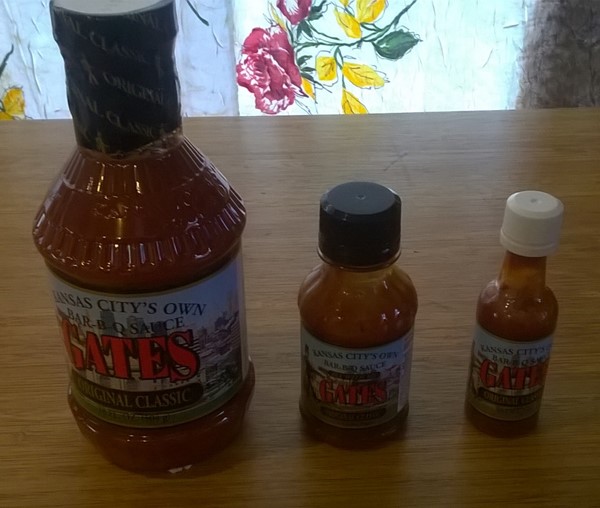 18oz. standard-size bottle on the left, a 3.1oz. bottle labeled "Fly With Me" and then the tiny 2oz. size. She gave me 5 of the "Fly With Me" and 24 of the sampler size. Maybe these should go in the wine club shipments!
Next up was Arthur Bryants for another case of sauce – I had Paul ship me one in November, but I'm out at home so when in Rome (or Kansas City, which is number two in the world behind Rome for public fountains) grab it while you can.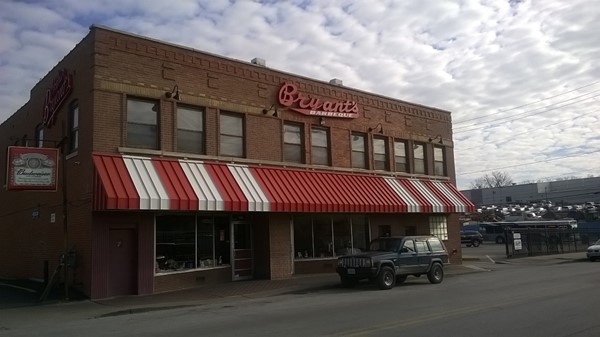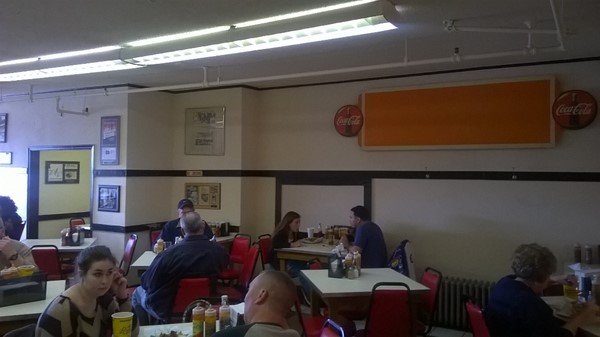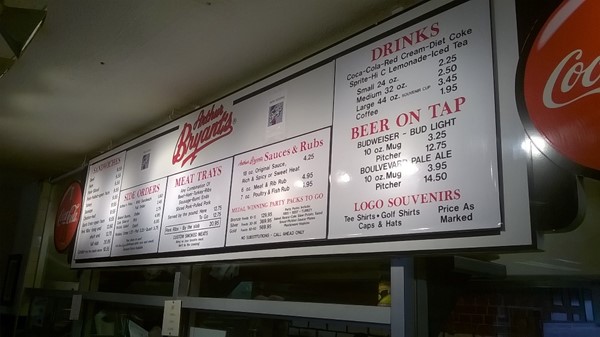 Errands done, time for a little culture in the form of the Liberty Memorial – apparently the only World War One museum in the US. It's kind of funny that the park grounds surrounding the museum were the notorious gay cruising grounds in the 70s and 80s.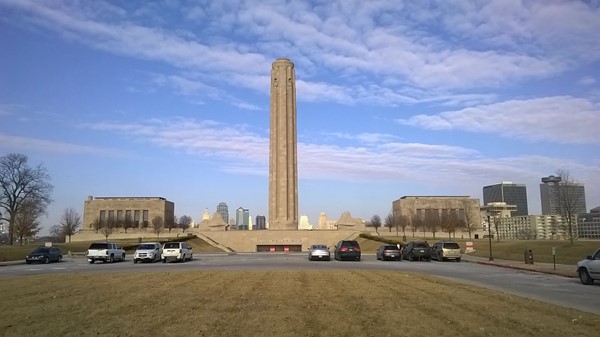 While you can't see it too well, under the glass floored walkway is a field of poppies –not unlike the field of poppies that has been making the news in London.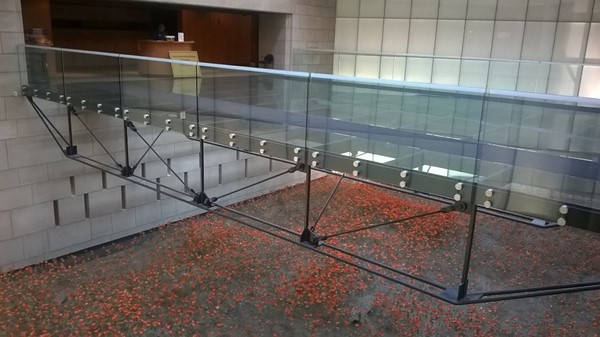 My one-word comment about the museum: Sobering. Great exhibits including an amazing multimedia rendition of life in the trenches when you feared mud as much as bullets.
I happened to show up on World War Wednesday, each Wednesday all tickets are just $7.00 no matter normal, senior, child. My lucky day, though it's certainly worth the $14 retail price. Other parts of the museum include being able to go up in the tower (elevator, then 45 steps):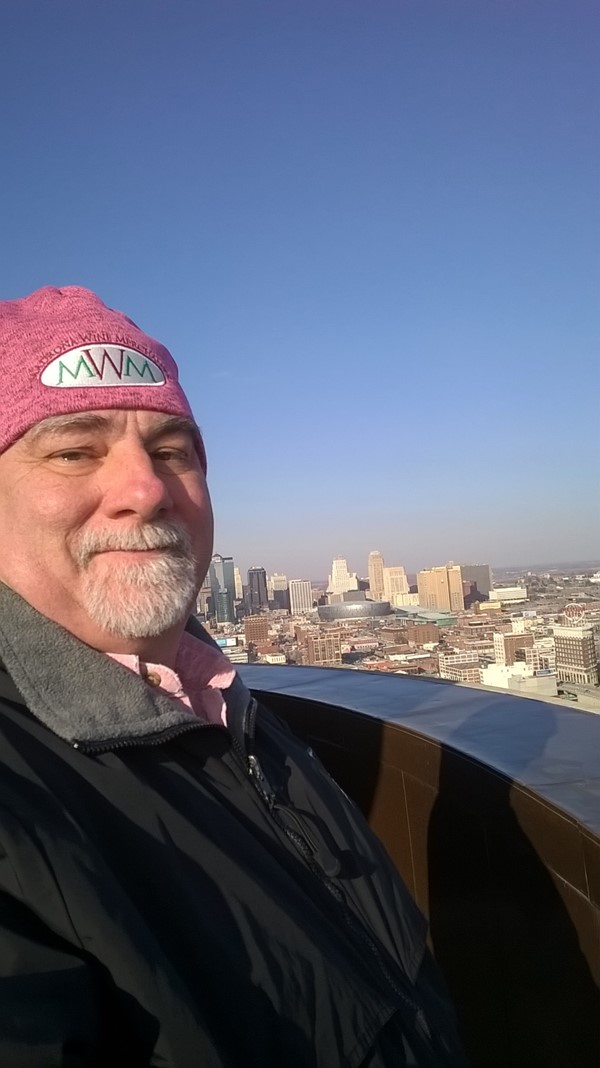 And if you are looking at the first picture of the museum, this is the building to the right of the tower:
After the museum I went off in search of mixers for the bourbon I brought and ended up at Berbiglia, a chain of liquor stores in Kansas City. One of the Berbilia boys actually owns Arthur Bryants (and is seriously cranky, and demands wholesale orders start at 10 cases). Didn't find what I was looking for, but was seriously tempted to put this in the back of the car. Had I been in Seattle, it would have been gone, gone, gone: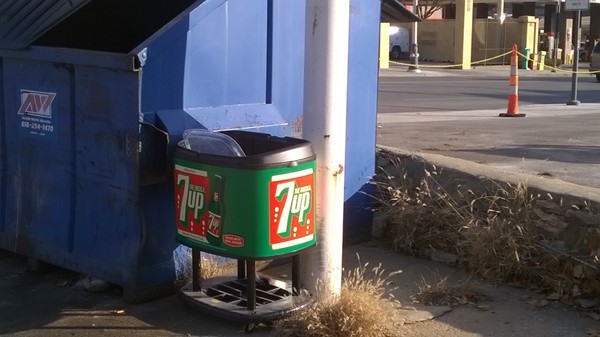 Paul was done with his conference at 7:30 and off to Boling's Chinese we went – conveniently located about two blocks from the condo. I had the Hui Style Lamb with Spices (had a coating like that of salt/pepper squid) with enough left over for tomorrow and we all shared some tofu fresh rolls (I would have gone for shrimp, but oh well). After getting back to the condo, Paul suggested a night cap at Harry's Country Club: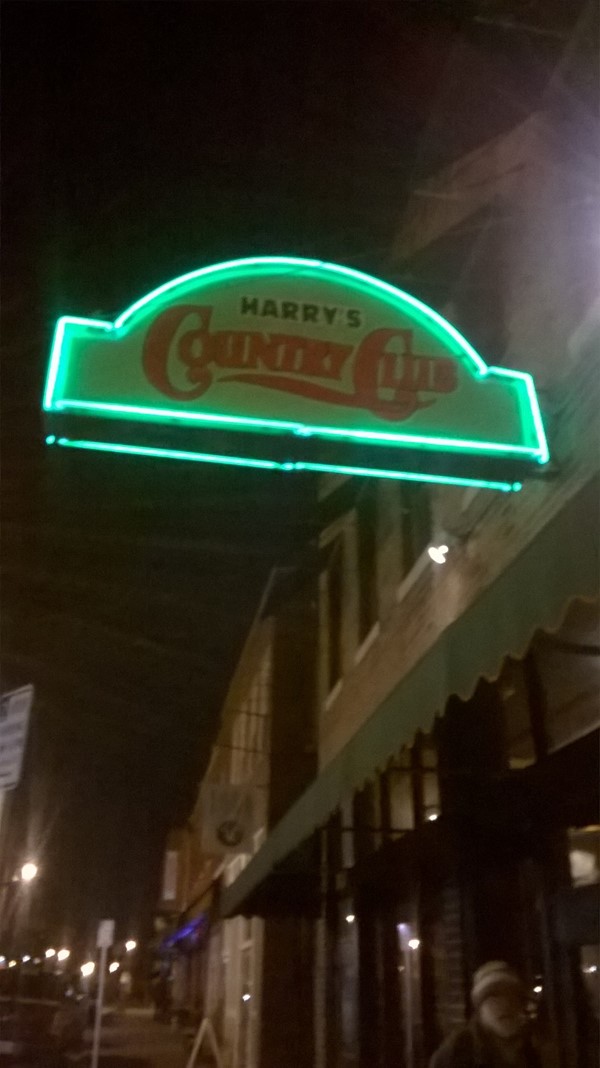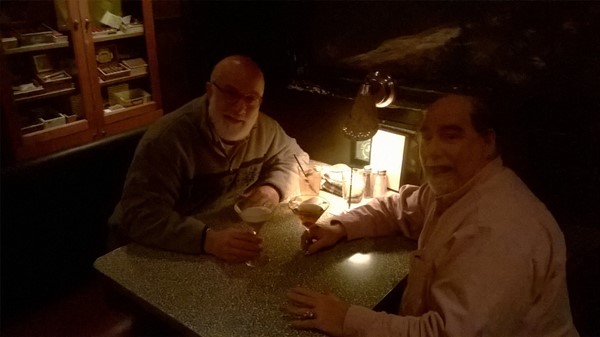 One nightcap turned into 4. Various Chocolate Martinis for Paul, various Manhattans for me. Yet another late night. Luckily, Harry's is only ½ a block from the condo.
Afternoon came early (slept in again trying to kick the cold/allergies), got packed (pulled the bottle dividers out of the wine shipper and slid the two cases of BBQ sauce in their place), and we were out the door for a lunch north of town on the way to the airport. Trezo Mare would be the name of the place. Paul had a lunch combo of the Pasta Alfredo with a side of Grilled asparagus ($11). I love that they can out with the Pasta and said that the asparagus would be coming in a minute, that the first set was on the grill too long – and the Alfredo had these wonderful looking with roasted tomatoes, broccolini, roasted garlic, etc. I had the condo of Fish Tacos (yes, in an Italian Restaurant) which was marinated tilapia, soft shell tacos, spicy aioli, marinated vegetables, Trezo hot sauce with a side of the Italian Slaw. Also good.
Got to the airport in PLENTY of time – it is me, after all. Kanas City suffers from an airport that was being built just as hijackers were starting to lift airplanes at gun point, and was designed for you to be about to park about 50 years from your gate. Here is a great Wikipedia reflecting on TWA's Flawed Design. Funny that they had a major role in the design and then when times changes they wanted the city to rebuilt it (to which the city said no, and TWA moved its hub to Saint Louis.
No upgrade on the way home – I was number one on the list until about 15 minutes before the flight, then I was suddenly number two. Considering how I felt at the moment, sleeping in seat 6D (bulkhead) is fine for me.
Came home, had a nap (just like Sunday), then got up and cooked dinner.
Home again, home again, at least for a bit. Next week brings company to town.
[228.6] OUCH.