This week's adventure involves LOTS of people (well, for me). First through the door are Seth (31) and Maia (the little girl – 5½ years old). They drove up from Corvallis for our little adventure. Before long they set off for the airport to pick up Lunetta and Onyx who flew in from San Francisco.
Dinner for five – rib-eye steaks, saffron rice, salad, couple of bottles of Bonny Doon wine…rice instead of bread as I broke yet another bread machine a couple of weeks ago – probably should say "wore out" rather than "broke".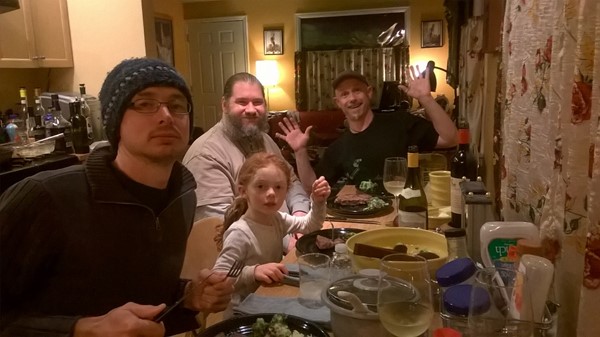 And a good dinner it was…finding places for people to sleep was a little more problematic.
Maia in the single bed in the office so we could chat into the evening
Seth and in in a double sleeping bag on the living room floor (until he couldn't take it anymore and crawled in with the boys)
Up at 5am so we could get out of the house by six to catch our 8AM Victoria Clipper to Victoria, British Columbia.
At least it was a "pretty" early morning: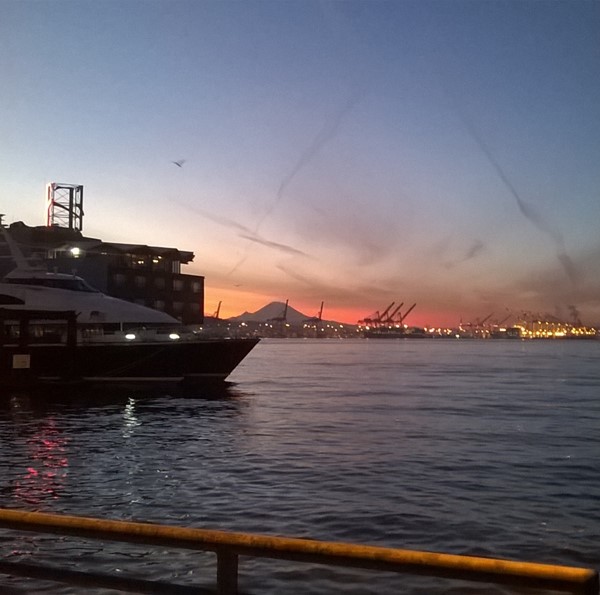 A pleasant trip north after a take-out breakfast at the Clipper Café (who also does the catering for the boat as well), though I'll admit to sleeping through most of it – even forgoing my usual mimosa.
Wrangling a child means you are the last people off the boat and near the end of customs/immigration – which went smoothly as I'd warned Seth that he needed at a minimum a letter from Maia's birth mother authorizing taking her out of the country. Seth made EXTRA sure and brought the custody agreement with him. Good boy.
Walked to the WorldMark Victoria, expecting to stash are luggage because it was noon, and check in is 4PM. To our surprise, our unit was ready – which rarely happens that early, but often does more in the winter than summer. Dumped everything in the room and headed out to Moka for Grilled Ham and Cheese with Potato Soup – seriously, we all got the same thing (limited menu). Thanks Lunetta for treating!
After the early morning, it was nap time for Maia, Onyx and myself – we send the engineers to the store for supplies that we didn't bring. I'd packed:
4 racks of lamb
2 packages of shrimp (meant to bring the white fish to be breaded with the Panko, except for Maia who would get corn meal)
2 cubes of butter
1 pound of bacon
Artichoke Bruschetta
Cornichons
Corn and Bean Salsa
Panko Breading
The WorldMark Bag (pre-packed olive oil/balsamic, curry, brown sugar, flour, skewers, birthday candles, McCormicks Steak Seasoning, coffee meat rub, Korean hot sauce, etc.)
But you also need:
Salad (and dressing)
Bread
Eggs
Mixers
Cheese
Gluten Free Crackers (Maia goes bi-polar when she has gluten)
Corn Chips
Portabellas (to stuff with the Artichoke Bruschetta and top with the Panko Breading)
Etc.
Of course when you sent two engineers to the store, you get MANY more things in addition to those on the list. Take the generic category "Mixers". They came back with:
12-pack of Tonic
12-pack of Diet Ginger Ale (mostly for me)
6 pack of tiny Cokes
100% Cranberry Juice
Handful of limes
Why so much? Did I mention what we picked up at Duty Free on the boat?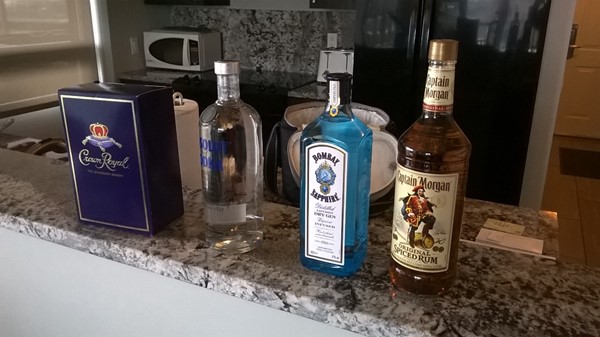 That would be 4 liters of hard liquor for a party of 9 adults tonight and 4 adults for the second night – and those Canadians like to drink hard at Duty Free prices ($85 for all four). And the guests are showing up with wine to go with dinner. And what a dinner it was: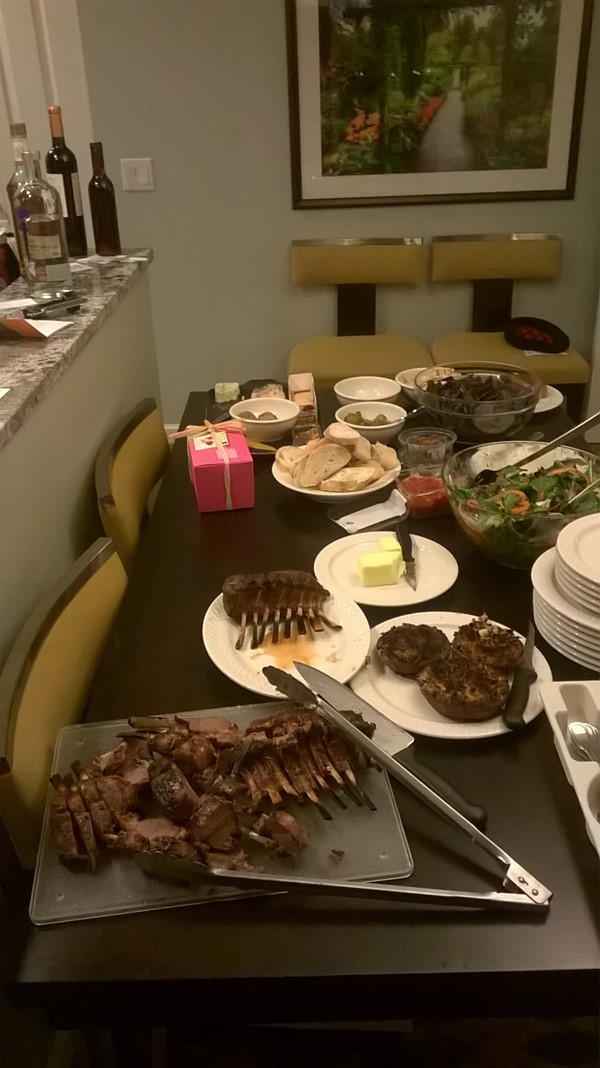 In the foreground, the racks of lamb, Then the Stuffed Portabellas – which were a HUGE HIT, not just with the Vegetarian and Vegan guests (one each). For Maia it was an "adult night" when she was allowed to stay up until she collapsed.
Good food, good conversation (though not around the dining tables since it seats 6, not 10), good hot tubbing after dessert (thanks RobinHood and CrowDog!)
A late night, but luckily not an early morning – Seth was reading the schedule I sent out a laughed when he got to the first morning there, where it said brunch at noon:
The Boys Go To Victoria 

 
 
 

20-Jan 

12-4PMÂ 

Seth arrives at UncleMarkies

 

4:16PMÂ 

 
 

UA 492Â 

 

6PMÂ 

Cocktails 

 

7PMÂ 

Dinner 

21-Jan 

6AMÂ 

Out of the house

 

6:30AMÂ 

Check in and grab breakfast at the Clipper Café

 

8AMÂ 

Clipper leaves for Victoria

 

8:15AMÂ 

Order Mimosas and Duty Free 

 

11:45AMÂ 

Clipper arrives Victoria

 

Noon 

Out of customs/immigration 

 

Noon+Â 

Drop bags at condo and roam the city like a pack of dogs

 
 

Or grocery shop for the items we didn't bring 

 

4PMÂ 

Check in at the condo —Â 

 
 

Could be early, they will have my number 

 

6PMÂ 

 

7PMÂ 

Dinner with same Royce = vegan)

 

8PMÂ 

Hot-tub Party 

22-Jan 

Noon 

Sleep in, make brunch, explore 

 

6PMÂ 

Cocktails 

 

7PMÂ 

Dinner 

 

8PMÂ 

Hot-tub Party 

23-Jan 

10am 

Brunch 

 

Noon 

Check-out, leave bags at desk 

 

3:30PMÂ 

Check in for Clipper to Seattle

 

5PMÂ 

Boat leaves

 

5:15PMÂ 

Order cocktails and Duty Free 

 

7:45PMÂ 

Clipper Arrives Seattle

 

8PMÂ 

Pick up car from garage and head home

 

8:30PMÂ 

Cocktails 

 

9PMÂ 

Late Dinner if we didn't eat on the boat 

24-Jan 

6PMÂ 

Cocktails with Bliss

 

7PMÂ 

Dinner with same Royce = vegan)

25-Jan 

3PMish 

Boys Uber to the Airport

 

4:21PMÂ 
 
Yep, guess that makes me anal retentive in my planning – but that's how it worked out.
The boys and Maia set out to explore the city while I stayed home for some quiet time (much needed after all the excitement). My job was to fill in the gaps in the night's meal (smoked fish, more cheese, and chocolate) and to grab a little lunch snack for me at the food truck in front of "Finest At Sea" a local fish wholesaler that has a small retail shop in the back: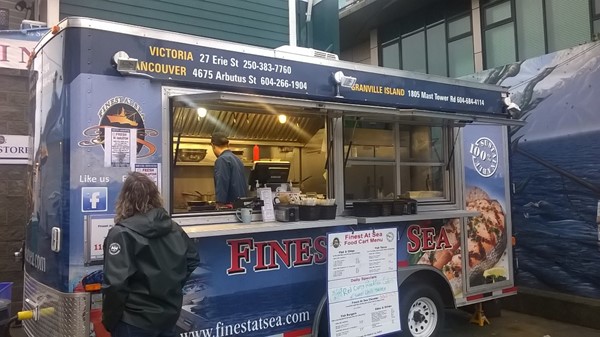 I got the special – three rockfish cakes with hot dipping sauce. I had one, saved the other two to share with tonight's pupu platter. After the shopping, NAP TIME!
Tonight's menu (after the pupu platter):
Curried Shrimp Skewers
Salad
Bread (not for Maia!)
3 bottles of various BC Red Wine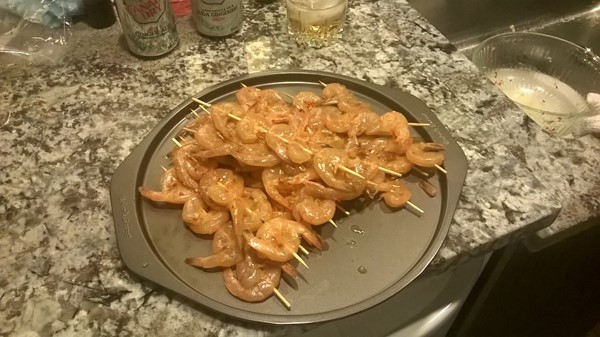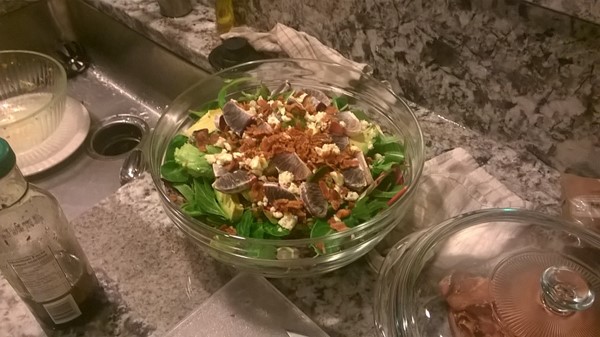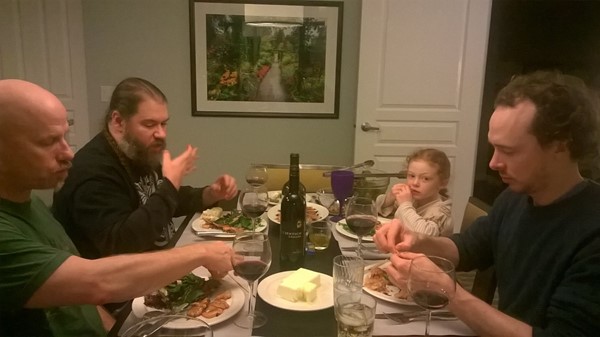 Life is HARD on the road.
And before you knew it, it was time to check out – this is what we put in storage since the boat doesn't leave until 5PM:
Not like we pack light. The plan for today:
Store luggage
Head to the Royal BC History Museum and watch an IMAX film (mostly to entertain Maia)
Have lunch
Go to the boat
Here is a great picture of Seth after the movie (in the gift shop):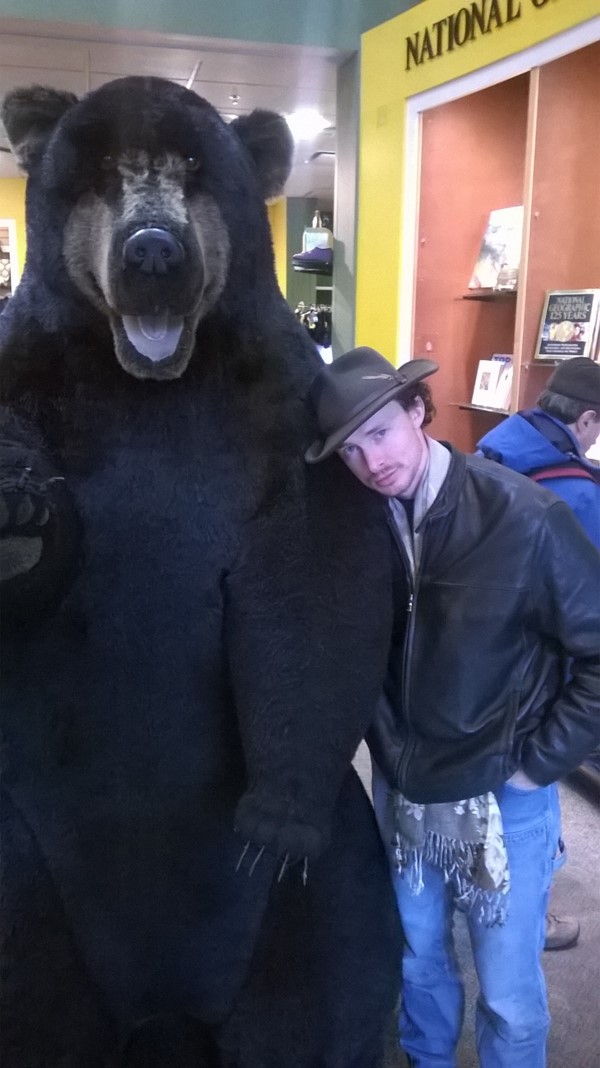 Lunch was at Santiagos, which is close to the ferry terminal (though we had to backtrack to grab out luggage). I've eaten here often because they always have muscles on the menu, AND they have HUGE drinks by Canadian standards, and cheap ($11) – again, but Canadian standards.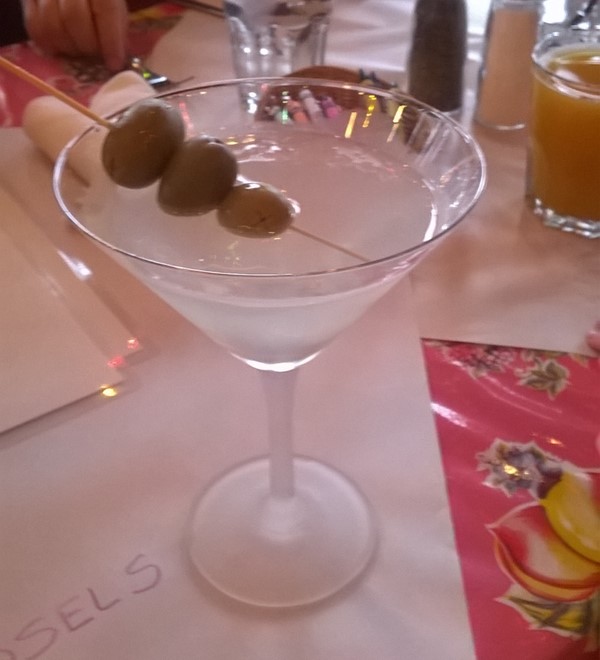 I had the Thai Mussels, Seth and Maia the HUGE nachos, Lunetta and Onyx the Ceviche and the quesadilla. We ended up taking a bunch of the nachos for the boat trip home.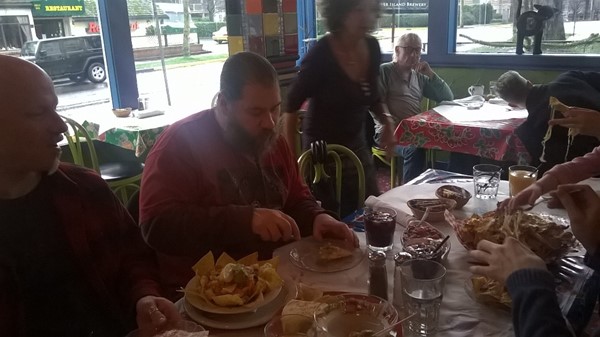 Did I mention the pitcher of Sangria? And my favorite shot of the lunch: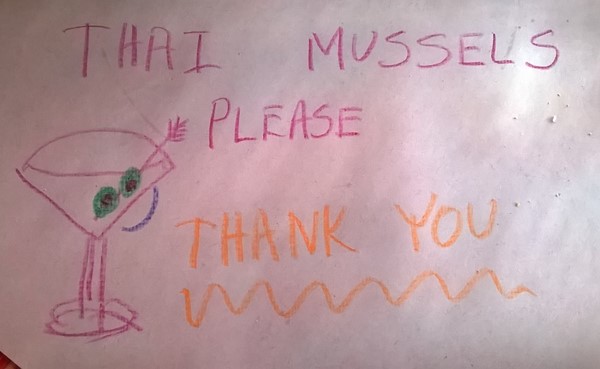 Yes, they supply crayons, which was great for entertaining Maia.
Got to the terminal later than I wanted, but we were already checked in and had our boarding numbers, it was just the line to check in luggage that was a pain. And luggage we had – four checked bags.
But we did get a table for all of us. Here is Seth sating his Solitaire addiction: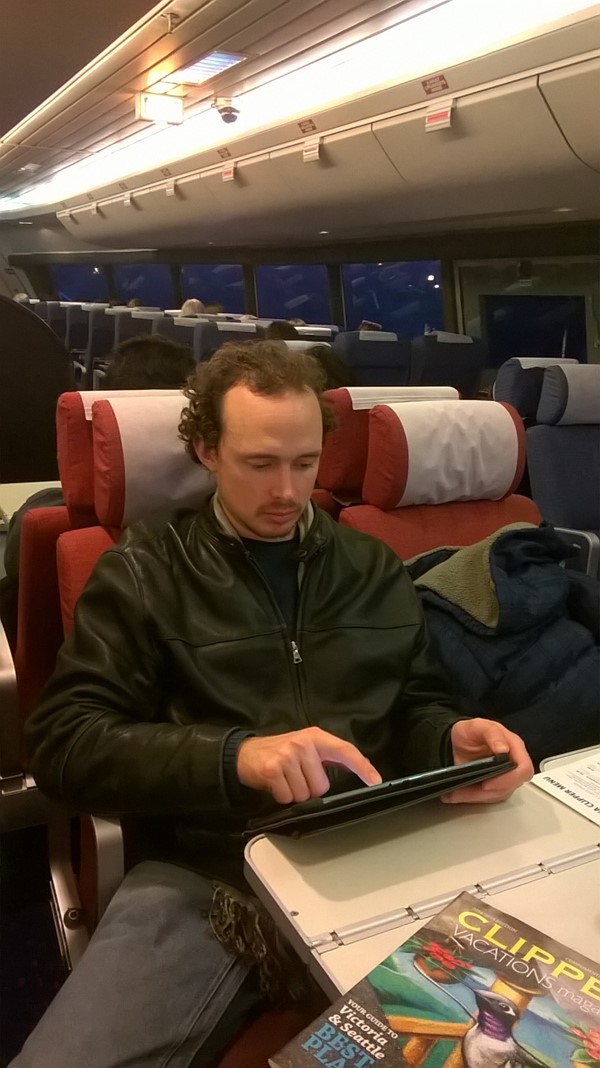 Technically that's 8 seats, but on the inner section so less coveted.
Three hours later and the last people through customs and this is the scene: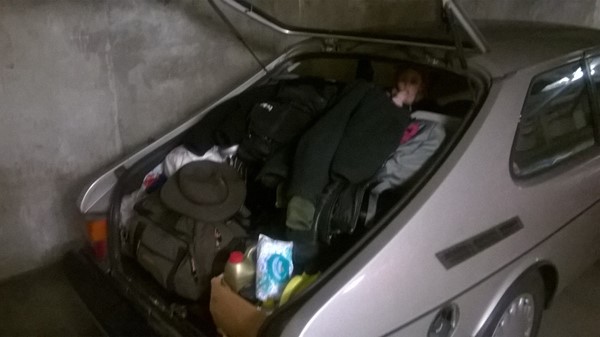 Four and a half people and their crap in a Saab. Tight quarters, luckily for only 20 minutes.
Once back to the house, an exhausted Seth and Onyx claim the big bed, Maia in the small one, and the Marks (Lunetta and UncleM) on the floor after staying up for hours beyond the others.
Seth /Maia/Lunetta/Onyx were out of the house before I was up – Seth /Maia headed home and dropping Lunetta/Onyx at the Rental Car Center at Sea-Tac to pick up a car for the overnight.
Work until 4:30 for me, then back to the house to prepare dinner for the boys, Bliss and myself for the final night of the CanadaLand holiday. Tonight's menu:
Little lamb chops (LOTS of them)
Salad
A Spanish Red
MANY COCKTAILS
After another late evening – it was time for me to head to a real bed, albeit a tiny one in the office.
I was out of the house for work before the boys were out of bed, feeling a little spent. While fun, it wasn't one of the more "relaxing" holidays I've had recently.
[226.8]