An occasional feature of UMTravels are tips and tricks for maximizing your award potential. Today's topic: Amtrak and their Guest Rewards Program.
The basics of the program are: Earn 2 points per $1 spent on your Amtrak travel. Unless you travel a lot on Amtrak it's going to take you a long time to even get a coach ticket (one-way) on the Amtrak Cascades (1,500 points, 2,000 points for a Business Class seat).
But as we all know with any Frequent Traveler program, it's hotels (Choice, Hilton, Wyndham Brands, La Quinta, Starwood), cars (Budget, Enterprise, Hertz), and a handful of oddball partners.
And then there is the credit card tie-in, which at the moment Amtrak Guest Rewards doesn't have. The DID have a MasterCard (from Chase) with a 12,000 sign up bonus if you spent $500 in three months – a small sign-up bonus, but a TINY spend compared so some cards I've had ($5000 in three months). I did query Guest Rewards about what happened to their credit card and received this response (in under 48 hours which for Amtrak Customer Service is pretty good):
Dear Mark Souder,

Thank you for contacting the Amtrak Guest Rewards Service Center.

We apologize, however we are no longer accepting applications for the Amtrak Guest Rewards MasterCard credit card from Chase at this time. More information regarding the Amtrak Guest Rewards credit card will be shared in the near future.

We hope this information is of assistance and apologize for any inconvenience this may cause.

Sincerely,

Ashley
Amtrak Guest Rewards Service Center

So, it sounds like there is something coming down the pike – and I will most likely sign up for it assuming the enrollment bonus/spend is decent.
There is one credit card that does offer a way to get Amtrak Guest Rewards points – the Chase Ink card offers a 1-1 transfer with 40,000-60,000 miles sign up bonuses (also 1-1 transfer with United and some hotel chains). When I signed up for this card I got 60,000 Chase Points (after the aforementioned $5,000 spend in three months).
Another way to get big chunks of Amtrak Guest Rewards point – you can purchase them outright for $0.0275 apiece ($275 for 10,000 – the yearly [calendar] maximum), but wait for sales where you get up to a 30$ bonus bringing the cost down to $0.021.
WHY would you want all these points? – well, it you like to travel by train in either Roomettes or Bedrooms, you know how expensive those rooms can be. A NOLA-CHI-LAX-SEA two-zone trip (20,000 point) that I took last summer would have been about $1445 six months out (value = $0.0723 per point), $1748 two months out (value = $0.0874), or $2092 (value = $0.1046) a month out. What I didn't realize when I booked these first couple of trips is that the rewards are for TWO people (and all their meals). The point values that I've used are for ONE PERSON. Add several hundred dollars for the second persons rail ticket (sleeper is the same no matter how many people), so the saving are even bigger if you want to travel with someone else. A good example would be that NOLA-CHI-LAX-SEA Two-Zone trip which for two people six months out would be around $1700. Another nice thing about Amtrak is that they have VERY liberal change/cancel policies — as long as its 48 hours before the trip, you can change the days or just get a refund.
Having done trips with two people in a Roomette….it's tight. A Bedroom unit is a better choice, but be prepared to have the majority of your luggage on the luggage racks by the boarding door.
As an added bonus, sleeping car passengers are allowed by bring their own alcohol (the porter will provide you with a bucket of ice – just remember to tip at the end of the trip, though my buddy Dwight always tips at the beginning for guaranteed service) and on many routes they will open wine you brought in the dining car as well – though that varies.
This is the rewards table for sleepers (I should ask if they have a Family Room redemption code):
Amtrak Guest Rewards


Sleeper Rewards

Zones

Roomette

Bedroom

1 Zone

15,000

25,000

2 Zone

20,000

40,000

3 Zone

35,000

60,000
The sweet spots that I see on the reward chart are the 1-Zone Bedroom at 25,000 and the 2-Zone Roomette at 20,000, especially if you are trying to maximize the distance/days of your trip.
To give you an idea of the sort of routings you can get within or between zones, here is the Amtrak Zone Chart: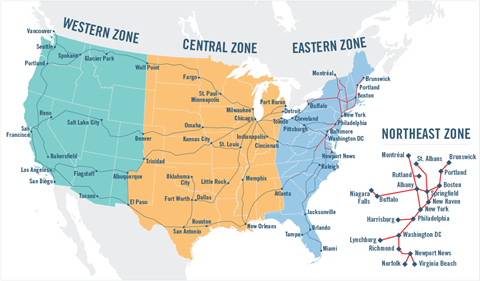 Redemption Travel by Zone

A travel itinerary for a single redemption must follow a published route between the initial origin and final destination. A published route is an itinerary automatically generated by Amtrak's reservation system.
A single zone entry or zone exit comprises usage of one zone in the redemption, irrespective of prior or future travel in that zone as part of the same itinerary.
Where a desired itinerary does not exist as a single published route, the trip must be constructed as a series of published routes using multiple redemptions.
Circle trips are not permitted using a single redemption. A circle trip is a travel itinerary comprised of a series of segments that exit, and later re-enter, the same zone.
An Amtrak station located on a zone boundary may be considered part of either bordering zone, if it is the initial origin or final destination for the redemption.
Where a published route requires a connection between two segments, a later connecting service may be chosen as long as it departs on the same date as the connection originally offered.

Where a published route contains a valid connection of 23 hours, 30 minutes or less, an overnight stay in the connecting city is permitted at the passenger's own expense. (Example: one-way travel from New York to El Paso, where the published route requires an overnight connection in New Orleans, would be permitted on the same redemption.)

Where sleeping car service is not offered for the entire published route, and where an alternate direct routing exists with sleeping car service on all segments, the alternate routing is allowed. (Example: Denver, CO to Los Angeles, CA on Trains 5 and 11)
And there are a few Blackout dates around Christmas, Thanksgiving and other longs weekends, but it's not that bad.
One-Zone routes in a Roomette that would work are (with a June departure):
ABQ-SEA via LAX (3 hour layover with lounge access) Retail $1100 [.073 value]
Includes: Dinner, Early Breakfast (to LAX) , Lunch, Dinner, Breakfast, Lunch, Early Dinner (to SEA)
ATL-DEN via WAS (6 hour layover with lounge access) and CHI (5 hour layover with lounge access) Retail $1300 (for two) [.087 value]
Includes: Breakfast (to WAS), Dinner, Breakfast (to CHI), Dinner, Breakfast (to DEN)
NOLA-DEN via CHI (5 hour layover with lounge access), Retail $1100 [.073 value]
$1900 Retail ABQ-SEA Bedroom (and 25,000 points) [.076 value]
$2000 Retail ATL-DEN Bedroom (and 25,000 points) [.08 value]
And interesting concept is that two people buy the maximum amount of miles (2 @ $275) and then split the cost of transferring one set of miles to the other (1 @ $130 for a total of 26,000 miles, which is enough for either a 1-zone Bedroom, or a 2-Zone Roomette for $680 (for the two people) which is MUCH cheaper than retail. Of course, you can only do this once a year (up to 10,000 miles plus whatever bonus they offer), which is calendar year.
If you were to think a 2-Zone reward (20,000 points in a Roomette, 40,000 points in a Bedroom), you could do the 5-day long trip I did last year…
Rack rate (retail) is $2377 in the Roomette or $3543 in a bedroom. You could do NOLA-CHI-SEA (Empire Builder), but I was trying to maximize train time for the same number of points. I did it in a Roomette and got a value of .11885 from points I purchased for .021 — now THAT is a return on investment assuming you want to spend five days on the train having someone feed you and make your bed.
Or another would be Fort Lauderdale to Denver (I'm only thinking of Alaska Airlines cities), that comes in between $1100 and $1600 depending on whether you transit via NYC or DC.
All the retail numbers are for trips in late June, assuming there are rooms, the closer you are to travel dates means an even bigger savings.
Every time I look at the map I come up with new ones, like Fort Lauderdale to Albuquerque (Two-Zone) – that would be fun…
Here are some photos of what Roomettes and Bedrooms look like. Roomette first…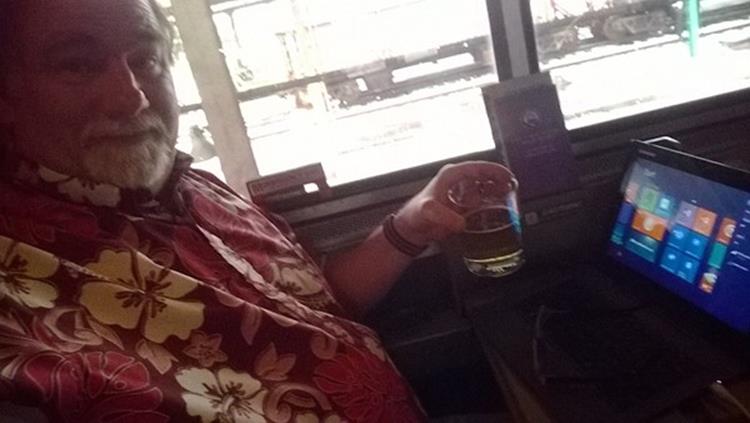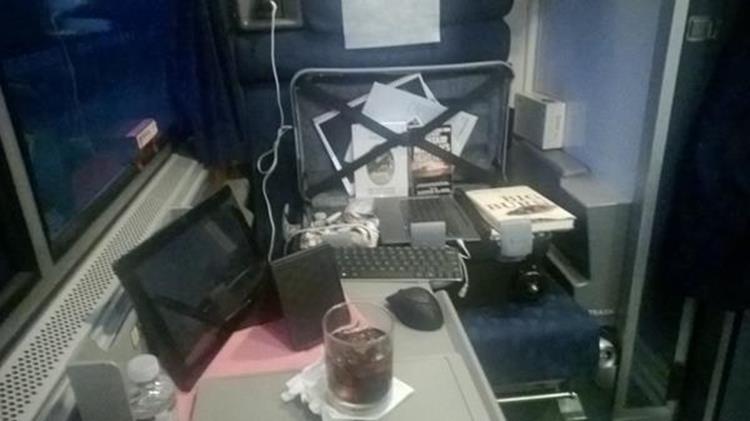 And with the bed down (or you could sleep in the top bunk):
Or the Bedroom units: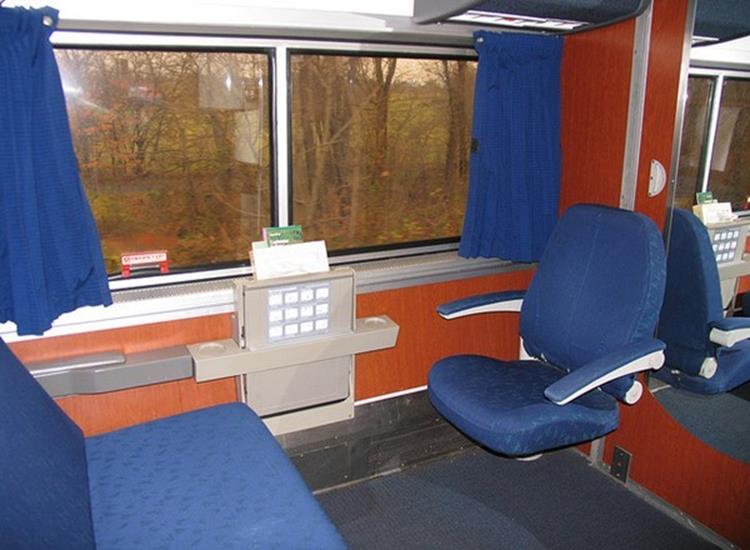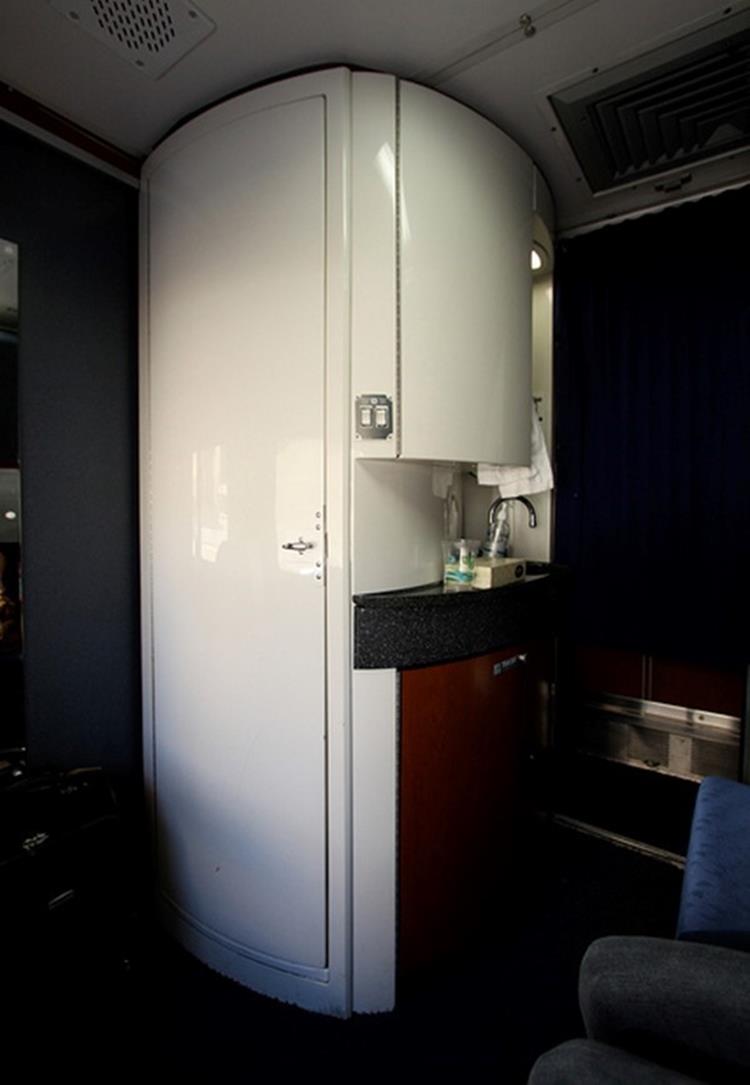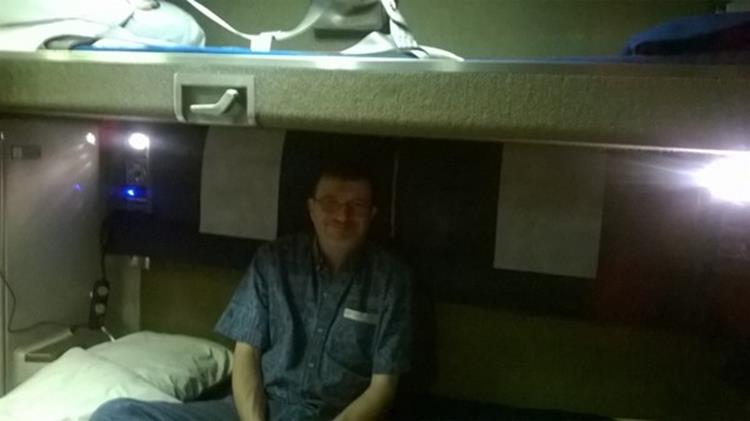 Well, that's it for my tips and tricks on Amtrak Guest Rewards earning and redeeming. Stay tuned for an update once they bring out a new credit card offer.
All this pondering has me considering my Birthday Ramble this year…maybe DEN-CHI on the California Zephyr, then the Cardinal to Charlottesville, WV, then the Crescent to New Orleans—four days on the train, in a Roomette. Retail for two: $2706 (or $0.1082 per credit). That would be a two-zone ticket. Then stay a couple of nights at the WorldMark New Orleans. Now to convince Lisa to let me borrow Dan for a week.
[223.4]