This time of year I like a little sun – and this week it was Palm Springs with my buddy Craig.
Why I booked the "1-stop" to Palm Springs (SFO was the stop) I don't know why – probably the cost. Downside it that to get the upgrade it has to be available on both legs. And I couldn't even get an aisle seat so I'm in the window….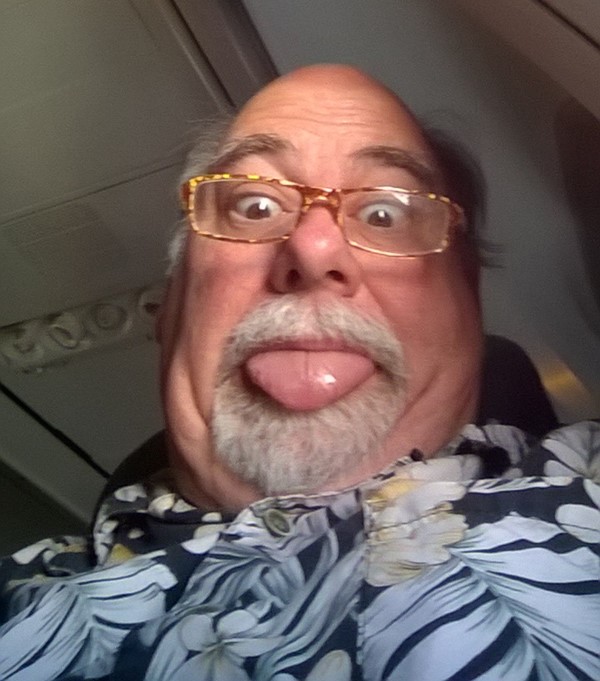 On the upside, I did see a Seattle buddy of mine boarding and caught up with him when we landed early – and those of us continuing on were allowed off the airplane: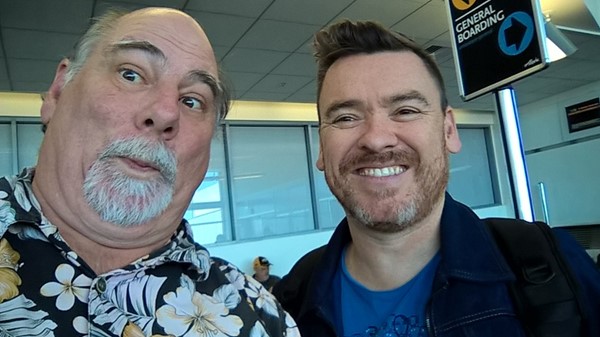 He recommended a snack place in A Terminal, and then I remembered I had time to hit the Cathy Pacific Lounge which my Alaska Board Room – alas, it was past lunch and so the "noodle bar" was closed, and I was down to free drinks, bags of chips and cookies.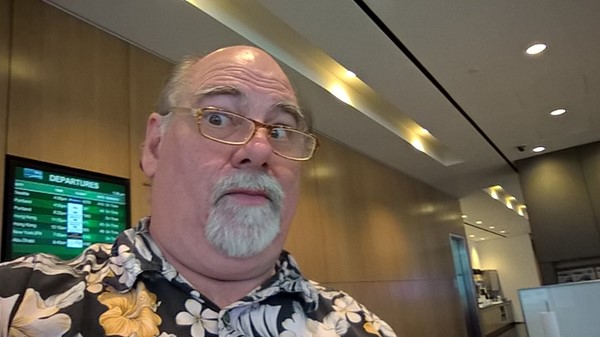 Got back to the gate, got my window seat in 6A (bulkhead) when I got an unexpected new ticket….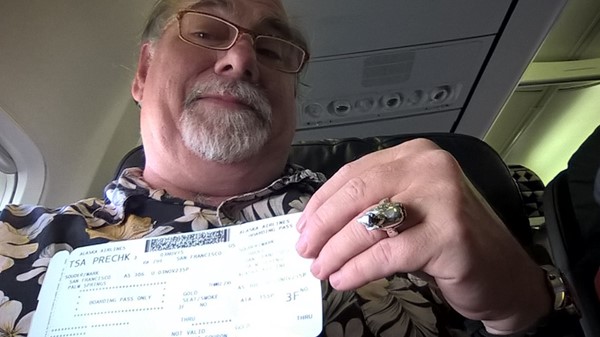 3F, not my favorite, especially with a "bag of dog" under the adjoining seat – who was actually a sweet dog, unlike other dogs I've seen in First Class. And the view wasn't bad: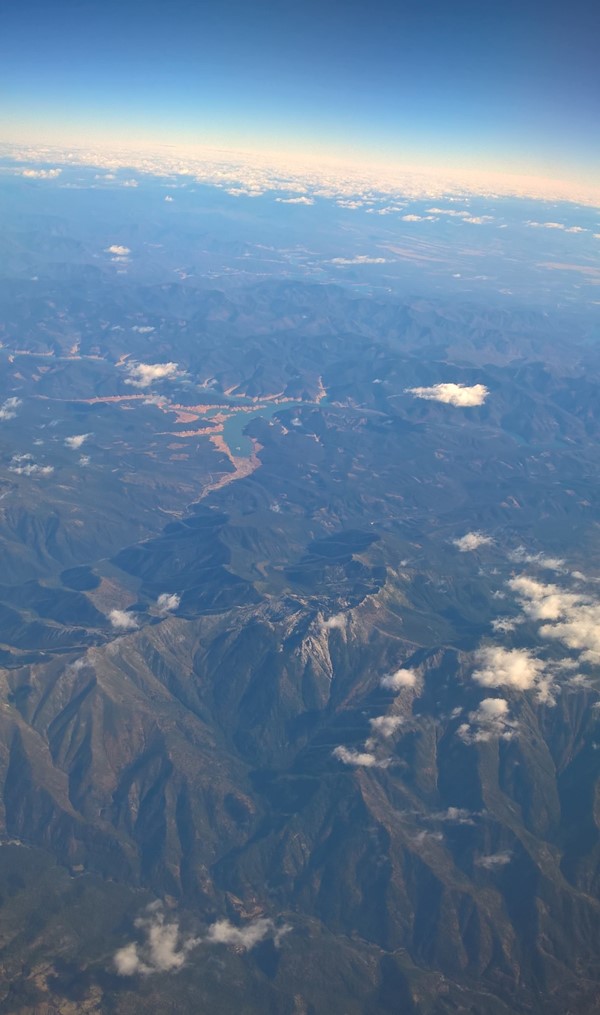 Craig is an hour plus late – the usual fun traffic getting from Los Angeles to Palm Springs – at least I have dinner protein with me – just need to find the vegetables and Bourbon.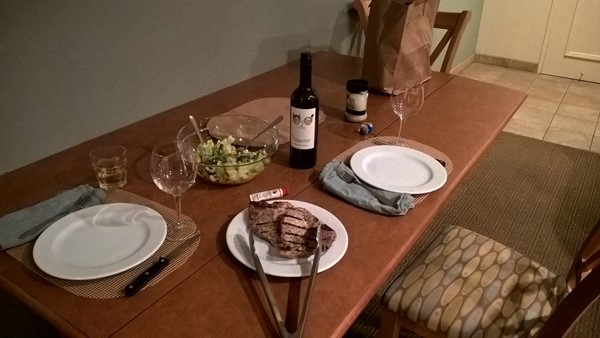 Veal chops off the grill (on the deck) with a little Bonny Boon white wine.
Before I forget, shots of the two-bedroom condo at the WorldMark Palm Springs: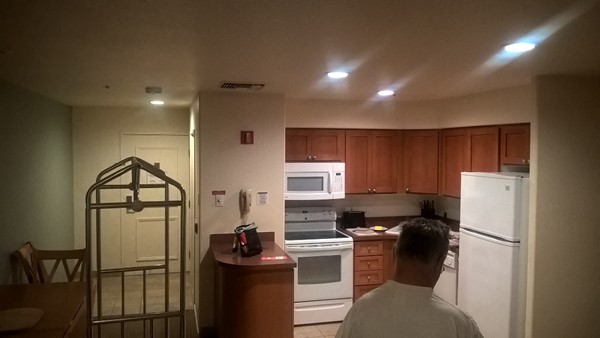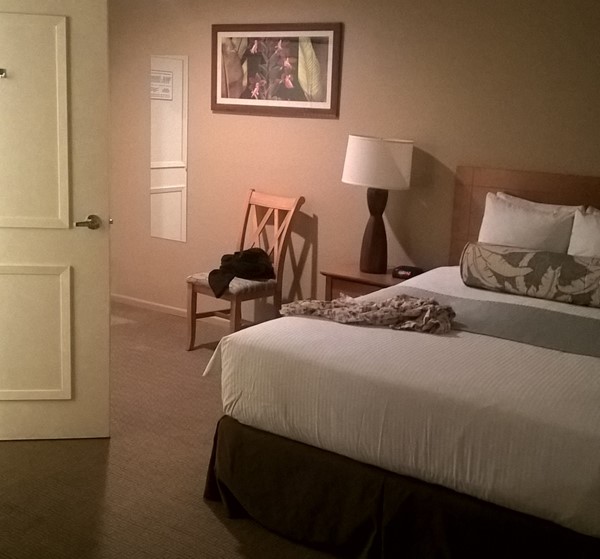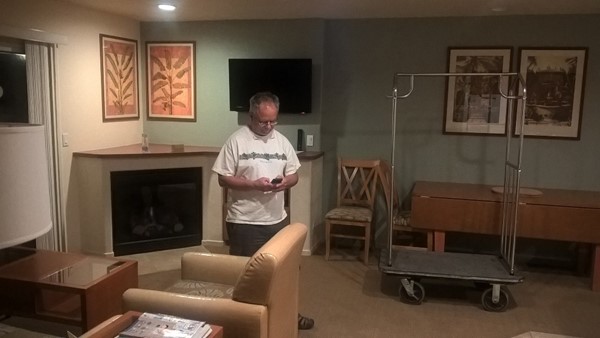 But after dinner, this is what happened to Craig… the stress of driving in from LA…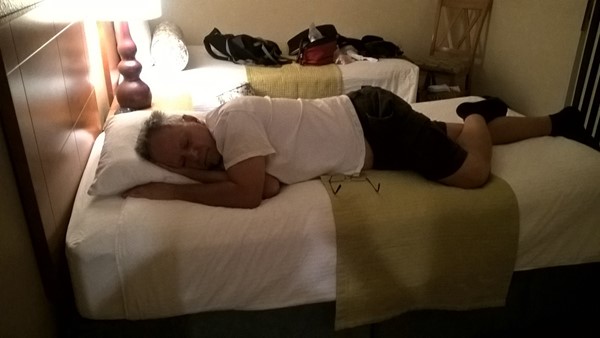 No late night partying for us – and we were greeted with this in the morning….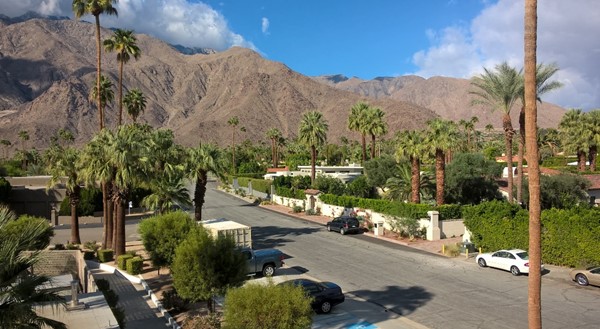 Unfortunately you can tell that it's a little on the cool side, and there is a big breeze – no pool-side time today. View is from our 3rd floor balcony. And our breakfast!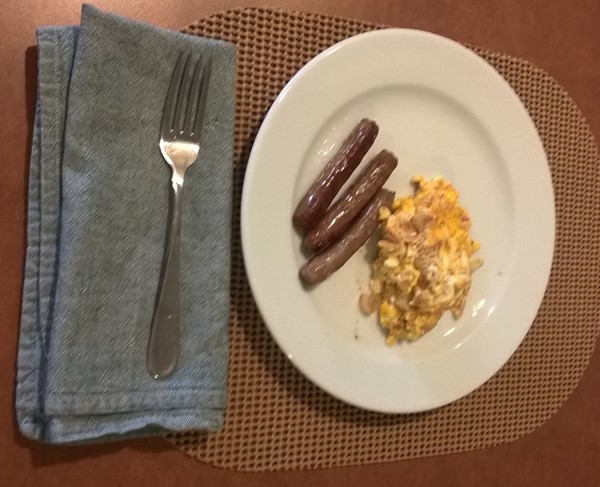 We could have gone to Denny's on the next block, we have 15% off coupons!
Both Craig and I have work to do while we are on this trip so half the dining table is work space: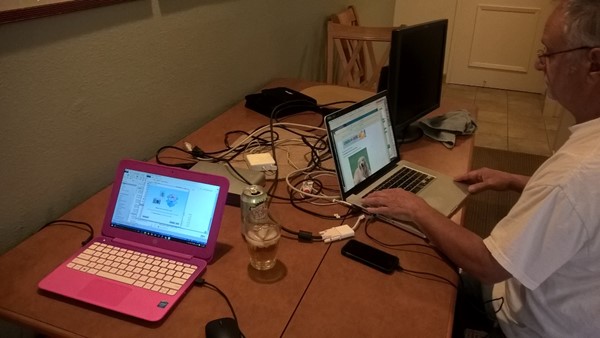 He even brought a second monitor! That said, we had to get a power strip from housekeeping.
One of the interesting things about this building (one of the older in the WorldMark system) is the elevator, which smells of wire-rope grease – considering it's age, not surprising. Look at the floor plate:

Which, of course, led me to track down all these companies that have their logos cast in aluminum. In trying to track down company information I found a video – a video of an ELEVATOR, another one from California. Who takes video of elevators? With commentary about all the features:
https://www.youtube.com/watch?v=ZSZkZPRb2yM
Tempted to imbed, but it's just too odd, even for me. Really – who takes videos of elevators?
Another day, another dinner. Rack of ribs on the grill (coffee rub), asparagus, chanterelles, salad. Hard life in The Springs.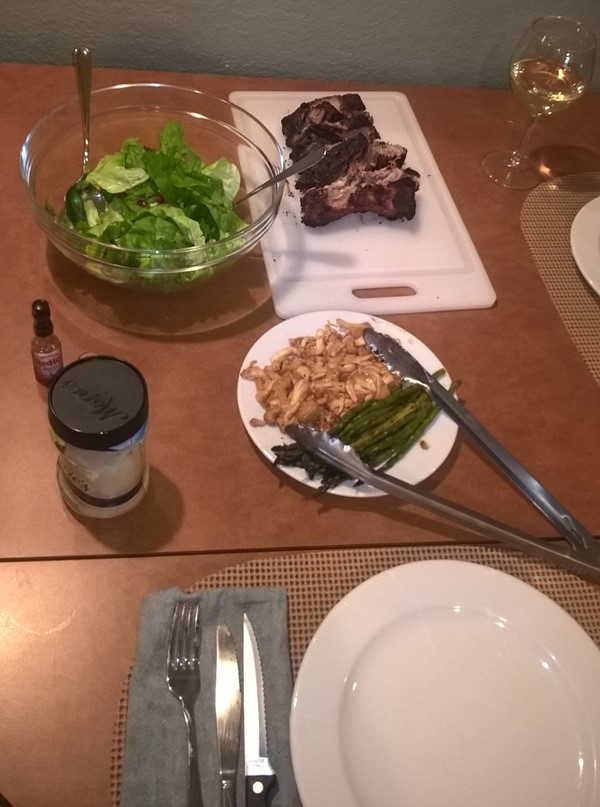 After dinner Mr. Craig is headed out to some underwear night at a local bar. No wearing underwear, I decline.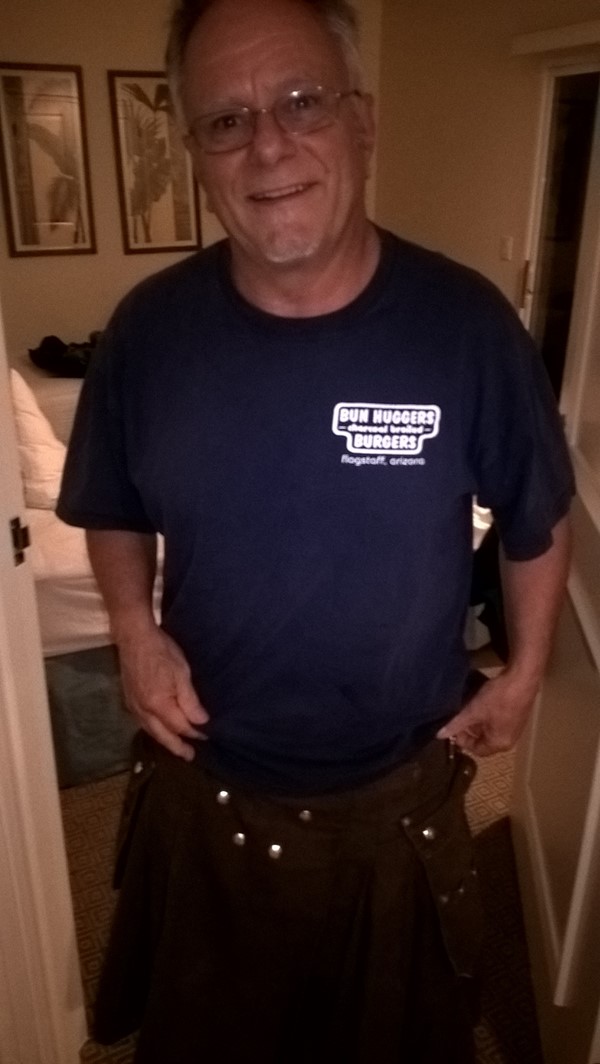 If it's an underwear night – guessing he isn't going "commando", which, it's weird to hear that phrase used in toilet paper commercials.
Before you know it, its breakfast time – and the standard "Uncle Markie" breakfast – eggs and whatever meat is left over from the previous evening: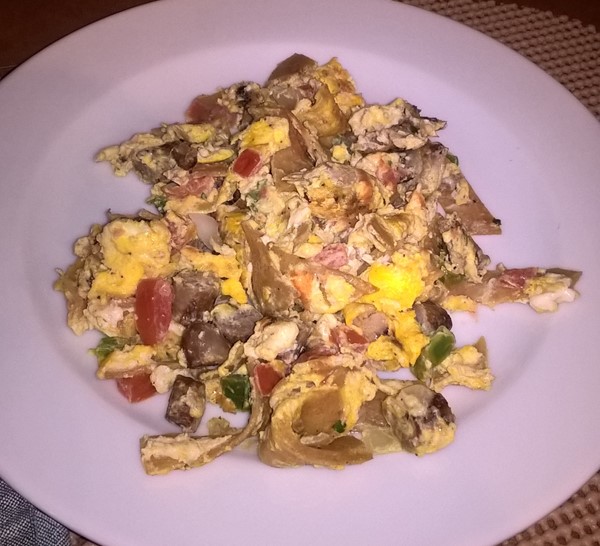 Though we both have work – after yesterday's blustery weather we need pool time! And look what we find: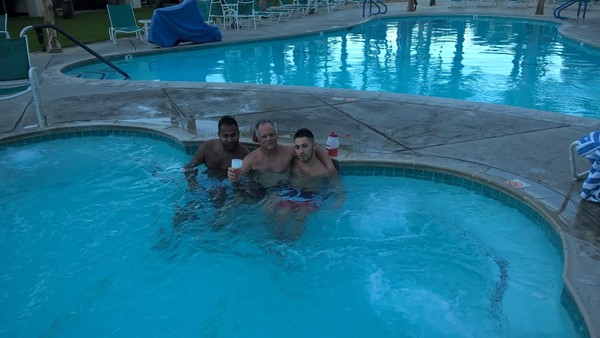 That would be Craig in the center with a couple of boys from Seattle and yours truly poolside. Beats the Seattle rain.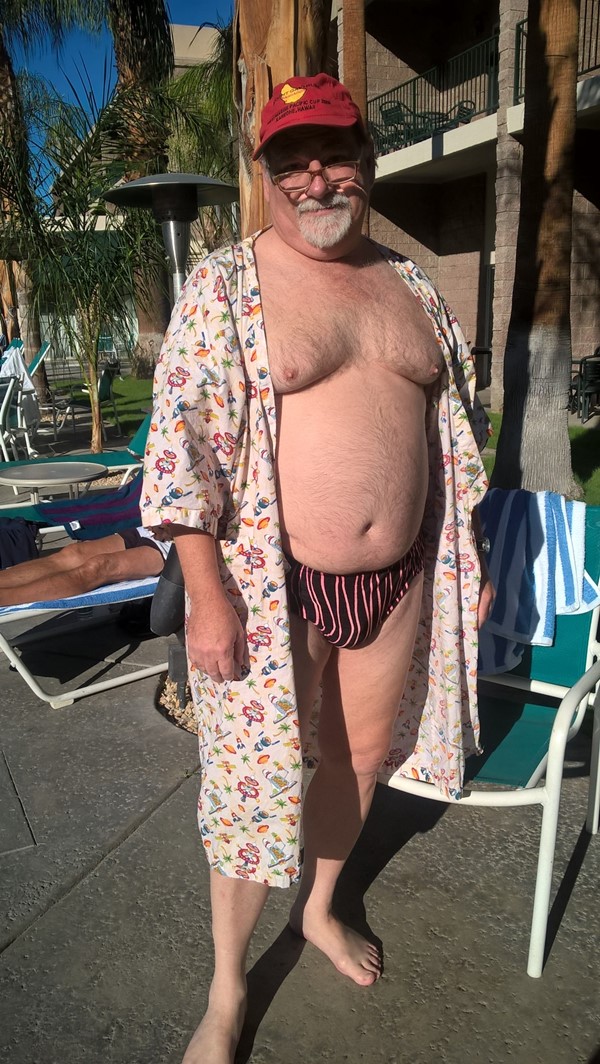 Meanwhile, Palm Springs is preparing for their annual Gay Pride Parade: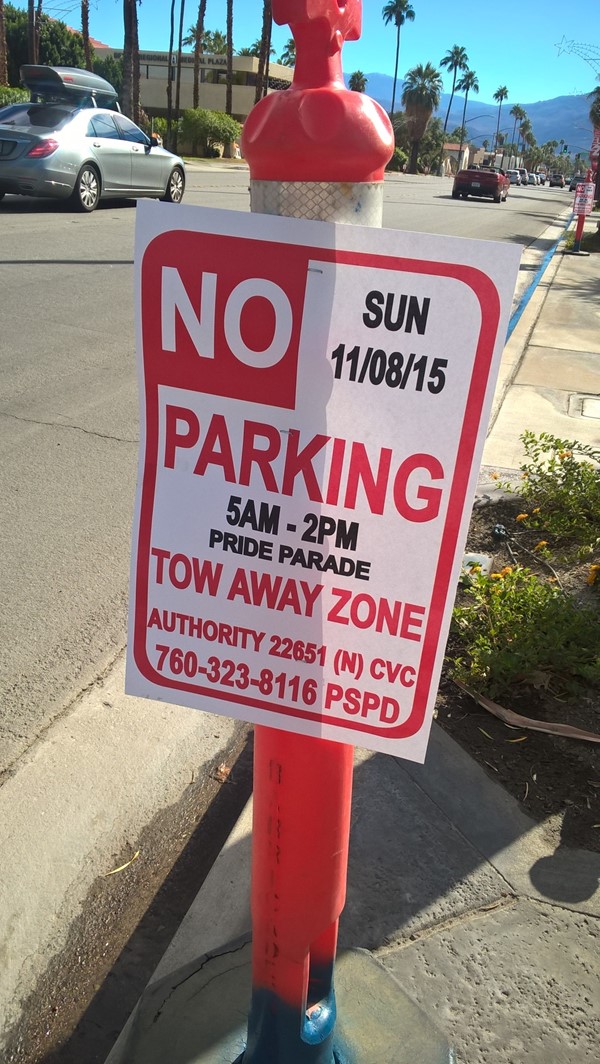 Right in front of our condo: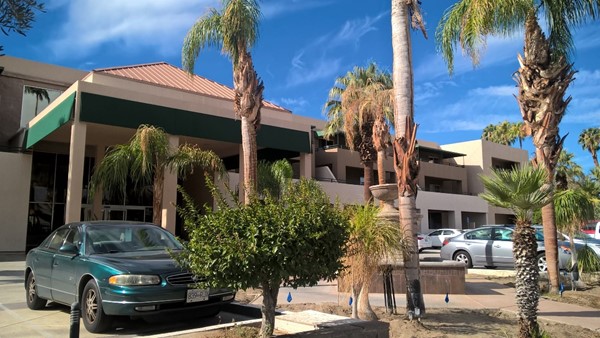 And before you know it – it's time for lamb ribs off the grill – gotta love a grill in a condo:
Eatin' on the road ain't too bad, but soon it's back into the air headed home. The Palm Springs Airport reminds me of the open air terminals in Hawaii: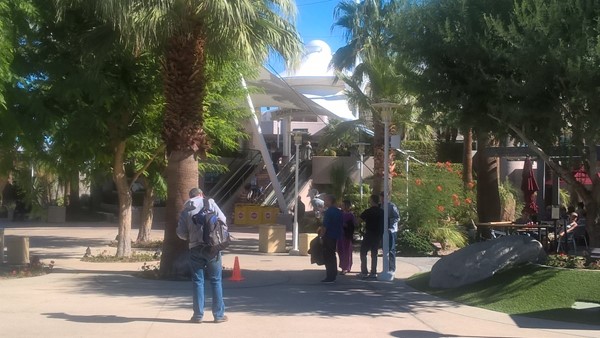 Drinks on board, yep, got upgraded to First: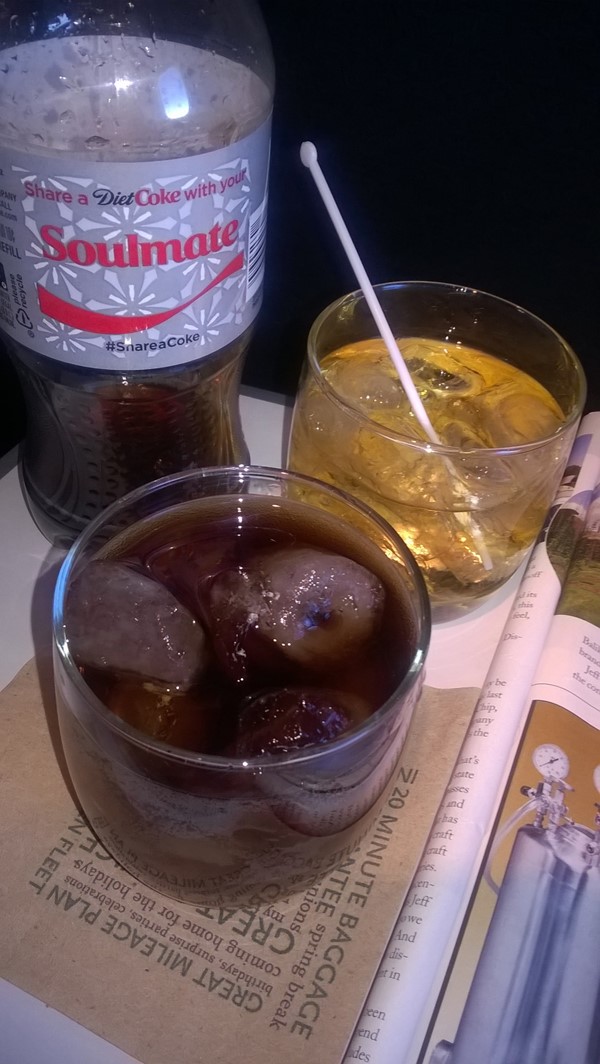 And scenery: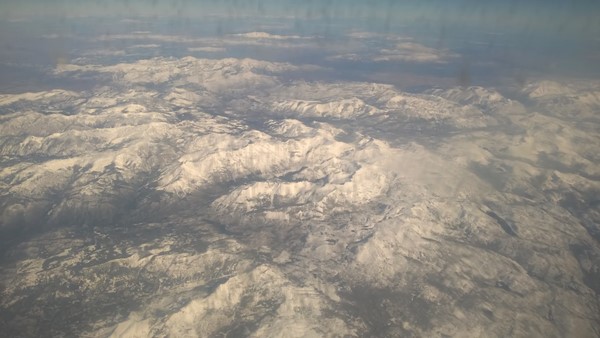 And the turkey caprese warm sandwich on a bed of salad – should have put the salad in the sandwich, but damn good either way: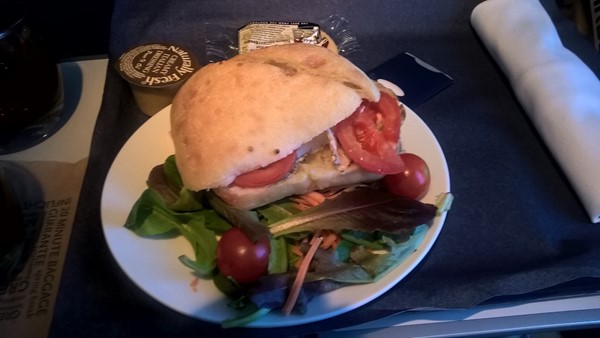 Before I knew it – back at Sea-Tac waiting for my bag filled with booze: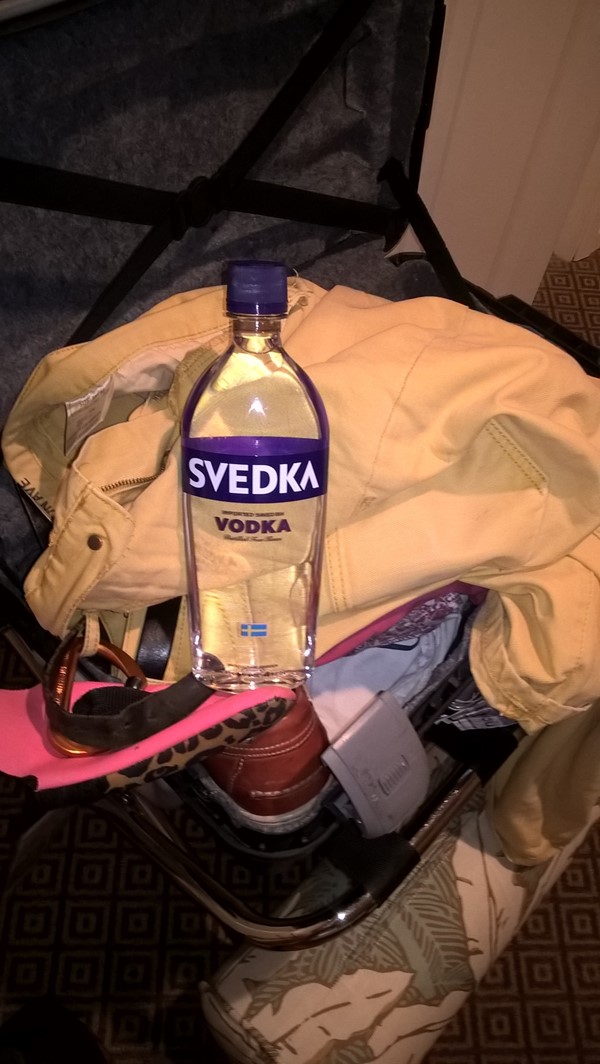 Got work in the morning.
[219.6]