Falling in the category of "no justice in this world" would be a recent fortune cookie fortune:

Guess it's time to go to Kansas City to pick up some BBQ for the store, hang with some friends, listen to jazz.
With me running late (for me) and my flight leaving from the North Satellite at Sea-Tac, I got to check out the new Alaska Airlines Board Room location: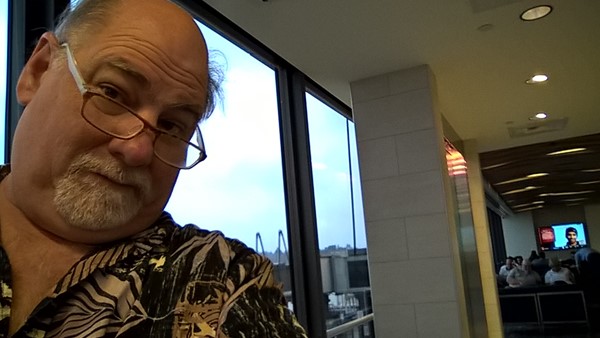 Small – but it will do until 2017 when the whole terminal is renovated and they add gates and move the club to the roof.
It was great to be leaving this: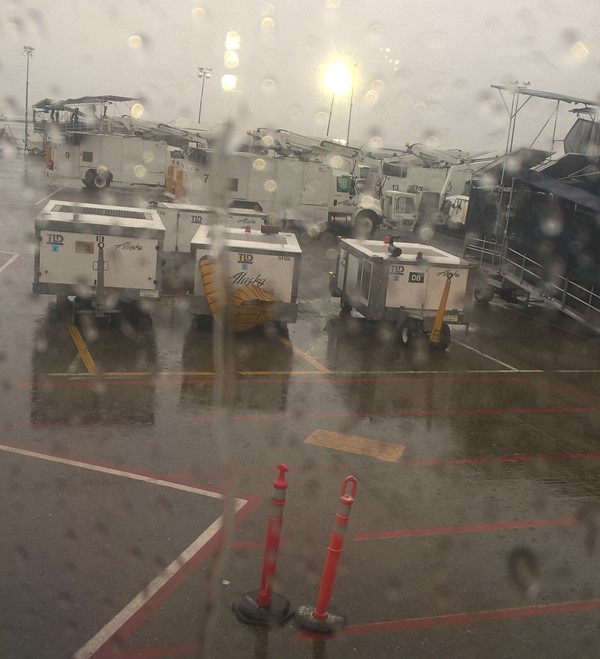 But it's pretty above the clouds: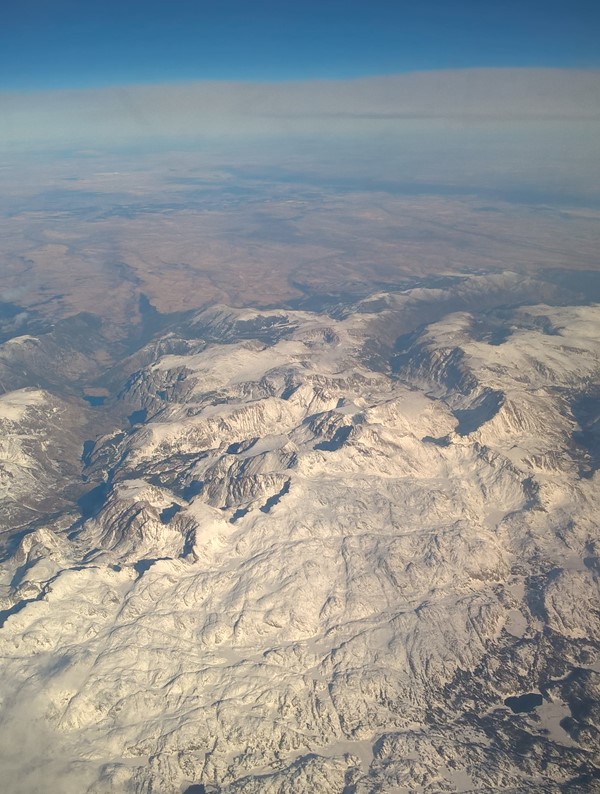 And in seat 1A, free entertainment: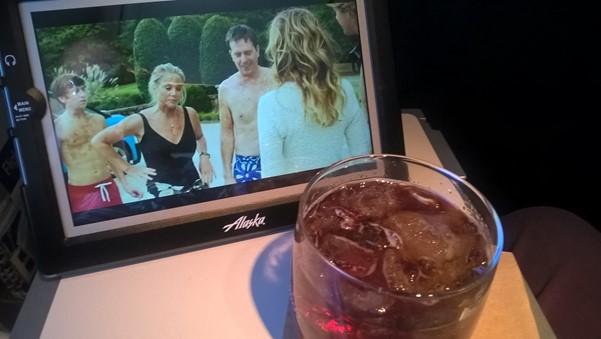 No photo of lunch, but it was the turkey ensalade capresse warm sandwich of other trips. And more funny bits of reading material: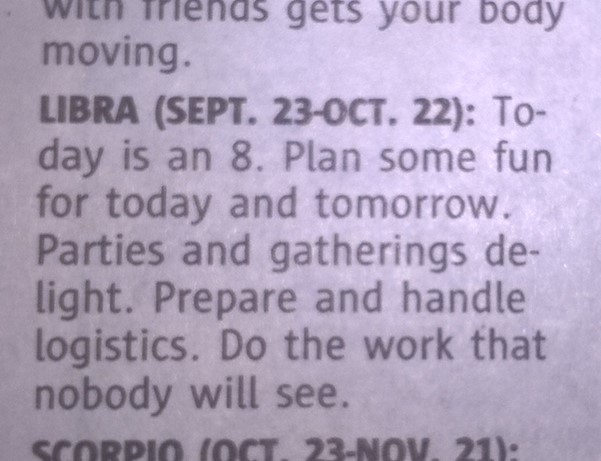 Lots of that arranged for Kansas City!
Dinner with Paul and Gail the first night around the part of town the old Subs Pub was located at Café Trio. Interesting drink menu: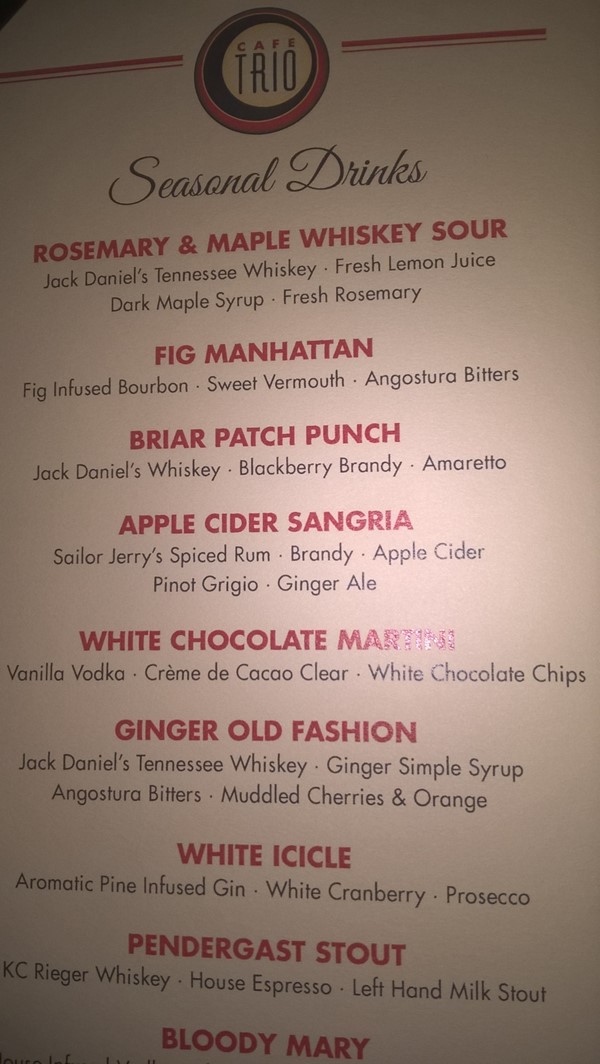 I started with the Fig Manhattan before moving onto the Rosemary and Maple Whiskey Sour – Gail went with the White Icicle: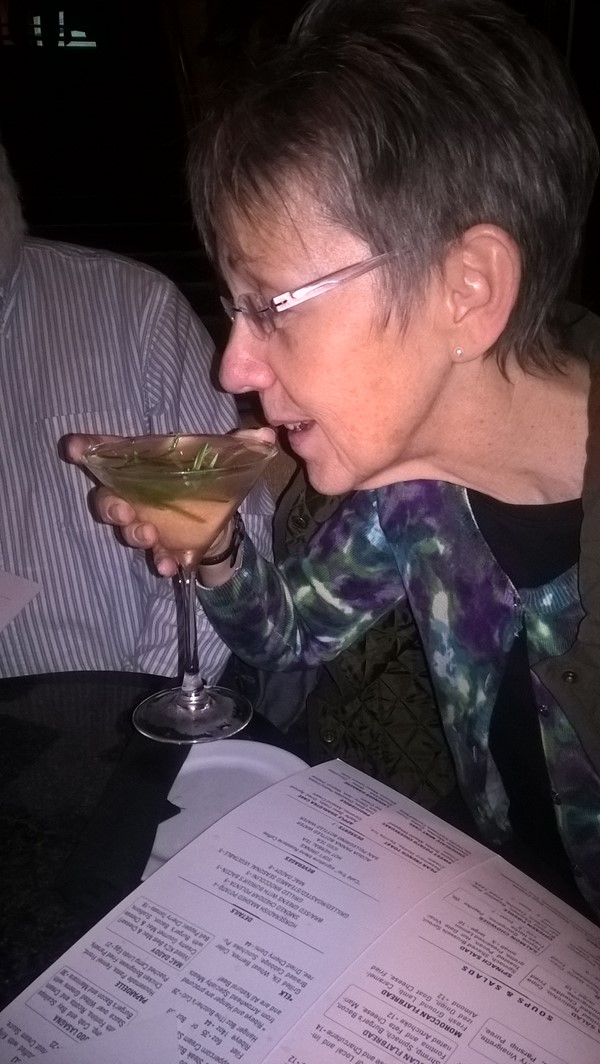 And for my dessert, something with a little Foie Gras: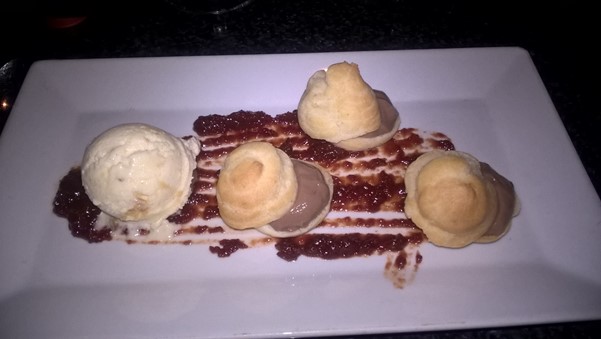 It was pretty, but the little roll things needed to be room temperature, not chilled.
Gail headed back to Greenwood (their "summer residence") where they have taken the cat to make my visit easier and Paul and I headed to The Green Lady, a 7-day-a-week jazz bar – and it was amazing. Not often to you see a trio composed of vibes, Hammond B-3, drums: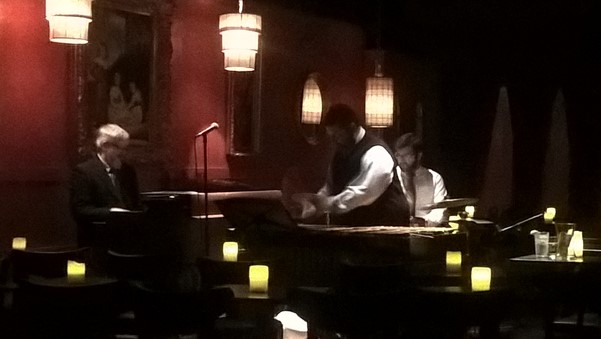 And here is a little of the music:
And, of course, a couple of more Manhattans: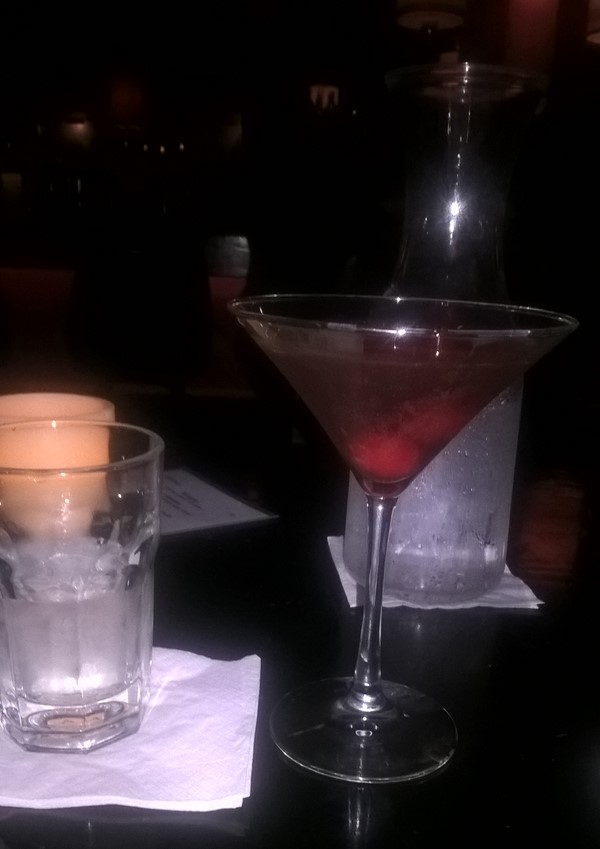 The nice thing about staying with Paul is that we BOTH sleep in super late – so that breakfast was actually LUNCH at Arthur Bryant's. Paul had the pulled pork/beef combo sandwich: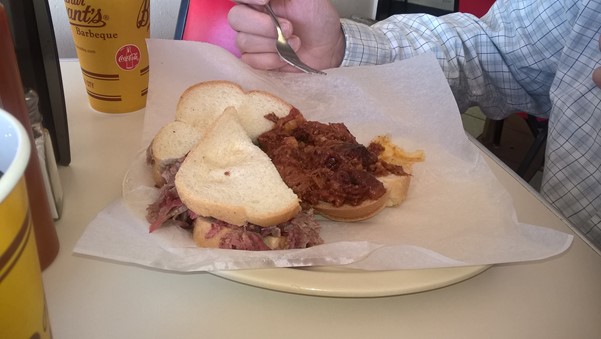 I went for the "Pig On A Bun":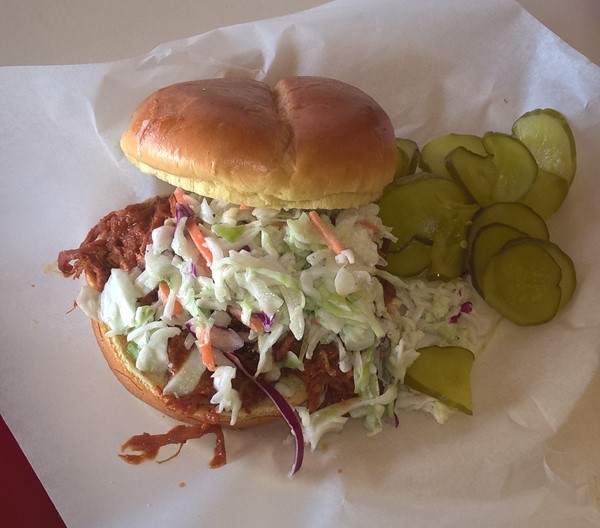 After lunch, bought two cases of Arthur Bryant's Original BBQ Sauce for the shop, then we swung by Gates to pick up a case of their original sauce – and the trunk shows it: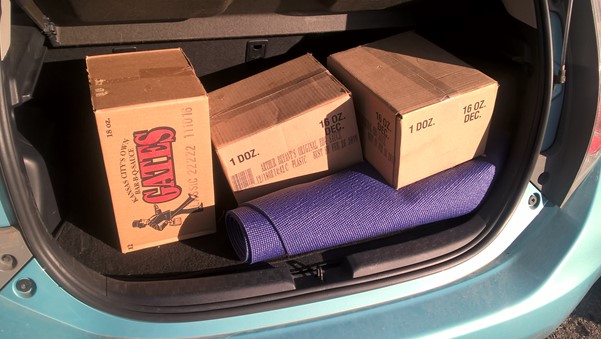 Tonight's gathering is at Harry's Country Club where the gang plans to meet.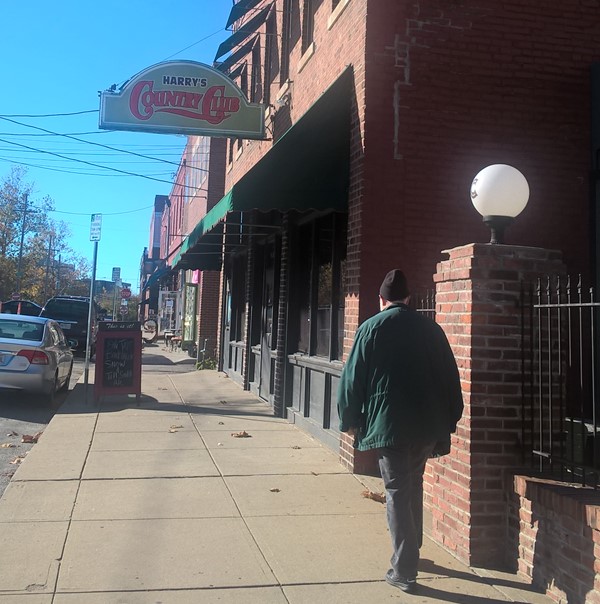 Oddly enough I didn't get ANY pictures of all eight of us gathered in a little mini-reunion. Paul and Gail from Kansas City, Phil, Diane, Byron, Vicki, and Retta from Lawrence – I was amazed that the Lawrence folks would drive over for a mid-week dinner.
I DID get pictures of my lunch the next day back at Harrys – the pastrami sandwich lunch special with potato salad: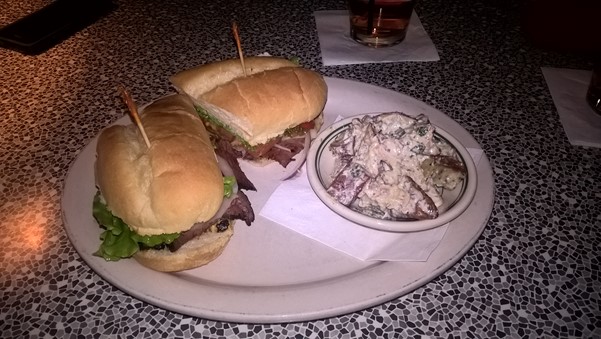 No cocktails for me at lunch, just iced tea – but if I wanted whiskey – man do they have a selection!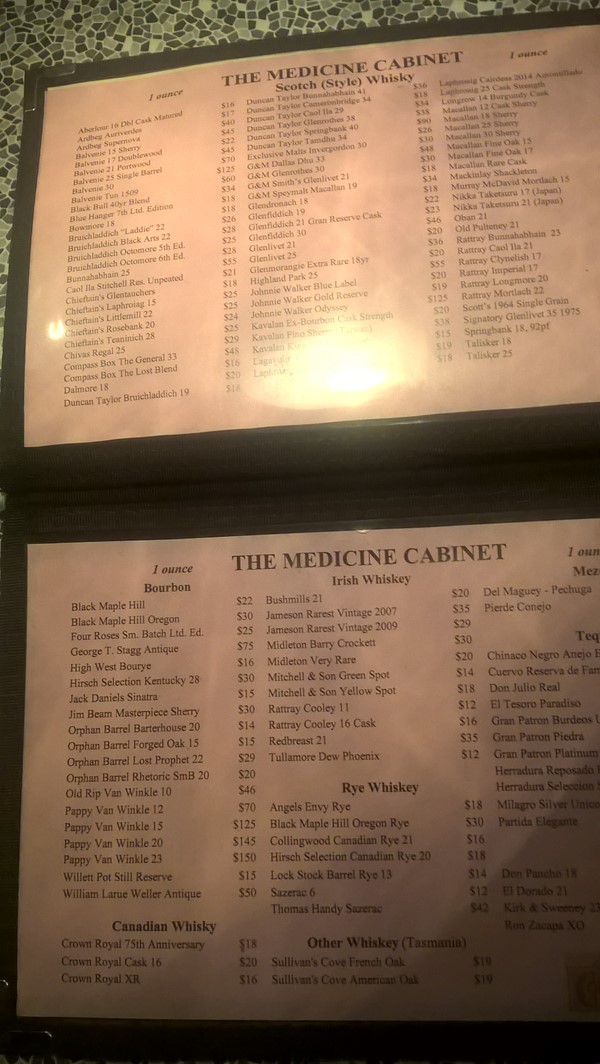 Before you know it, it's time to load up for the airport, and my return trip – just A LITTLE luggage: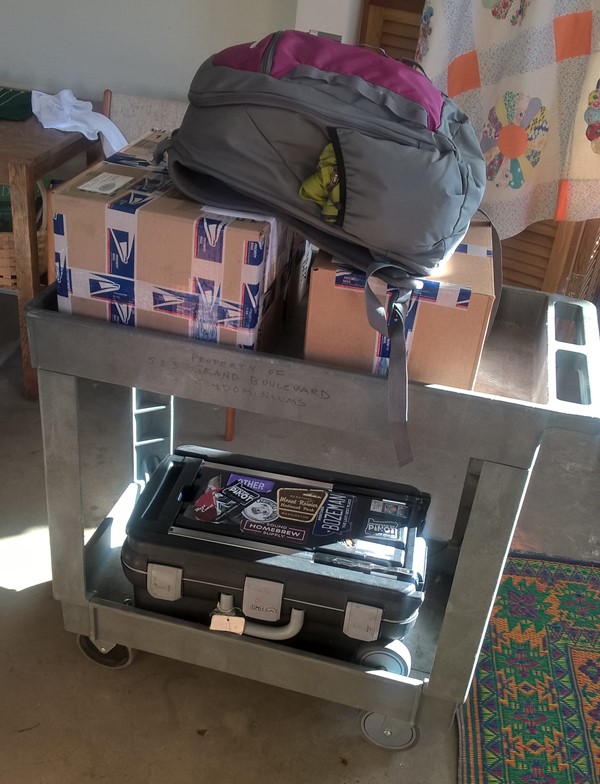 Yep – it was easier to use a cart to get it all down stairs.
No upgrade for the way home – I was number 11 on a list of 27 – on a THURSDAY! At least I got one of the 4 empty seats between me and a MVP Gold 75K flier in the window: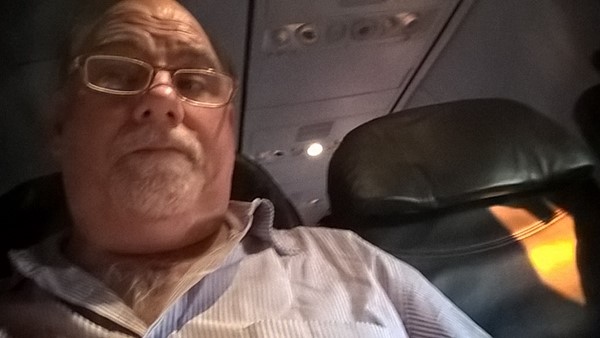 And with the complimentary cocktail when I don't get upgraded: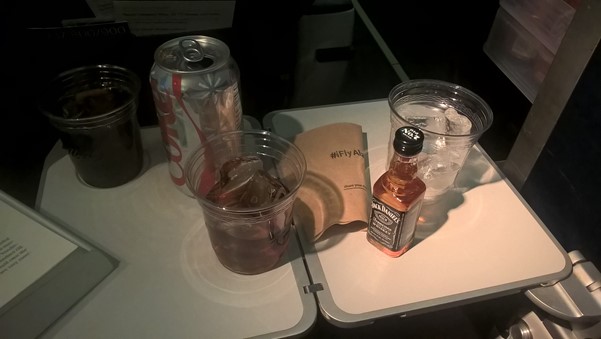 Whippet picked me up at the airport (handy with all that luggage!) so I took him to an old-school Seattle institution, The Thirteen Coins. Must be a theme…. Pastrami for lunch, Ruben for dinner. Actually, we both had the Rueben, mine with a Manhattan side: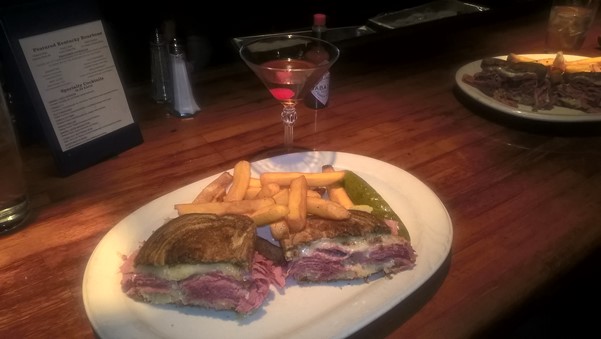 A quick,but fun, trip back home.
[215.4]