Again, no, not that kind of quickie! Just a two-night stay because I got a round-trip ticket for $40 plus the $100 eVoucher I got from Alaska for the detail on the Maui flight last month.
But first I have to "work" Monday – if it's Monday, it means our distributors are showcasing parts of their portfolios – but this week's wine tastings actually started on Sunday before work with the Locus Wines rose release party. A couple (now friends) is a nice combination, one is a winemaker, the other a professional chef, so in addition to good wine, you get good nibbles, like these:
Monday's tasting (also rose) was larger, but the food really good, but not Ton (the Turkish chef) good: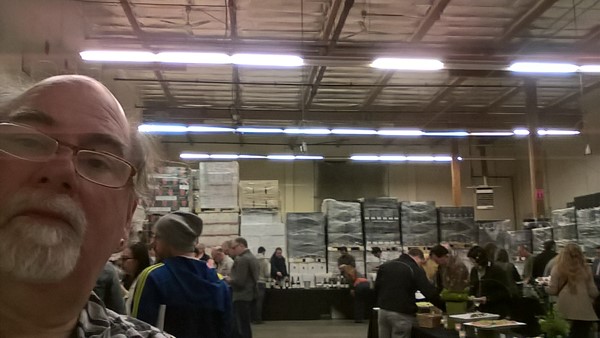 Food in the center, wine in a horseshoe around it. Some weeks there are three tastings scattered around the city, some weeks, none, but that's my usual Monday.
Tuesday morning is off to Denver on a mid-day flight. Actually saw a couple of examples of Alaska's new livery: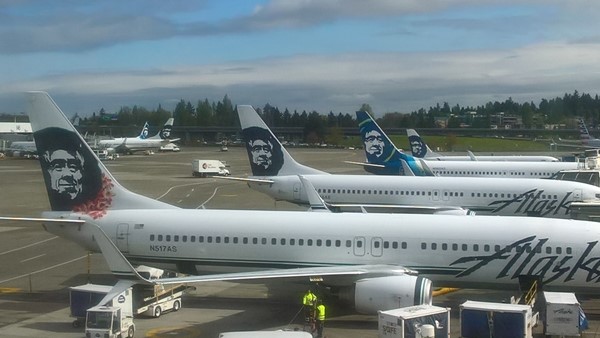 The new livery would be the 3rd of the 4 planes in a row. The 1st is their Hawaii-themed – not sure if they are going to remake part of the fleet with the flowers or not – here is a closer show of the new livery: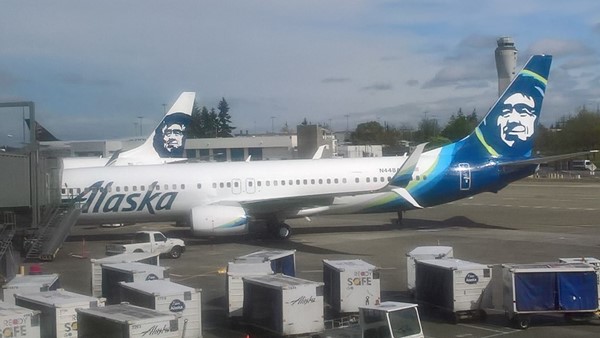 Uneventful flight to Denver – in the back, WAY BACK – exit row aisle in a completely packed plane where I was 13th on the upgrade list. Luckily, with MVP Gold, it still comes with a free cocktail even in the back.
While I'm in the air flying to Denver, Dan is in the air flying from Las Vegas after a two-day business meeting. Upside is it means I have a ride waiting – though actually, I'll be the one waiting. His flight gets in a couple of hours after mine. But I'm good at waiting – as long as I have lounge privileges…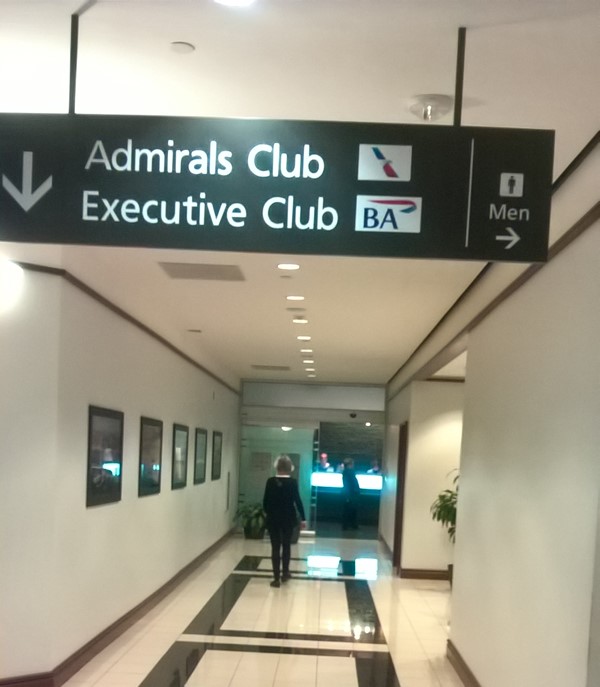 But nothing is every simple – Alaska uses "C" concourse, as does Southwest who Dan is flying, and the Admirals Club which offers reciprocal privileges, is in "A" concourse. Luckily all gates are behind security.
I'd never been out to "C" concourse, and I think it's main lobby area is amazing: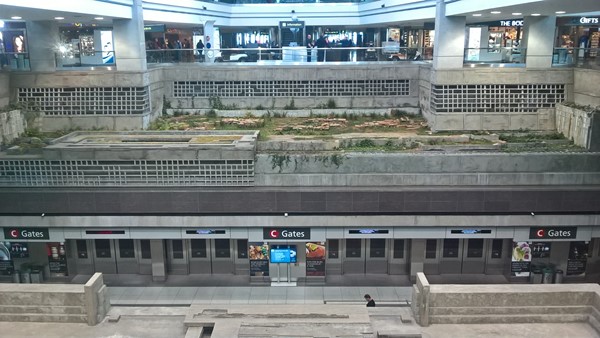 Very Mayan – at the bottom of the photo is the train system that takes you to the main terminal and baggage claim.
A couple of hours of drinking, eating brie bisque and reading newspapers – it was off to meet Dan at the gate: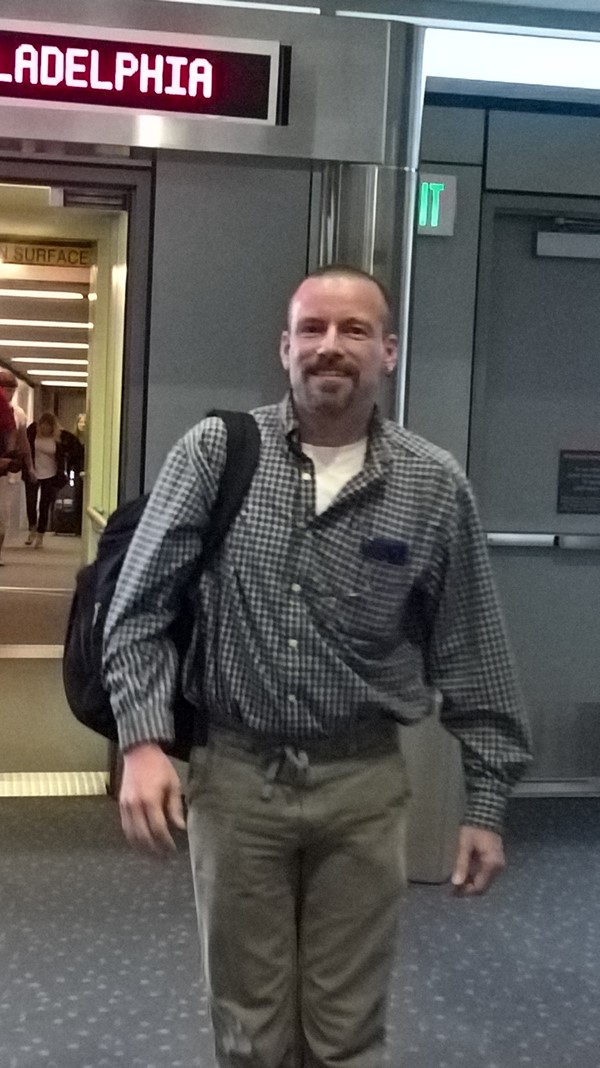 That is the smile of someone who hasn't been met at the gate in way too long!
I brought Dan back to the Admirals Club for a drink and a bowl of bisque while we waited for the worst of rush hour to die down. Then it was off to lovely Louisville – wedged between Boulder and Denver.
One of the "chores" of this trip is to figure out if this "computer on a stick" will actually perform as advertised: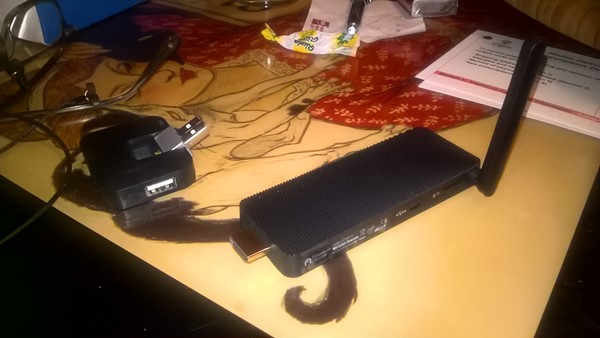 The connector on the end is a HDMI connector, so that gives you an idea of the size of the unit. It shipped with Windows 8.1 but we got it upgraded to Windows 10 – but didn't ever get sound to come out of it, so I'll try my TV at home – could be an issue with Dan's tele.
A very relaxed visit – with Dan taking off Wednesday to just hang out – including hanging out with BrightHeart!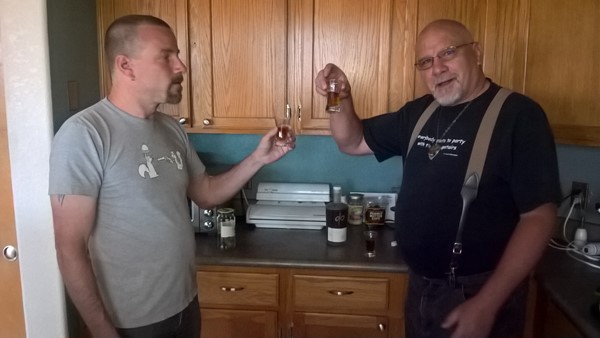 He brought a Chai Rum from a local distillery – good, but not $40 good in my opinion!
Wednesday evenings meal was courtesy of a $$$ off coupon for a Mongolian BBQ place in a suburb over: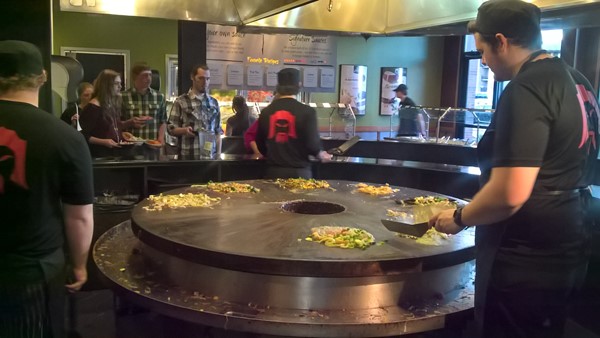 The food was good, but man, the place was PACKED with kids. That was a bit of a downside, but $10 off $30 made it worth it.
The next day it was back to the airport, back to the Admirals Club, more brie bisque (you'd think they'd change their soups daily like Alaska's Boardroom), and other seat in the back – this time number 14 on the upgrade list – my window seat view: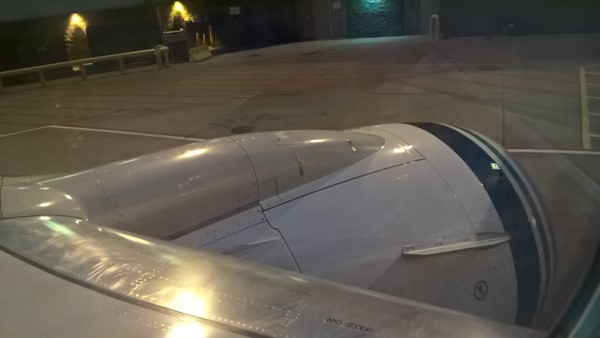 Uber'd home from the airport. Still cheaper than a cab – even with the $5 airport fee. I can imagine that all the cab drivers are pissed if you saw the number of Uber and Lyft pickup area.
[? ? ?]