In what has become an annual tradition for the last three years, Roxy and I are once again off to Whistler for some "hiking".
Top down the whole way, with a few sprinkles – overcast mostly.
Condo was ready for us when we arrived a little after 4pm – not a bad place. It's a one-bedroom so Roxy is on the fold-out couch: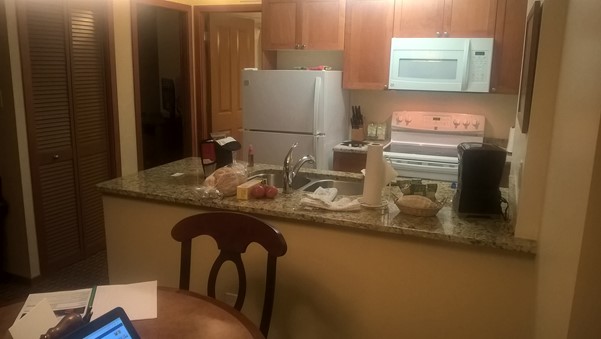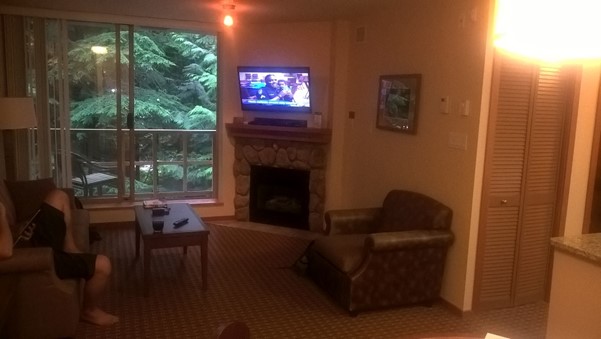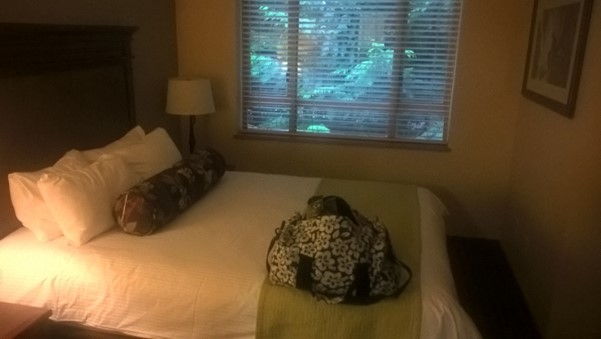 First stop is the IGA for a bird and supplies: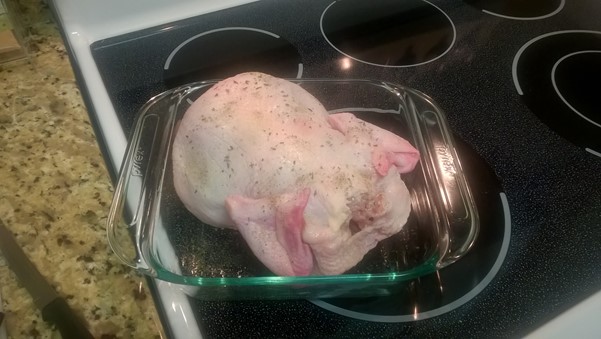 Just like my trip to Puerto Vallarta a couple of weeks ago, it's going to be a chicken week, made easier by the fact that Roxy is enthusiast about food.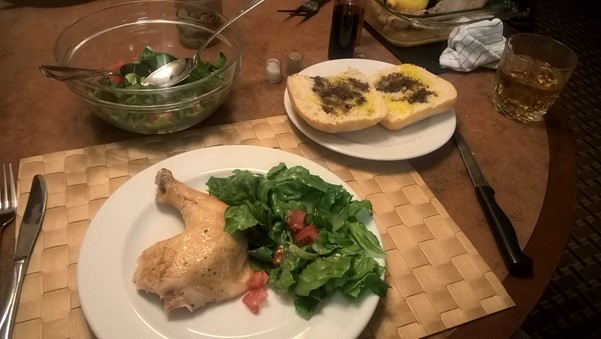 The next morning up and on the road – but with a wake-up selfie for a friend just back from Europe: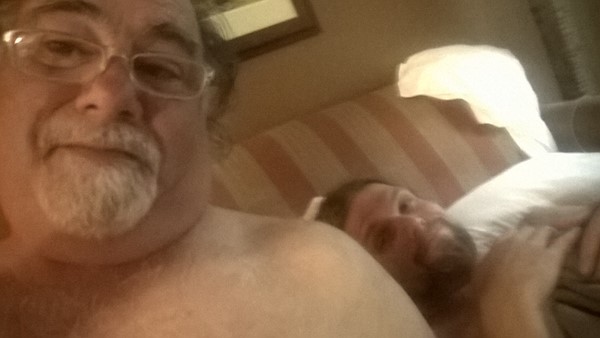 A bit out of focus, but that's Roxy's fold-out couch/bed.
We were SLOW getting out of the condo, it was after noon when we picked up our Peak2Peak Season passes… what was overcast yesterday was cloudy and drippy on the mountain….this is on the first gondola: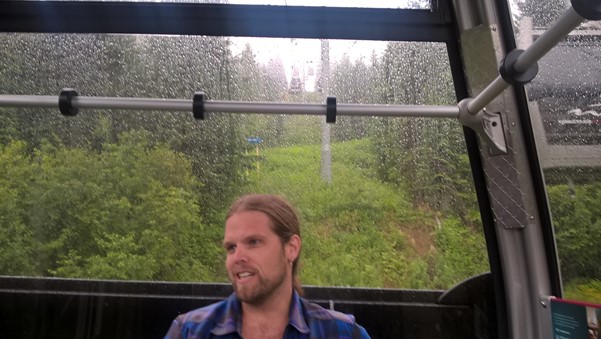 Which turned into this on the Peak2Peak….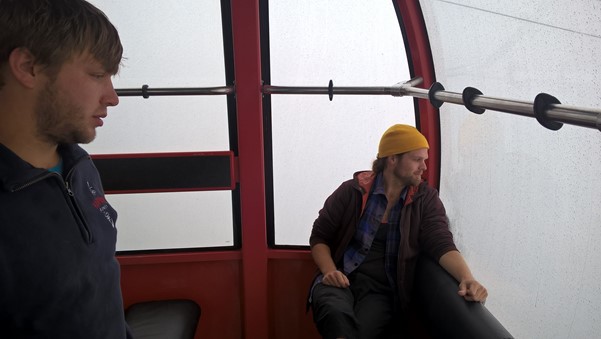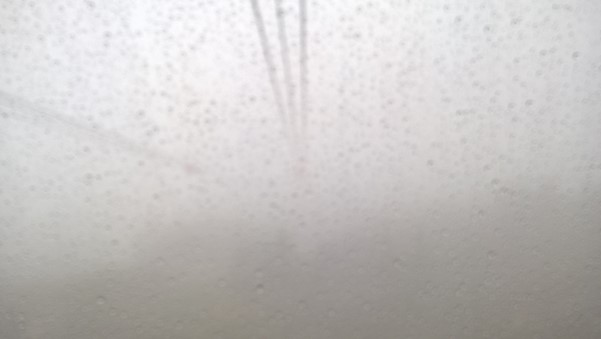 For us, having skipped breakfast (for sleeping in until 11am) we headed directly to Christines for lunch – it was closed for renovations last summer, but it was a favorite our first year: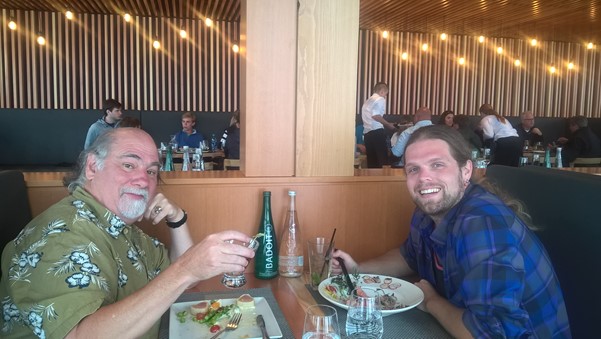 Roxy had the Salmon…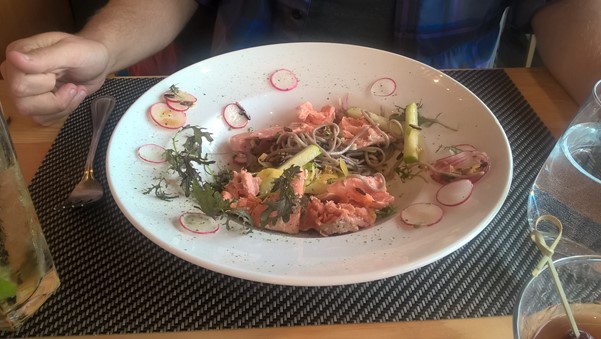 I had the Blackened Ahi…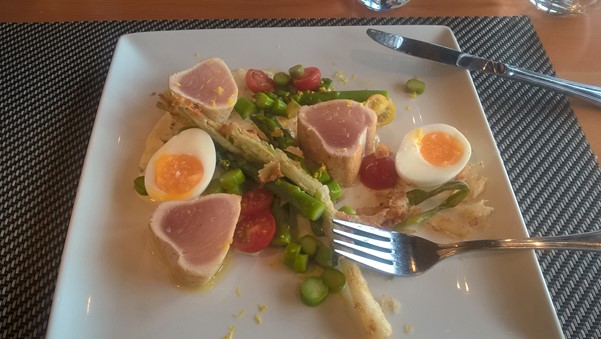 Sorry that both shots were after we'd "tucked in" as the Brits would say.
This should give you an idea of the weather on our first two days on the mountain: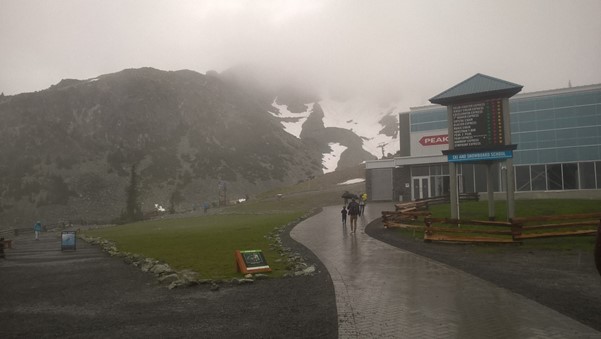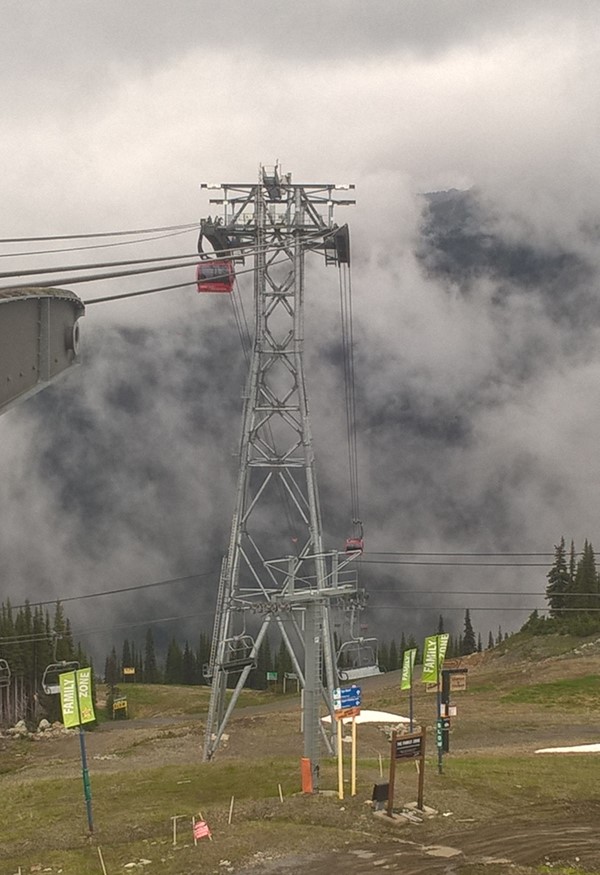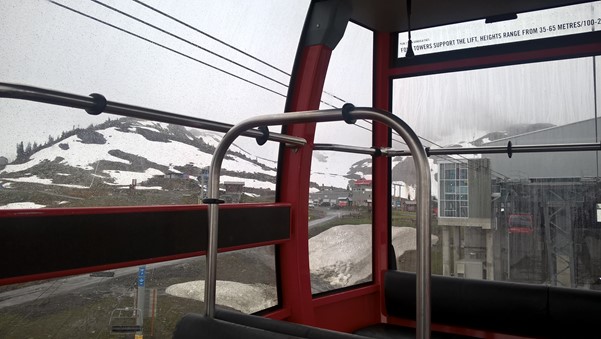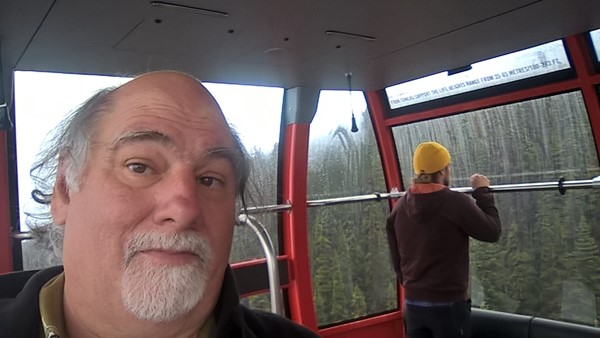 But there was a "cool" display of a "faux" GMC Denali gondola: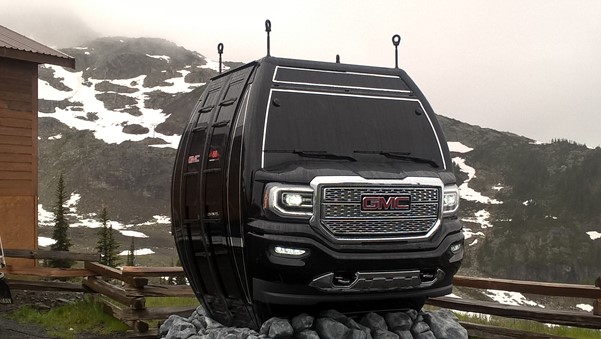 After last night's dinner, I'd stripped the chicken and Roxy made us Chicken/Ciabatta/SweetOnionDressing sandwiches for our mountain adventure – tasty they were:
I also boiled down the bones and made stock for chicken/vegetable/noodle soup – with is tonight's meal: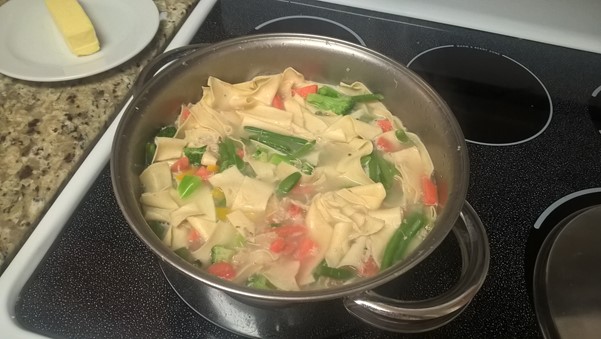 Got to get your money out of that chicken!
Even made it to the hot tub for a soak post dinner after our "grueling" day of "hiking":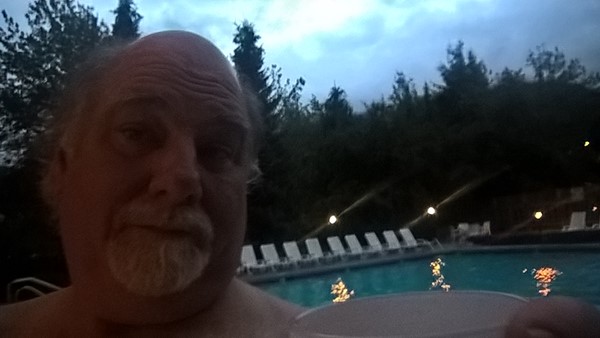 Day Three in Whistler required a room change – down the hall in the Handicapped Unit – couldn't find four days together in one unit, so that meant packing everything up, leaving it on a trolley, bagging the stuff in the fridge, and having it magically appear in our new unit.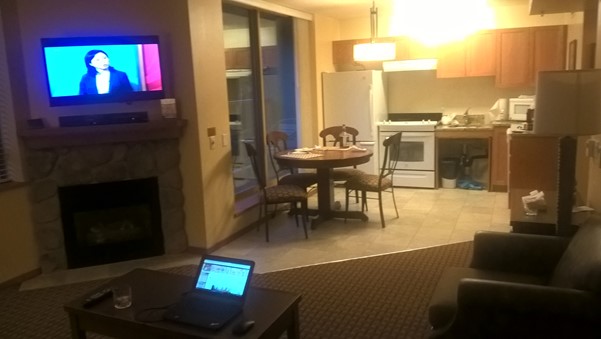 But, again, the mountain was socked in…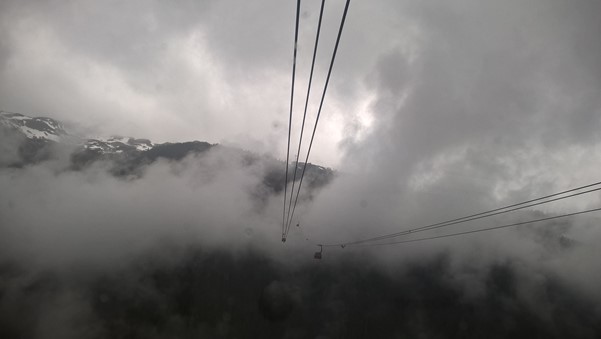 This day, we were wise enough to bring books along, spending many revolutions in the Peak2Peak Gondola, not bothering to get off – just introducing ourselves to new riders with each turn.
More chicken noodle soup for dinner – the staff kindly moved it pot and all, replacing the missing pot from our new kitchen.
And oh what a difference a day makes when the sun comes out! Lines everywhere…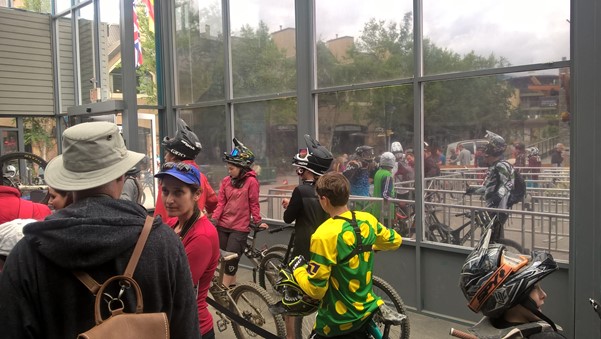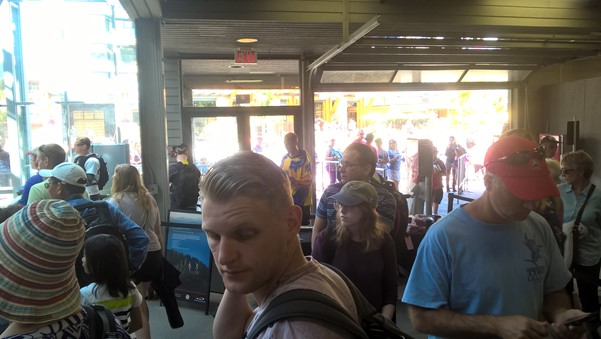 No more round-and-around for us. People everywhere because of the break in the weather…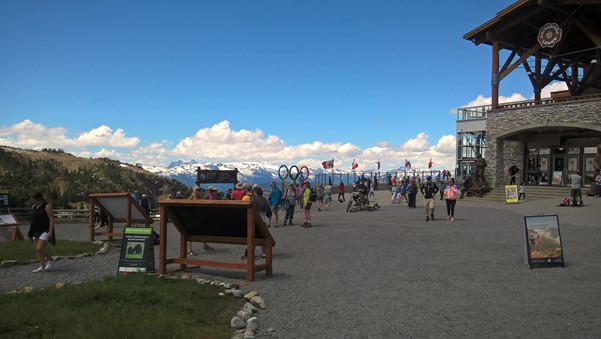 And the first hike we do – it's a Black Diamond trail to the Peak Express. Remember, I'm the guy that only does the Green Diamond Trails. That would be the lift down in the valley – bad for my knees on the way down, bad for my breathing on the way up: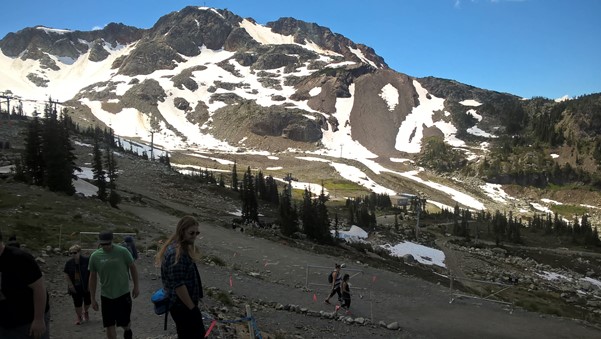 Said "Black Diamond" trail: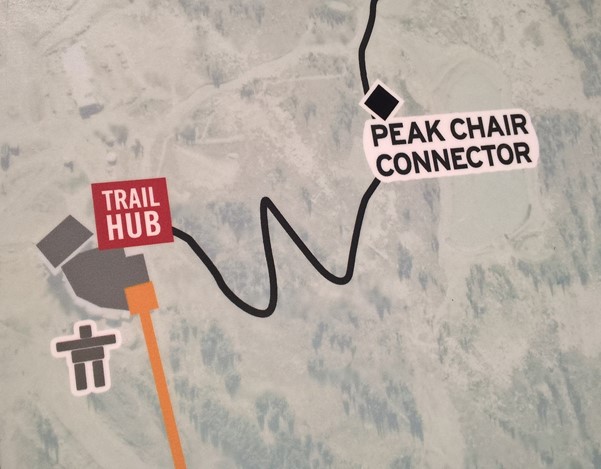 On the walk I saw this gentleman doing a watercolor on the path – reminded me of my brother-in-law on hikes: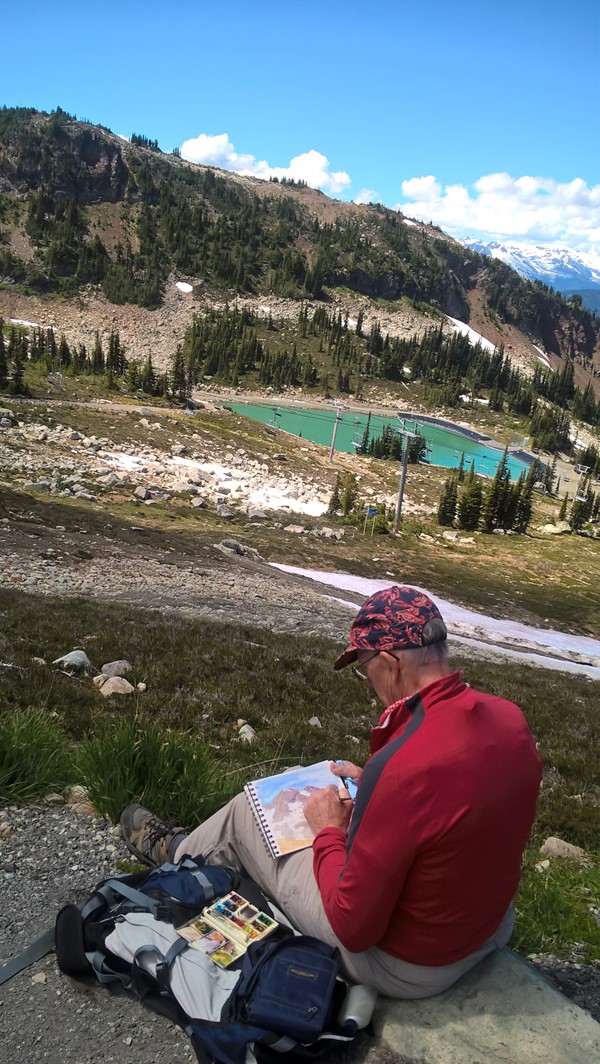 That would be a snow making lagoon on the upper right.
As you can see from the video below, there is a reason we didn't take this lift Tuesday or Wednesday in the bad weather – they are open chairs!
But it sure is pretty at the top!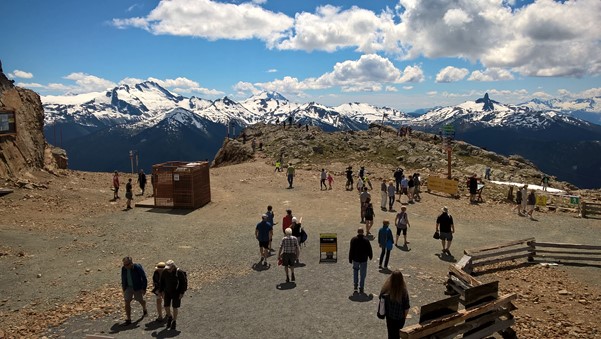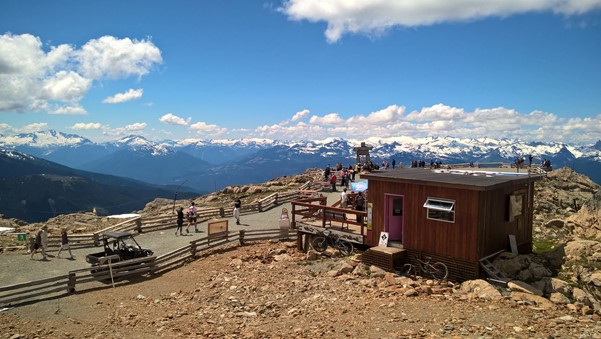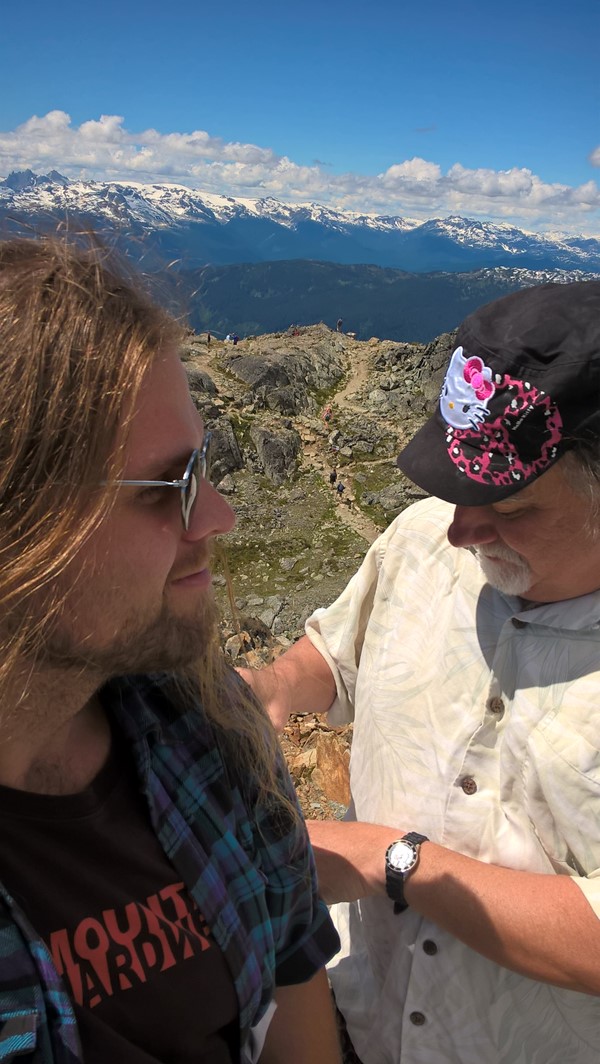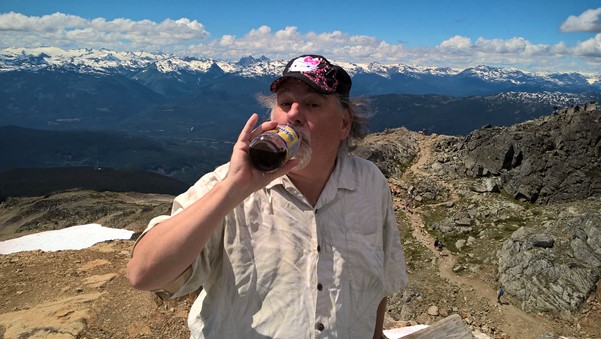 The way DOWN is actually a little more breathtaking – though I didn't get the camera turned on in time to see the sudden "over the cliff" launch – but as luck would have it, that's right where the lift stopped.
I had a hankering for a hot dog – apparently not easy to find when they don't have their outdoor grill going – unless you are a whole suckling pig!
Guessing that's for the pulled pork poutine (which I had last year). I had to settle for the Children's Combo which had a VERY SAD hot dog, fries, and three sides (yoghurt, fruit strips, fruit cups, etc.). That said, it was $10 CAD, minus 10% because we are pass holders, bringing it to $9 CAN, and with the exchange with $1 USD equal to $1.30 CAD, it was a cheap lunch in an expensive place: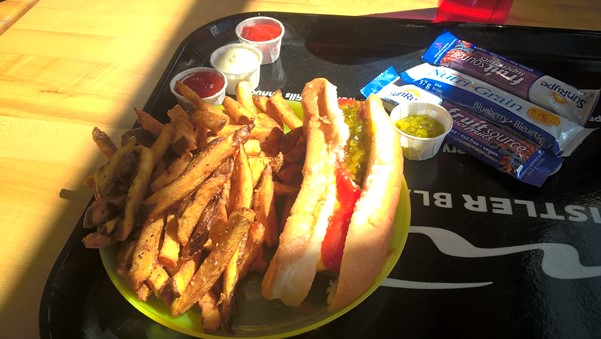 Alas – lunch at Christines is a once-a-trip treat (we spent $110 CAD on lunch Tuesday for the two of us).
The trip is coming to the end, so, a little more reading, hanging out on lifts, but no more hiking: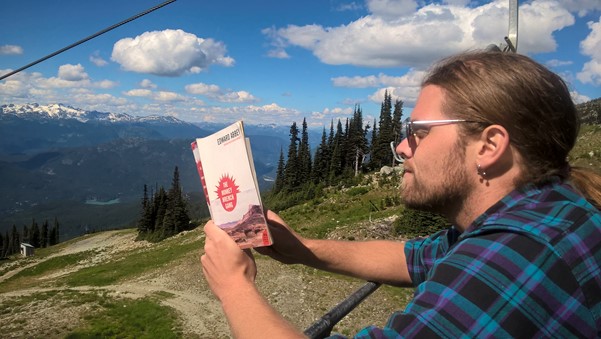 And from our final ride down the mountain: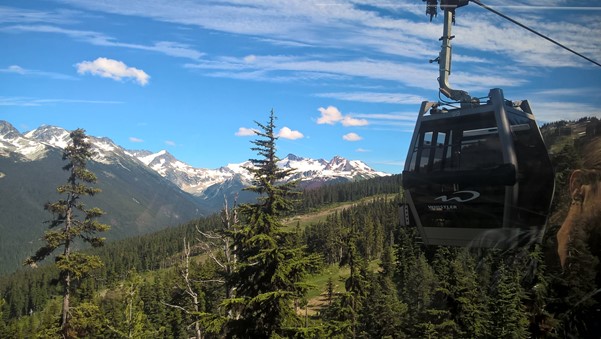 Before you know it, we are one the road headed home – actually got out of the condo by 9AM! Don't we look relaxed on the road?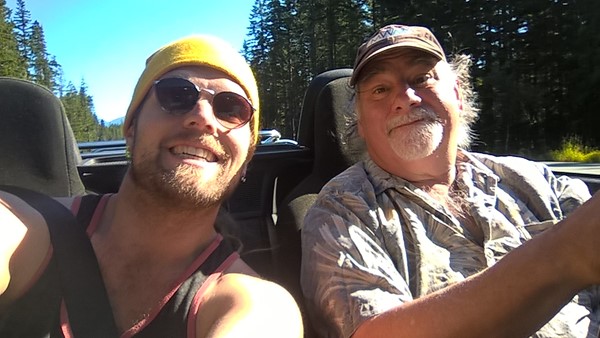 The border was maybe 20 minutes because I spent five minutes buying duty-free rye, cutting off another 10 minutes of traffic – would have been quicker, but Roxy doesn't have a Nexus card – but not bad. We made it home after getting stuck in Seattle traffic by 3:30 or so… plenty of time to cook dinner for our mutual friend, Mr. Whippet!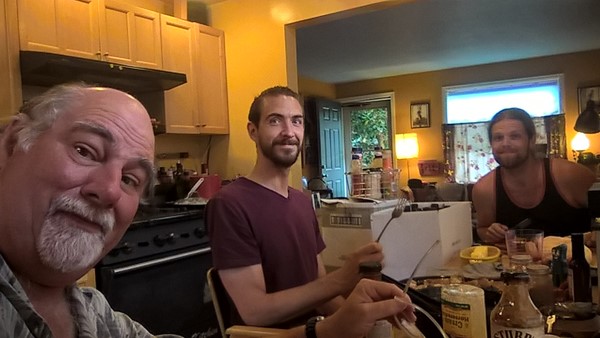 Pardon the stacks of wine boxes – got 10 cases of "Buck-A-Bottle" for upcycling.
All-in-all, a fun trip. Going back early September since I have a season-long pass – and there is "room at the inn".
[214.8]