When is a mileage run more than a mileage run – when you actually go someplace warm for a couple of days.
This was supposed to be surprise trip number two for Rache – amusingly spoiled by the TSA agent that said, "Have fun in Hawaii." So much for THAT surprise. Rache still didn't know the island until we got to the gate. Stopped at a couple of the lounges along the way for food and drink since we didn't get upgraded to First, we were merely in Premium (extra knee room, snack box, free booze).
Uneventful flight and our driver was waiting for us even though our flight was about half an hour early…but hungry we were, and it was almost 11pm by the time we checked in. Off to Wailana Coffee House for us.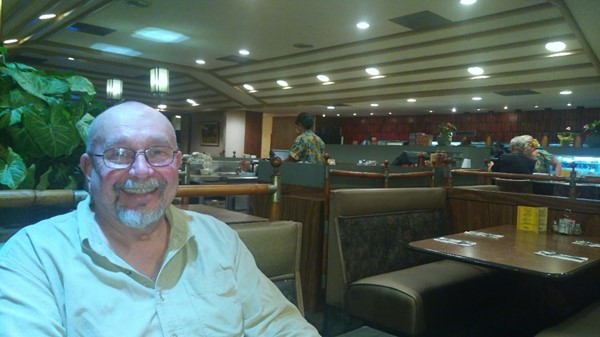 The place has all the charm of a Denny's, which other than some bamboo accents, seems to be what it was at some point. Oddly, cash only.
The $4.50 drink special was a Mai Tai – which can often be WAY too sweet. Blessedly, this wasn't the case, and it was amazingly good!
That would be Beaumont the Basset — Rache's travel companion (other than me).
We split a Rueben, which was the perfect amount of food, though the sandwich was a little thin, and the fries a little soggy. Maybe we should have just had another cocktail and call it done. Instead, we poked our head into the Karaoke bar attached: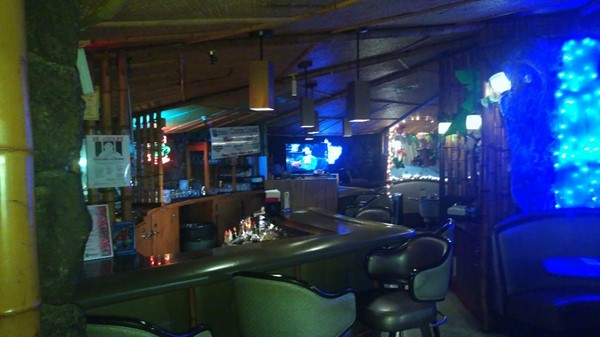 Heavy on the Tiki!
We both stayed up too late – me longer than Rache, considering we have a plan for Tuesday, a 10:30am tour of the Kamaka Ukulele Factory.
This was probably my fifth tour, sometimes by myself, often with travel mates. It really is an interesting tour, which these days is started by the 91-year-old son of the founder: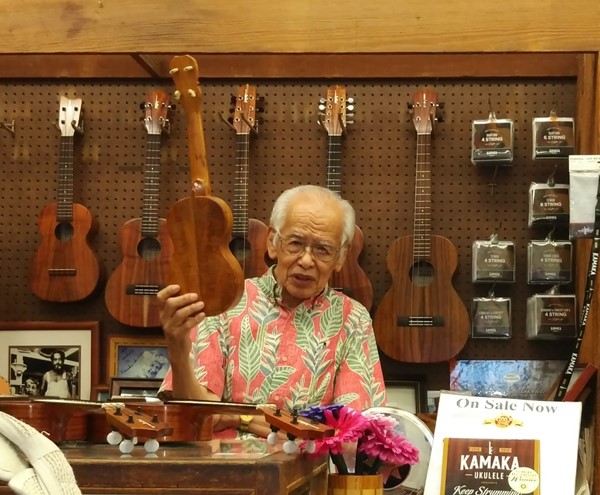 With the history out of the way, it was time for one of the grandsons of the founder to take us out into the plant: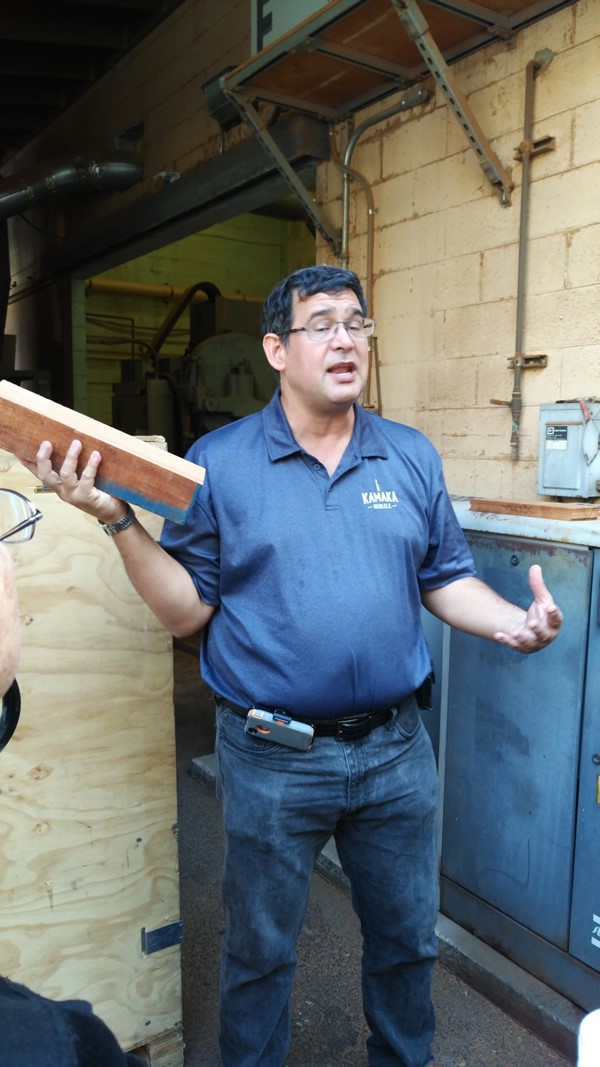 .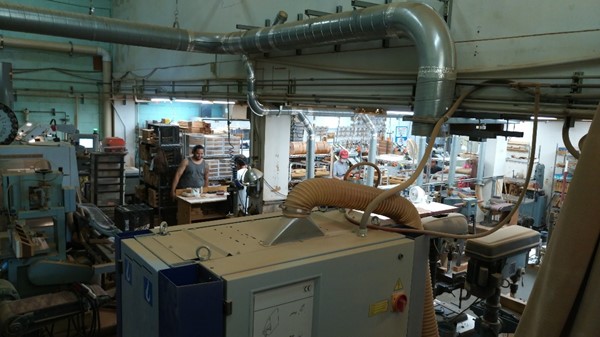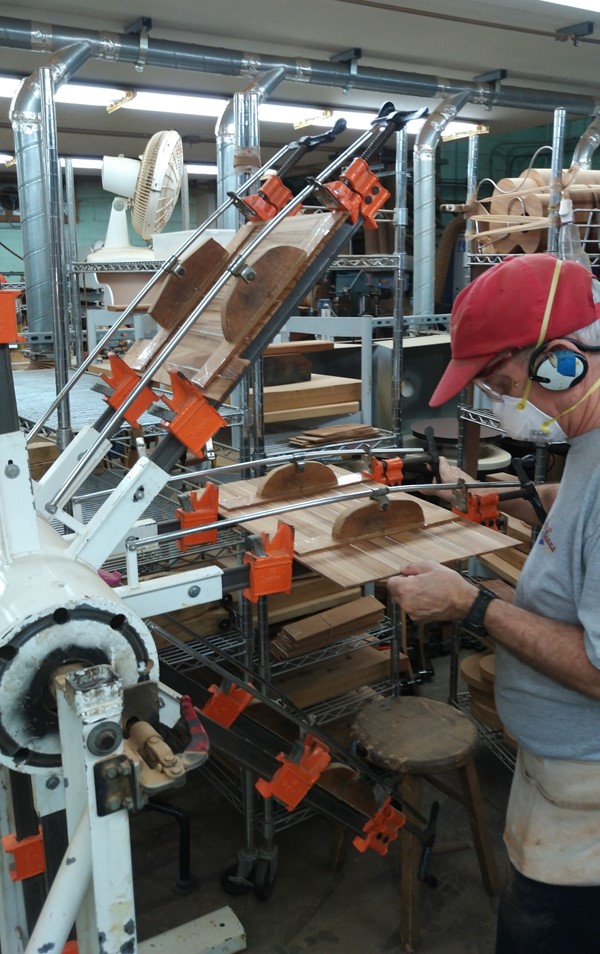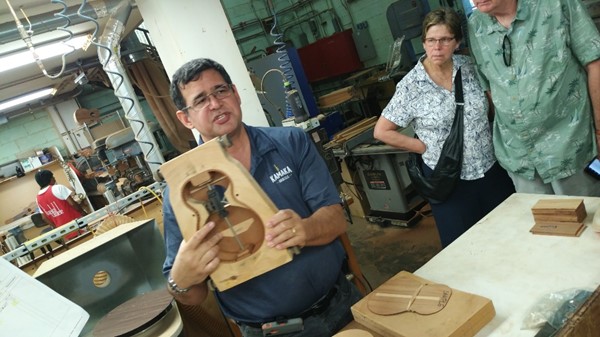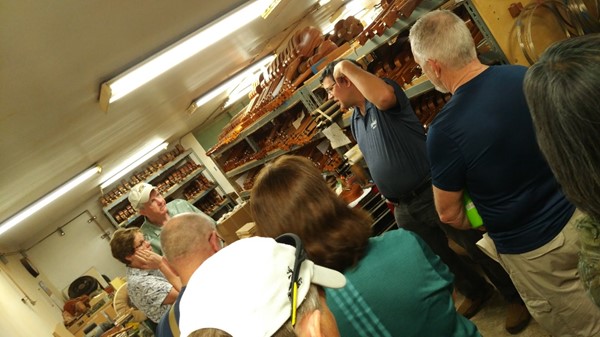 The tour runs about an hour and is offered at 10:3am, Tuesday through Friday. It must be popular because it used to only be offered on Tuesdays. And as you can see, Kamaka Ukuleles are not cheap – and there is at least a two-month wait for one since they are all custom made.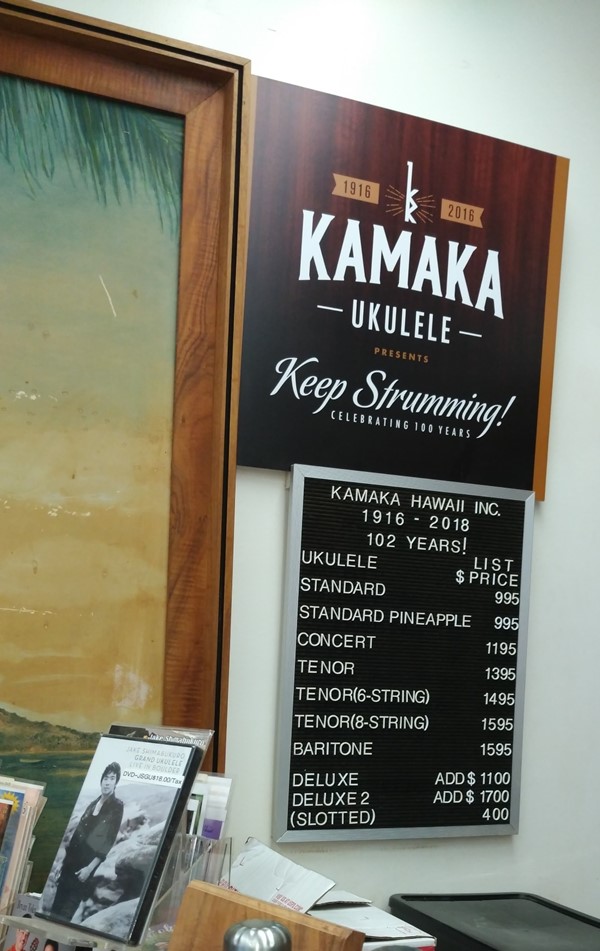 After the tour off we went in search of The Salvation Army, which I was having a hard time locating on an Uber map – but knew how to get there, but not before we ended up at a closed store miles away. Our driver took us the rest of the way for cash. Nice Mercedes S-class ride: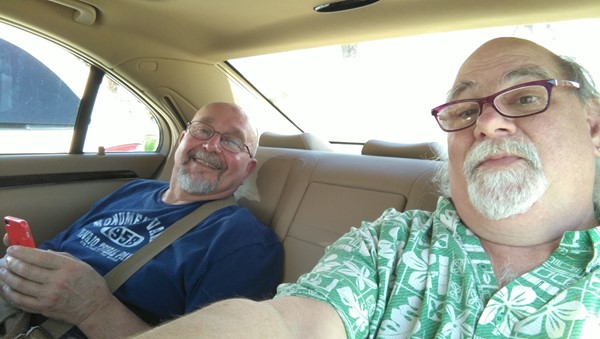 I snagged some glassware and six Tommy Bahama shirts (average cost was $12.25 each), of which five fit, and I'll find someone for the other.
Needing food, we tried to eat at Liliha Bakery, but they were out of fried chicken (which we both wanted), and more importantly, panic set in when I discovered I'd left my phone in the Uber. Further panic when we realized that Uber's Help System was offline. Nothing to do but head back to the hotel and get some food to calm my nerves.
Goofy Café and Dine was the choice: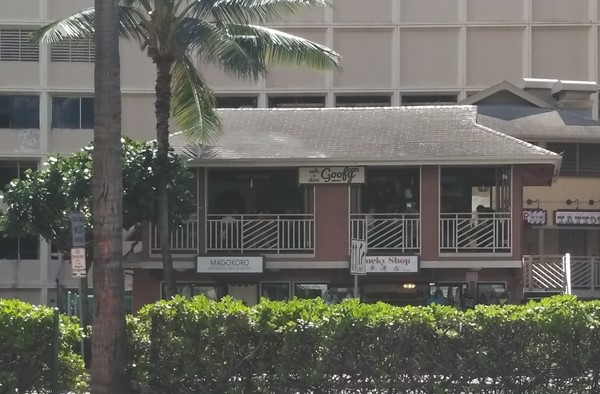 I went for the Pork Belly Eggs Benedict, Rache went for the Grilled Shrimp: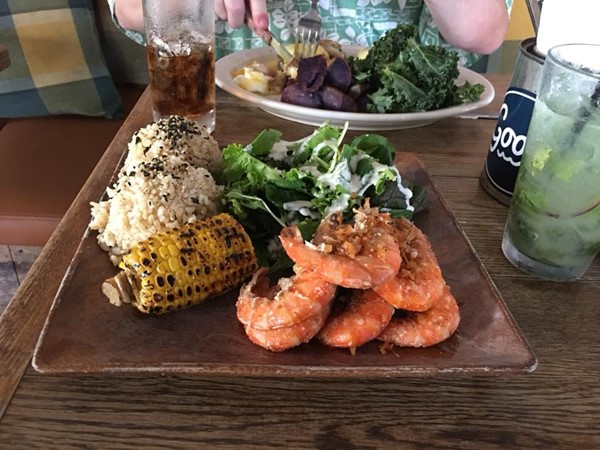 Of course, there were nerve calming cocktails. Here is a picture that Rache took of Grumpy at Goofy: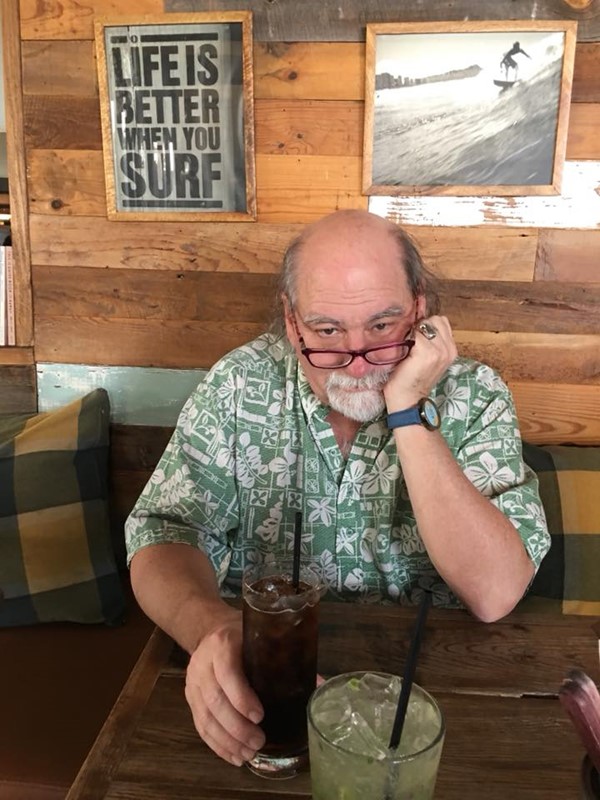 The remainder of the afternoon was spent fretting, checking to see if Uber Help was back up, changing passwords on any apps on the phone that auto-logged in….
Around seven we headed to a Gay Karaoke Dive Bar in Waikiki which is on a hard to find pedestrian alley: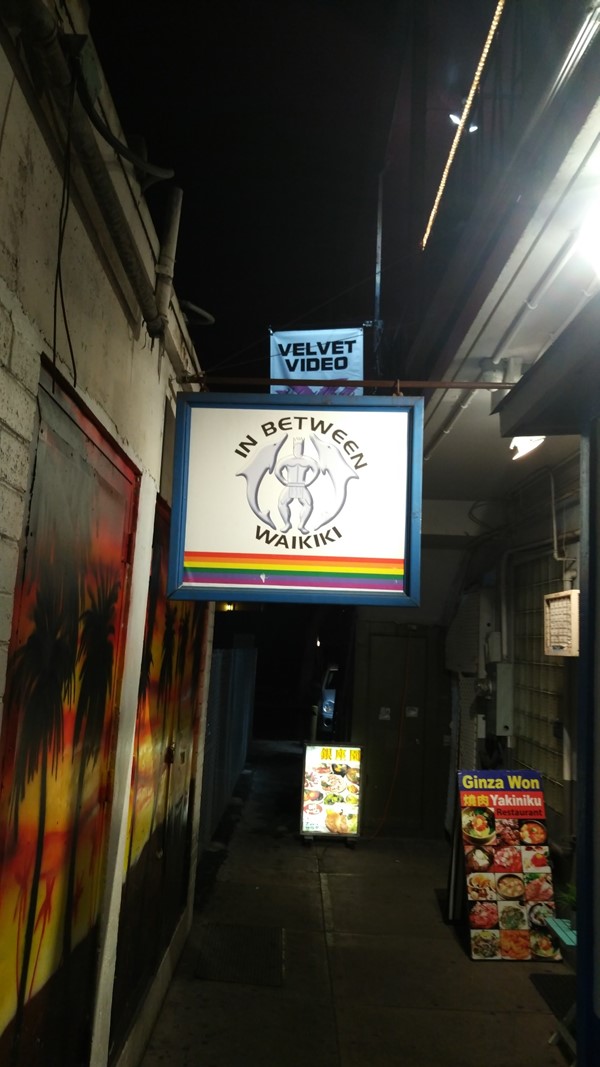 This was when a miracle happened. We got a call from our Uber driver who had my phone! He needed to finish a ride but agreed to bring it to the bar. Uber has a $15 lost item return fee, and I gave him a $20 tip – so happy to have it back.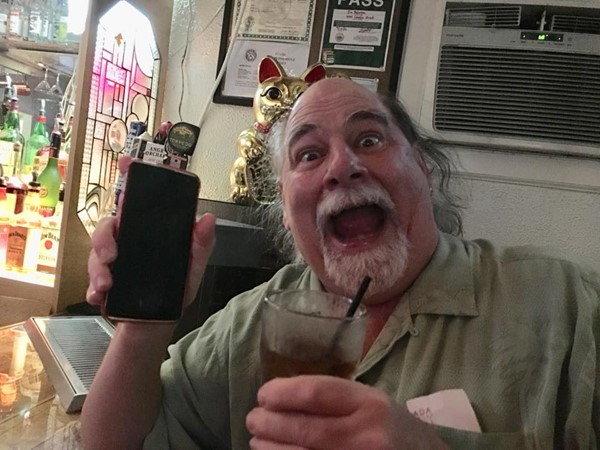 The plan was to meet my friend Rick for drinks for happy hour which lasted until eight – he was running late, so we finally met at a noodle place instead: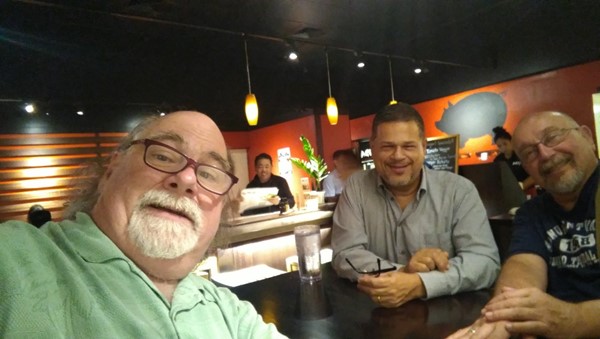 We had three appetizers and split a noodle bowl: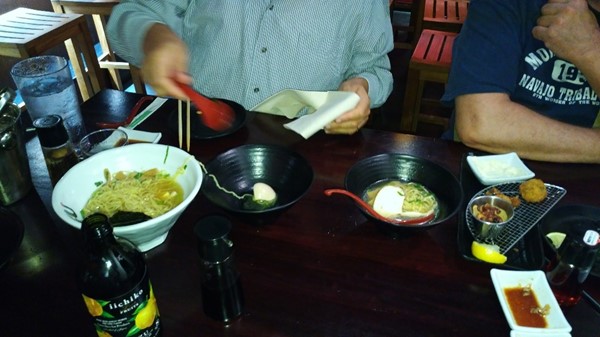 After our dinner, we all went back to the bar where I was able to get a pic or two: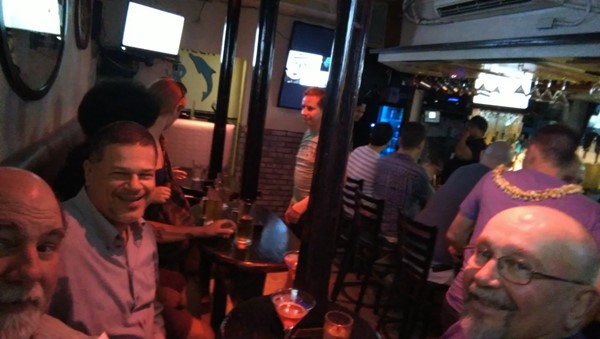 Another late night for both of us!
Tomorrow, I'll post about our next day in sunny Waikiki.
[225.3]
For more blog posts, CLICK HERE.