For those who didn't get a physical copy of my "end of 2020" seasonal card, here it is, and it pretty much sums up my feelings about 2020: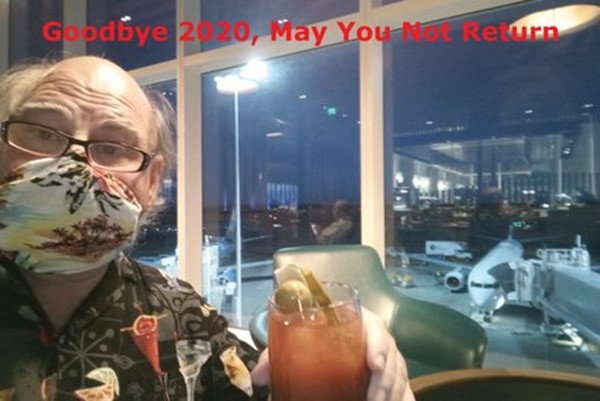 Let me start with the fact that I already had 35,000 flight miles in my Alaska account by the time I stopped flying in mid-March. In August I tentatively returned to flying with a couple of night trip to Austin, by myself. Austin, summer, probably not the best time of year, but a room was available, and First Class was cheap. Nothing like flying in 1A, where you are the only person in the row, with the exception of the flight attendant who is on the other side of the plane for takeoff and landing. Alaska (and Delta) block the seat next to you even in First Class.
This was what my travel year was supposed to look like for 2020: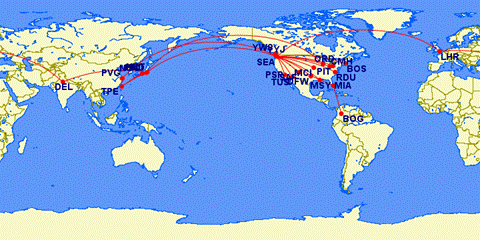 Here is what it ended up as:
The major around-the-world in Business and First Class (Japan Airlines, British Airways) got called off when I was in Japan and the Indian government cancelled all e-visas for Japanese citizens. The plane still went, but not with me on it. Stayed in Japan for another week with my nephew, who was between jobs, and rebooked a flight back through SFO in Japan Airlines First Class Suite, and suite it was. Click for the blog post about that amazing experience. The Tokyo-Delhi ticket was part of my Seattle-Tokyo ticket, so no miles back since it was a one-way, with a stopover. Did get back 80,000 miles for the British Airways portion, and $600 in fees, and the JAL First Class ticket was only 70,000 miles and like $25 in fees.
Two other international trips also got tossed in the dust bin: Nagoya (for my nephews wedding reception) and Taiwan, and Bogota, Columbia (with Rache).
Here is the link to what I flew last year and what was cancelled:
UMTravels » Carbon Footprint 2020 (unclemarkie.com)
For the coming year, 2021 is starting off as messy as 2020 ended. Two local trips in January cancelled, along with another major international junket to Dublin and Barcelona to visit friends I have in both cities. Here is what is still on the books: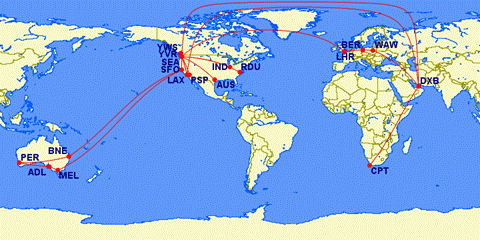 Here is a link to the specifics of what is planned for 2021 (and what has already cancelled):
UMTravels » Carbon Footprint 2021 (unclemarkie.com)
Oddly enough, I still have enough miles with Alaska to do a free domestic First-Class ticket, enough for a United domestic First Class ticket, and maybe enough in my Delta account for a one-way coach ticket. That said, unless it's a last-minute domestic ticket, I save the miles for flying Business Class internationally, as it's a much better return on investment.
Retained my Alaska 75K Elite status, got a status match for SkyLux's second from the top tier, which is good through 2024 (and I have yet to fly them), as always. United Gold status (for life, being a Million Miler with them), and new to the mix this year, Delta Diamond Medallion status, which was a challenge match, that for once, didn't have a maximum spend component. Got Diamond by making six round trips for under $1200. Points Guy values Delta Diamond at $8.830 in benefits because of the Global Upgrades they give out but their miles are only worth 1.2 each, Alaska 75K is valued at $6,825 in benefits though individual miles have a value of 1.8 cents, with United Premier Gold valued at $2,645 and miles worth 1.3 cents each. SlyLux is so new that they aren't on the cart yet.
So, for 2021, these will be the cards in my wallet for easier travelling (though most airlines have discontinued issuing "real" cards):
With Alaska joining the OneWorld alliance at the end of March, my Alaska 75K status will give me OneWorld Emerald status, allowing me into the First Class Lounges (rather than Business Class Lounges) on all the member airlines (American, British, Qantas, Royal Maroc, Finnair, Japan Airlines, Singapore, and another handful) when any leg of my itinerary is international.  When I started thinking about this, looked into my Delta status, so access for me and a guest in all SkyTeam lounges even travelling in Economy, and I have Star Alliance lounge access (though not Polaris Lounges) with my United status, and the one or two lounges that Starlux has. If you think I'm making a bog deal out of lounge access, international lounges are critical — a place to nap, a place to shower, a place to eat and drink, and charge your devices. Funny that I just realized I now have international lounge access on the three global alliances. OK, I'll stop gloating.
Looking of the pictures from airports of overcrowding for Present Day travelers….really glad I'm done travelling until the end of January.
Happy end of the year to everyone.
[227.5]
For more blog posts, click here.