Another week, another trip, or so it seems. This week it's the red-eye after closing the shop after a special Château Nuef du Pape Tasting. Getting home at 8 left just enough time to put together a chef salad and grab an Uber (click on Uber for your first $15 ride free) to the airport. Luckily, the Alaska Upgrade Gods smiled on both Rach and myself – seats 1D and 1F (after a little switching around)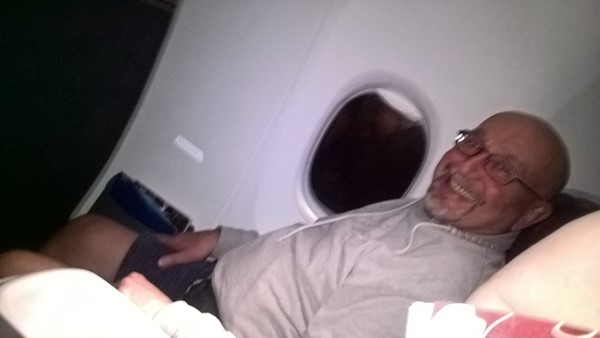 He looks comfortable – as for me, I'm just crazy: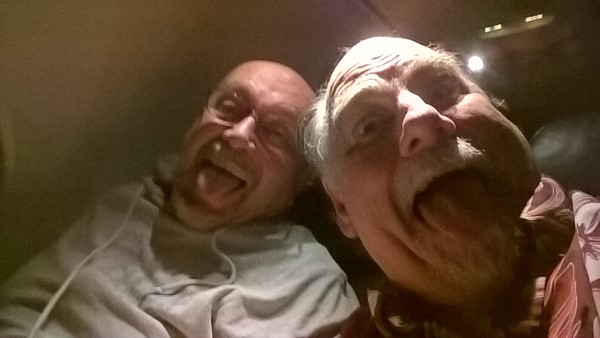 It's a red-eye that leaves at 12:50am, so you don't get much in the way of food: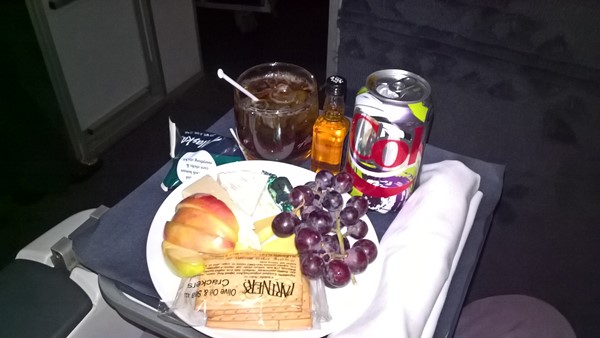 Rach slept after food, I, foolishly watched all sorts of movies, drank all sorts of drinks, and generally DIDN'T look this good at our 5am arrival in Chicago, the three-hour layover (which I did sleep), and our eventual arrival in El Paso: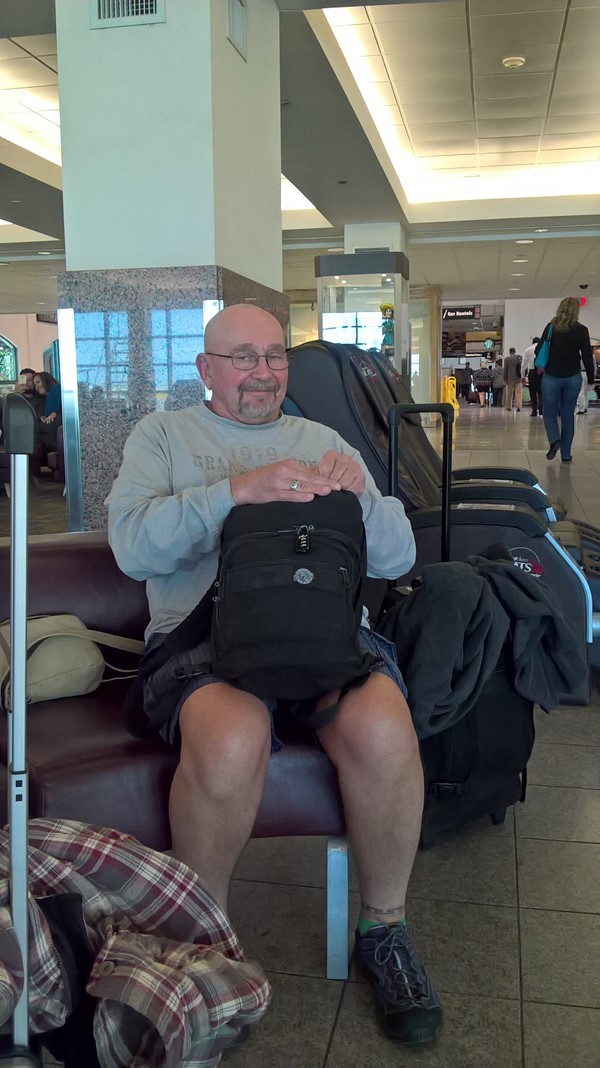 I actually know a couple of people in the El Paso area, and one of them (Aaron – a former couchsurfing guest of mine) met us at the airport for the ride to our hotel – The El Camino Real.
Got checked in on the second try and the room was adequate. I was hoping for nicer considering how cool the lobby is, but more on that later. First up it was lunch at Anson 11 Bistro. I had the pork belly tacos, as did Aaron: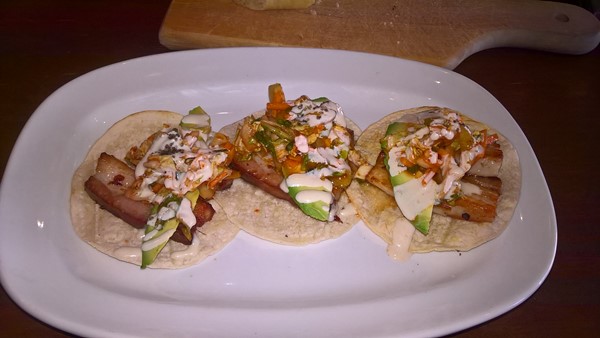 Rach had the Tomato Mozzarella Sandwich with Prosciutto after his Asparagus Soup – and the fries on the right are Truffle-Parmesan Fries (YUM):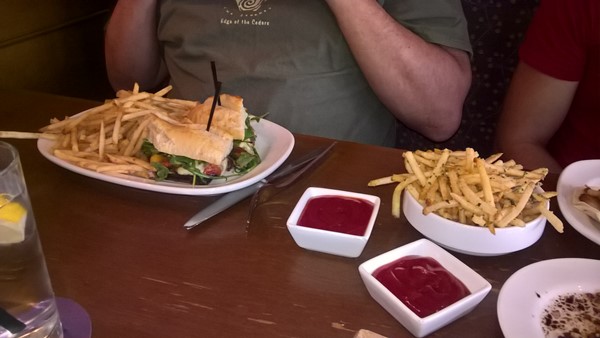 And, of course, there were cocktails!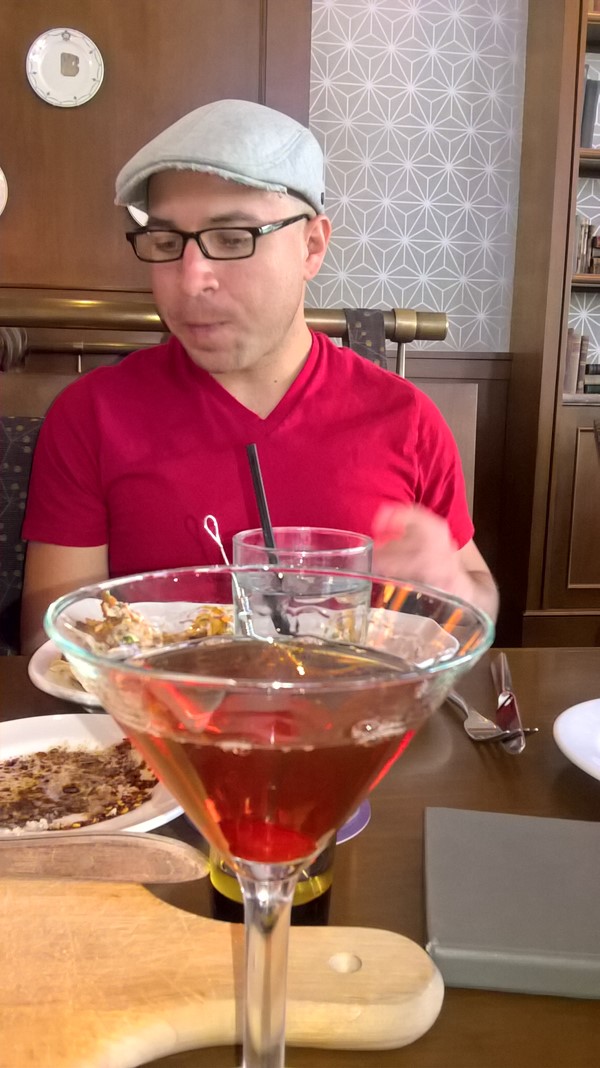 After that meal, both Rach and I needed a nap since we (Uncle Markie, Aaron, Aaron's Ex, Johnny [who also surfed my house], and Aaron's 22-year-old US Army husband) are headed out for a Mexican food dinner tonight – actually Brandon (the husband) is just joining us for cocktails in the lovely lobby bar with stained glass Tiffany Dome: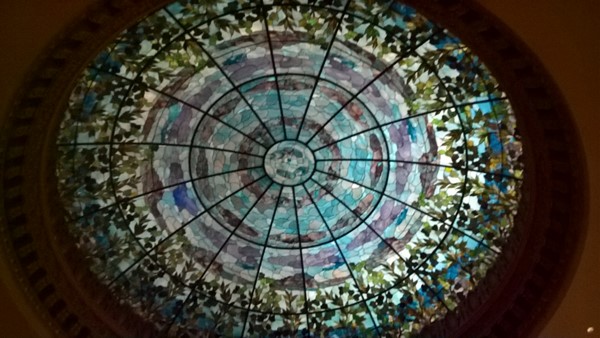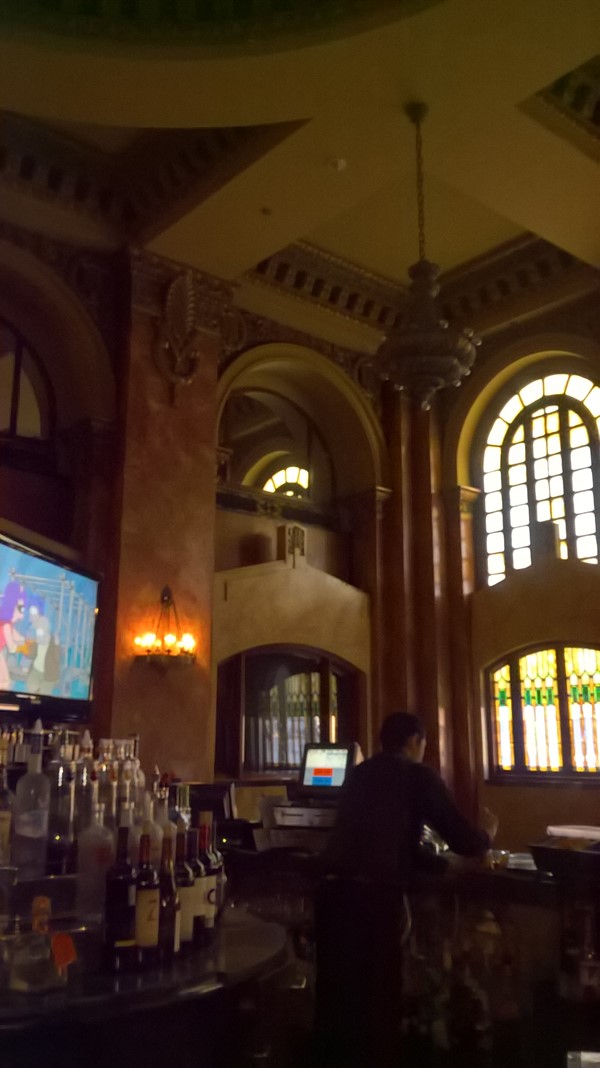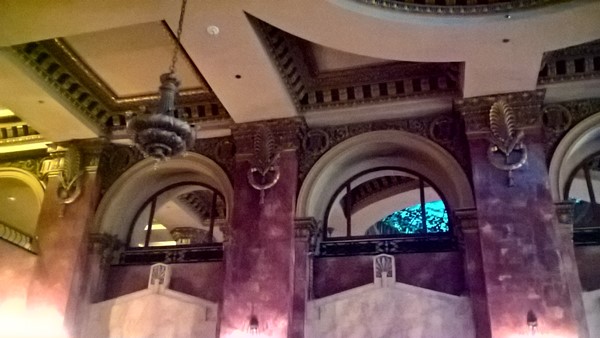 And the rest of the lobby rocks as well – love the stairwells: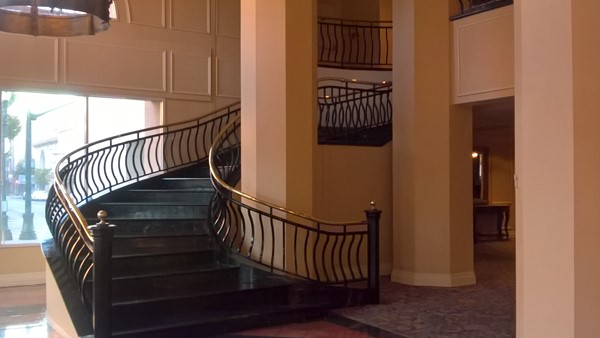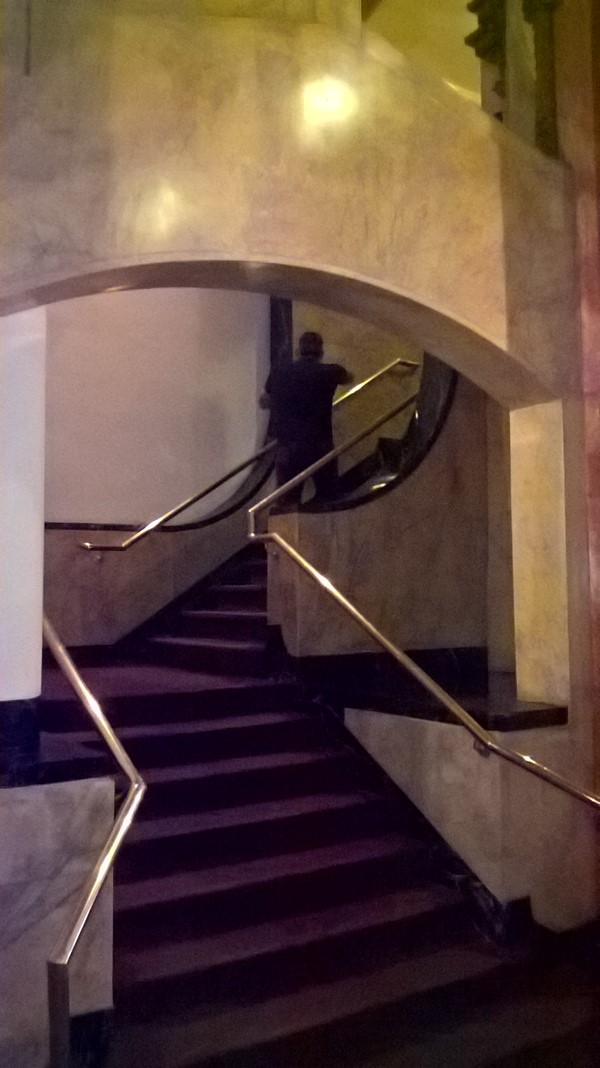 Actually, downtown El Paso has a lot of nice old Art Deco era buildings that have survived: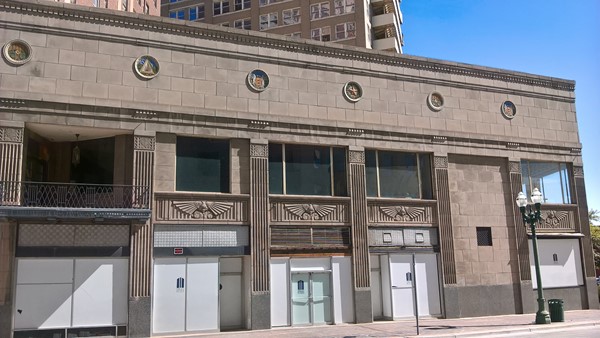 Later I'll show you the train station, but that's tomorrow! First we have to get through dinner at Kiki's Mexican Restaurant: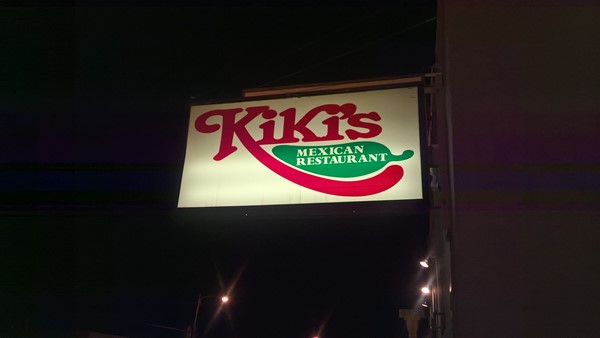 I had the Chicken Molé which was tasty and I could only finish half it – in the background you see a glass of sangria that wasn't overly sweet – went well with the spice: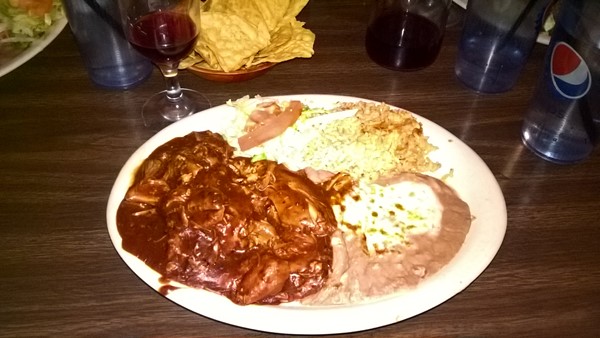 After dinner it was off to the scenic overlook where you can see all of El Paso, and Juarez on the Mexican side of the border: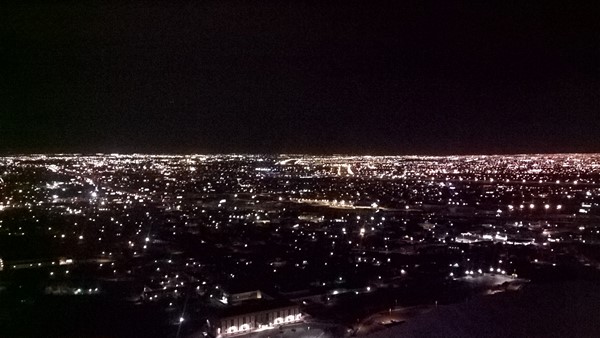 Beautiful sight – but CROWDED with people. Lots of couples.
I headed back to the room, Rach and Aaron headed to a brew pub to wait for Brandon to get off work – then we all reconvened in the room for cocktails – it was a great evening of catching up and getting to know Brandon.
Morning brought me sleeping in late (as usual) with Rach up early to journal (usual) – and a late (just prior to the lunch menu) breakfast at the restaurant in the hotel – La Huerta Café: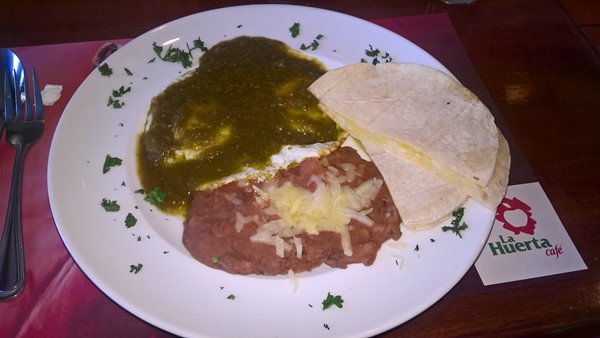 We both had the "Divorced Eggs" [$8.00), mine with Green Chile, Rach's with Christmas Chile [half red, half green] – funny that it's served with a small quesadilla, but it was all tasty. I almost had to go back to bed after this breakfast – but at noon we were off to the railroad station – which was a TAD further than I expected. Probably should have had the hotel shuttle take us with all the bags we had. We went shopping in El Paso yesterday after lunch to pick up Bourbon and Ginger for the trip.
Found on the trek to the train station – it was a great day for a walk: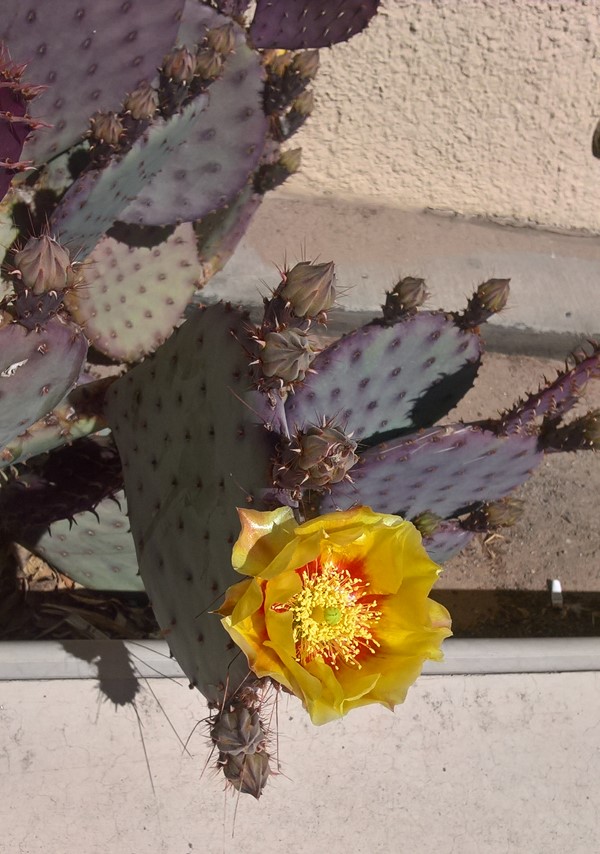 And the train station itself – now if the train weren't running late, though after the late heavy breakfast, not sure if I'd be ready for lunch at 1:30: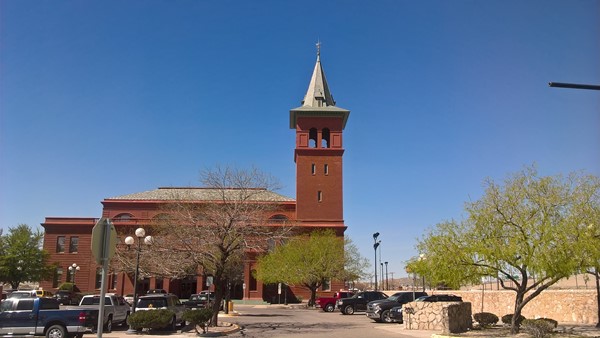 And a gorgeous interior – I love how Amtrak and the cities they serve have been resurrecting and renovating their old stations: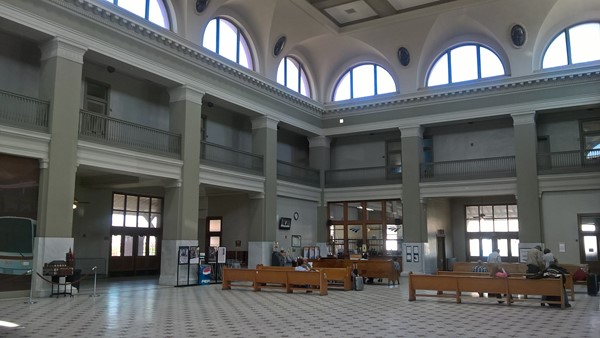 THE TRAIN BOSS! THE TRAIN!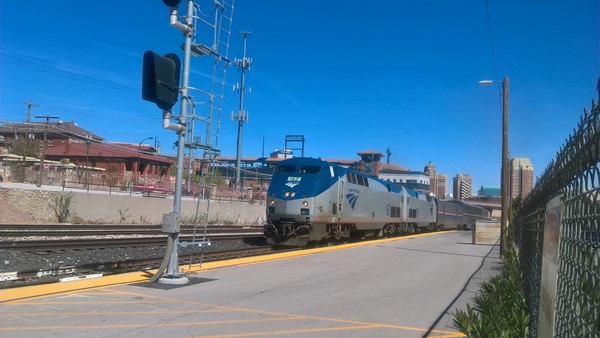 Settled in for lunch, at almost 3PM, well past the usual time they serve, but they extended it for the El Paso folks. Burgers for both of us: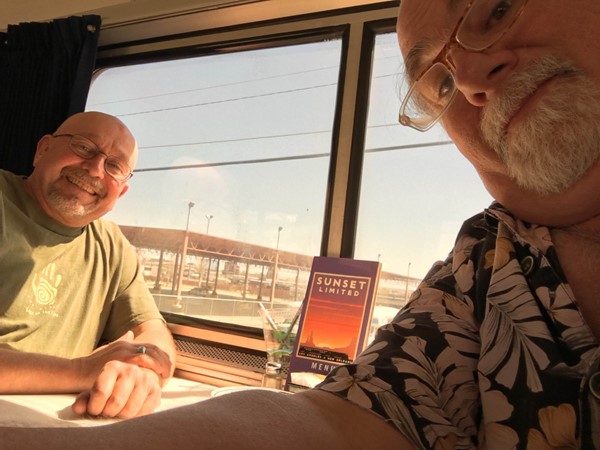 I like that shot! And the lunch view – yes, that would be Mexico on the other side of that fence: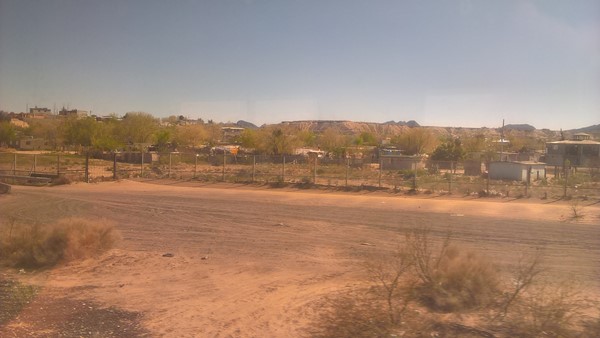 Steaks for dinner (see other Amtrak posts for pictures) – but I had to rush through dinner so I could get a "platform hug" from my buddy Joe: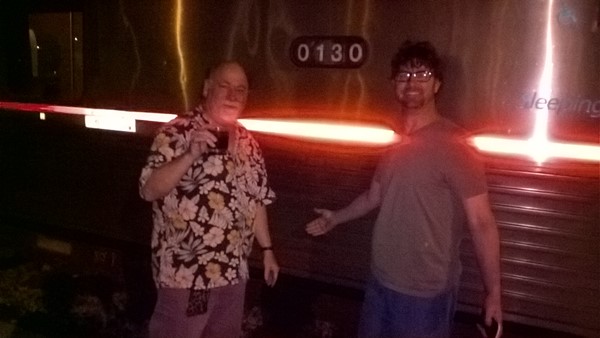 He didn't have long, but enough time to see our Bedroom unit on the train. This is my compartment selfie with him: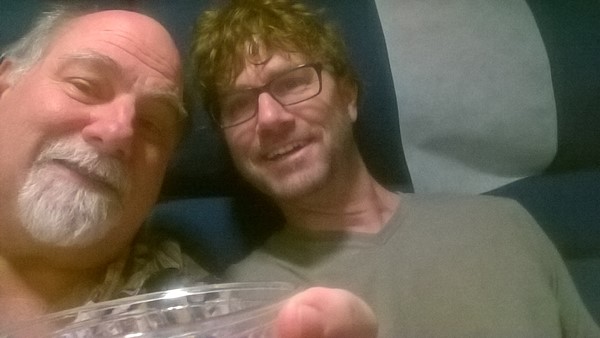 This is his compartment selfie with me: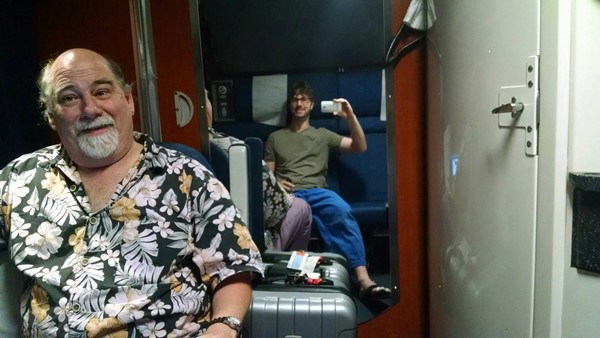 I think I like he surreal one better.
From past experience – time to take a shower because we arrive in Los Angeles VERY early in the morning, and I've found I'm cranky if I'm not clean while waiting for the next train: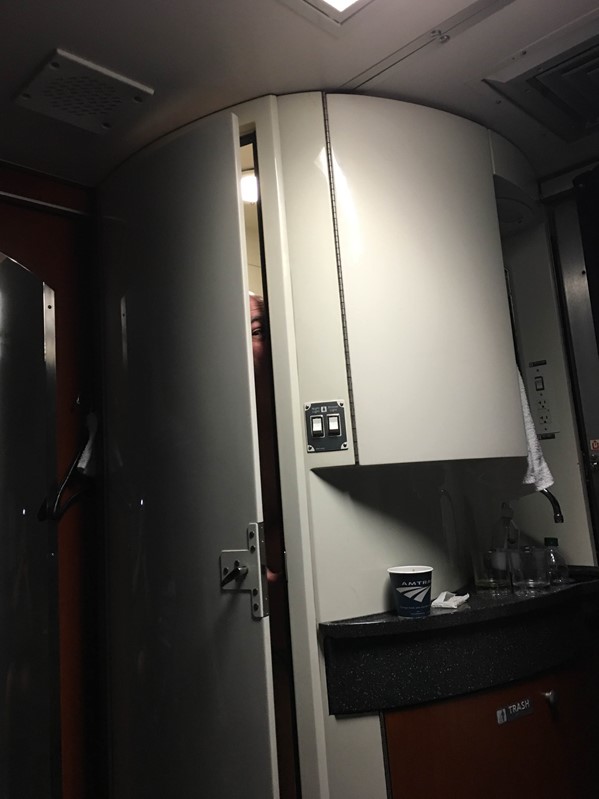 And then bed: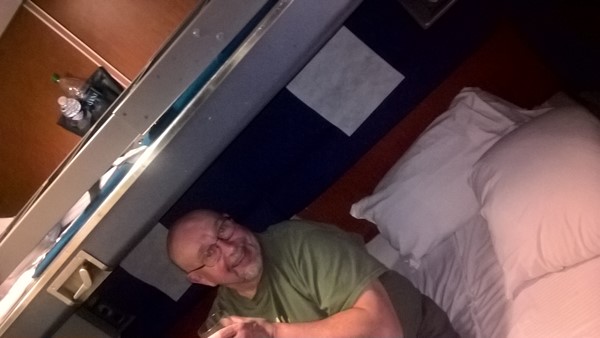 Alas, you can no longer leave your shoes for the car attendant to shine while you sleep – the door, long since removed on the outside, just the frame left on the inside of the closet: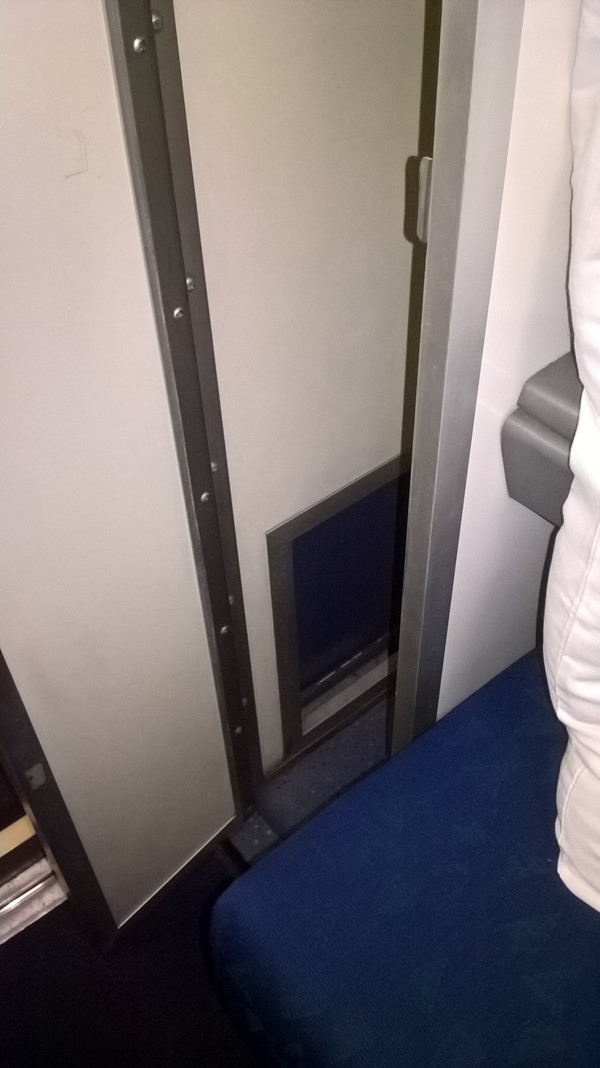 We arrived in Los Angeles early – which I didn't really want to happen, since the arrival time was already early: 5:35am. At least we have the Metropolitan Lounge to hang out in until our 9:30am boarding: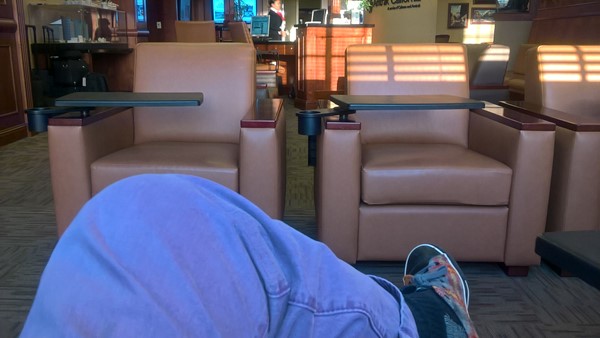 Even the non-First Class passengers have a nice space to hang out in: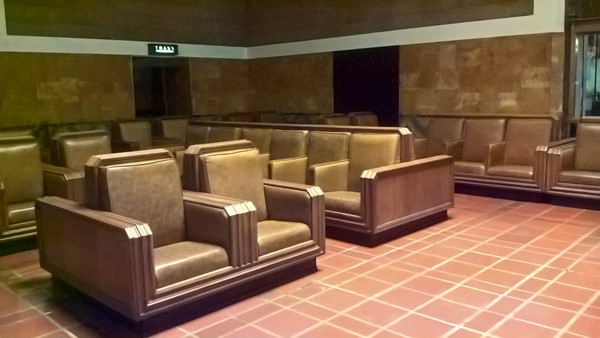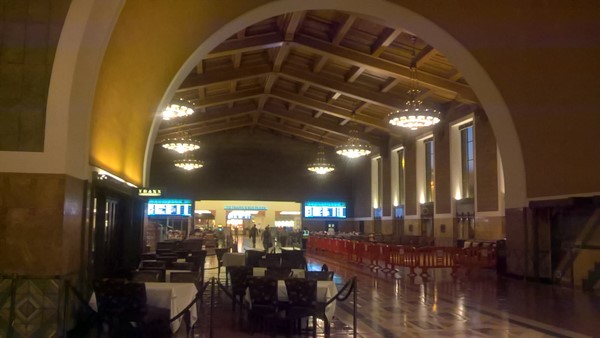 There is even a piano for people to play!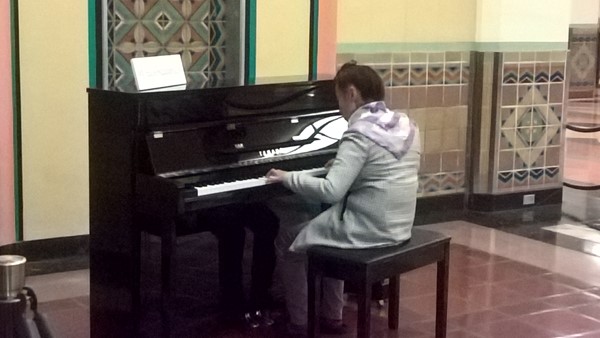 Lots of Amtrak trains coming and going from Union Station in Los Angeles: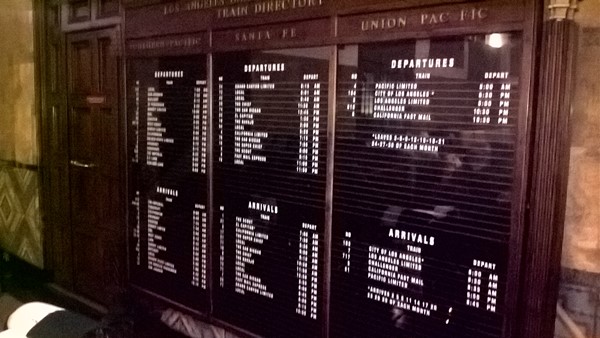 We get boarded – and get comfortable – making early morning Bloody Marys as we roll out of the station: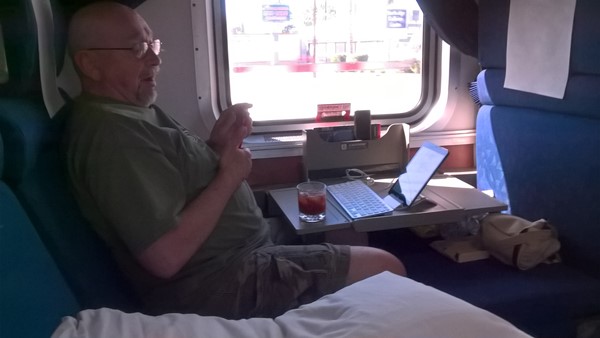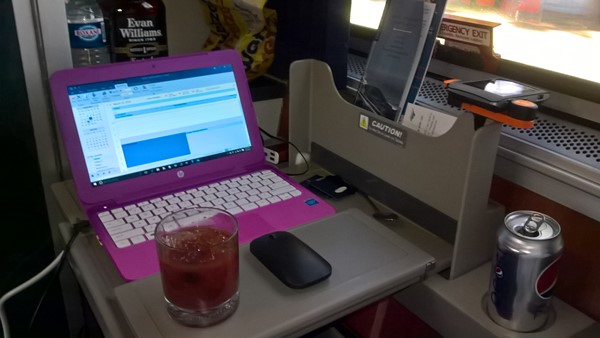 Between the two of us we have great connectivity – Rach has an ATT HotSpot that I've been using since ATT coverage in the Southwest is better than my T-Mobile coverage which we switched to after our Eugene, Oregon stop. You can see his HotSpot attached to a mount on the table mount. But Eugene is a long way from where we are at the moment – one of the most beautiful chunks of this trip, the stretch between Los Angeles and Santa Barbra: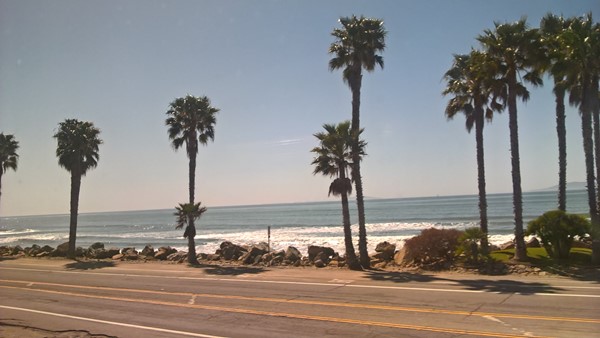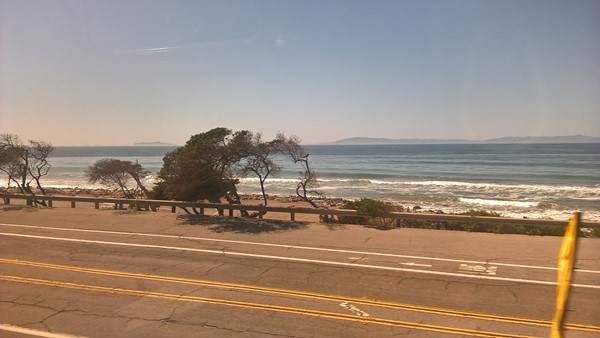 And here is a little video clip from that section of track:
Salads for lunch after our big breakfast in the morning (and my return to bed):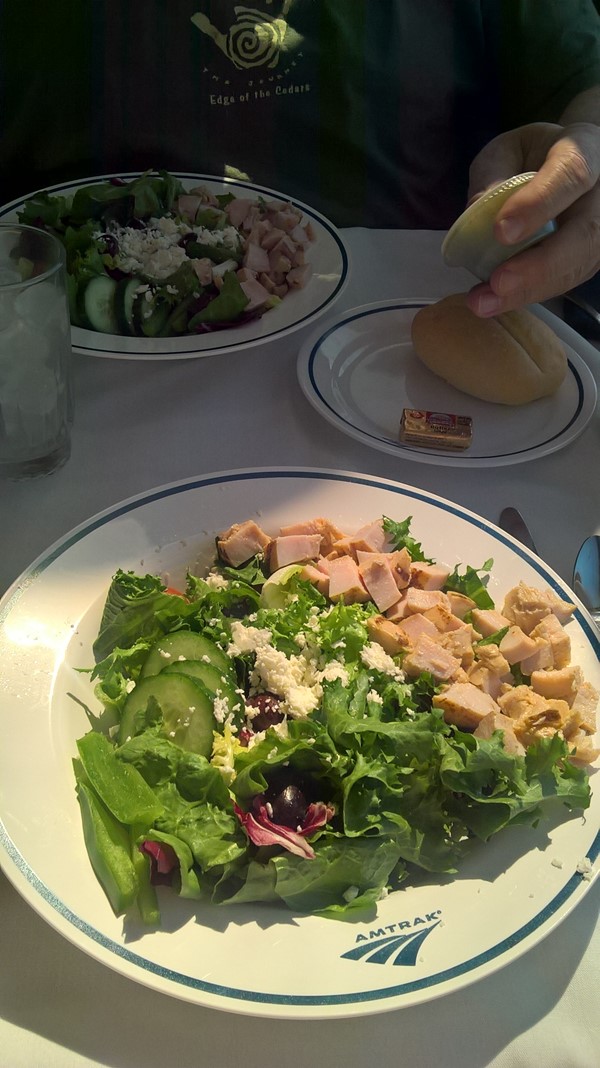 More good weather as we head north – here was are at a "smoke break" in San Luis Obispo – also a crew change stop for the train engineers: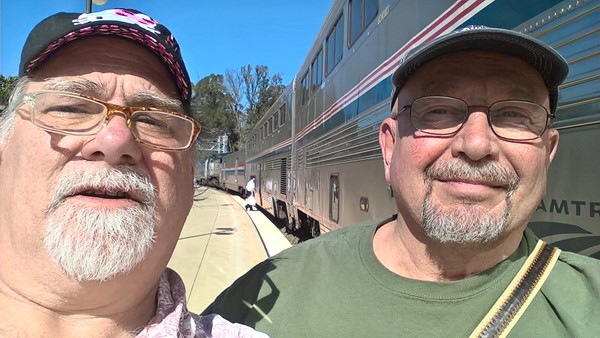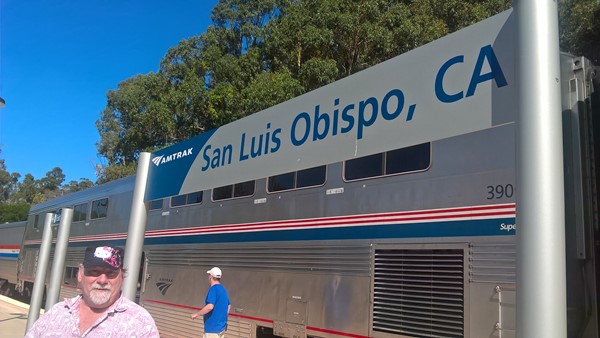 Please note the fetching Hello Kitty cap from my trip to Maui.
And talk about a little snack before dinner (since we have a late reservation), how about chopping up the remainder bagel dog from breakfast (they were $5 each, or two for $8) – with a little dark mustard. I had one for breakfast while Rach had a ham and cheese croissant – decent food (and a small grocery store) in Union Station in LA: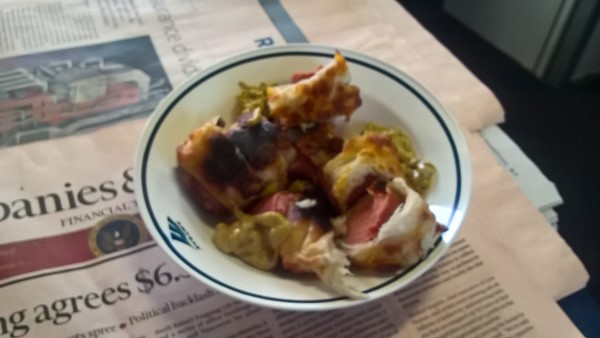 The sundown waiting for dinner:
Dinner – the braised lamb shanks in the Parlour Car. This is one of their most popular recipes!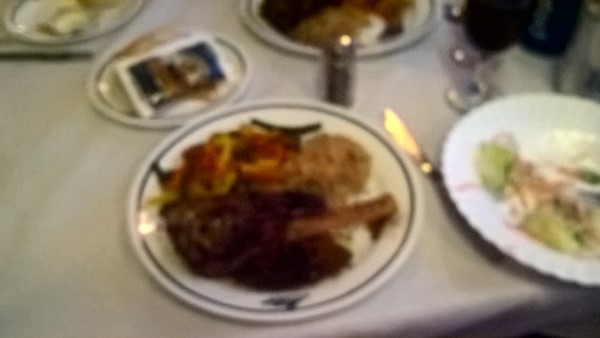 Sorry for the blurry photo, but it was as good as always – click here for the recipe.
After dinner, it was another "platform hugs" moment – once again with Onyx and Lunetta in Emeryville – this time no delivery of mixers needed!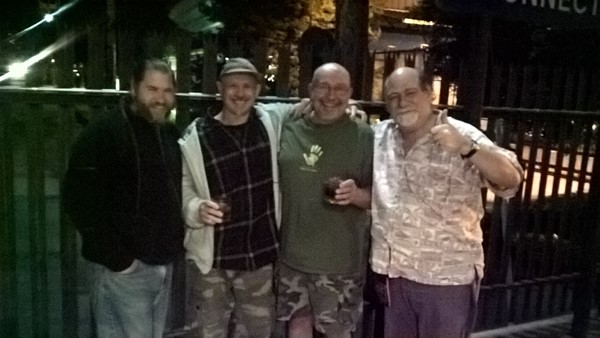 Breakfast at 8, lunch at noon, an early dinner at 5:30 – means that it's our last day on The Coast Starlight.
And now for a station break, starting with Eugene:
And Portland: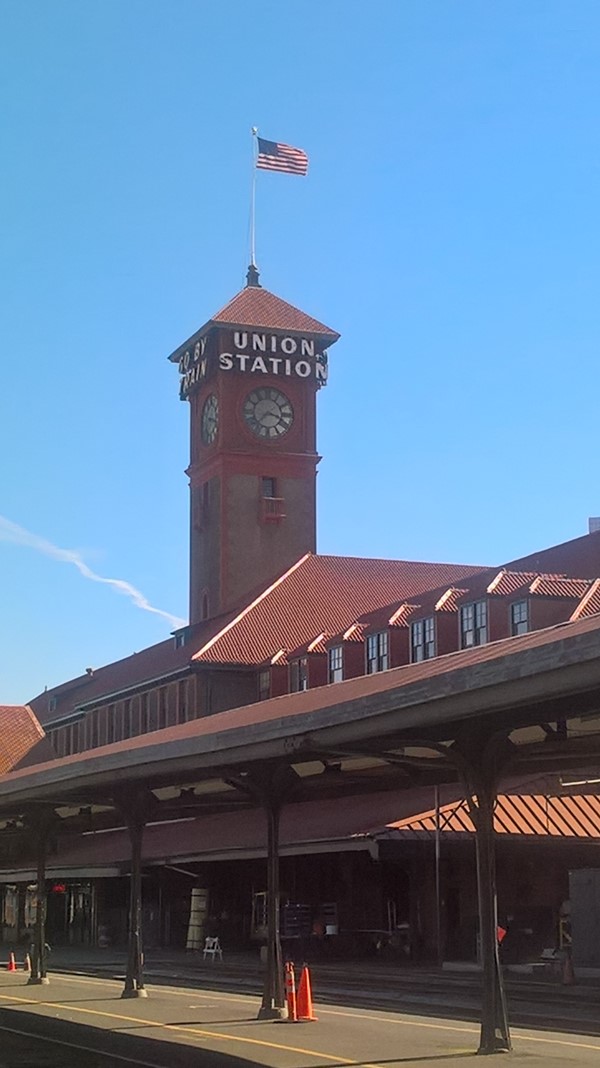 And a shot of our lovely Parlour Car exterior. For those that don't know, the Parlour Car is reserved for use by Sleeping Car passengers on The Coast Starlight, the only train that has Parlour Cars.
To close this post – Mount Rainier in the background, passing over the Columbia River headed into Vancouver, USA.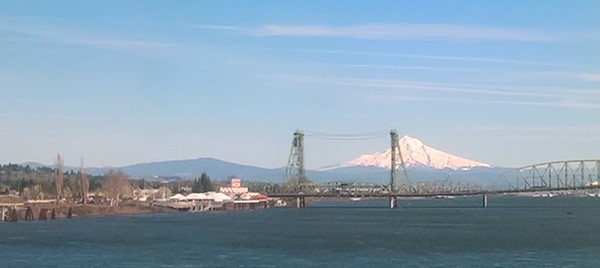 Such a lovely journey.
[217.8]