It was a trip for the miles – the final flights to hit $1,500 in United Airline tickets excluding taxes – I just squeaked over the spend at $1.506. And what did I get? 25,000 bonus miles on top of the miles that I earned. Since all 5 segments were booked in paid First Class (which has class bonuses), that brings the total miles earned to 37,048. Basically 5 cents a mile on a cost basis. It would have been cheaper to just wait for a United Bonus Miles sale (like they are having now) and pick up the miles for a little more than 2 cents a mile – but then again, I wouldn't have gotten to go to both New Orleans and Puerto Vallarta (my two mileage runs).
That said, under United's OLD mileage plan (two years ago) my Gold status and class of service bonus would have earned me 37,884 miles into my account, under the CURRENT mileage plan, my Gold status and the class of service bonus got me 12,048 miles – basically a THIRD of the miles. And you wonder why I prefer Alaska Airlines and their mileage-based program.
In reality – I made a decision to go for more miles. I just redeemed 20,000 of those miles for a reduced award round-trip ticket to Columbia, South Carolina in late October. This, by the way, is the best use of miles – tickets to out-of-the-way places that NEVER go on sale. And trust me, Columbia, South Carolina is one of those destinations – and I even got a one-stop (DC) in both directions, and "oddly" United offers "status" upgrades even on mileage redeemed tickets – mind you, you are the LAST of those upgraded. No first on the DC-Columbia legs, and can't imagine getting an upgrade on a flight between Seattle and DC.
Now that you've suffered through my "mileage whore" section of the post – let's talk New Orleans.
It seems I'm now going a couple of times each year, which means that I'm developing "habits". New to the mix is paying the $50 UberXL fee for a private ride from the airport to the condo. And considering the storms on the way in, waiting for the bus was out.
Got to the condo, and for once – NO ONE was in the check-in line (it's a big place). Threw the bags down, went out for Bourbon and mixer, fixed a cocktail, and basically chilled out. I have to say – HELLA view from this unit, best I've had here!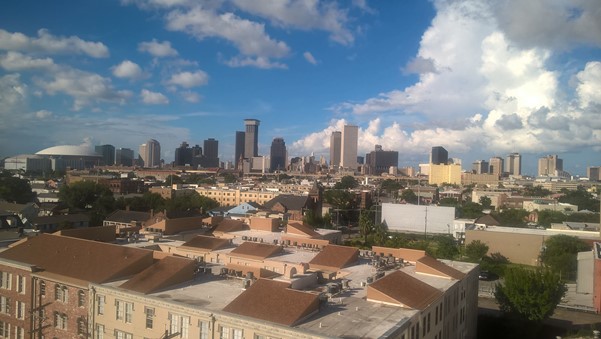 I got a one-bedroom, so there is room: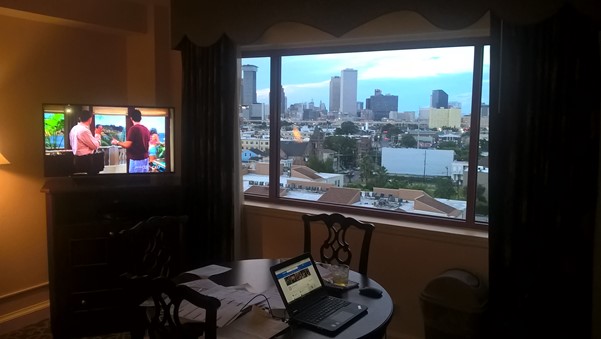 The rest of the pictures of the unit are from later in the trip when the place really looked "lived in".
Here is the outside – not sure I like the new paint job:
The Bourbon and mixer – Basil Hayden for $30 a bottle – freakin' cheap by Seattle standards: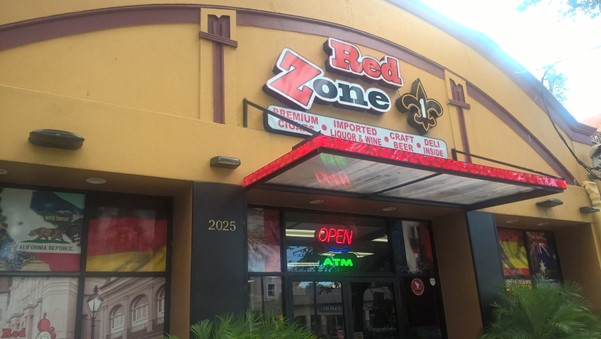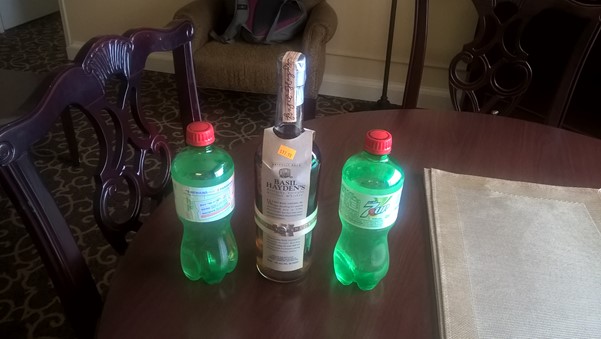 My habit on the first night in NOLA seems to be a visit to Houston's – a small national chain that adapts each cities menu. In this case, it includes jazz starting at 8.
And good food/booze – in this case, because it's NOLA – that would be a Sazerac: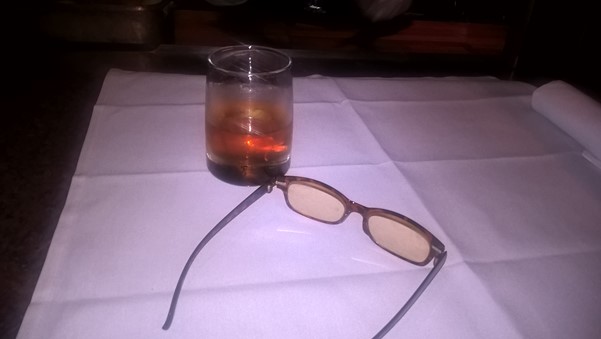 And an $18 burger: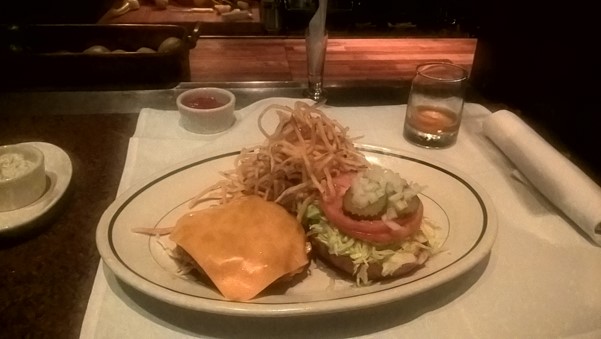 I love the haystack fries, even though I shouldn't have them.
My plan for the first day was to return to Purloo for an early lunch – only to find that they are no longer there, and that the Southern Food and Beverage Museum is closed on Tuesdays so that meant no shopping for odd southern cookbooks.
You can find the link to both those places on my February New Orleans post (https://blog.unclemarkie.com/2016/03/02/trip-report-arts-run-to-new-orleans/)
Had to come up with a new plan for lunch so I kept walking down Oretha Castle Haley Blvd. until I stumbled across Dryades Public Market, which is in what looks like an old schoolhouse. Got a Cuban from one stall and a Sazerac from the bar and called it lunch: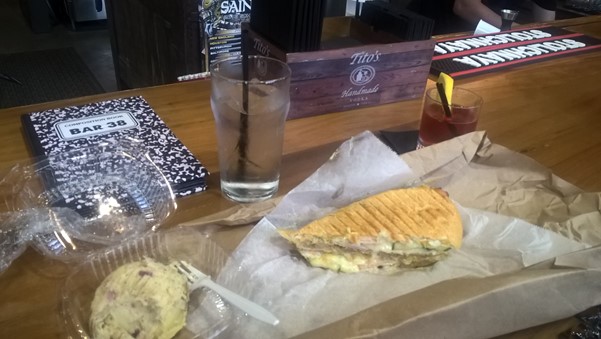 And I thought the bartender at Purloo!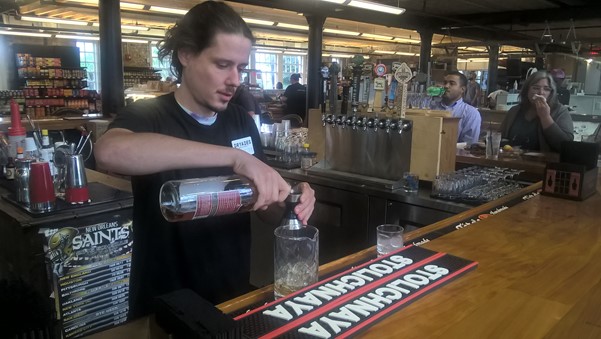 Attempted to go back to the Ogden Museum of Southern Art – but guess what? Closed on Tuesdays. After a little shopping for Kathy (Princess of Tacky T-Shirts), caught the street car back to condo, futzed a bit, then headed out to Samuel's Blind Pelican for an early dinner/late afternoon snack of oysters. Ended up getting a dozen of the raw on the half shell for $3 a dozen – and YES you read that correct – during Happy Hour which is 4-8pm, must purchase an "adult beverage" to qualify for the cheap price. No problem here.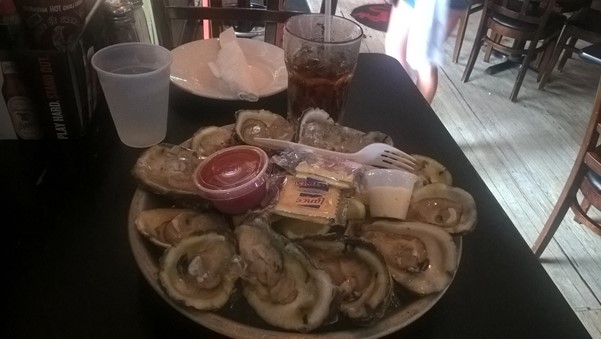 Then moved onto the Charbroiled at $8.50 a dozen (and another "adult beverage".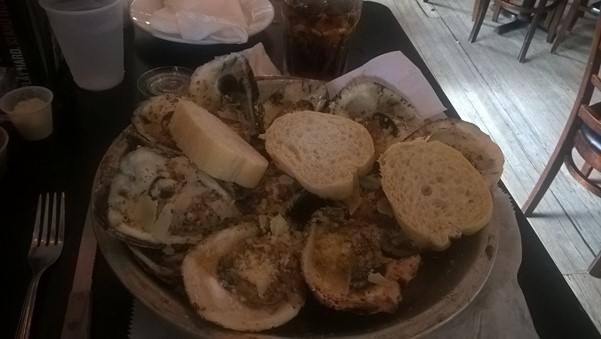 Even the dogs were eating oysters – this one trained to grab them from the edge of the bar!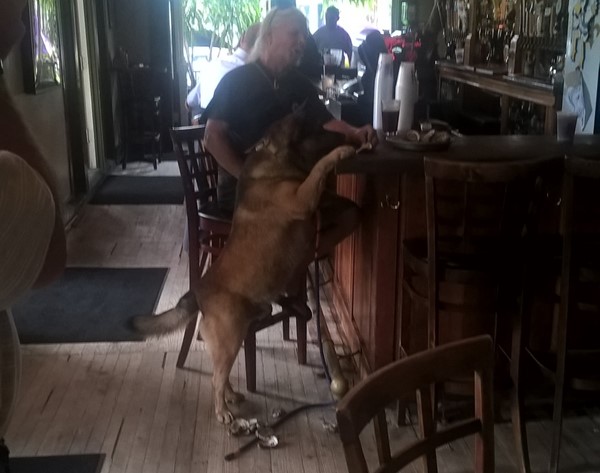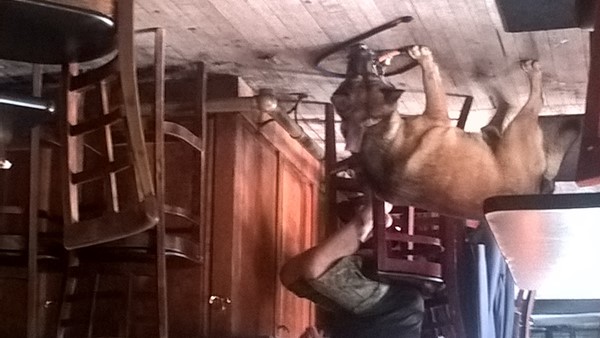 Not sure how THESE guys who are on their feet for hours shucking oysters feel about them being dog food….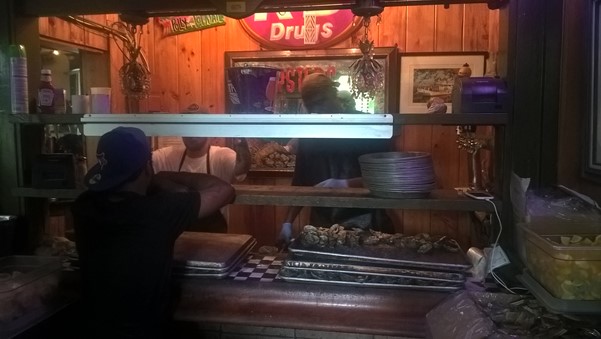 And this is one of the most amusing repurposing of door knobs – to hang you coat/purse on!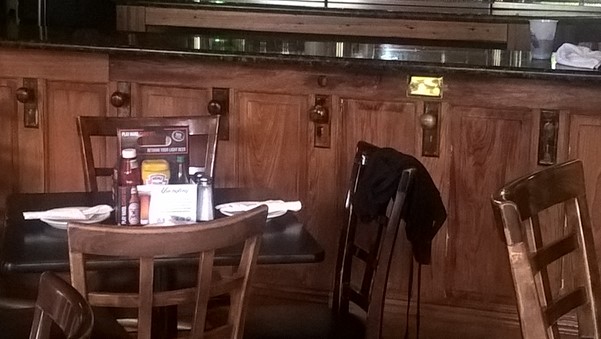 They go through a TON of oysters so they have their own truck: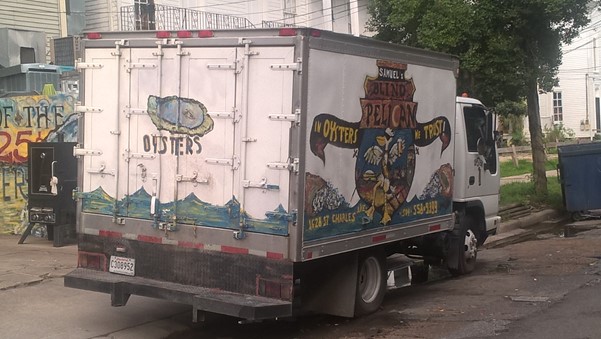 And let's not forget the Shrimp Boil and BBQ!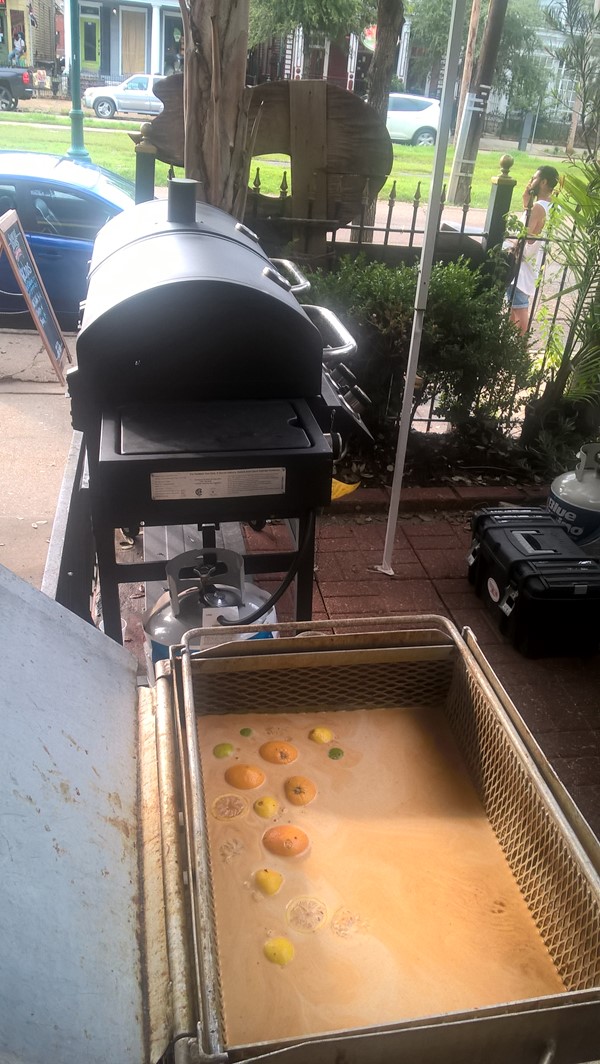 Whew! Real dinner later in the night was at Pho Orchid, starting with Vegetable Spring Rolls (well, after a Manhattan):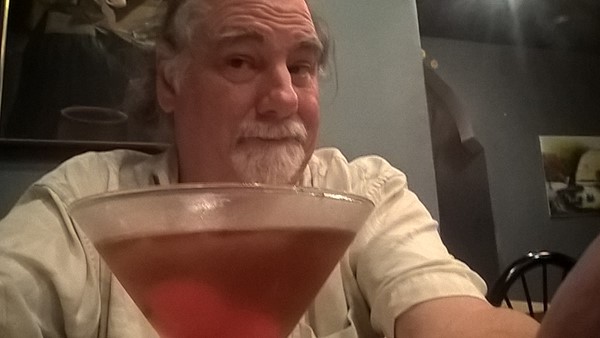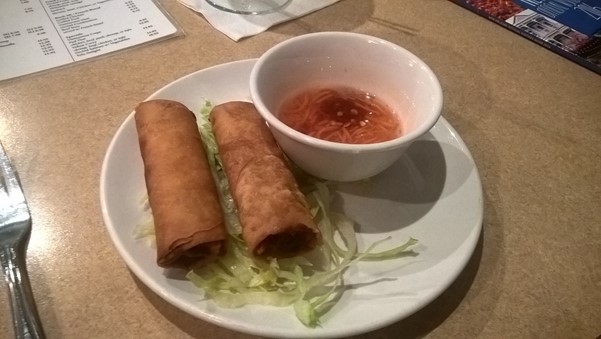 And then the combo fried rice – which I didn't finish – but which made a great breakfast in the morning!
The following day brought me back to The Ogden Museum of Southern Art: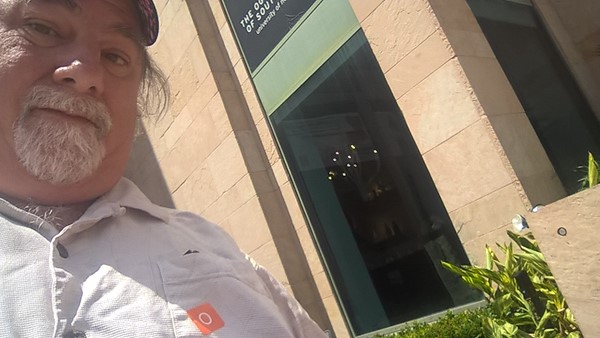 Here are some of my favorite pieces like this "quilts" from their invitational show: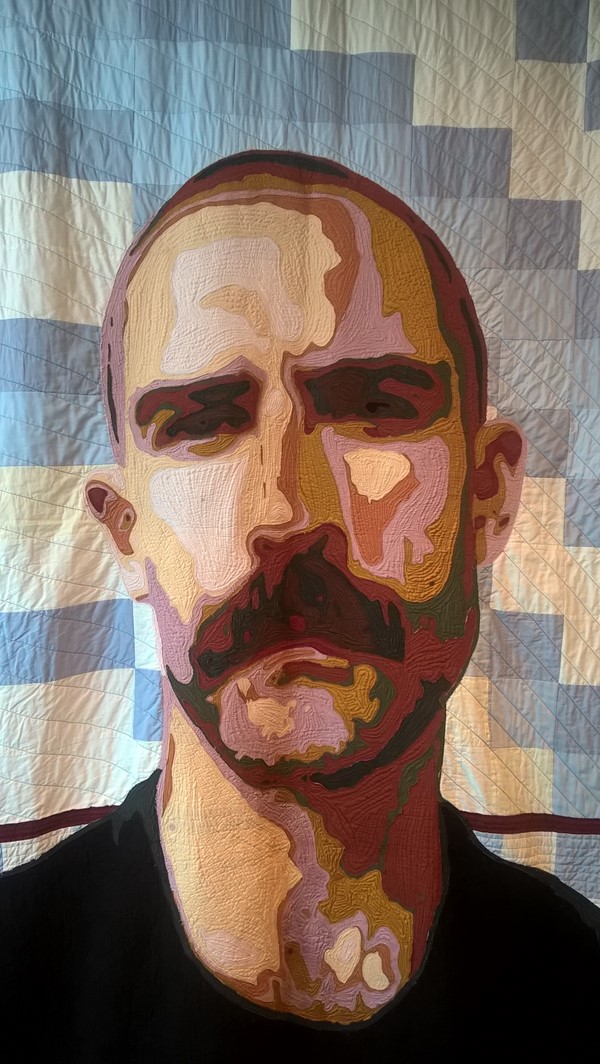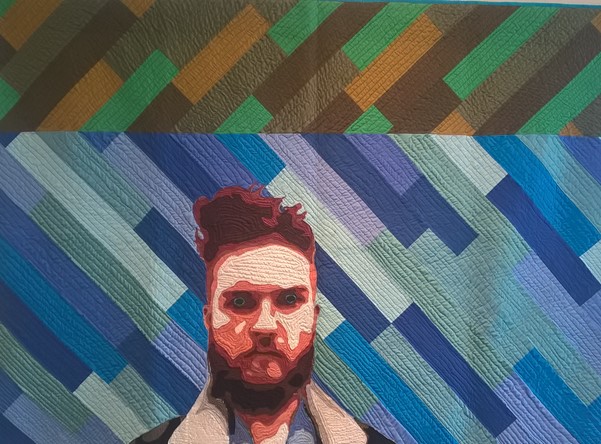 The major show was works on paper from their collection, including two by Michael Meads – the artist that I came to specifically see in February: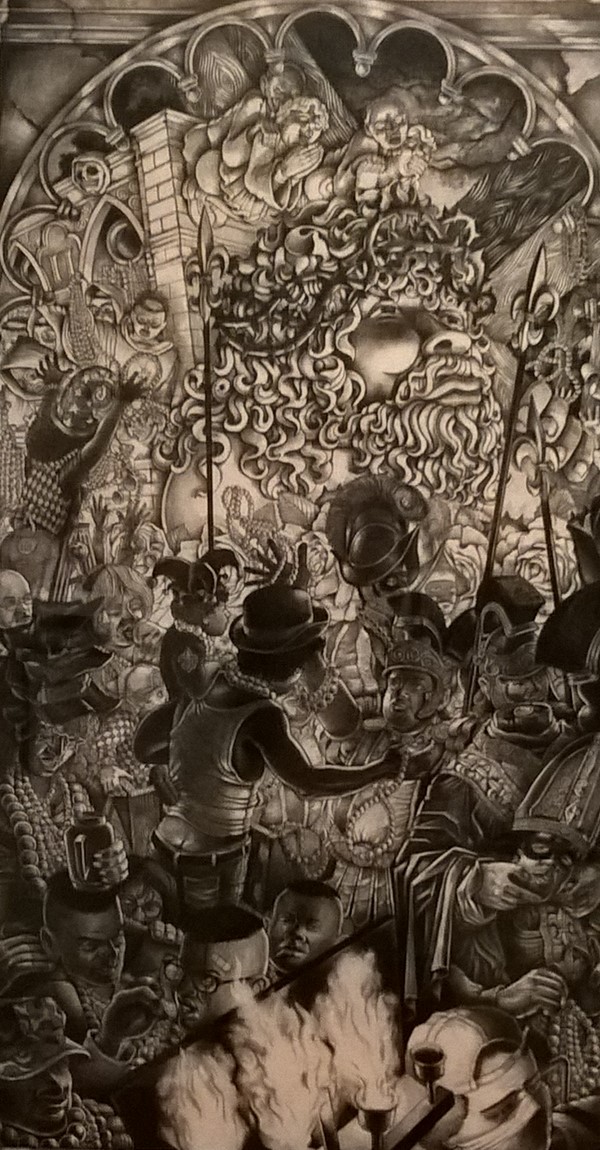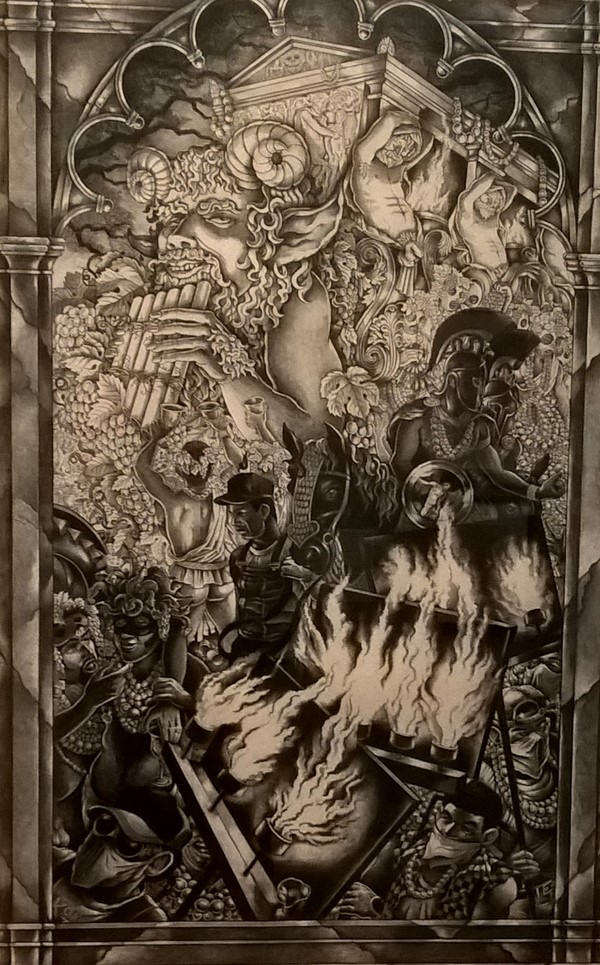 Some other favorites: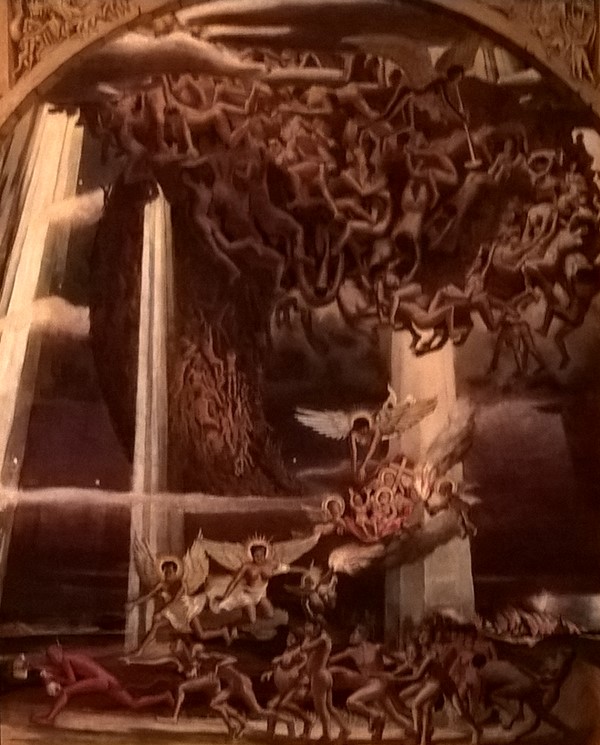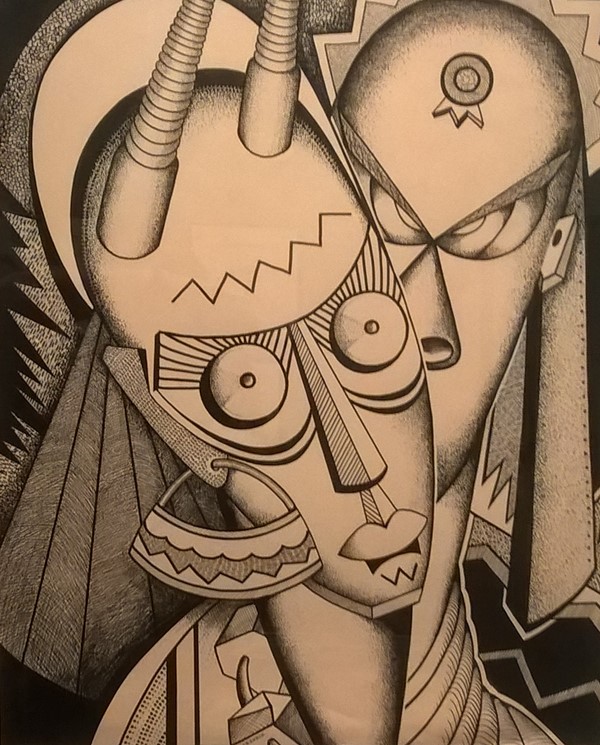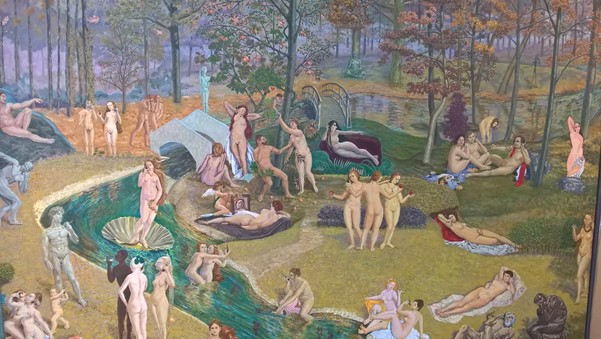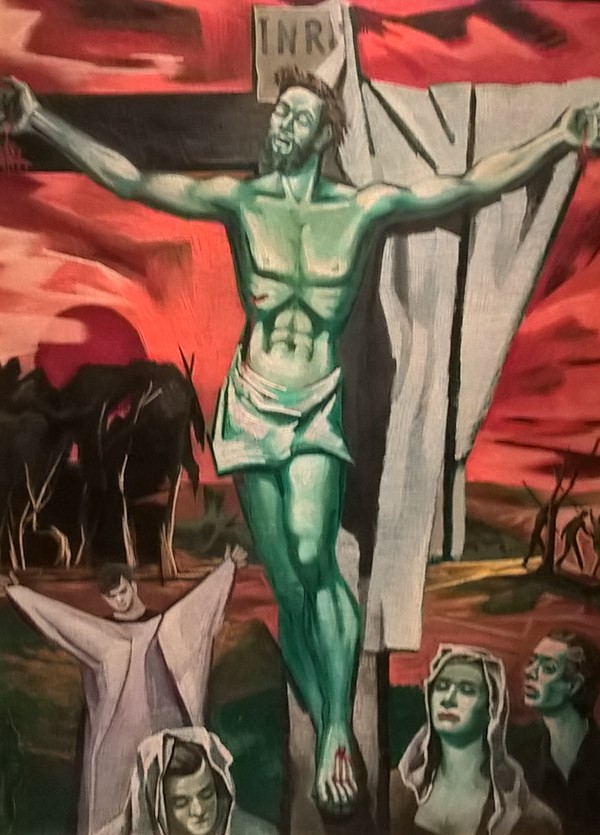 And from the basement History of Graffiti in New Orleans: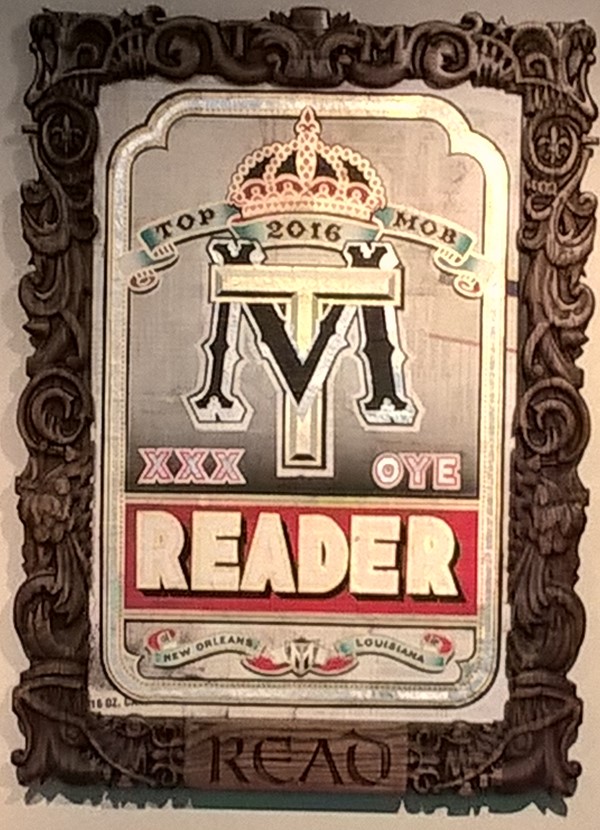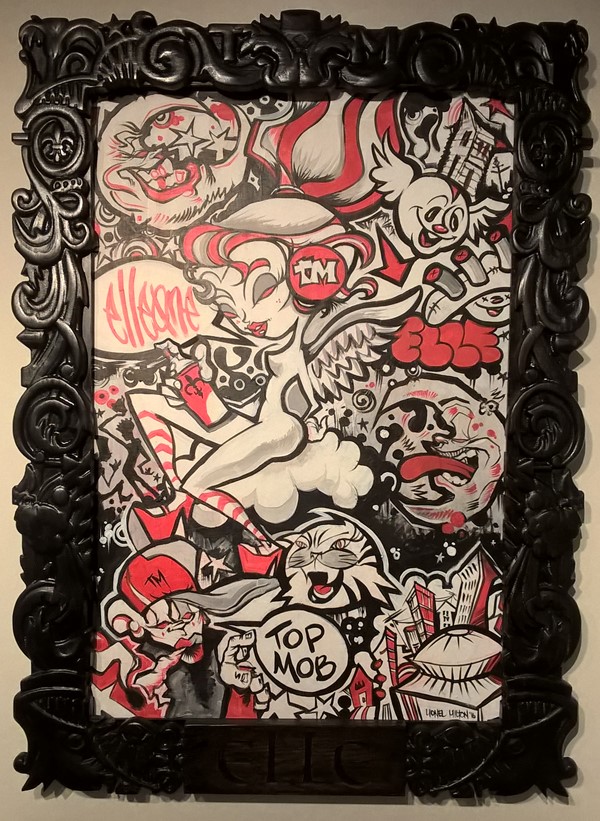 Of my favorite museums, this one ranks in the top ten – maybe because they take chances and have more "adult-themed" exhibits rather than "general audience" exhibitions.
We've reached the end of this post – longer and it chokes in the machine. Stay tuned for Part Two!
[218.2]